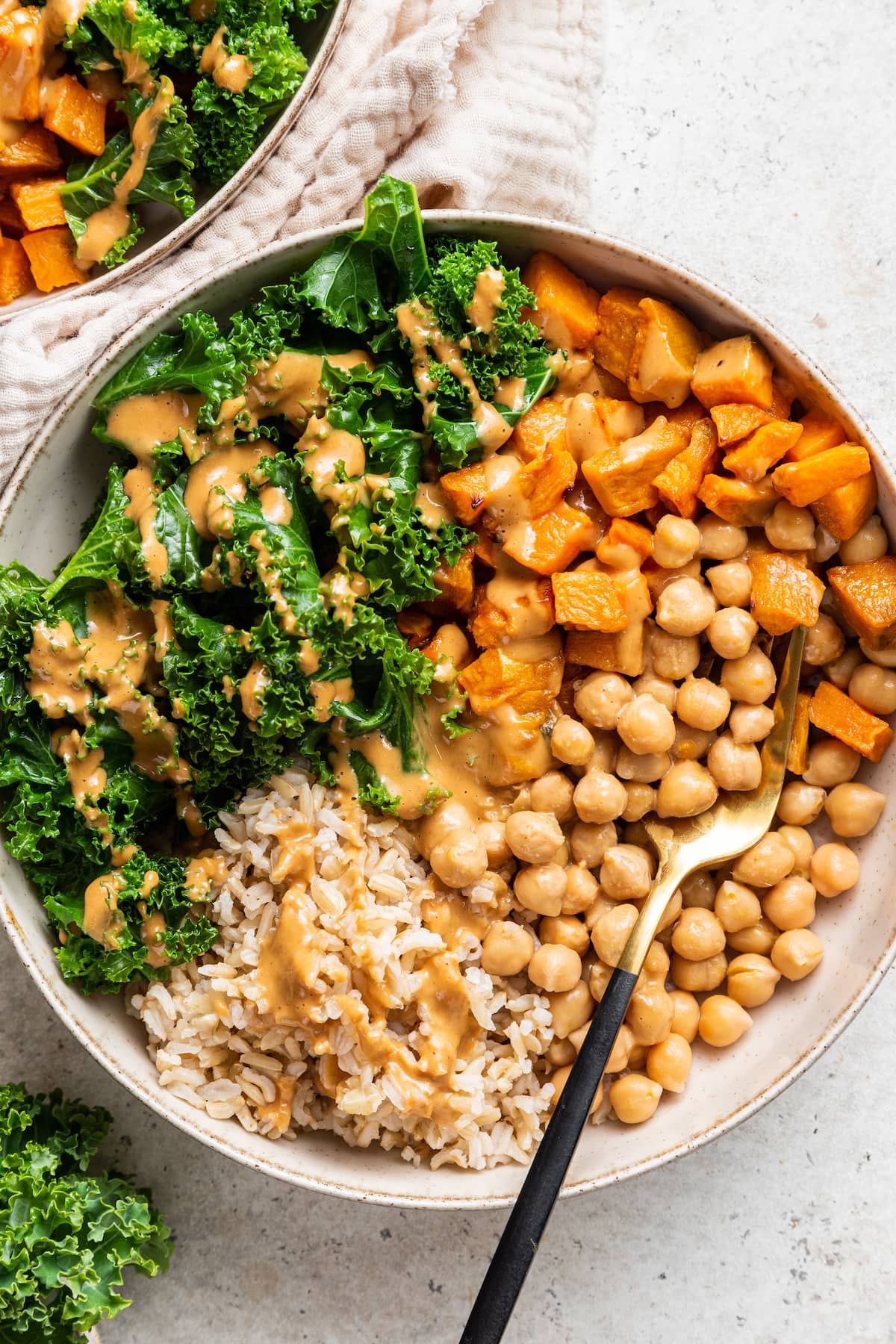 These kale and sweet potato brown rice bowls are topped with a delicious savory peanut sauce and packed with plant-based protein. Vegan, gluten-free + perfect for meal prep.
Meet your new go-to meal for busy weeknights or relaxed weekends: kale and sweet potato brown rice bowls.
It's a hearty mix of nutrient-rich ingredients topped off with a divine creamy peanut sauce. Simple yet unforgettable, this dish offers the ideal blend of comfort and nourishment.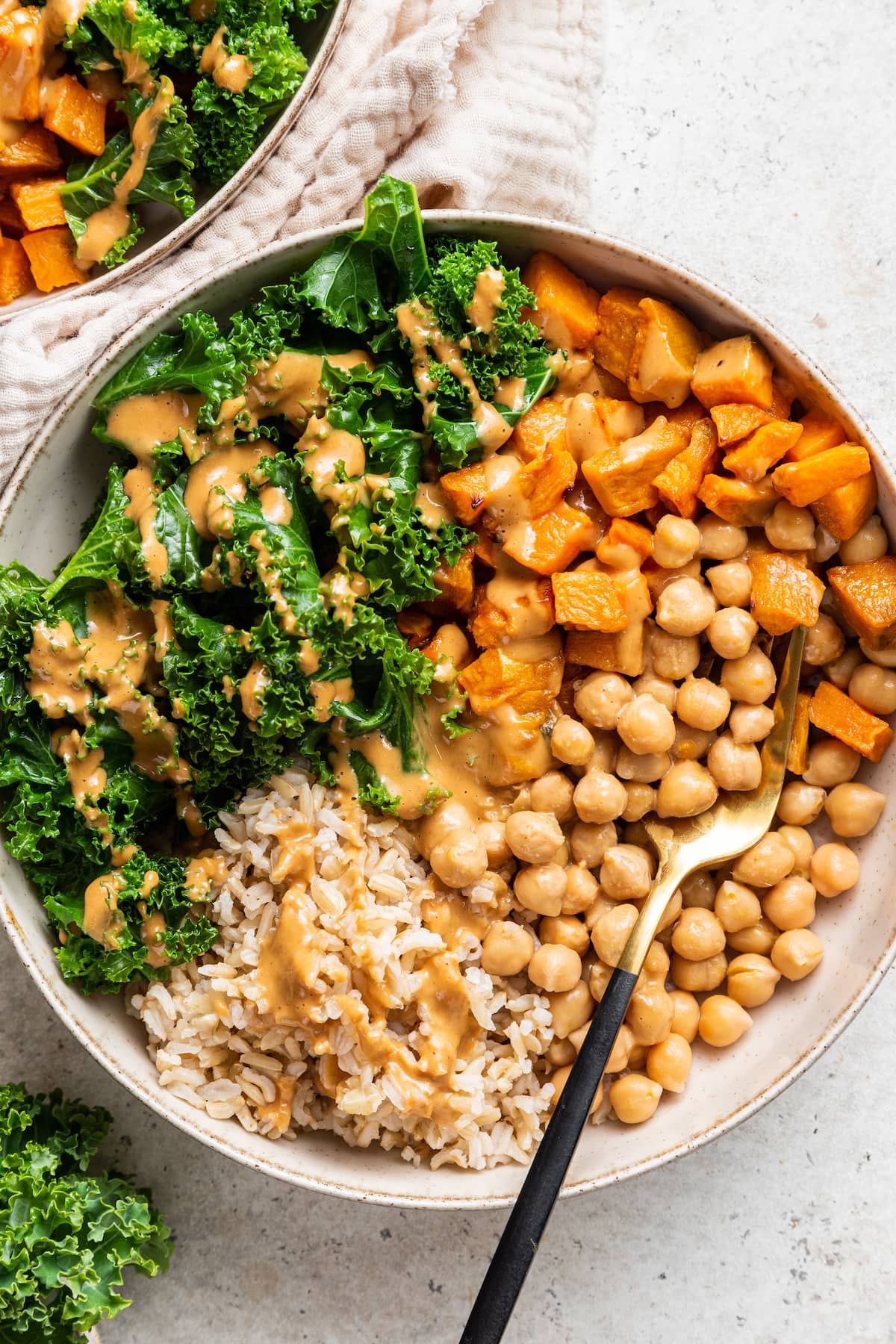 Why You'll Love This Recipe
Nutrient-Rich: Packed with vitamins, fiber, and protein thanks to kale, sweet potatoes, and chickpeas.
Versatile: Easily adaptable to various diets. Swap brown rice for quinoa if you prefer.
Flavorful: The homemade peanut sauce adds a delightful kick that ties everything together.
Meal-Prep Friendly: Make components ahead of time for easy assembly during busy days.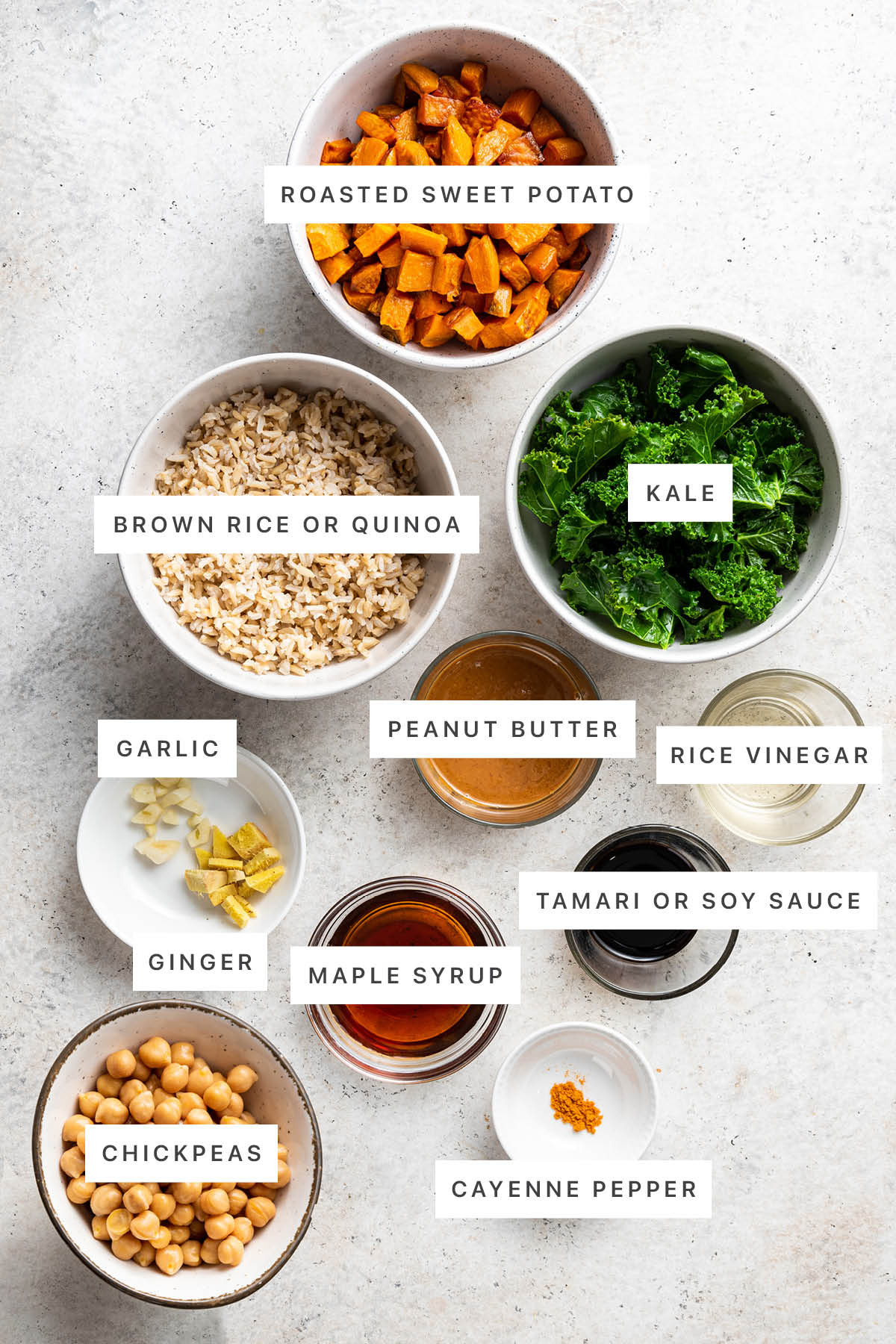 Ingredients Needed
brown rice – cook the rice according to package directions over the stovetop or in a rice cooker. I love the Lundberg Organic Short Grain Brown Rice, but you can use any brand of rice you prefer.
chickpeas – cook your own or use canned chickpeas for a shortcut. I cooked a big batch of chickpeas in my pressure cooker, which only took only 11 minutes.
sweet potatoes – when shopping for sweet potatoes, look for firm, unwrinkled skins. There's no need to peel your sweet potato for this recipe, just make sure to scrub your potato well and then cut into cubes.
kale – any type of kale will work here but I like using curly kale!
peanut sauce – a delicious and simple combination of peanut butter, rice vinegar, tamari (or soy sauce), garlic, ginger, maple syrup and cayenne pepper. The recipe makes about 3/4 cup so you'll have plenty to store in the fridge for later. It seriously tastes good on everything!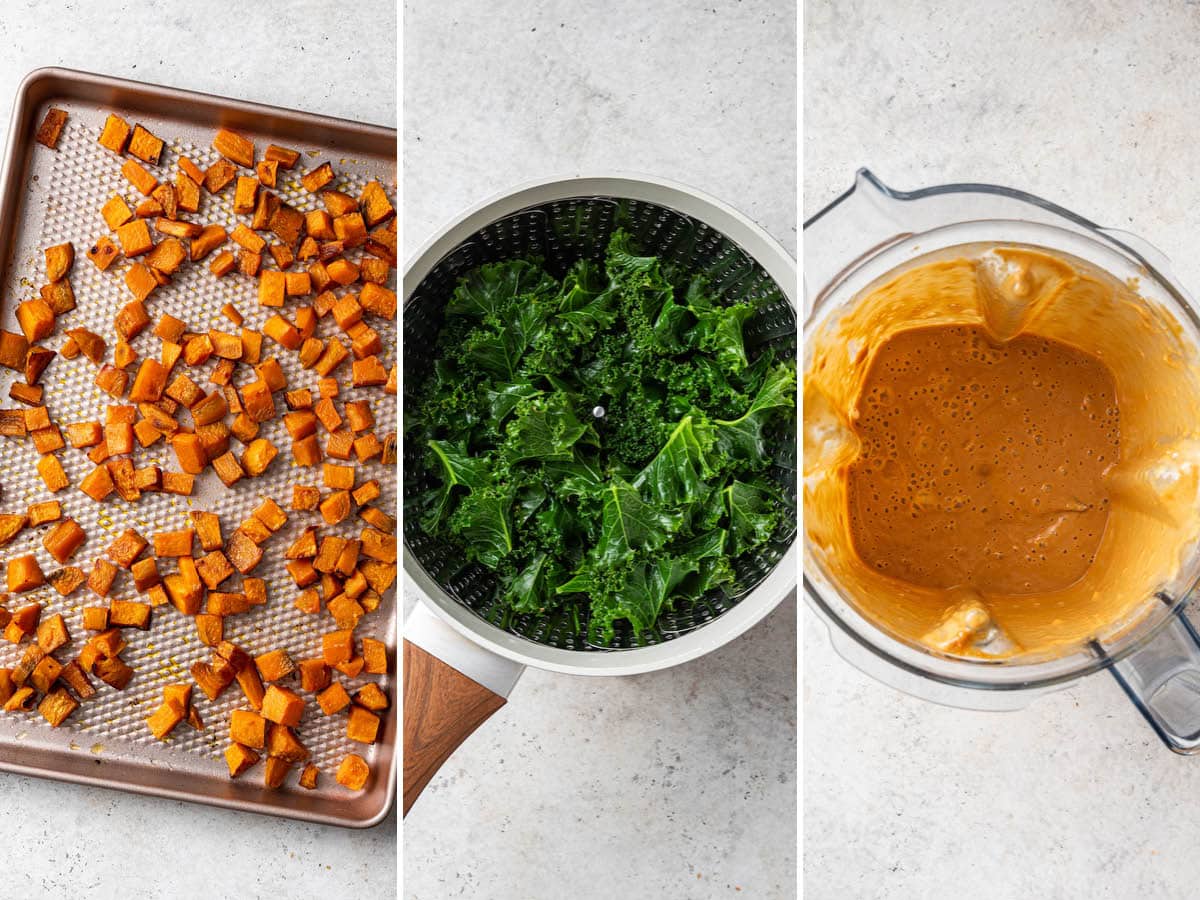 How to Make
Roast sweet potatoes – Chop 1 large sweet potato into 1/4 inch chunks, drizzle 1 teaspoon of olive oil or avocado oil and sprinkle with a little sea salt. Bake in the oven at 400°F for 30 minutes or until sweet potatoes are fork tender.
Cook rice – While sweet potatoes are roasting cook brown rice according to package instructions.
Steam kale – Prepare kale by washing, de-stemming and chopping. Then steam in a steamer basket for 3-5 mins or until tender. You can blanch or sauté the kale if you'd rather.
Make sauce – Make peanut sauce by blending all the sauce ingredients in a blender until smooth. Add water to thin sauce and create desired consistency.
Assemble and serve – Once all ingredients are prepped, grab two bowls and evenly distribute brown rice, kale, chickpeas and sweet potato chunks between both. Drizzle each with as much peanut sauce as you'd like. Serve warm or at room-temp.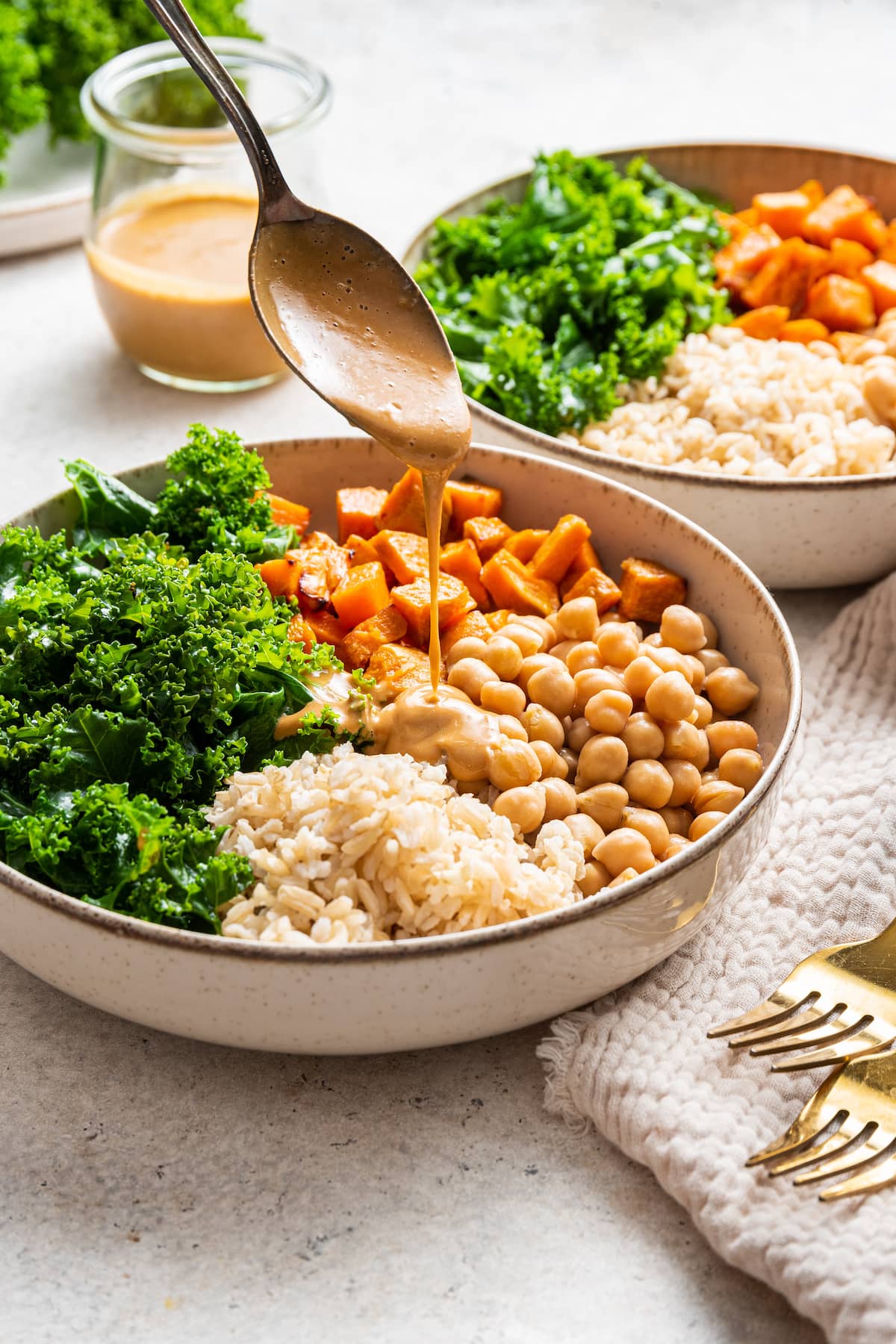 Variations
What we love about this brown rice bowl is that it is sooo easy and versatile. You could totally add or switch up ingredients and it would still taste lovely. Although, I must say that the blend of kale, chickpeas, sweet potatoes and peanut sauce is amazing and makes for a lovely, protein-packed plant-based meal, but if you want to switch it up here are some ideas:
Grain: Feel free to swap the rice for any grain of choice. This bowl would be delicious with white rice, wild rice, quinoa, cauliflower rice or farro.
Greens: Swap out kale for spinach, Swiss chard, or collard greens if you'd like a different leafy companion. Each green brings its unique nutritional profile and flavor.
Protein: Though chickpeas provide a plant-based protein kick, you could also use grilled chicken, tofu, or tempeh for a change of pace and additional protein. You could also swap the chickpeas with another legume like lentils, black beans or cannelloni beans.
Vegetables: If you're not a fan of sweet potatoes, try roasted butternut squash, roasted cauliflower, zucchini, broccoli or bell peppers for a different yet equally delicious experience.
Sauce: I love this creamy peanut sauce but you can switch it up! If you have a peanut allergy swap the peanut butter with almond butter or sunflower seed butter or make this tahini sauce or garlic tahini dressing instead.
Toppings: Consider sprinkling some sesame seeds, crushed nuts, or even a handful of pomegranate arils for added texture and a burst of flavor.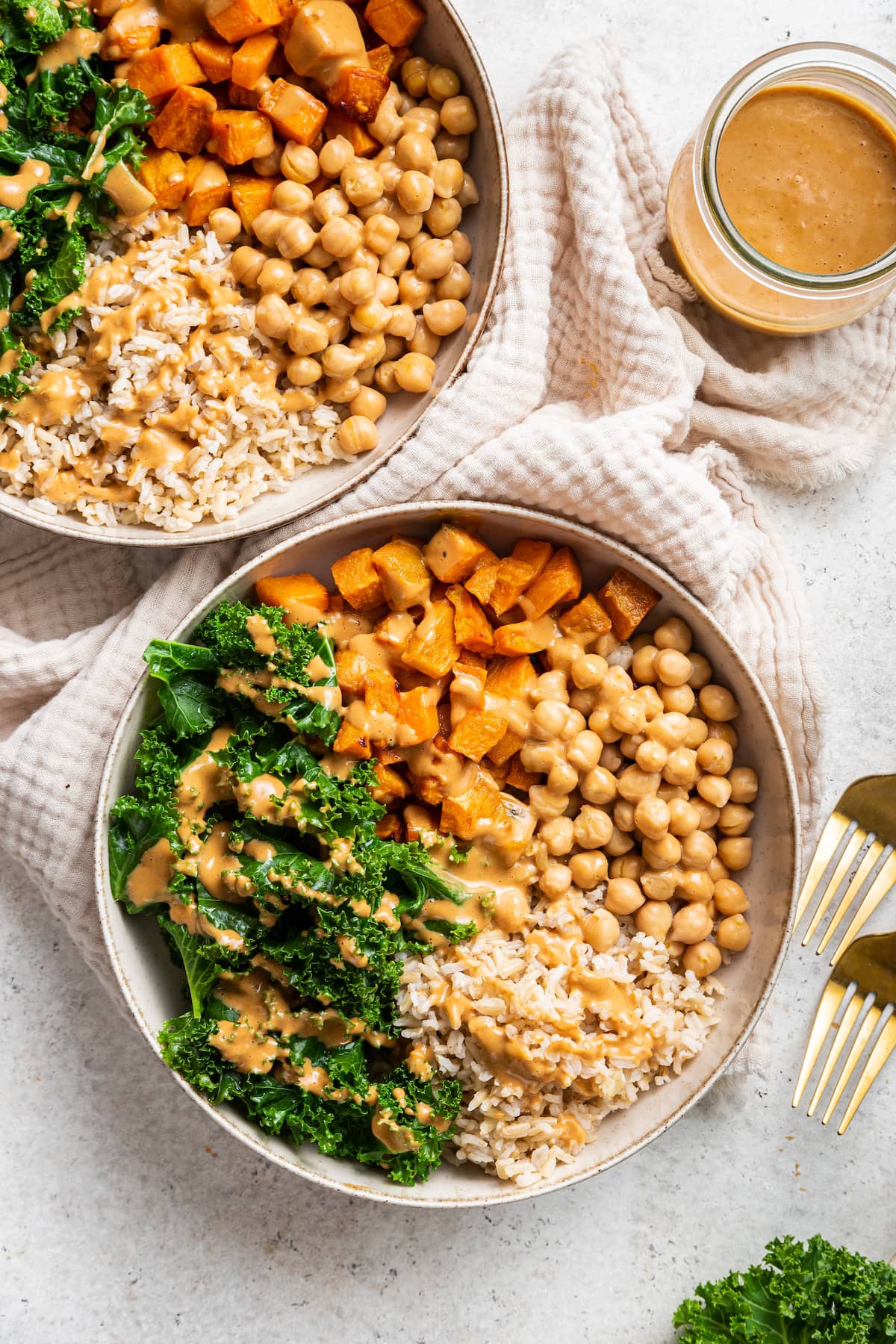 How to Meal Prep in Advance
This is the ultimate meal prep bowl. You can prep all of the components in advance and have a delicious, filling meal in minutes! Here's what I would do:
Roast the sweet potatoes and steam the kale and store in an airtight container.
Cook the rice and store in an airtight container.
Make the sauce and store in a mason jar or airtight container.
Then when you're ready to eat all you have to do is assemble all the components and add the chickpeas!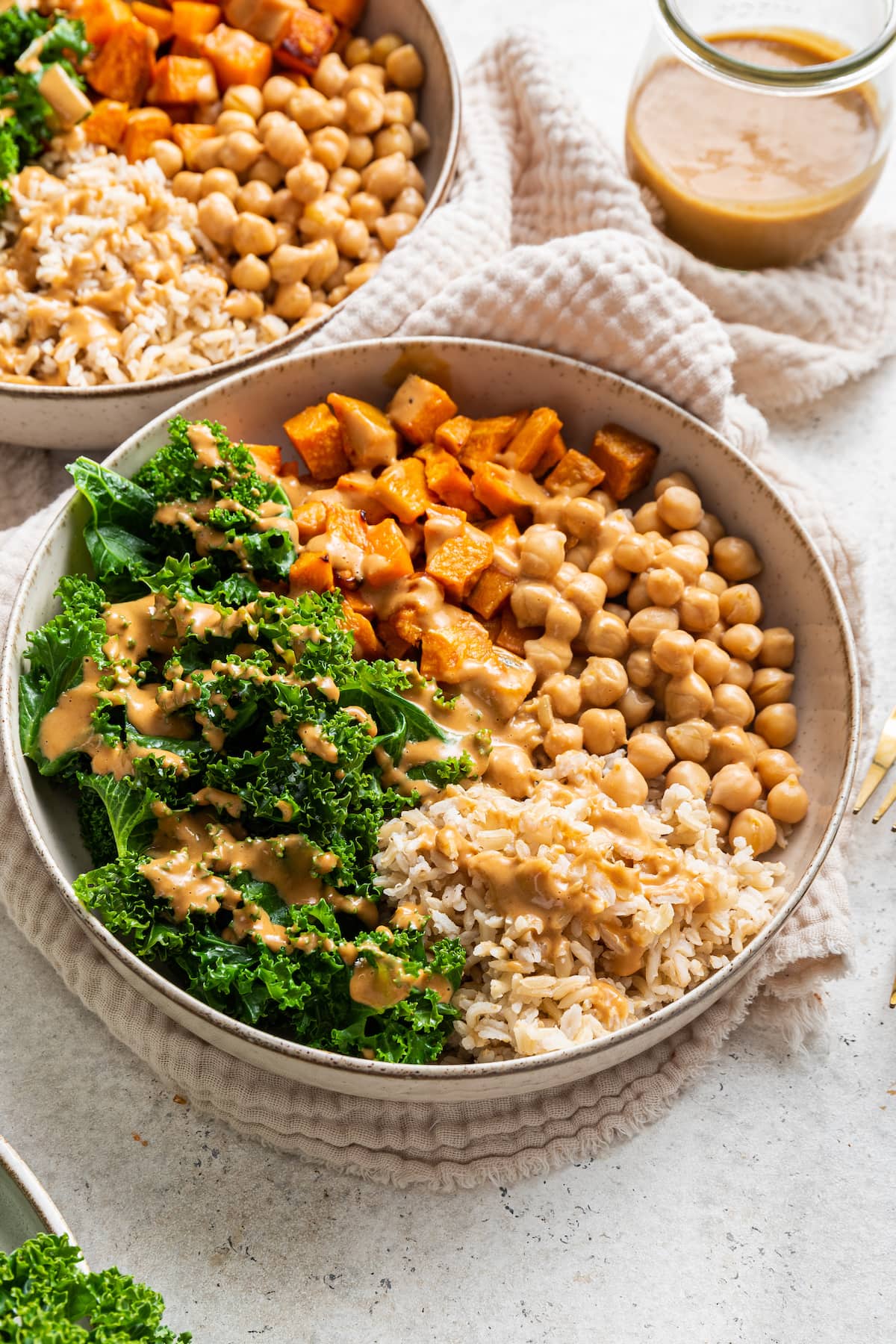 How to Store Leftovers
In the Fridge: Store individual components separately in airtight containers for up to 4 days. The peanut sauce can be stored in a separate jar and should be given a good stir before using.
Reheating: Warm up the rice, kale, and sweet potatoes in a microwave-safe dish for 2-3 minutes. The peanut sauce can be gently reheated in a saucepan over low heat. Add a bit of water to adjust consistency if needed.
Serving Suggestions: When ready to eat, simply assemble your bowl, reheat if necessary, and enjoy!
More Bowl Recipes to Try
Be sure to check out all of the vegan recipes as well as the full collection of dinner recipes on EBF!
Serving: 1bowl with 2 Tablespoons sauce | Calories: 408kcal | Carbohydrates: 62g | Protein: 12g | Fat: 15g | Saturated Fat: 2g | Polyunsaturated Fat: 3g | Monounsaturated Fat: 4g | Cholesterol: 4mg | Sodium: 615mg | Potassium: 796mg | Fiber: 9g | Sugar: 12g
Nutrition information is automatically calculated, so should only be used as an approximation.