These date Mounds Bars are made with only 5 simple, real food ingredients and taste even better than an actual Mounds Bar. They're vegan, super easy to make and will definitely satisfy your candy craving!
It's officially October and you know what that means… it's time for another delicious candy bar remake! Last year I shared these Almond Joy bars and this year I'm sharing a healthier recreation of a Mounds Candy Bar… in the form of these date Mounds Bars!
This recipe is seriously so easy to make! All you need are 5 simple ingredients and a little patience while the date bars chill (that's the hardest part, IMO!) and you'll have a delicious bite-size treat that tastes just like the real deal minus the refined sugars or artificial ingredients.
Why You'll Love This Recipe
It's the perfect alternative to make for Halloween when you're craving something sweet, but are trying to avoid store-bought candy.
It's naturally sweetened with medjool dates. No corn syrup or refined sugars over here!
They taste just like a Mounds Candy Bar but are loaded with real, whole food ingredients.
You only need 5 simple ingredients.
They're gluten-free, soy-free, dairy-free and vegan.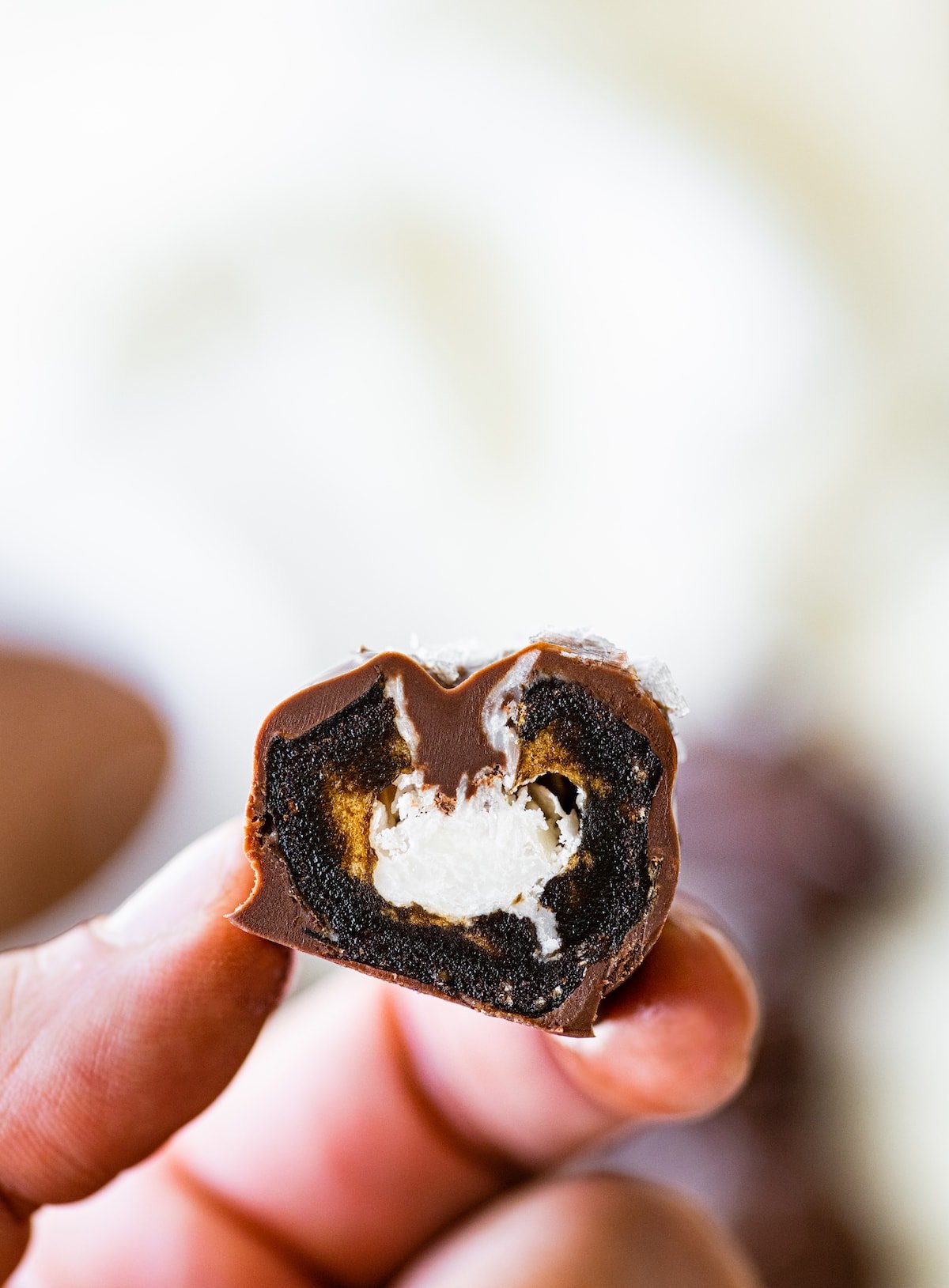 A Healthier Mounds Bar
Mounds Candy Bars have been a classic treat for many, standing out with their rich coconut center coated in dark chocolate. Like many, I've enjoyed this treat alongside classics like Reese's peanut butter cups, Twix, Butterfingers, Snickers, etc. — I mean, who can resist a good chocolate candy?!
The only problem with all the store-bought candy is that they're made with lots of not-so-good-for-you ingredients. For instance, Mounds Bars are loaded with corn syrup (the first ingredient!), white sugar, sodium metabisulfite and hydrolyzed milk protein. No thank you!
That's where these homemade date Mounds Bars comes in. This recipe is made with just 5 simple ingredients that you can actually pronounce and has some nutritional value. The coconut butter and shredded coconut are good sources of healthy fats and dates contain a good amount of fiber and are packed with nutrients like potassium (50% more potassium by weight than a banana), copper, magnesium, vitamin B6, niacin, calcium, iron and vitamin K. Added bonus: these treats are gluten-free, soy-free, dairy-free and vegan.
Ingredients Needed
medjool dates – these naturally sweet gems are the perfect base for our Mounds-inspired treat. Not only do they provide natural sugars, but they also have a chewy texture and a caramel-like flavor. You can buy medjool dates that are already pitted or have the pits that you pit yourself (it's super easy). Two brands that I like are Natural Delights and Joolies. You can find Natural Delights in the produce section of most grocery stores (near the bananas) and Joolies are offered on Amazon and Thrive Market.
coconut butter – distinct from coconut oil, coconut butter includes the whole coconut flesh, offering a creamy and slightly textured consistency. It adds richness and that sweet taste of coconut. You can easily make your own coconut butter using a food processor or blender or use store-bought coconut butter.
unsweetened coconut – make sure you're using unsweetened fine or desiccated shredded coconut, not coconut flakes. If you use longer shreds, the coconut might fall out of the dates. My favorite brand is Bob's Red Mill shredded coconut.
chocolate chips – your favorite brand of chocolate chips will work, just make sure you're grabbing dairy-free to keep this recipe vegan. I used the Enjoy Life dark chocolate chips, which are vegan and allergen-friendly, but I also like Lily's dark chocolate chips for a low sugar option.
coconut oil – just a touch is added to the chocolate chips to help them melt into a smoother consistency, making it easier to coat our dates. You can skip it, but your melted chocolate will likely be pretty thick.
flaky sea salt – this is optional, but the flaky sea salt definitely elevates these treats to gourmet level!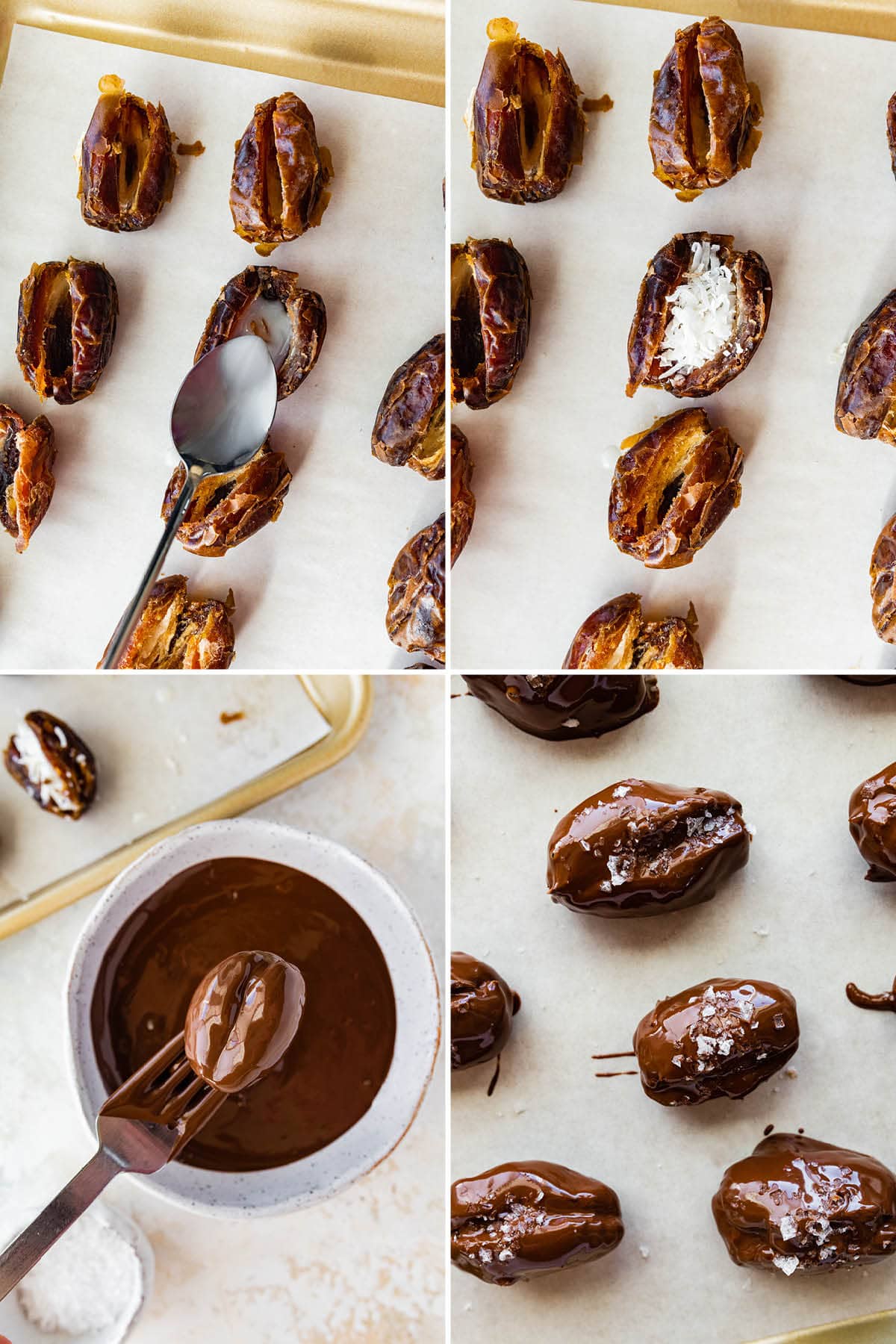 How to Make
Prepare Dates: Slice each date down the center and remove the pit. Spoon ¼-½ teaspoon of coconut butter into the center of each date, and sprinkle with ½ teaspoon of desiccated coconut. Press the date back together.
Melt Chocolate: In a microwave-safe bowl, combine chocolate chips and coconut oil. Heat in the microwave for a total time of 1 minute. Most of the chocolate chips should be melted at this stage. Stir until all chips are completely melted and the mixture is smooth. For those who prefer not using a microwave, this step can be done using a stove-top method.
Dip and Coat: Dip each coconut butter-stuffed date into the chocolate and roll it until all the edges are covered. Place on a piece of parchment paper. Continue until all dates have been covered.
Final Touches: Sprinkle a pinch of sea salt or more shredded coconut over the chocolate-coated dates if desired.
Chill and Serve: Place the tray in the refrigerator to let the chocolate set for about 30-45 minutes. Once set, they're ready to be enjoyed!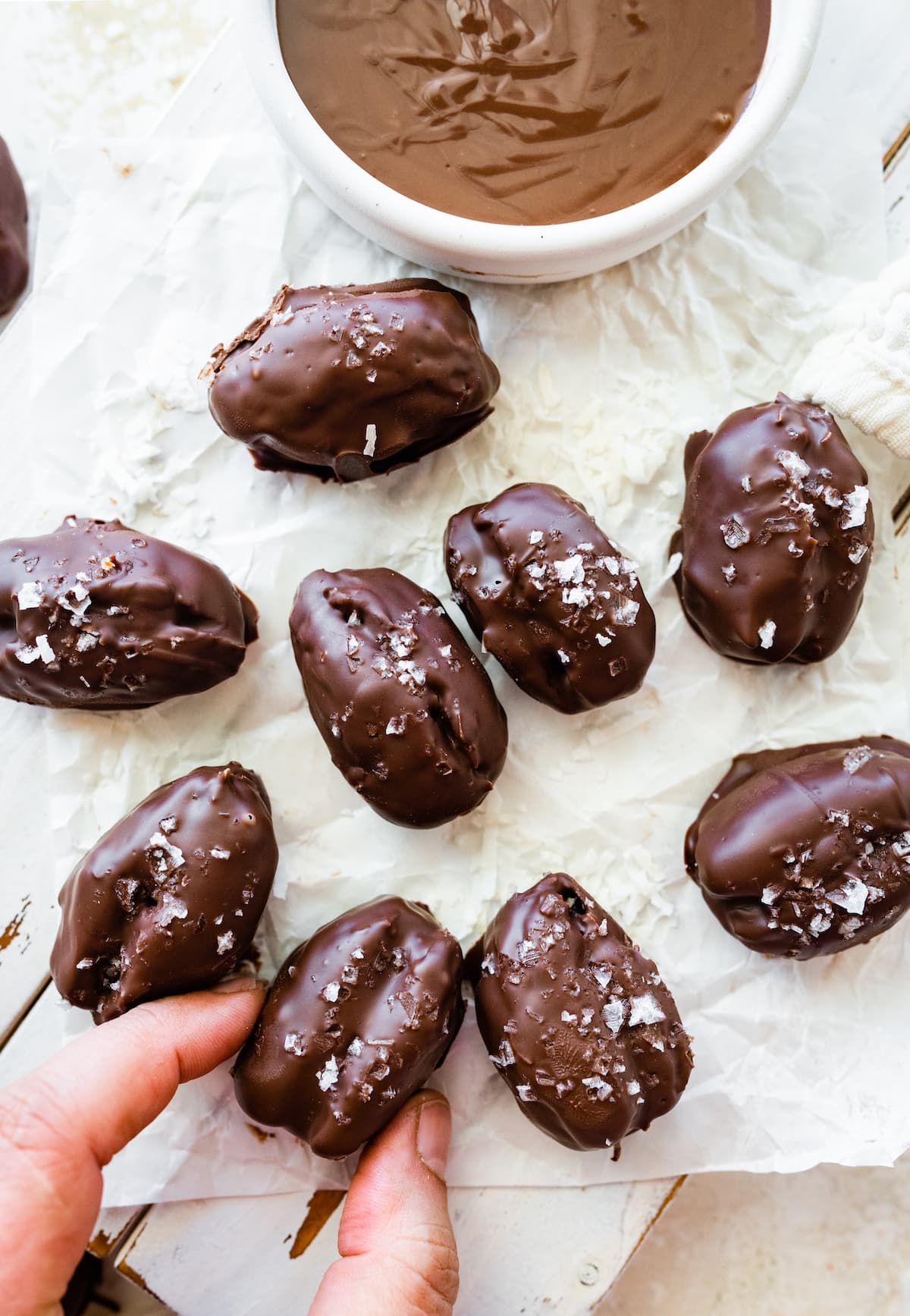 Tips For Success
Use melted coconut butter: If your coconut butter is too hard you'll want to melt it before making this recipe. To do this, simply place your coconut butter jar in a bowl of warm water for 15-20 minutes until the coconut butter starts to thin out and get drippy.
Buy pitted dates: To make this recipe come together faster buy pre-pitted dates!
Soak dates if needed: If you find that your dates are quite hard you can let them soak in hot water for about 10 minutes to soften them up a bit. Just make sure to drain and blot the excess water up before making this recipe.
Don't skip the coconut oil: Don't skip this in the chocolate! The coconut oil creates a smooth and glossy finish to your melted chocolate making it easier to coat the date bars.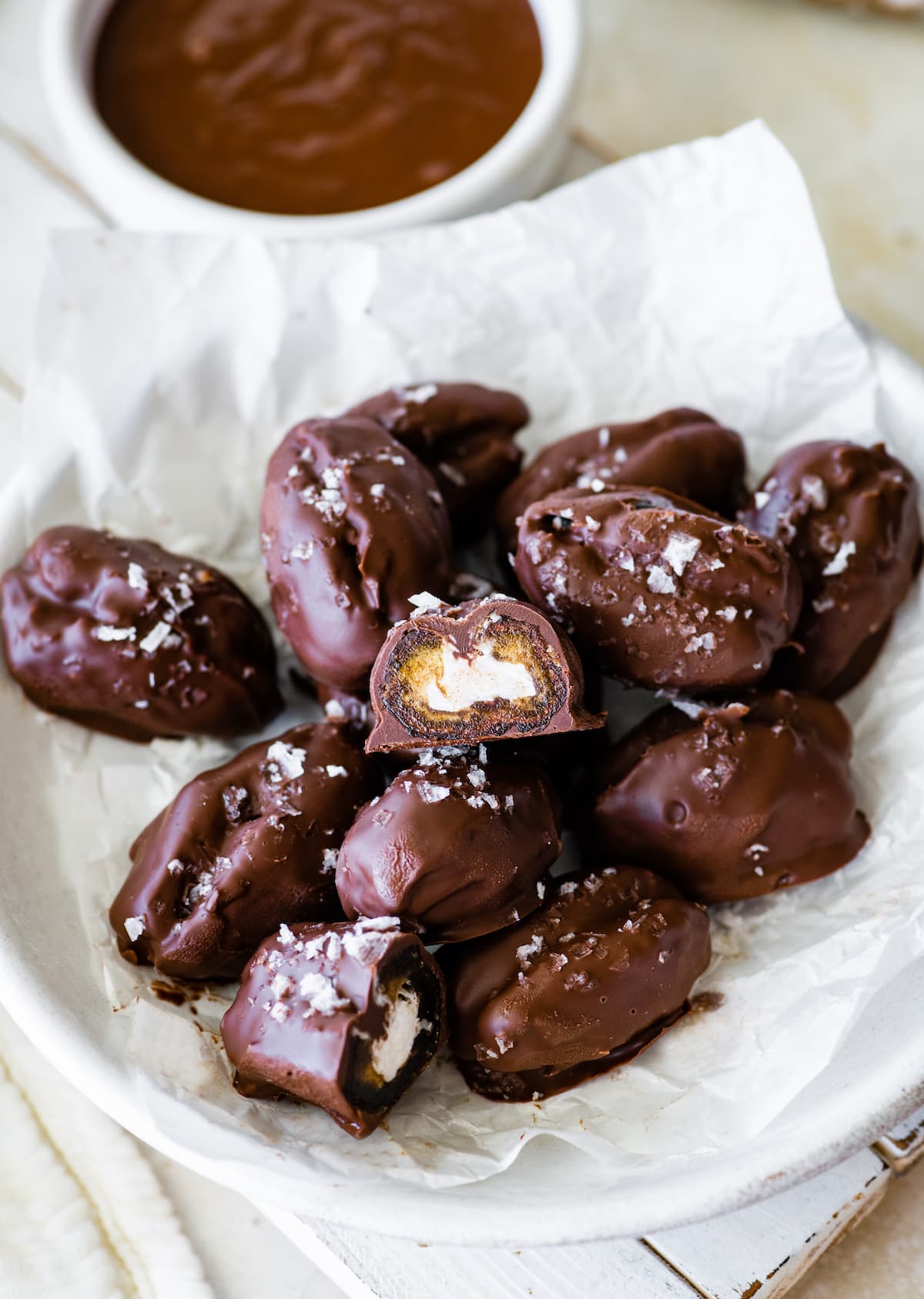 How to Store
I recommend storing these date Mounds Bars in an airtight container in the fridge or freezer. I like these glass storage containers or my Stasher bags for storing. They should last up at least a week in the fridge and up to 3 months in the freezer… but they don't usually last long around here! I recommend letting them sit for 5 minutes after taking them out of the freezer so they're aren't too hard.
More Candy Recipes to Try
More Healthy Treats to Try
Be sure to check out more Halloween recipes as well as the full collection of dessert recipes on EBF!
Serving: 1date | Calories: 160kcal | Carbohydrates: 22g | Protein: 2g | Fat: 8g | Saturated Fat: 5g | Sodium: 1mg | Fiber: 2g | Sugar: 18g
Nutrition information is automatically calculated, so should only be used as an approximation.