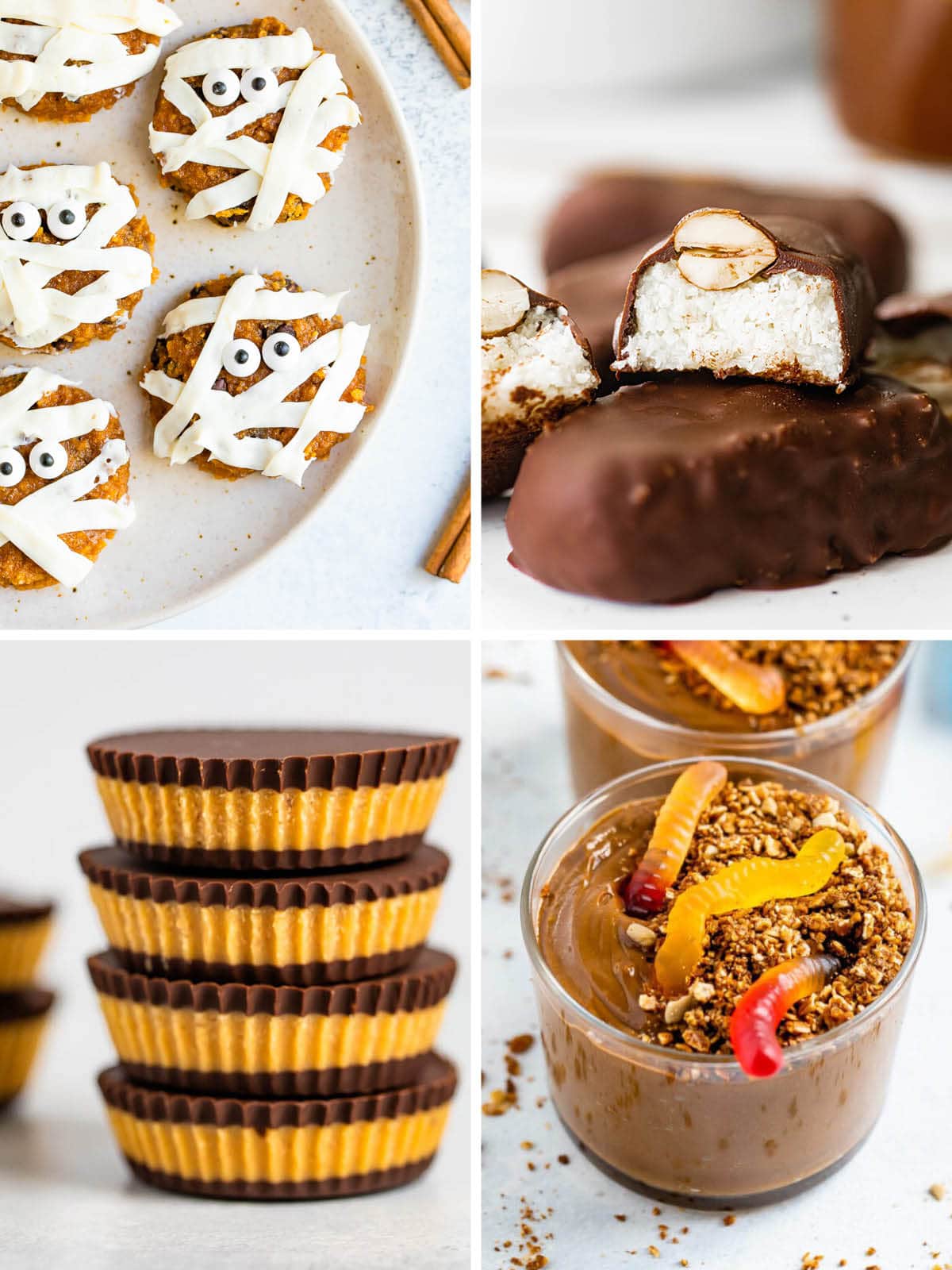 Skip the store-bought candy and make these healthy Halloween treats instead! They're all allergen-friendly and super easy to make with simple ingredients.
I love Halloween! Who's with me?! The chilly temps, the spooky movies, carving pumpkins and of course the trick-or-treating! But what I don't love is all the store-bought candy that's around during this season.
Don't get me wrong, I grew up eating (and loving) Butterfingers and Reese's peanut butter cups, and even though my eating habits have changed I still love to enjoy a good treat. Especially if it involves peanut butter and chocolate!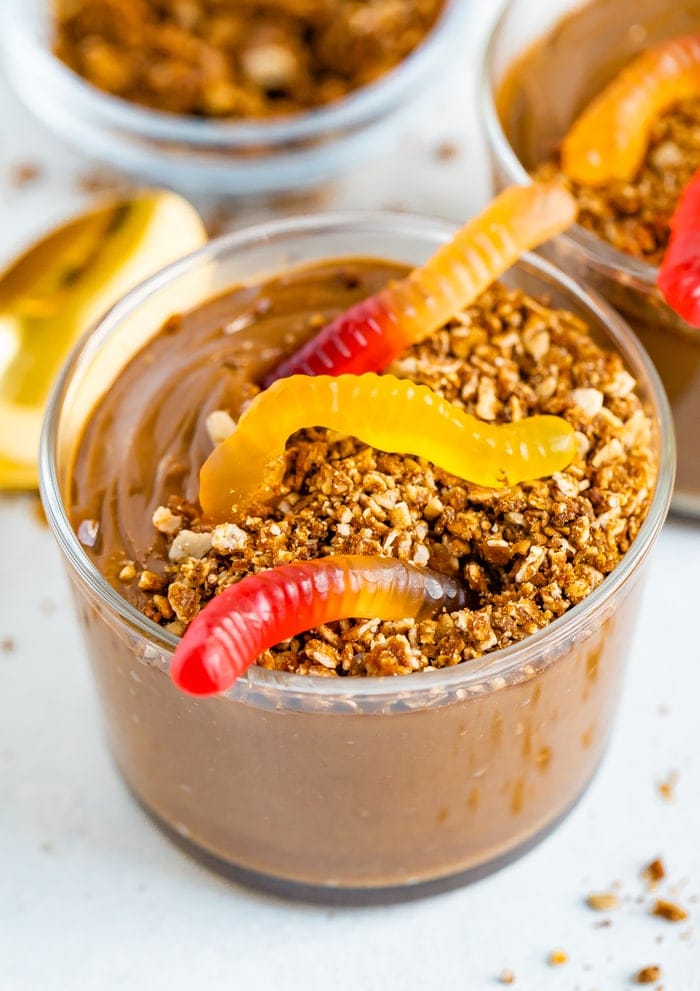 So, all that said I was determined to develop healthier homemade versions of all my favorite Halloween treats so I could still indulge during this season, but feel better about what I'm eating.
All of these easy Halloween treats I'm sharing today are perfect alternatives to make for a Halloween party or whenever you and your family are craving something sweet, but are trying to avoid store-bought candy.
Healthy Halloween Treats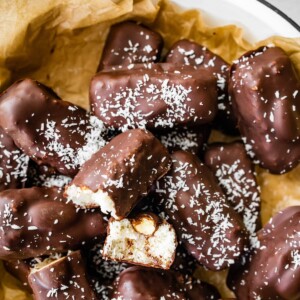 Almond Joy Bars
These almond joy bars are made with just 5 simple ingredients and taste just like the real deal. They're vegan, gluten-free, super easy to make and are sure to satisfy your candy craving!
5-Ingredient Peanut Butter Cups
Make your own peanut butter cups using just 5 simple ingredients — dark chocolate chips, peanut butter, coconut oil, honey and sea salt.
Chocolate Covered Snickers Stuffed Dates
These chocolate covered Snickers stuffed dates are made with real food ingredients and taste even better than an actual Snickers bar. Vegan + gluten-free.
Healthier Butterfingers
These healthier Butterfingers are made with only six simple ingredients. They're crunchy, peanut-buttery and taste like the real deal.
Twix Bars
These healthy Twix bars are vegan, gluten-free – made with an almond flour crust and a date caramel filling. They taste like the real deal and are sure to satisfy your candy craving!
Date Mounds Bars
These date Mounds Bars are made with only 5 simple, real food ingredients and taste even better than an actual Mounds Bar. They're vegan, super easy to make and will definitely satisfy your candy craving!
Mummy Cookies
Healthy soft pumpkin cookies decorated with frosting and candy eyes to make spooky mummy cookies. So cute and perfect for Halloween.
Healthy Dirt Cups
Healthy dirt cups made with creamy avocado chocolate pudding, chocolate granola and organic gummy worms. Adult-approved and super fun for kids.
Cookie Dough Protein Bites
Make healthy cookie dough protein bites with chickpea based cookie dough and melted dark chocolate. You'll love having these on hand for a sweet treat.
Chocolate Almond Crispy Bites
These chocolate almond crispy bites are dangerously good and made with only 5 ingredients. Perfect for kids (and adults), plus they're vegan and gluten-free.
More Collections to Check Out
Add avocado, almond milk, cocoa powder, maple syrup and vanilla into a food processor or high power blender. Blend until mixture is smooth and there are no visible pieces of avocado. You may need to use a spatula to scrape down the sides of your machine or the blender's tamper, just to make sure the mixture is combining. If the pudding seems too thick, you can add additional almond milk, one Tablespoon at a time, to get the pudding consistency you like. Once smooth, taste and add more sweetener, if necessary.

Portion pudding into four cups and place in the refrigerator to chill, about 30 minutes.

In the meantime, crush the granola. You can use your food processor for this or simply place the granola in a plastic bag and crush it using the bottom of a glass. This step is optional, but crushed granola looks more like dirt than granola chunks.

Once pudding is chilled, top with crushed granola and gummy worms. I did three worms per cup and placed some into the pudding and some on top. Serve immediately.

The avocado pudding is best served the day you make it, but will keep in the fridge for 2-3 days. Just store the pudding separately from the granola and worms as they will get soft if they're stored with the pudding.
Serving: 1dirt cup | Calories: 281kcal | Carbohydrates: 38g | Protein: 4g | Fat: 14g | Sodium: 57mg | Fiber: 8g | Sugar: 15g
Nutrition information is automatically calculated, so should only be used as an approximation.