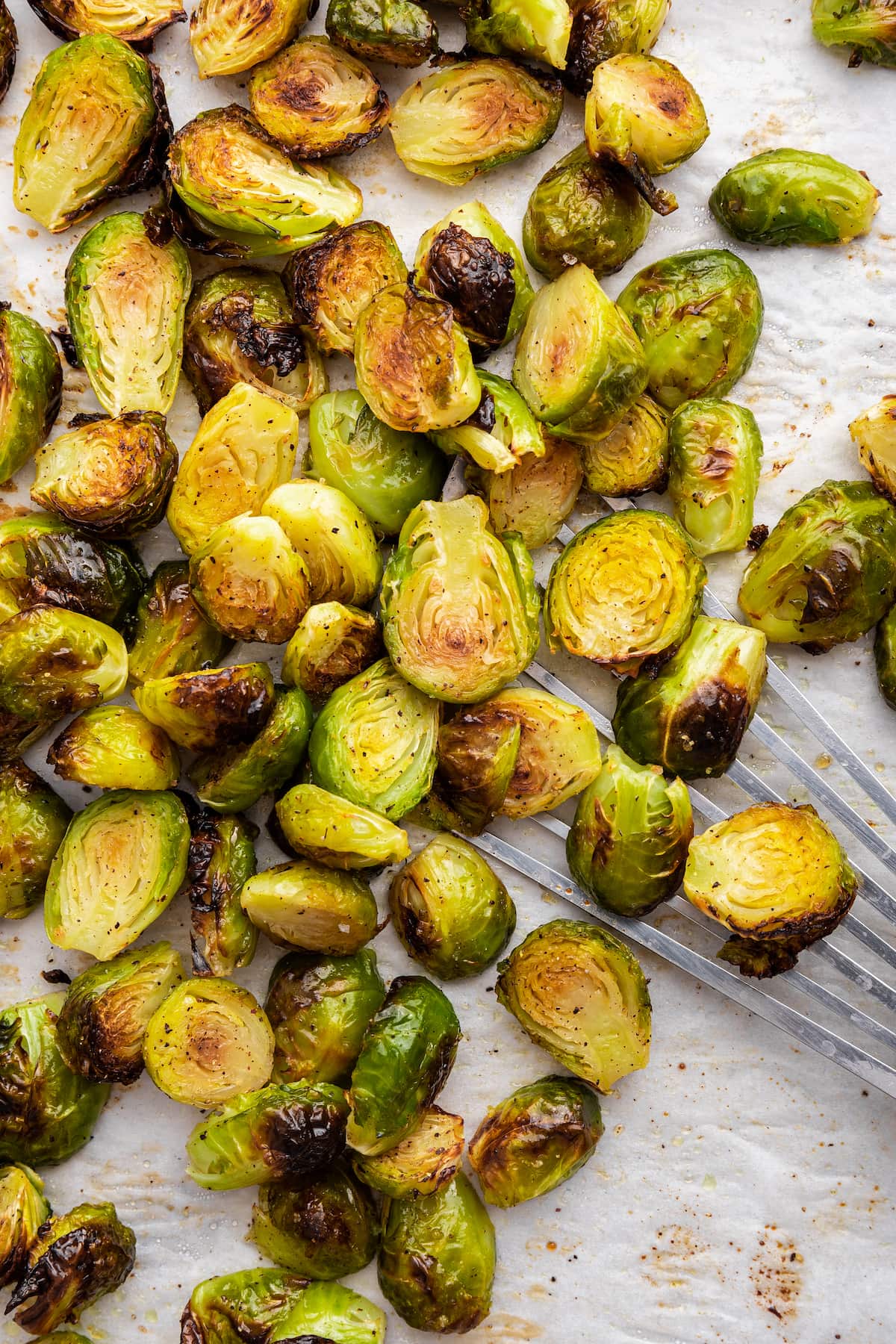 These roasted Brussels sprouts are caramelized and crispy on the outside and perfectly tender on the inside. This recipe comes together quickly and is the perfect healthy side dish for any meal.
Gone are the days of bitter, mushy Brussels sprouts! With this simple roasted Brussels sprouts recipe you'll end up with sprouts that are perfectly tender on the inside while being crisp and slightly caramelized on the outside… every single time!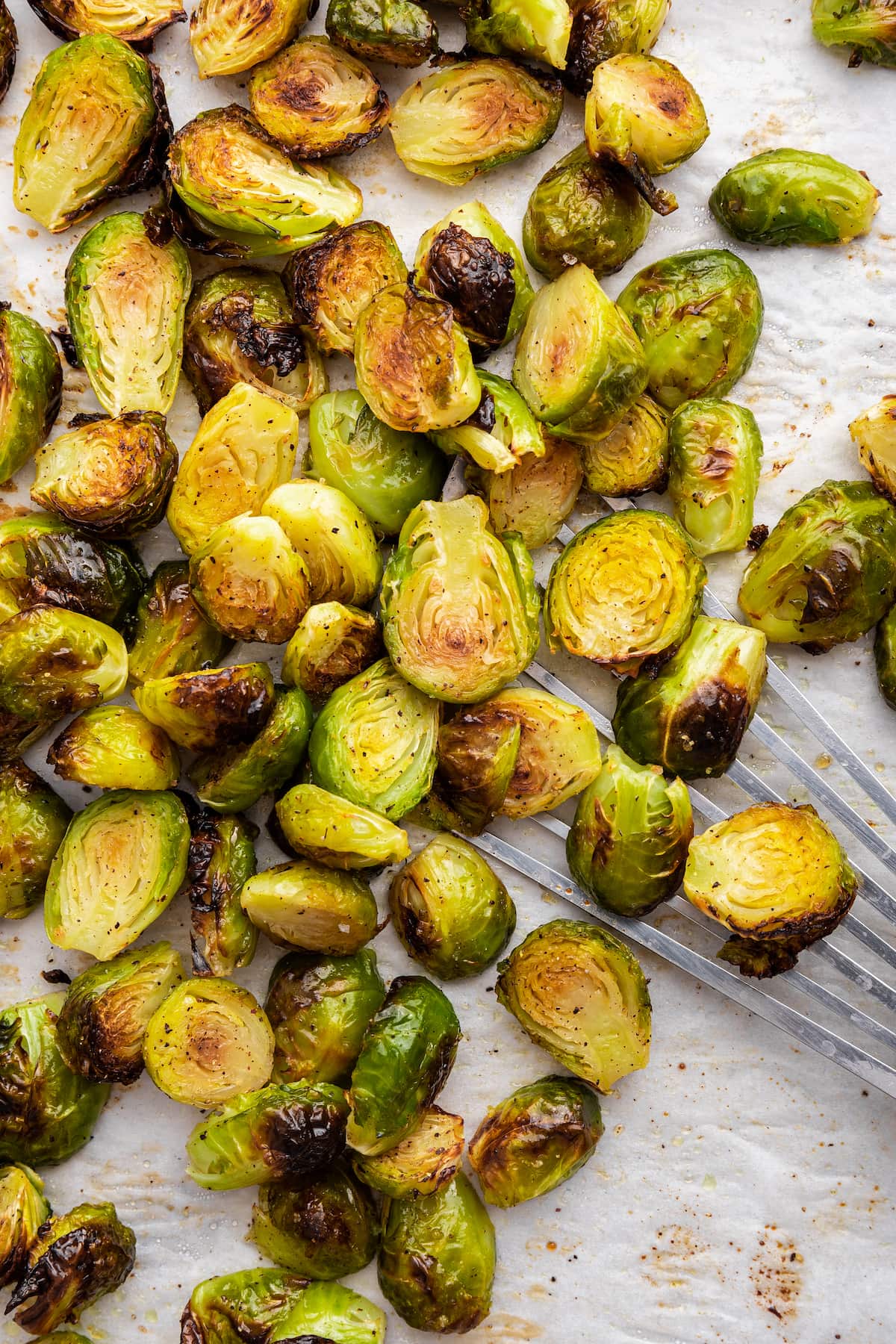 Why You'll Love This Recipe
They're caramelized and crispy on the outside and perfectly tender on the inside.
Super simple to whip up. Just chop your Brussels sprouts, toss them in oil, salt and pepper and roast!
You only need 4 main ingredients.
It's a versatile and customizable side dish that can be served so many different ways!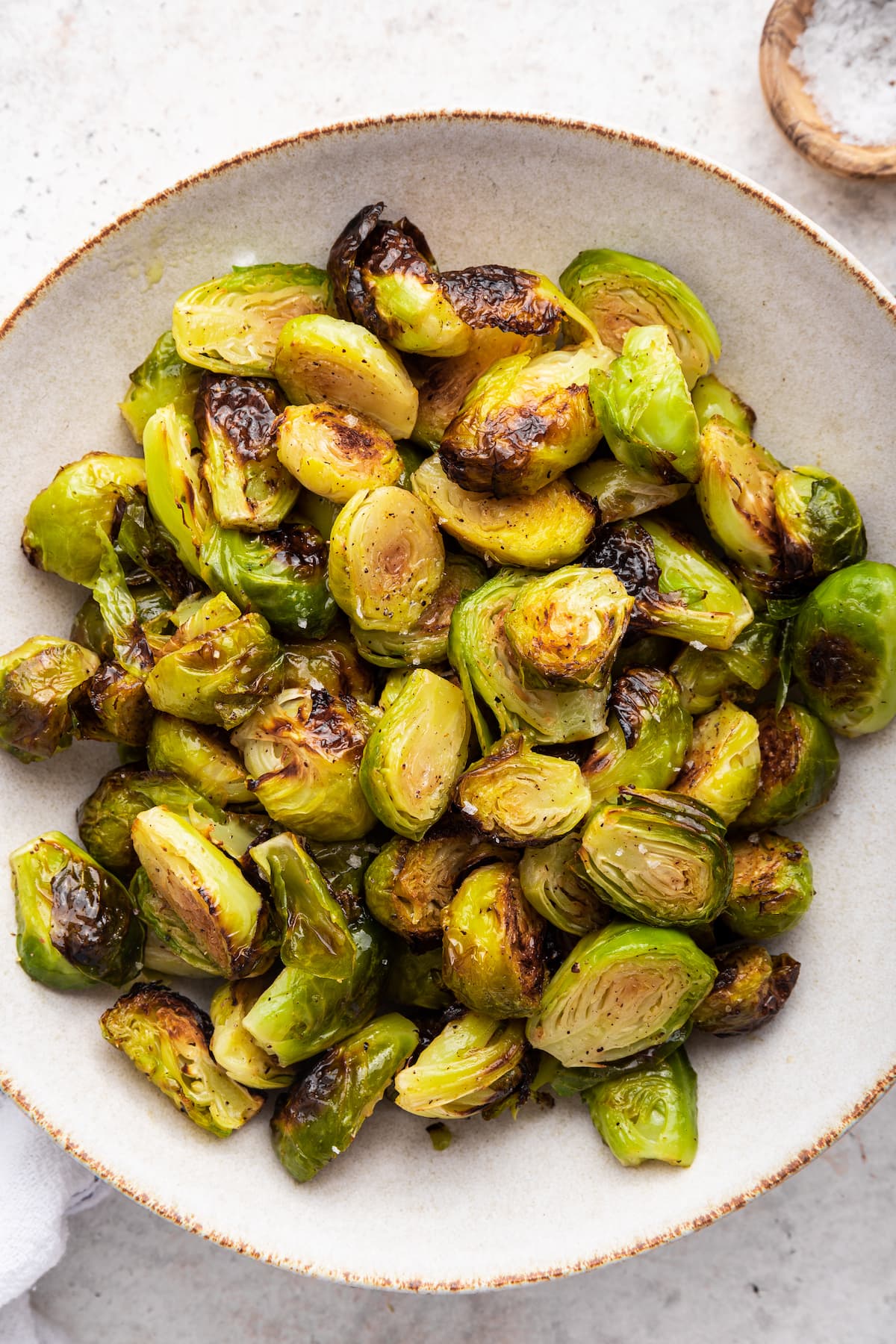 Brussels Sprouts Health Benefits
Did you know that Brussels sprouts are a member of the Brassicaceae family of vegetables and are closely related to kale, cauliflower and mustard greens?
They're low in calories but high in fiber, rich in antioxidants and packed with vitamins and minerals. They're especially rich in vitamin K and vitamin C. Some studies suggest that consuming Brussels sprouts could help protect against certain types of cancer due to their high level of antioxidants… pretty cool! (Source)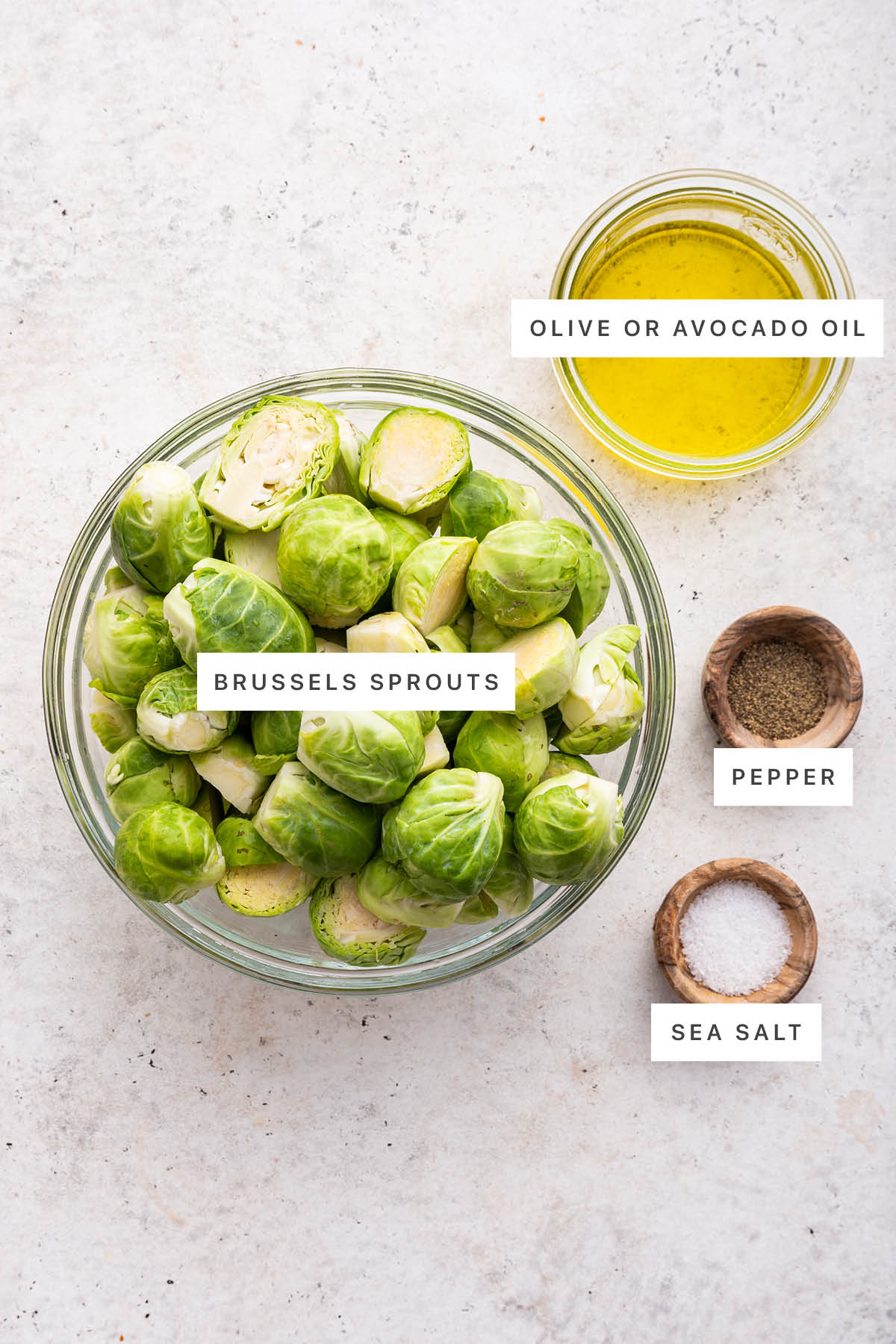 Ingredients Needed
Brussels sprouts – the star of the show! Be sure to rinse them well, trim off the tough ends and cut into halves. Look for Brussels sprouts that have bright green heads that are firm, feel heavy for their size with leaves that are tightly packed. Avoid yellow leaves or black spots and chop these off if needed.
olive oil or avocado oil – helps to achieve those perfectly caramelized and crispy Brussels sprouts. It also helps prevent the Brussels from sticking to the baking sheet. Both olive oil and avocado oil work well!
sea salt and black pepper – essential seasonings to bring all the flavors together! Adjust seasonings to taste!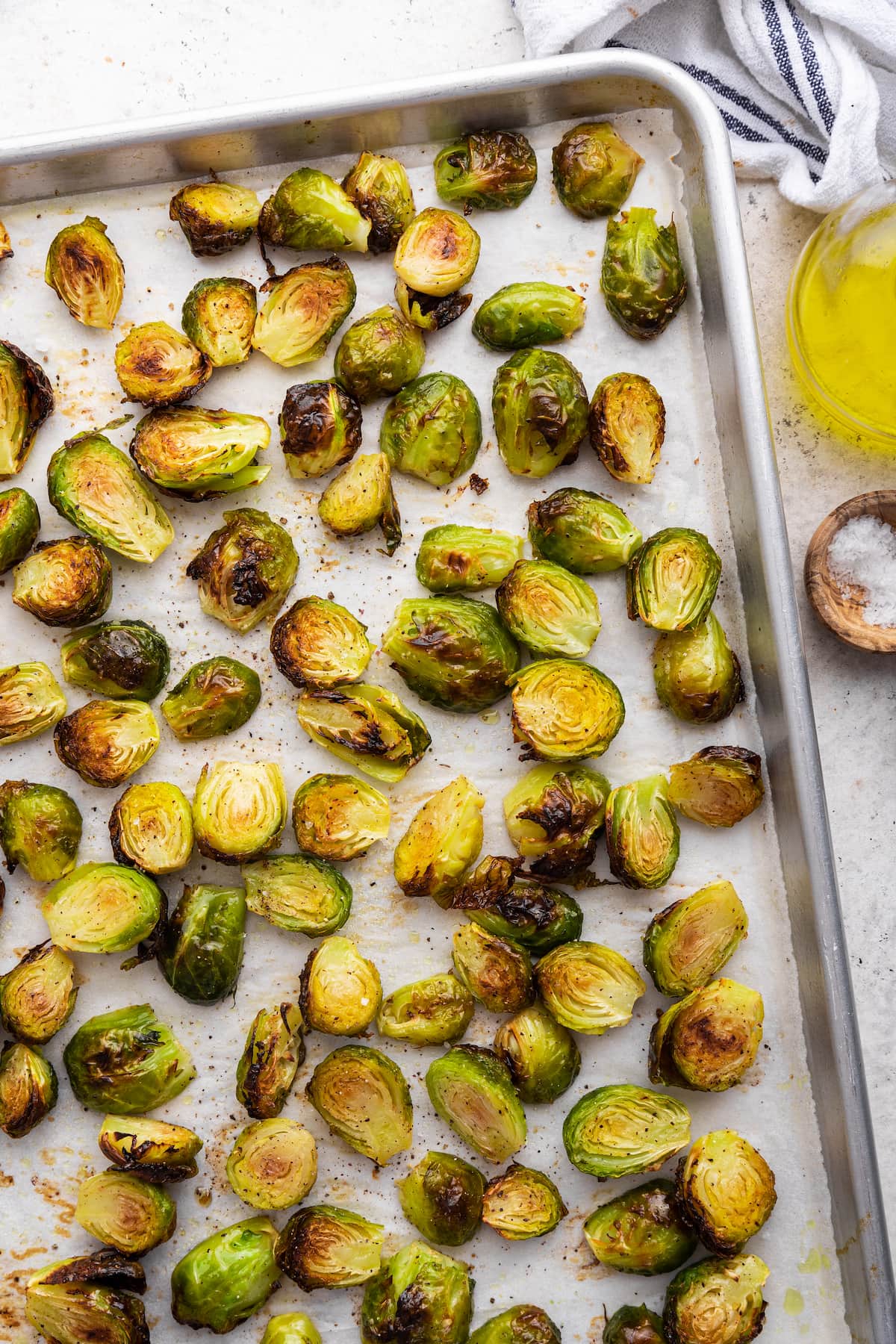 How to Make
Prep: Start by preheating your oven to 400°F. While it's heating up, line a baking sheet with parchment paper or aluminum foil to prevent sticking and make cleanup a breeze.
Prepare Brussels: Wash the Brussels sprouts under cool water. Trim off any tough ends and remove any loose or yellowing leaves. Once trimmed, slice each sprout in half. Add the halved Brussels sprouts to a large mixing bowl. Drizzle with your choice of oil and sprinkle with salt and pepper. Toss to ensure they're all well-coated with the oil and seasonings.
Roast: Arrange the sprouts cut-side down on your prepared sheet pan in a single layer. This will help achieve a delicious caramelized base. Place the baking sheet in the oven and roast for 25-30 minutes. For an even roast, give them a flip halfway through. You'll know they're done when the outer leaves have turned a beautiful golden brown and are tender when pierced.
Serve: Once roasted to perfection, remove them from the oven, plate, and serve immediately. Enjoy their crispy, salty-savory goodness!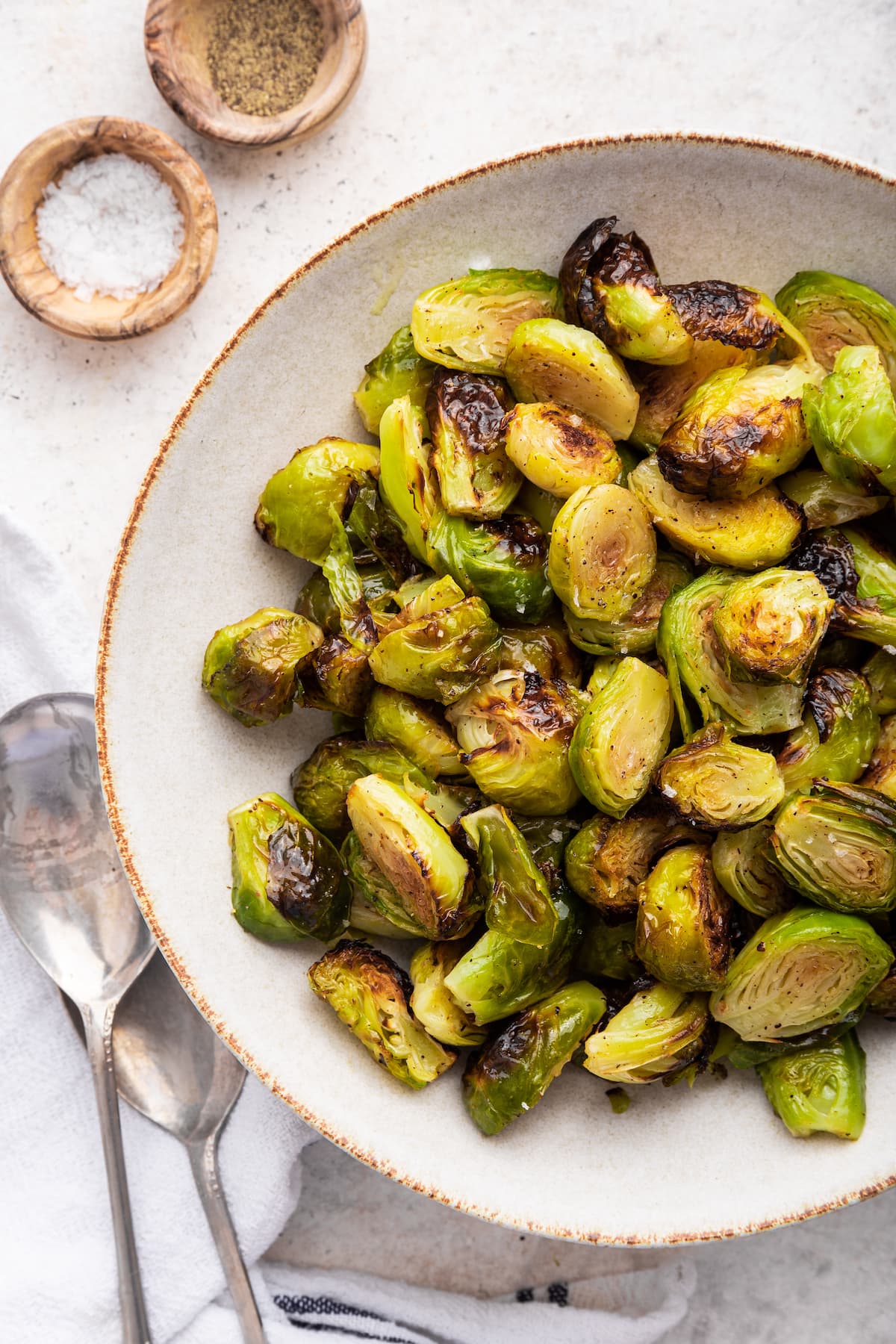 Buying & Preparing Brussels Sprouts
When shopping for Brussels sprouts, look for ones that are firm, feel tightly packed and have bright green heads. Avoid sprouts with yellow leaves or black spots on them.
Once you're ready to roast your sprouts, start by washing the sprouts and removing any loose or yellow leaves. Then, using a sharp knife, trim off the bottom of each Brussels sprout and cut in half lengthwise from the top to the trimmed end.
Recipe Tip
For a shortcut, you can buy pre-cut halved Brussels sprouts at the grocery store if you see them!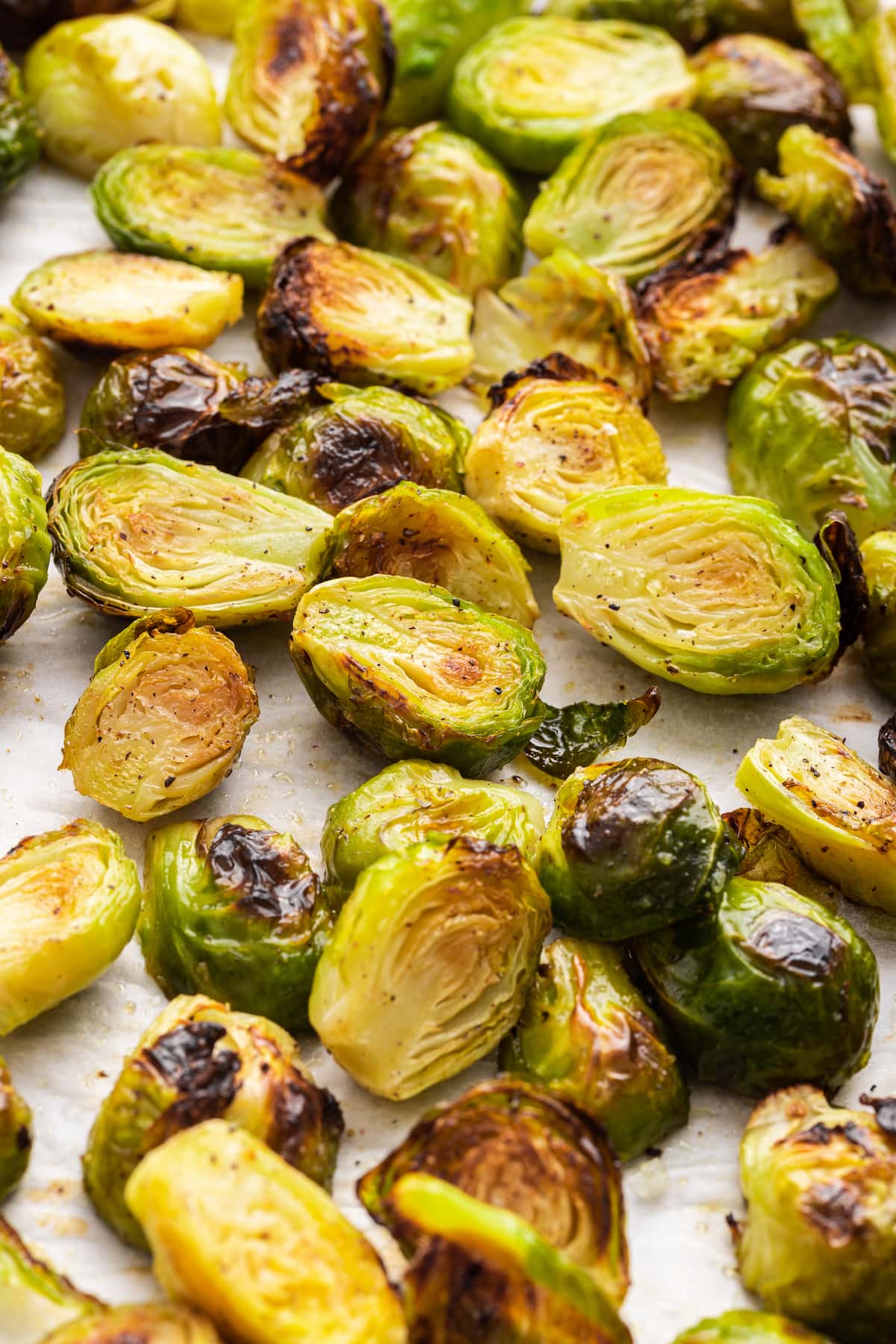 Recipe Variations
I love the simplicity of this Brussels sprouts recipe, but here are a few ideas to switch up the flavors:
Parmesan – Add a sprinkle of fresh parmesan cheese when you take them out of the oven for some cheesy goodness.
Spice it up – If you love a little heat, sprinkle some red chili flakes, smoked paprika, ground cayenne pepper or drizzle sriracha sauce over the Brussels sprouts before roasting.
Garlic sprouts – Add minced garlic or garlic powder to the Brussels sprouts before roasting for a strong aromatic and deliciously garlicky flavor.
Sweet + spicy – Go for a sweet and spicy combo by drizzling with honey and sprinkling with red pepper flakes.
Bacon bits – Make some tempeh bacon or coconut bacon (or the real deal!), chop into small pieces and top your Brussels sprouts with bacon 'bits' for some umami flavor!
Balsamic vinegar – Simply drizzle some balsamic vinegar for an extra boost of flavor. Or make my balsamic roasted brussels sprouts instead.
Honey mustard – Make a simple sauce with honey, dijon mustard, salt, pepper and oil or follow my recipe for roasted brussels sprouts on the stalk.
Air fryer Brussels – want to make these roasted Brussels sprouts in the air fryer? You can definitely do that! I'd just follow my recipe for air fryer brussels sprouts as a guideline.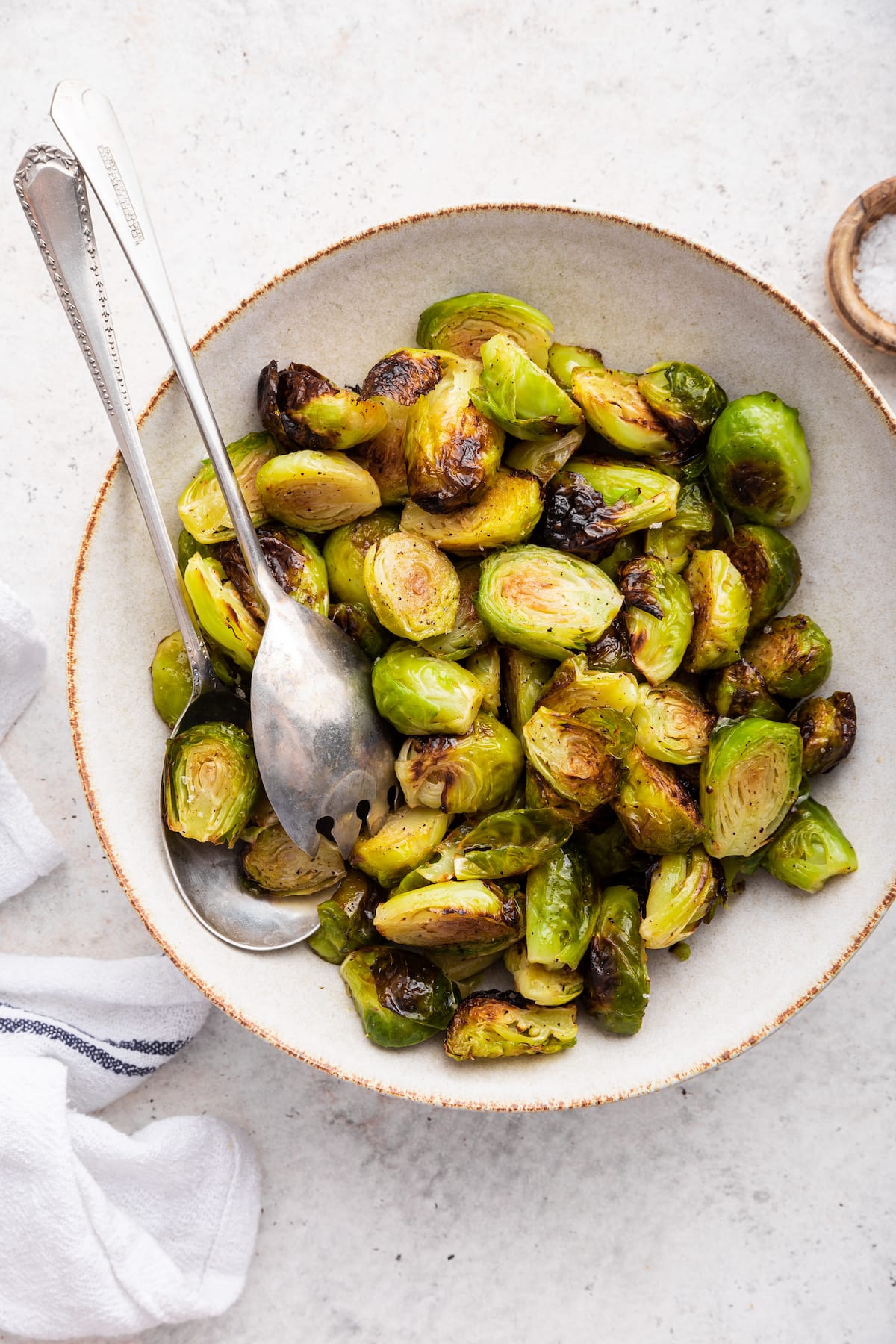 How to Serve Roasted Brussels Sprouts
I could eat a whole plate of these roasted Brussels sprouts to myself as a snack, but they make for a great side dish or addition to any recipe! Here are some serving ideas:
How to Store Leftovers
Leftover Brussels sprouts can be kept in an airtight container in the refrigerator for 4-5 days.
To reheat, warm them in the oven or air fryer at 350ºF for a few minutes until warm throughout. You can also place the Brussels sprouts in a skillet and heat on the stove over medium heat until warm. You can reheat using a microwave but be aware they will lose their crispiness.
More Roasted Veggies to Try
Be sure to check out all of my brussels sprouts recipes as the full collection of side dishes here on EBF!
Serving: 1/4 recipe | Calories: 94kcal | Carbohydrates: 10g | Protein: 4g | Fat: 5g | Saturated Fat: 1g | Polyunsaturated Fat: 1g | Monounsaturated Fat: 4g | Sodium: 318mg | Potassium: 443mg | Fiber: 4g | Sugar: 2g
Nutrition information is automatically calculated, so should only be used as an approximation.