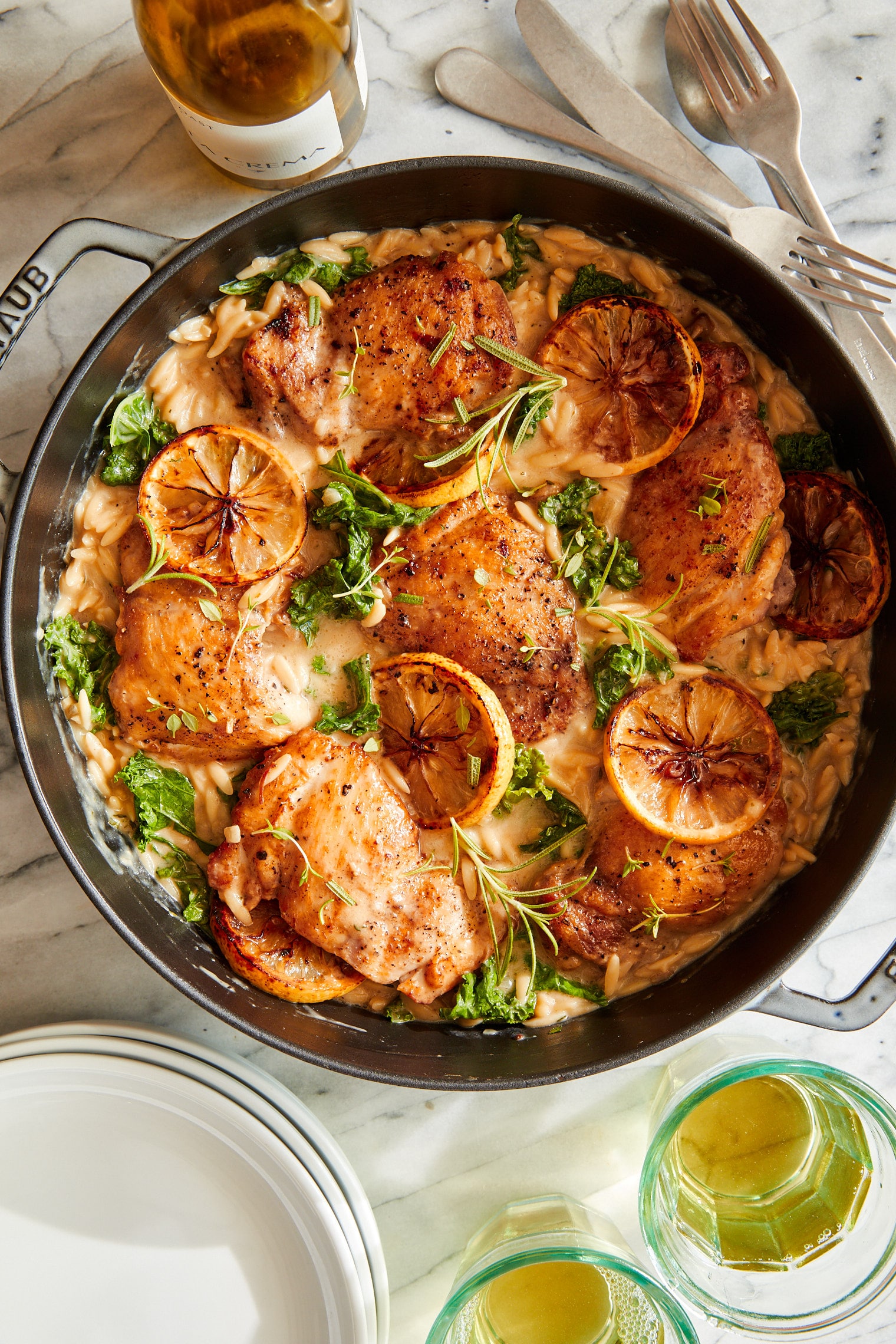 This post may contain affiliate links. Please see our privacy policy for details.

Golden brown, juicy chicken with the creamiest lemony orzo + sneaked in greens, all made in ONE SINGLE POT!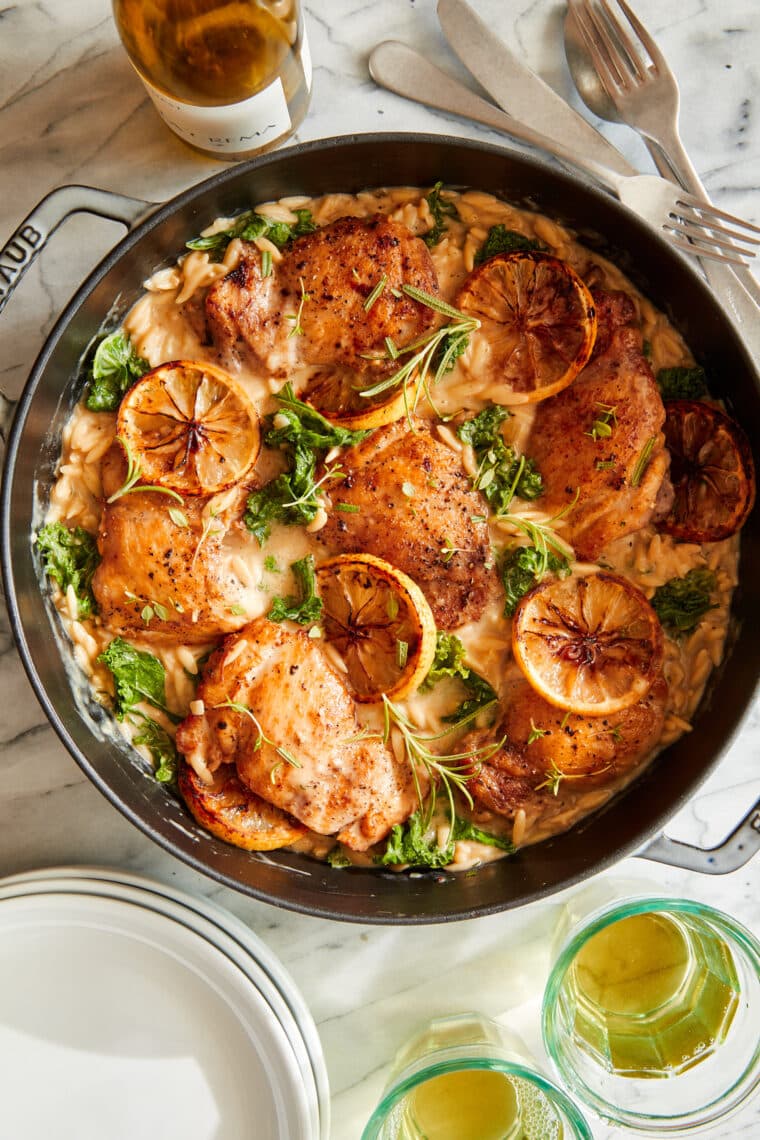 Hello lemony creamy goodness. This is certainly my kind of speedy weeknight meal, with juicy chicken thighs (breasts can absolutely be substituted) and the creamiest orzo with just the right amount of lemon of course, which all comes together in a single pot. It's less dishes for everyone involved.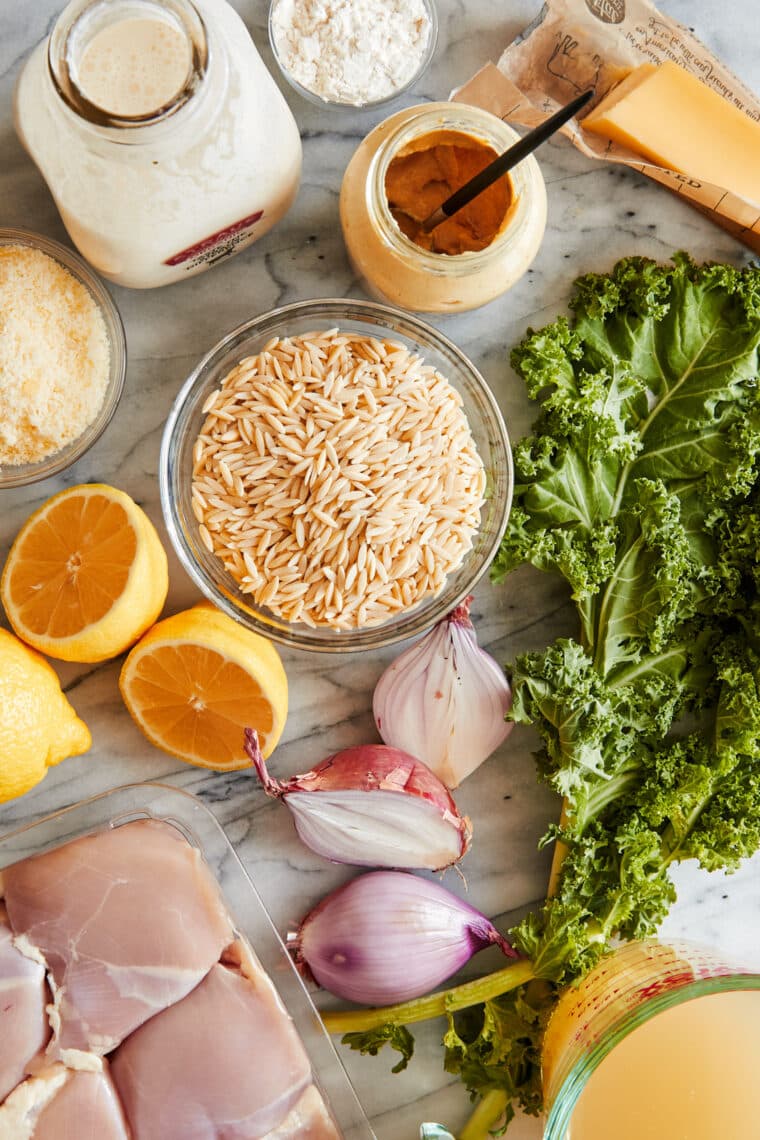 You can also throw in your favorite kind of greens – kale, spinach, collard greens or even swiss chard. Even the pickiest of eaters will get their share of greens in here, all soaked and swimming in this lovely creaminess.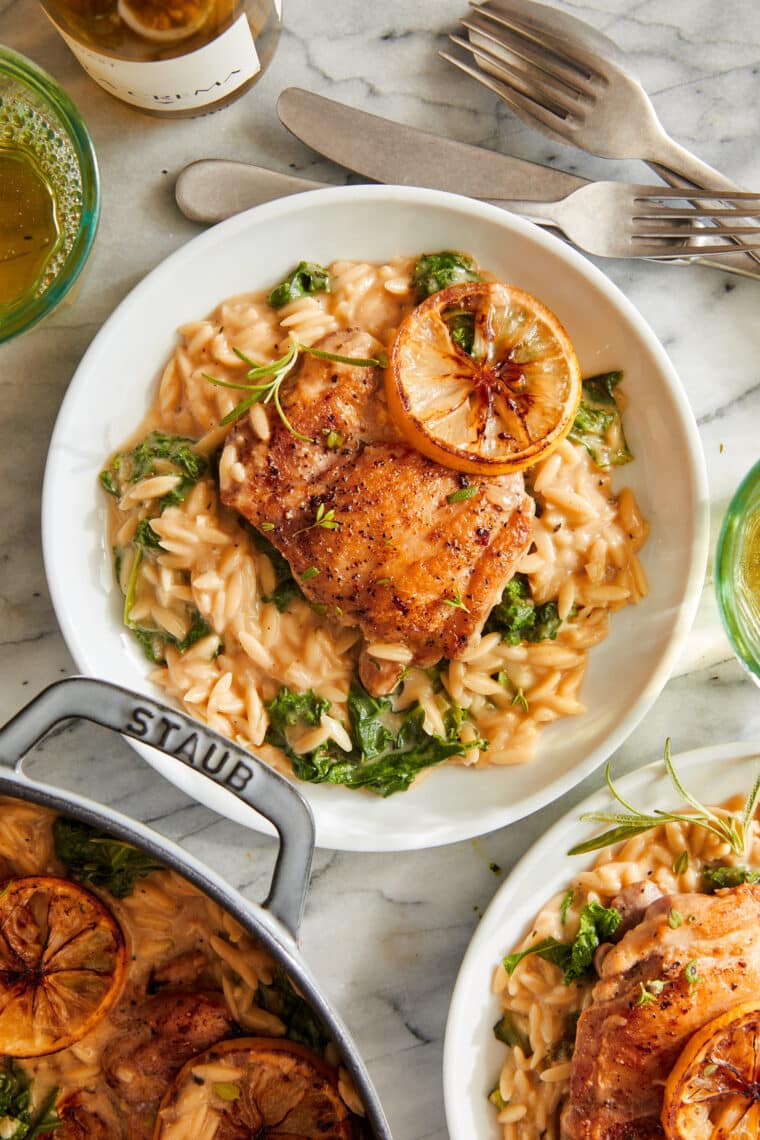 TOOLS FOR THIS RECIPE
CAN I USE CHICKEN BREASTS?
Yes, chicken breasts can absolutely be used here but chicken thighs have more dark meat and a higher fat content which will yield juicier, more flavorful chicken.
I DON'T LIKE ROSEMARY. CAN I SUBSTITUTE SOMETHING ELSE?
Absolutely! You can substitute oregano (dried or fresh!) or any other herb of your choosing. And because dried herbs are often more potent/concentrated than fresh herbs, you need less when using dry. The correct ratio is 1 tablespoon fresh herbs to 1 teaspoon dried herbs.
WHAT IS HEAVY CREAM?
Heavy cream (or heavy whipping cream) has one of the highest fat contents with about 36-40% fat. Half and half or whole milk are suitable substitutes, but will yield a lighter result.
1 ½ pounds boneless, skinless chicken thighs
Kosher salt and freshly ground black pepper, to taste
2 tablespoons unsalted butter
2 large shallots, diced
3 cloves garlic, minced
2 teaspoons chopped fresh thyme leaves
1 teaspoon chopped fresh rosemary
2 tablespoons all-purpose flour
3 cups chicken stock
1 ½ teaspoons Dijon mustard
1 cup orzo pasta
1 bunch kale, stems removed and leaves torn into bite-sized pieces
⅓ cup freshly grated Parmesan
¼ cup heavy cream
1 tablespoon freshly squeezed lemon juice
1 teaspoon lemon zest
Season chicken with 3/4 teaspoon salt and 1/2 teaspoon pepper.

Melt butter in a Dutch oven over medium heat. Working in batches, add chicken to the skillet in a single layer and cook until golden brown and cooked through, reaching an internal temperature of 165 degrees F, about 4-5 minutes per side; set aside.

Add shallots, and cook, stirring occasionally, until tender, about 3-5 minutes. Stir in garlic, thyme and rosemary until fragrant, about 1 minute.

Whisk in flour until lightly browned, about 1 minute.

Stir in chicken stock and Dijon, scraping any browned bits from the bottom of the Dutch oven. Stir in orzo; season with salt and pepper, to taste.

Bring to a boil; reduce heat and simmer, stirring occasionally, until pasta is cooked through, about 6 minutes. Stir in kale, Parmesan, heavy cream, lemon juice and lemon zest until the kale has wilted, about 3 minutes. Return chicken to the skillet.

Serve immediately.