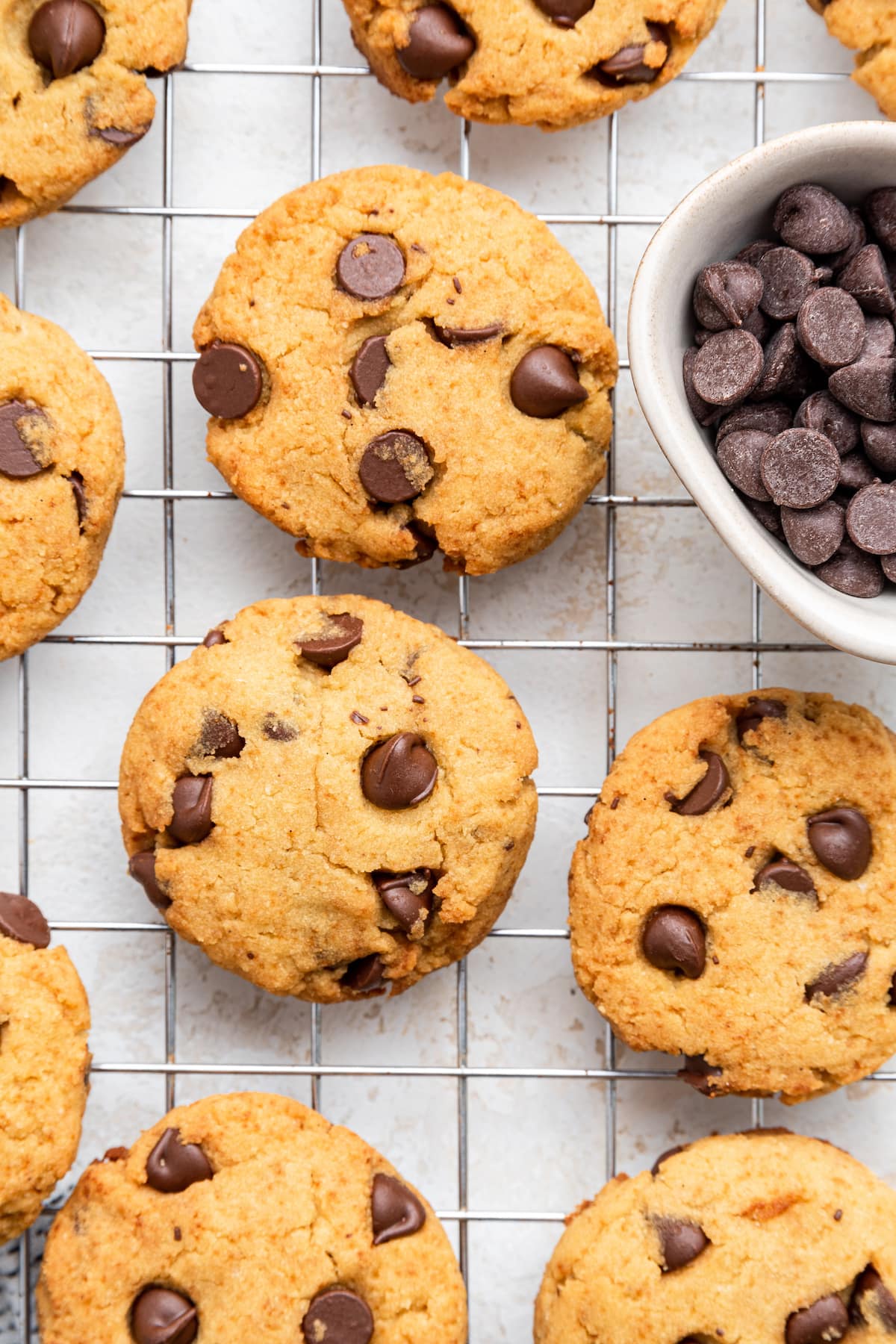 You only need 8 simple ingredients and 1 bowl to make these soft and chewy coconut flour cookies! They're grain-free, low carb and low sugar.
I'm really excited about today's recipe because I've been experimenting with coconut flour a bit more lately. I realized that almost all my healthy baking recipes involve almond or oat flour, and I only have a few with coconut flour (like this delicious coconut flour banana bread), so today I'm sharing a recipe for coconut flour cookies!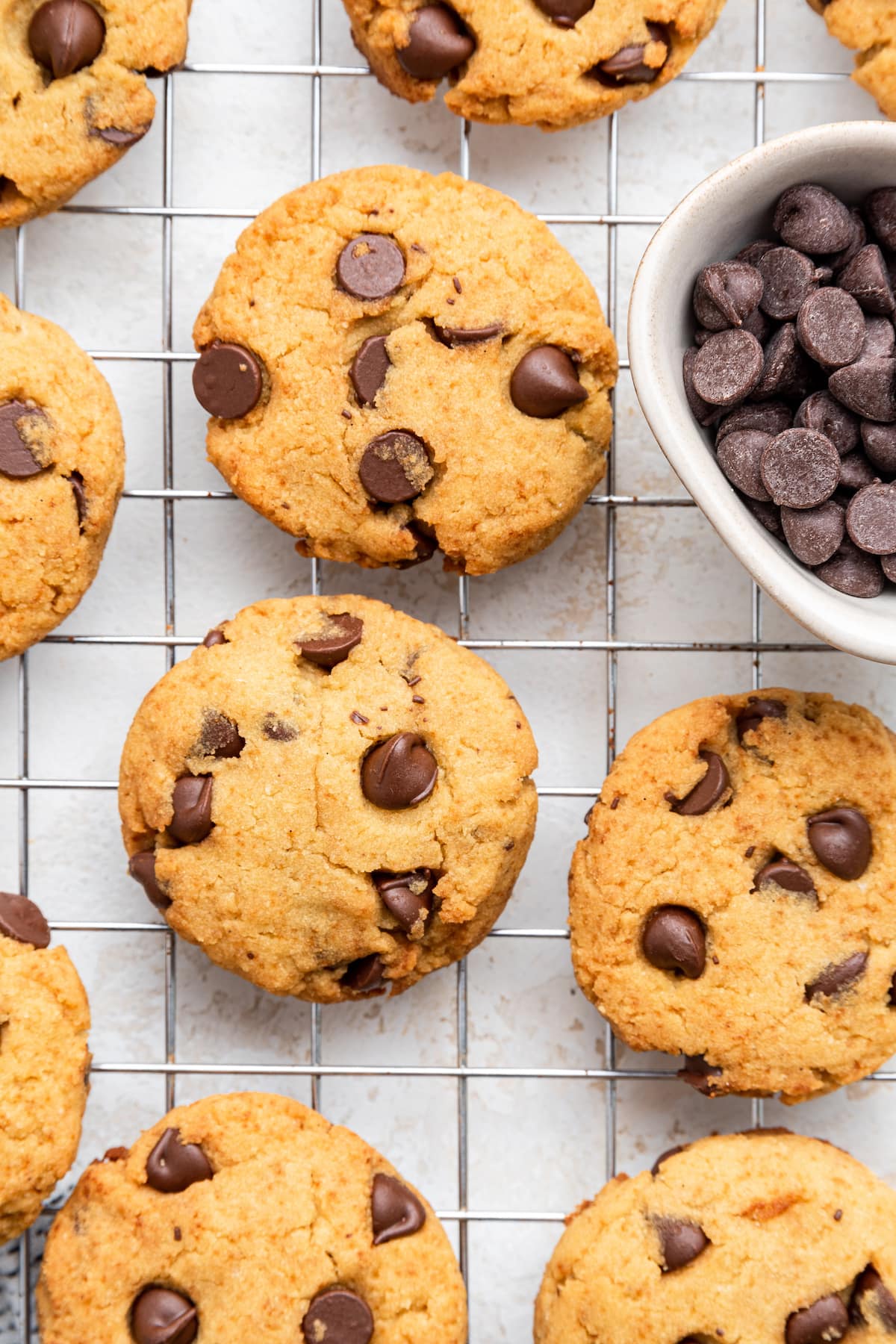 Why You'll Love This Recipe
You only need 8 ingredients and one bowl!
These cookies are keto-friendly, grain-free, gluten-free, nut-free and low-sugar!
They're soft, perfectly moist and absolutely delicious.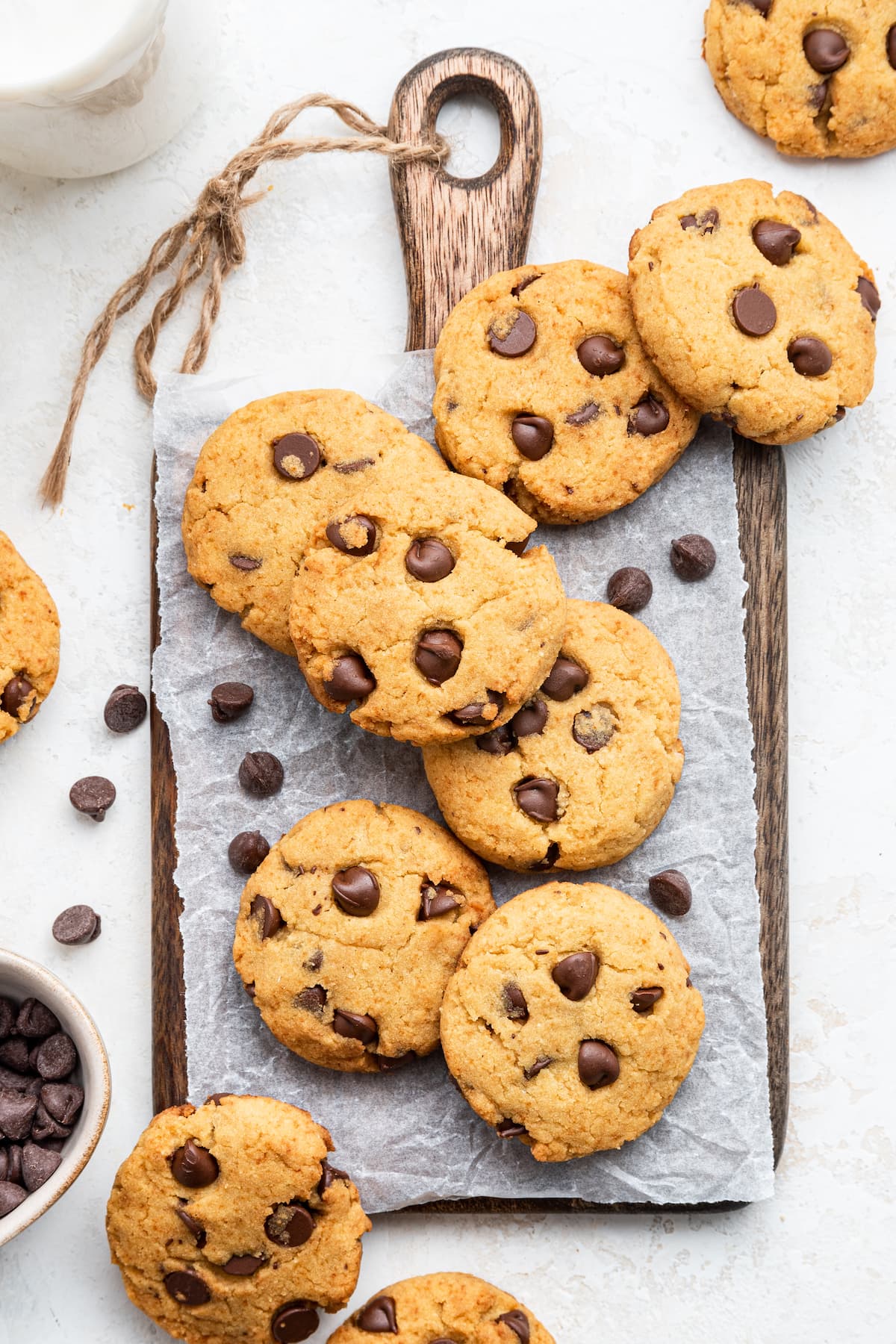 What is Coconut Flour?
Coconut flour is made from dried, ground coconut flesh. It's packed with healthy fats, fiber and protein. It absorbs more liquid than other flours, so cannot be swapped 1:1 with other flours.
Baking with coconut flour can be challenging and it takes some experimenting to get recipes just right because a little coconut flour goes a long way! But it's oh so worth it because it offers a texture that is a bit softer and more dense than traditional flour and the flavor is awesome.
Coconut flour adds a hint of natural sweetness to baked goods without a ton of coconut flavor, making it a great option for baking, even if you're not looking to make a coconut-flavored dessert.
It's also a great flour option for anyone allergic to almonds or those looking for a gluten-free and grain-free flour option.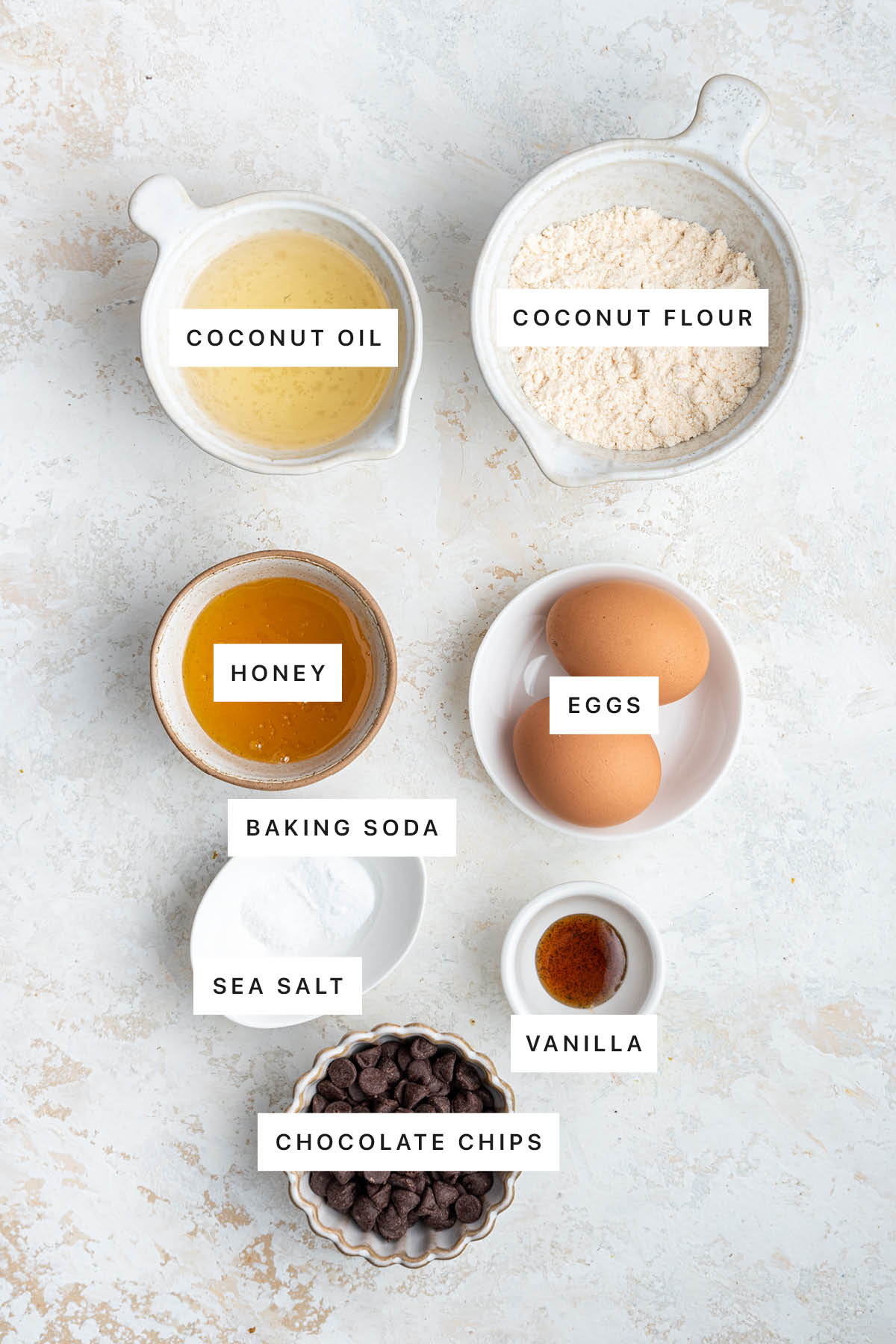 Ingredients Needed
coconut flour – can't have coconut flour cookies without coconut flour! I love using Bob's Red Mill organic coconut flour, which you should be able to find in the baking aisle at most major grocery stores. I do want to make a note that different brands of coconut flour can vary in consistency and texture, but I've never had an issue with Bob's Red Mill, so I highly recommend picking up a bag!
coconut oil – melted coconut oil replaces the butter in this recipe.
honey – the perfect natural sweetener for these cookies. The honey pairs perfectly with coconut flour.
eggs – helps to bind the ingredients together and gives the cookies structure.
vanilla extract – a great flavor enhancer.
sea salt – just a pinch!
baking soda – to help the cookies rise.
chocolate chips – I love Lily's chocolate chips for a low-sugar option and Enjoy Life dark chocolate chips for a dairy-free/soy-free option.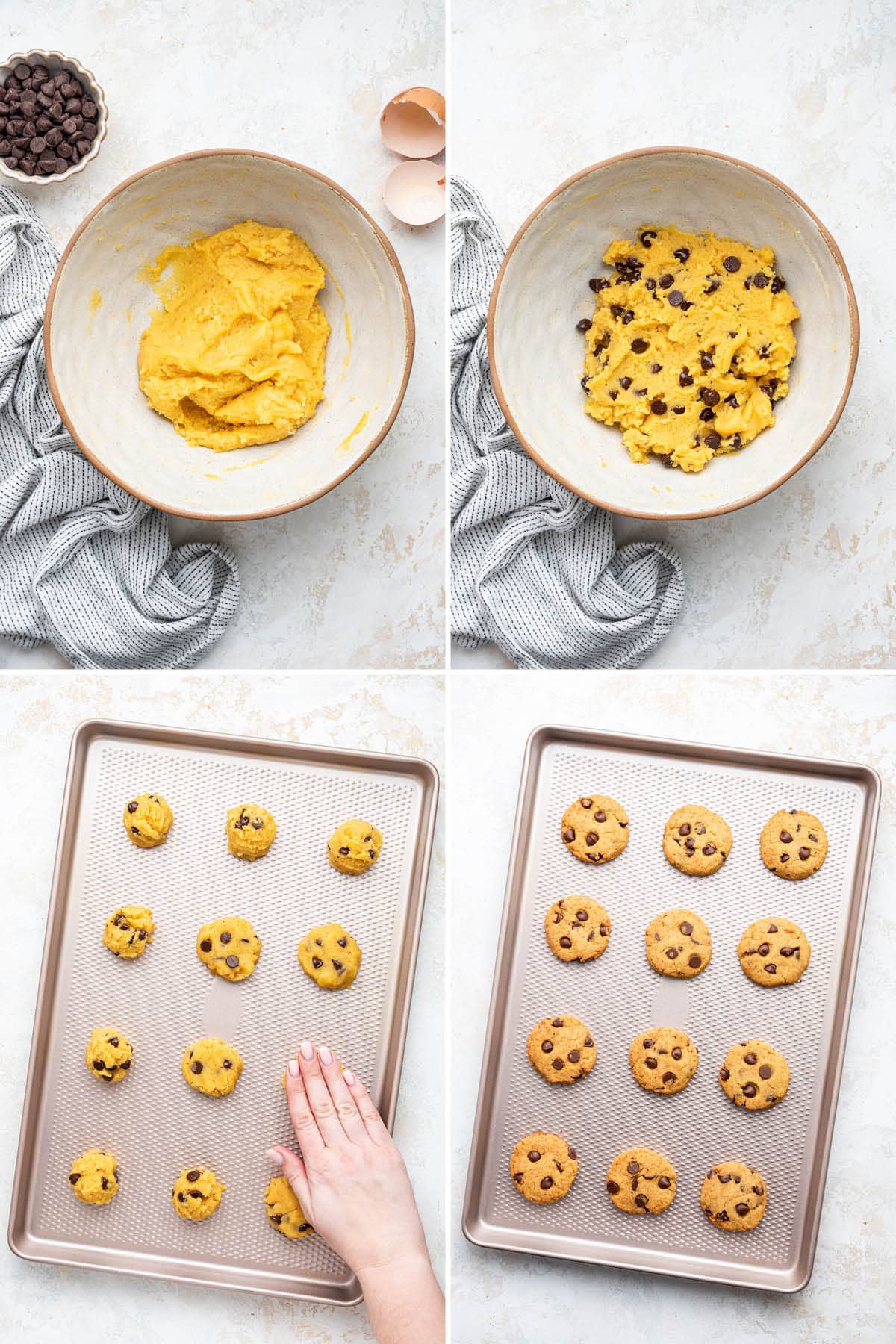 How To Make
These coconut flour chocolate chip cookies are super simple to whip up, especially since you can make the cookie dough in one bowl!
Start by mixing your wet ingredients (coconut oil, honey, eggs, and vanilla) together in a large mixing bowl. Mix in the coconut flour, salt and baking soda until well combined. The mixture may seem runny at first, but it will thicken as the coconut flour absorbs the liquid! Trust me, coconut flour is like a sponge.
After the dough has thickened a little, fold in the chocolate chips. Scoop dough using a cookie scoop and place it on a baking sheet lined with parchment paper or a silicone mat. Press the dough down into a cookie shape with your fingers.
Bake the cookies at 350°F for 12-14 minutes or until the edges are golden brown. Let them cool on the pan and then transfer them to a wire rack for additional cooling. Once completely cool, it's time to enjoy!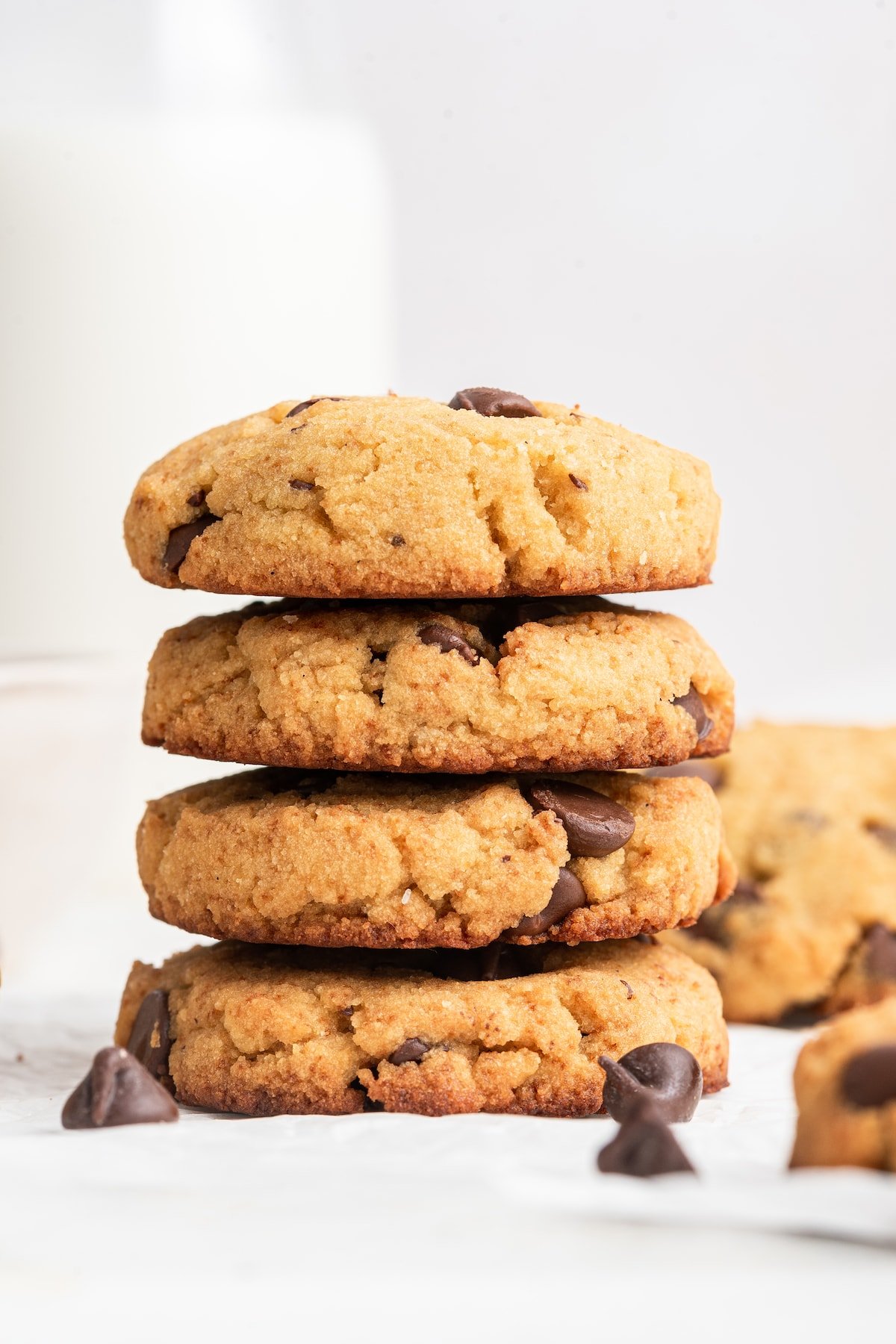 Substitutions & Notes
Coconut flour – I don't recommend swapping the coconut flour for another type of wheat flour or gluten-free flour. The high amount of fiber makes coconut flour super absorbent so when using it for baking you typically can't use it as a 1:1 sub for other flours. Try my almond flour cookies instead.
Coconut oil – You can use melted butter or any neutral oil like olive oil or avocado oil instead of coconut oil if you prefer.
Honey – Maple syrup or agave should work just fine as a substitute for honey. I wouldn't recommend swapping the liquid sweetener for a dry sweetener like coconut sugar or brown sugar as that'll change the consistency of these cookies.
Chocolate chips – You can skip the chocolate chips altogether if you want or swap them with another mix-in of choice like fresh blueberries, chopped nuts or dried fruit.
Vegan – I haven't tested it, but others have made these cookies with flaxseed eggs instead of regular eggs and said they turned out perfectly! You can also swap the honey for maple syrup.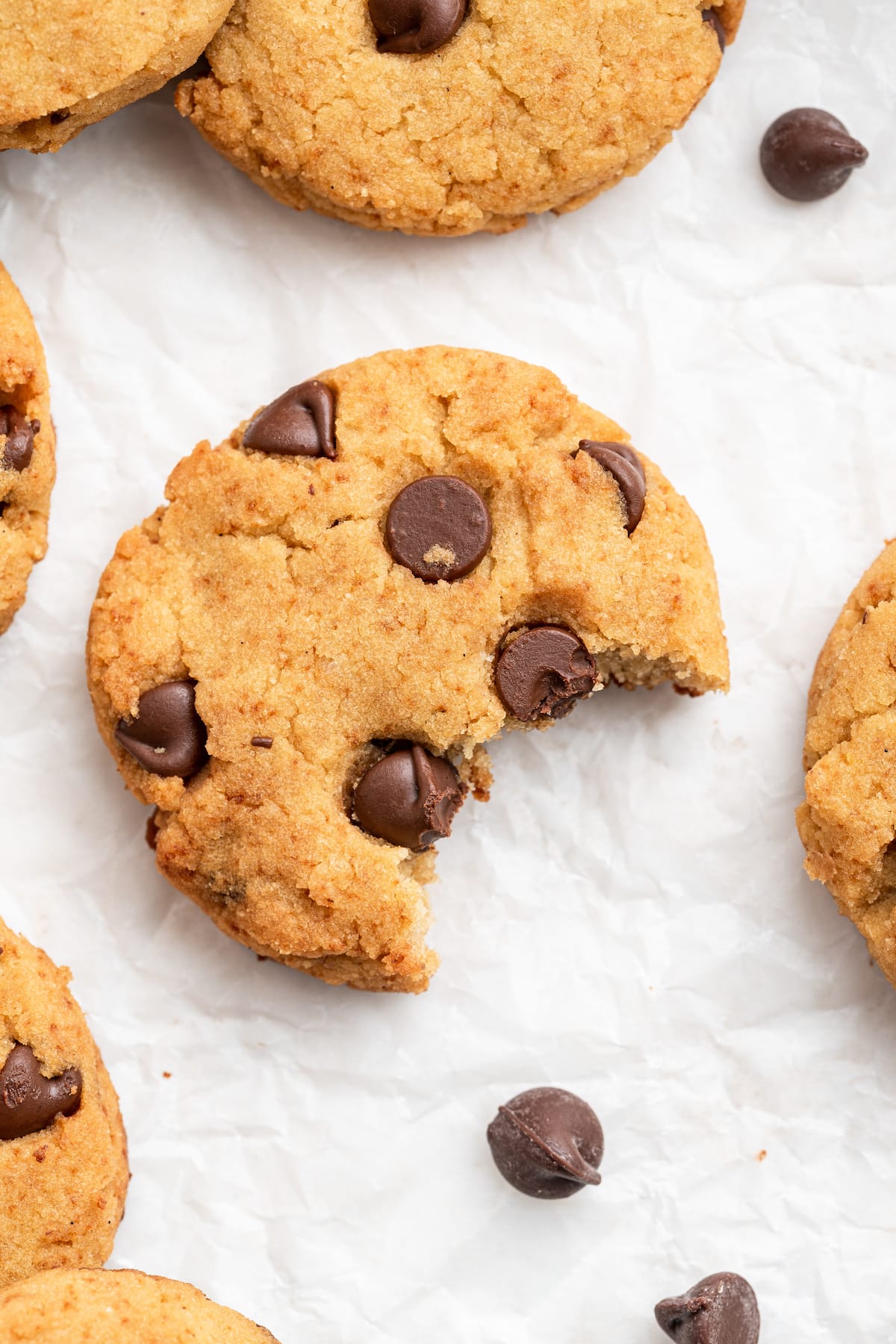 How to Store Coconut Flour Cookies
At room temp: These cookies can be stored at room temp for 2-3 days. After that, I recommend storing them in the fridge.
In the fridge: Store these cookies in an airtight container in the fridge for up to 7 days.
In the freezer: For longer storage, store these cookies in a freezer-safe container for up to 3 months.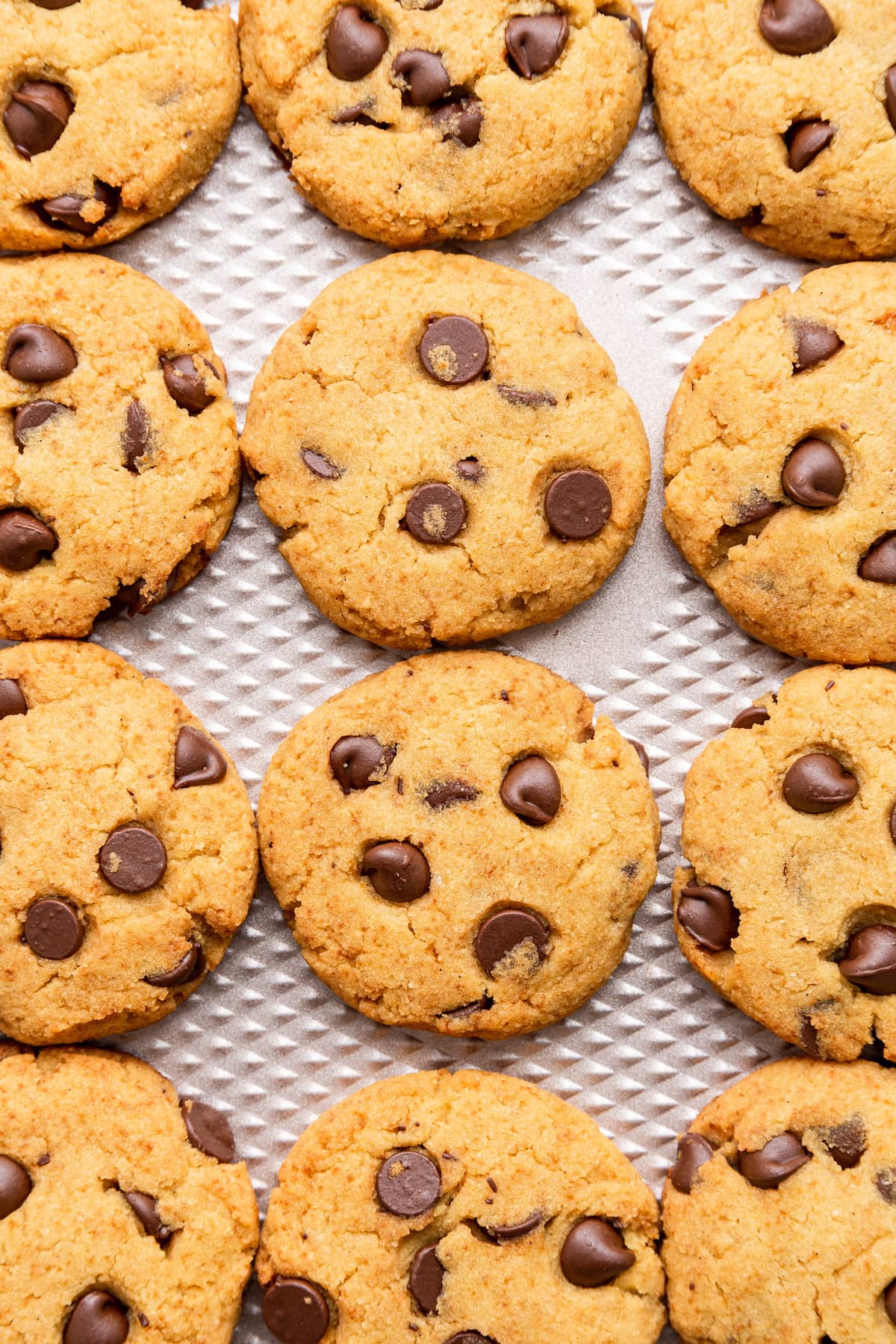 Frequently Asked Questions
Can I swap the coconut flour for a different type of flour?
Since coconut flour absorbs up way more liquid than other flours it can't be swapped 1:1 with other flours. If you're looking for a chocolate chip cookie recipe that uses a different flour I have these almond flour chocolate chip cookies or these healthy chocolate chip cookies made with wheat flour.
How can I make these cookies crispy?
Coconut flour cookies are supposed to be soft, not crispy! The texture is going to be more cake-like versus a traditional crisp cookie.
More Coconut Flour Recipes to Try
More Cookie Recipes to Try
Be sure to check out all of the cookie recipes as well as the full collection of dessert recipes. on EFB!
Serving: 1 cookie | Calories: 114kcal | Carbohydrates: 13g | Protein: 2g | Fat: 8g | Saturated Fat: 6g | Monounsaturated Fat: 1g | Cholesterol: 31mg | Sodium: 97mg | Potassium: 15mg | Fiber: 3g | Sugar: 6g
Nutrition information is automatically calculated, so should only be used as an approximation.