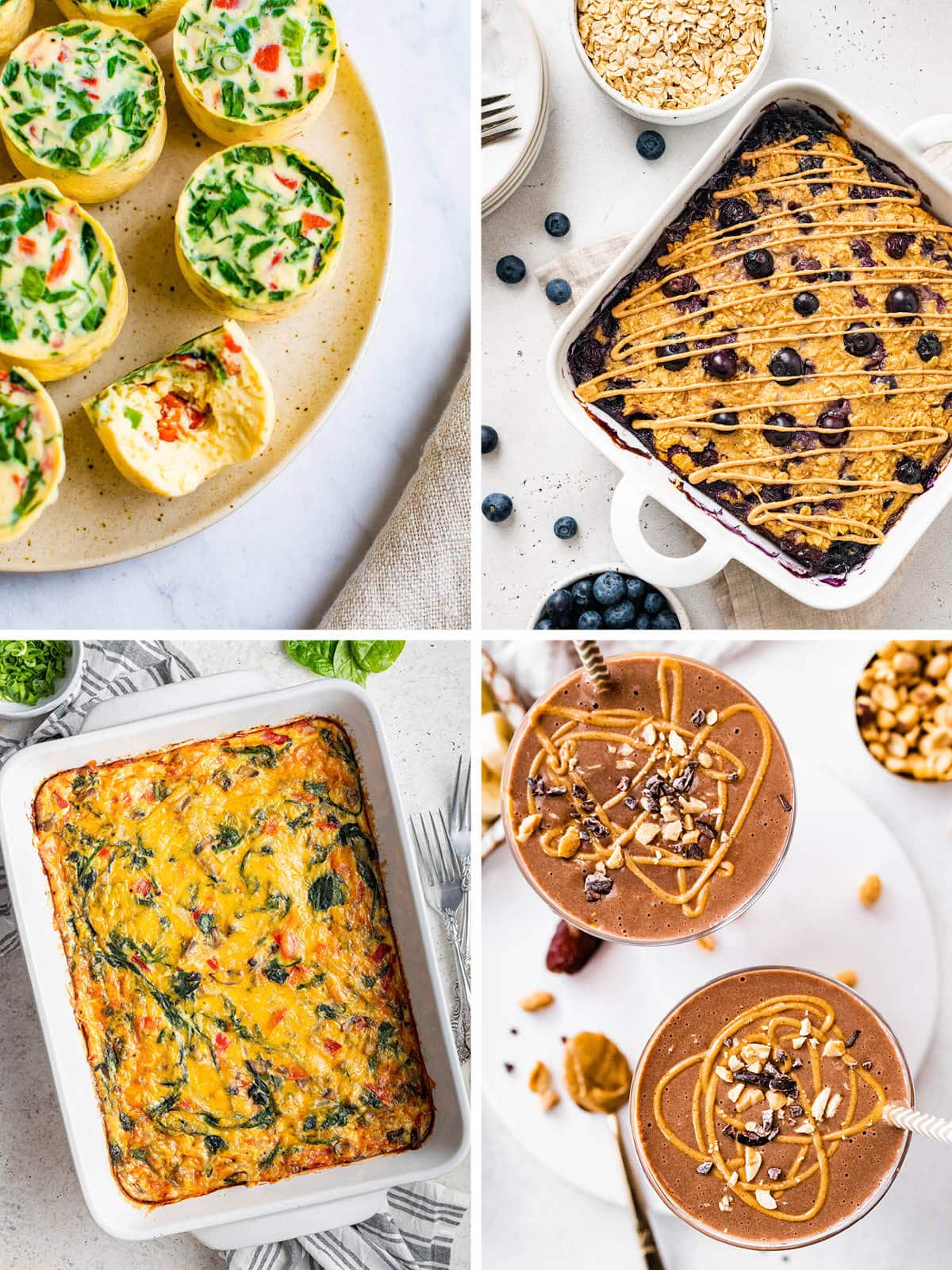 Looking for a protein-packed breakfast recipe to start your day off right? Here are over 30 high-protein breakfast recipes each with 15+ grams of protein!
Starting the day off with a balanced, protein-packed meal is so important! It gives you the energy you need to be productive throughout the morning and can help prevent overeating and cravings later in the day.
When you think of a protein-packed breakfast you probably immediately think about eggs and some type of meat. While those are both great ways to get your protein in, there are so many other high-protein options… from Greek yogurt and cottage cheese to protein powder and tofu and tempeh.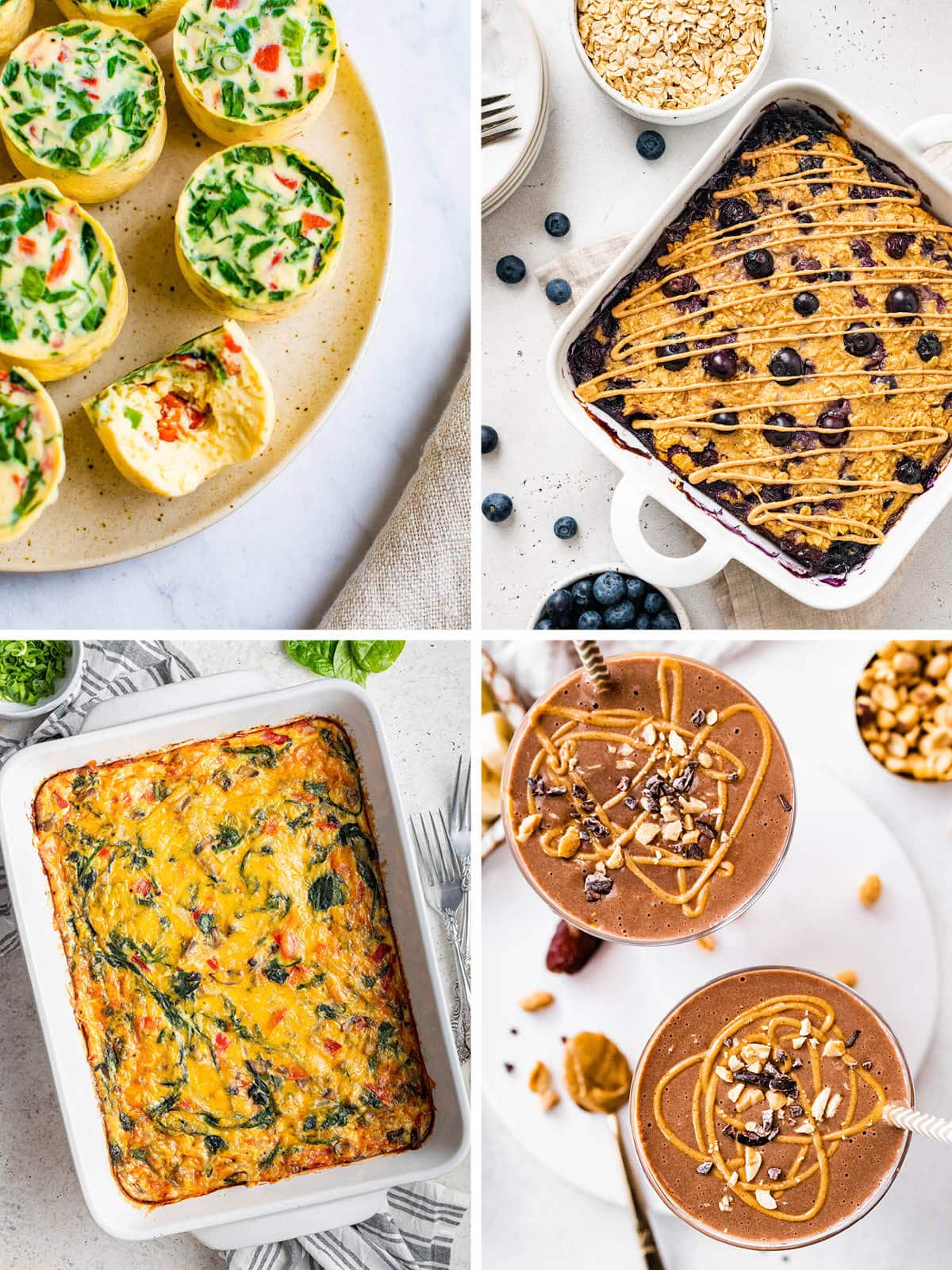 Why is Protein Important?
If you've been reading the blog for a while you know how much I stress the importance of protein! I specifically aim to have a balance of protein, fiber and healthy fats for every meal and snack. But why? Protein helps stabilize your blood sugar and keeps you feeling fuller, longer.
It helps satisfy cravings, helps with weight loss (or weight management) and has so many important functions within the body, including muscle repair. So while the mainstream media messaging might be that protein is only important for athletes and bodybuilders, I'm here to let you know that protein is important for everyone!
High-Protein Breakfast Recipes
I've pulled together over 30 high protein breakfast ideas have at least 15 grams of protein per serving! Enjoy!
Egg Dishes
One of my favorite ways to get my protein in for breakfast is from eggs. Frittatas, quiches, egg muffins, omelets… there are so many options to choose from!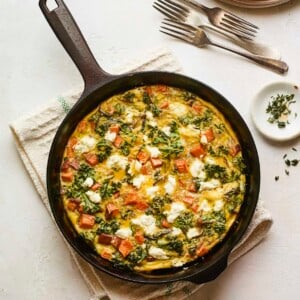 Roasted Sweet Potato Kale Frittata
This sweet potato kale frittata is a quick and easy healthy meal that can be whipped up in less than 35 minutes and served for breakfast, lunch or dinner.
Cottage Cheese Scrambled Eggs
These cottage cheese eggs are a great way to switch up your morning breakfast! They're super easy to make and result in fluffy, creamy eggs that are high in protein.
Egg White Bites
Make Starbucks red pepper egg white bites with this simple recipe! They're creamy and taste just like sous vide egg bites, but they're made in the Instant Pot!
Egg White Omelette
This egg white omelette is fluffy, delicious and loaded with veggies. It comes together quickly and is a healthy way to kick start your day!
Hard Boiled Egg and Avocado Bowl
This hard boiled egg and avocado bowl combines hard boiled eggs with creamy avocado and fresh veggies for a super healthy and quick low-carb meal that's loaded with protein, healthy fat and fiber.
Healthy Breakfast Casserole
This healthy breakfast casserole is flavorful, cheesy and packed with veggies. It's the perfect make ahead dish for brunch and great for serving a crowd!
Hash Brown Breakfast Casserole
This vegetarian hash brown breakfast casserole is loaded with vegetables and cheesy goodness and has a hash brown crust. It's the perfect healthy breakfast dish to serve a crowd.
Sausage Egg Casserole
This veggie-packed sausage egg casserole is the perfect healthy dish to serve a crowd. It's dairy-free and gluten-free, but still packs tons of flavor!
Easy Breakfast Salad
A simple, delicious breakfast salad with sautéed greens, roasted veggies and two fried eggs! You'll feel so good after starting your day with this combo of protein, healthy fat and veggies.
Baked Avocado Eggs
This quick and easy baked avocado egg recipe is perfect for breakfast or snacking. It's low in carbs and sugar and loaded with protein, healthy fats and fiber!
Kale and Feta Crustless Quiche
This crustless quiche is such an easy low-carb meal that can be served for breakfast/brunch, lunch or dinner. You'll love the delicious combination of kale, onions, mushrooms and feta.
Sweet Potato Hash
This sweet and savory sweet potato hash is made with brussels sprouts, spinach, breakfast sausage and eggs. It's easy to make, loaded with flavor and great for breakfast or any time of the day!
Onion & Red Bell Pepper Frittata
This caramelized onion & red bell pepper frittata requires only seven ingredients and takes less than 30 mins to prepare.
Oatmeal Recipes
For those of you that think oatmeal isn't very filling or you find yourself hungry 1 hour after eating it, all you need to do is add some protein and healthy fat. That's why I'm a huge supporter of making protein oatmeal. Adding a good protein source (think protein powder, Greek yogurt, cottage cheese, etc) to your oatmeal ensures that breakfast will keep you full for hours.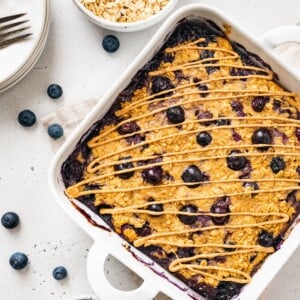 Protein Baked Oatmeal
Have your oatmeal and get your protein in with this protein baked oatmeal! It's easy to make, perfect for meal prep and packs over 17 grams of protein per serving.
Protein Overnight Oats
With protein overnight oats you can have your oatmeal and get your protein in! Each serving has over 20 grams of protein!
Cauliflower Brownie Baked Oatmeal
This cauliflower brownie baked oatmeal sounds decadent, but is made with healthy ingredients and packed with 19 grams of protein per serving. It's delicious, easy to whip up and perfect for meal prep.
Cauliflower Oatmeal
Sneak veggies and extra nutrients into your bowl of oats with this cauliflower oatmeal. It's made with a combo of rolled oats, cauliflower rice, protein powder and just a touch of sweetness.
Protein Powder Oatmeal
Add protein powder to your morning oats for a protein-packed breakfast that will keep you full all morning.
Egg and Oat Combo Bowl
Having eggs and oats for breakfast? Put them in one bowl for a sweet + savory egg and oatmeal bowl that offers the perfect balance of protein, carbs and fat. Vegetarian and gluten-free.
Pancakes, Waffles + More
You can still enjoy a sweet breakfast and get your protein in with these high-protein options!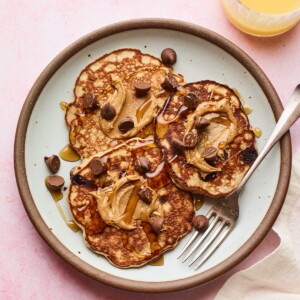 Protein Pancakes
Here's my classic recipe for protein pancakes made with oat flour, egg whites and protein powder. The full recipe gives you 40 grams of protein and the pancakes taste delicious.
Protein Waffles
Protein waffles made with vanilla protein powder, Greek yogurt, eggs and rolled oats. They're super easy to make, absolutely delicious and perfect for meal prep.
Healthy Pumpkin Pancakes
Healthy pumpkin pancakes made with oats and cottage cheese. Full of pumpkin spice flavor and packed with protein and fiber, these pancakes are the perfect way to fuel a fall morning!
Cottage Cheese Pancakes
These cottage cheese pancakes are soft, fluffy and packed with over 20 grams of protein per serving. Plus, they're kid-approved and easy to make with only 7 simple ingredients.
Healthy Apple Pancakes
Healthy apple pancakes made with oats and cottage cheese. They taste decadent, but are packed with protein and fiber.
Protein Chia Pudding
This protein chia pudding packs in about 20 grams of protein and has only 3 grams of sugar per serving. It's so easy to whip up and is the perfect healthy breakfast or snack to meal prep for the week.
Roasted Strawberry Cottage Cheese Bowl
This strawberry cottage cheese bowl pairs roasted strawberries with cottage cheese for a delicious, protein-packed breakfast or snack.
Yogurt Bowls (4 Ways)
Sharing how to make the best yogurt bowls with four different topping variations. They're protein-packed, easy to make and perfect for breakfast or a snack.
Vegan Recipes
You can still get your protein in while eating vegan! Tofu and tempeh are great high-protein vegan options that are so versatile.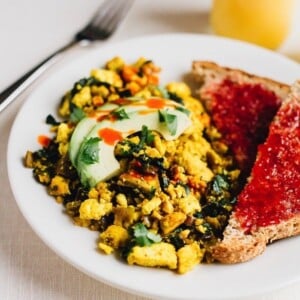 Tofu Scramble
This vegan tofu scramble is packed with flavor, has a great texture and easily lends itself to any additional veggies or spices you'd like to add in! Delicious served with sliced avocado and toast.
Vegan Breakfast Sandwich with Tempeh Bacon
A vegan breakfast sandwich loaded with all the goods: creamy avocado, almond butter, sautéed kale and tempeh bacon, served on a perfectly toasted english muffin.
Smoothies + Shakes
Whenever I'm in need of a quick, on-the-go protein boost in the morning I opt for a protein shake or smoothie. They act as a meal replacement and are so easy to whip up!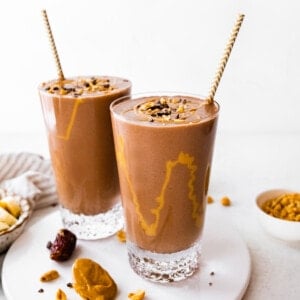 Snickers Protein Smoothie
This snickers protein smoothie is packed with healthy real food ingredients, over 20 grams of protein and tastes like a liquid snickers bar!
Oatmeal Smoothie
This oatmeal smoothie tastes just like a cinnamon oatmeal cookie, but in smoothie form. It's healthy, packed with over 20 grams of protein and makes for a great breakfast or post-workout snack! Vegan + gluten-free.
Chocolate Peanut Butter Smoothie
Satisfy your sweet tooth with this peanut butter cup smoothie! Filled with chocolate peanut butter flavor and loaded with healthy ingredients.
How to Make a Protein Shake
Protein shake 101! Everything you need to know about making a protein shake, the difference between shakes and smoothies, why protein shakes are good for weight loss and six protein shake flavors.
Strawberry Banana Protein Smoothie
This strawberry banana protein smoothie comes together quickly with only 4 simple ingredients. It's packed with over 20 grams of protein and is perfect for a post-workout snack or filling breakfast. Vegan + dairy-free.
Green Protein Smoothie
This green protein smoothie is packed with spinach, banana and vanilla protein powder and makes for the perfect healthy breakfast or post-workout snack! Added bonus: it's vegan and dairy-free!
Tahini Smoothie
This tahini smoothie is loaded with healthy ingredients and packed with over 20 grams of protein. It's rich, creamy, delicious and makes for the perfect quick breakfast or post-workout snack.
Peanut Butter Banana Green Smoothie
The BEST green smoothie with frozen banana, peanut butter and baby spinach. If you're new to green smoothies this is the perfect recipe to start with.
Butterfinger Smoothie
This butterfinger smoothie combines milk, frozen banana, zucchini, peanut butter, chocolate protein powder and goji berries for a healthy protein-packed smoothie that tastes like liquid butterfinger.
Clementine Smoothie
This creamy clementine smoothie combines clementines with a frozen banana and almond milk for a delicious smoothie that tastes like a creamsicle. Vegan and gluten-free.
Strawberry Cheesecake Smoothie
This strawberry cheesecake smoothie is thick, creamy and requires only 5 simple ingredients. It tastes like dessert but is loaded with healthy ingredients and over 20 grams of protein!
More Collections to Check Out
Be sure to check out all the protein recipes as well as the full collection of breakfast recipes on EBF!
In a bowl or mason jar, whisk together almond milk and protein powder until protein powder has dissolved. If you're using a mason jar, you can put the lid on and shake the mixture to combine.

Add chia seeds, maple syrup and vanilla. Stir or shake mixture until well combined. Once the chia pudding mixture is well combined, let it sit for 5 minutes, give it another stir/shake to break up any clumps of chia seeds.

Cover and put the mixture in the fridge to "set" for 1-2 hours or overnight. The chia pudding should be nice and thick, not liquidy.

When ready to serve, portion chia pudding into two glasses with layers of granola, if desired. Top with ¼ cup Greek yogurt each, fresh berries, additional granola and nut butter or toppings of choice.
Serving: 1/2 without toppings | Calories: 243kcal | Carbohydrates: 13g | Protein: 19g | Fat: 14g | Saturated Fat: 3g | Polyunsaturated Fat: 6g | Monounsaturated Fat: 2g | Sodium: 299mg | Potassium: 288mg | Fiber: 6g | Sugar: 3g
Nutrition information is automatically calculated, so should only be used as an approximation.