This will be the fourth Father's Day to come and go since my dad passed in 2020. I haven't written much about him lately. I'm not sure why.
I think of him often. The countless varieties of fruit he grafted in the backyard. The grapes he grew to make his own wine. His magnificent garden. The house he built and that my mom still lives in. So many things.
I've ignored every Father's Day since he died. I didn't do anything to honor the day. I think it had much to do with not wanting to feel the loss.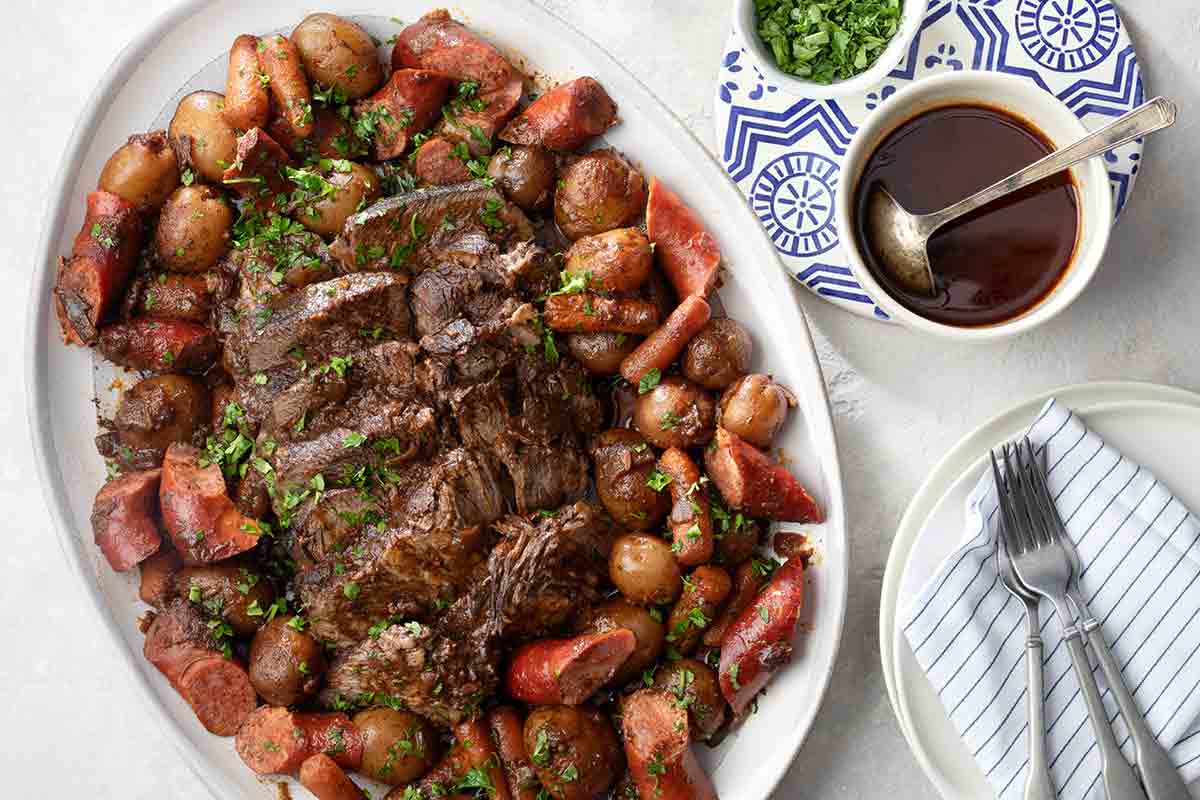 : Adam Detour Mama Leite's famous carne assada, one of my dad's favorite dishes.
This year, though, I'm ready to celebrate him. Celebrate the man he was, the man who gave me an unimpeachable example of kindness, warmth, and caring.
One of his all-time favorite dinners was my mom's carne assada com vinha d'alhos (Portuguese roast beef with wine and garlic). He asked for it at Christmas, Easter, his birthday, and even Thanksgiving at times. I think I'll make it this year and raise a glass of lovely Portuguese red to him. Pai, sua bênção.
Happy Father's Day to all the great gents out there.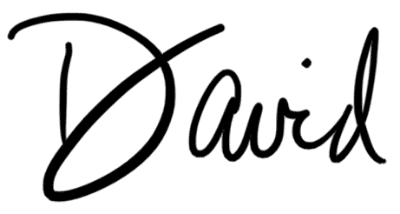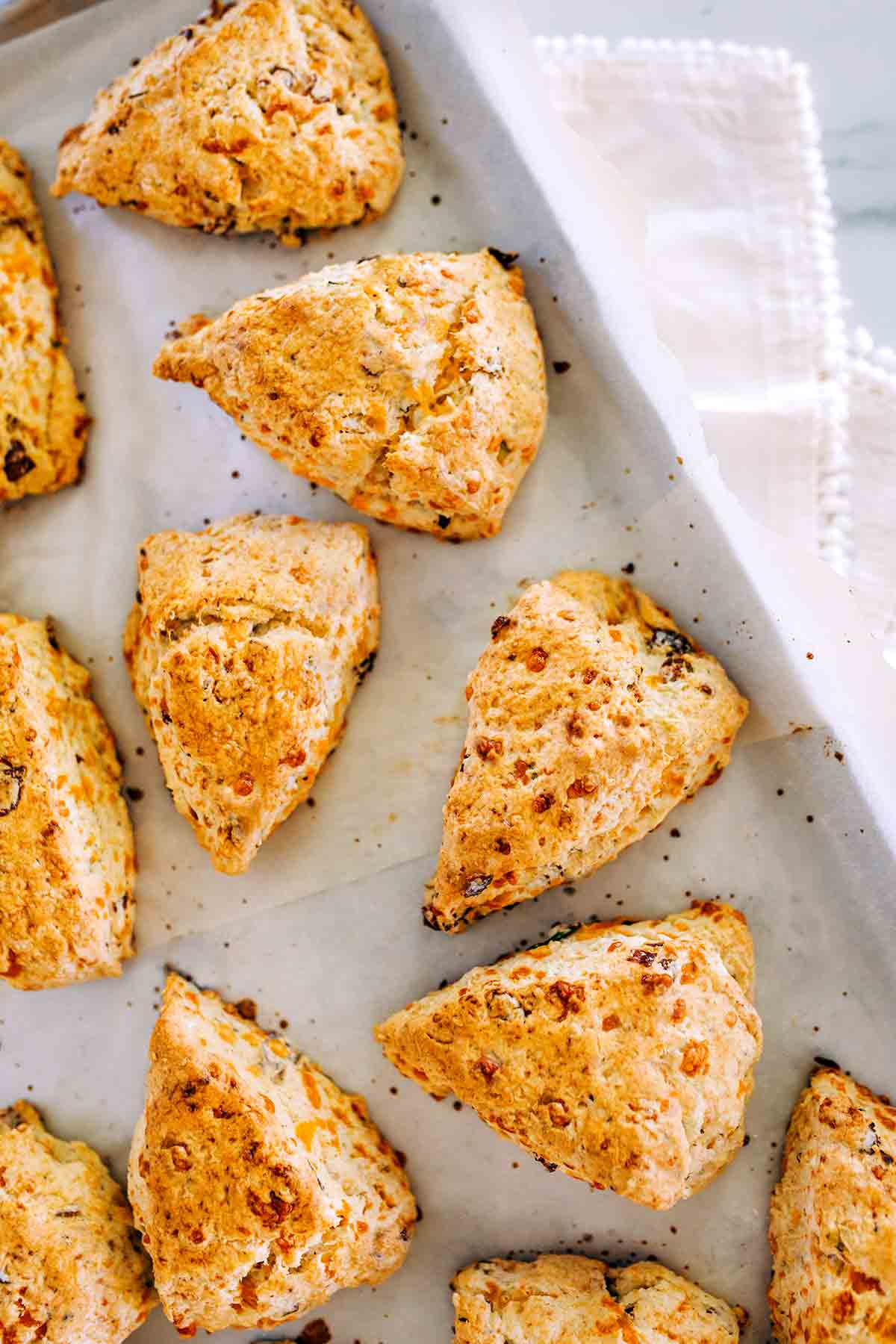 Bacon, Egg, and Cheddar Scones
These bacon, egg, and Cheddar scones combine all our breakfast faves in a scrumptious handheld package that's less messy than an English muffin with parts that can slide in all directions. You're welcome.
My family is absolutely hooked on these breakfast scones. This recipe started me on a scone spree! I can't stop making them.

The only thing I've changed is that after shaping it into a disk, I place it in the freezer for about 15 minutes. Then I slice pizza style and brush with cream instead of egg. Don't cut them too large, or they tend to lose their shape.

I've experimented with using more bacon, but after four slices, I find it overpowering. Make these scones…your family will love them.

Barbara M.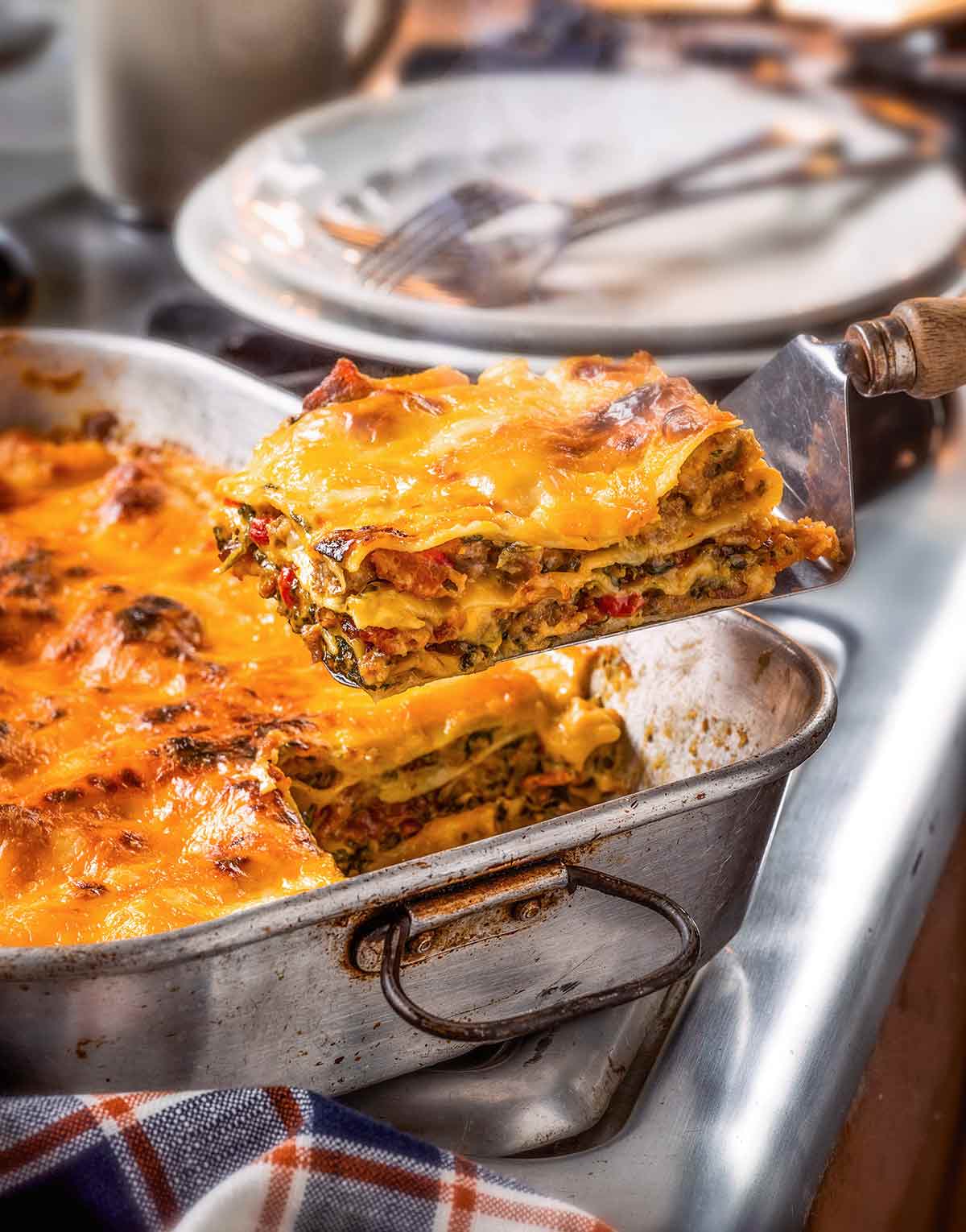 Garth Brooks' Favorite Breakfast Lasagna
A lot of my new recipes come from conversations I have with my husband. He usually dreams up some idea and asks if I can figure out how to make it, and I'm always up for the challenge. We both love a late breakfast, and this lasagna ticks all the yummy boxes (and it's good for supper, too!).
Pigs in Pretzel Blankets
Pigs in pretzel blankets are a sorta lofty take on a childhood classic. The extra effort compared to the simple version you had as a kid is more than worth it.
Grilled Portobello Mushrooms
Dense and meaty, portobellos are great on the grill. These would be heavenly with slow-cooked and charcoal-grilled beef rib. They also work well as a vegetarian main, and are naturally gluten-free and low carb.
Seared Rib Eye Steak with Cinnamon
This recipe shows you how to baste a rib eye in its own juices inside a cast-iron skillet, whether over a fire or on your stovetop.
The Revolver Cocktail
This revolver cocktail recipe is made with bourbon, coffee liquor, and orange bitters. An alternative to the Manhattan cocktail.
Great drink recipe. Very mellow and with a hint of coffee that blends well with the whiskey, I chose Bulleit. I had to sample two or three to make sure I understood the flavors!!!

Eric
Grilled Lobster
To do too much to lobster would be like stuffing caviar into a burrito. Grill it, then choose a support player and enjoy. The classic is, was, and always will be melted butter and lemon. It's a classic for a reason.
Garlic, Chile, and Cumin Roast Chicken
Rubbed and marinated in a spicy adobo-like sauce of dried chiles, abundant garlic, toasted cumin, and olive oil, this easy roast chicken is packed with flavor. Some of the rub chars a little as the bird roasts, adding another wonderful dimension. The chicken is delicious hot, at room temperature, or cold. You'll like having leftovers; they are great for sandwiches and tortas.
Skillet Bacon Cheeseburger with Crispy Fried Onions
This pan-fried cheeseburger is made with ground beef, bacon, white Cheddar, and crispy onions, all sandwiched between a toasted bun.
Mac and Cheese with Beer
This beer-infused mac 'n' cheese is the ultimate weeknight comfort food. Serve any leftovers for breakfast with a fried egg.
Ina Garten's Waffle Iron Hash Browns
Waffle iron hash browns are the easiest and most delicious hash browns you'll ever make. They're really crispy on the outside and creamy inside—and the best part is no splatters on the stove!
Sweet and Spicy Chicken Wings
This recipe is inspired by Korean fried chicken, where boneless chicken thighs are fried and tossed either in a sticky, savory sauce or with lots of crispy garlic.
Chili Cheese Fries
Skip the greasy, gloppy cheese sauce, and enjoy these elevated chili cheese fries that are made with chili powder and a sprinkling of cheddar.
I made these chili cheese fries for football last Sunday, and they were an immediate hit! So much flavor and easy to make.

MaryKay
Salted Chocolate Peanut Butter Tart
It's got a crunchy, salty peanut crust, a thick layer of peanut butter mousse, and a smooth layer of chocolate ganache. You MUST top this with crushed peanuts and flaky sea salt. It's a salty-sweet lover's dream dessert!
Blueberry Custard Pie
This easy blueberry custard pie combines a creamy, custardy filling with ripe, juicy blueberries. The sweet filling is baked in a pie crust and you can even swap in a store-bought one if you'd like.
Father's Day FAQs
When is Father's Day celebrated?
In North America, Father's Day is celebrated on the third Sunday in June and recognizes fathers and grandfathers who have assumed parenting roles. In other countries, the holiday is celebrated in different months of the year, but most recognize it by giving gifts and cards.
What recipes can kids make for Father's Day?
If you've got little hands that want to help celebrate Dad, enlist their help to make sheet pan eggs for breakfast, skillet pizza for dinner, or brownie ice cream for a sweet dessert.
What is the origin of Father's Day?
The holiday originated in Spokane, Washington, in 1910 by Sonora Smart Dodd, who, along with her many siblings, was raised by a single father. She wanted to create a holiday that would honor him to complement Mother's Day. Father's Day wasn't officially recognized as a holiday until 1972.
What's your favorite food to serve on Father's Day, or how do you celebrate Dad? Share your ideas in a comment below.
Preheat the oven to 250°F (121°C). Line 2 rimmed baking sheets with parchment paper and butter the parchment.

Discard any unpopped kernels from the popcorn. Divide the popcorn and crumbled bacon evenly between the baking sheets.

Place the sugar, butter, and corn syrup in a 2-quart or other deep-sided saucepan. Bring to a boil over medium heat, stirring constantly. Remove the pan from the heat and carefully stir in the bourbon, vanilla, salt, and baking soda. Be aware that the baking soda is going to make the mixture boil and bubble like you're in trouble, but you're not. It'll simmer down quickly.

Immediately pour the bourbon syrup evenly over the popcorn and bacon and, working quickly, toss everything with a lightly buttered spatula to coat it. (If you prefer, transfer the mixture to a large pot and toss it in there.)

Spread the popcorn mixture in an even layer and bake for 50 to 60 minutes, stirring every 15 minutes. You want the candied popcorn to be sorta dry to the touch and, you know, done.

Spread the popcorn on a fresh sheet of parchment paper to cool, breaking apart large clumps once the popcorn is not too hot to handle. The popcorn will become crisper and crunchier as it drops in temperature. Store any leftover popcorn in an airtight container.
Check out the full recipe post for our testers' reviews, more info, and tips on making this irresistible bacon popcorn.
Serving: 1 cupCalories: 250 kcalCarbohydrates: 32 gProtein: 2 gFat: 13 gSaturated Fat: 7 gPolyunsaturated Fat: 1 gMonounsaturated Fat: 4 gTrans Fat: 0.4 gCholesterol: 30 mgSodium: 215 mgPotassium: 52 mgFiber: 2 gSugar: 24 gVitamin A: 324 IUCalcium: 6 mgIron: 0.4 mg
Nutrition information is automatically calculated, so should only be used as an approximation.
All rights reserved.