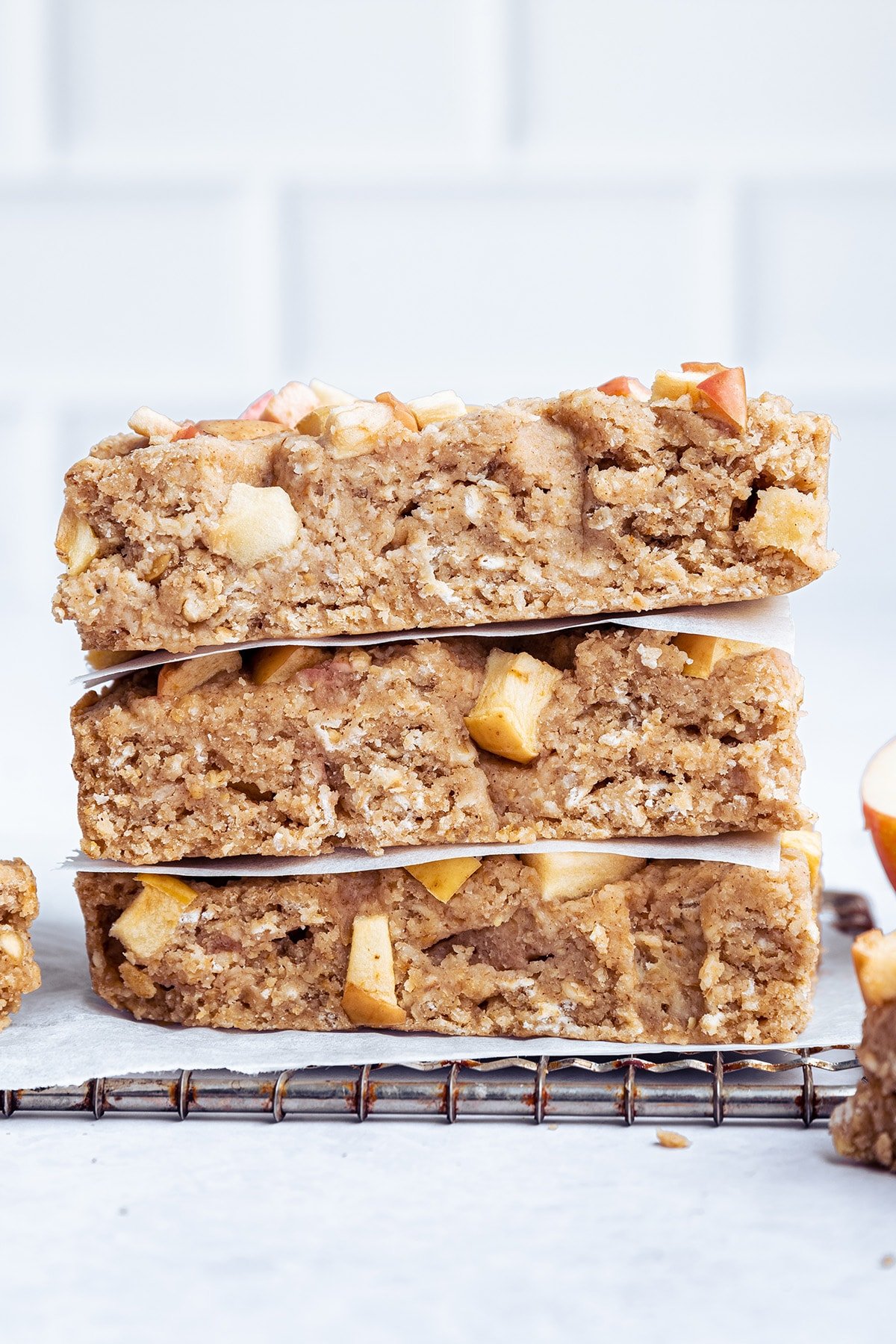 These healthy apple oatmeal bars are made with wholesome ingredients and studded with fresh apple chunks. They're kid-friendly, portable and perfect for meal prep. Vegan + gluten-free.
Fall is right around the corner and you know what that means?! Time for apple season! One of my all-time favorite EBF recipes is this apple cinnamon baked oatmeal, but this year I wanted to create more of a portable apple oatmeal recipe. Cue these apple oatmeal bars!
They're denser and more portable, making them perfect for a grab-and-go breakfast or snack or a great addition to your kid's lunchbox. And don't worry, they're still packed with tons of cinnamon apple goodness. They're so good! I can't wait for you to try them.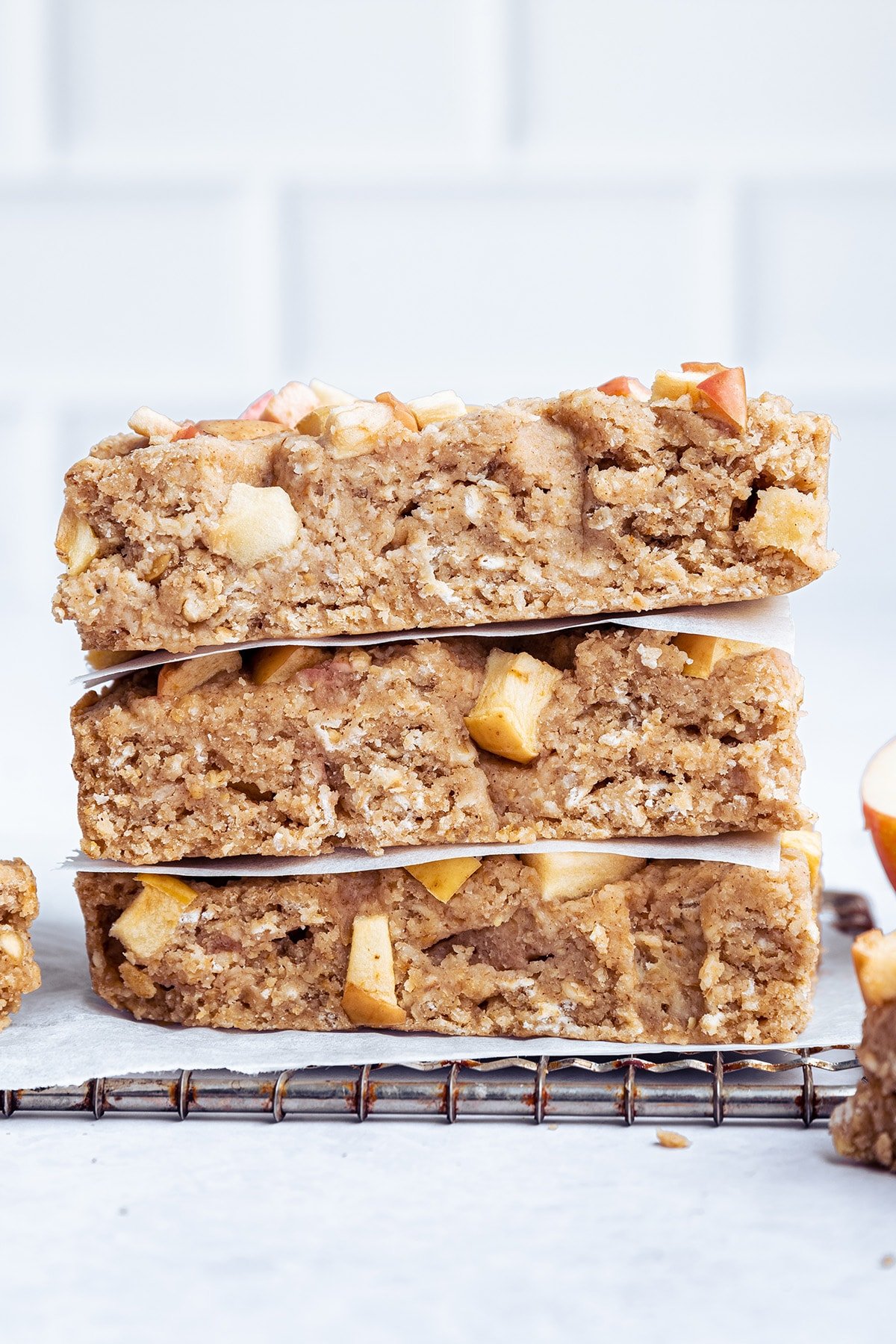 Why You'll Love This Recipe
Easy to make: They come together quickly in one bowl!
Healthy: These bars are packed with simple, nutritious ingredients. Plus, they're vegan, dairy-free + gluten-free.
Family-friendly: Kiddos and adults will love these apple bars. They're also nut-free, so make for a great back-to-school snack!
Versatile: Enjoy these apple oatmeal bars for a quick grab-and-go breakfast, mid-day snack or healthy dessert.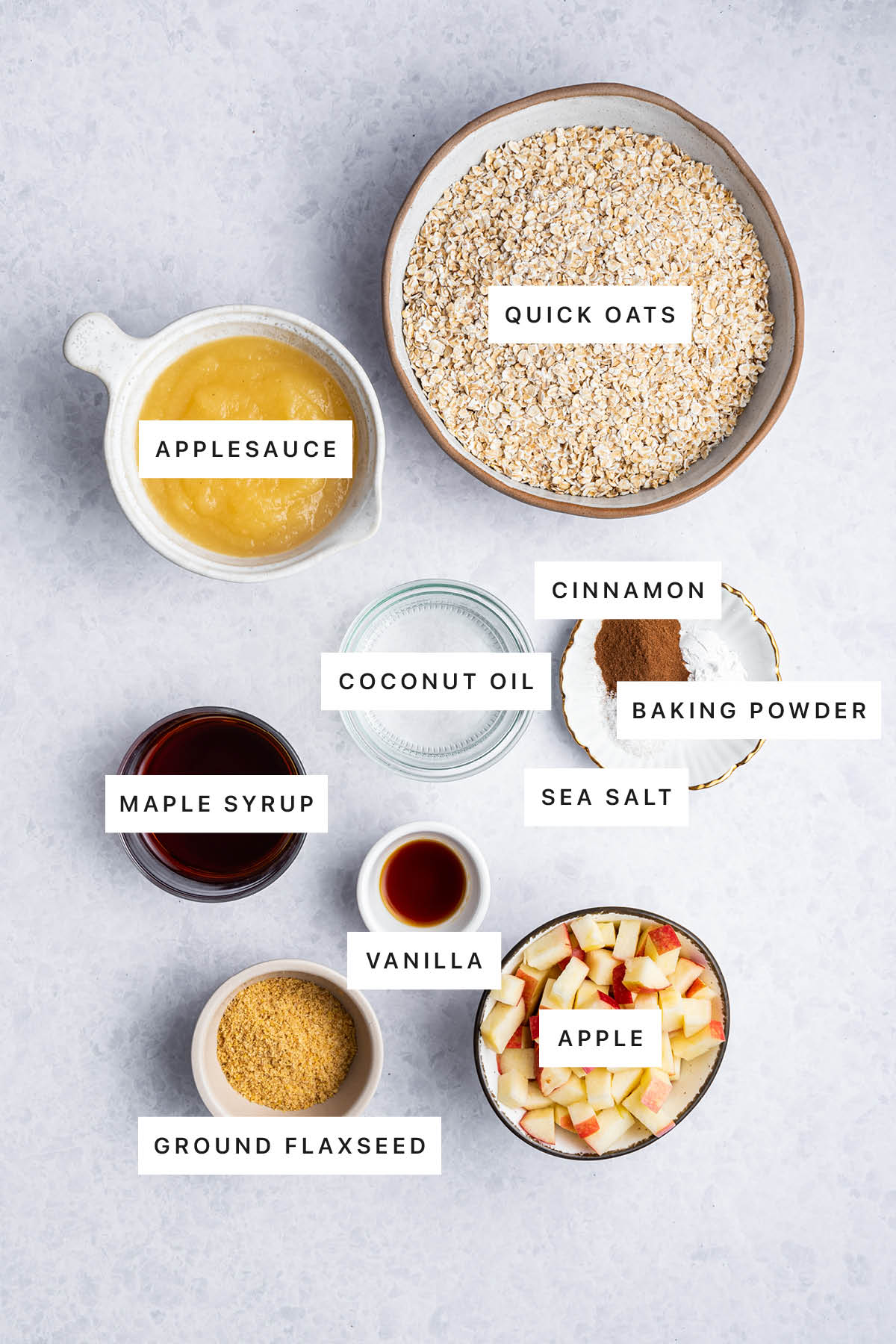 Ingredients Needed
quick oats – the base of our apple bars! I like Bob's Red Mill Gluten Free Quick Cooking Rolled Oats.
applesauce – adds moistness without the need for a ton of oil. It also adds natural sweetness and helps in binding the ingredients together. Make sure you're using unsweetened applesauce!
maple syrup – the perfect natural sweetener that pairs perfectly with apples and cinnamon. Just make sure you're using pure maple syrup, not pancake syrup!
ground flaxseed – to make these bars vegan we're using ground flaxseed instead of an egg, which helps bind the ingredients together. It's also a fantastic source of omega-3 fatty acids and fiber.
coconut oil – helps to keep the apple oat bars moist.
vanilla extract – a nice flavor enhancer.
baking powder – helps the bars rise.
cinnamon – the perfect spice pairing for these apple bars.
sea salt – to bring all the flavors together.
apple – I like to use a crisp, sweet variety like Honeycrisp, Gala or Pink Lady, but any variety of apple will work! The apple chunks add a fresh burst of flavor and a nice texture to the bars. And there's no need to peel the apple, as the skin adds extra fiber and nutrients.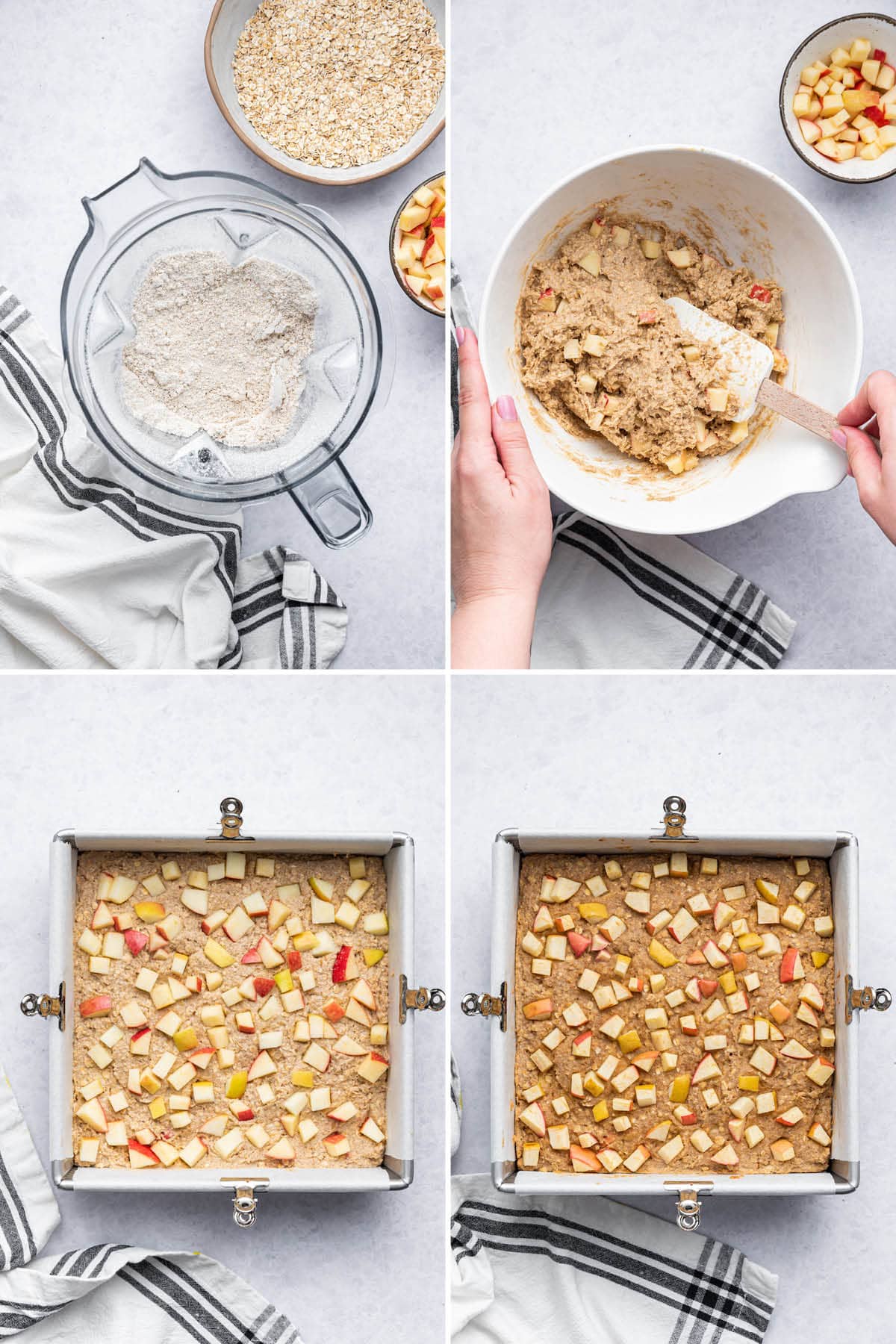 How to Make
Make oat flour: Take 2 cups of the quick oats and blend them in a blender or food processor until you get a fine flour consistency. Alternatively, you can use scant 2 cups of store-bought oat flour.
Combine dry ingredients: Transfer your freshly made oat flour to a large bowl. To this, add the remaining 1 cup of oats, baking powder, cinnamon and salt. Stir everything until it's well combined.
Add wet ingredients: Add the applesauce, maple syrup, flaxseed, coconut oil and vanilla into the bowl with your dry ingredients. Stir everything together until it forms a dough.
Fold in the apples: Fold in ¾ cup of your chopped apples to the mixture.
Bake: Pour the batter into your prepared 8×8 inch baking dish. Spread it out so there's an even layer across the pan. Scatter the remaining apple chunks on top, pressing them gently into the surface. Place the pan into your oven at 350°F and bake for 25-30 minutes or until a toothpick inserted into the middle of the pan comes out clean.
Cool: Allow the bars to cool completely in the pan. Once cooled, cut them into 8 equal bars and serve. Enjoy!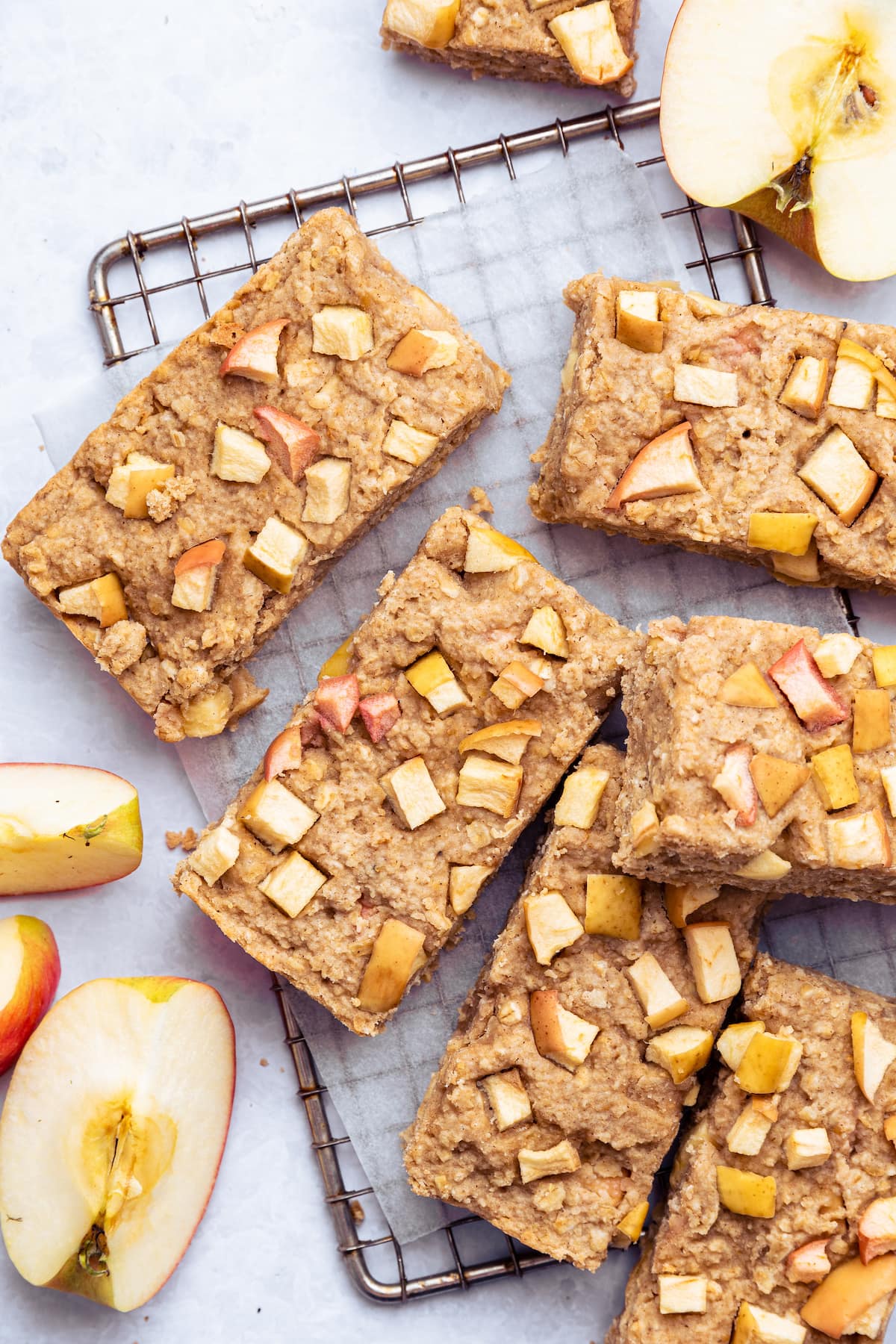 Substitutions & Notes
Oats – Quick oats are the best for these oat bars, but rolled oats will work as a substitute.
Maple syrup – You can replace this with any other liquid sweetener, such as honey, agave syrup or monk fruit maple syrup for a sugar-free option. I don't recommend swapping the maple syrup for a dry sugar like brown sugar or coconut sugar as it'll change the consistency of these bars.
Flaxseed – If you don't need these bars to be vegan you can use a regular egg instead of the flaxseed.
Coconut oil – You can use any other neutral oil in place of coconut oil like olive oil or avocado oil. Alternatively, you can use melted butter if you don't need these bars to be vegan.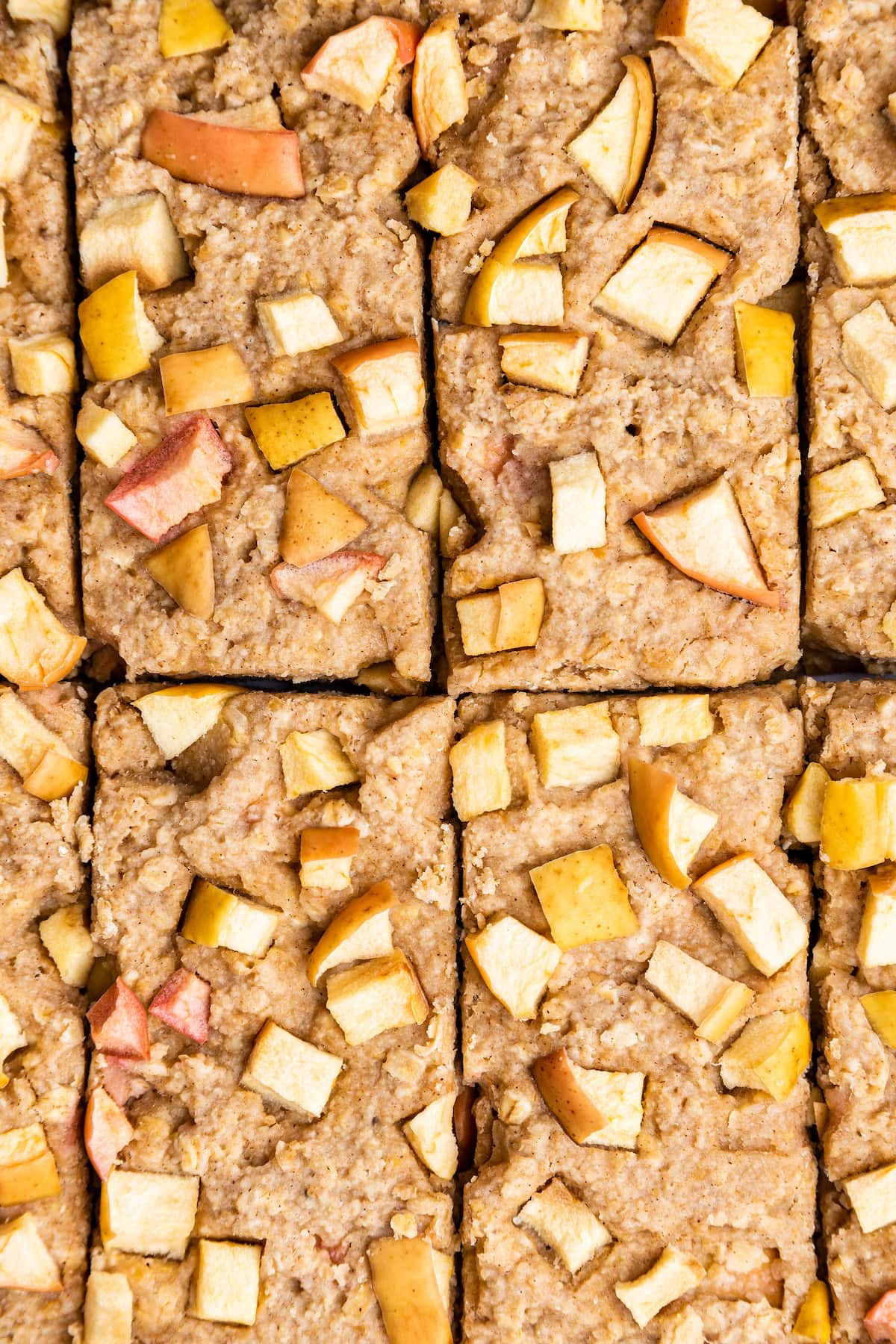 Tips for Success
Use the right apples: Not all apples are created equal, especially when it comes to baking. Choose a firm variety like Honeycrisp or Pink Lady, which hold up well during the baking process and offer a nice, sweet-tart flavor.
Blend oats properly: To create a nice, soft texture for your bars, make sure to blend 2 cups of the quick oats into a fine oat flour. A high-powered blender or food processor will do the job perfectly.
Check for doneness: Ovens can vary, so start checking your bars a little early to ensure they don't overcook. They're done when firm to the touch and a toothpick inserted in the center comes out clean.
Don't skip the cooling time: Allow your bars to cool completely before cutting them. This will make sure that they hold their shape and don't crumble when cut.
Spice it up: If you're a fan of warming spices, feel free to add a pinch of nutmeg or allspice to the mixture along with the cinnamon. This will provide a deeper, more complex flavor profile.
Double the batch: If you have a 9×13 dish and want to meal prep for the week, you can easily double the recipe. Just remember to adjust the baking time accordingly.
Customize your bars: While this recipe calls for apples, you can substitute other fruits like pears or berries, or add in extras like nuts, seeds, raisins, or chocolate chips for added texture and nutritional value.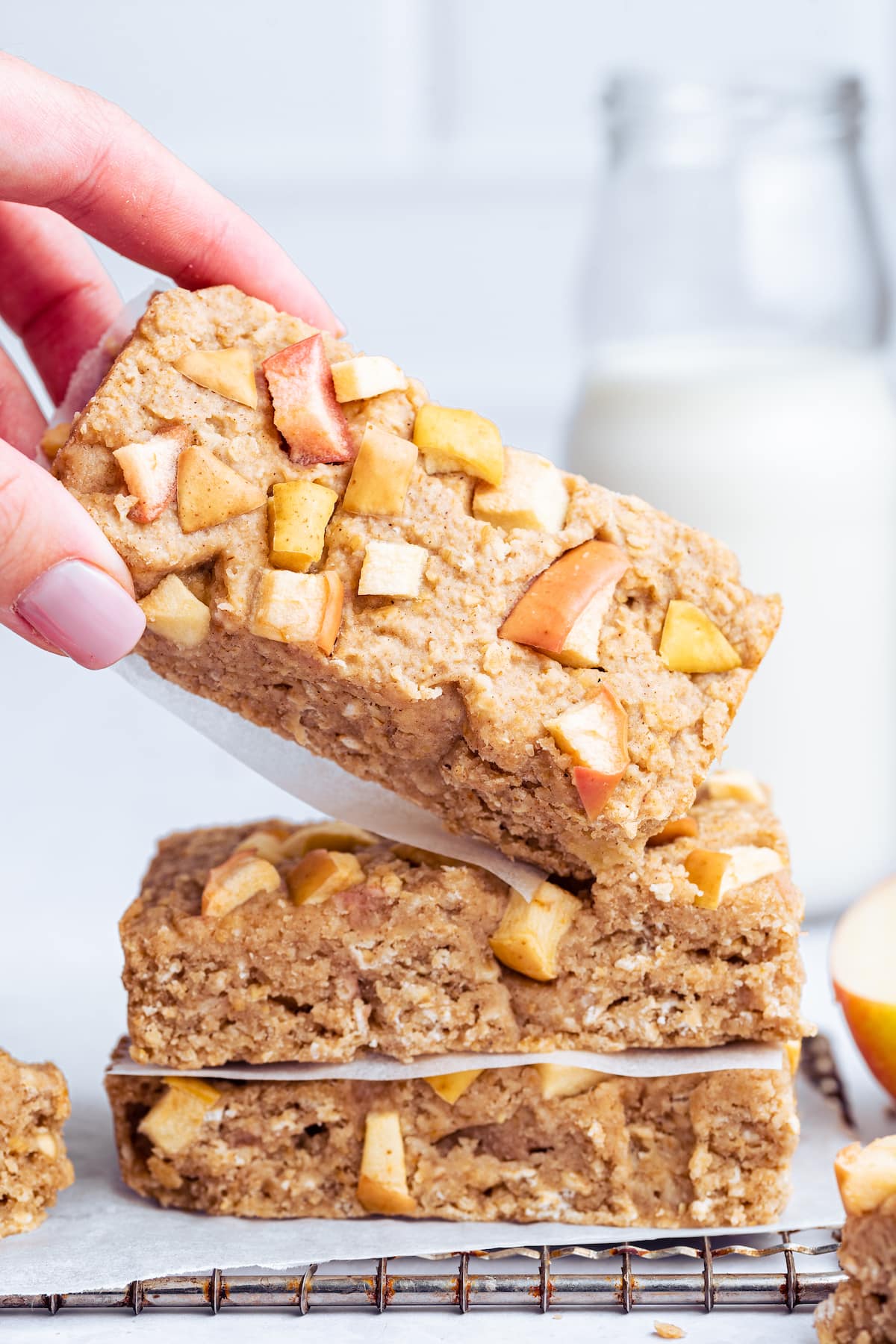 What to Serve With Apple Oatmeal Bars
I love eating these apple cinnamon oatmeal bars with a drizzle of almond butter or peanut butter for breakfast or a mid-day snack, but if you're looking to get a bit more protein at breakfast here are some pairing suggestions:
Hard boiled eggs: I'll typically eat 1 or 2 hard boiled eggs with a bar.
Protein shake: a protein shake is a great option when it comes to amping up the protein in your breakfast. I have a few different protein shake flavor variations you can check out.
Egg dish: serve these bars with these egg white bites or baked egg muffins for another quick, easy and portable breakfast option.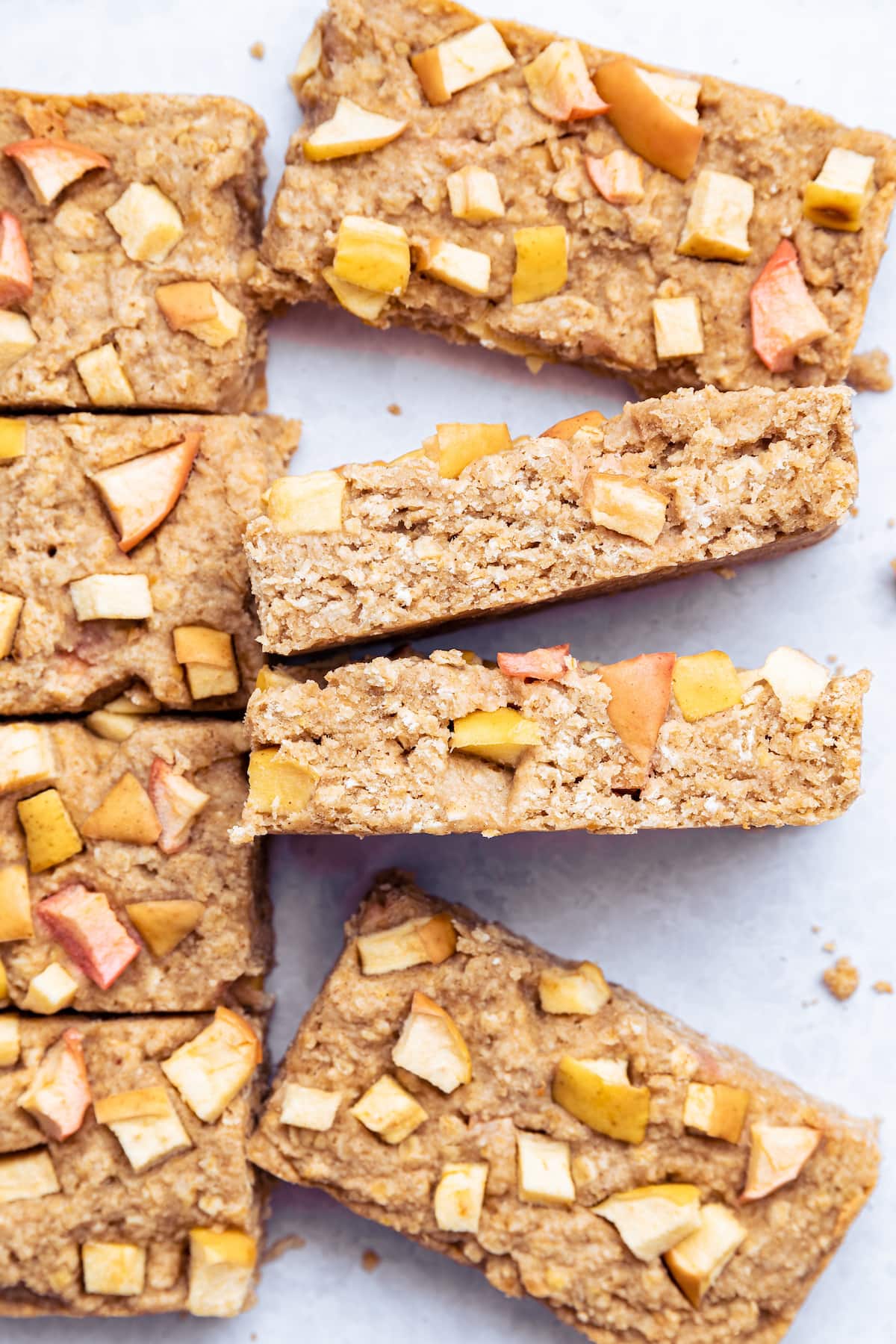 How to Store
At room temperature: Once cooled, place the apple oatmeal bars in an airtight container. They will stay fresh for about 2 days at room temperature.
In the fridge: These bars will stay fresh for up to 1 week in the fridge. I like using glass storage containers or Stasher bags for storage.
Freezing: These bars will last for up to 3 months in the freezer in a freezer-safe container. To enjoy, thaw overnight in the refrigerator or for a few hours at room temperature.
More Apple Recipes You'll Love
More Bar Recipes to Try
Be sure to check out all of the apple recipes as well as the full collection of snack recipes!
Serving: 1 bar | Calories: 231kcal | Carbohydrates: 38g | Protein: 6g | Fat: 6g | Saturated Fat: 3g | Sodium: 208mg | Potassium: 61mg | Fiber: 5g | Sugar: 14g
Nutrition information is automatically calculated, so should only be used as an approximation.