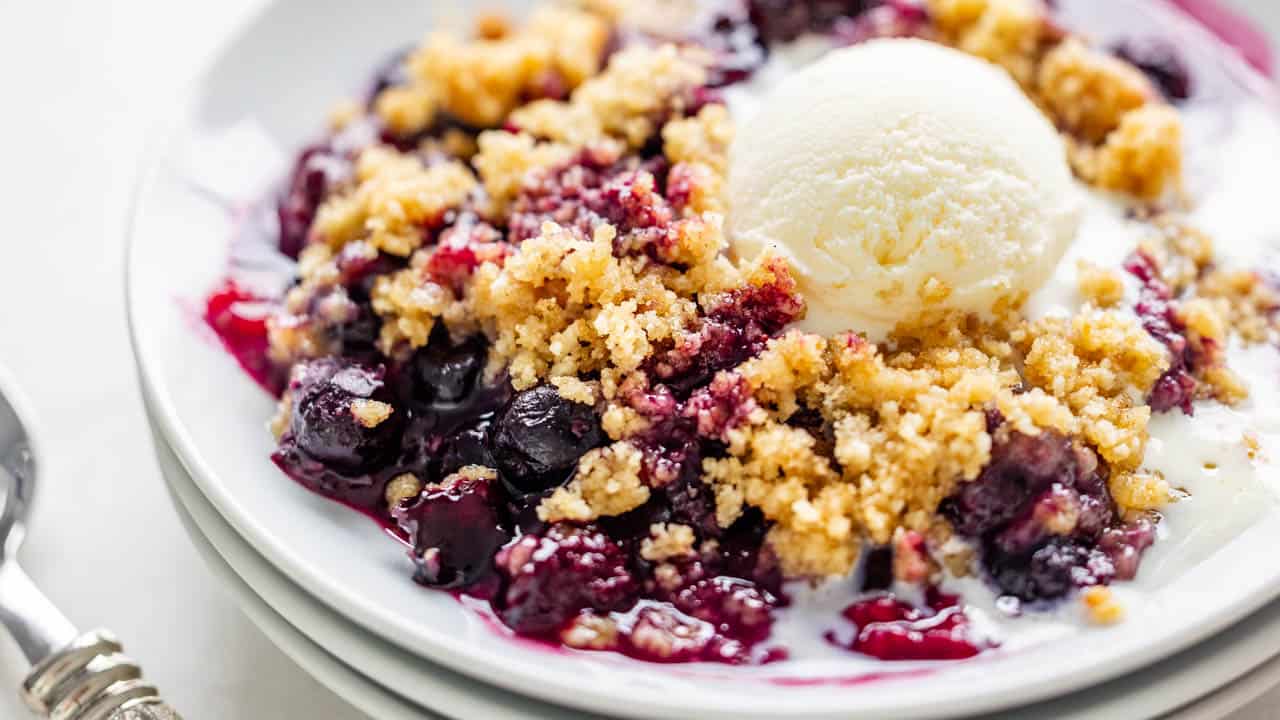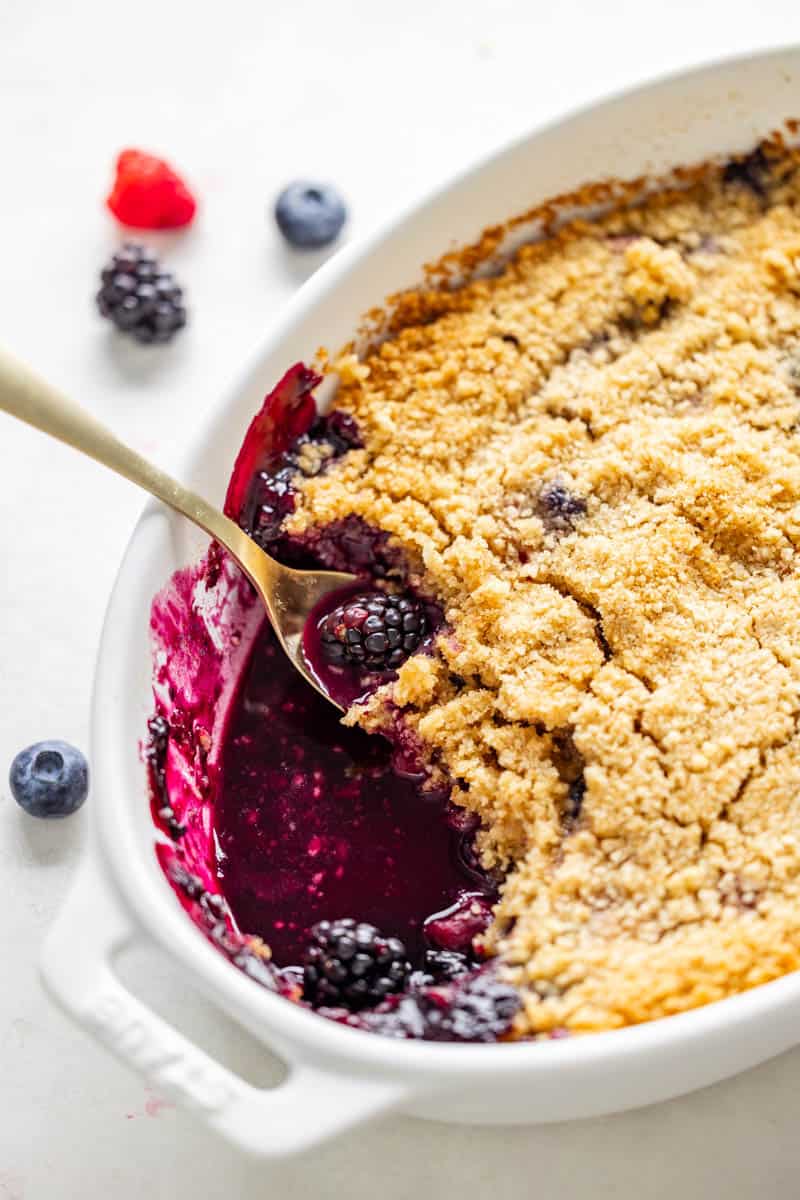 Dive into a world of flavors with the classic mixed berry crumble – a symphony of seasonal berries crowned with a golden, buttery, crumble topping.
There's something heartwarming about the mixed berry crumble. With its blend of seasonal berries and a buttery, golden topping, this dessert is a genuine testament to the joys of simple, quality ingredients. As the berries meld and stew beneath their crumbly crown, they release their natural sweetness, creating an enticing contrast of flavors and textures. It's not just a dessert; it's an experience!
Frequently Asked Questions
What's the difference between crisps and crumbles?
Crisps typically contain oats in the topping, while crumbles do not.
Can I use frozen berries for this recipe?
Yes, you can use frozen berries. However, it's essential to let them thaw first and drain off any excess liquid to ensure the right consistency.
The Berries
The mixed berry ensemble in this crumble comprises blueberries, raspberries, and blackberries. Each berry offers a unique flavor: blueberries are mildly sweet, raspberries bring a touch of tartness, while blackberries are juicy with a sweet-tart flavor. When combined, they create a harmonious balance of flavors.
Crumble Variations
If you're feeling adventurous or have different fruits on hand, feel free to experiment. Strawberries, with their sweet notes, or tart cherries, can be delightful additions or substitutes to the mixed berry blend.
Substitutions
White Sugar: You can replace white sugar with coconut sugar or maple syrup for a slightly different flavor profile.
Butter: For a dairy-free version, refined coconut oil or a plant-based butter substitute can be used.
Cornstarch: Arrowroot powder or tapioca flour can be good alternatives.
Troubleshooting
Runny Filling: If your crumble's filling turns out too liquidy, it might be due to excess moisture from the berries. Ensure you drain thawed frozen berries or consider adding a tad more cornstarch to fresh berries to absorb extra juices.
Topping Isn't Crisping: Make sure your butter is cold when blending the crumble topping. Additionally, refrain from over-mixing the topping, which can lead to it becoming too dense. If needed, you can also broil the crumble for a minute or two at the end of baking to get that desired golden finish.
Tips From the Chef
Ensure your butter is cold when making the crumble topping; this helps achieve a desirable, crumbly texture.
Avoid over-mixing the crumble topping; this can make it too dense.
If your berries are exceptionally tart, consider adding a tad more sugar for balance.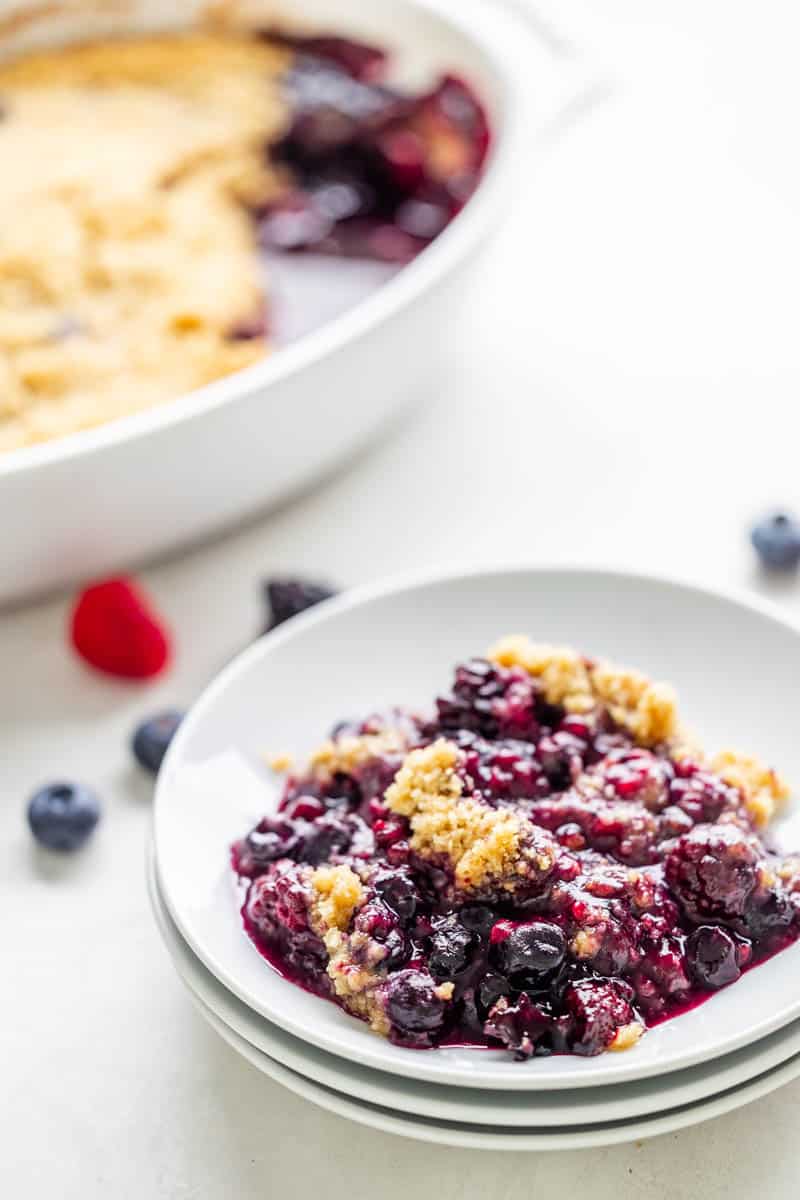 Storage & Reheating Instructions
To store, cover the mixed berry crumble and refrigerate for up to 4 days. If you've got leftovers and you're thinking about freezing, place the crumble in an airtight container or wrap it securely in aluminum foil. It can be frozen for up to 3 months. To reheat, you can warm it in the oven at 300 degrees F until heated through. If it's been frozen, allow it to thaw in the refrigerator overnight before reheating.
Crumbles, Crisps, & Pies. Oh My!