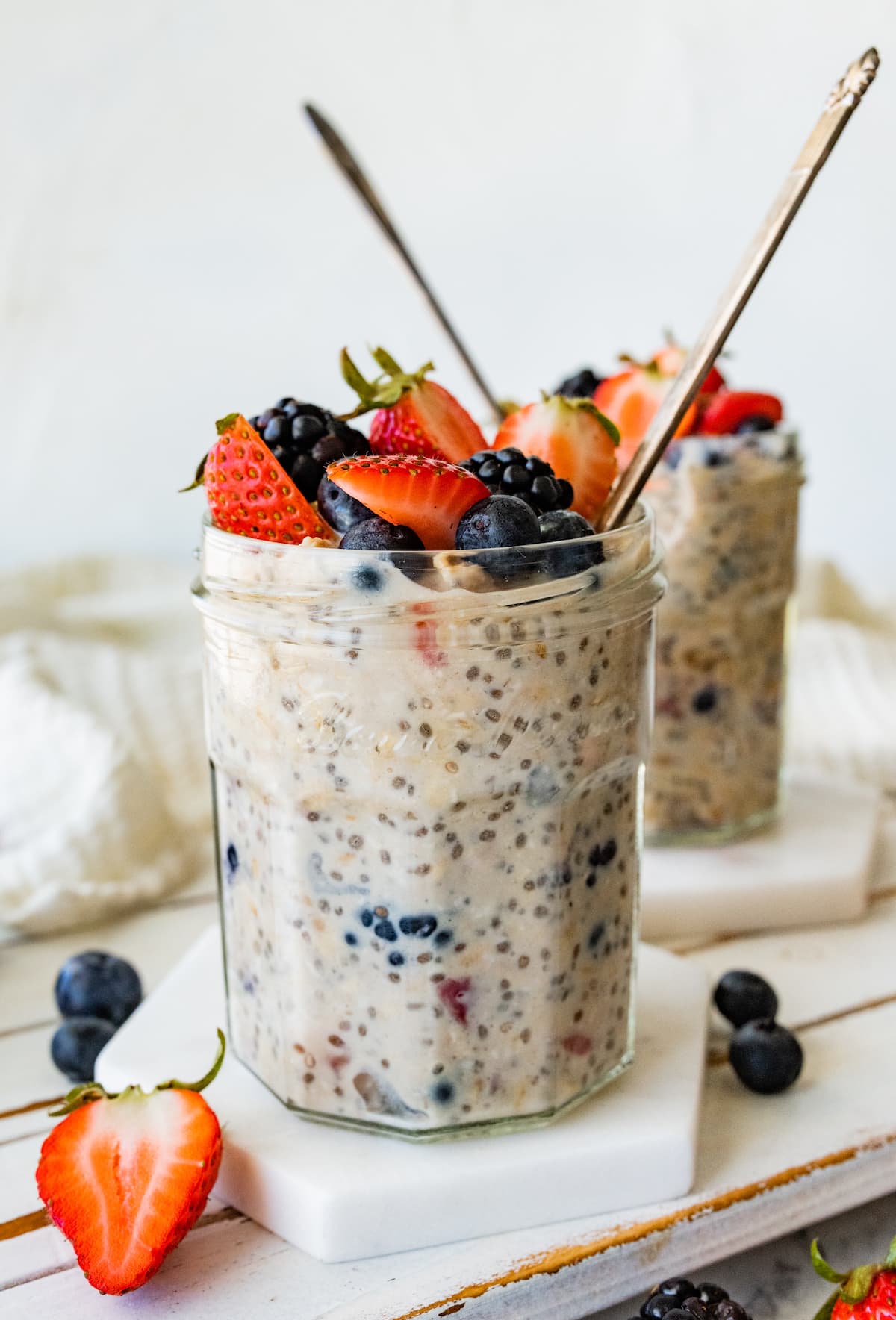 These cottage cheese overnight oats taste like dessert, but are packed with over 20 grams of protein. They're easy to make, perfect for meal prep and easily customizable.
Given my love for overnight oats and with the cottage cheese trend happening it was only fitting that I develop a recipe for cottage cheese overnight oats!
And let me tell ya, this recipe might just be my new favorite overnight oats recipe on EBF! It's thick, creamy and tastes like dessert, but is packed with healthy ingredients and over 20 grams of protein. It's the perfect way to start your day if you ask me!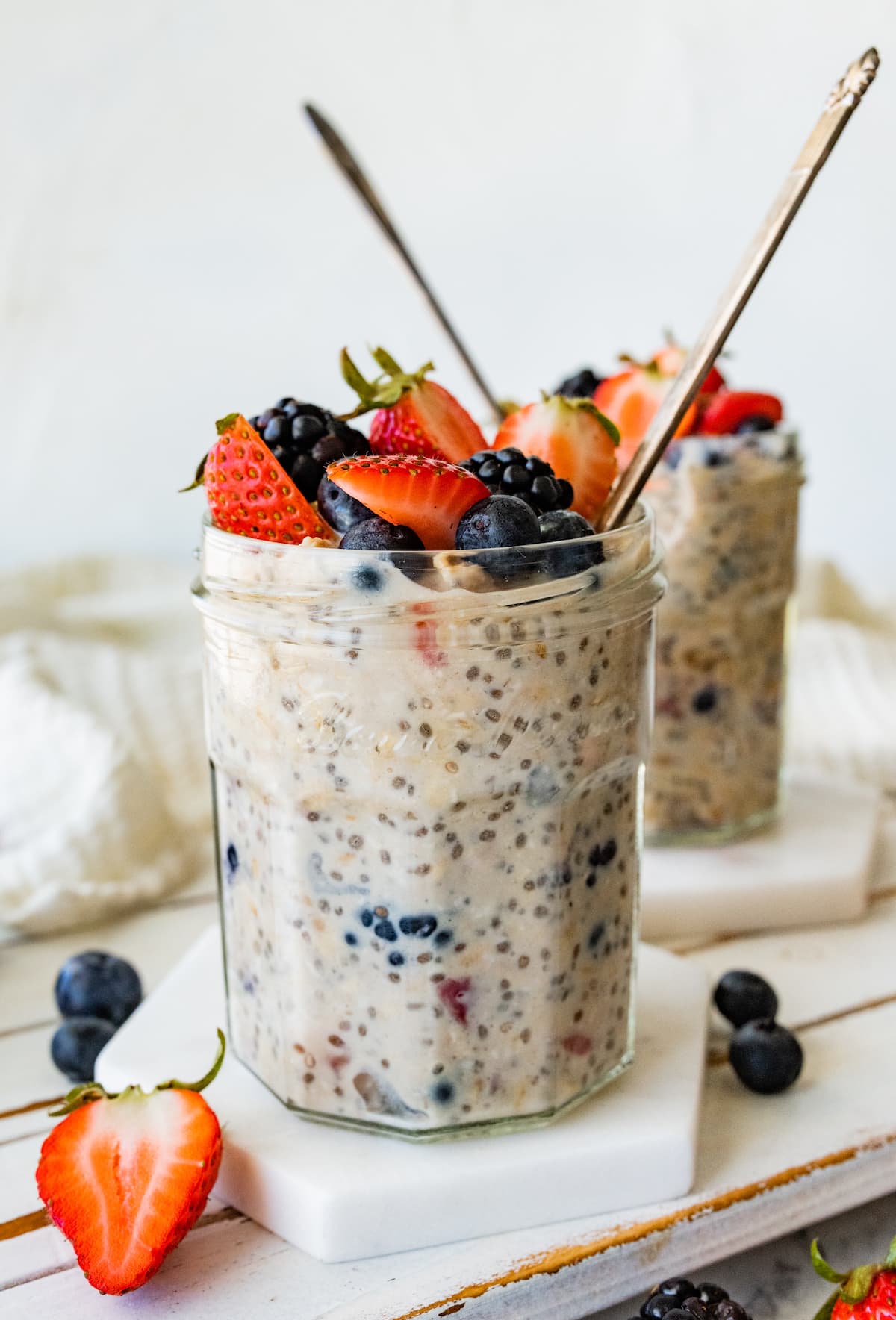 Why You'll Love This Recipe
Super quick and easy to make.
You only need 8 ingredients!
Packed with over 20 grams of protein!
Perfect for meal prep and busy, on-the-go mornings.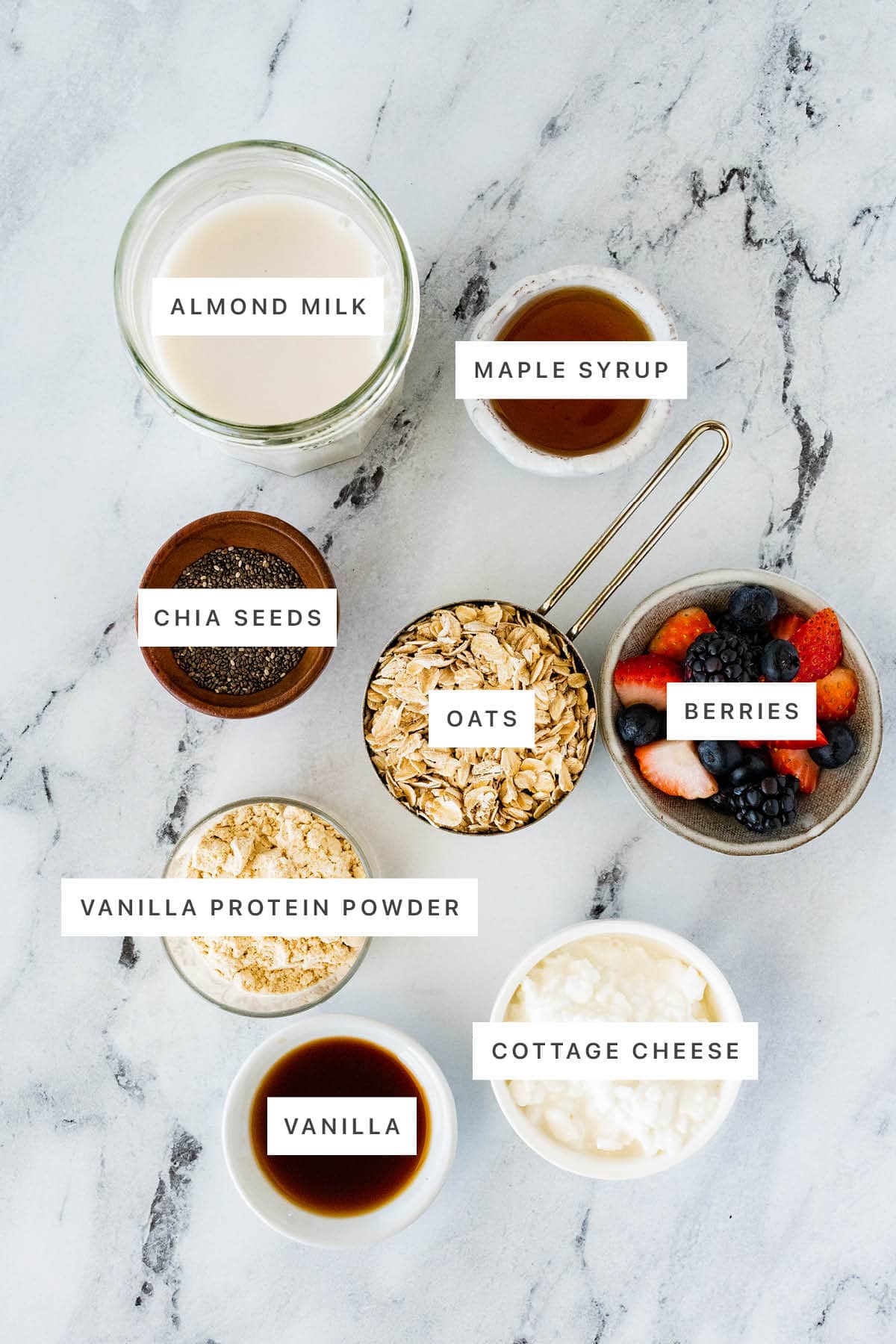 Ingredients Needed
full fat cottage cheese – the star of the show! Cottage cheese adds a ton of protein and gives the oats a rich, creamy texture. I like using whole milk Good Culture cottage cheese. I recommend using 4% milkfat cottage cheese for the best results. And because cottage cheese has a higher sodium content there's no need for added salt in this recipe.
old fashioned oats – rolled oats are the best for overnight oats. Instant oats and steel cut oats don't work well because they don't absorb liquid the same way rolled oats do. Oats are often cross-contaminated, so make sure to grab certified gluten-free oats if needed. My favorite brand is Bob's Red Mill gluten-free oats.
vanilla protein powder – adds more of a protein boost and a nice vanilla flavor to these oats. I used Nuzest protein powder (use code eatingbirdfood for 15% off your order) but I also love Sun Warrior Vanilla Warrior Blend.
chia seeds – for added fiber, protein and healthy fats. Chia seeds also absorb some of the liquid, making the oats thicker.
vanilla extract – this is optional, but it adds a nice flavor to these oats.
maple syrup – the perfect natural sweetener for overnight oats. Adjust to your desired level of sweetness.
almond milk – you can use any type of milk, but I prefer unsweetened almond milk because it's low in sugar and calories.
fresh berries – add a lovely burst of tartness and sweetness. I used a combo of strawberries, blueberries and blackberries, but use your favorite blend of fresh or frozen berries! Raspberries would be a great addition!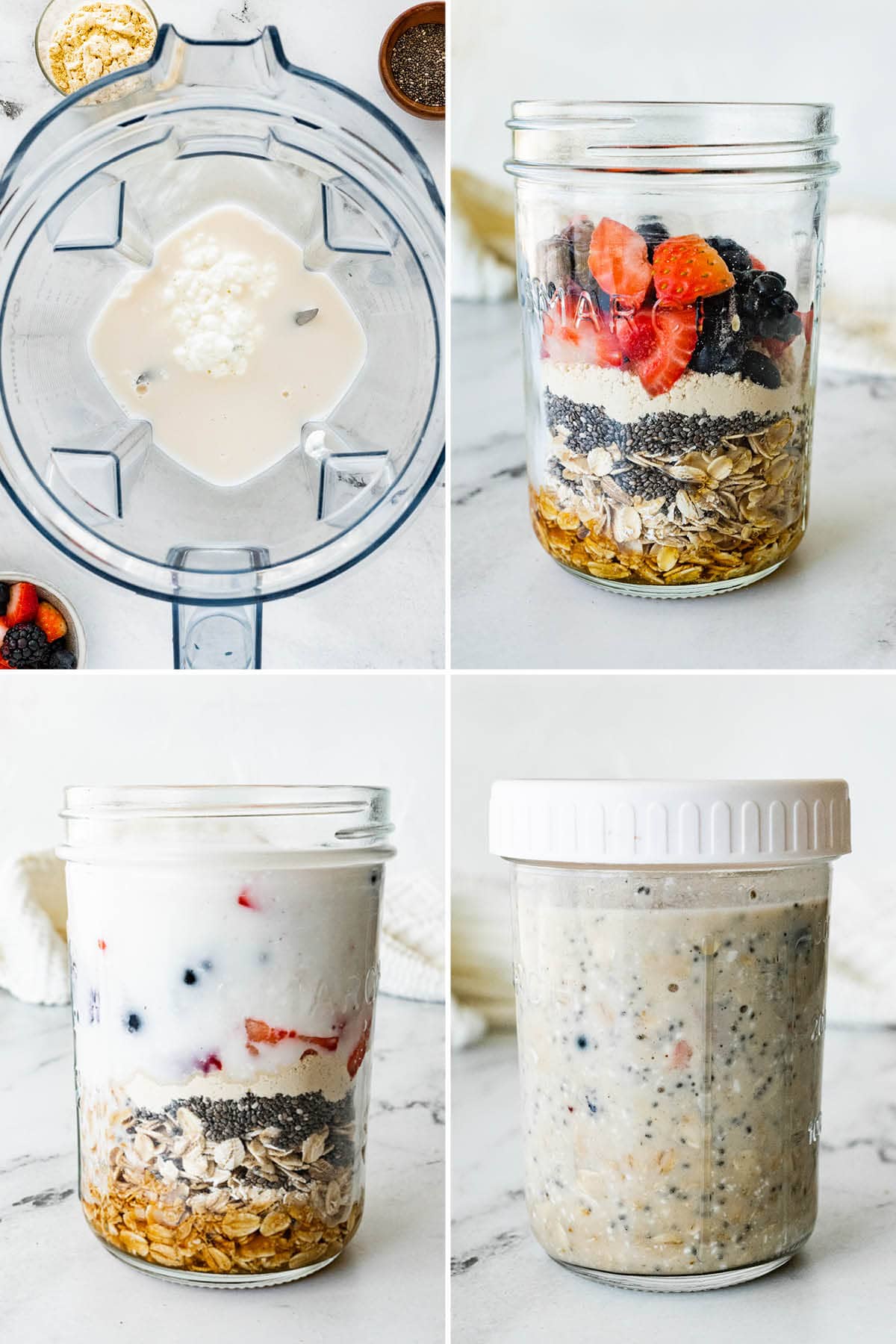 How to Make Overnight Oats
Add: In a wide mouth 16 oz mason jars or Weck jar with a lid, combine oats, protein powder, chia seeds, maple syrup, vanilla extract and ⅓ cup of fresh berries.
Blend: In a blender, add almond milk and cottage cheese and blend until the mixture is smooth and well combined.
Combine: Pour the cottage cheese mixture into the jar with the oats. Stir everything together to ensure the oats are well-coated.
Chill overnight: Place the jar in the fridge and allow the oats to soak up the liquid overnight. If you're in a rush you can shorten the soak time to 2-4 hours.
Enjoy: The next morning (or when you're ready to eat), give the oats a good stir. If the mixture seems too thick, you can add a bit more milk to loosen it up. Top with additional fresh berries and enjoy straight from the jar, or pour into a bowl for serving.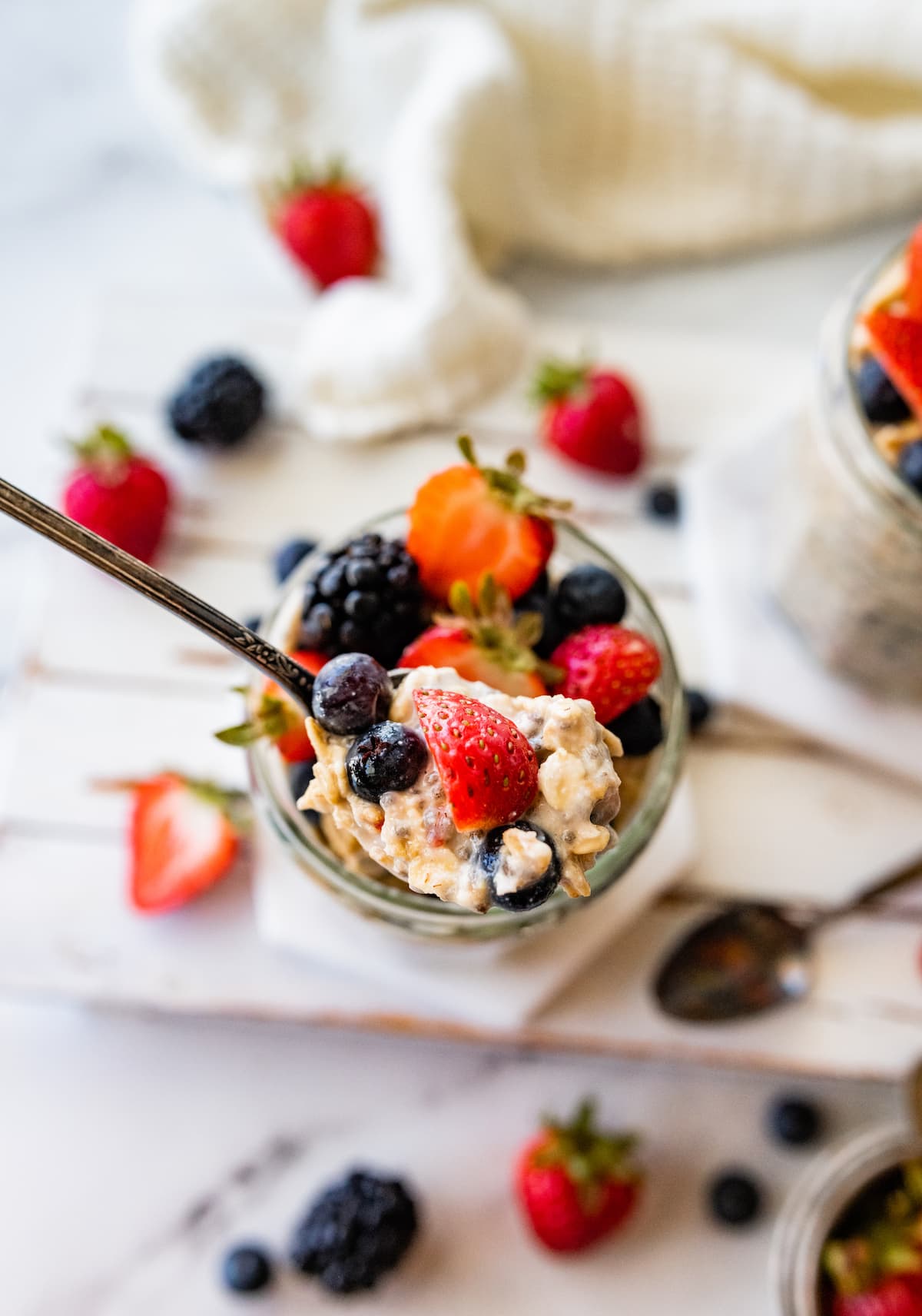 Substitutions & Notes
Protein powder – If you don't have protein powder on hand or just aren't a fan you can skip it altogether. You might just want to use a touch less milk since the protein powder does soak up some of the liquid.
Cottage cheese – I don't recommend swapping the cottage cheese as it's the star of the show and adds a unique flavor and texture to these oats. If you're not a cottage cheese fan I would make my easy overnight oats instead!
Chia seeds – If you don't have any on hand you can skip the chia seeds!
Almond milk – Feel free to use any type of milk. Oat milk, cashew milk, soy milk, coconut milk or dairy milk will all work.
Maple syrup – You could use honey, agave, monkfruit maple syrup or stevia instead.
Berries – Feel free to swap the fresh berries with your favorite fruit! Bananas, mangos, peaches and cherries would all be delicious!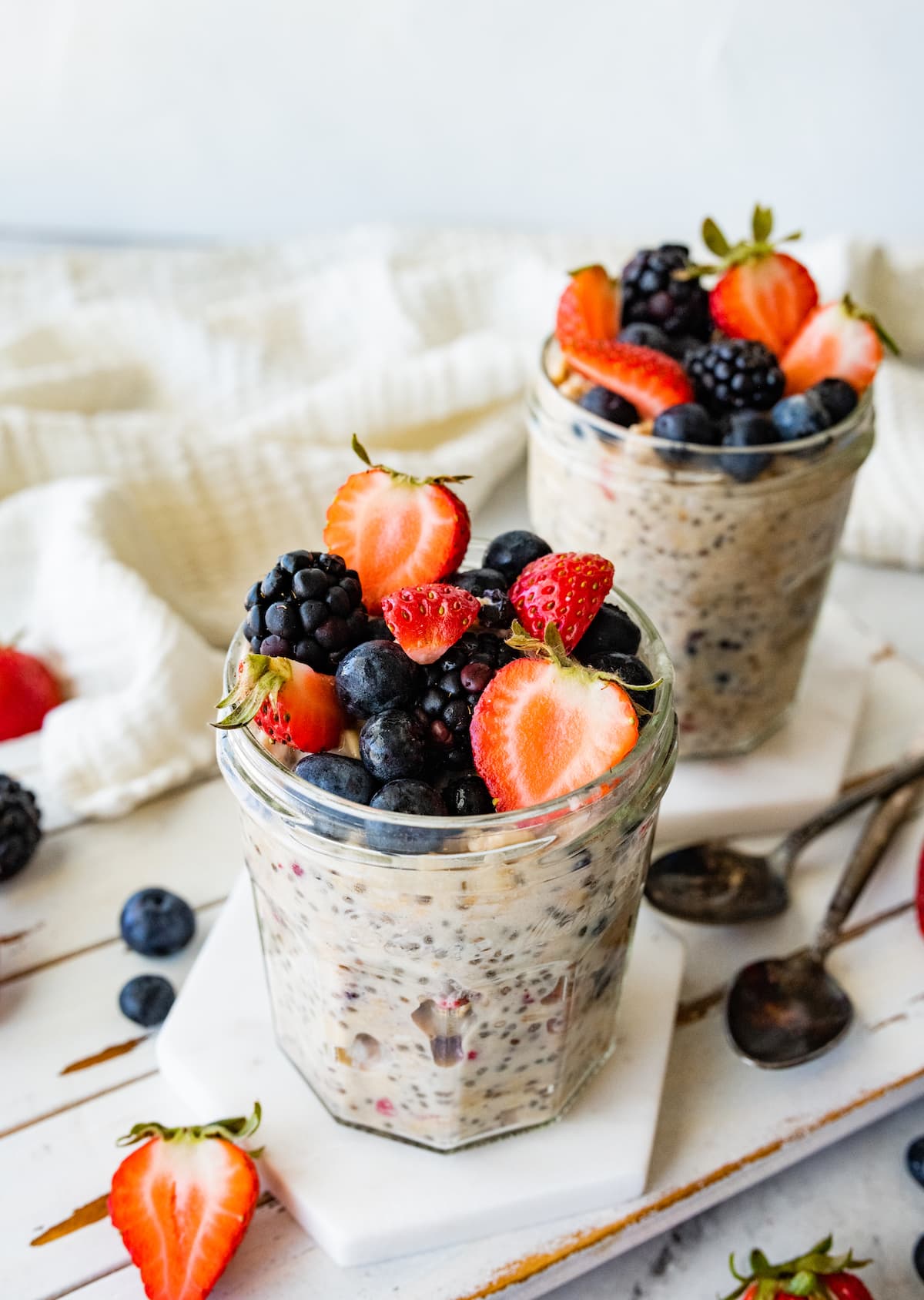 How to Eat Cottage Cheese Overnight Oats
Since this recipe is packed with protein I don't find that I need to pair it with anything else for breakfast. Overnight oats are designed to eat cold, but if you would rather eat them warm you can heat them in the microwave for 30-60 seconds after the oats soak.
You can enjoy these overnight oats plain, but I recommend adding some toppings for extra flavor! I love adding fresh berries, drizzled with almond butter and/or chopped nuts.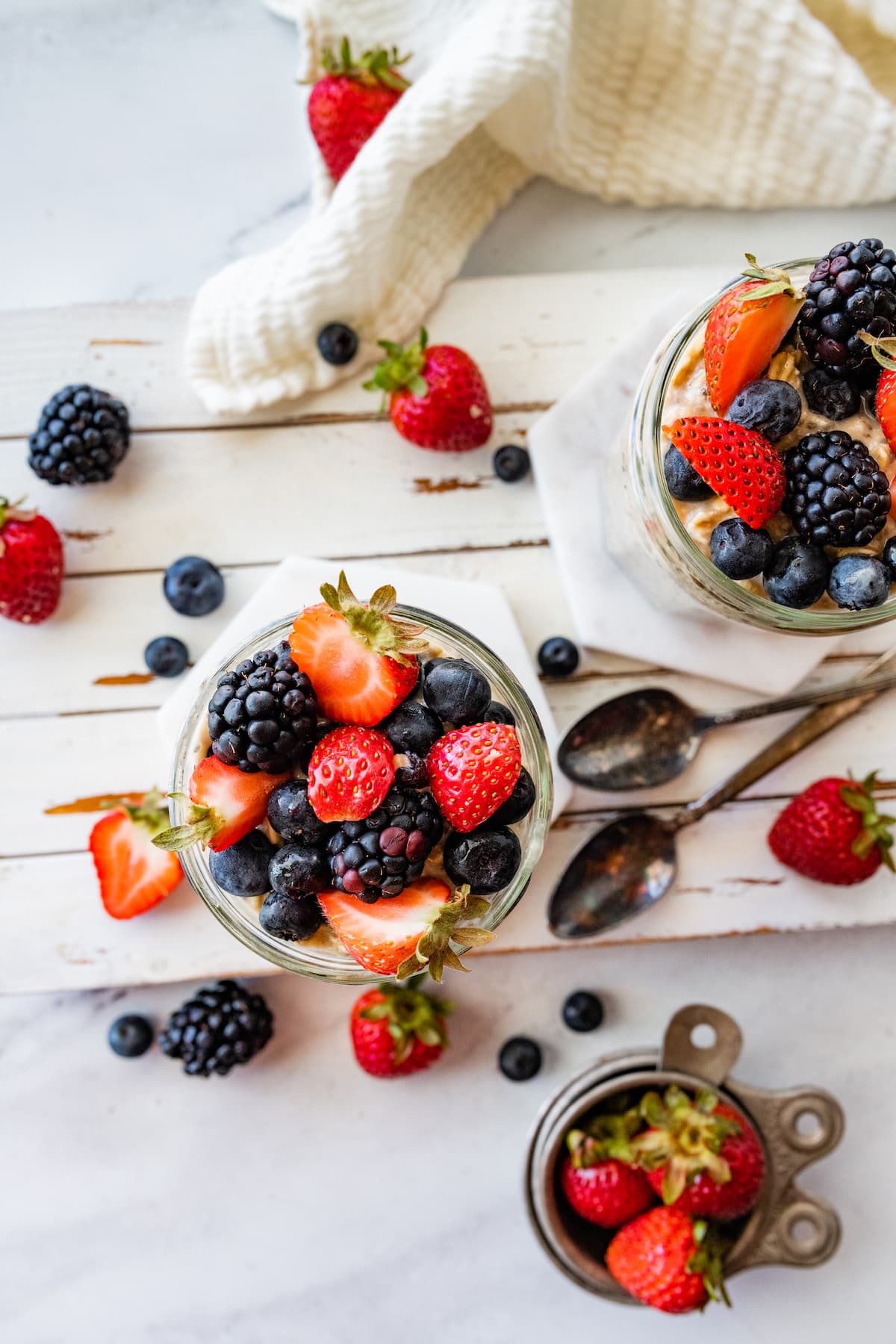 How to Store
Overnight oats are great for meal prep. Feel free to double, triple or quadruple this recipe for the week on Sunday so you have an easy and healthy breakfast ready to go throughout the week!
When stored in a sealed container in the refrigerator overnight oats should last for up to 5 days. They will soften more the longer they sit so I find they're best on days 1-3, but they're still safe to eat on days 4 and 5.
More Cottage Cheese Recipes
More Overnight Oat Recipes
Be sure to check out the full collection of oatmeal recipes on EBF!
Serving: 1 jar | Calories: 404kcal | Carbohydrates: 55g | Protein: 26g | Fat: 20g | Saturated Fat: 1g | Polyunsaturated Fat: 2g | Cholesterol: 8mg | Sodium: 533mg | Potassium: 522mg | Fiber: 9g | Sugar: 13g
Nutrition information is automatically calculated, so should only be used as an approximation.