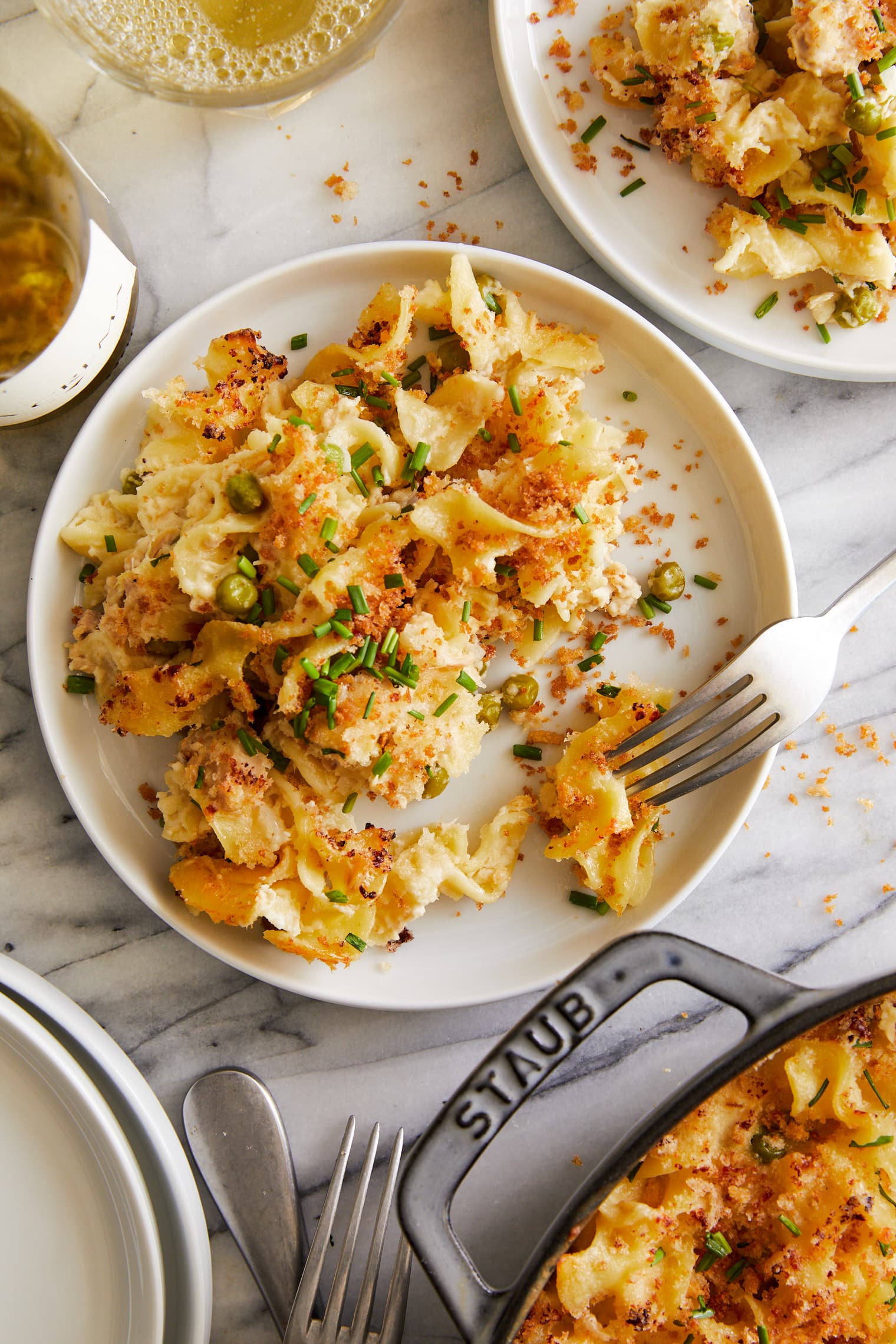 This post may contain affiliate links. Please see our privacy policy for details.

Classic tuna noodle casserole! So cozy, so so creamy. Made with canned tuna, egg noodles and a crispy Panko topping!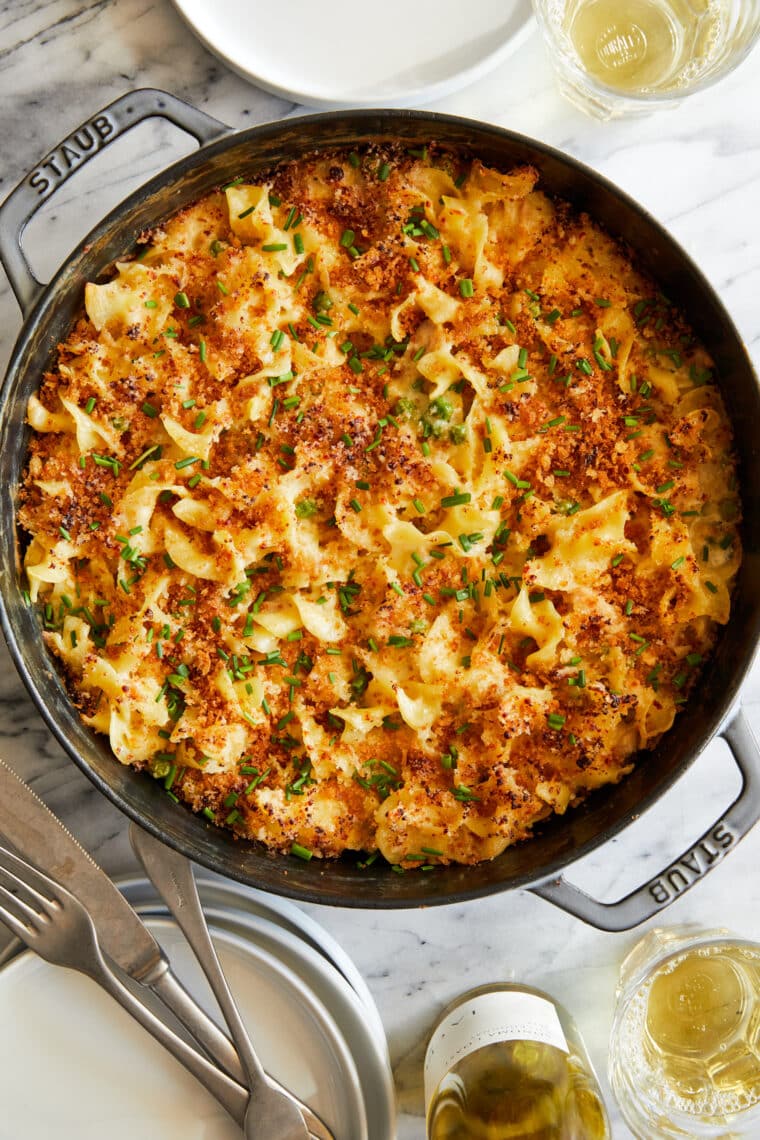 Not all tuna casseroles were created equal. This one for example is extra creamy, wonderfully cheesy, and completely made from scratch (no canned soup here). Not to mention, the crispiest Panko topping, my favorite part about this recipe. Every bite has that creamy pasta goodness with that extra lemony Parmesan-Panko crunch right on top.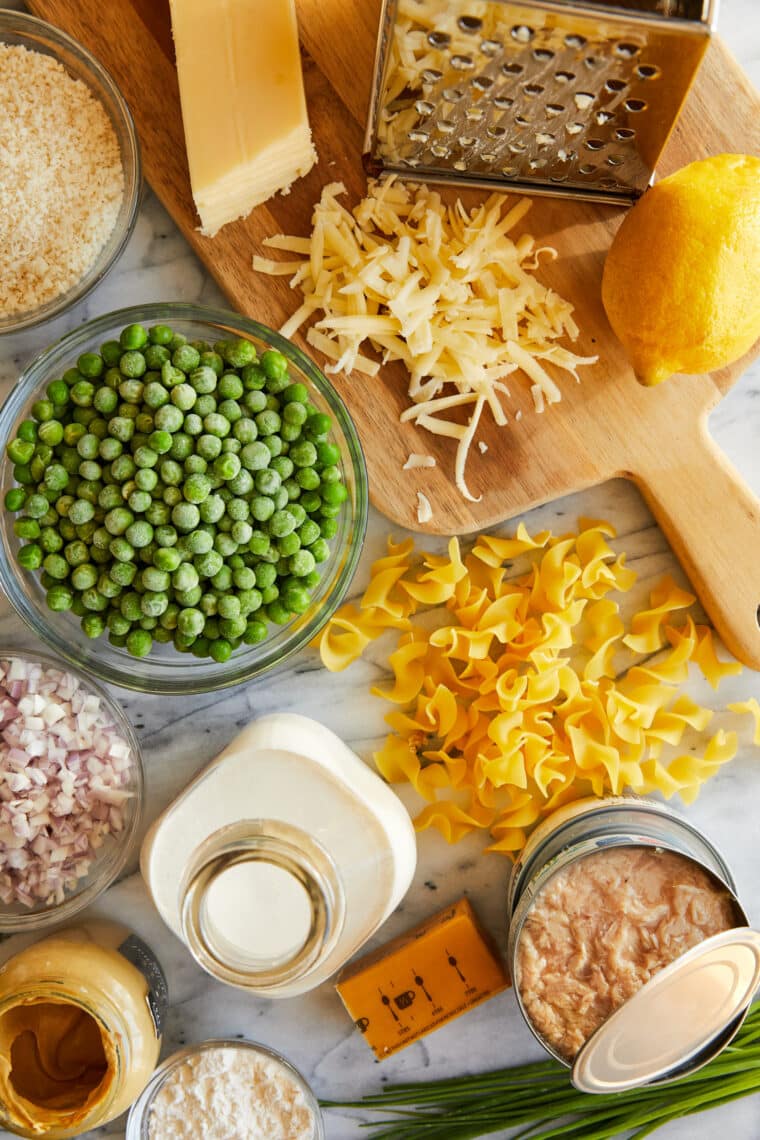 And this dinner comes together in a cinch with the help of canned tuna. I highly recommend using good quality albacore tuna in water with no salt added. It has a clean, fresh taste along with a nice, chewy texture and big big flakes.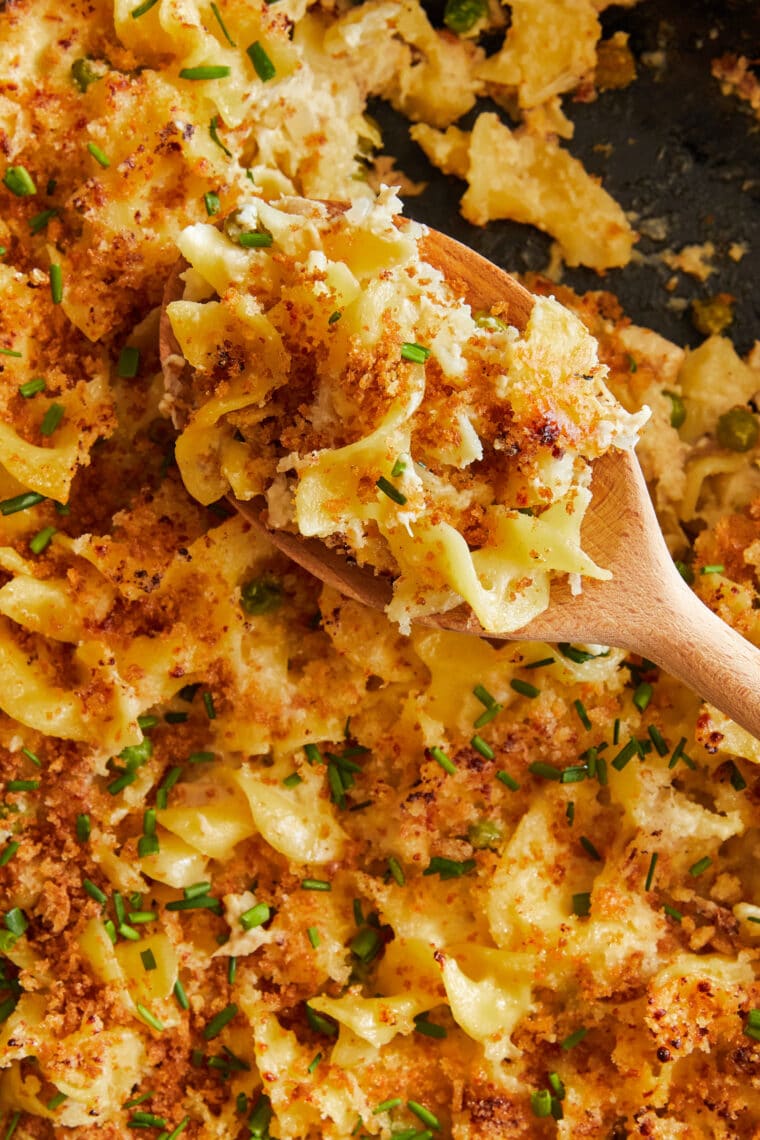 If tuna is not your jam, leftover shredded rotisserie chicken is a great sub. Other veggies can be added such as mushrooms, carrots, and green beans. And as always, freshly grated cheese always melts a little better! Serve with a light salad and crusty bread for a complete speedy weeknight dinner.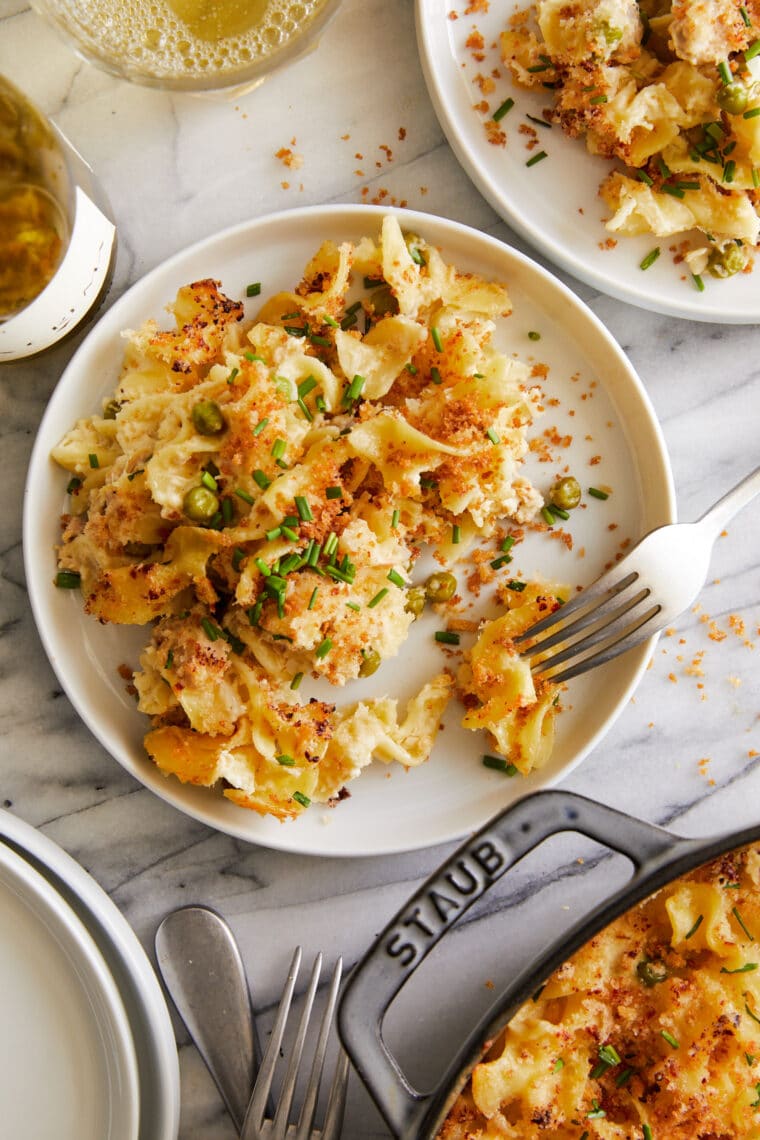 TOOLS FOR THIS RECIPE
WHAT IS HALF AND HALF?
Half and half is equal parts of whole milk and cream. For 1 cup half and half, you can substitute 3/4 cup whole milk + 1/4 cup heavy cream or 2/3 cup skim or low-fat milk + 1/3 cup heavy cream.
WHAT IS PANKO?
Panko is a Japanese-style breadcrumb and can be found in the Asian section of your local grocery store. While both panko and breadcrumbs can be used as a coating for fried foods, panko is much more flakier and yields a crunchier, crispier texture.
10 ounces wide egg noodles, about 4 1/2 cups
3 tablespoons unsalted butter
3 cloves garlic, minced
2 large shallots, diced
2 tablespoons all-purpose flour
3 ½ cups half and half
2 teaspoons Dijon mustard
8 ounces shredded sharp white cheddar cheese, about 2 cups
3 (5-ounce) cans tuna in water, drained
1 cup frozen green peas, rinsed
Kosher salt and freshly ground black pepper, to taste
2 tablespoons chopped fresh chives
For the panko mixture
⅓ cup Panko*
⅓ cup freshly grated Parmesan
1 tablespoon lemon zest
1 tablespoon olive oil
In a large pot of boiling salted water, cook pasta according to package instructions; drain well.

Preheat oven to 400 degrees F.

Melt butter in a Dutch oven over medium heat. Add garlic and shallots, and cook, stirring frequently, until fragrant, about 2 minutes.

Whisk in flour until lightly browned, about 1 minute.

Stir in half and half and Dijon until slightly thickened, about 4-5 minutes.

Remove from heat. Stir in cheddar cheese until smooth, about 2 minutes.

Stir in pasta, tuna and green peas until well combined; season with salt and pepper, to taste; sprinkle with Panko mixture.

Place into oven and bake until golden brown and bubbly. about 25-30 minutes.

Serve immediately, garnished with chives, if desired.
for the panko mixture
In a small bowl, combine Panko, Parmesan, lemon zest and olive oil.
*Panko is a Japanese-style breadcrumb and can be found in the Asian section of your local grocery store.