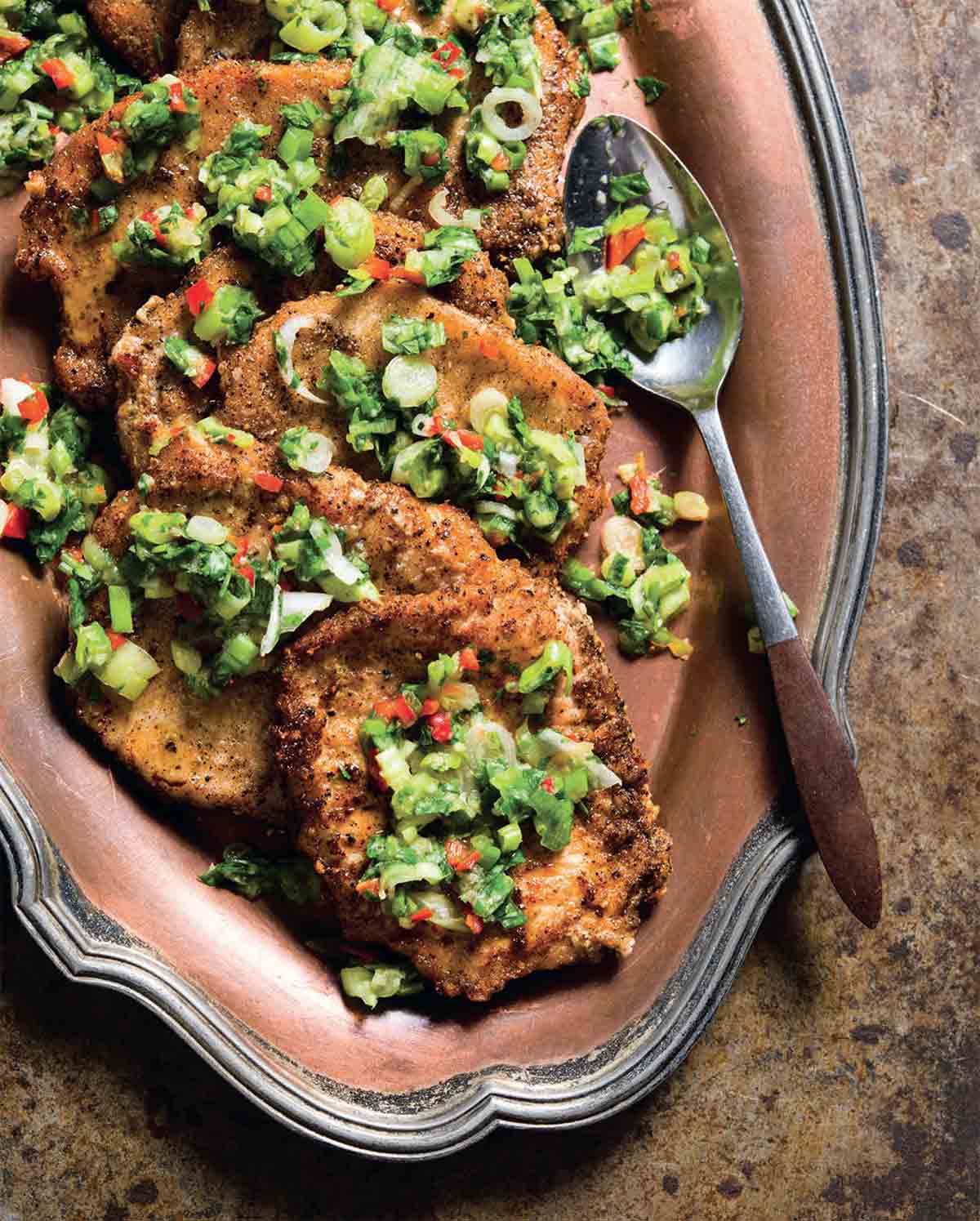 Adapted From Christopher Kimball
Photographer Eric Wolfinger
The salt-and-pepper treatment is a Cantonese technique applied to meat, seafood, and tofu. The protein typically is deep-fried, but here we opt to pan-sear pork that we first dust in cornstarch seasoned generously with Sichuan pepper, black pepper, and cayenne.
In a classic salt-and-pepper dish, chiles and garlic are quickly fried and tossed with the cooked protein for big, bold, in-your-face flavors. We, however, finish the pan-seared pork chops with a fresh, punchy uncooked mix of sliced scallions, chopped cilantro, minced chiles, rice vinegar, and grated ginger.
The easiest way to grind the tongue-tingling Sichuan peppercorns for this recipe is in an electric spice grinder. Serve with steamed jasmine rice.–Christopher Kimball
Salt and Pepper Pork Chops FAQs
Can I use bone-in pork chops?
We recommend you stick to boneless loin chops or cutlets that are 1/2- to 3/4-inch thick. They'll cook quickly and evenly.
What is five-spice powder?
Five-spice is a blend of herbs and spices, four of which are cinnamon, fennel, star anise, and cloves. Generally, you'll see Sichuan (Szechuan) peppercorns or sand ginger as the fifth spice.
What should I serve with these pork chops?
Serve these easy pan-fried pork chops with steamed rice and a cucumber salad for an easy weeknight meal.
In a medium bowl, toss together the scallions, cilantro, chile, vinegar, ginger, and 1/4 teaspoon salt.

In a wide, shallow dish, mix together the cornstarch, Sichuan pepper, cayenne pepper, five-spice, black pepper, and 1 teaspoon salt.

Dredge the cutlets in the cornstarch mixture, turning to coat both sides and pressing so the mixture adheres, then transfer to a large plate, stacking or shingling as needed.

In a 12-inch (30-cm) nonstick skillet over medium-high, heat the oil until barely smoking. Add half of the cutlets and cook until browned on the bottoms, 2 to 3 minutes. Using tongs, flip the cutlets and cook until golden brown on the second sides, 1 to 2 minutes more. Transfer to a platter and tent with foil. Cook the remaining cutlets in the same way, using the oil remaining in the skillet.

Spoon the scallion-cilantro mixture onto the chops and serve.
Serving: 2 chopsCalories: 541 kcalCarbohydrates: 9 gProtein: 61 gFat: 28 gSaturated Fat: 5 gPolyunsaturated Fat: 14 gMonounsaturated Fat: 7 gTrans Fat: 0.1 gCholesterol: 177 mgSodium: 863 mgPotassium: 1147 mgFiber: 1 gSugar: 0.4 gVitamin A: 440 IUVitamin C: 7 mgCalcium: 41 mgIron: 2 mg
Nutrition information is automatically calculated, so should only be used as an approximation.
Recipe © 2022 Christopher Kimball. Photo © 2022 Eric Wolfinger. All rights reserved.
Recipe Testers' Reviews
These pan-seared salt and pepper pork chops were delightful. They were crisp and flavorful and the spicy scallions added a refreshing bite.
The spicy scallions would be a wonderful addition on their own to any roasted or grilled meat or poultry. I expected the pork chops to be super spicy after the addition of the spices and opted for only 1/2 the cayenne, next time I will add more. There will be a next time.
This was a meal that came together quickly and was definitely more than the sum of its parts. My family was very pleased, both the spice-loving husband and the spice-averse college student.
I was excited to try this pork chops recipe because I love all things Sichuan, and because it's such a complex ingredient to cook with, I was looking forward to trying a new method – Cantonese. Overall, it was such an easy and fast recipe – a great option for a quick weeknight dinner without being just a boring pork chop.
The Sichuan in the pork coating was the perfect amount to get the hallmark tongue-tingly numbing effect without being overpowering, and the spicy scallion garnish was a perfect zingy, cool, and fresh accompaniment that rounded out the flavors beautifully. I did find that the seasoned cornstarch coating was not quite enough for all the pork chops. I will double the recipe next time so that the chops are evenly coated and get the crunchy pan-fried consistency the recipe promises.
These Sichuan salt and pepper pork chops were FANTASTIC!!! The scallion mixture had a nice punch and spice that went well with the warmth of the five-spice powder. The cornstarch mixture allowed the chops to form a beautifully brown and crispy exterior. Get ready to wow your taste buds!
I ended up making this dish twice and each time they didn't end up as crispy looking as the picture but that didn't matter, I made this for a second time because it was that tasty!
This pork dish had the perfect balance of spice on the actual chops which was great because you could adjust the spiciness level overall by adding as little or as much of the scallion-cilantro mixture served on top. This was really easy to prepare as well. I served it alongside my spicy Korean cucumber salad and steamed rice. This pork dish is going to be in our rotation for weeknight dinners.
I'm always looking for great dinner ideas that don't take a lot of time or effort. At the end of any workday, as much as I do enjoy making things in the kitchen, I find I don't always have the energy for preparing anything time consuming.
These salt and pepper pork chops are exactly the kind of meal I love, with some effort involved, but not a ton, and plenty of great flavor to enjoy. The dredging mixture has a good amount of kick from Sichuan, cayenne, and black pepper, plus five-spice powder, but the part that really took it over the top and made me crave the leftovers was the scallion mixture.
Honestly, as much as I also enjoyed the pork chops, I would happily eat the scallion mixture by itself over rice. I loved that there was plenty of it for each pork chop, too. This is definitely worth repeating.