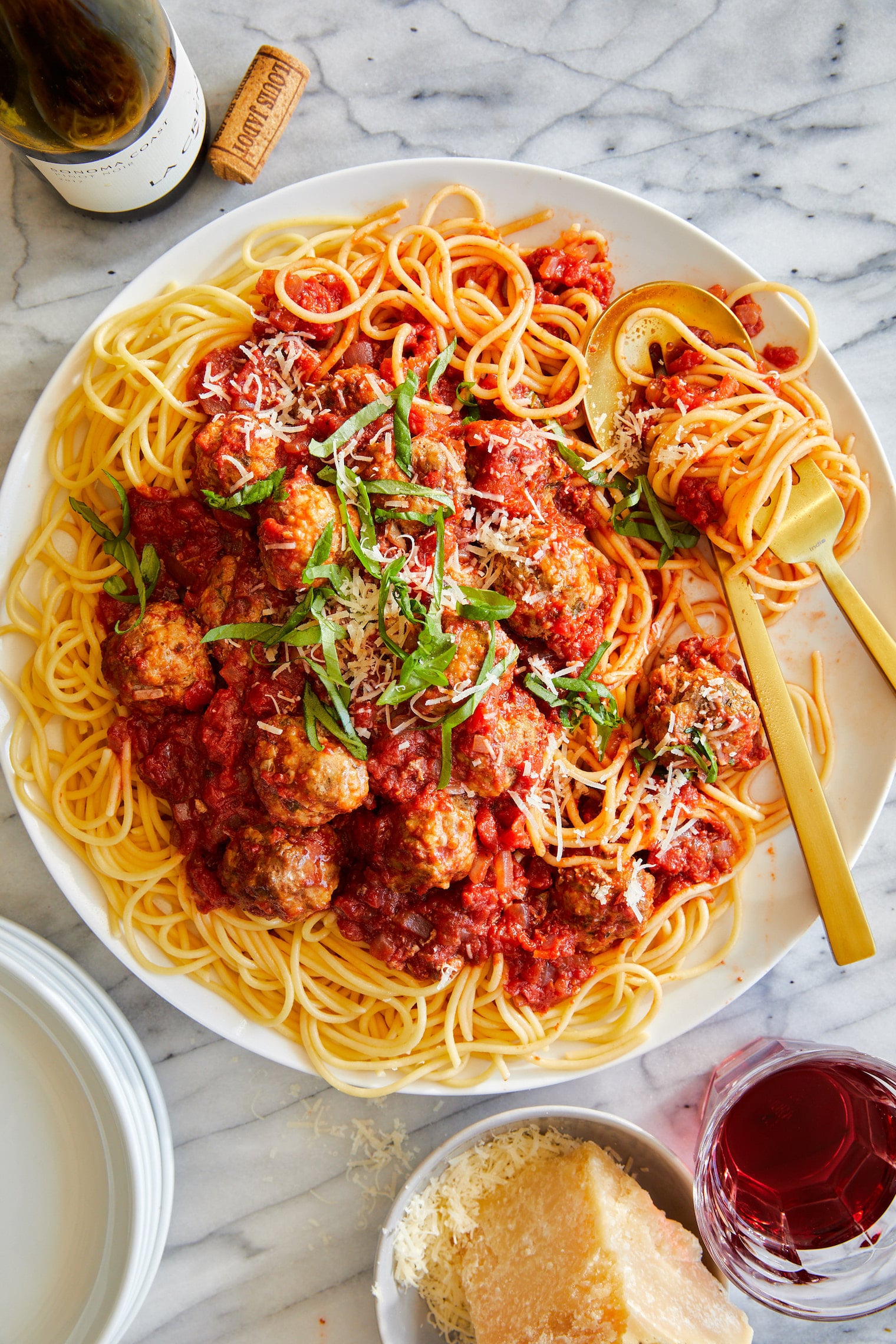 This post may contain affiliate links. Please see our privacy policy for details.
Classic, simple, no fuss dinner here with the most tender and juicy homemade meatballs and spaghetti sauce!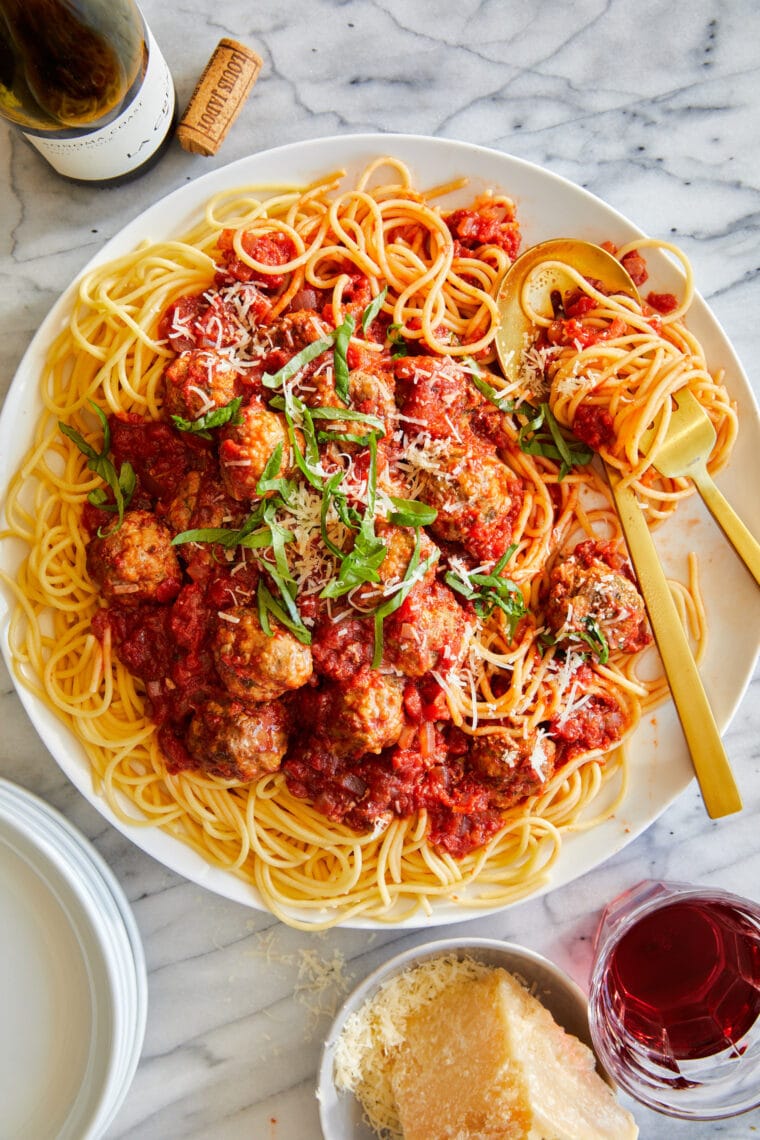 Sometimes you just need a feel good classic. Simple, no fuss no muss, and this is exactly that. Completely homemade comfort food for the entire family to enjoy.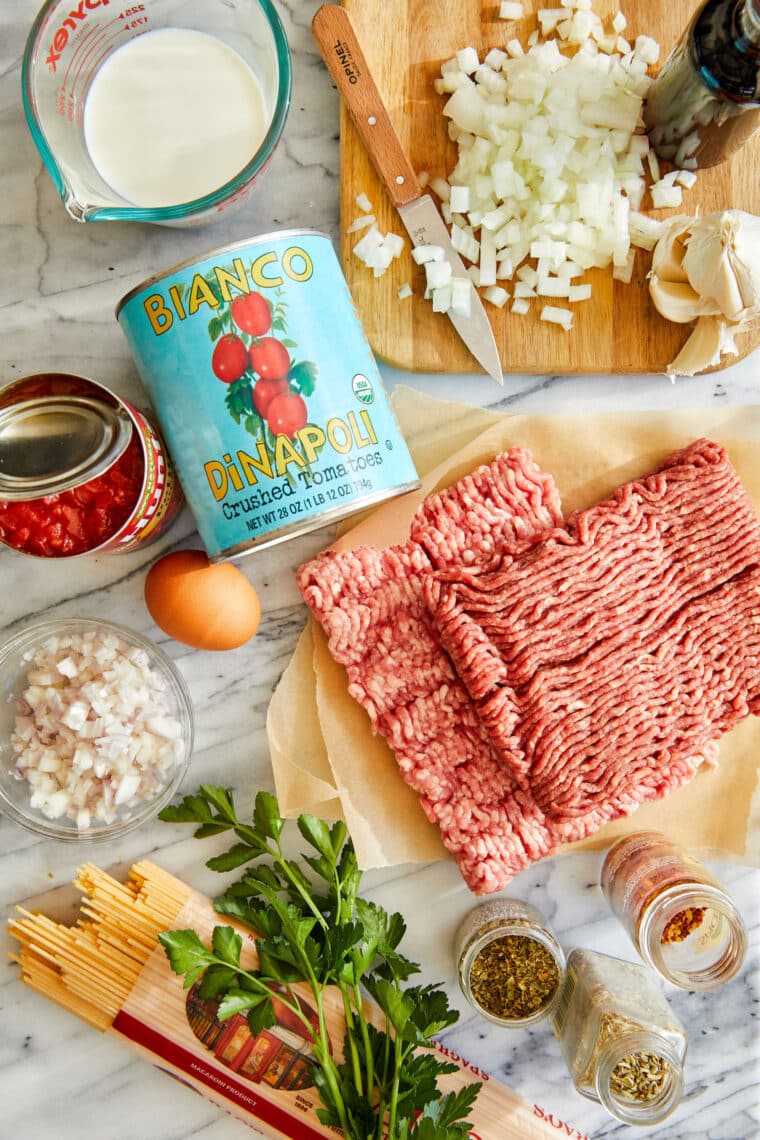 The meatballs use a blend of ground beef and ground pork (but you can also substitute ground turkey or use all beef or all pork), baked to perfection so you can prep your sauce without any added work.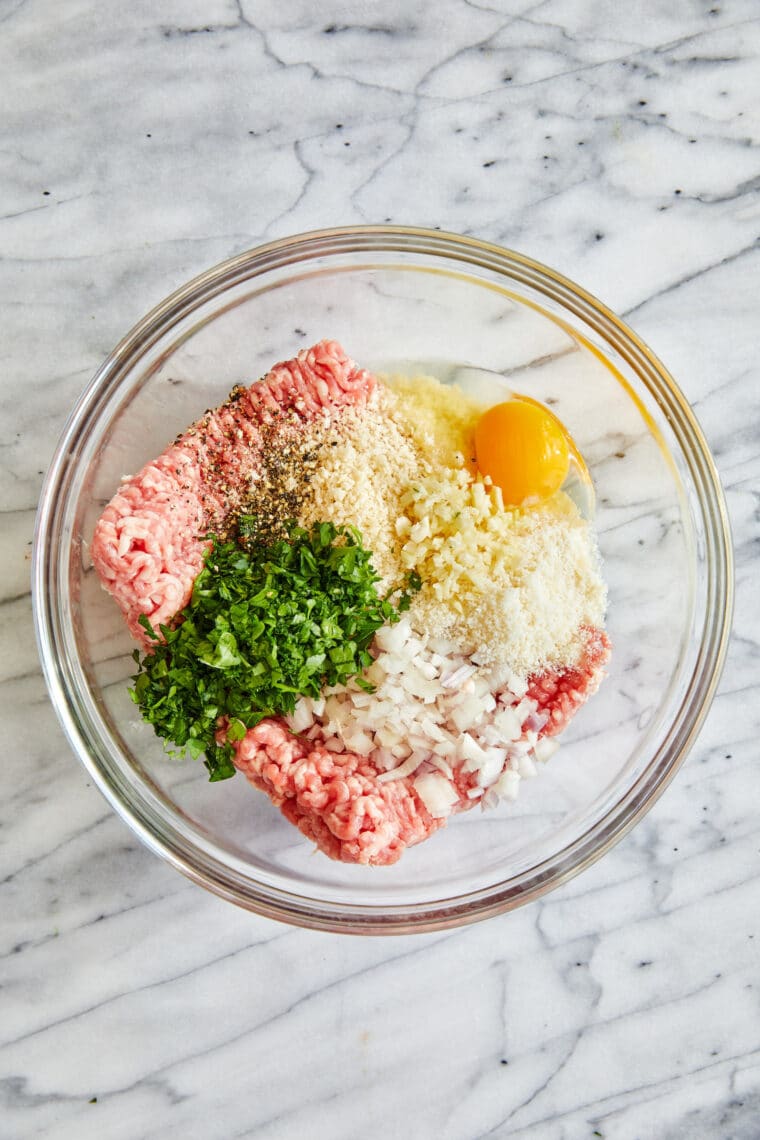 The sauce is also incredibly simple with a short ingredient list, using both crushed and petite diced tomatoes, onion, garlic, Italian seasoning and fresh basil. If you're really short on time, store-bought marinara sauce (such as Rao's) can absolutely work for an even speedier dinner.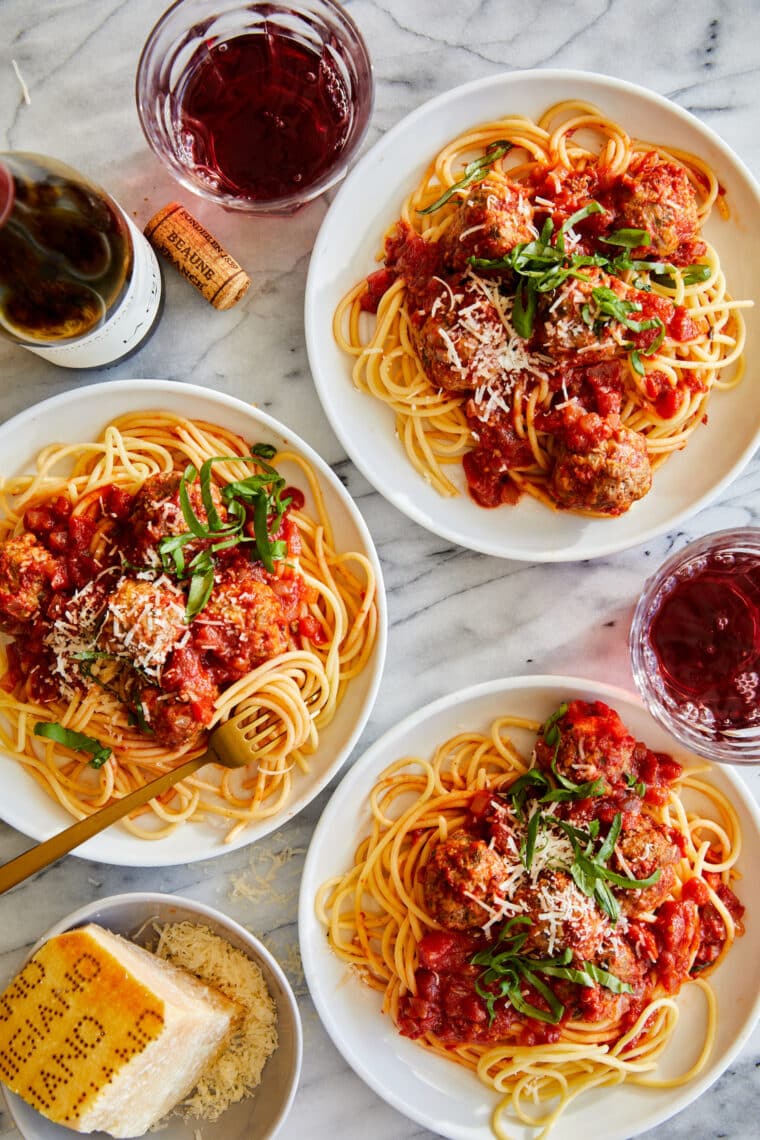 Serve with spaghetti noodles (or any other pasta of your choice), topped with fresh basil and freshly grated Parmesan along with some of the leftover red wine used in this recipe.
TOOLS FOR THIS RECIPE
I DON'T EAT BEEF OR PORK. WHAT CAN I SUBSTITUTE?
You can substitute ground turkey for both!
WHAT IS PANKO?
Panko is a Japanese-style breadcrumb and can be found in the Asian section of your local grocery store. But you can also substitute breadcrumbs to serve as a binder for the meatballs.
WHAT KIND OF RED WINE WOULD YOU RECOMMEND?
Because spaghetti sauce is a bit acidic, you'll want more of a moderate red wine such as Chianti to add some richness and robustness to your sauce.
DO I HAVE TO USE RED WINE?
Chicken, beef, or vegetable stock can be used for red wine as a non-alcoholic substitute. Stock will be less acidic and more mild in flavor than red wine.
WHAT DO YOU SERVE THESE WITH?
This caesar salad with homemade croutons and garlic parmesan knots would be great accompaniments.
for the meatballs
½ cup freshly grated Parmesan
⅓ cup Panko*
⅓ cup chopped fresh parsley leaves
½ cup milk
1 large egg
1 small shallot, diced
3 cloves garlic, minced
Kosher salt and freshly ground black pepper, to taste
1 pound lean ground beef
1 pound ground pork
for the sauce
2 tablespoons olive oil
1 medium sweet onion, diced
3 cloves garlic, minced
2 teaspoons Italian seasoning
½ teaspoon fennel seeds
¼ teaspoon crushed red pepper flakes
⅓ cup dry red wine
1 (28-ounce) can crushed tomatoes
1 (15-ounce) can petite diced tomatoes
1 teaspoon sugar
½ cup chopped fresh basil leaves
1 pound spaghetti
Preheat oven to 425 degrees F. Line a baking sheet with foil and lightly oil or coat with nonstick spray.

In a large bowl, combine Parmesan, Panko, parsley, milk, egg, shallot and garlic; season with 1 teaspoon salt and 1/2 teaspoon pepper. Let stand 10 minutes.

Using a wooden spoon or clean hands, add ground beef and ground pork, stirring until well combined. Roll the mixture into 1-to-1-1/2-inch meatballs, forming about 36 meatballs.

Place meatballs in a single layer onto the prepared baking sheet. Place into oven and bake until browned, about 12-15 minutes; set aside.

Heat olive oil in a large stockpot or Dutch oven over medium heat. Add onion, and cook, stirring frequently, until translucent, about 2-3 minutes. Stir in garlic, Italian seasoning, fennel seeds, and crushed red pepper flakes until fragrant, about 1 minute.

Stir in wine, scraping any browned bits from the bottom of the pot.

Stir in tomatoes and sugar; season with salt and pepper, to taste. Bring to a boil; reduce heat and simmer until sauce has thickened, about 20 minutes.

Stir in meatballs; cover and continue to simmer until flavors have blended, about 30 minutes. Stir in basil; season with salt and pepper, to taste.

In a large pot of boiling salted water, cook pasta according to package instructions; drain well.

Serve immediately, topped with meatballs and sauce.
*Panko is a Japanese-style breadcrumb and can be found in the Asian section of your local grocery store.