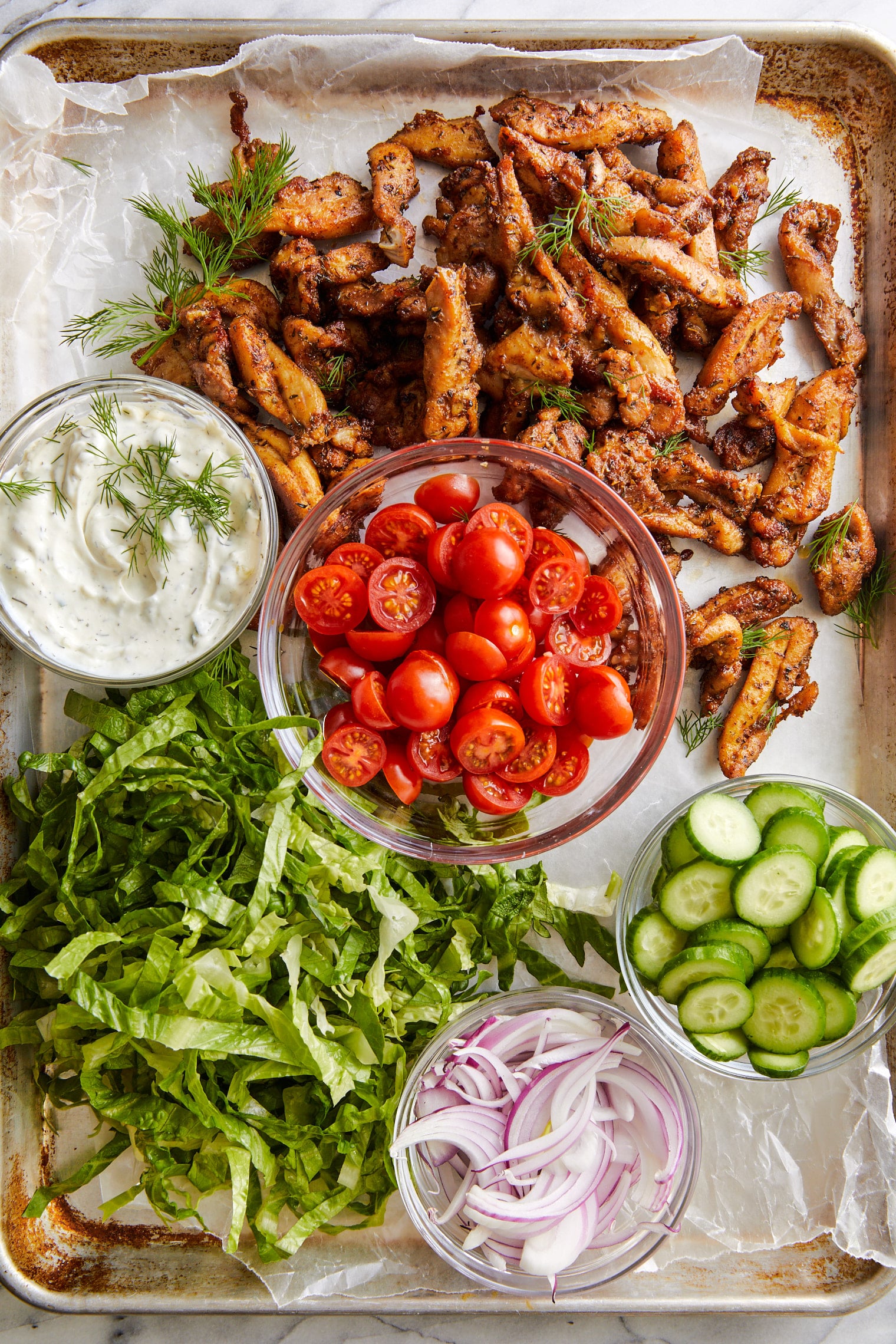 This post may contain affiliate links. Please see our privacy policy for details.

Perfectly seasoned chicken baked to perfection on ONE SINGLE PAN! Serve in warm pitas for a quick weeknight meal!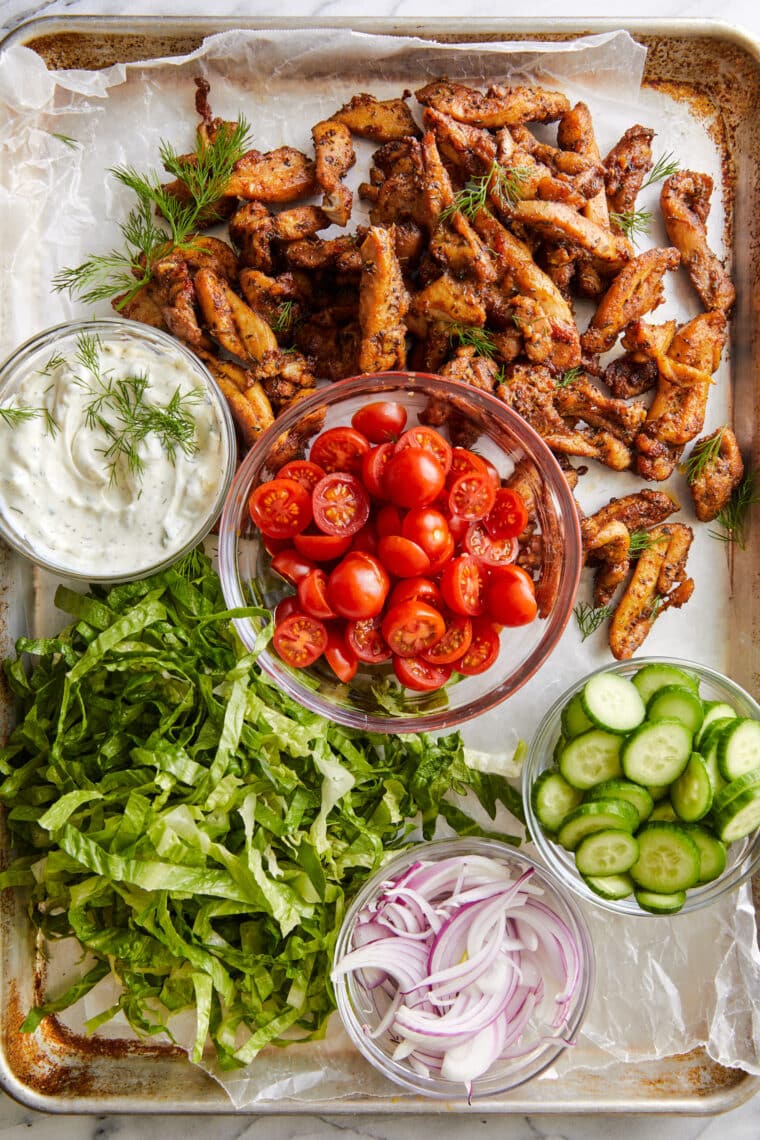 Who doesn't love a good chicken sheet pan dinner? It's quick, it's fast, and there's minimal clean up involved. And I for one love this shortcut gyro sheet pan dinner.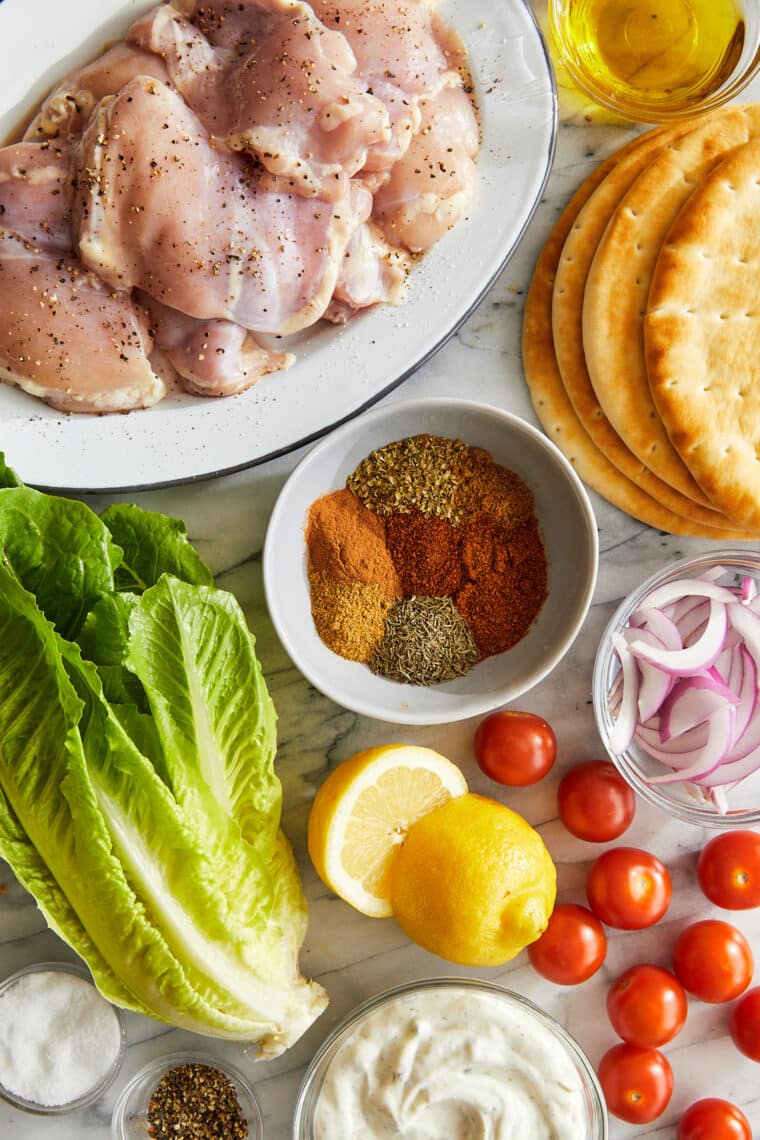 The chicken is seasoned oh-so-perfectly with pantry spices – oregano, coriander, thyme, cumin, cayenne pepper, cinnamon, salt and pepper which then gets oven roasted in all its goodness. While that bakes, you can prep all your gyro toppings – romaine, tomatoes, onion, cucumber and crumbled feta.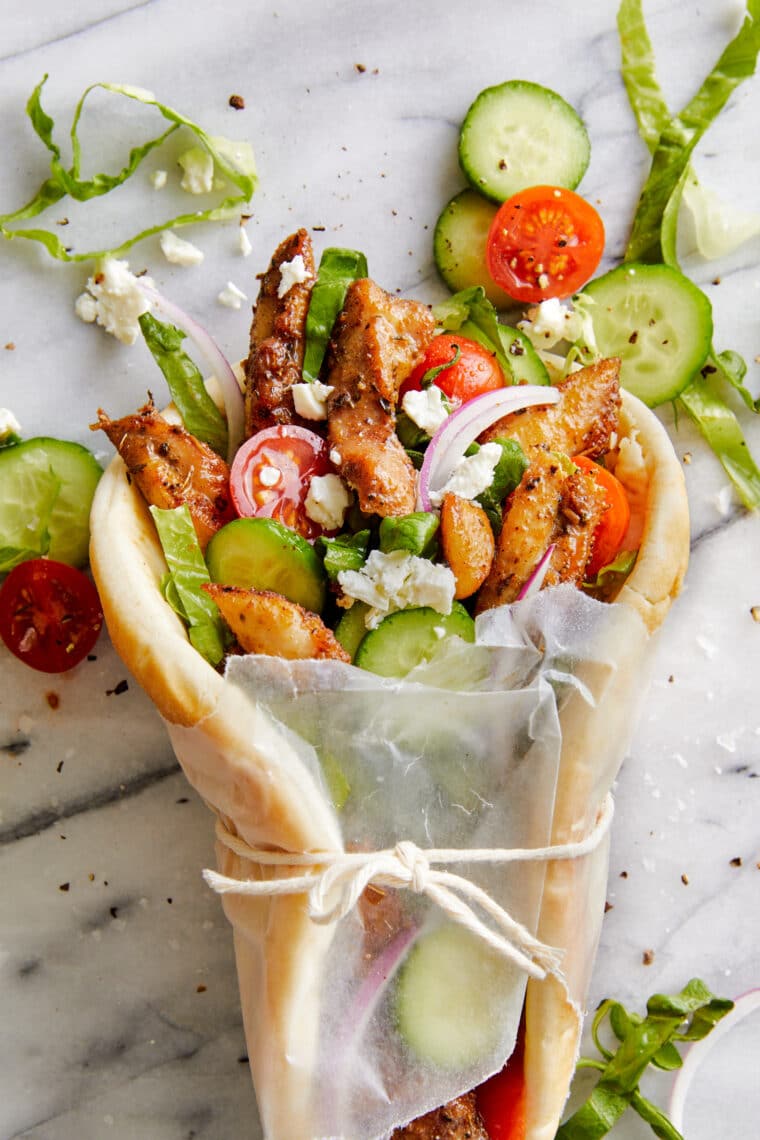 You can keep it as simple or as packed of a gyro as desired. And you can warm those flatbreads right in the oven while your chicken finishes cooking. Serve warm with homemade tzatziki sauce for a complete speedy meal.
CAN I USE CHICKEN BREASTS?
Yes, chicken breasts can absolutely be used here but chicken thighs have more dark meat and a higher fat content which will yield juicier, more flavorful chicken.
DO I HAVE TO WRAP THEM IN PITA?
Not at all! These would go beautifully wrapped in naan or even tortilla!
CAN I MAKE THE TZATZIKI SAUCE AHEAD OF TIME?
Yes! My homemade tzatziki sauce can be set aside in the refrigerator until you're ready to serve.
HOW CAN I SERVE THESE?
You can throw everything onto a sheet pan, toppings + tzatziki sauce included, and serve. Best part = you'll have less dishes to clean!
3 cloves garlic, minced
2 teaspoons dried oregano
1 ½ teaspoons ground coriander
1 ½ teaspoons dried thyme
½ teaspoon ground cumin
¼ teaspoon cayenne pepper
¼ teaspoon ground cinnamon
Kosher salt and freshly ground black pepper, to taste
2 pounds boneless, skinless chicken thighs, cut into thin strips
1 ½ tablespoons olive oil
1 tablespoon freshly squeezed lemon juice
6 pita flatbreads
2 cups shredded romaine
2 cups cherry tomatoes, halved
1 red onion, thinly sliced
1 English cucumber, thinly sliced
½ cup crumbled feta cheese
Tzatziki sauce, homemade or store-bought
Preheat oven to 450 degrees F. Lightly oil a baking sheet or coat with nonstick spray.

GARLIC MIXTURE: In a small bowl, combine garlic, oregano, coriander, thyme, cumin, cayenne pepper, cinnamon, 1 1/4 teaspoons salt and 1 teaspoon pepper.

Place chicken in a single layer onto the prepared baking sheet. Stir in olive oil and GARLIC MIXTURE; gently toss to combine.

Place into oven and bake for 25 minutes, or until the chicken is completely cooked through, stirring halfway. Stir in lemon juice.

To serve, warm pitas in oven, about 4-5 minutes. Halve pitas, and fill with chicken, romaine lettuce, tomatoes, red onion, cucumber, feta and tzatziki sauce.

Serve immediately.