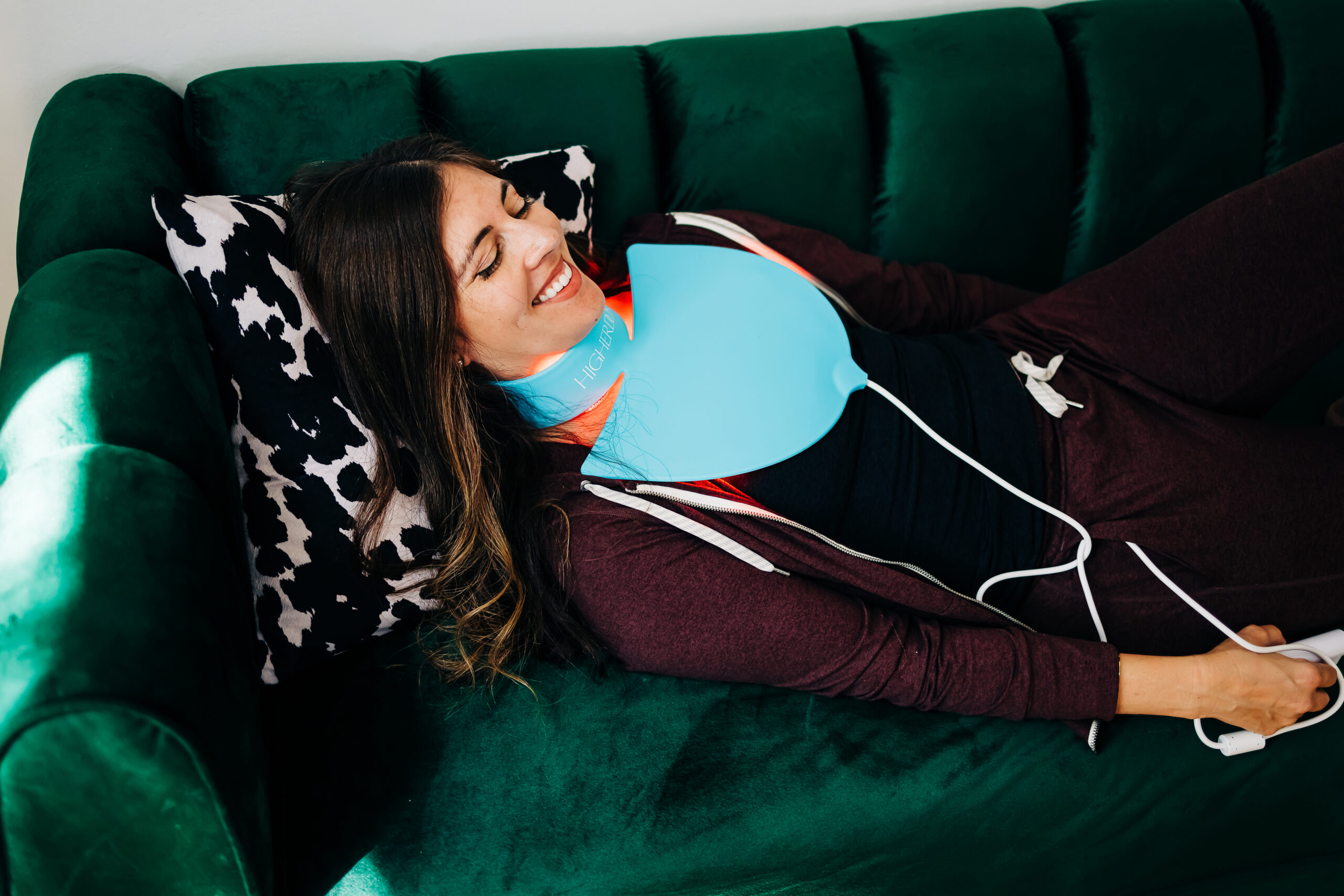 Sharing a full review of the HigherDOSE red light neck enhancer and if I think it's worth adding it to your wellness routine. Check it out here and use FITNESSISTA15 for 15% off.
Hi friends! How are you? I hope you had a wonderful weekend! I missed this past week's Friday Faves post – Friday ended up being wild – but I have to post the winner of the NOW giveaway! Congrats to Katie M.! I'll be sending Katie an email this morning to get her prize on the way. Stay tuned for more giveaways this fall, including my annual Favorite Things giveaway
For today's post, I wanted to chat a bit about something I've been using and loving in my routine lately: the HigherDOSE Red Light Neck Enhancer! You guys know I'm obsessed with my HigherDOSE products, including the PEMF Go Mat, Sauna Blanket, and Red Light Face Mask. I was so pumped to add this to my routine, especially since I've been a fan of Red Light Therapy for so long. I use this for skincare, but also for injuries (of course, after seeing a doctor if necessary. When Liv hurt her knee, we did red light therapy everyday using this wand.)
Red Light Therapy is a groundbreaking technology transforming skincare and wellness. The HigherDose Red Light Neck Enhancer takes this innovation to a new level by focusing on the often-neglected neck and chest area. I feel like the neck and chest can tend to show more visible aspects of aging, because it's easy to forget about treating and protecting this area.
Today, I'm excited to talk about Red Light Therapy, share details about this new HigherDOSE device, and chat about how this can potentially enhance your skincare routine.
HigherDOSE Red Light Neck Enhancer Review
What is Red Light Therapy?
Red Light Therapy, or Low-Level Light Therapy (LLLT), uses low-intensity red or near-infrared light to penetrate the skin. This non-invasive treatment offers various potential benefits:
Collagen Boost: It can stimulate collagen production, leading to smoother and firmer skin.
Wrinkle Reduction: By increasing collagen, it can reduce fine lines and wrinkles.
Skin Healing: It can accelerate natural healing, making it useful for scars and acne.
Pain Relief: Red Light Therapy can relieve muscle and joint pain.
Improved Complexion: Enhanced blood flow results in healthier, more radiant skin
*You can explore studies relating to these potential benefits on the product page here.
HigherDose Red Light Neck Enhancer
Designed specifically for the neck and chest, the HigherDose Red Light Neck Enhancer utilizes red light at 660nm to target this delicate area.
Its benefits include:
1. Collagen Production: This device can boost collagen, reducing sagging skin and neck wrinkles.
2. Skin Tightening: It can promote skin tightening, rejuvenating your appearance.
3. Even Skin Tone: This can lead to a more even complexion.
4. Improved Texture: Experience smoother and softer skin.
5. Convenience: The HigherDose Red Light Neck Enhancer is easy to use with a comfortable, hands-free design. It's also super flexible, lightweight, and easy to store.
6. Safe and Non-Invasive: Suitable for all skin types, this therapy is generally safe and requires no downtime.
How to Use the HigherDose Red Light Neck Enhancer
Using this device is straightforward:
Cleanse:
Start with clean skin on your neck and chest. Option: use the HigherDOSE serum after cleansing.
Wear It:
Place the enhancer around your neck, ensuring direct contact with your skin. (You can also use this product on your back, thighs or lower chest area.
Power On:
Turn on the device and let the red light work for about 10-15 minutes. You can also use this in conjunction with the Red Light Face Mask or PEMF Go Mat.
Relax:
Use this time to unwind, meditate, or simply relax.
Consistency:
For optimal results, use it regularly, ideally as part of your daily skincare routine.
Red Light Therapy is celebrated for its skin rejuvenation benefits, and this device brings those advantages to your neck and chest. This is super convenient and easy to use regularly. I feel like the Red Light Therapy gives me a little mood boost, too.
If you're ready to take your skincare routine to the next level, you can check it out here! Also, you can use my code FITNESSISTA15 for 15% off the HigherDOSE website (minus bundles and full-sized saunas).
What's one of your favorite parts of your daily routine??
xoxo
Gina