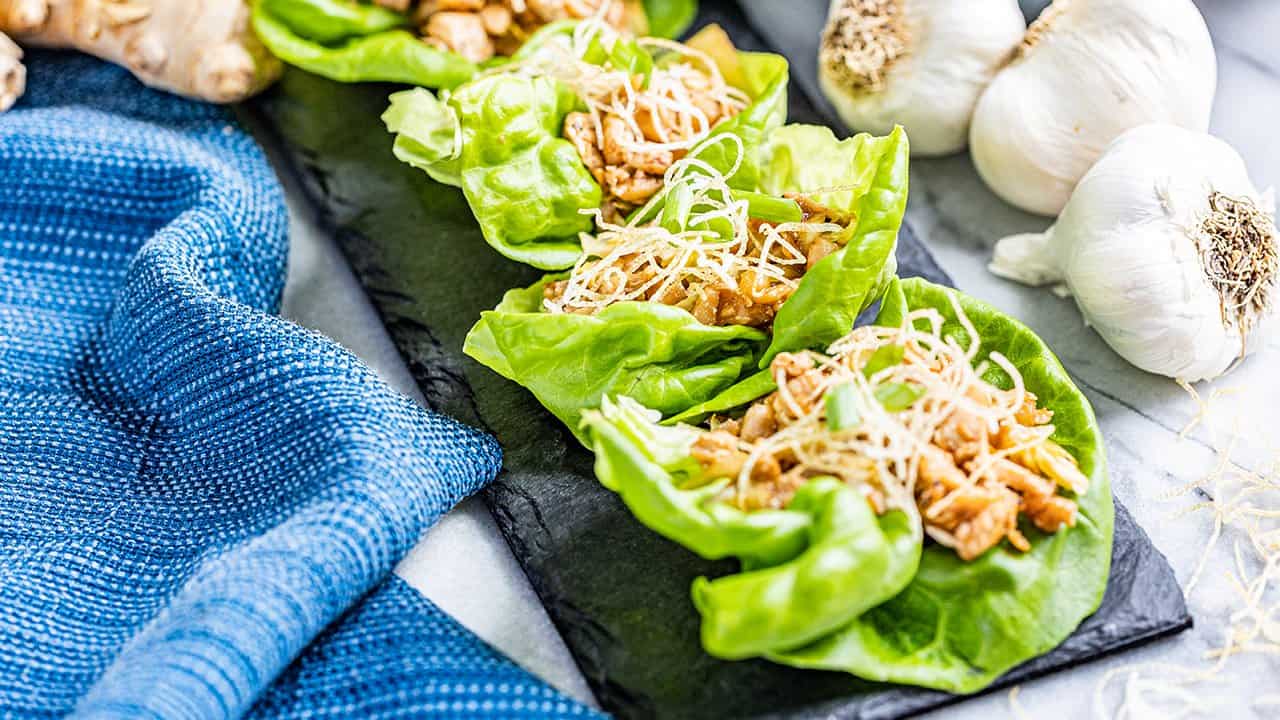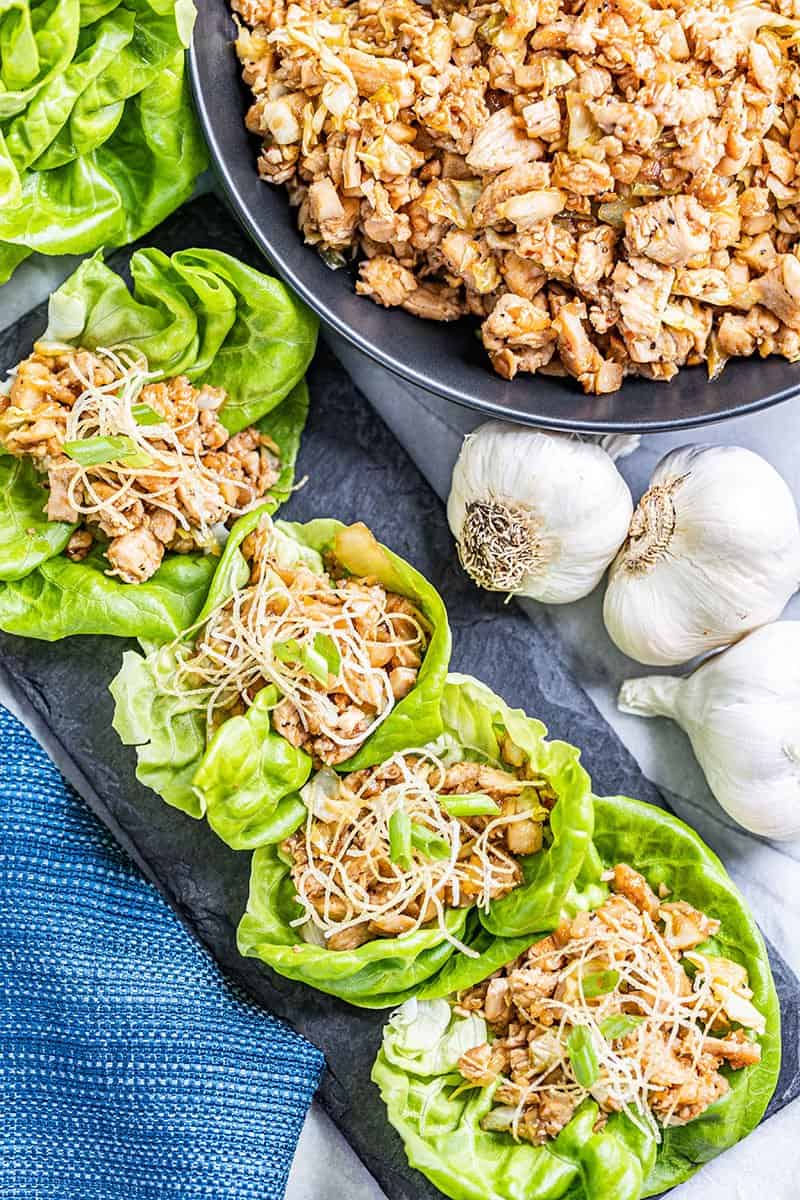 Our Chicken Lettuce Wraps are even better than P.F. Chang's! Chicken and veggies are cooked in the most delicious, savory sauce and served in lettuce cups for an all-around crowd-pleasing appetizer!
Oh, appetizers. Aren't they the best? If you're like us, you easily get in ruts of bringing the same handful of appetizers to parties, until suddenly none of them sound good anymore. We love nothing more than jalapeño popper dip and spinach artichoke dip. They are seriously delicious! But how many times can we possibly show up with them over and over again? Chicken lettuce wraps were mostly forgotten in our social circle, and we brought them back to life with this amazing recipe, even better than the original we all remember from P.F. Chang's. Liven up your appetizer game with this crowd pleaser!
Frequently Asked Questions
What chicken should I use?
You have so many options when it comes to what chicken to use in these chicken lettuce wraps. You can use chicken breasts or thighs as you prefer, but even better, you can simply use ground chicken and save time on cutting!
Is this a spicy recipe?
The Asian chili garlic sauce in this recipe gives it a nice warmth. If you are particularly spice sensitive you can always omit this ingredient. Alternatively, you can increase the heat by adding red pepper flakes.
Are chicken lettuce wraps gluten free?
As written, this recipe is not entirely gluten free. However, it can easily be made gluten free by making a couple of simple substitutions. Hoisin sauce and soy sauce naturally contain gluten, so you will want to substitute for a specialty gluten-free hoisin sauce and use liquid aminos in place of the soy sauce.
Additionally, rice vinegar is a bit of a controversial ingredient in the gluten-free community. In tests, vinegar proves to remain under the threshold to be considered gluten-free, but some people do still react to the gluten in vinegars. Use this ingredient with caution if you are unsure how your body reacts to vinegars.
Can I make this vegetarian?
You absolutely can! Simply substitute the chicken with your favorite plant-based chicken alternative to make this recipe vegetarian.
Serving Suggestions
You can serve these as-is for an appetizer, or with a side of rice or noodles for a full meal!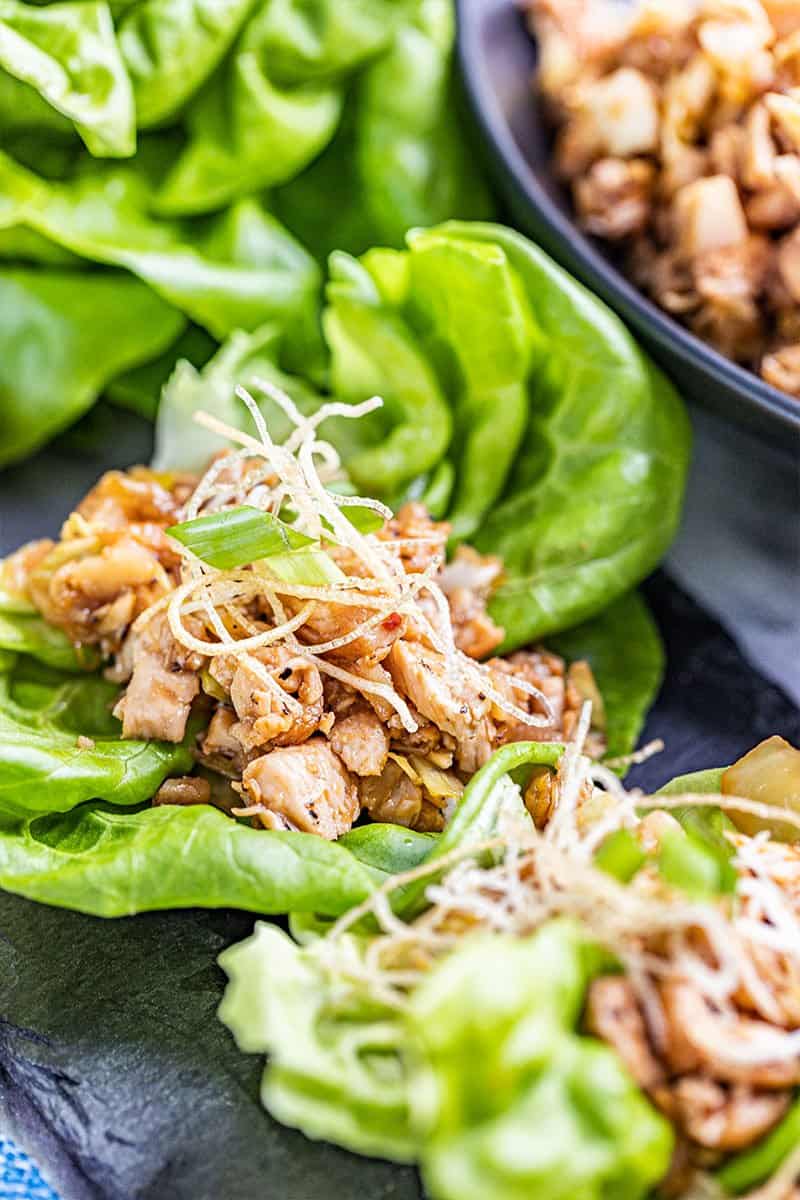 Storage & Reheating Instructions
We recommend you only dish out as much of the filling as needed at a time, so that you can store your lettuce separately from the filling to make it last longer. Store any leftovers in an airtight container in the fridge for up to 5 days. Reheat the filling in a skillet on the stovetop over medium-low heat until warmed through.
We Love These Appetizers!
Watch the video below where Caytlin will walk you through every step of this recipe. Sometimes it helps to have a visual, and we've always got you covered with our cooking show. You can find the complete collection of recipes on YouTube, Facebook Watch, or our Facebook Page, or right here on our website with their corresponding recipes.