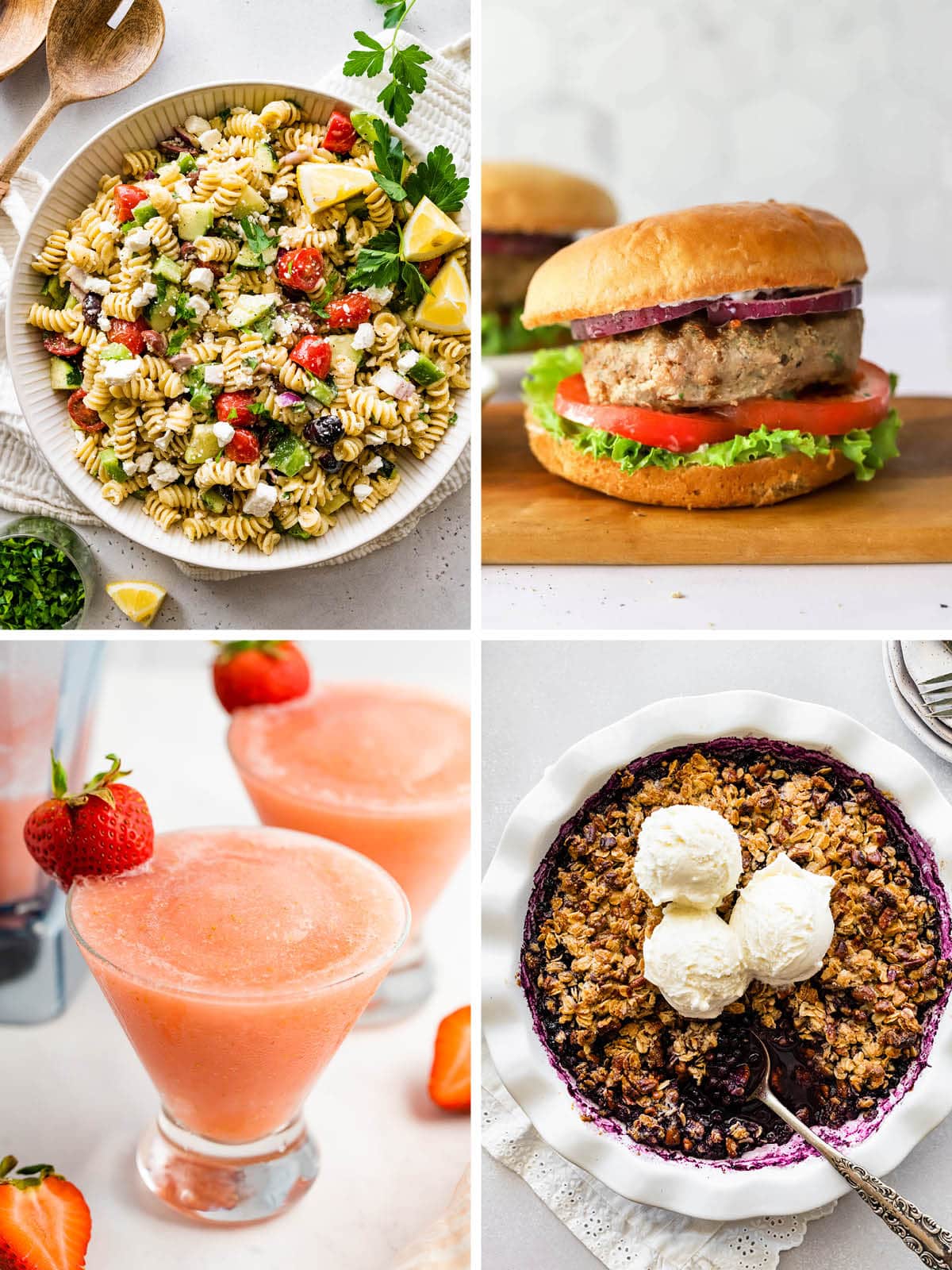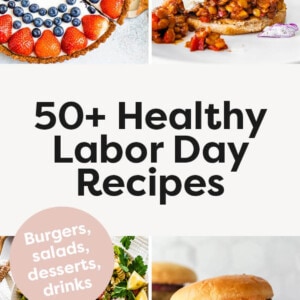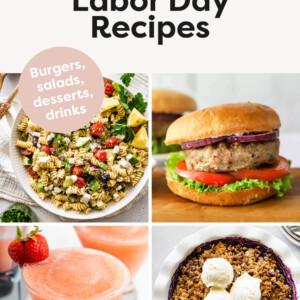 Looking for recipe ideas for your end of summer cookout or party? Here are over 50 healthy Labor Day recipes with everything from burgers and summer salads to desserts and drinks.
We're nearing the end of summer, which means that Labor Day weekend is right around the corner!
I love a good Labor Day party. Pools, warm weather, friends and lots of yummy food… what more could you ask for?!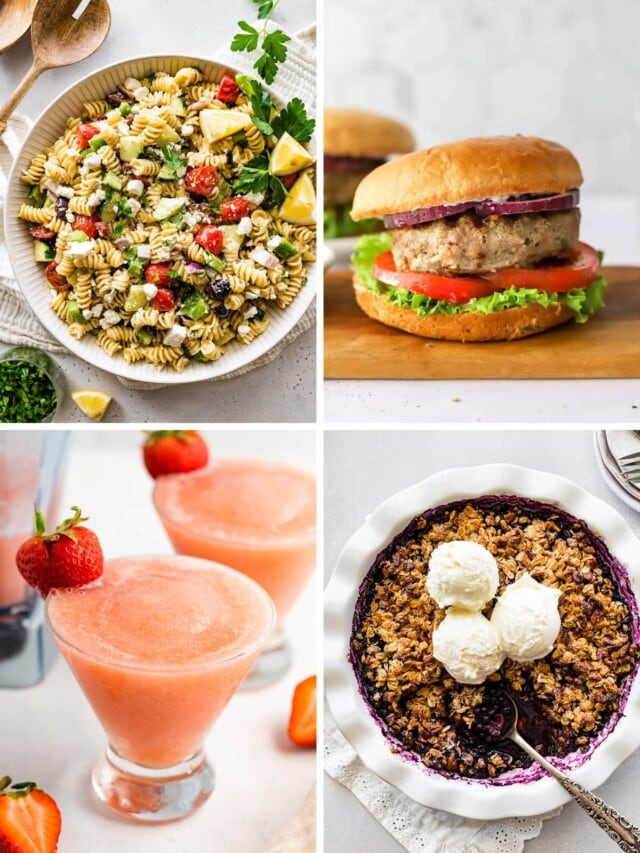 Now that we have a pool at our house we'll probably just have some friends and family over and grill out.
When it comes to eating healthy on Labor Day I've got you covered with over 50 healthy recipes that are guaranteed to be crowd-pleasers. And if you need even more inspo or tips, check out my Healthy Cookout Recipes post.
Side Dishes & Snacks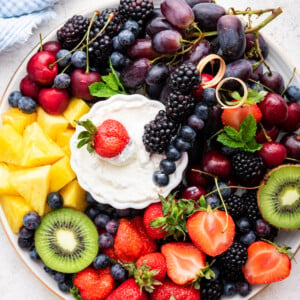 Yogurt Fruit Dip
This 2-ingredient yogurt fruit dip is creamy, perfectly sweet and comes together in just 5 minutes. Serve it with your favorite fruit for a healthy snack or dessert!
Watermelon Fries
These watermelon fries are served with a 2-ingredient yogurt dip for the perfect summertime snack that's refreshing and easy to make.
Easy Black Bean Dip
Healthy and easy black bean dip that takes only 15 minutes to make. It's the perfect appetizer or snack served with veggies and tortilla chips for game day. It's creamy, packed with flavor and vegan!
Guacamole
The best guacamole recipe made with avocado, grape tomatoes, garlic, red onion, jalapeño, fresh lime juice and cilantro. It comes together quickly and is the perfect appetizer with chips or topping for tacos, burritos and so much more.
Roasted Zucchini and Squash
The perfect summer side dish, this roasted zucchini and squash recipe is healthy, easy to make and so flavorful. Vegan and gluten-free.
Grilled Sweet Potatoes
These easy grilled sweet potato wedges are the perfect veggie side and pair well with just about any grilled protein, especially burgers!
Vinegar Coleslaw
A quick and easy vinegar-based coleslaw with shredded cabbage and carrots. It's flavorful, mayo-free and packed with nutrients.
Easy Fruit Salad
This colorful fruit salad combines ripe strawberries, blueberries, grapes, kiwi, pineapple chunks and mandarin oranges with a hint of lime.
Pineapple Salsa
This sweet and fresh pineapple salsa is so easy to make! Pair it with tortilla chips for a flavorful appetizer or use as a topping for tacos, grilled chicken or fish.
Black Bean and Corn Salad
Meet your new go-to cookout dish! This colorful black bean and corn salad is super healthy and takes only minutes to prepare.
Easy Corn Salsa
This easy corn salsa tastes like Chipotle's corn salsa and comes together in a flash using a bag of frozen sweet yellow corn. It's delicious served as a snack with tortilla chips or as a topping on your favorite Mexican dish.
Salads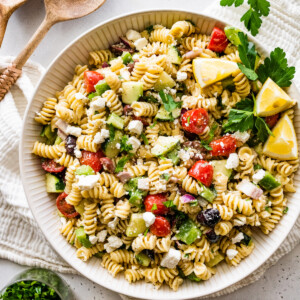 Greek Pasta Salad
This easy greek pasta salad is loaded with cherry tomatoes, cucumber, red onion, olives and feta cheese all tossed in a homemade greek dressing. It's the perfect make ahead side for all your summer potlucks!
Creamy Ranch Pasta Salad
This creamy ranch pasta salad is the perfect side dish! Cooked pasta is tossed with veggies and coated in a creamy homemade ranch dressing with fresh herbs.
Healthy Potato Salad
Instead of mayo and eggs we're using a red wine vinegar dressing, sun-dried tomatoes, shallots and spinach to create a flavorful vegan potato salad.
Healthy Pasta Salad
This lightened-up pasta salad is made with cucumbers, tomatoes and a basil balsamic dressing. It's mayo-free, gluten-free and vegan but still super delicious!
Caprese Pasta Salad
Caprese pasta salad made healthy with protein-packed chickpea rotini, tomatoes, fresh mozzarella, arugula, fresh basil and a delicious homemade balsamic dressing.
Mexican Street Corn Salad
An easy lightened-up Mexican street corn salad that can be made with fresh or frozen corn. This salad is creamy, delicious and perfect for summer cookouts.
Easy Caprese Salad
This easy caprese salad layers juicy tomato slices with fresh mozzarella and basil. It's lovely paired with crusty bread for an appetizer or grilled protein for a meal.
Poppy Seed Chicken Pasta Salad
Poppy seed chicken pasta salad makes for the perfect summer side or easy dinner with bowtie pasta, chicken, sweet grapes and crunchy almonds all in a creamy poppy seed dressing.
Roasted Tomato Salad
This roasted tomato salad combines roasted and fresh tomatoes with cucumber, feta and basil for as summery salad that's so flavorful and refreshing.
Lemon Orzo Salad
This easy lemon orzo salad is loaded with fresh veggies and herbs and tossed in a simple lemon dressing. It comes together in 20 minutes and makes for the perfect side dish or light lunch.
Easy Cucumber Salad
This cucumber salad combines crisp cucumber slices with red onion tossed in a simple vinegar dressing. It's refreshing, easy to make and the perfect summer side dish.
Three Bean Salad
With this three bean salad, green beans, chickpeas and kidney beans are marinated in a naturally sweetened vinaigrette that almost pickles the beans and makes them taste so good!
Chicken Fajita Pasta Salad
This chicken fajita pasta salad is packed with flavorful sautéed veggies, fresh tomatoes and shredded chicken all tossed in a cilantro lime dressing. Perfect for meal prep or as a side for summer parties.
Creamy Cucumber Salad
This creamy cucumber salad combines crisp cucumbers, red onion and fresh dill all tossed together in a simple Greek yogurt dressing. It's the perfect summer side dish for potlucks or BBQs.
Summer Berry Salad
This summer berry salad is loaded with spinach, fresh berries, candied walnuts and feta cheese all tossed in a light white balsamic vinaigrette dressing. It's the perfect side dish for the 4th of July.
Classic Broccoli Salad
This broccoli salad is loaded with raisins, sunflower seeds and bacon and topped with a creamy Greek yogurt dressing.
Main Meals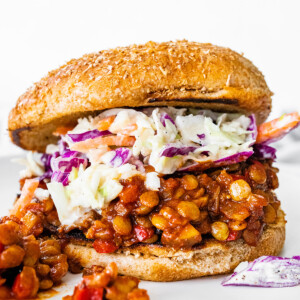 Vegan Sloppy Joes
Enjoy a plant-based version of a childhood classic with these vegan sloppy joes. Lentils simmer in a sweet and smoky tomato sauce and then are piled on a bun for a quick and easy meatless meal that everyone will love!
BBQ Chicken Breasts
Here's how to make BBQ chicken breasts that turn out juicy and delicious. No grill? No problem! See my options for making this recipe with a grill pan or in the oven.
Turkey Burger
These juicy turkey burgers are made with ground turkey, Worcestershire sauce and a blend of seasonings. They're loaded with flavor and easy to make on the grill or stovetop.
Salmon Burgers
Here's how to make the best salmon burgers. They come together in under 30 minutes for an easy dinner and are loaded with flavor especially when topped with a delicious herb sauce.
Easy Black Bean Burgers
These vegan black bean burgers are loaded with flavor, easy to make and hold together super well!
Cilantro Lime Chicken Burgers
Cilantro lime chicken burgers that are packed with refreshing flavor! The perfect summer main dish. Gluten-free and paleo-friendly.
Teriyaki Salmon Burgers
These fresh salmon burgers are such a delicious and easy summer meal. Top your burger with Sriracha mayo and avocado slices for added creaminess and a hint of spice! Can be served with a bun or lettuce wrap.
Tempeh Veggie Burgers
A delicious veggie burger that's made with tempeh and holds together so well you can cook it on the grill! Added bonus, it's packed with plant-based protein.
Spinach and Feta Turkey Burgers
These spinach and feta turkey burgers are quick and easy to prepare and taste delicious grilled and served on a bun with your favorite burger toppings.
BBQ Jackfruit
These BBQ jackfruit sandwiches are loaded with BBQ flavor and the texture of shredded jackfruit makes for an amazing shredded meat substitute.
Apple Cider Vinegar Chicken
This simple apple cider vinegar chicken is my go-to recipe when making grilled chicken because it's easy, versatile and delicious! Enjoy right away or use the grilled chicken for meal prep throughout the week.
Grilled Shrimp
The best grilled shrimp recipe. It's easy, flavorful and comes together in a matter of minutes! Just marinate the shrimp, toss it on the grill and let it cook for 2-3 minutes per side.
Grilled Rosemary Chicken Skewers
Chunks of chicken are marinated in a light apple cider vinaigrette, threaded onto sturdy rosemary sprigs and grilled to perfection. This process makes for healthy and flavorful chicken, as well as, a stunning presentation that's sure to impress friends and family.
Desserts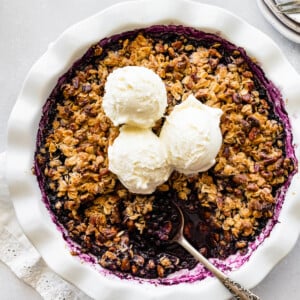 Healthy Blueberry Crumble
A delicious and healthy blueberry crumble that can be made with fresh or frozen blueberries and is topped with an oatmeal pecan crumble. It's naturally sweetened, gluten-free + vegan.
Zucchini Brownies
Sneak veggies into your dessert with these healthy zucchini brownies that are made with almond and oat flour and naturally sweetened with maple syrup. They're moist, fudgy, oil-free and gluten-free.
One Ingredient Banana Ice Cream
Homemade banana ice cream made with one simple ingredient – frozen bananas! No ice cream maker needed. Just blend until creamy and serve.
Frozen Yogurt Bark
This frozen yogurt bark with berries and coconut is the perfect refreshing snack. It's so easy to whip up, healthy and packed with protein. You'll want a batch in your freezer at all times.
Black Bean Brownies
These gluten-free black bean brownies are so fudgy and delicious. No one will be able to tell that they're flourless and made with beans!
Greek Yogurt Popsicles
Make healthy Greek yogurt popsicles with just 3 simple ingredients: Greek yogurt, honey and fresh fruit. They're refreshing, easy to make and the perfect summertime treat that both kids and adults will love!
Frozen Cottage Cheese Bark
This frozen cottage cheese bark with peanut butter, chocolate and granola is the perfect refreshing treat. It's healthy, creamy, easy to whip up and packed with protein.
Frozen Banana Snickers
Bananas are coated in a layer of peanut butter and date caramel then topped with chocolate and chopped peanuts to make these healthy frozen banana snickers. They're the perfect refreshing summer treat! Vegan, dairy-free + gluten-free.
Chocolate Strawberry Banana Yogurt Clusters
These chocolate strawberry banana yogurt clusters are my take on the viral TikTok recipe. Made with just 7 simple ingredients, they're easy to make and the perfect healthy dessert to keep stocked in your freezer all summer long!
Healthy Greek Yogurt Berry Tart
The BEST healthy summertime dessert! This tart starts with a crystallized ginger and almond meal grain-free crust, is filled with creamy Greek yogurt and then piled high with loads of fresh berries.
Vegan Blueberry Cheesecake Bars
These vegan blueberry cheesecake bars combine a creamy cashew and coconut filling with a date pecan crust and a blueberry swirl topping. They're no bake, gluten-free and absolutely delicious!
Lime and Avocado Tart
This lime and avocado tart has a creamy avocado coconut filling with a coconut pecan crust. It's super easy to make, vegan and gluten-free!
Healthy Peach Crisp
Healthy peach crisp made with fresh peaches and topped with an oatmeal pecan crumble topping that's gets nice and crispy.
Drinks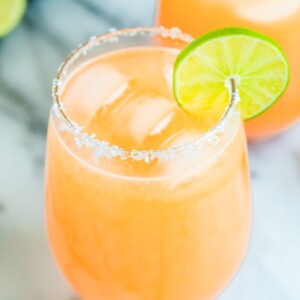 Skinny Paloma (no sugar added)
A lightened up skinny Paloma made with freshly juiced grapefruit, tequila, lime juice and sparkling water.
Strawberry Frosé
Say hello to your new favorite summer cocktail! Strawberry Frosé, aka frozen rosé, made with 4 ingredients, no refined sugar and less than 200 calories per drink.
Vodka Cranberry
A light holiday cocktail made with vodka, cranberry juice, lime and fizzy sparkling water. Toss a few cranberries on top for a festive drink you'll want to enjoy all season.
Skinny Mojito
This skinny Mojito is made with fresh lime juice, white rum, mint leaves and sparkling water. It's light and refreshing, low in calories and has no added sugar!
White Wine Sangria
This white wine sangria is easy to whip up and even easier to drink! It's crisp, refreshing and loaded with fresh fruit. Trust me, you'll want to serve this at every party!
Skinny Piña Colada
This Skinny Piña Colada recipe with real pineapple, coconut water and coconut rum is made with only four ingredients. Serve frozen or on the rocks for a lighter version of this tropical cocktail.
I hope these ideas are helpful! Have a safe (and delicious) Labor Day Weekend!
More Collections to Check Out
Mix together turkey, egg, Italian seasoning, Worcestershire sauce, garlic powder, onion powder, sea salt and pepper in a large bowl until well combined.

Using your hands, form mixture into 5 patties.

Cook on preheated grill or grill pan until no longer pink in the center, about 5-7 minutes per side or until cooked through.

Serve immediately on bun with toppings of choice.
Worcestershire sauce: If you don't have worcestershire sauce on hand you can use soy sauce or tamari.
Low carb option: Serve the burger on lettuce leaves instead of a bun or serve the burger over a salad.
Serving: 1burger patty | Calories: 147kcal | Carbohydrates: 1g | Protein: 20g | Fat: 7g | Saturated Fat: 2g | Cholesterol: 97mg | Sodium: 340mg | Potassium: 273mg
Nutrition information is automatically calculated, so should only be used as an approximation.