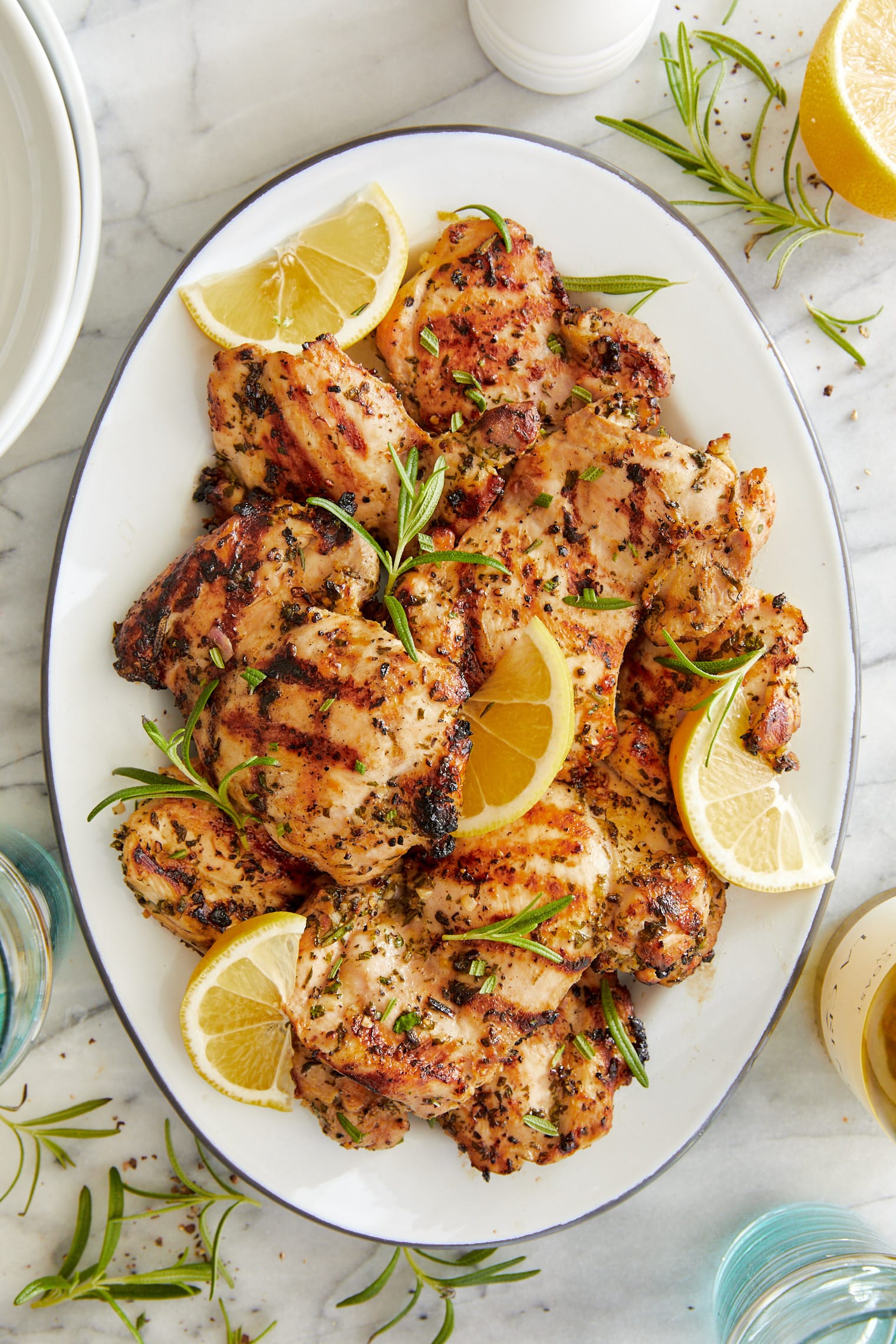 This post may contain affiliate links. Please see our privacy policy for details.

Marinated in olive oil, lemon, rosemary, thyme, garlicky goodness. So juicy, tender and moist, grilled to perfection!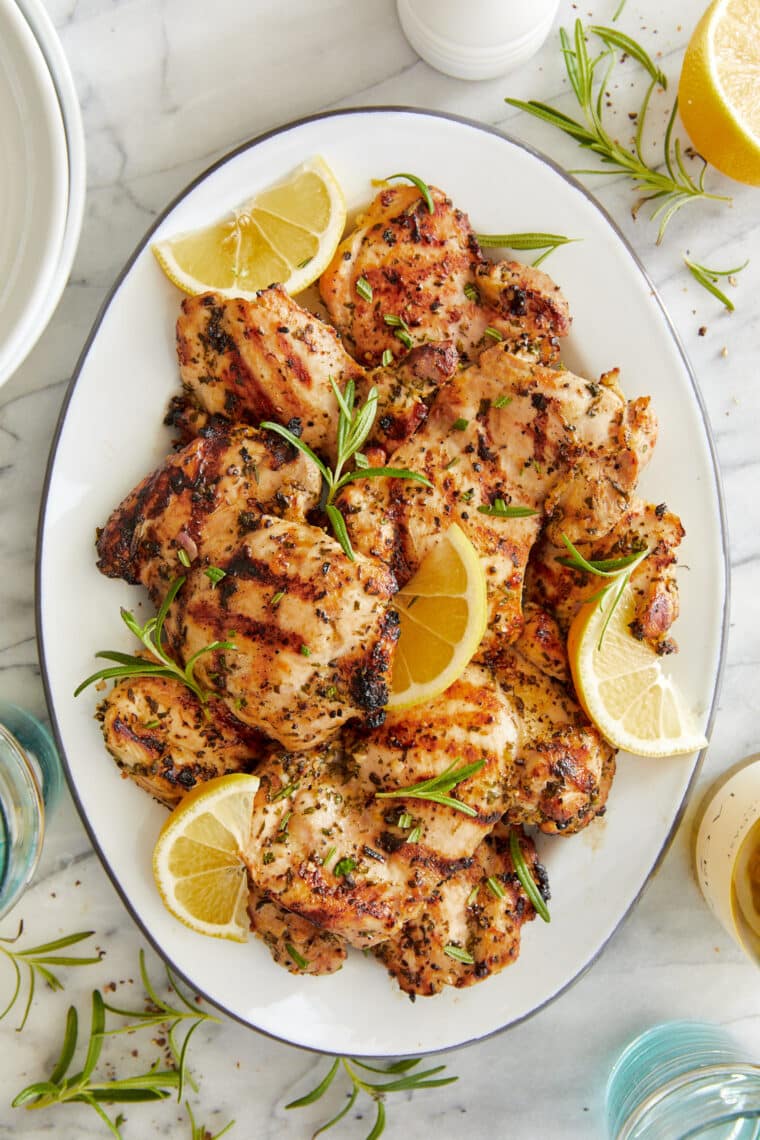 This is a summertime favorite. With an easy garlicky-lemony-herby marinade, I can prep everything the night before, firing up the grill right before serving.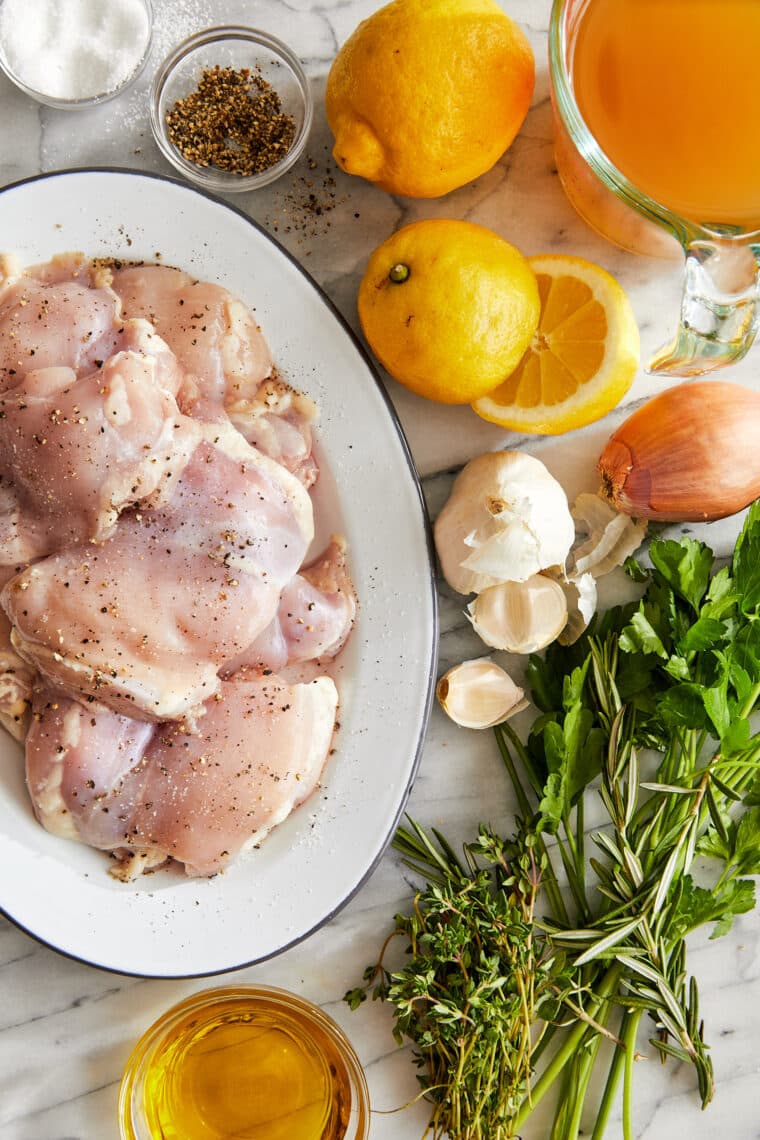 I also double the batch for leftovers, which go beautifully in salads, sandwiches, grain bowls and so much more. And when it's too cold outside, I'll throw these bad boys right on a cast iron grill pan. I'll even swap out the fresh herbs for dried so I don't have to make that emergency grocery run when there's about 18 inches of snow outside.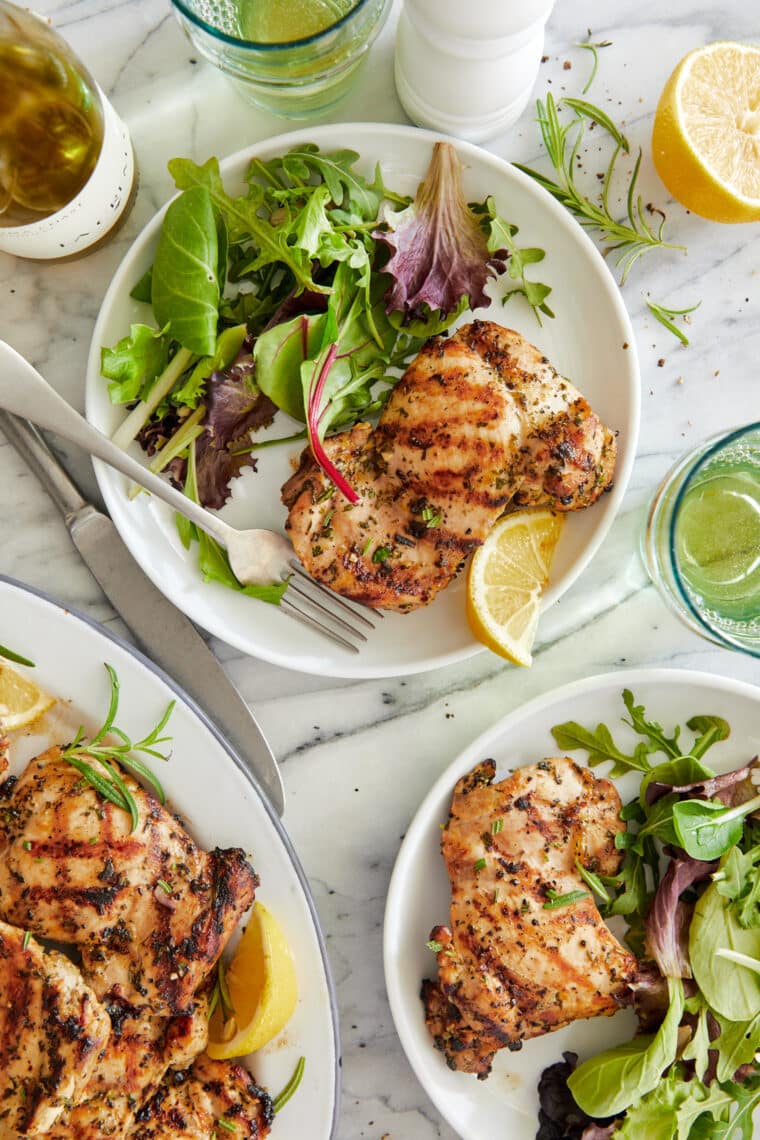 I like to serve these with a light spring mix salad, some crusty bread and a glass of white wine for a full, rounded out meal.
CAN I USE CHICKEN BREASTS?
Yes, chicken breasts can absolutely be used here but chicken thighs have more dark meat and a higher fat content which will yield juicier, more flavorful chicken when thrown on the grill.
I DON'T LIKE ROSEMARY. CAN I SUBSTITUTE SOMETHING ELSE?
Absolutely! You can substitute oregano or dill (dried or fresh!) or any other herb of your choosing. And because dried herbs are often more potent/concentrated than fresh herbs, you need less when using dry. The correct ratio is 1 tablespoon fresh herbs to 1 teaspoon dried herbs.
WHAT IF I DON'T HAVE A GRILL?
No grill, no problem. A cast iron grill pan or a large cast iron skillet will work beautifully here, especially during those winter month when it's too cold to grill out!
3 tablespoons extra virgin olive oil, divided
1 shallot, diced
3 cloves garlic, minced
2 tablespoons chopped fresh parsley leaves
1 tablespoon chopped fresh rosemary
1 tablespoon chopped fresh thyme leaves
2 tablespoons freshly squeezed lemon juice
1 tablespoon lemon zest
Kosher salt and freshly ground black pepper, to taste
2 pounds boneless, skinless chicken thighs
OLIVE OIL MIXTURE: In a medium bowl, combine 2 tablespoons olive oil, shallot, garlic, parsley, rosemary, thyme, lemon juice, lemon zest, 1 teaspoon salt and 1 teaspoon pepper.

In a gallon size Ziploc bag or large bowl, combine chicken and OLIVE OIL MIXTURE; marinate for at least 2 hours to overnight, turning the bag occasionally. Drain the chicken from the marinade.

Preheat grill to medium high heat.

Brush chicken with remaining 1 tablespoon olive oil; season with salt and pepper, to taste.

Add chicken to grill, and cook, turning occasionally, until chicken is completely cooked through, reaching an internal temperature of 165 degrees F, about 10 minutes.

Serve immediately.