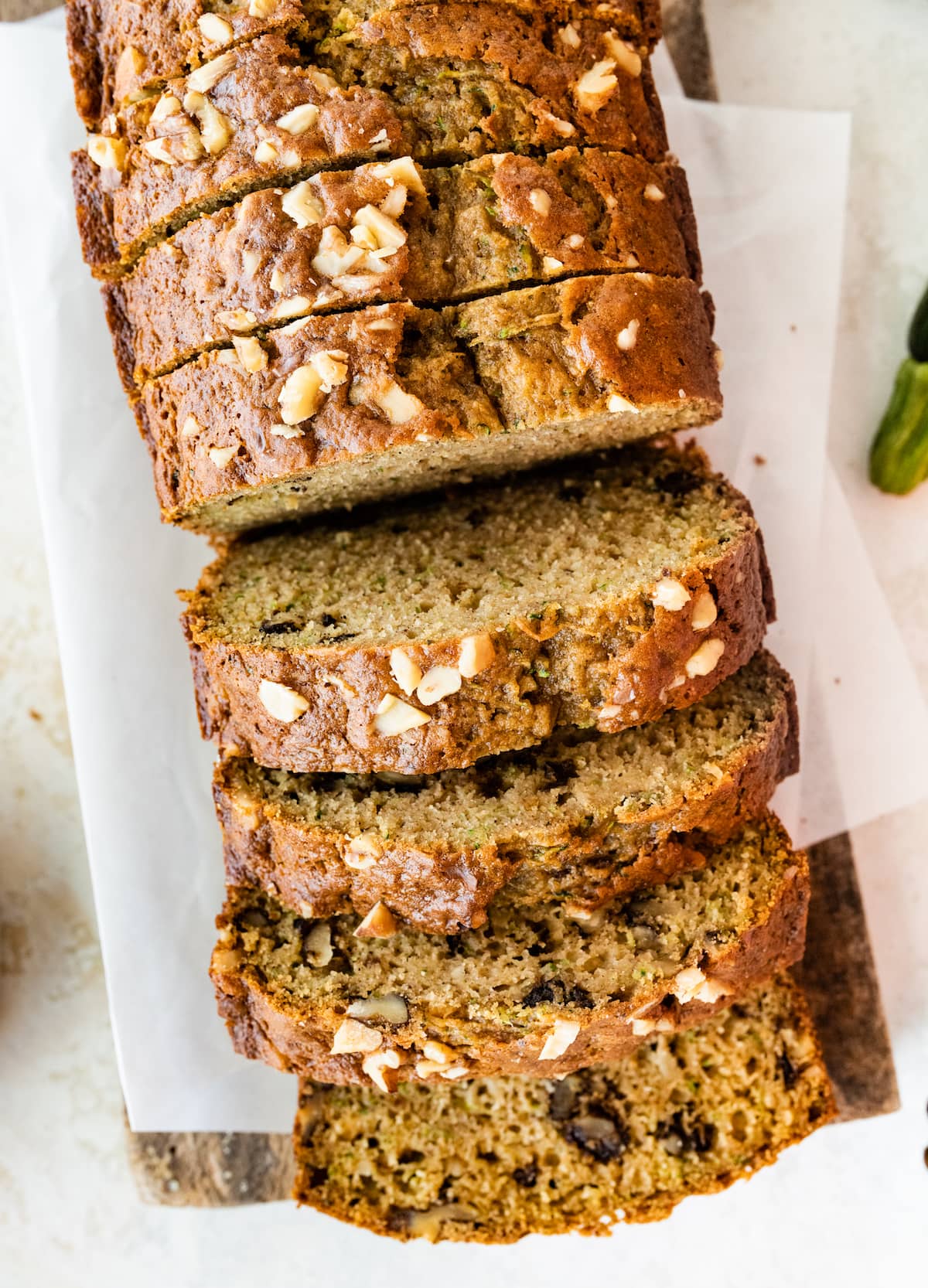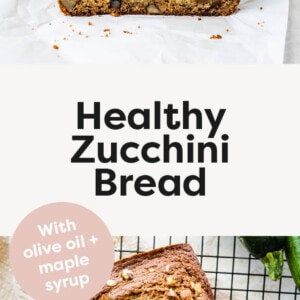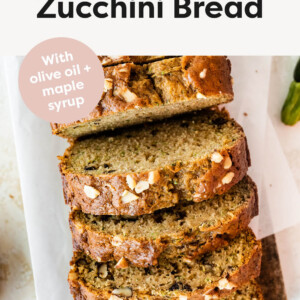 A lightened up recipe for zucchini bread that uses maple syrup instead of sugar and olive oil instead of butter. The texture is crisp on the outside and perfectly moist on the inside.
I feel like each summer I get to a point in the season where I'm completely drowning in zucchini. I'm not complaining though, I love all things zucchini and get excited for this time every year. And this healthy zucchini bread is one of my favorite recipes to use up my zucchini.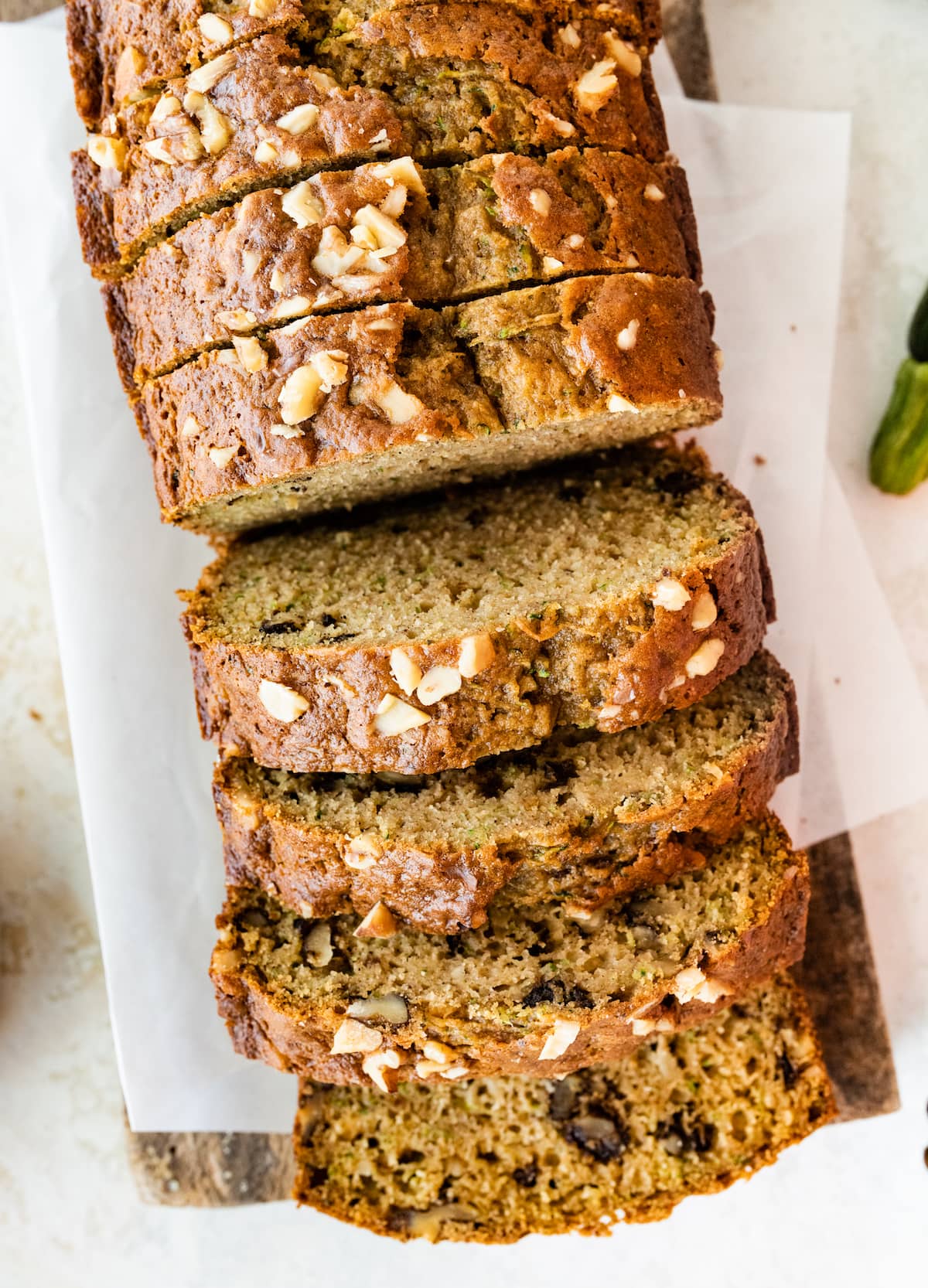 I already have this vegan zucchini bread on the site, but I wanted to share more of a traditional zucchini bread with a healthy twist, which is exactly what this recipe is.
It's made with a blend of all-purpose and whole wheat flour, sweetened with maple syrup and uses olive oil instead of butter. Despite these healthy swaps this zucchini bread is perfectly moist, packed with cinnamon flavor and absolutely delicious!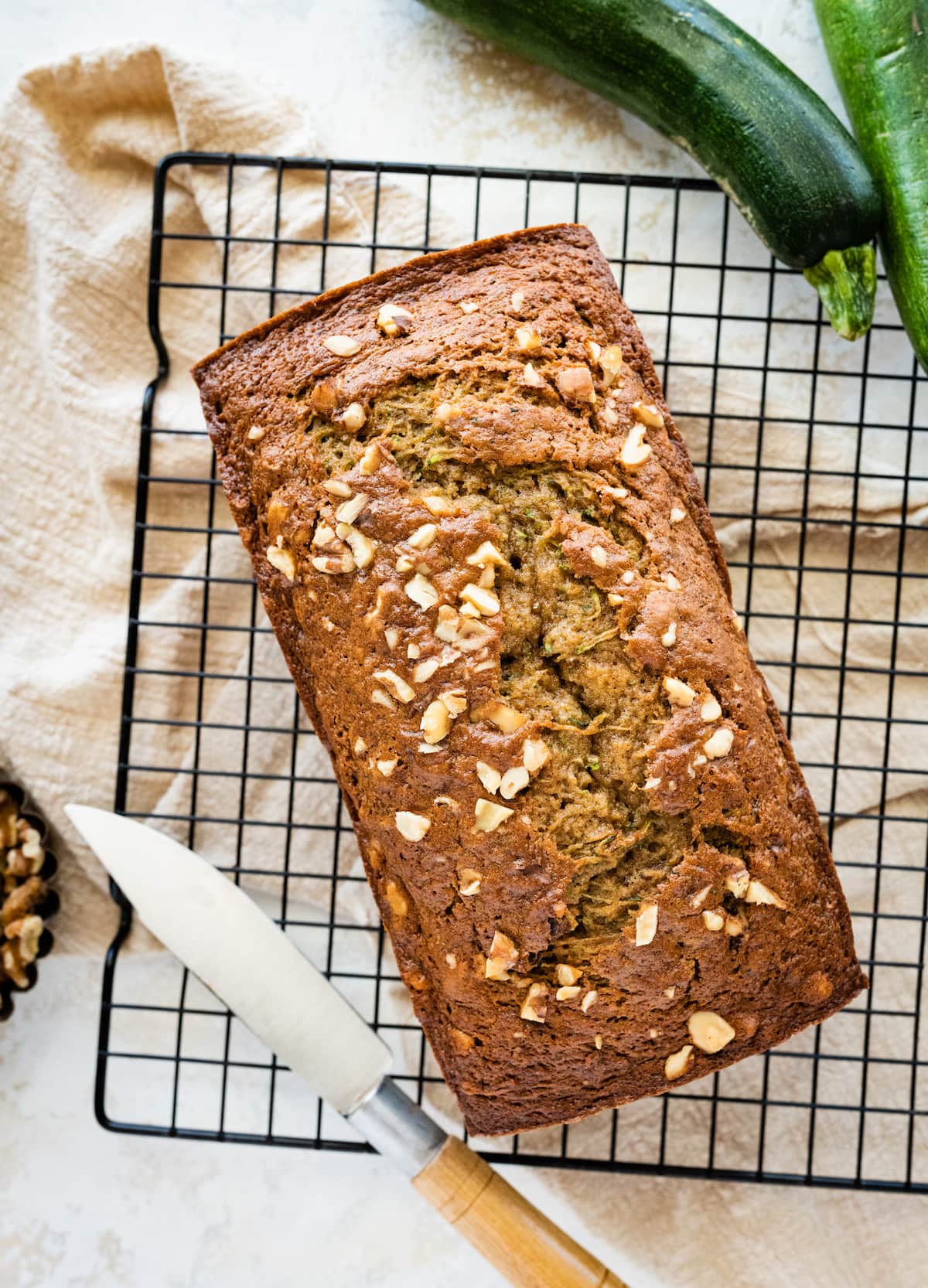 Why You'll Love This Recipe
Healthy: We're using whole wheat pastry flour, applesauce, maple syrup and olive oil to give this zucchini bread a nutritional upgrade!
Moist and flavorful: The combination of olive oil, unsweetened applesauce and the natural moisture from the zucchini ensures a tender and juicy loaf every time.
Customizable: Whether you like it plain, with a touch of nutmeg, or some crunchy walnuts, this recipe can be tailored to your preferences.
Perfect for all occasions: Whether it's for breakfast, a mid-day snack or dessert, this zucchini bread fits the bill.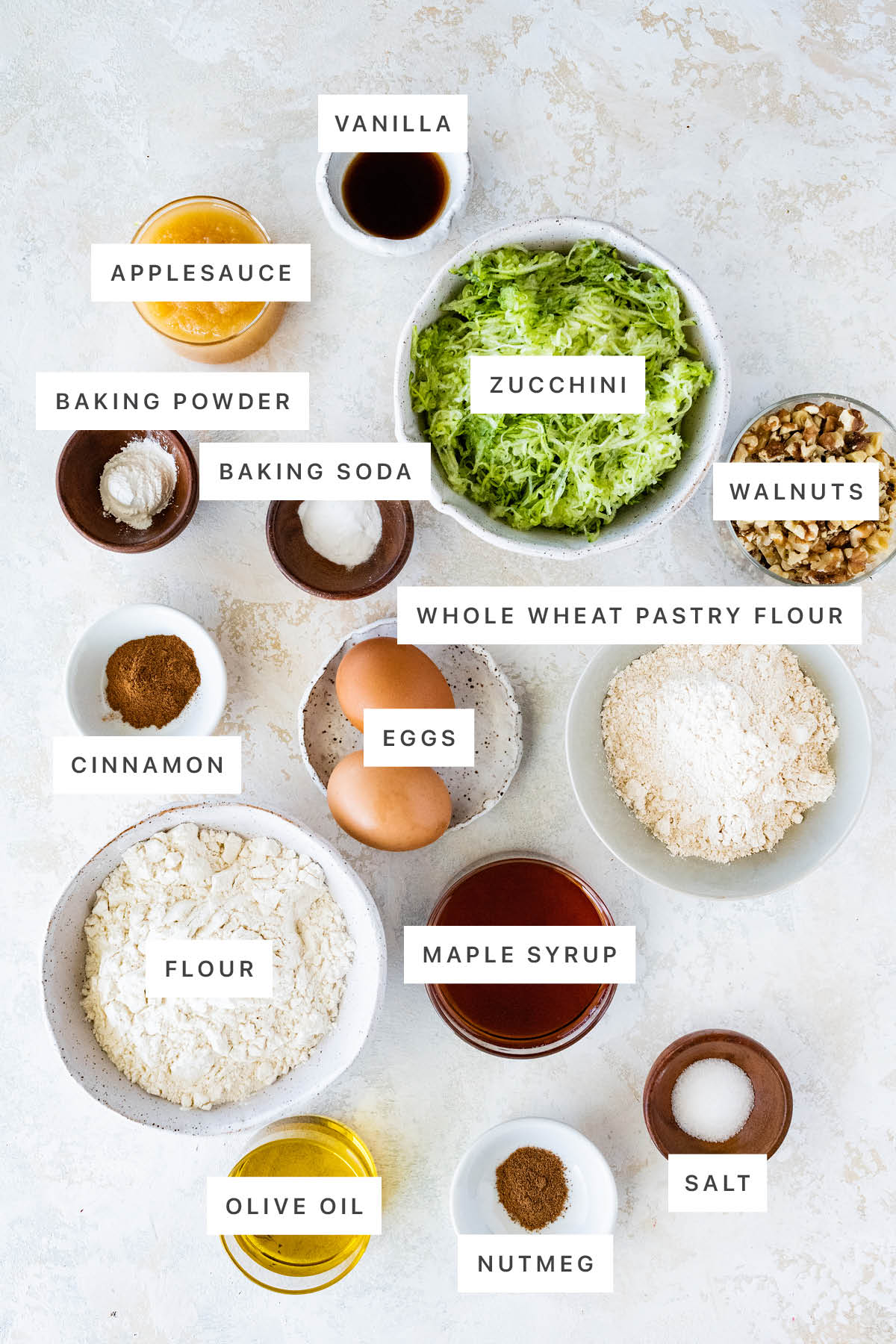 Ingredients Needed:
all-purpose flour and whole wheat pastry flour – we're using a combo of all-purpose and whole wheat pastry flour for this bread. The whole wheat flour provides some added nutrition and a slightly nuttier taste without compromising the bread's texture.
grated zucchini – the star of the show here! No need to squeeze the grated zucchini… the liquid from the zucchini helps keep the bread moist.
pure maple syrup – the perfect natural sweetener for this bread that adds a lovely, subtle sweetness and depth of flavor. Just make sure you're using pure maple syrup, not pancake syrup, which is packed with corn syrup!
unsweetened applesauce – adds moistness and helps in reducing the amount of oil needed. You can make homemade applesauce or use store-bought.
eggs – helps bind the ingredients together and provides the structure for the bread.
olive oil – provides moisture and a tender crumb in the finished bread.
vanilla – a nice flavor enhancer.
ground cinnamon – adds a warm, spicy note that complements the zucchini beautifully.
baking powder and baking soda – leavening agents to help the bread rise and become fluffy.
salt – helps bring all the flavors together.
ground nutmeg – this is optional, but I love adding a pinch of nutmeg to the batter.
walnuts – also optional, but the walnuts add a nice flavor and crunch to this bread.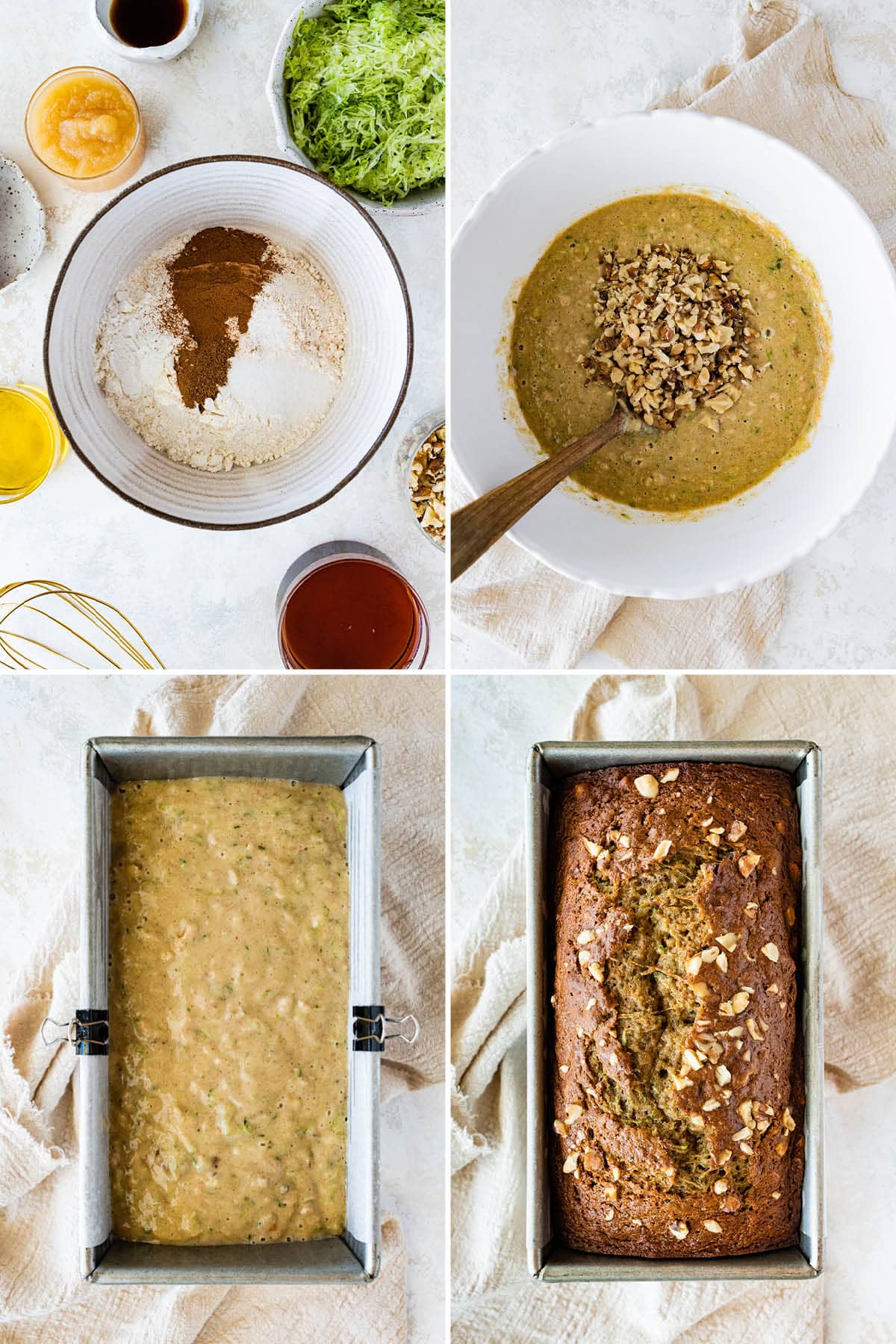 How to Make
Prep: Start by preheating your oven to 350°F. For easier removal, either grease a 9″x5″ loaf pan or line it with parchment paper.
Mix dry ingredients: In a medium mixing bowl, combine the all-purpose flour, whole wheat pastry flour, ground cinnamon, baking powder, baking soda, salt and the optional ground nutmeg. Stir these together so they're well-integrated.
Whisk wet ingredients: In a separate large bowl, whisk the eggs until well beaten. Then add the pure maple syrup and finely grated zucchini. Stir these ingredients together until they're well mixed. Now, stir in the olive oil, unsweetened applesauce and vanilla extract, ensuring everything is well combined.
Combine: Add the dry ingredients to the wet ingredients and stir until just combined, making sure to no over-mix! Fold in your chopped walnuts, if using.
Bake: Pour your batter into the prepared loaf pan, spreading it out evenly. Place the pan into the preheated oven and let it bake for 50-60 minutes. You'll know it's done when a toothpick or knife, inserted into the center, comes out clean.
Cool: Once baked to perfection, take your zucchini bread out of the oven and let it cool in the pan for a bit. Afterward, transfer it onto a wire rack, allowing it to cool completely. Once cooled, you can slice and serve!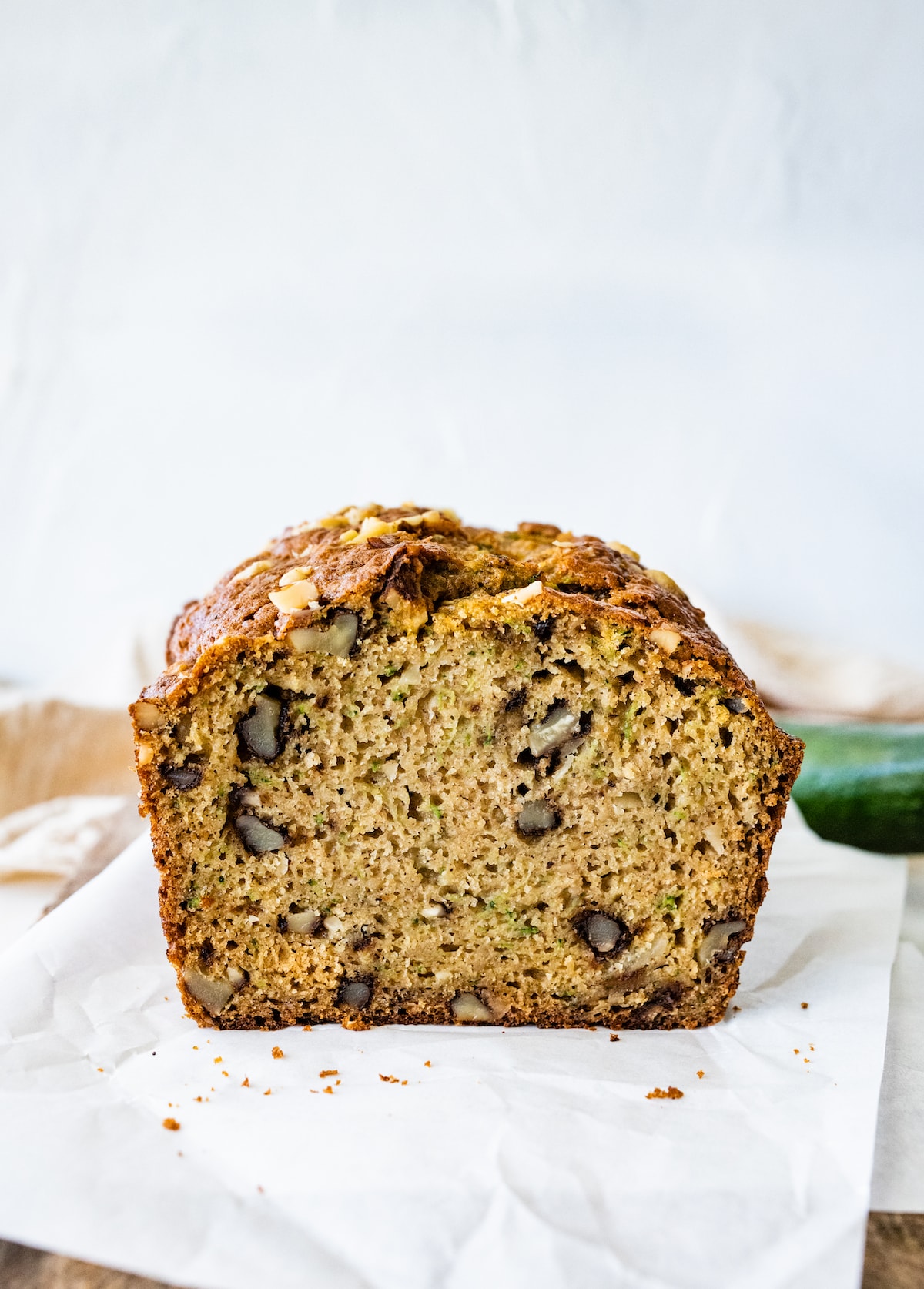 Substitutions & Notes
Flour – I really like the blend of all-purpose and whole wheat pastry flour. If needed, you can use all-purpose or regular whole wheat in place of whole wheat pastry flour.
Gluten-free – I haven't tried it, but you could probably use an all-purpose gluten-free flour. Let me know if you try it in the comments below!
Eggs – I haven't tested the recipe with flaxseed eggs or egg replacer, but I assume it will work. If you're looking for a vegan recipe try my vegan zucchini bread instead!
Applesauce – You can use 1/4 cup mashed banana or Greek yogurt instead of the applesauce if needed.
Maple syrup – You can use honey or agave syrup in place of the maple syrup if needed. I don't recommend using a dry sugar like coconut sugar or brown sugar as that will change the texture of the bread.
Olive oil – You can use avocado oil, melted coconut oil or another neutral oil of choice.
Walnuts – Feel free to skip the walnuts or use a different mix-in of choice. See some ideas below!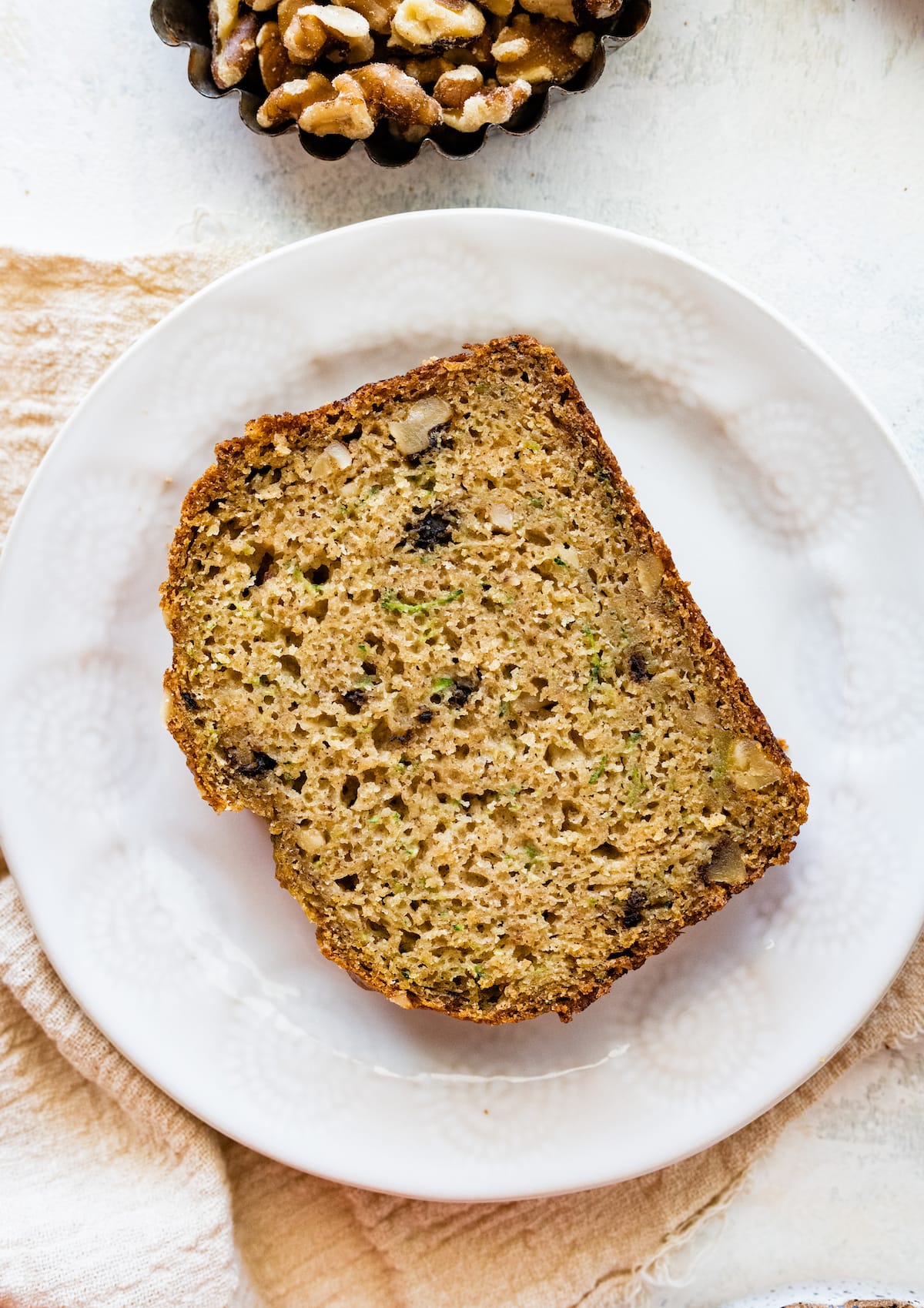 Zucchini Bread Mix-in Options
People have strong opinions about their mix-ins when it comes to quick bread! Some love adding chocolate chips, dried berries and/or nuts while others just want straight-up bread! Honestly you can't go wrong. Here are some ideas on how to customize this zucchini bread recipe:
nuts – I prefer chopped walnuts, but you can play around with different nuts! I bet almonds or pecans would be delicious.
chocolate chips – everything is better with chocolate, right?
berries – zucchini blueberry bread sounds so yummy.
dried fruit – dried cranberries or raisins would be delicious in this!
I would keep the total amount of mix-ins around 1/2 cup. Add them to the batter last, after you've combined the wet and dry ingredients.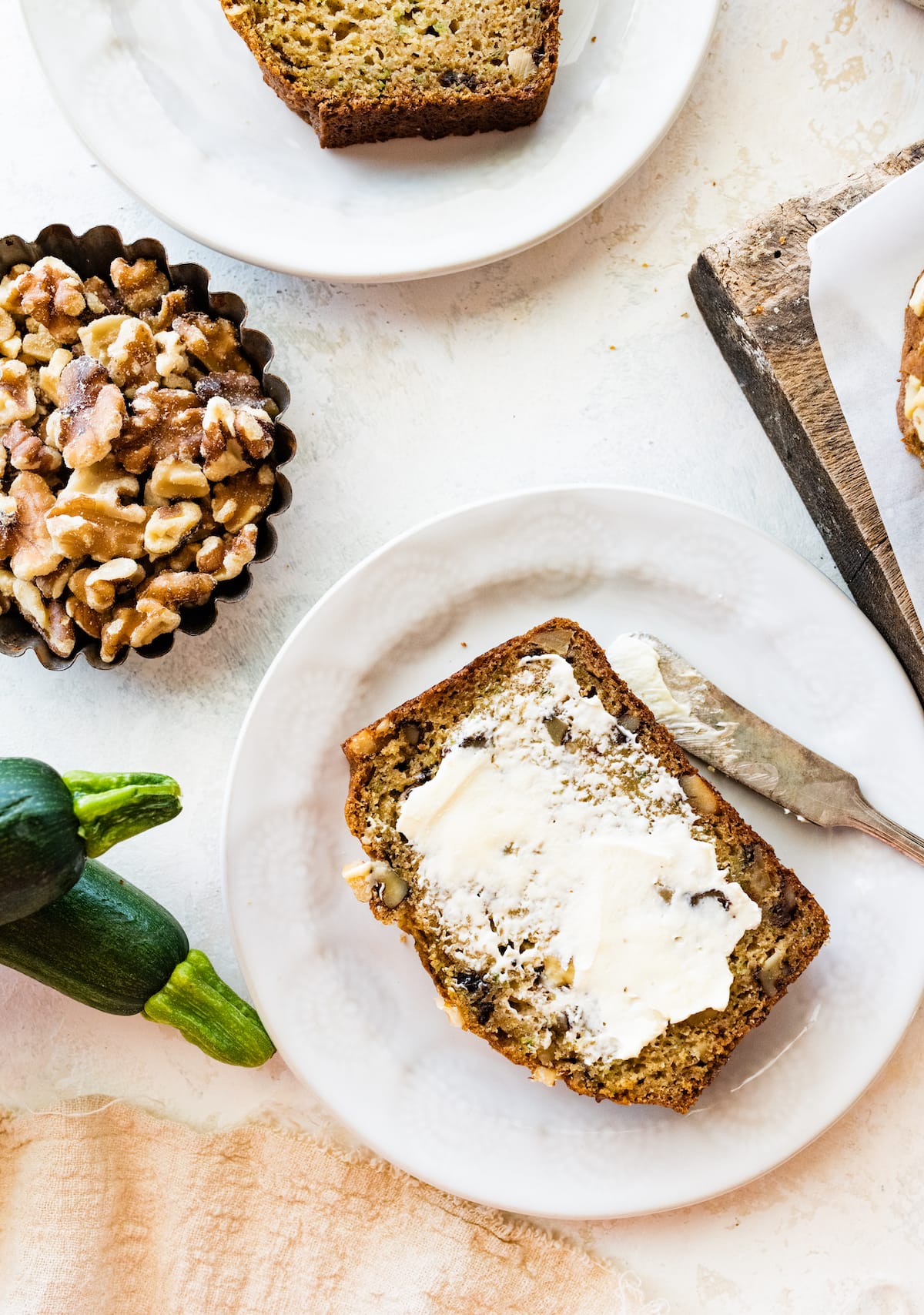 How to Serve Zucchini Bread
Honestly, we eat this zucchini bread all day long. It's delicious paired with eggs and coffee for a hearty breakfast, it's the perfect mid-afternoon snack and if you mix in chocolate chips, it's perfect served as dessert! I love it both cold and warmed up in the toaster oven, plain or with a little butter or even nut butter spread on it. So many options!
If you do enjoy this bread for breakfast and want to pair it with some protein here are some pairing suggestions: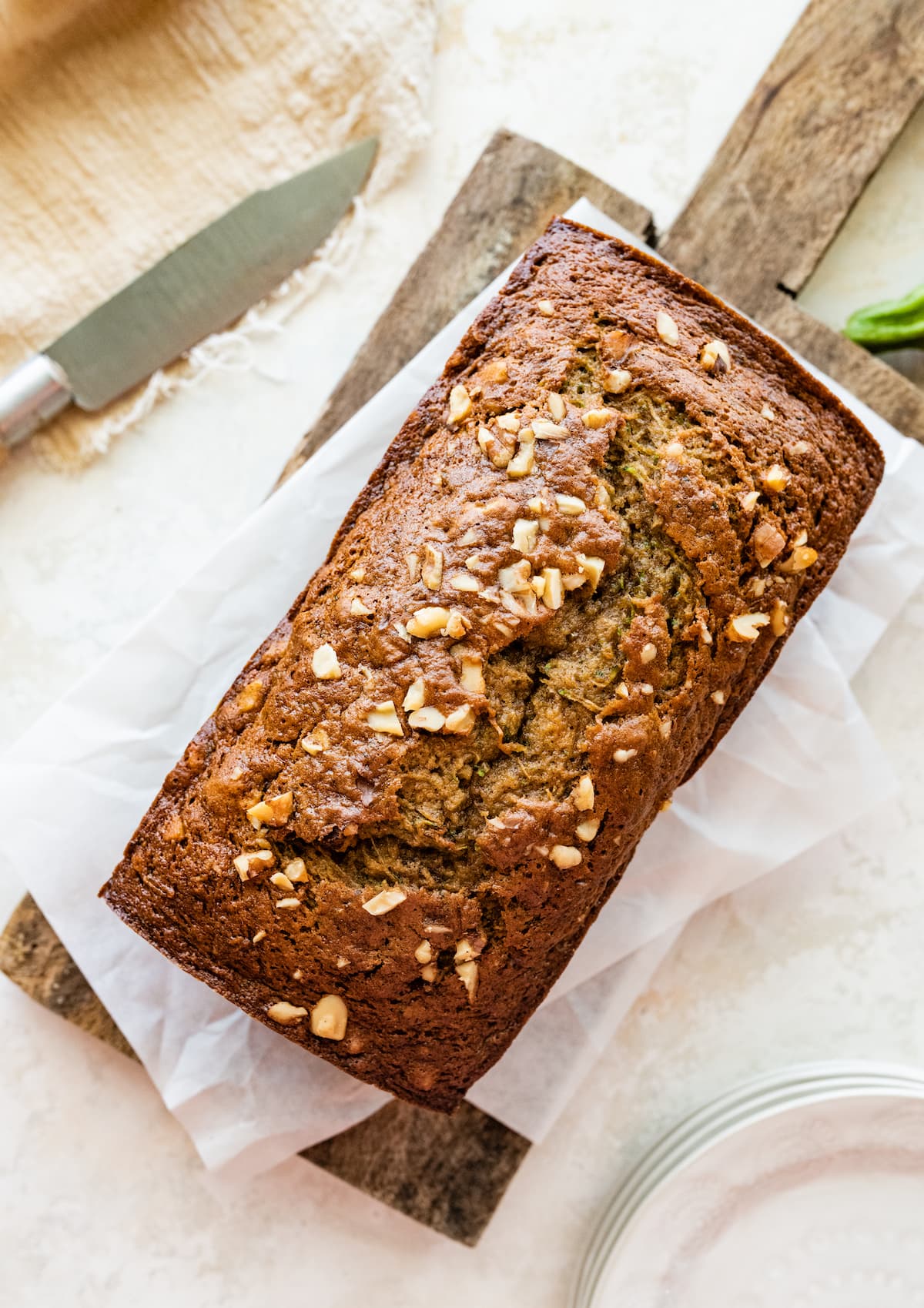 How to Store Zucchini Bread
At room temperature: Once your zucchini bread has cooled completely, wrap it in plastic wrap or aluminum foil. It can be stored at room temperature for up to 2 days.
Refrigerator: For longer shelf life, place the wrapped bread in an airtight container or a resealable plastic bag and refrigerate. This way, it'll stay fresh for about a week. I like using glass storage containers or Stasher bags for storage.
Freezer: This zucchini bread can also be stored in an airtight freezer-safe container in the freezer for up to 3 months. If freezing, I recommend slicing this bread before storing in the freezer so you can easily take out one slice at a time. To thaw, place the bread in the fridge overnight.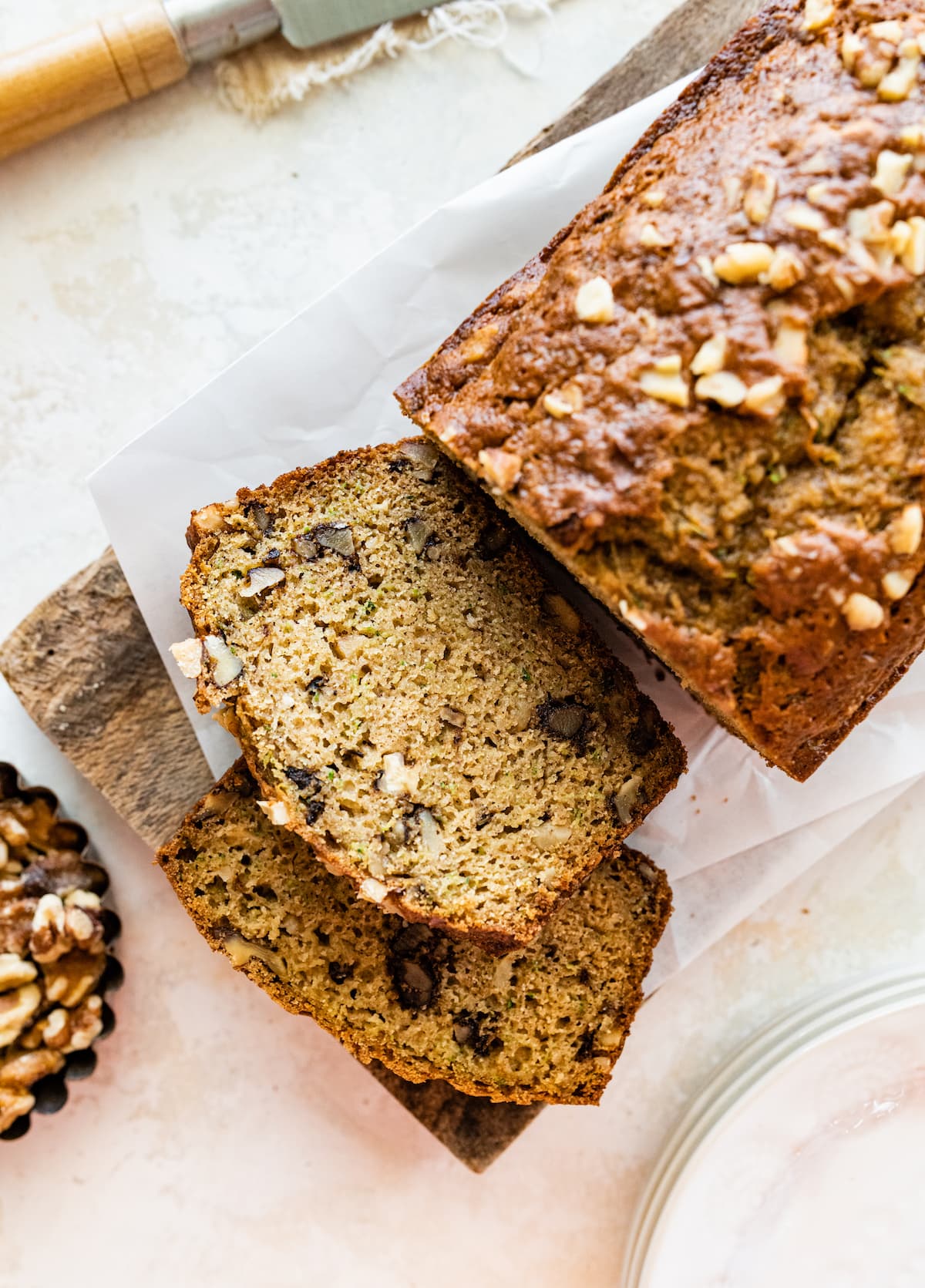 Zucchini Bread FAQ's
Do I need to squeeze the liquid out of the zucchini?
No! Not for this recipe. The moisture that gets released from the zucchini helps to keep this loaf moist, but not overly moist!
Do I need to peel the zucchini before grating?
No! The skin of zucchini is packed with nutrients and quite tender so it bakes up nicely. Don't waste your time peeling your zucchini!
Can I make muffins with this recipe?
Yes! I've made muffins before using this recipe and they turned out awesome. I got 12 muffins and baked them for about 16-20 minutes. You'll know your muffins are ready when a toothpick inserted comes out clean.
More Zucchini Recipes to Try
More Quick Breads to Try
Be sure to check out all of the zucchini recipes and quick bread recipes on EBF!
Preheat oven to 350° F. Grease a 9″x5″ loaf pan or line with parchment.

In a medium bowl, stir flours, cinnamon, baking powder, baking soda, salt and nutmeg.

In a large bowl, whisk eggs. Add maple syrup and zucchini, stir until well blended. Stir in oil, applesauce and vanilla.

Add dry ingredients into the bowl with the wet ingredients and stir together until just blended (don't over mix). Gently stir in chopped walnuts or whatever mix-ins you're using.

Pour batter into prepared loaf pan.

Bake for 50-60 minutes, or until a toothpick inserted in the middle comes out clean. Remove loaf from pans and let cool on a wire rack before slicing.
Chocolate chips are an awesome addition to this bread if you want a little chocolate. Add 1/3 cup to the recipe or use 1/2 cup chocolate chips in place of the walnuts.
Serving: 1 slice w/ walnuts | Calories: 147kcal | Carbohydrates: 20g | Protein: 3g | Fat: 6g | Saturated Fat: 1g | Polyunsaturated Fat: 2g | Monounsaturated Fat: 3g | Cholesterol: 23mg | Sodium: 154mg | Potassium: 75mg | Fiber: 1g | Sugar: 11g
Nutrition information is automatically calculated, so should only be used as an approximation.