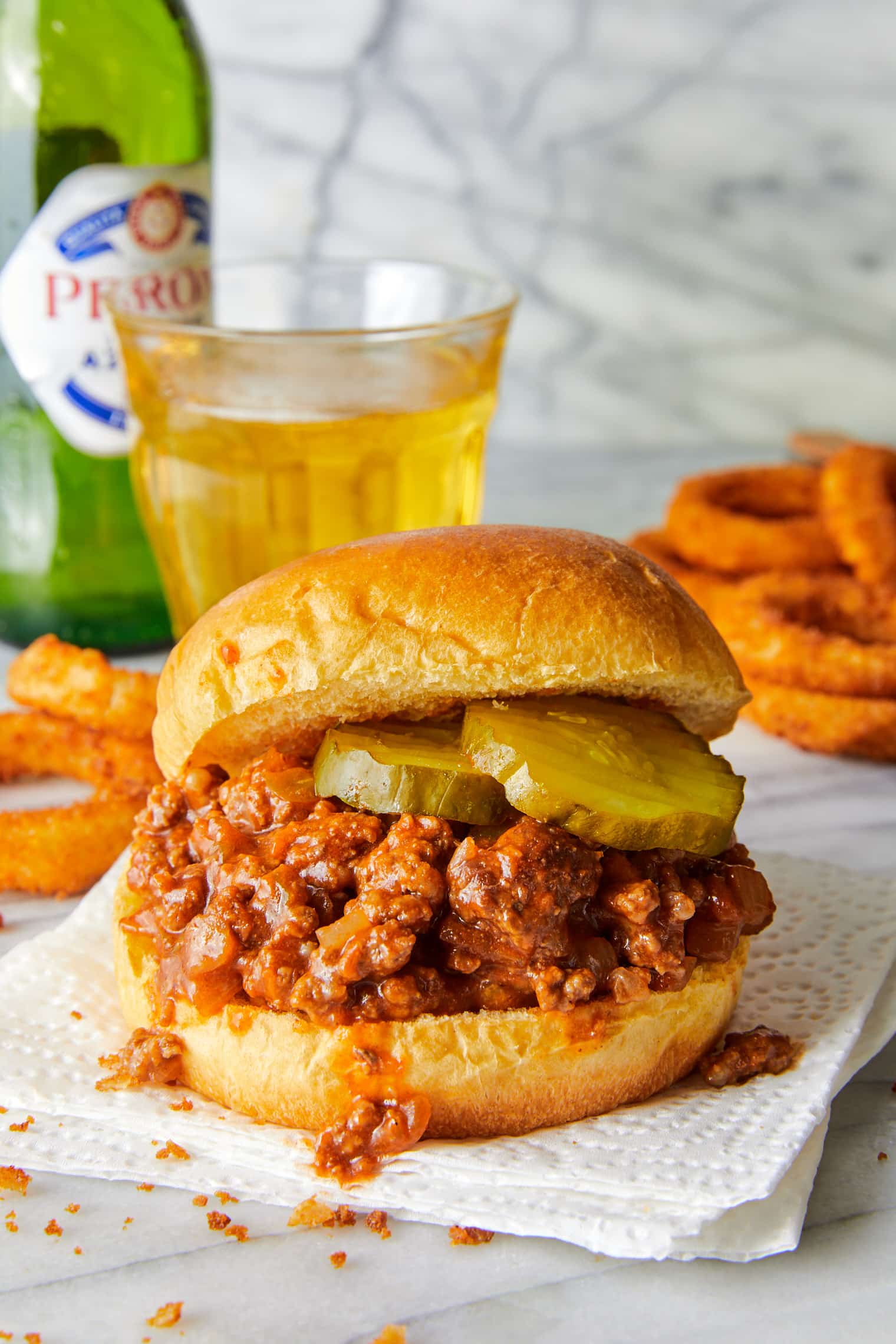 This post may contain affiliate links. Please see our privacy policy for details.

Hands down THE BEST sloppy joes made from scratch! So saucy, so hearty. Serve in hamburger buns for a quick dinner!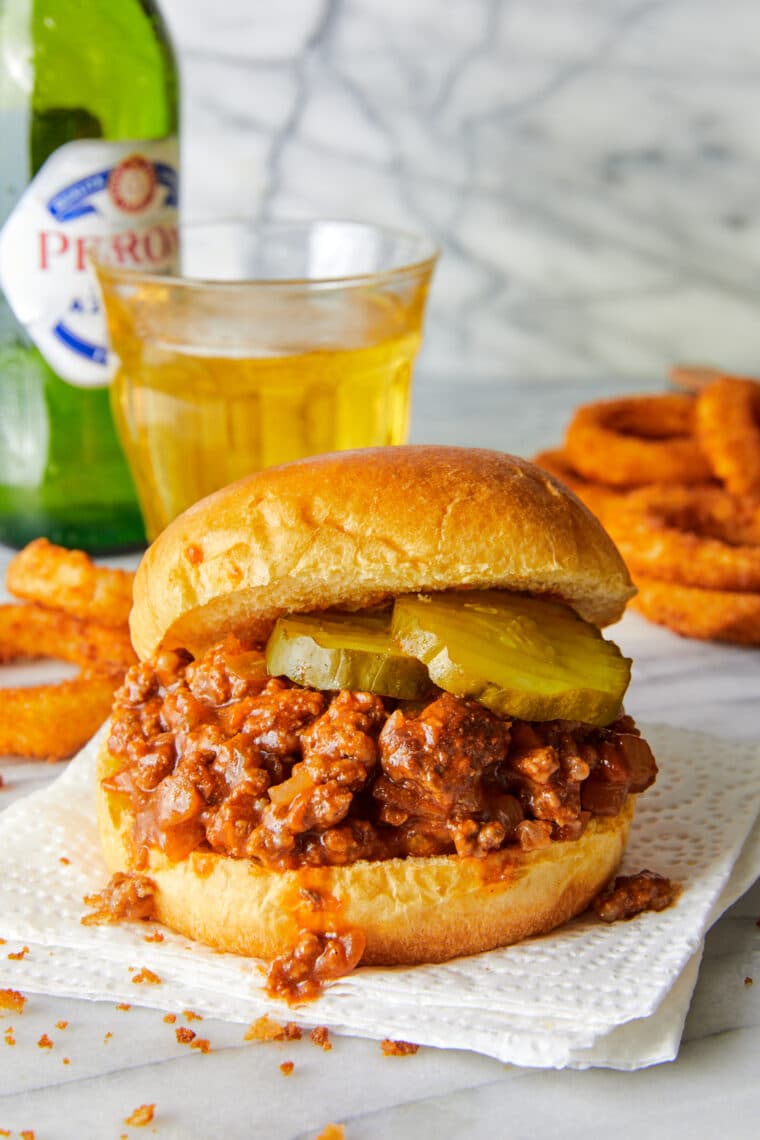 Let's just say that sloppy joes aren't just kid-friendly. They are 100% a family-favorite for EVERYONE including all grown-ups. I mean, saucy, tender ground beef goodness with a hint of sweetness served on toasted brioche buns? Yes, sign me up!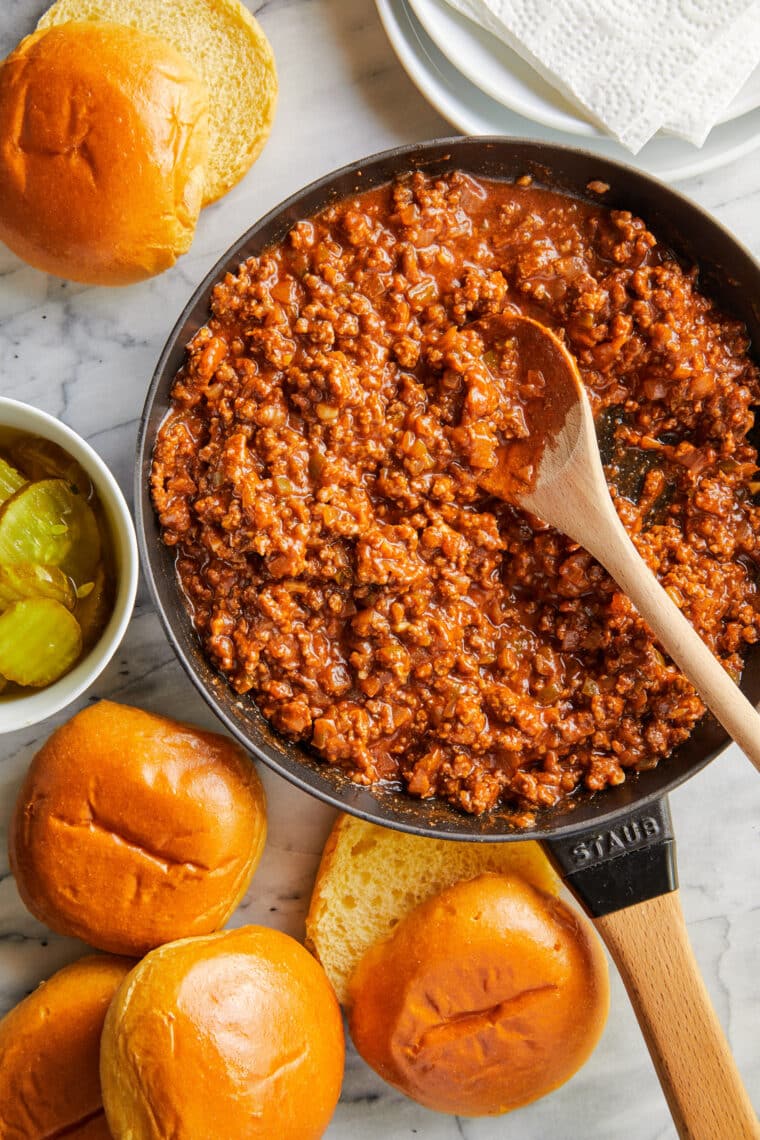 You can of course swap out the beef for turkey or pork, and you can use any buns you desire – hamburger buns, pretzel buns, hot dog buns. You name it. I also like to serve mine with some pickles but you can keep them as is. It's all good here.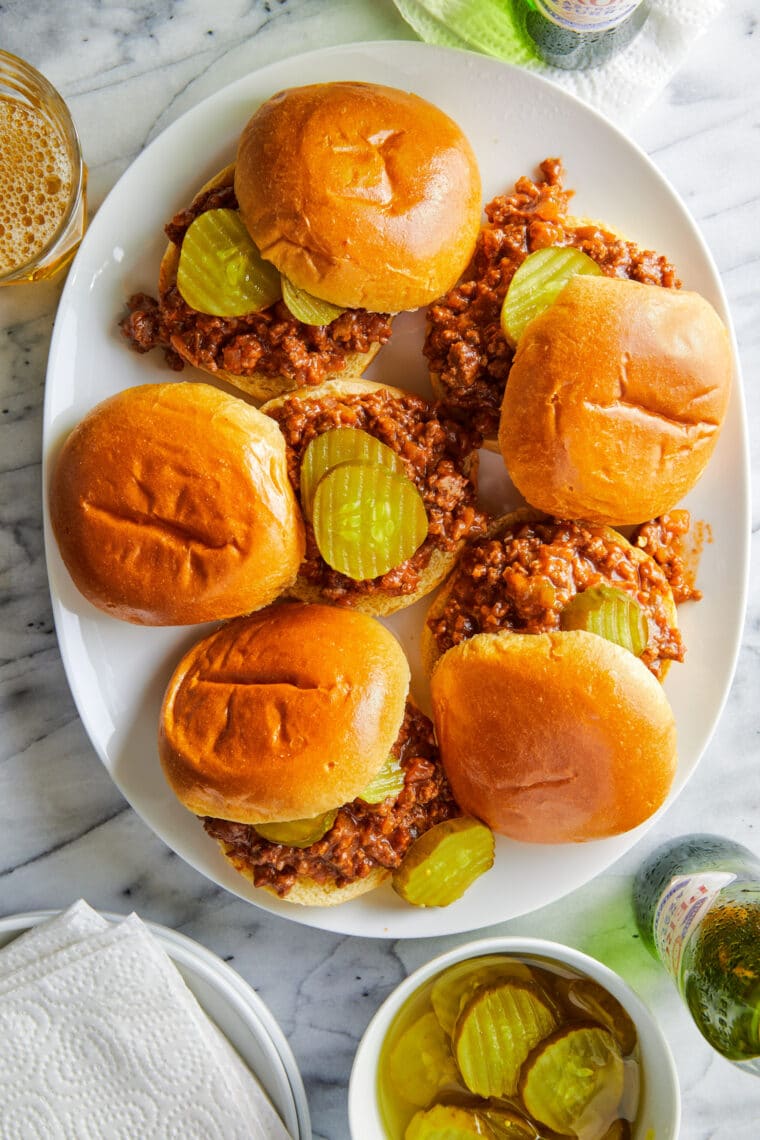 TOOLS FOR THIS RECIPE
WHAT KIND OF BREAD DO I USE?
Feel free to choose your favorite kind of buns, and be sure to toast them for the best results possible. I know a lot of people love a pretzel bun but I am partial to a brioche bun.
WHAT DO YOU SERVE THESE WITH?
Frozen (reheated, of course) fries, tots and/or onion rings!
DO I HAVE TO USE GROUND BEEF?
Not at all! Ground pork or ground turkey can be used instead of ground beef.
IS THIS FREEZER-FRIENDLY?
Yes! You can freeze the leftovers in individual freezer bags, thaw overnight, and reheat on the stovetop (adding a tablespoon of water as needed).
1 tablespoon vegetable oil
1 ½ pounds lean ground beef, 90/10
1 small sweet onion, diced
1 small green bell pepper, diced
2 tablespoons tomato paste
3 cloves garlic, minced
1 teaspoon smoked paprika
1 teaspoon chili powder
⅛ teaspoon cayenne pepper
1 ½ cups beef stock
1 cup ketchup
2 tablespoons Dijon mustard
2 teaspoons Worcestershire sauce
1 tablespoon brown sugar
Kosher salt and freshly ground black pepper, to taste
Heat vegetable oil in a large cast iron skillet over medium high heat. Add ground beef and cook until browned, about 3-5 minutes, making sure to crumble the beef as it cooks; drain excess fat.

Add onion and bell pepper. Cook, stirring occasionally, until tender, about 3-4 minutes.

Stir in tomato paste, garlic, paprika, chili powder and cayenne pepper until fragrant, about 1 minute.

Stir in beef stock, scraping any browned bits from the bottom of the skillet.

Stir in ketchup, Dijon, Worcestershire and brown sugar; season with salt and pepper, to taste. Bring to boil; reduce heat and simmer, stirring occasionally, until thickened and flavors have blended, about 15-20 minutes.

Serve immediately.
*TO FREEZE: Let cool completely; portion into plastic freezer bags in individual servings, squeezing out any excess air before sealing. Lay the bags flat in a single layer in the freezer (this will help them freeze quickly). To reheat, thaw overnight in the fridge, reheating over low heat, stirring occasionally, until heated through.