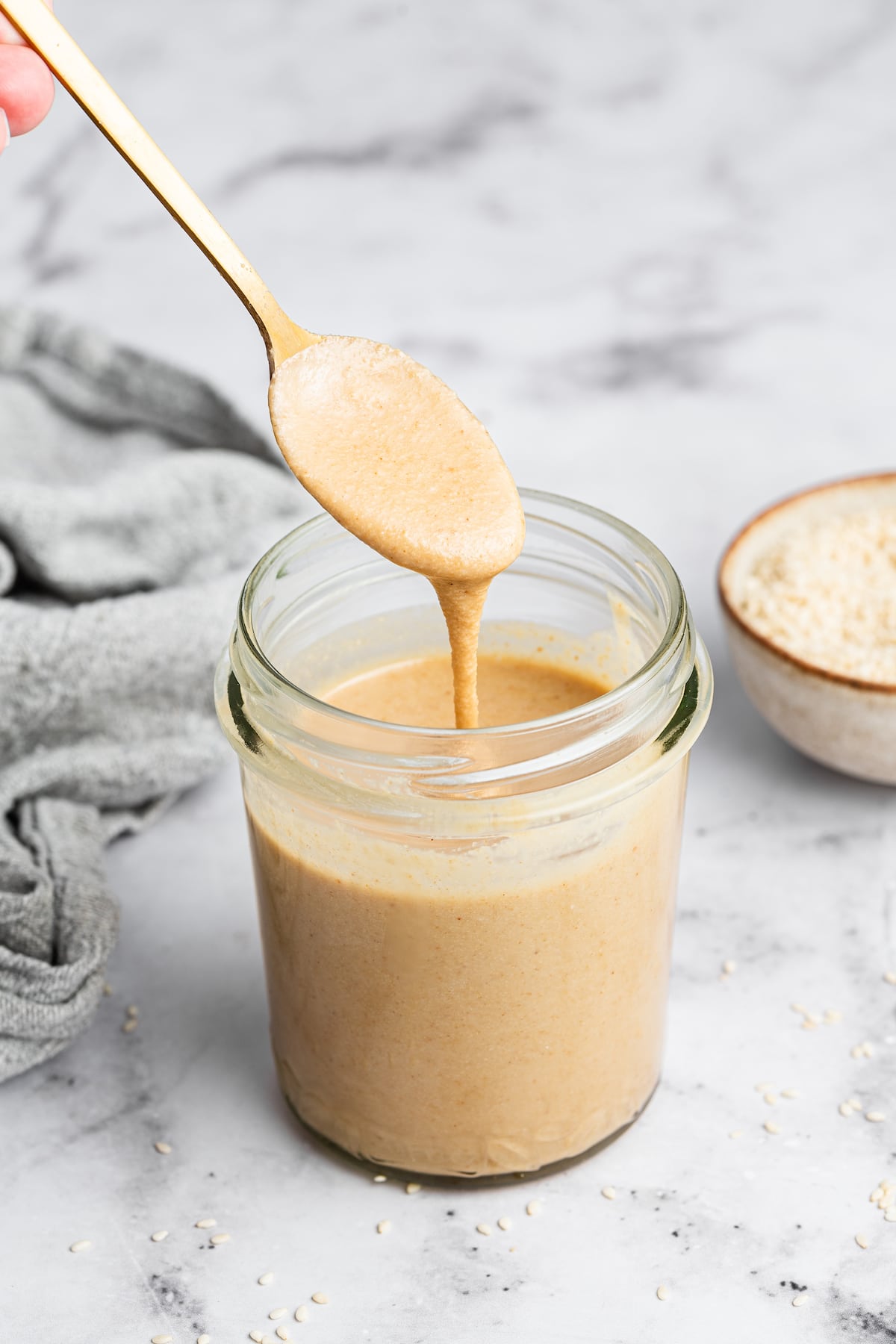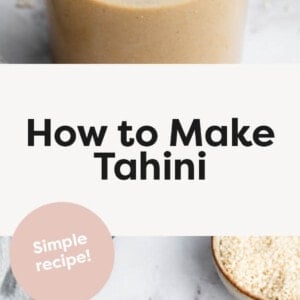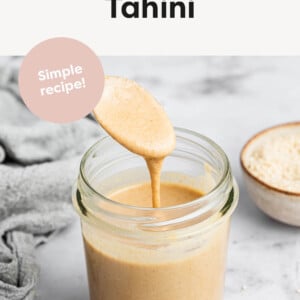 Learn how to make super smooth and creamy tahini at home with this simple recipe. You only need two ingredients and a food processor. Can be used in both savory and sweet recipes or enjoyed by the spoonful!
I have a lot of tahini recipes on the blog, but I've never actually made homemade tahini… that is until recently!
If you're intimidated by the thought of making homemade tahini like I was, don't be! It's actually super easy to whip up. You only need two ingredients, a food processor and about 10 minutes.
Tahini is definitely a staple ingredient in my kitchen and is so versatile. I love using it in savory recipes like this tahini sauce and hummus, but it also adds a unique nutty flavor to baked goods (these tahini cookies are a must try!).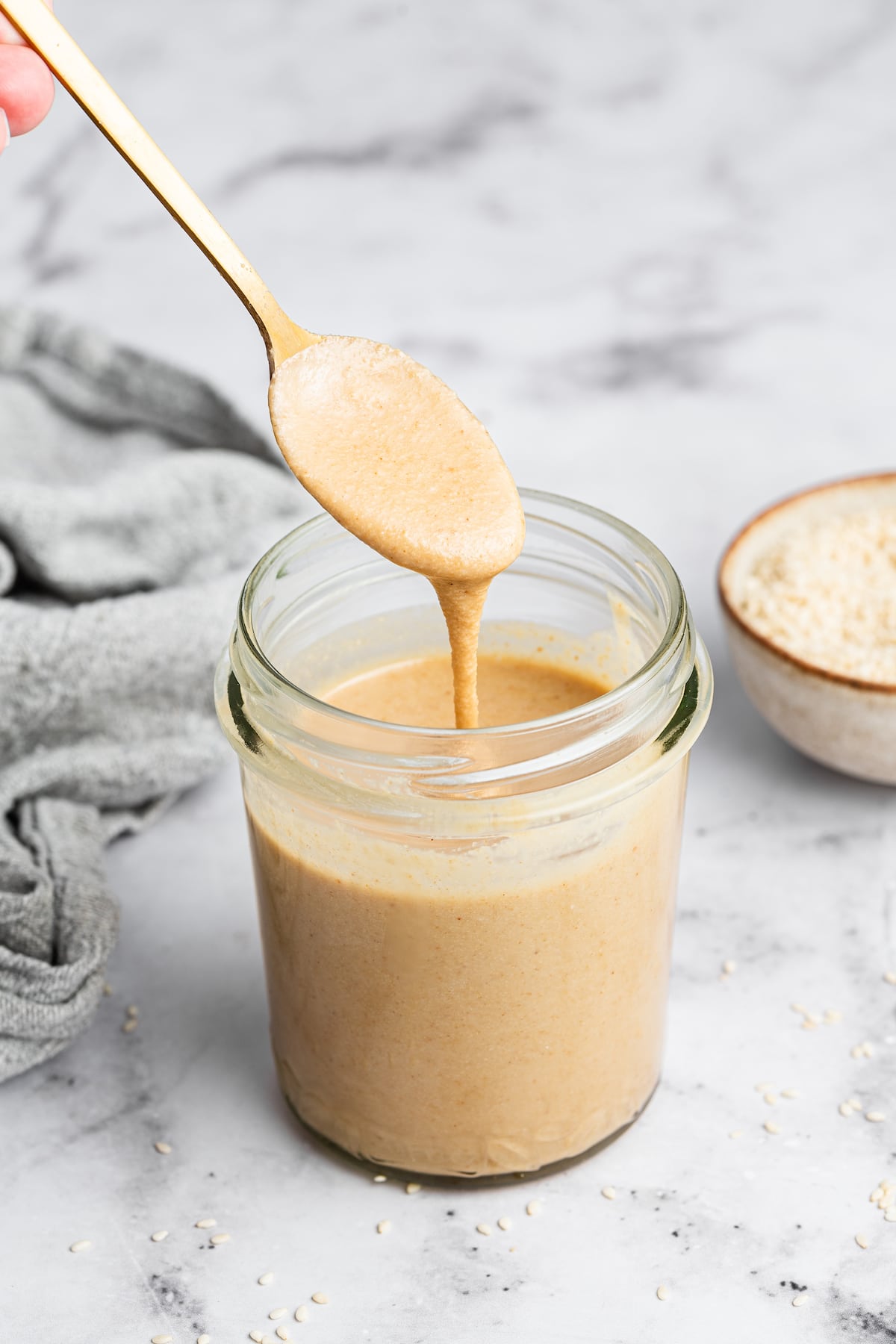 Why You'll Love This Recipe
Easy to make: Homemade tahini comes together in about 10 minutes with only two main ingredients: sesame seeds and a little oil.
Nut-free: It's a great nut-free alternative to nut butter like peanut butter, making it school-safe. It's also gluten-free + vegan.
Versatile: Can be used in a variety of ways – in dressings, sauces, savory dishes, baked goods or eaten by the spoonful!
Affordable: It's cheaper than store-bought tahini and tastes better, IMO!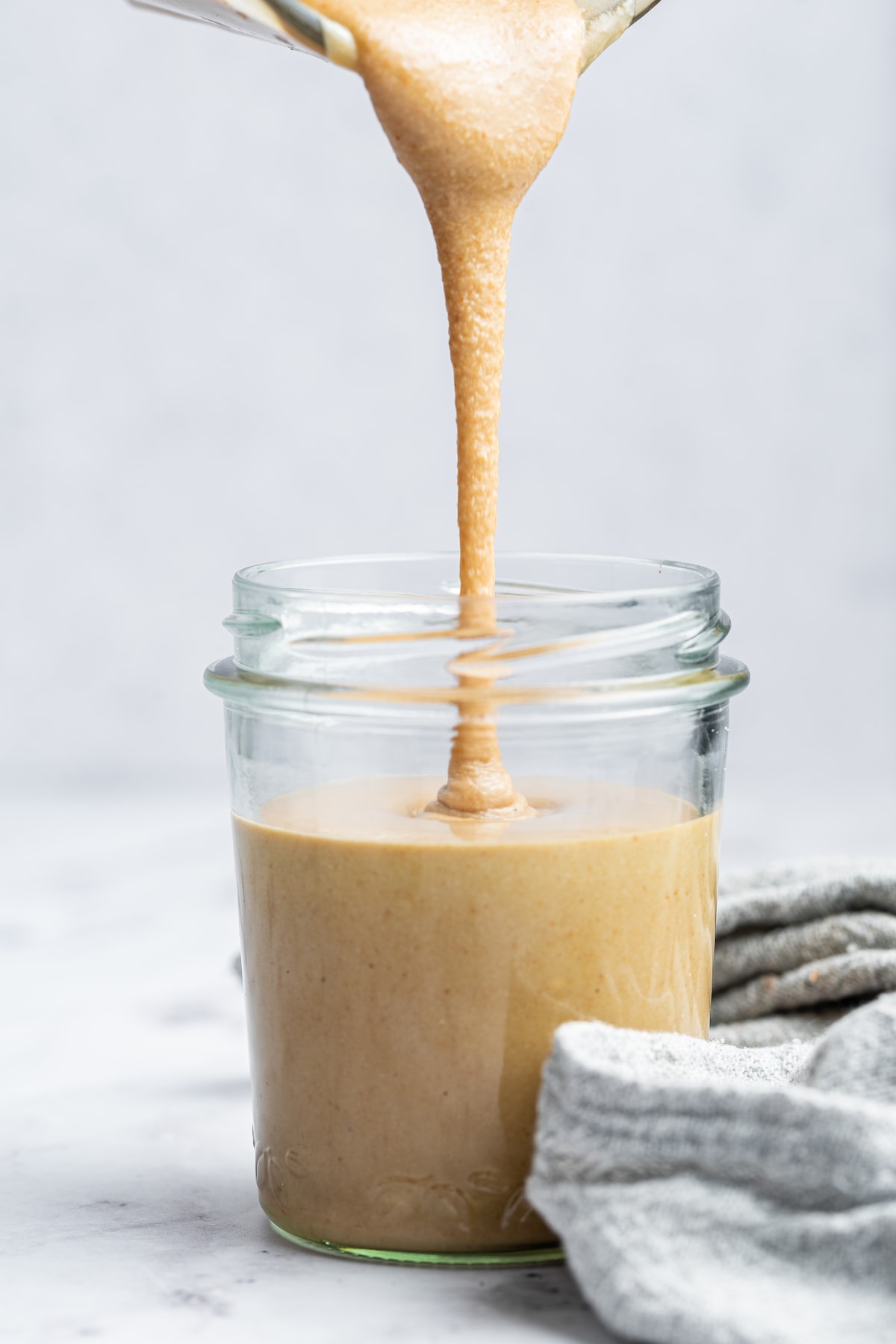 What is Tahini?
If you're new to tahini, it's a seed butter made from toasted ground sesame seeds. As expected, it has the consistency of other nut and seed butter. It's rich, creamy and nutty while also being a great source of iron, calcium, fiber, dietary protein, healthy fats and amino acids.
You'll usually see tahini in a lot of Mediterranean savory recipes. It works really well with lemon and garlic (you have to try this garlic tahini dressing) but is also delicious in baked goods like this tahini banana bread.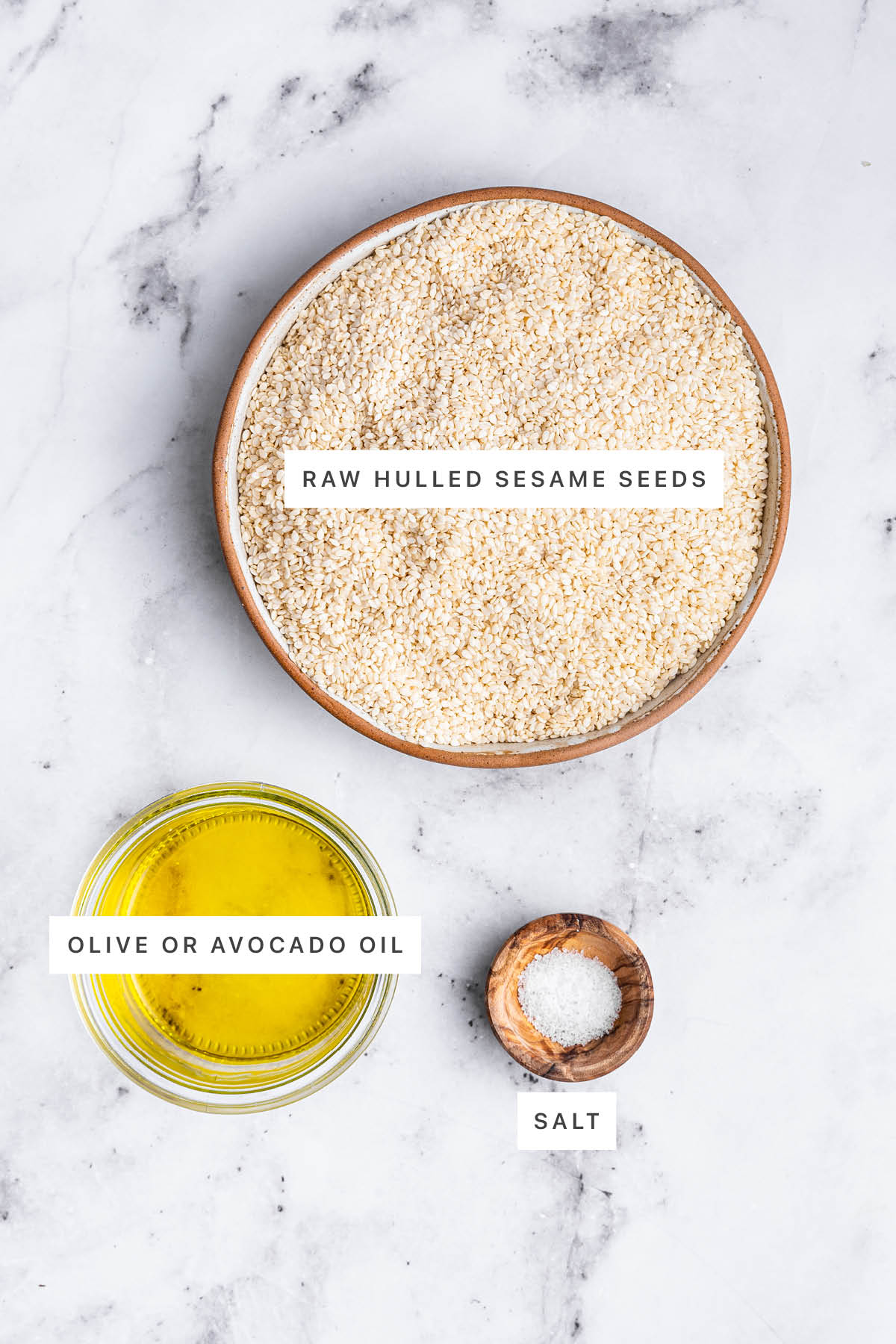 Ingredients Needed
raw hulled sesame seeds – the star of the show! I recommend using raw sesame seeds for the best flavor. You will toast them before grinding them into a tahini paste, but I think the flavor is better when you toast your own vs. store-bought toasted sesame seeds.
oil – this helps achieve a creamy, smooth texture! I prefer extra virgin olive oil or avocado oil as they both have a mild flavor.
salt – this is optional, but salt enhances the nutty flavor of the tahini. Feel free to adjust to your taste.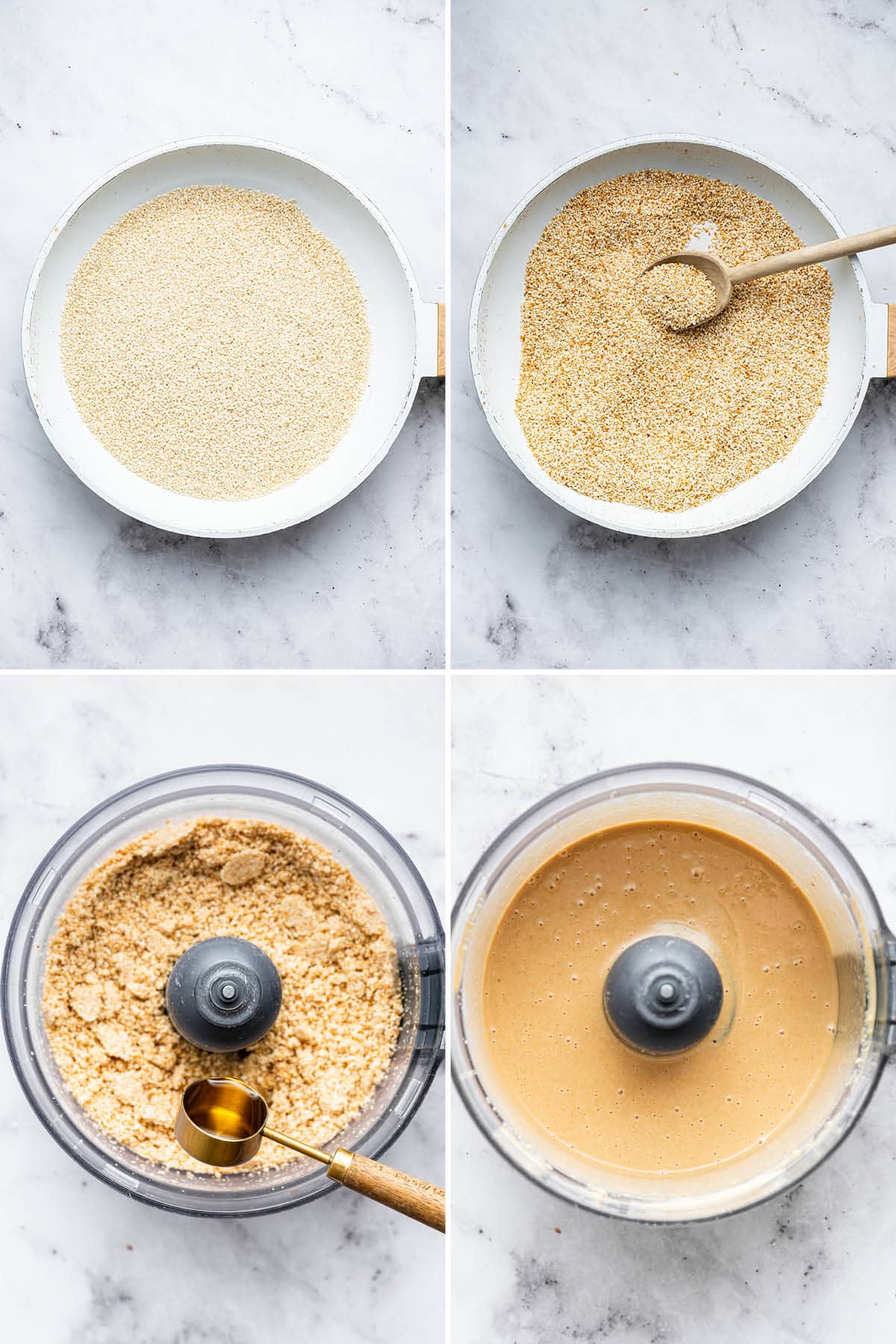 How to Make Tahini
Making homemade tahini is so easy and requires just a few simple steps:
Toast sesame seeds: In a large saucepan over medium-low heat, toast the sesame seeds for 4-5 minutes. Keep stirring constantly until they turn lightly golden and emit a fragrant aroma. Make sure you keep an eye on them because sesame seeds can burn quickly! Once toasted, set them aside to cool.
Blend: After the seeds have cooled down, transfer them to a food processor and process on high for about 1 minute until you get a crumbly paste. Gradually add the oil, starting with one tablespoon at a time. Blend again on high until the mixture achieves a creamy consistency. This will take around 3-4 minutes. During this process, you may need to stop occasionally and scrape down the sides of the food processor.
Taste: Taste your tahini. If you desire, add a pinch of salt and blend for a few more seconds until well incorporated.
Store: Transfer tahini to an airtight container (I like using 16 ounce wide mouth mason jars) and store in a cool, dark place for a few weeks or in the fridge for up to 3 months.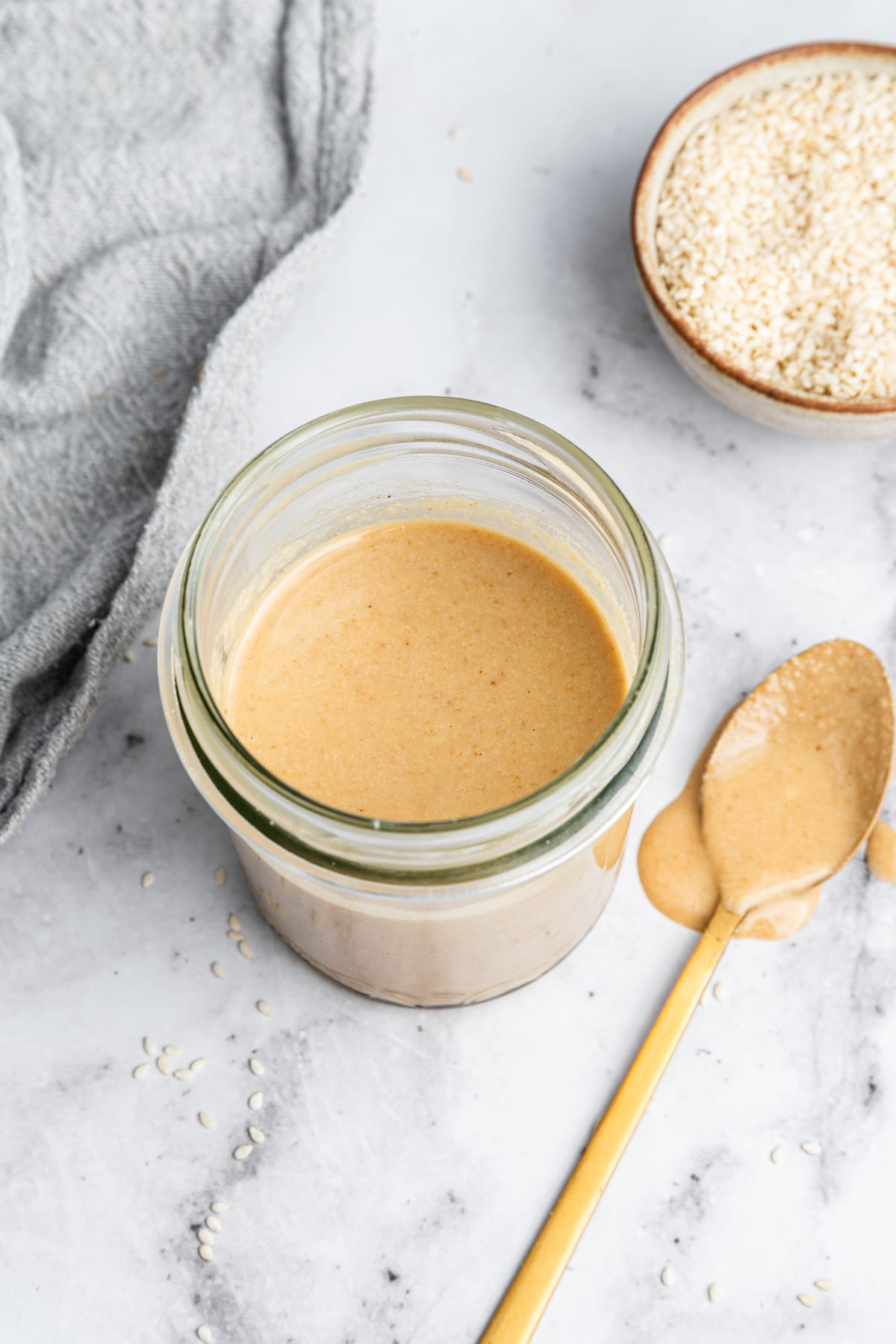 Ways to Use Tahini
There are so many different ways to use tahini! Here are some ideas: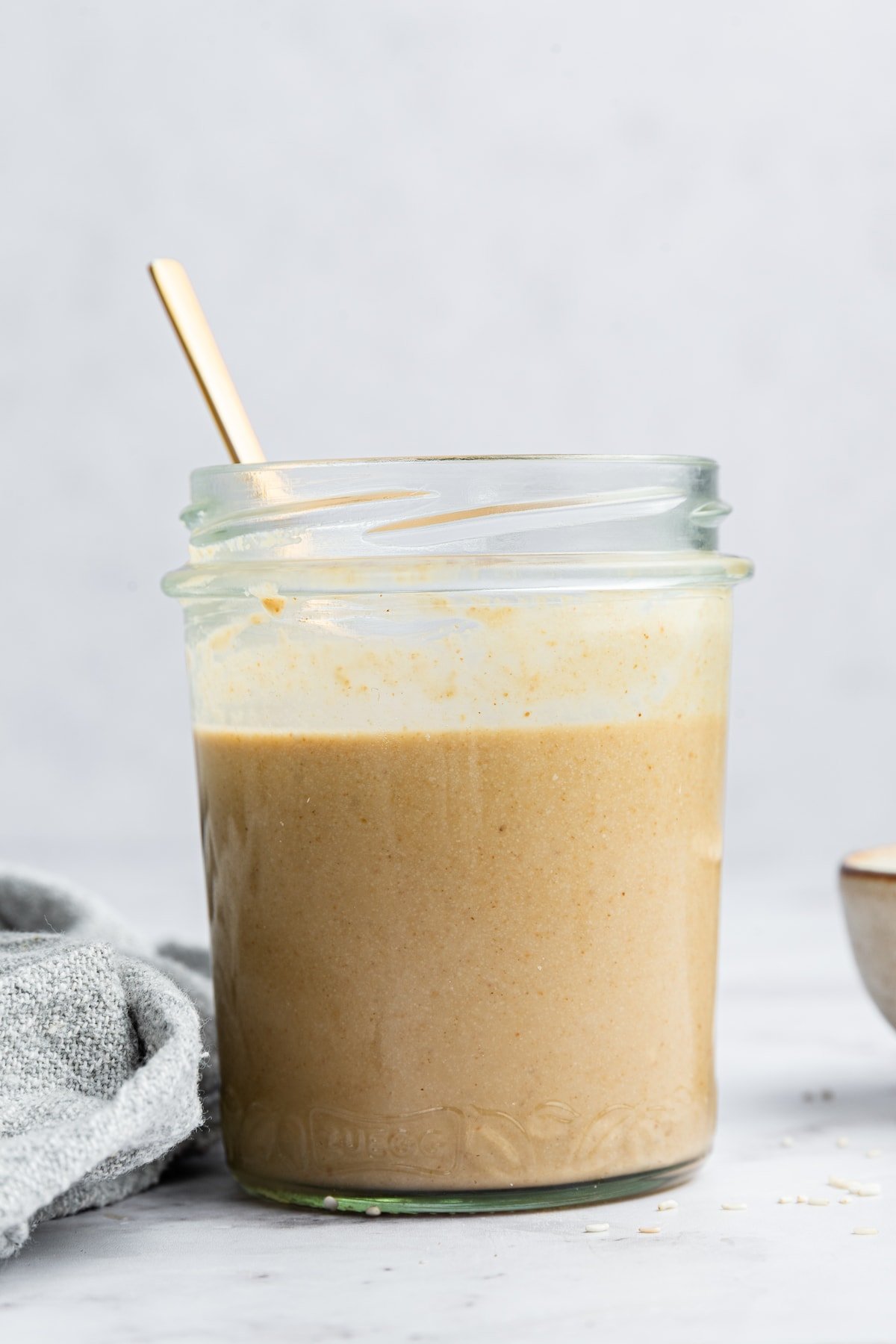 FAQ's
Can I use a blender to make tahini?
I prefer to use my food processor when making tahini, but if you have a high-powered blender like a Vitamix you can use that. You'll probably just have to scrape down the sides more often.
Why is my tahini bitter?
Over-toasting the sesame seeds can lead to a bitter taste. Make sure you toast them on medium-low heat and keep a close eye on them to prevent over-toasting.
Can I make tahini without oil?
Yes, you can, but the texture might not be as creamy. The natural oils from the sesame seeds will be released during processing, but adding additional oil helps achieve the smoothest consistency.
Is there a substitute for sesame seeds in tahini?
The short answer, no. Traditional tahini is made from sesame seeds. However, for a different flavor, you could try using other seeds like sunflower or pumpkin seeds. This won't be considered tahini anymore and the taste will be different, but the process remains the same.
Can I use black sesame seeds?
Absolutely! Black sesame seeds can be used to make tahini, resulting in a darker and slightly different flavor profile. The process remains unchanged.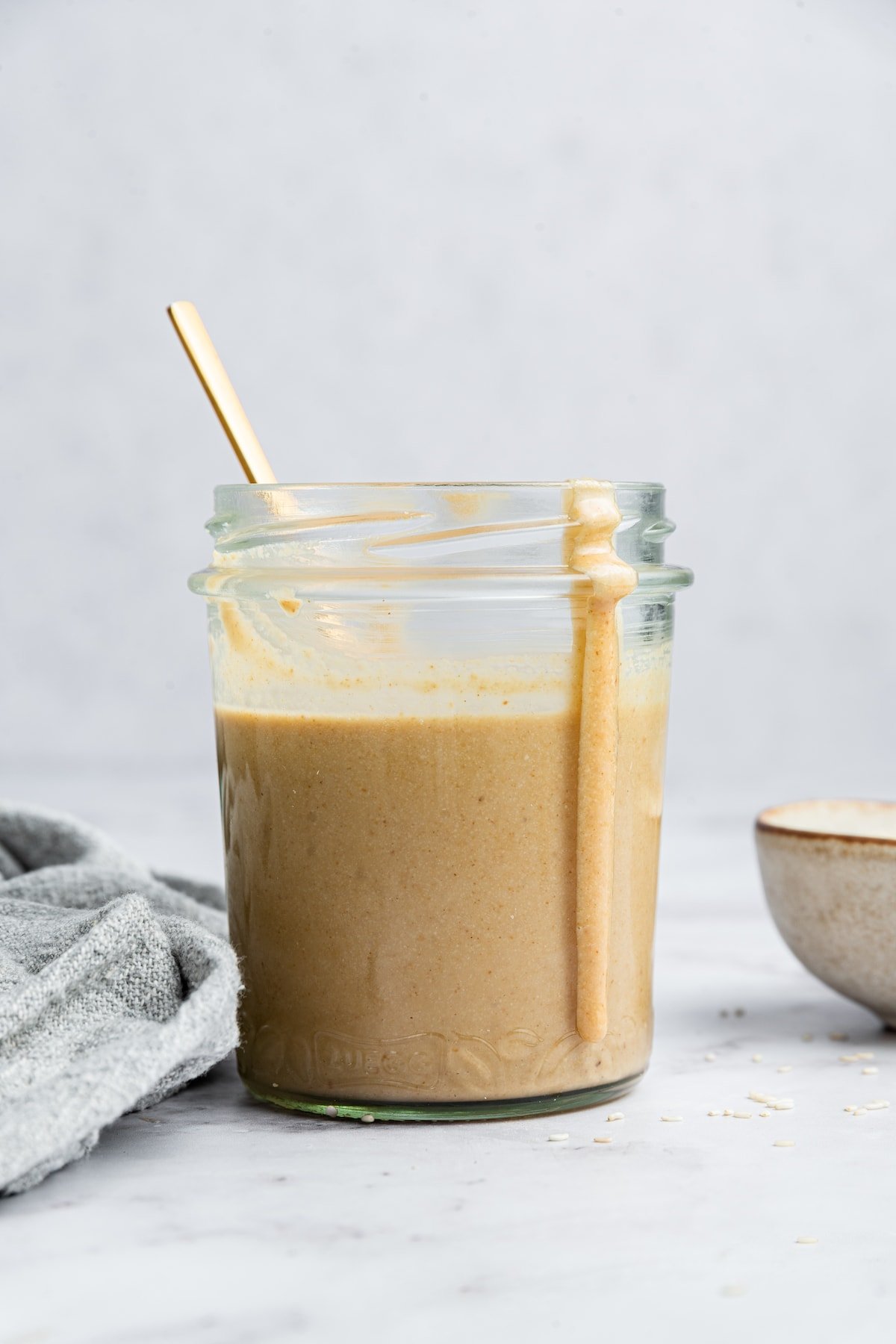 How to Store
At room temp: Transfer your tahini to an airtight container (I like using a 16 ounce wide mouth mason jar) and store in a cool, dark place like your pantry for up to 1 month.
In the fridge: For longer storage you can place your airtight container in the fridge for up to 3 months.
In the freezer: If you make a large batch of tahini, you can also store portions of it in the freezer. Just ensure you leave some space in the container for expansion. When ready to use, thaw it in the refrigerator as use as desired.
Recipe Tip!
Just like with nut butter, separation might occur with your tahini. This is completely normal. Simply give your tahini a good stir before using!
More Tahini Recipes to Try
More Nut & Seed Butter to Try
Be sure to check out all of the tahini recipes as well as the full collection of dips and spreads recipes on EBF!
Serving: 2 Tablespoons | Calories: 145kcal | Carbohydrates: 7g | Protein: 5g | Fat: 15g | Saturated Fat: 2g | Polyunsaturated Fat: 6g | Monounsaturated Fat: 6g | Sodium: 18mg | Potassium: 134mg | Fiber: 4g
Nutrition information is automatically calculated, so should only be used as an approximation.