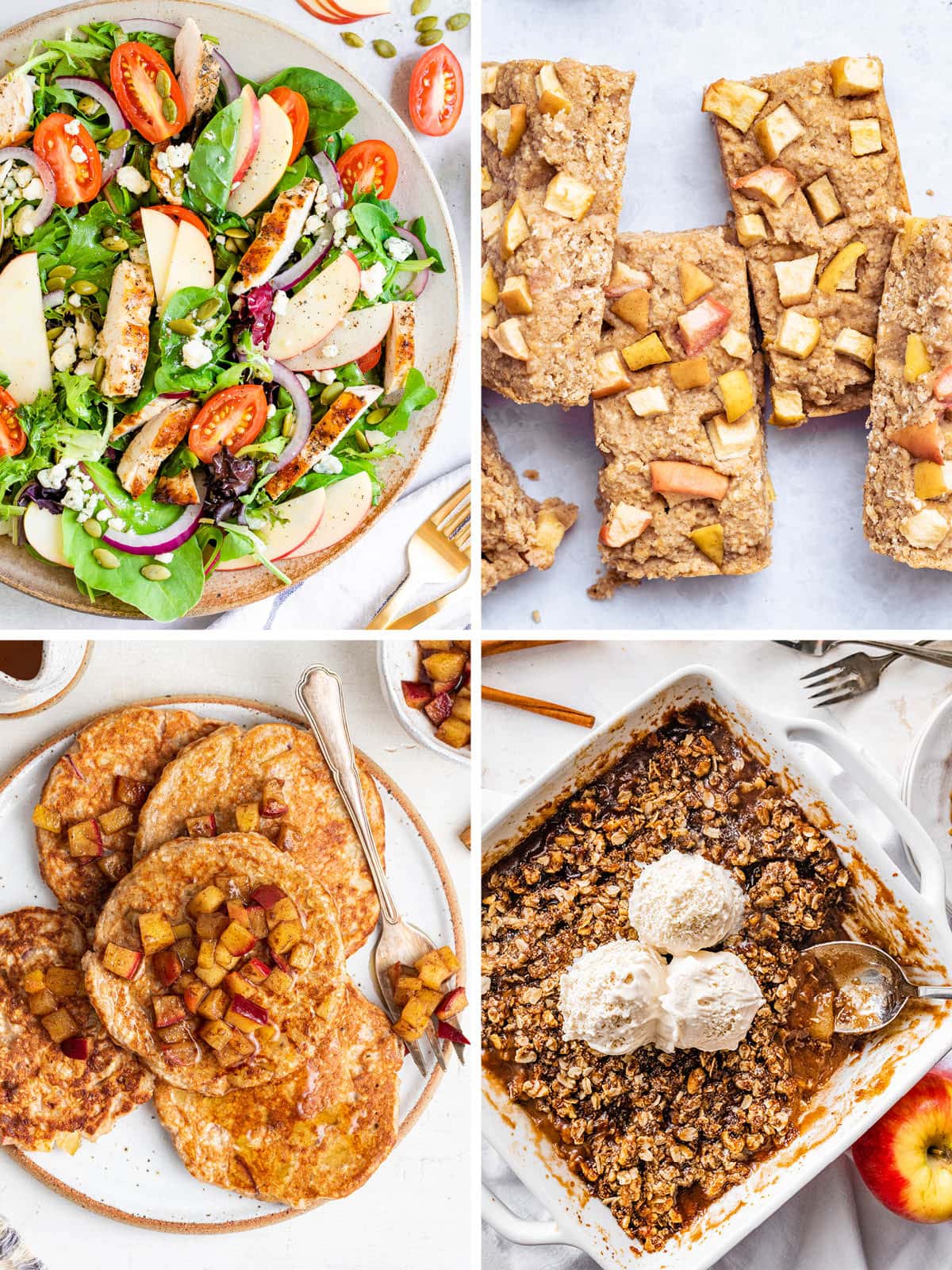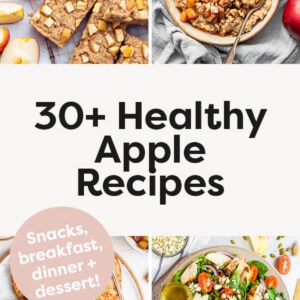 Looking for ways to use up apples this fall? I've got you covered with over 30 healthy apple recipes with everything from breakfast and snacks to dinner and dessert!
I'm so excited because apple season is officially here and I couldn't be more excited to share these 30+ healthy apple recipes with you!
One of my favorite fall activities is going to an apple orchard and coming home with bags of fresh apples. I love slicing them up and serving them with my date caramel sauce, making homemade applesauce or making ALL the apple baked goods like my vegan apple bread and apple cider donuts.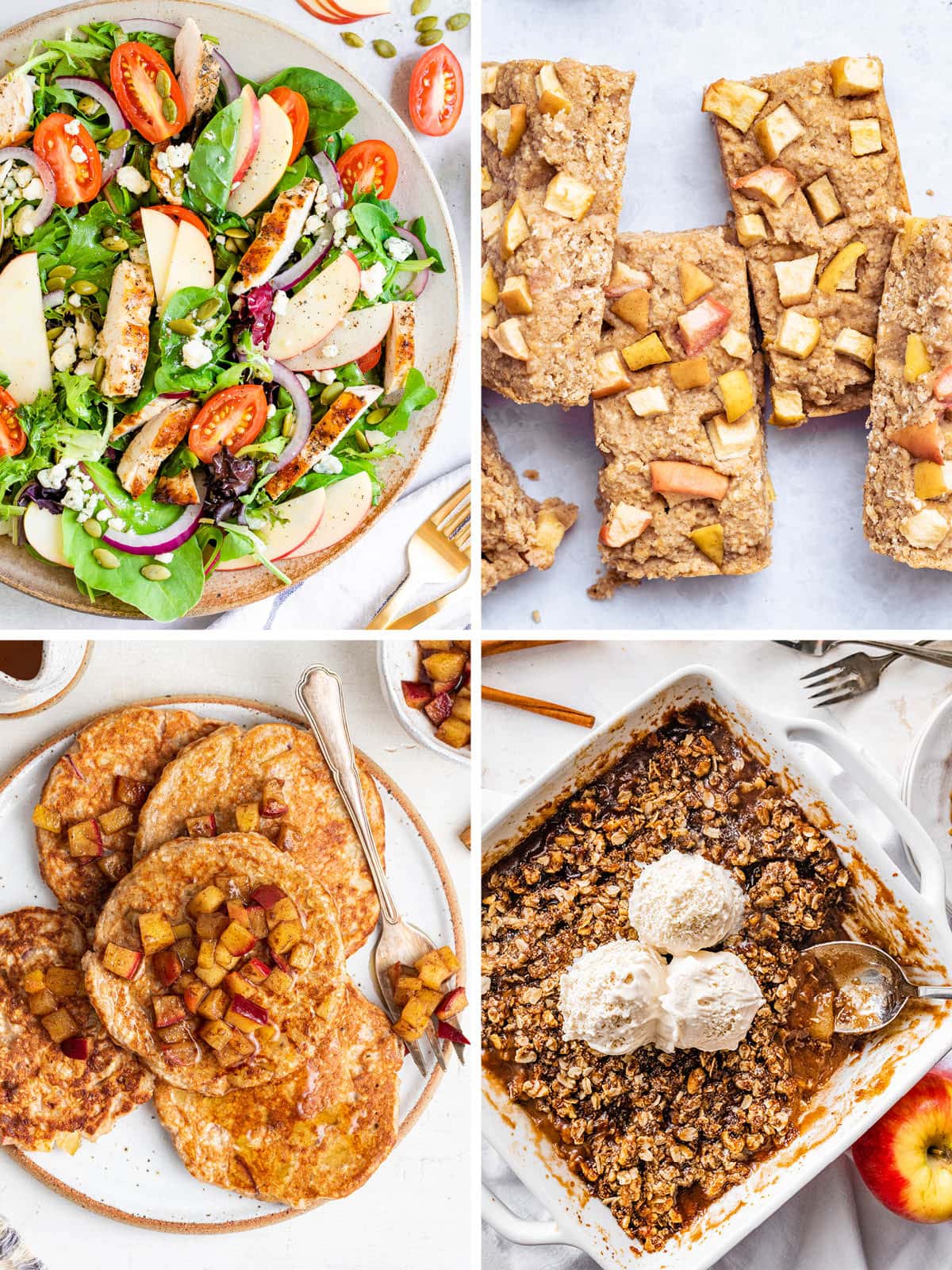 Health Benefits of Apples
Apples aren't just delicious; they come packed with a range of health benefits that make them a smart addition to any diet:
Rich in Fiber: One medium-sized apple contains about 4 grams of dietary fiber, which helps with digestive health.
Nutrient-Dense: Apples are a good source of various vitamins and minerals, including Vitamin C and potassium.
Low in Calories: At just under 100 calories for a medium-sized apple, it's a guilt-free snack that can help with weight management.
Antioxidant Properties: The phytonutrients in apples act as antioxidants, combating free radicals in the body.
Heart Health: The fiber, potassium, and vitamin content in apples all contribute to heart health.
What Apples are Best for Baking & Cooking
When choosing apples for cooking or baking, consider the flavor and texture you want. Here's a breakdown of some popular apple varieties:
Honeycrisp and Pink Lady – my personal favorites! Both of these apples have a nice balance of sweet and tart, suitable for eating fresh, baking or cooking.
Granny Smith – these green apples are tart and keep their shape, making them perfect for baking things like pies and tarts.
Braeburn and Fuji – also good options for cooking, but not so much for baking as they won't hold their shape as well.
Gala and Golden Delicious – these are softer and sweeter varieties, making them good for sauces.
McIntosh – best for recipes like apple butter where you want a softer texture.
Red Delicious – best eaten fresh and not recommended for cooking.
What Can You Make With Apples?
So many things! I love making everything from desserts to oatmeal and salads. It's such a diverse fruit that can be used in sweet and savory dishes. Let's jump into some healthy apple recipes!
Apple Breakfast + Snack Recipes
From oatmeal, pancakes and donuts to applesauce, granola bars and muffins there are so many delicious ways to use apples in various breakfast and snack recipes!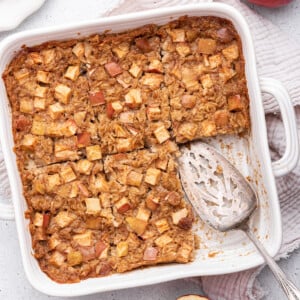 Apple Cinnamon Baked Oatmeal
This apple cinnamon baked oatmeal is inspired by traditional Amish baked oatmeal and studded with apples, raisins and loads of cinnamon flavor. It's the perfect fall breakfast and great for meal prep.
Apple Dutch Baby
This apple dutch baby is a fun take on a classic dutch baby pancake. It's puffy, sweet and such an impressive (but easy) dish to serve for breakfast, brunch or even dessert.
Healthy Apple Pancakes
Healthy apple pancakes made with oats and cottage cheese. They taste decadent, but are packed with protein and fiber.
Apple Cinnamon Oatmeal
This creamy apple cinnamon oatmeal recipe is studded with fresh apples and loaded with fall flavor. It comes together quickly and is the perfect warm breakfast to enjoy on chilly mornings.
Single Serve Apple Cinnamon Baked Oatmeal
This easy apple cinnamon baked oatmeal recipe makes just one serving! It's loaded with flavor and the perfect cozy breakfast for one.
Vegan Apple Bread
This vegan apple bread is studded with fresh apples and has a delicious cinnamon pecan topping and creamy glaze. It's the perfect loaf for fall!
Apple Cinnamon Baked Steel Cut Oatmeal
This apple cinnamon baked steel cut oatmeal recipe is a lovely make-ahead breakfast option for busy mornings. Studded with sweet apple chunks, raisins and cinnamon, these oats will satisfy your taste-buds and keep you feeling full all morning.
Bircher Muesli (Chilled Swiss Oatmeal)
This Bircher muesli (also called chilled Swiss oatmeal) is loaded with crunchy apples, dried fruit and nuts. Full of fiber and protein, plus easy to make ahead of time!
Apple Yogurt Muffins
These apple yogurt muffins are studded with apples and packed with cinnamon flavor. They're soft, fluffy and extra moist thanks to the Greek yogurt. Perfect for meal prep!
Healthy Apple Cinnamon Muffins
These healthy apple cinnamon muffins are made with a blend of whole wheat and all-purpose flour. They're loaded with fall flavor and extra moist thanks to pumpkin!
Baked Apple Cider Donuts
The perfect fall treat, these baked apple cider donuts are made a healthier with whole wheat pastry flour, coconut sugar, Greek yogurt and coconut oil.
Apple Cinnamon Oatmeal Cups
These apple cinnamon baked oatmeal cups are loaded with cinnamon flavor and studded with small pieces of diced apple.
Apple Pie Overnight Oats
Eat dessert for breakfast with these healthy apple pie overnight oats. You'll love the cozy cinnamon apple flavor and that they can be made ahead of time.
Morning Glory Muffins
Packed with fruit, carrots, walnuts and rolled oats, these morning glory muffins are hearty, filling and perfect way to start the day!
Apple Cinnamon Steel Cut Oatmeal
Apple cinnamon oatmeal made with steel cut oats and filled with soft apple chunks. You can make this oatmeal in your slow cooker or Instant Pot for a warm, filling breakfast that's loaded will fall flavors.
Apple Oatmeal Bars
These healthy apple oatmeal bars are made with wholesome ingredients and studded with fresh apple chunks. They're kid-friendly, portable and perfect for meal prep. Vegan + gluten-free.
How to Make Applesauce
Homemade applesauce is a breeze to make and even more delicious than the store-bought stuff. It's great for snacking or to use in recipes!
Healthy Apple Butter
This healthy homemade apple butter is made in the slow cooker without any added sugar. Enjoy as a spread on toast or stir into a warm bowl of oatmeal.
Apple Granola Bars
These apple granola bars are the perfect fall snack with dried apple chunks, white chocolate chips and cinnamon. They're both chewy and crispy and are so delicious.
Apple Samoas with Date Caramel
These apple samoas are super simple and fun to make. Just top apple rings with date caramel, toasted coconut and chocolate. A great kid-friendly recipe!
Apple Nachos
These healthy apple nachos are sure to satisfy even the strongest sugar craving. Sliced apples are piled high and topped with date caramel, chocolate chips and nuts.
Apple Dessert Recipes
One of my favorite ways to use up apples during the fall is to make some type of apple dessert… apple crisp, apple cake, baked apples… I'll take them all!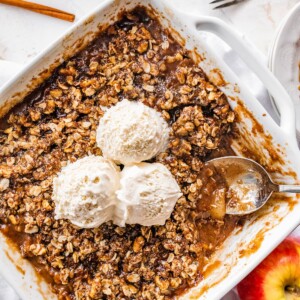 Healthy Apple Crisp
This healthy apple crisp is lightly sweetened with maple syrup and features a crunchy oatmeal topping. This recipe is sure to be a fall family favorite!
Dutch Apple Pie
This healthier Dutch apple pie combines a sweet cinnamon apple filling with a delicious oat crumble topping. Serve it warm with vanilla ice cream for the ultimate fall dessert.
Apple Cake
This delicious gluten-free apple cake is made with a blend of almond and oat flour, studded with fresh apples and has a delicious cinnamon pecan crumb topping. It's moist, tender and the perfect fall dessert!
Baked Apples
These cozy baked apples are filled with a buttery cinnamon sugar oat crumble and super easy to make. Enjoy warm with ice cream and a drizzle of date caramel sauce for the ultimate fall dessert!
Mini Raw Apple Pies
These raw mini apple pies are made with all whole foods and no processed sugar, flour, dairy, etc. They're raw, vegan, gluten-free and packed with nutrients. These mini apple pies are perfect to satisfy your fall sweet tooth!
Vegan Apple Pie Filling
This healthy apple pie filling is vegan, naturally sweetened with dates and perfectly spiced with ground cinnamon and nutmeg.
Healthy Apple Crumble Bars
These healthy apple crumble bars are vegan, gluten-free, and made with wholesome ingredients and fresh apples. You'll love the cinnamon apple filling paired with the oatmeal crumble crust and topping!
Savory Apple Recipes
Yes, apples are just as delicious in savory dishes as they are in sweet ones. I love adding fresh apples to salads, but they also make for a great addition to soups and other protein dishes.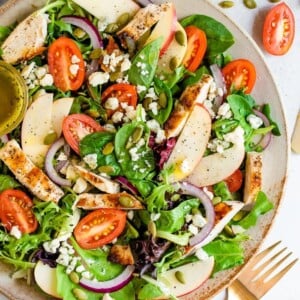 Fuji Apple Salad
This delicious meal-sized salad is inspired by Panera's Fuji apple salad with fresh apple slices, gorgonzola, tomatoes, pepitas and a white balsamic vinaigrette.
Easy Apple Slaw
This easy apple slaw features red cabbage, spinach, quinoa and a creamy tahini dressing. It's mayo-free and a healthy and unique twist on traditional coleslaw.
Roasted Harvest Bowls
These roasted harvest bowls combine maple turmeric chicken, roasted butternut squash and brussels sprouts and crisp apple chunks all served over a bed of kale drizzled with an apple cider vinaigrette dressing.
Meal Prep Detox Salad
This meal prep detox salad combines quinoa, edamame, kale, cabbage and apple with a delicious sesame ginger dressing. It's packed with plant-based protein and perfect for traveling or an office lunch! Vegan + gluten-free.
Fig Salad
An easy fig salad with arugula, chopped apples, dried cranberries, pecans and goat cheese topped with a delicious balsamic dressing. Perfect as a light lunch, side salad or topped with protein for a meal sized salad.
Waldorf Salad
This Waldorf salad is loaded with apples, celery and walnuts. It's crisp, crunchy, refreshing and perfect served as a light appetizer or side salad.
Butternut Squash Soup
This creamy butternut squash soup pairs butternut squash with coconut milk, carrots, fresh ginger and sage for delicious soup with a vibrant orange color.
Fall Harvest Spinach Salad
Loaded with fall favorites like butternut squash, chopped apples and dried cranberries, this fall harvest spinach salad is packed with nutrition and flavor.
Chicken Waldorf Salad
This healthy chicken Waldorf salad uses grilled chicken and a light dressing that blends mayo with Greek yogurt! Great for sandwiches, wraps and salads.
More Collections to Check Out
Nutrition information is automatically calculated, so should only be used as an approximation.