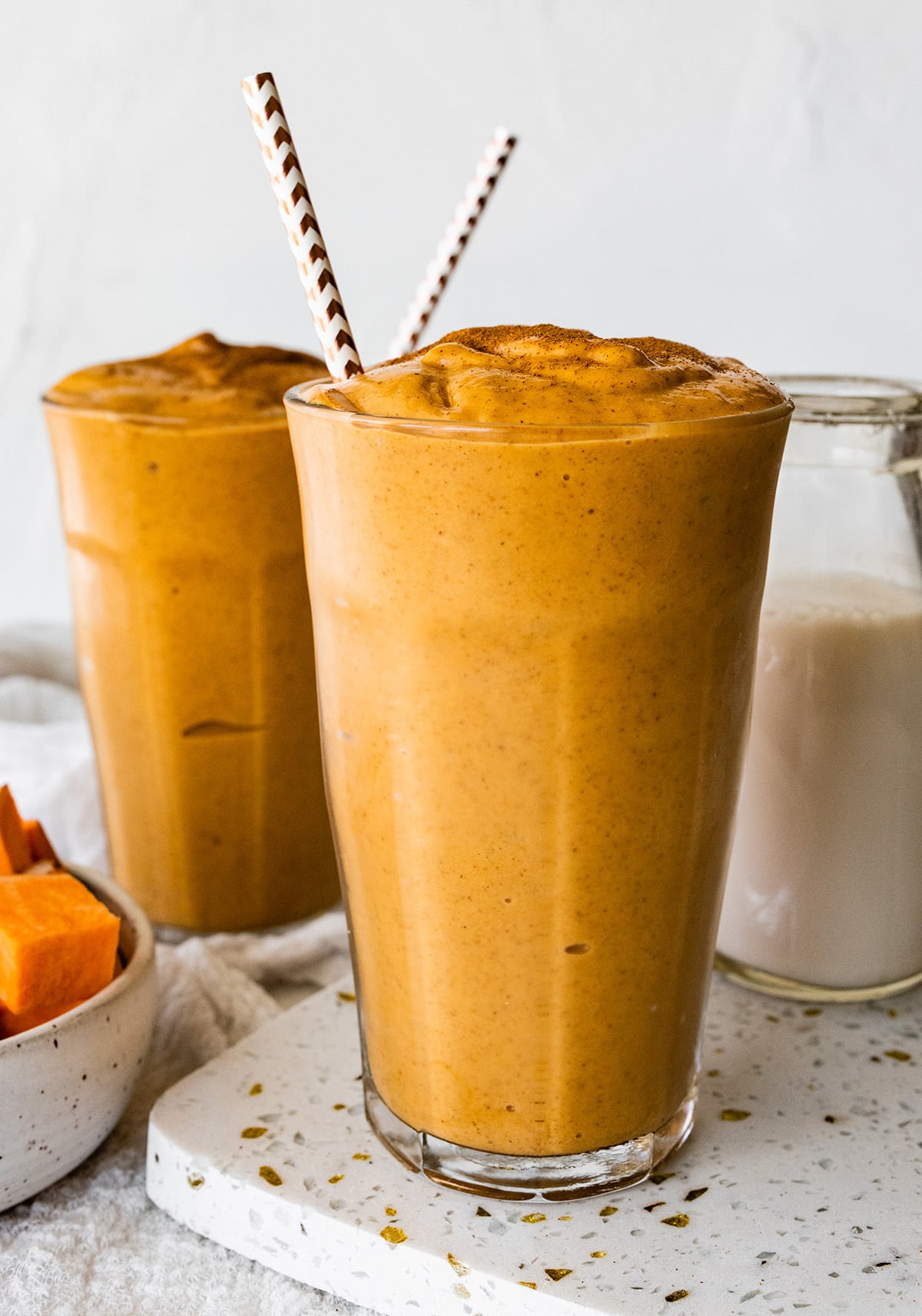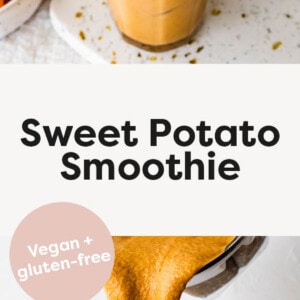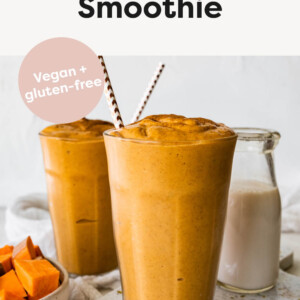 Made with sweet potato, banana, protein powder and cinnamon this sweet potato smoothie tastes just like a slice of sweet potato pie and is packed with 20+ grams of protein. It's creamy, easy to whip up, vegan + gluten-free.
If you're a fan of sweet potato pie you're going to love this sweet potato smoothie!
This smoothie is the perfect recipe for days when you're craving fall flavors, but the weather is still warm enough to enjoy drinking a cold smoothie. It tastes like dessert, but has no added sugar and is jam-packed with over 20 grams of protein, making it a great breakfast option or post-workout treat.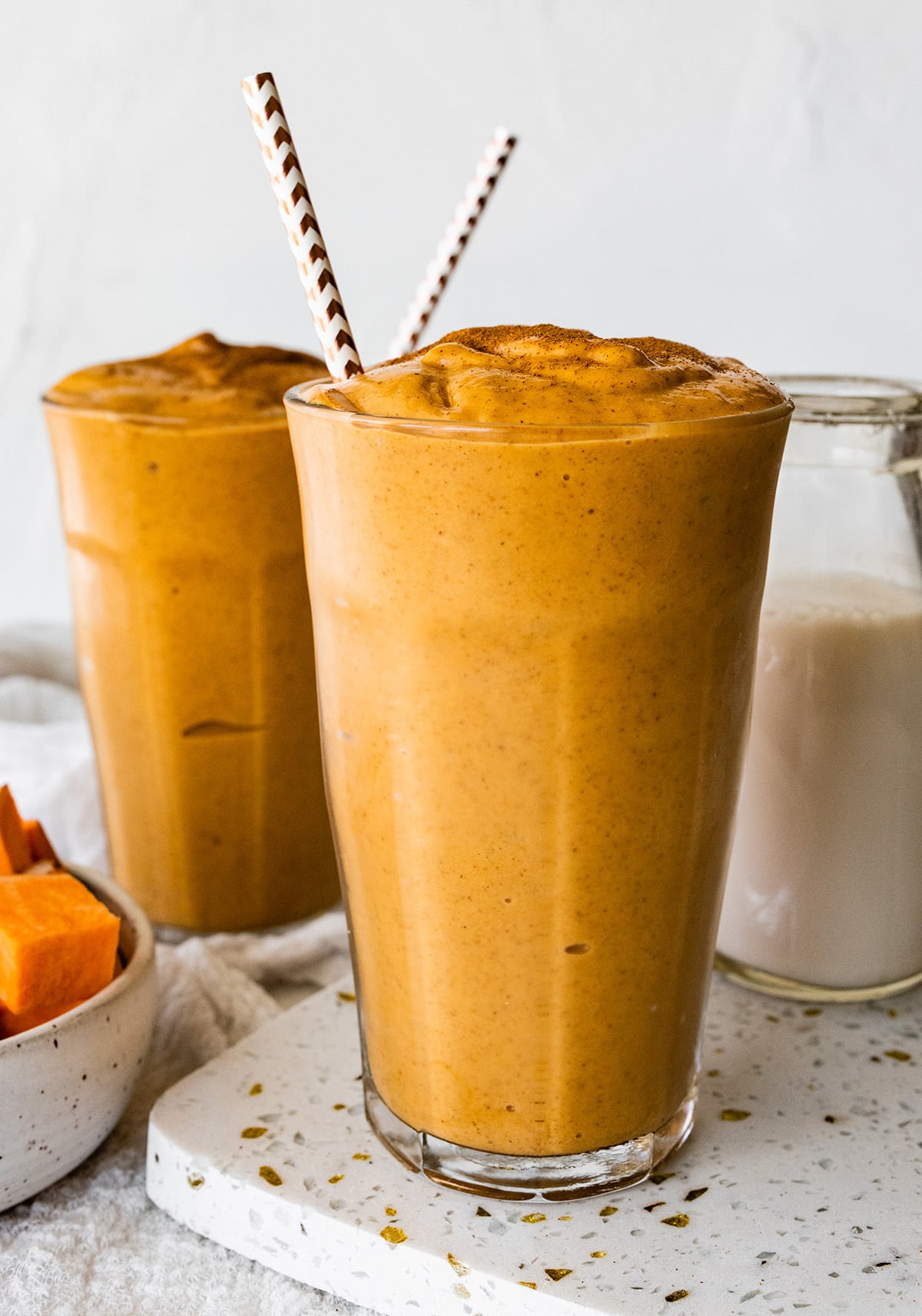 Why You'll Love This Smoothie
Tastes like dessert: It tastes like a slice of sweet potato pie in liquid form!
Loaded with nutrients: Packed with vitamins, minerals, fiber and potassium thanks to the sweet potato and banana.
No added sugar: There's no added sugar! All the sweetness comes from the banana, sweet potato and vanilla protein powder.
Packed with protein: This smoothie has over 20 grams of protein, making it a filling breakfast option or a satisfying post-workout treat.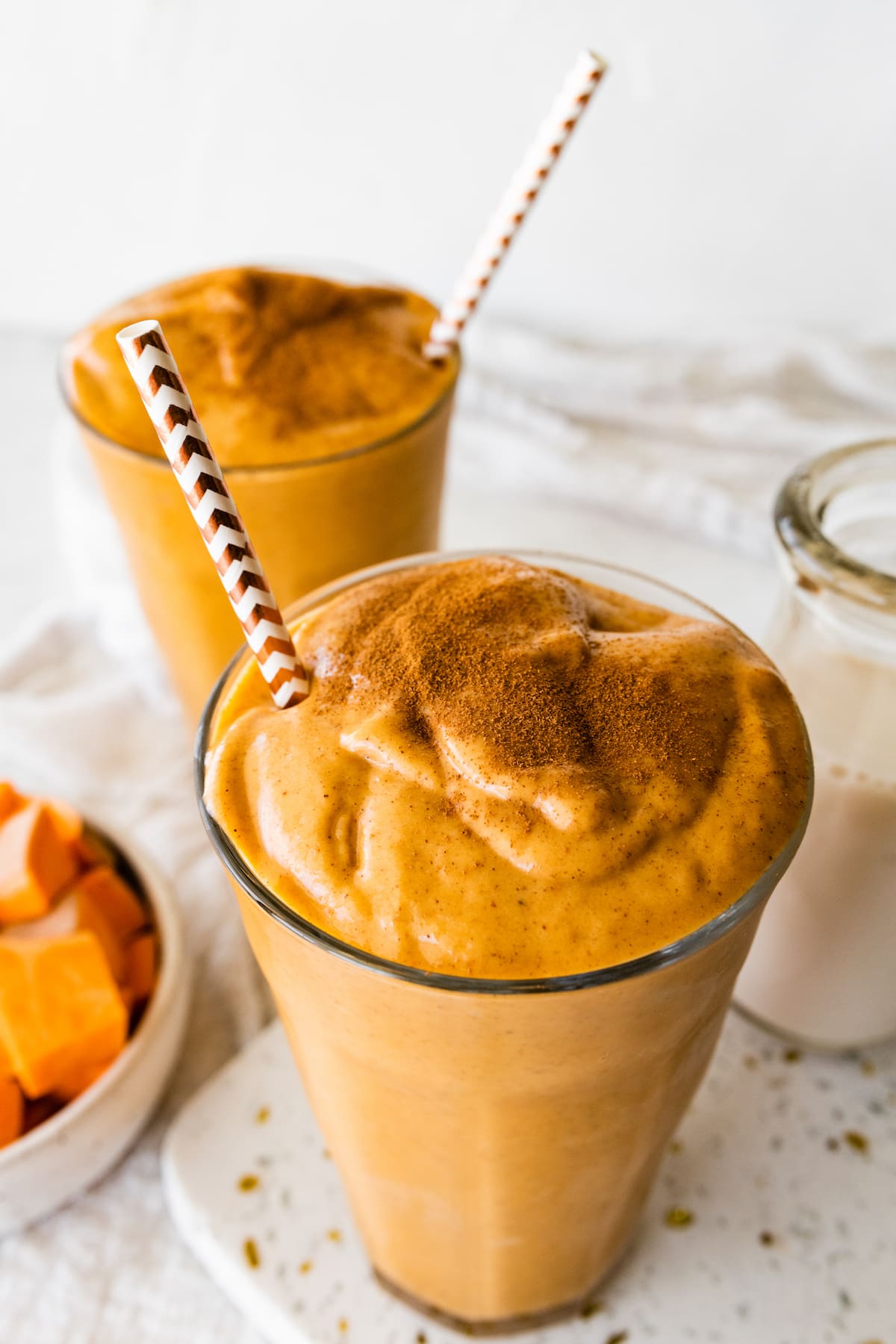 Sweet Potato Health Benefits
Sweet potatoes are a nutritional powerhouse and including them in your diet, even in smoothie form, offers various benefits such as:
Rich in Antioxidants: Sweet potatoes are a great source of beta-carotene, which the body converts into vitamin A, essential for good vision and a healthy immune system.
Boosts Brain Function: The anthocyanins in purple sweet potatoes protect the brain by reducing inflammation and preventing free radical damage.
Source of Vitamin C: Apart from being an antioxidant, vitamin C in sweet potatoes supports the immune system and aids in iron absorption.
Digestive Health: They contain a good amount of fiber which aids in digestion and promotes a healthy gut.
Supports Immune Function: The high amounts of vitamin A in sweet potatoes support a healthy immune system.
Blood Sugar Regulation: Sweet potatoes have a lower glycemic index than regular potatoes, which helps in regulating blood sugar levels.
Ingredients Needed + Substitutions
unsweetened almond milk – this serves as the liquid base of your smoothie. I like using unsweetened almond milk, which helps to make the smoothie creamy without adding extra sugars. Oat milk, coconut milk or cashew milk would all be great options and add more creaminess, but feel free to use your favorite type of dairy-free or regular dairy milk.
frozen sweet potato puree – what gives this smoothie its unique flavor and rich, velvety texture. Plus, sweet potato is packed with fiber, vitamins and minerals! I used frozen sweet potato puree, which helps achieve a super creamy texture. You can make homemade sweet potato puree or use store-bought puree. My favorite brand is Farmer's Market organic sweet potato puree.
frozen banana – frozen banana adds creaminess and natural sweetness. You can follow my guide on how to freeze bananas for smoothies.
vanilla protein powder – the main source of protein. I personally love Nuzest protein powder. It's vegan, has minimal ingredients and tastes delicious. (Use code eatingbirdfood for 15% off your order). That said, feel free to use your favorite brand of protein powder.
almond butter or cashew butter – adds a dose of healthy fats and a subtle nutty flavor. Feel free to use any nut or seed butter of choice. Sunflower seed butter would be a good option for a nut-free version.
ground cinnamon & nutmeg – these warm spices elevate the overall taste of the smoothie, making it reminiscent of a sweet potato pie.
vanilla extract – the perfect flavor enhancer.
How to Make
This is a super simple recipe to follow. Just gather all your ingredients, add them to a high-speed blender and blend until smooth and creamy, adding more milk as needed to reach your desired consistency.
Pour the smoothie into a glass, top with a dash of ground cinnamon if desired and enjoy!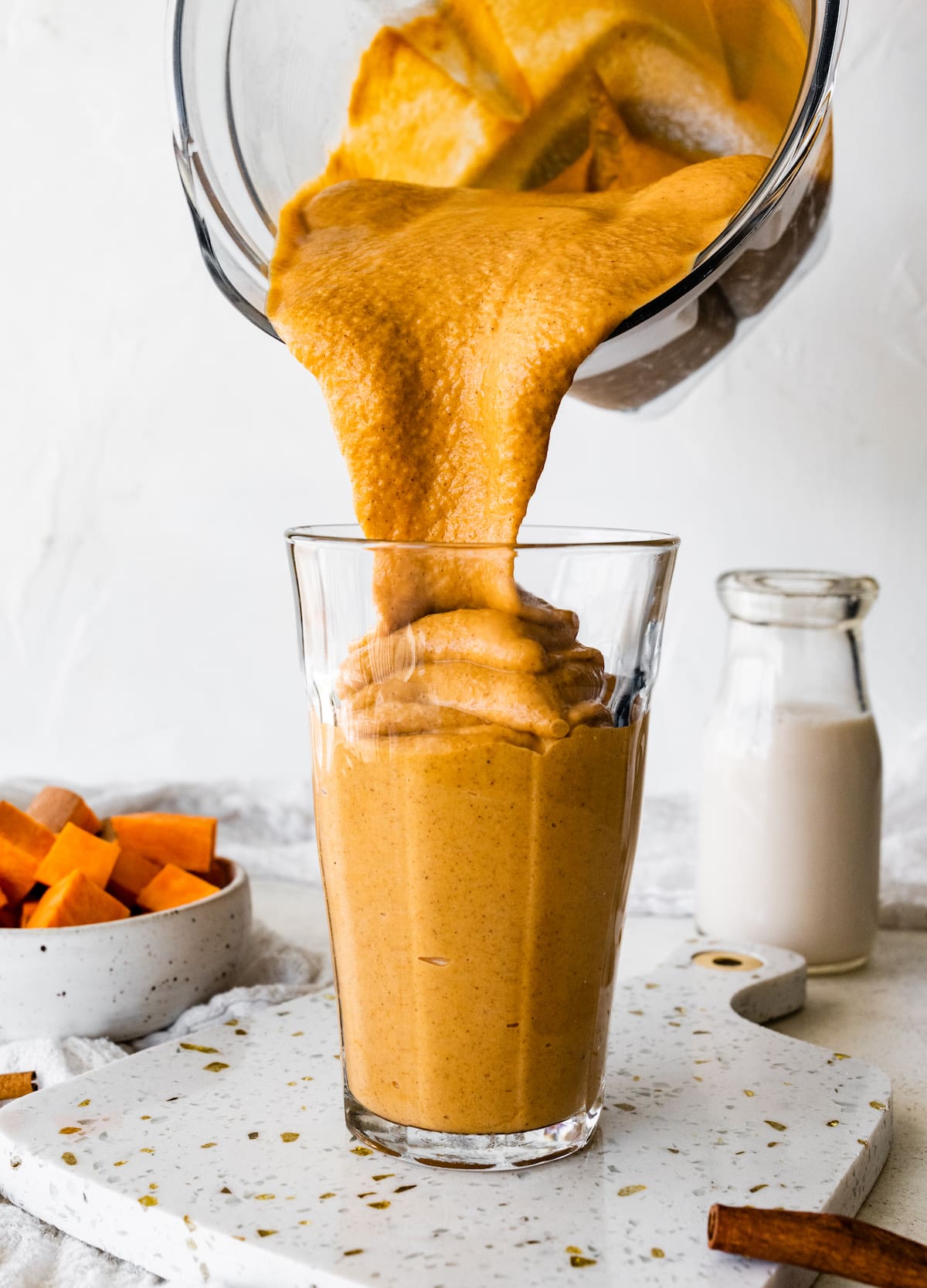 How to Freeze Sweet Potato Puree
If you're making sweet potato puree at home you can follow my full guide on how to make sweet potato puree. Once you have your sweet potato puree I recommend freezing it in silicone ice cube trays. If your ice cube tray is 2 ounces each then you'd need 4 cubes to equal 1 cup.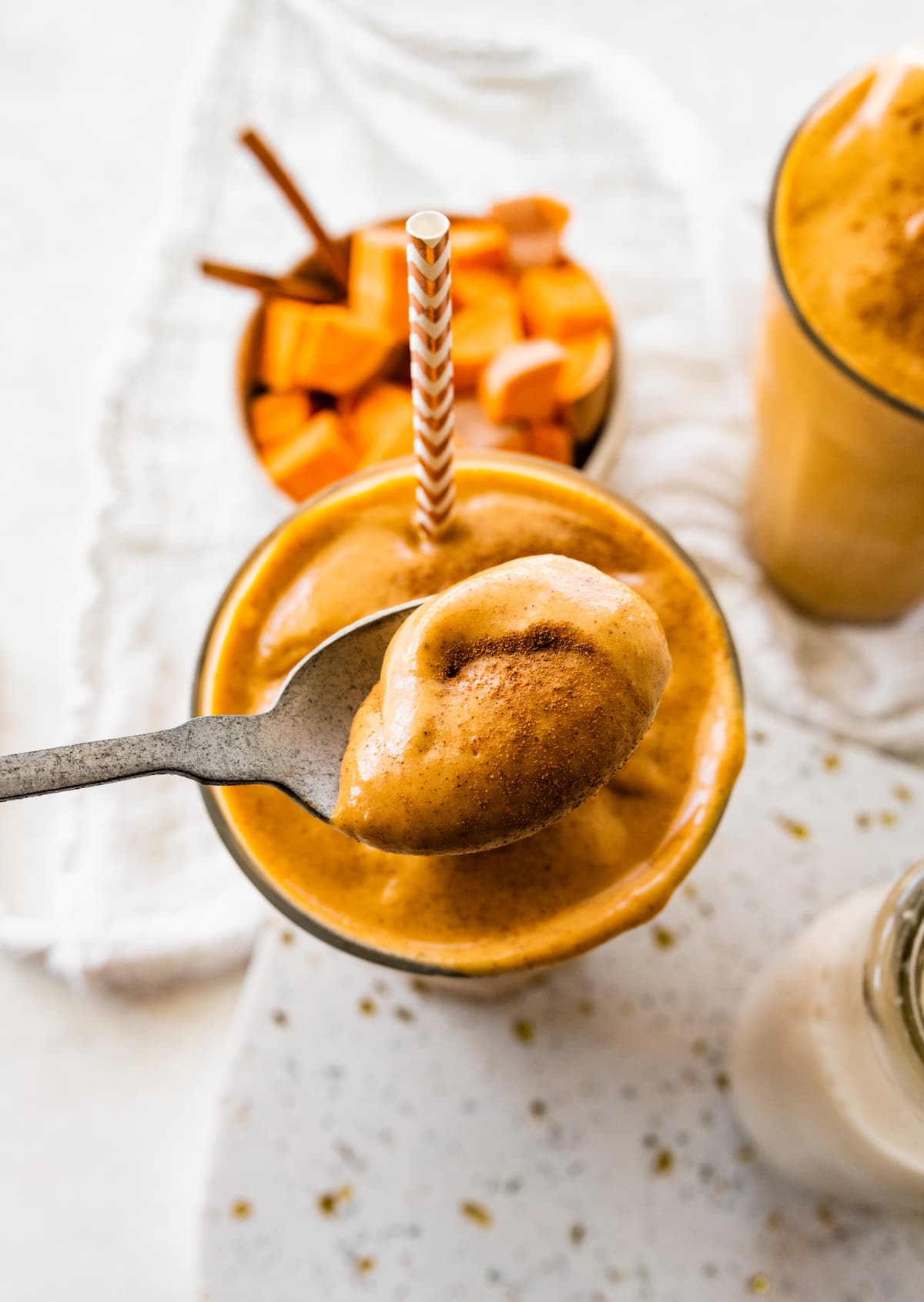 Sweet Potato Smoothie Variations
Spice it up: For more flavor add a pinch of ground ginger, turmeric or cardamom
Add greens: Toss in a handful of spinach or kale for an added nutrient kick without a strong taste.
Chocolate sweet potato: Use chocolate protein powder or add 1-2 Tablespoons of unsweetened cocoa powder for a chocolatey spin.
Added veggies: Want to add even more veggies to this smoothie? Add some frozen cauliflower rice or sliced carrots for an added nutrient boost.
Add more protein: Add more protein to this smoothie by adding a scoop of hemp seeds, chia seeds, flax seeds or raw nuts like almonds or cashews.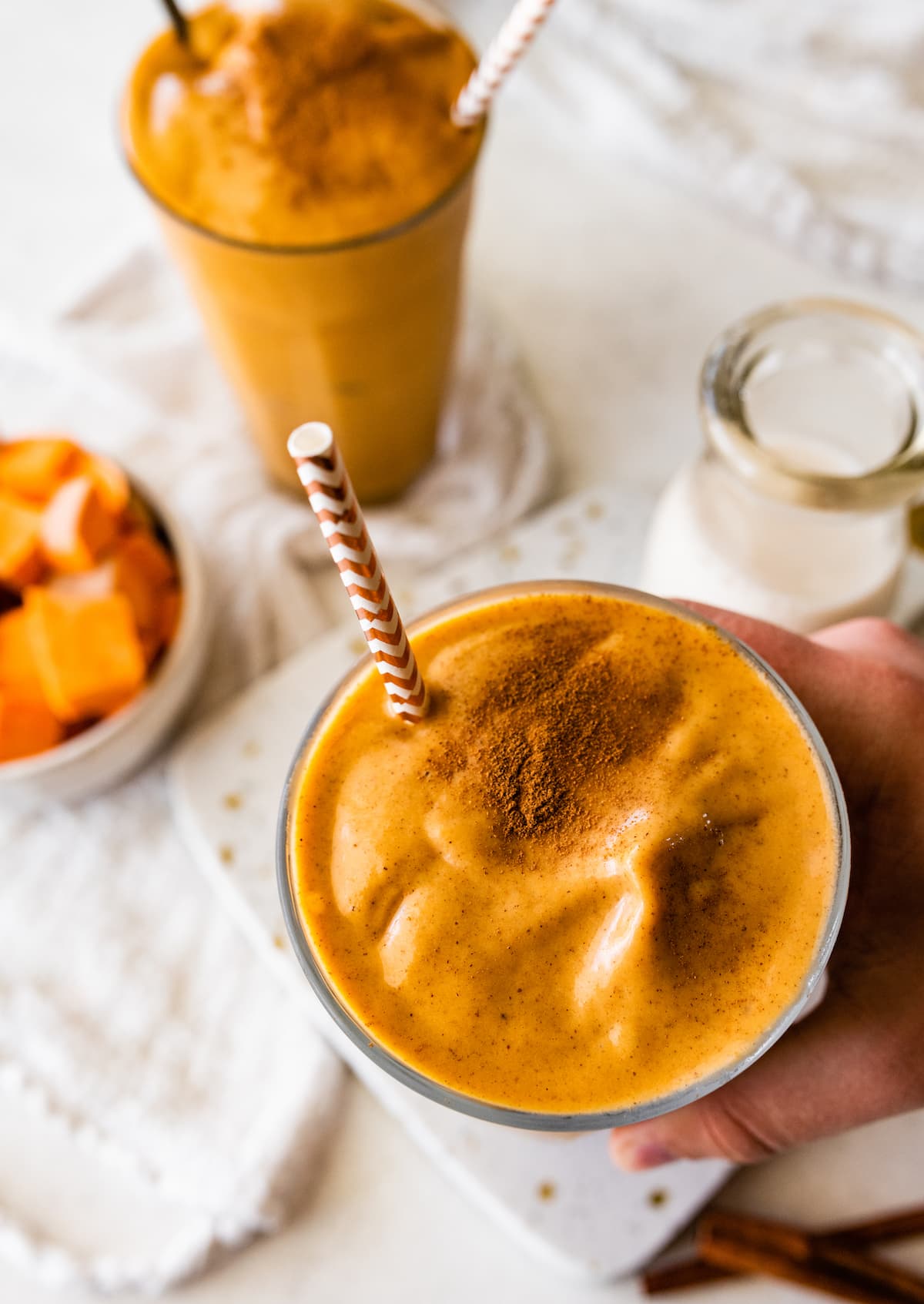 FAQs
Can I use sweet potatoes without freezing them?
Yes, you can. However, using frozen sweet potato puree gives the smoothie a thicker consistency and a cooler temperature. If using fresh sweet potato puree, you might want to add a handful of ice cubes to achieve a cold, thick smoothie.
Can I use a regular potato instead of sweet potato?
While you can, I wouldn't recommend it. Sweet potatoes offer a distinct flavor and are naturally sweeter, which complements the other ingredients in this smoothie. Regular potatoes might not provide the same taste profile.
I don't have protein powder; can I skip it?
The vanilla protein powder helps achieve that dessert flavor without added sugar, so while you can definitely skip the protein powder it will result in a different flavor.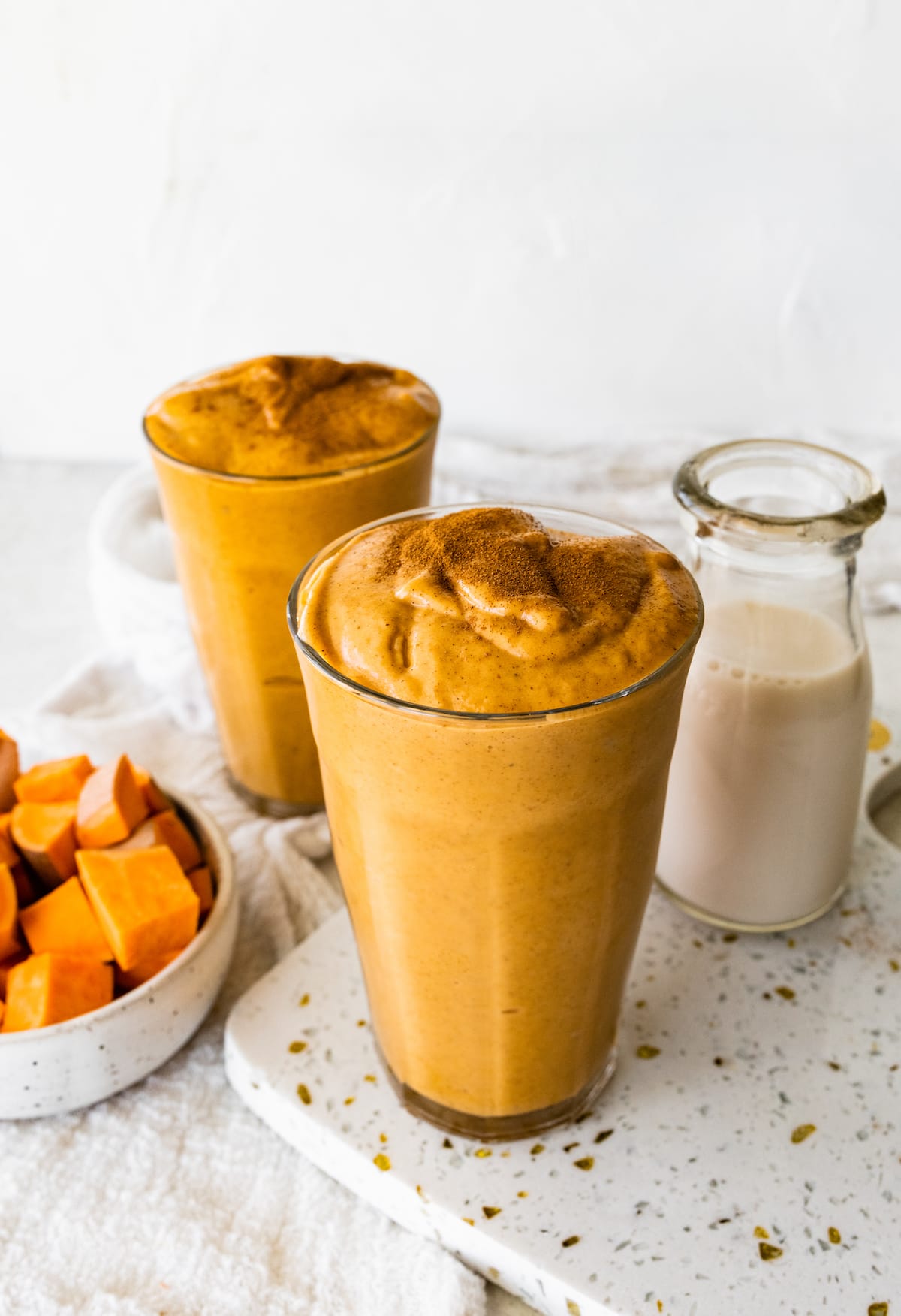 More Sweet Potato Recipes
More Smoothie Recipes
Be sure to check out all the sweet potato recipes as well as the full collection of smoothie recipes on EBF!
Add all ingredients to a high-speed blender and blend until smooth and creamy, adding more milk as needed to reach desired consistency.

Pour into a glass and enjoy!
Serving: 1 smoothie | Calories: 529kcal | Carbohydrates: 79g | Protein: 30g | Fat: 12g | Saturated Fat: 1g | Sodium: 656mg | Potassium: 1291mg | Fiber: 12g | Sugar: 30g
Nutrition information is automatically calculated, so should only be used as an approximation.