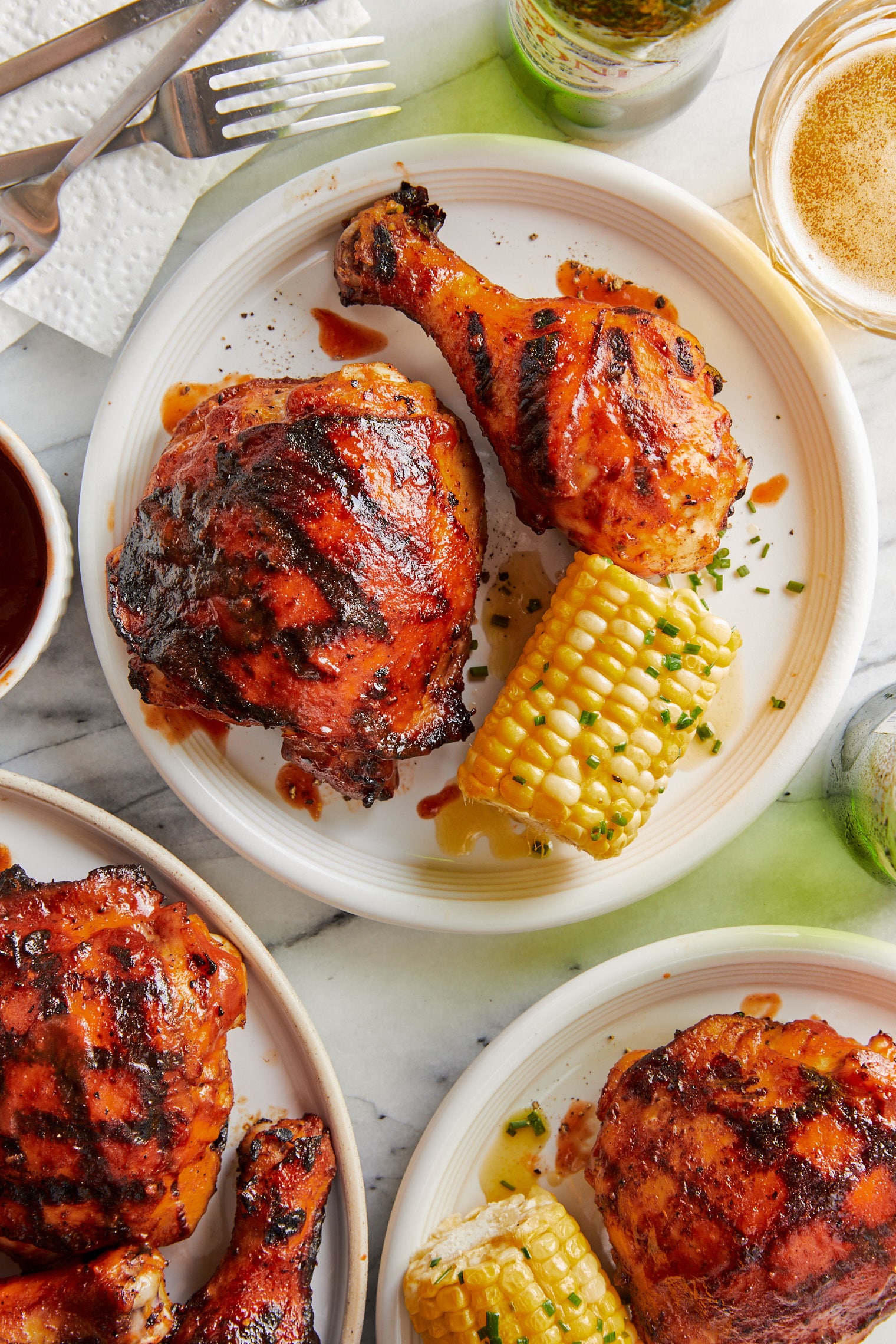 This post may contain affiliate links. Please see our privacy policy for details.

Tender, juicy chicken grilled to perfection with a sweet and sticky barbecue glaze! Includes the easiest marinade ever.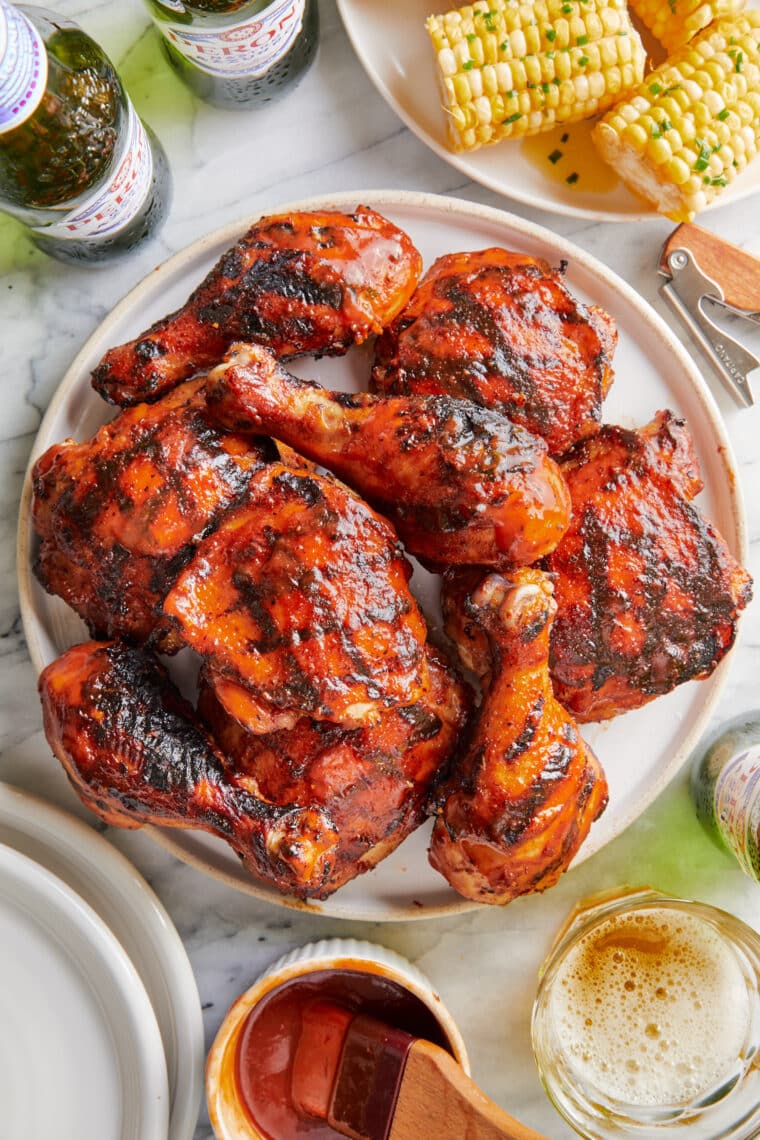 Nothing screams the best part of summer better than oh-so-sticky, sweet BBQ chicken thrown on a grill served alongside some corn on the cob with the coldest beer you can find.
It's truly my favorite thing about summer, whether I'm making this for a quick weeknight meal or when I'm having some company around since it's a crowd-favorite for all.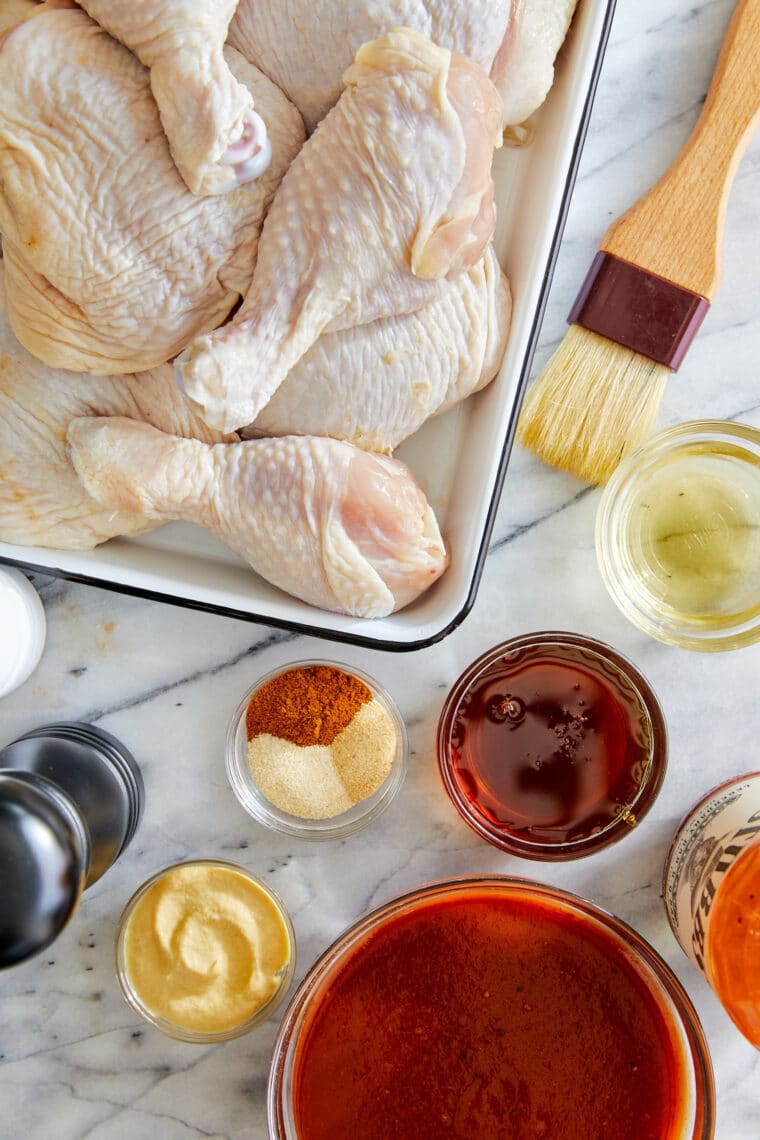 The marinade comes together fast too using your favorite BBQ sauce – sweet, tangy, spicy, you can use whichever you prefer.
And you can prep everything the night before so all that's left to do is to fire up that grill for some super easy entertaining. Serve with your favorite sides for a complete meal – my personal favorites are this and this.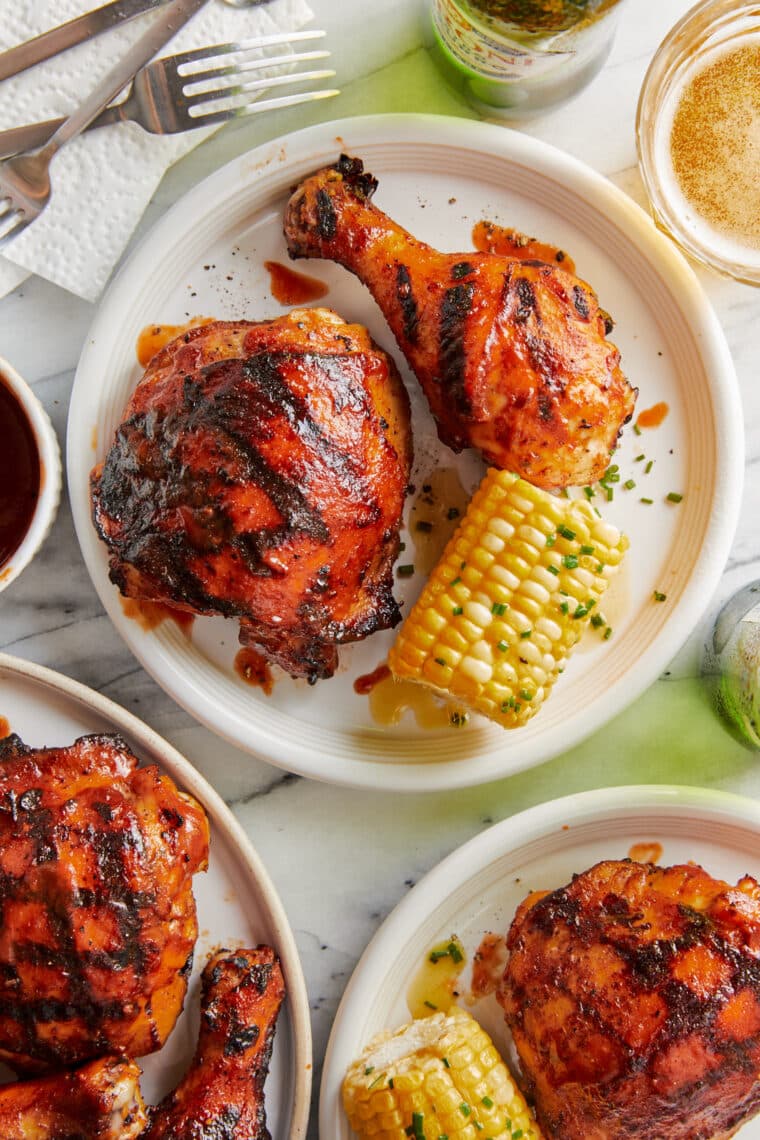 WHAT BBQ SAUCE DO YOU RECOMMEND?
We love Stubb's Original BBQ Sauce – it's not a very sweet BBQ sauce so it works very well in this recipe but if you have a sweeter BBQ sauce you prefer, I recommend skipping the honey.
DO I HAVE TO USE CHICKEN THIGHS AND DRUMSTICKS?
Not at all. You can use all chicken thighs or all drumsticks, a combination of both, or any part of the chicken you prefer.
WHY DO I HAVE TO COOK ON THE COOLER SIDE OF THE GRILL?
Once your chicken is beautifully charred all over, you'll want to move your chicken to the cooler side of the grill to prevent any kind of burning (you do not want a hot, direct source of heat here).
HOW DO I GET THAT STICKY GLAZE?
BBQ sauce contains quite a bit of sugar that tends to burn very easily at high heat. So for that thick, sweet and sticky glaze, you'll want to brush on that BBQ sauce mixture towards the very end, around the last 3-5 minutes of cooking time.
3 pounds skin-on chicken thighs and drumsticks
Kosher salt and freshly ground black pepper, to taste
1 ½ cups BBQ sauce, such as Stubb's Original BBQ Sauce
3 tablespoons honey
2 tablespoons Dijon mustard
2 tablespoons apple cider vinegar
2 teaspoons smoked paprika
1 teaspoon onion powder
1 teaspoon garlic powder
1 ½ tablespoons canola oil
Season chicken thighs and drumsticks with 1 1/2 teaspoons salt and 1 teaspoon pepper.

BBQ SAUCE MIXTURE: In a medium bowl, combine BBQ sauce, honey, Dijon, vinegar, paprika, onion powder and garlic powder. Reserve 1 cup and set aside.

In a gallon size Ziploc bag or large bowl, combine chicken and BBQ SAUCE MIXTURE; marinate for at least 4 hours to overnight, turning the bag occasionally. Drain the chicken from the marinade.

Using paper towels, pat chicken dry. Brush with canola oil; season with salt and pepper, to taste.

Preheat grill to medium heat.

Add chicken to grill, and cook, turning occasionally, until lightly charred all over, about 3-4 minutes per side.

Increase heat to medium high heat; move chicken to cooler side of the grill. Cover and cook, turning occasionally, until the chicken is completely cooked through, reaching an internal temperature of 165 degrees F, about 15-20 minutes.

Brush with reserved BBQ SAUCE MIXTURE, cooking for an additional 3-5 minutes.

Serve immediately.