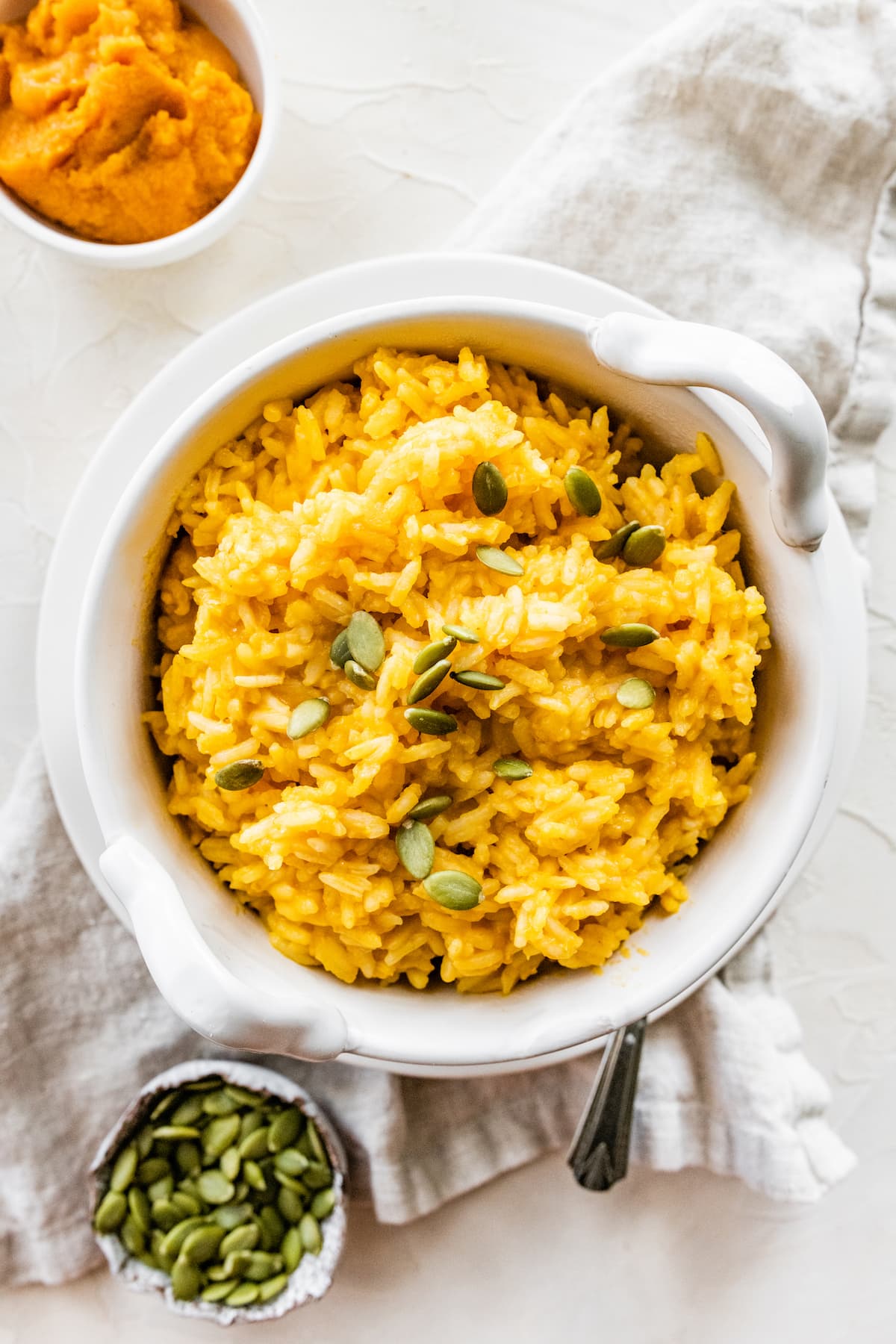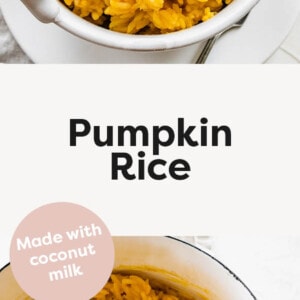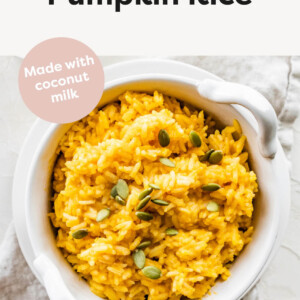 This easy pumpkin rice is made with a combo of coconut milk and vegetable broth. It's creamy, flavorful and makes for the perfect fall side dish.
The first time I made this pumpkin rice was for these maple balsamic tempeh bowls years ago! It pairs well with the maple balsamic tempeh, but this pumpkin rice is so creamy and delicious on its own or paired with other proteins I figured it needed its own blog post!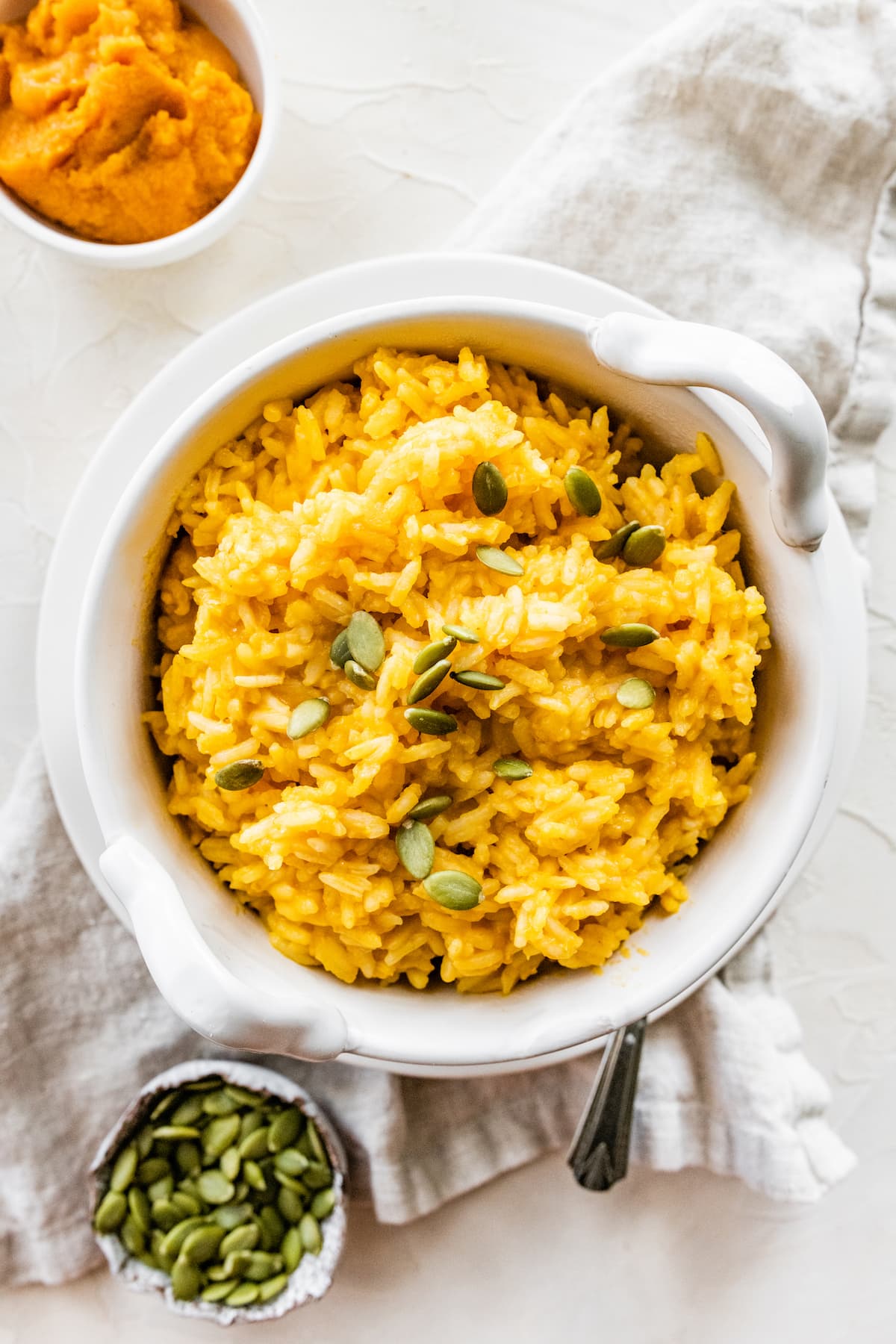 Why You'll Love This Recipe
Easy to Make: You only need 5 simple ingredients and one pot to make this rice!
Seasonal: The pumpkin flavor makes it perfect for fall and winter.
Nutritious: Packed with vitamins and minerals from the pumpkin and coconut milk.
Versatile: Works well as a side dish or part of a main meal.
Creamy & Tasty: Coconut milk adds a creamy texture and a touch of sweetness while the pumpkin adds a richness and savory flavor.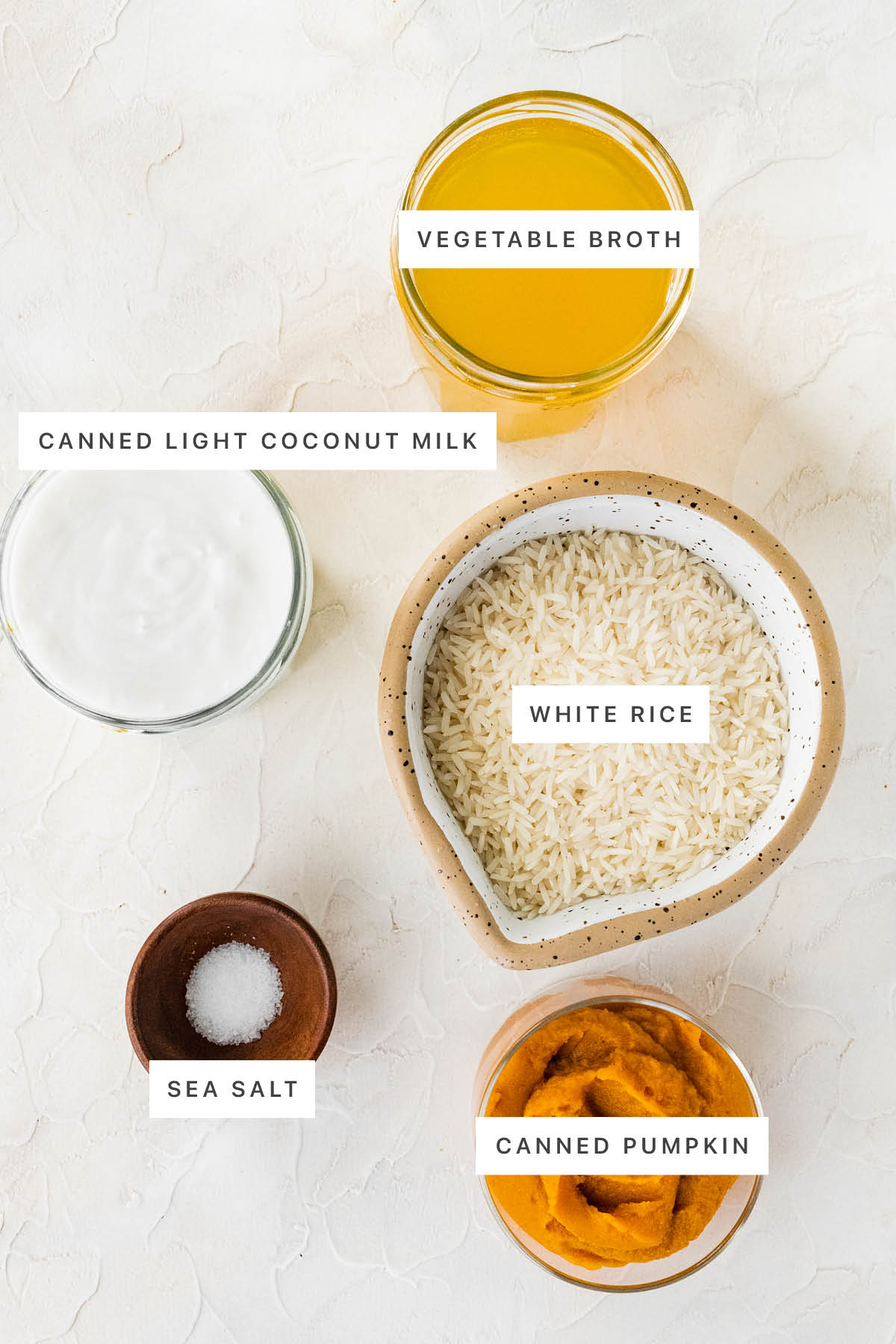 Ingredients Needed
light coconut milk – adds creaminess and a hint of sweetness to the rice. If you don't have light coconut milk you can use regular coconut milk too.
vegetable broth – provides additional flavor and liquid for cooking the rice. I prefer to use low-sodium vegetable broth so I can control the amount of salt in my rice. Feel free to use bone broth, vegetable stock or water as the extra liquid.
canned pumpkin – the star ingredient in this recipe that makes this rice seasonal and nutritious. You can use store-bought canned pumpkin puree or make homemade pumpkin puree. If using canned pumpkin, make sure the ingredients are just "pureed pumpkin" and not pumpkin pie filling as that is loaded with sugar!
white rice – serves as the base grain for the dish. I typically use jasmine rice or basmati rice but feel free to use whatever variety of white rice you prefer. I recommend using a short grain instead of a long grain rice as it cooks up faster. My favorite brand of rice is Lundberg Farms.
sea salt – just a pinch to enhance the overall taste and balance the flavors.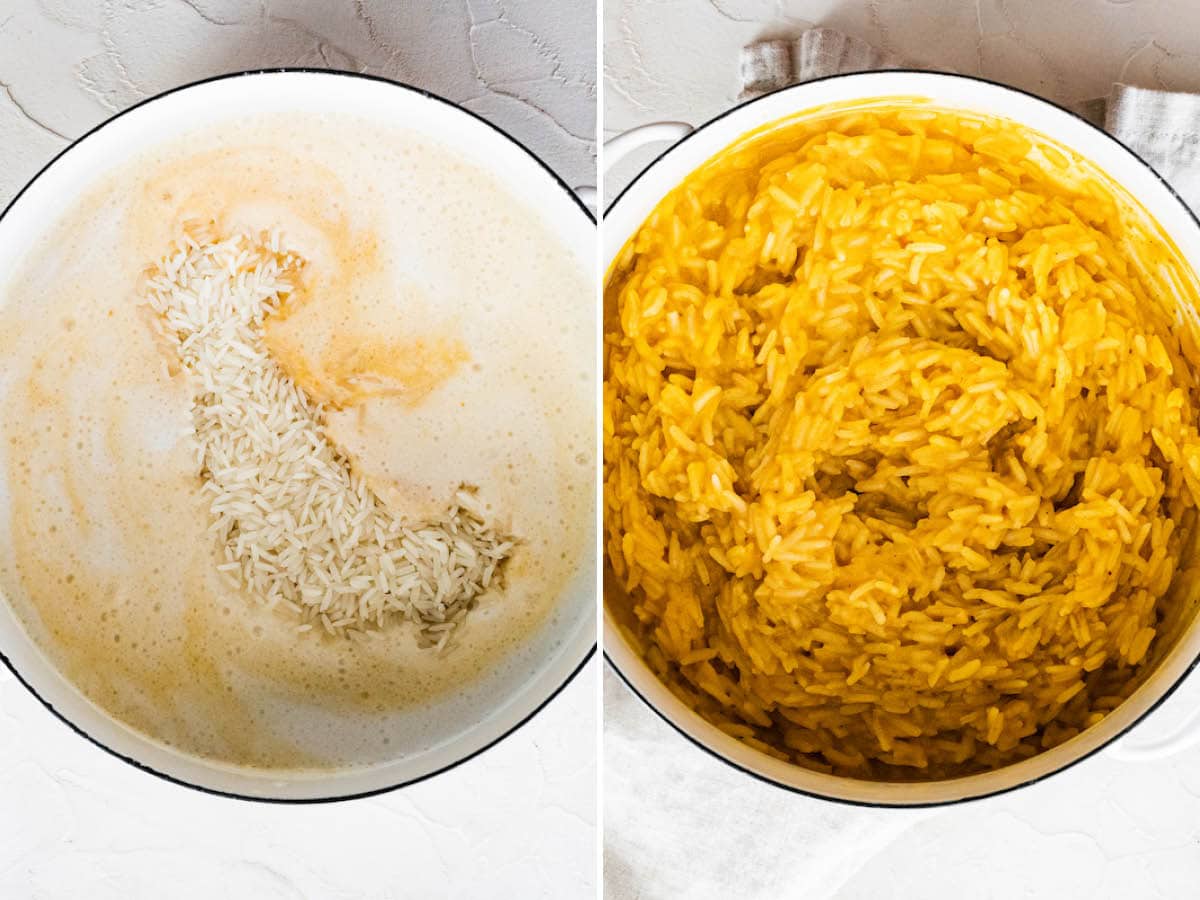 How to Make
Combine ingredients: In a medium saucepan, mix together the coconut milk, vegetable broth, canned pumpkin, white rice and a pinch of sea salt. Place the saucepan over medium-high heat.
Cook rice: Bring the mixture to a boil. Once boiling, cover the saucepan with a lid and reduce to low heat. Allow the rice to simmer for about 15 to 20 minutes or until all the liquid is absorbed and the rice is tender. Once the rice is cooked, remove from heat, stir well and cover. Set aside until you are ready to serve.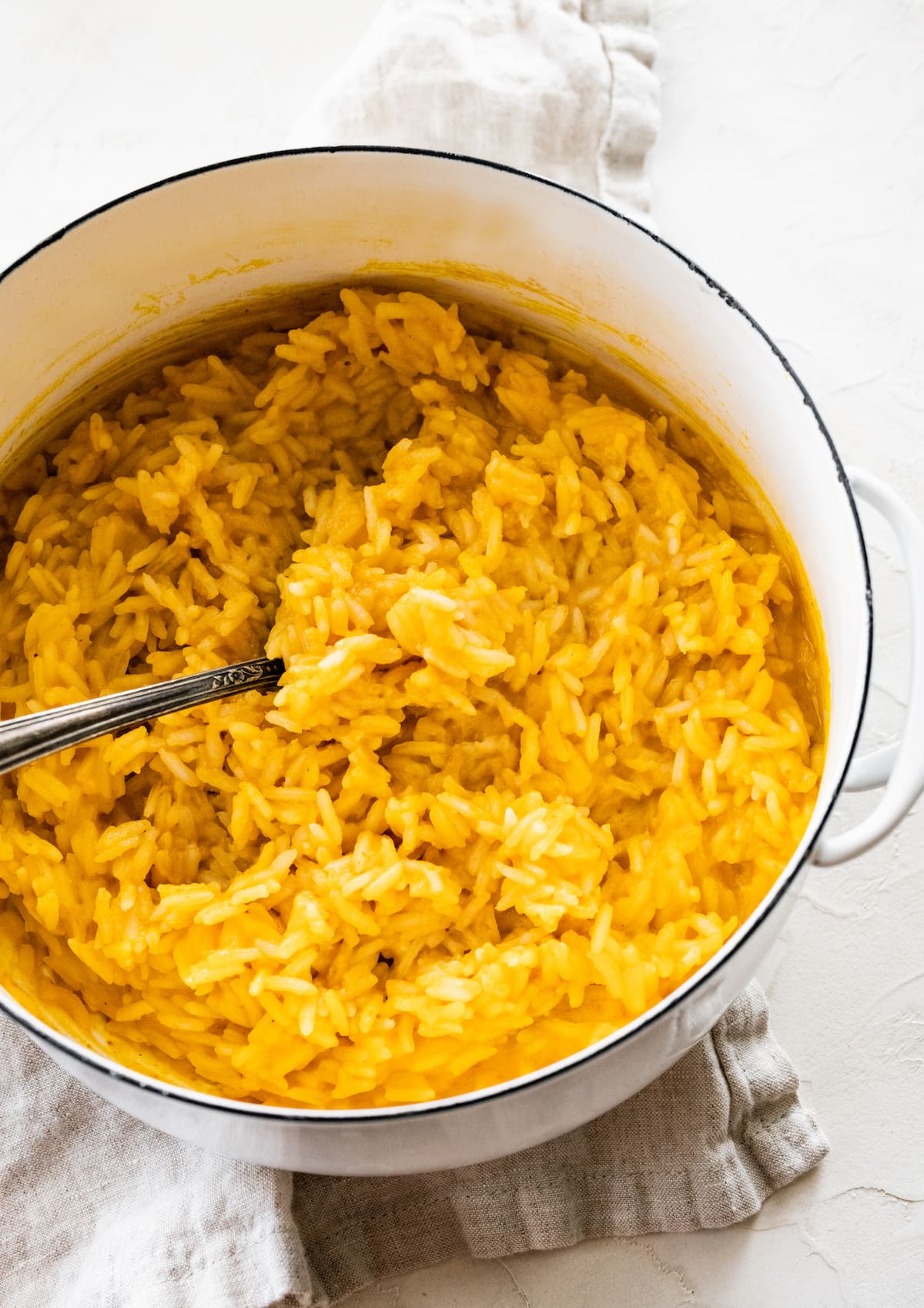 Can I Use Brown Rice Instead of White Rice?
Absolutely! You can easily swap white rice for brown rice, but keep in mind that brown rice has a longer cooking time of around 40-45 minutes and may require more liquid. It's also a whole grain, offering more fiber and nutrients.
Can I Use a Rice Cooker?
Definitely! If you have a rice cooker you can cook this pumpkin rice in your rice cooker instead of the stovetop.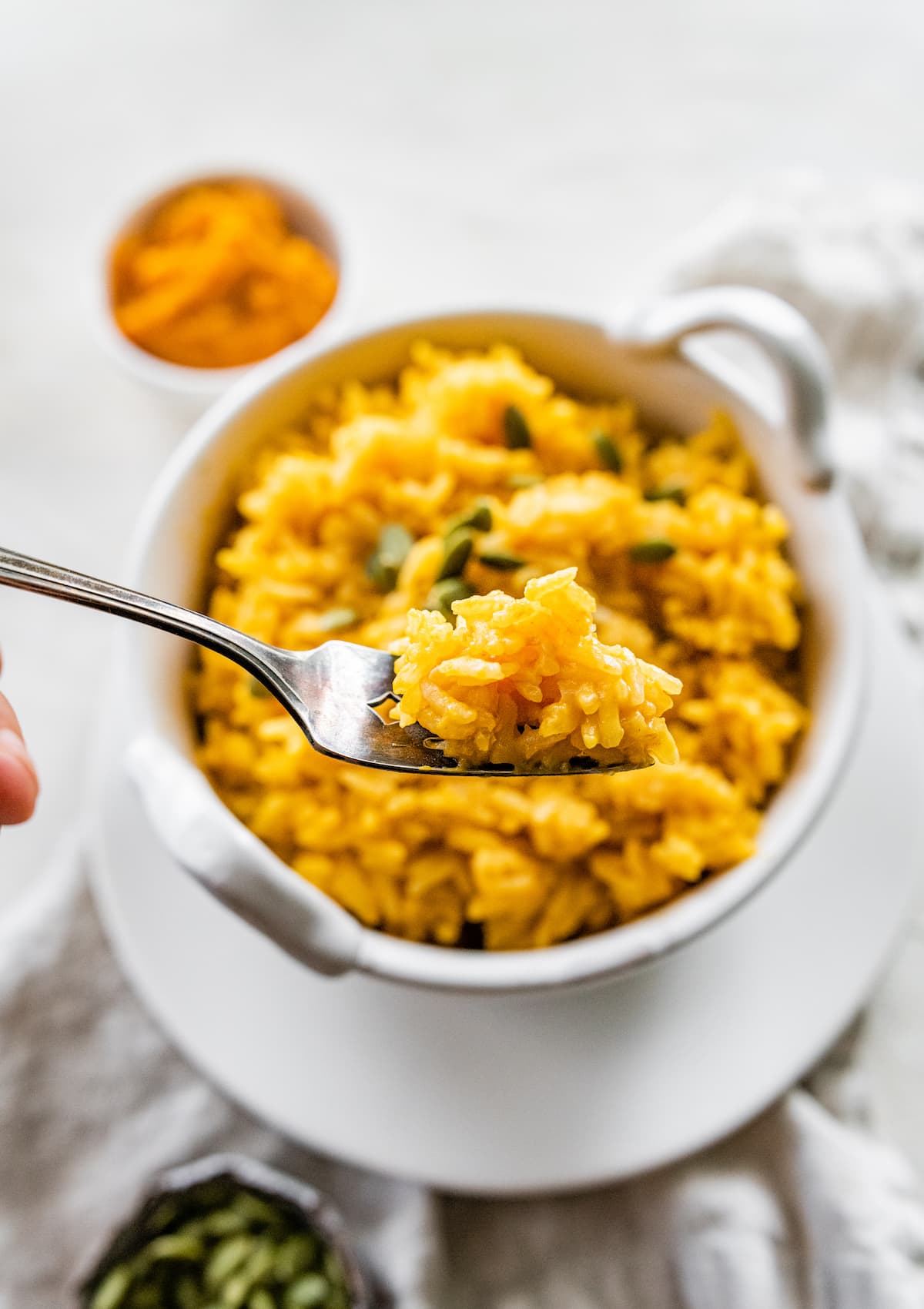 How to Serve Pumpkin Rice
This recipe was originally created for my maple balsamic tempeh bowls, but this rice dish pairs well with many other dishes and proteins. Here are some ideas:
Roasted Vegetables: The sweet, earthy flavors of the pumpkin rice pair wonderfully with simple roasted vegetables drizzled with olive oil, like carrots, zucchini, onion, pepper, or Brussels sprouts.
Grilled Chicken: For a protein-packed meal, consider serving this rice alongside grilled chicken or tofu marinated in garlic and herbs.
Curries and Stews: The creamy texture and rich flavor of pumpkin rice make it an excellent side dish for a variety of curries and stews. This Lentil Stew with Kale would taste great with this pumpkin rice.
Salad: A light, leafy green salad with a tangy vinaigrette can balance the richness of the pumpkin rice.
Fish: Lightly seasoned and grilled fish like salmon or tilapia would complement the dish quite well.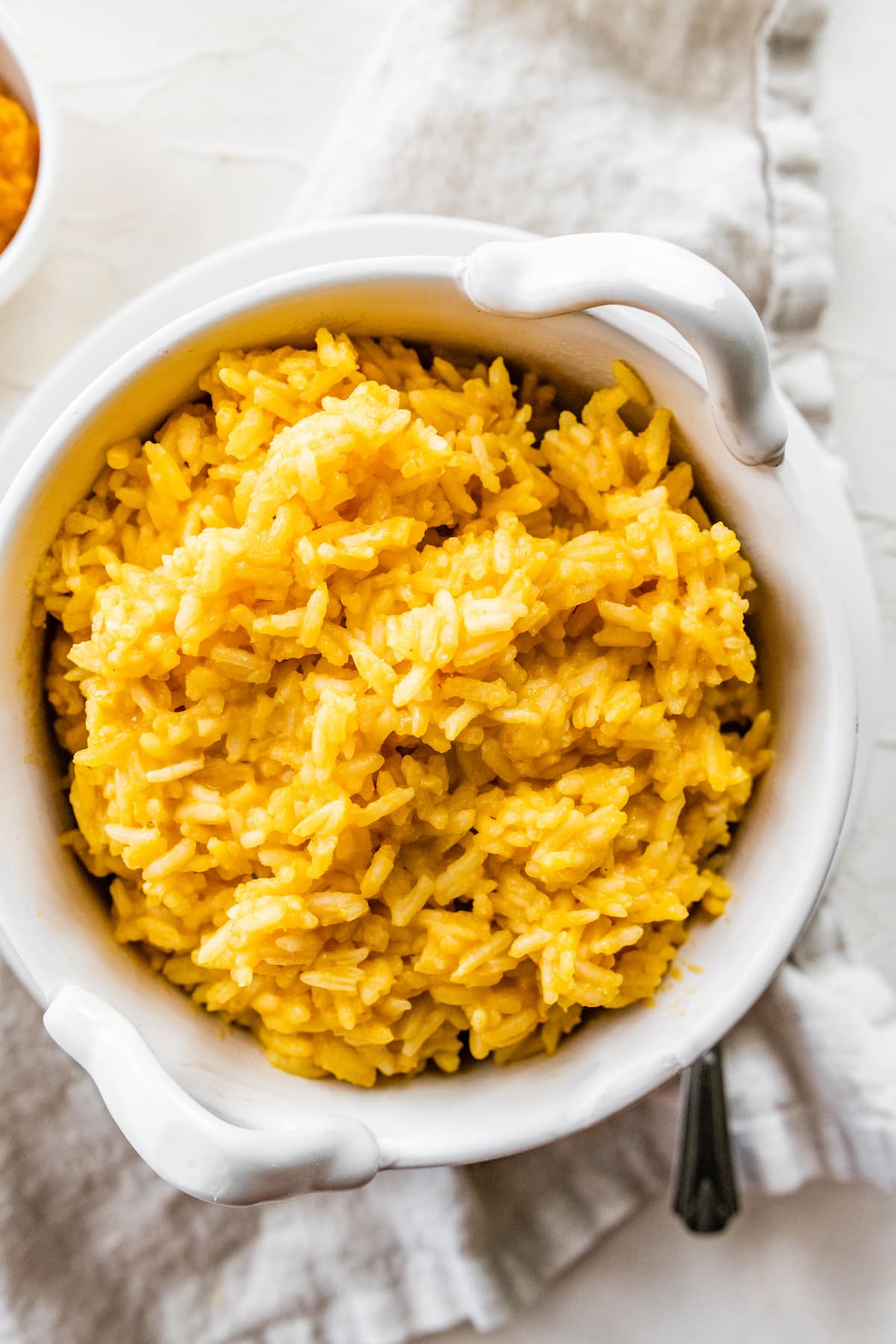 How to Store Leftovers
To store the leftover pumpkin rice, put the leftovers into an airtight container and refrigerate for up to 4-5 days. For longer storage, you can freeze the rice in a freezer-safe container for up to 1-2 months. To reheat, microwave until warmed through, adding a splash of vegetable broth or water to maintain moisture.
More Squash Recipes
More Pumpkin Recipes
Be sure to check out all of the pumpkin recipes as well as the full collection of side dishes!
Start cooking the rice by combining the coconut milk, vegetable broth, pumpkin, rice and sea salt in a medium saucepan over medium-high heat. Bring to a boil, cover and reduce heat to medium-low.

Allow rice to simmer until the liquid is completely absorbed and rice is tender, about 15 to 20 minutes. Once cooked, stir, cover and set aside until ready to serve.
Serving: 1/4 recipe | Calories: 104kcal | Carbohydrates: 14g | Protein: 2g | Fat: 5g | Saturated Fat: 4g | Sodium: 75mg | Potassium: 43mg | Fiber: 1g | Sugar: 2g
Nutrition information is automatically calculated, so should only be used as an approximation.