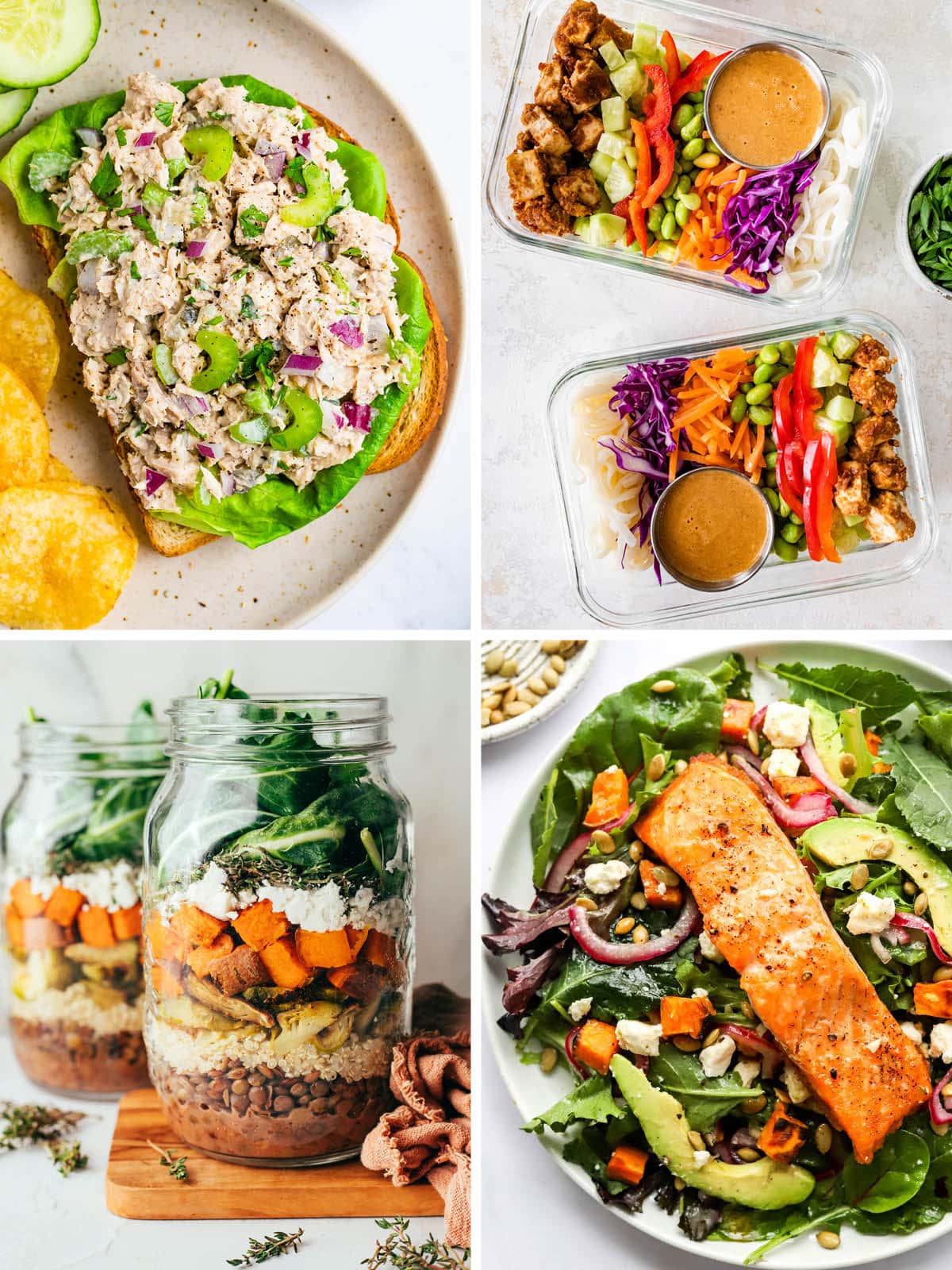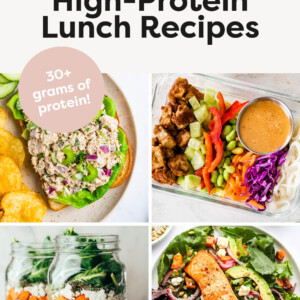 Looking for healthy protein-packed lunch ideas to prep in advance? Here are over 30 high-protein lunch recipes that will keep you satisfied throughout the day. They're all portable and have 20+ grams of protein.
The other week I shared my favorite high-protein breakfast recipes and today I'm sharing my go-to high-protein lunch recipes!
When it comes to lunch I typically try to have something prepped in advance because I tend to always need a quick and easy lunch option that I can eat at my desk or take on-the-go. I also try to make sure my lunch is protein-packed to help keep me full and satisfied and prevent mindless snacking throughout the day.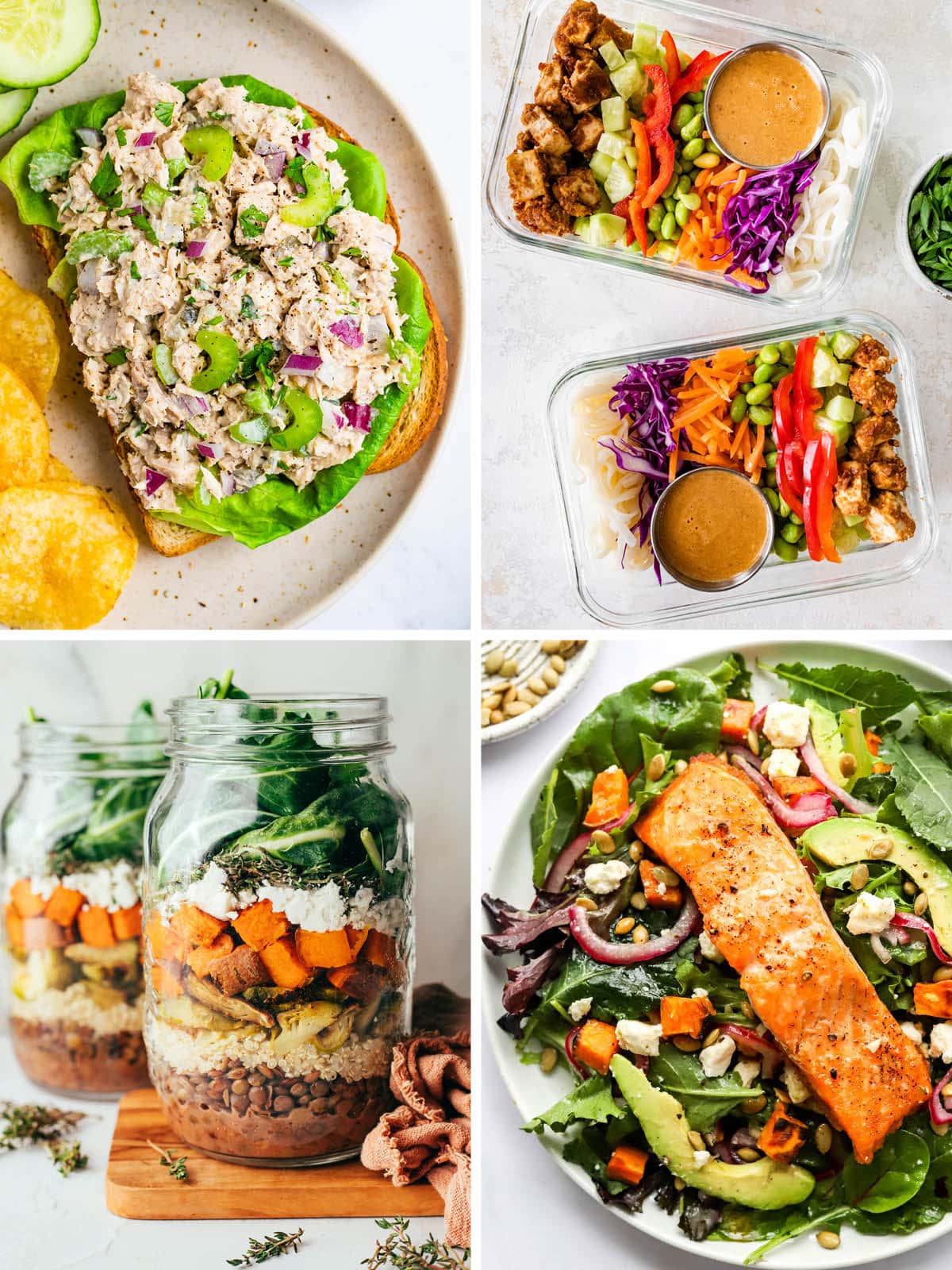 From protein salads and mason jar salads to meal prep bowls and soups I've got you covered for all your lunch needs! All of the recipes below have 20+ grams of protein each and can easily be meal prepped in advance for quick lunches throughout the week. Enjoy!
Protein Salads
Protein salads are one of my favorite lunch recipes to meal prep! They're so easy to whip up and can be served so many different ways… with crackers, as a sandwich, in a lettuce wrap, etc.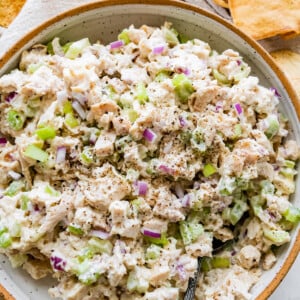 Rotisserie Chicken Salad
This rotisserie chicken salad is made with avocado oil mayo, red onion and celery for a quick and easy meal. It's perfect for meal prep and delicious served on a sandwich or with crackers.
Tuna Salad
The best healthy tuna salad recipe made with canned tuna, red onion, celery, chopped pickles and Greek yogurt. Perfect as a snack with crackers or on a sandwich.
Curry Chicken Salad
This curry chicken salad recipe with celery, onion and raisins is super flavorful and comes together fast using shredded chicken. It's an awesome salad to meal prep for lunches throughout the week.
Greek Yogurt Chicken Salad
This healthy chicken salad recipe uses Greek yogurt instead of mayo so it's lighter in calories, but still loaded with flavor from the grapes, celery, parsley and almonds.
Salmon Salad
This easy salmon salad is made with canned salmon, red onion, celery, fresh dill and Greek yogurt instead of mayo. It's loaded with flavor and perfect for meal prep.
No Mayo Sweet Potato Tuna Salad
With this sweet potato tuna salad recipe the sweet potatoes, hummus and mustard make the tuna salad so creamy you don't need any mayo. Loaded with protein, gluten-free and dairy-free.
Chicken Waldorf Salad
This healthy chicken Waldorf salad uses grilled chicken and a light dressing that blends mayo with Greek yogurt! Great for sandwiches, wraps and salads.
Meal Prep Bowls
These meal prep bowls make for awesome portable lunch options! Just prep all your components ahead of time, store in the fridge and you've got a full meal ready to go.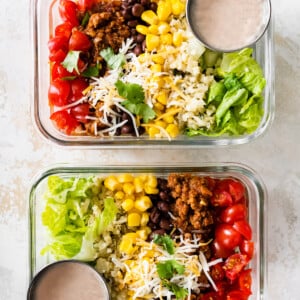 Turkey Taco Meal Prep Bowl
This turkey taco meal prep bowl combines flavorful ground turkey with lettuce, beans, corn and cilantro lime rice all topped with a creamy southwest dressing. Perfect for meal prep!
Easy Salmon Meal Prep Bowl
This easy salmon meal prep bowl has a base of quinoa and is topped with roasted veggies, mustard maple salmon and a lemon vinaigrette. Make this recipe over the weekend and have lunches ready to go for the week!
Asian Noodle Bowl (for Meal Prep)
This asian noodle bowl combines rice noodles, peanut tofu and fresh vegetables with a simple and flavorful sauce. It's vegan, gluten-free and perfect for meal prep!
Mason Jar Salads
Mason jar salads are the perfect way to meal prep protein salads and there are so many options to choose from.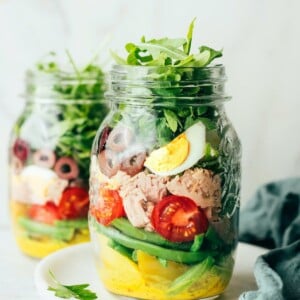 Nicoise Mason Jar Salad
This Nicoise mason jar salad combines fresh veggies, canned tuna, potatoes and hard boiled egg with a lemon vinaigrette. It's flavorful, loaded with protein and is perfect for meal prep!
Chicken Avocado Club Mason Jar Salad
This chicken avocado club mason jar salad combines chicken, turkey bacon, blue cheese and avocado. It's filling, loaded with flavor and perfect for meal prep. Low carb + gluten-free.
Strawberry Spinach Mason Jar Salad
This spinach mason jar salad features grilled chicken, strawberries and a citrus poppy seed dressing. Layer all of the ingredients into a mason jar for a healthy, portable lunch!
Kale Sweet Potato Lentil Mason Jar Salad
This kale sweet potato lentil salad is loaded with flavor and packed with 25 grams of plant-based protein. It can be meal prepped two ways: in a mason jar or a meal prep container. Vegetarian + gluten-free.
Meal-Sized Salads
I love meal-sized salads! You get veggies, carbs, protein and healthy fats all in one meal. Plus, they can easily be made in advance for quick and easy lunches throughout the week.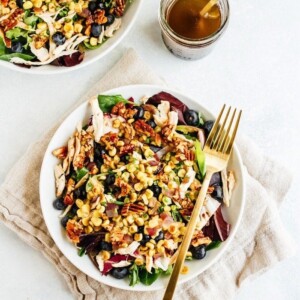 Blueberry, Corn and Chicken Salad
The perfect summertime blueberry corn chicken salad with fresh blueberries, grilled corn, shredded chicken, roasted pecans and a maple balsamic dressing.
Tuna, Broccoli and Kale Caesar Pasta Salad
This tuna, broccoli and kale caesar pasta salad is packed with loads of veggies and protein. It comes together in under 30 minutes and is sure to become a new family favorite especially on those busy weeknights!
Pear Salad with Walnuts, Avocado and Grilled Chicken
An easy pear salad with walnuts, avocado and grilled chicken. This combo makes for a satisfying meal-sized salad that's perfect for pear season!
Grilled Salmon Salad
The ultimate summer salad with lightly marinated grilled salmon, sliced peaches, tomatoes and grilled sweet corn. The flavors pair together to make a fresh and flavorful entree sized salad.
Crunchy Asian Chopped Salad
This Asian chopped salad is loaded with fresh veggies and tossed with a creamy almond dressing. You'll love the crunch and flavor! Dairy-free, gluten-free and low-carb.
BBQ Chicken Salad
This BBQ chicken salad has so much flavor with grilled BBQ chicken, black beans, corn, avocado, crunchy tortilla chips and a drizzle of both BBQ sauce and ranch dressing.
Grilled Chicken Salad
My go-to grilled chicken salad made with juicy marinated chicken, fresh veggies, grilled corn, roasted sweet potatoes and avocado all served over greens and topped with a homemade honey mustard dressing.
Thai Curry Chicken Salad
This Thai curry chicken salad combines fresh pineapple, veggies, thai curry chicken and a creamy dijon dressing. It's fresh, filling and packed with flavor! Gluten-free.
Superfood Salmon Salad
This salmon salad is loaded with roasted sweet potato croutons, avocado, pickled onions and dressed in a light lemon vinaigrette! It's an easy go-to meal you'll love having as part of your weekly rotation.
Cheeseburger Salad
Enjoy all the flavor of a delicious burger, but make it low carb with a cheeseburger salad that's loaded with veggies and topped with a honey mustard dressing.
Healthy Taco Salad
This healthy taco salad is made with ground turkey taco meat instead of beef and is packed with veggies. It comes together quickly making it perfect for a weeknight meal.
Grilled Shrimp Salad
Grilled shrimp salad with quinoa, broccoli and roasted asparagus! Prepare everything ahead of time and throw it into a bowl for a quick and easy lunch or dinner.
Fuji Apple Salad
This delicious meal-sized salad is inspired by Panera's Fuji apple salad with fresh apple slices, gorgonzola, tomatoes, pepitas and a white balsamic vinaigrette.
Blackened Chicken Cobb Salad
This blackened chicken Cobb salad is packed with flavor and so simple to make. Plus, it's great for meal prep and is grain-free, low-carb and keto-friendly.
Mediterranean Salmon Salad
This healthy Mediterranean salmon salad combines romaine lettuce, quinoa, tomatoes, red onion and feta cheese all tossed in a light lemon vinaigrette dressing and topped with a salmon filet. It's perfect for lunch or a light dinner.
Caesar Salad with Shrimp
This caesar salad with shrimp is topped with sweet potato croutons, avocado, parmesan cheese and a creamy avocado caesar dressing.
Soups
I love making a big batch of soup over the weekend to enjoy for lunches throughout the week. All you have to do is reheat and enjoy! And all of these soup recipes have over 20 grams of protein per serving so one bowl will keep you full and satisfied.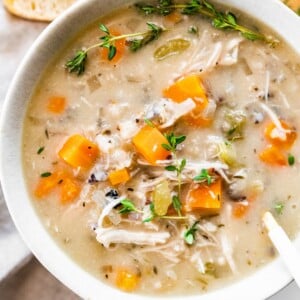 Chicken Wild Rice Soup
This slow cooker chicken wild rice soup is creamy and comforting, but still nourishing with lots of veggies, shredded chicken and wild rice. Added bonus: it's so easy to whip up!
Slow Cooker Chicken Enchilada Soup
This chicken enchilada soup is packed with flavor and a hint of spice. It tastes just like traditional chicken enchiladas but with a fraction of the effort and can easily be made in your slow cooker, Instant Pot or over the stove top.
Chicken Tortilla Soup
This chicken tortilla soup is loaded with veggies, black beans, shredded chicken and topped with homemade crunchy tortilla strips. It's comforting, easy to make and perfect for meal prep.
White Bean Chicken Chili
This healthy white bean chicken chili is loaded with cannellini beans, corn and green chiles. It has a ton of flavor and cooks up in just 30 minutes.
Healthy Brunswick Stew
This healthy Brunswick stew is just like the southern classic, but made with simple and wholesome ingredients – no ketchup or BBQ sauce needed!
Turkey Chili
This healthy turkey chili is made with kidney and black beans, corn, tomatoes and a blend of spices. It's the perfect meal to serve for game day or as an easy dinner!
Chicken Fajita Soup
Whip up this slow cooker chicken fajita soup for a comforting and healthy meal that's packed with flavor and a hint of spice.
Butternut Squash and Turkey Chili
Not your average chili, this butternut squash and turkey chili features red lentils and is simmered in a creamy coconut milk and tomato broth. It can be made in your pressure cooker or on the stove top!
Chicken Noodle Soup
This classic chicken noodle soup recipe is packed with flavor and loaded with veggies, egg noodles and shredded chicken. It's warm, comforting, cooks up in under 30 minutes and is the perfect meal for chilly fall and winter days.
Lemon Chicken Orzo Soup
This lemon chicken orzo soup combines fresh veggies, orzo pasta and shredded chicken in a lemony broth. It's healthy, comforting and packed full of flavor.
Taco Soup
This easy taco soup recipe combines all your favorite taco ingredients in one pot – ground turkey, beans, corn, tomatoes and taco seasoning. It's packed with flavor and a hint of spice and is perfect for meal prep.
More Collections to Check Out
Be sure to check out all the protein recipes as well as the full collection of lunch recipes!
Nutrition information is automatically calculated, so should only be used as an approximation.