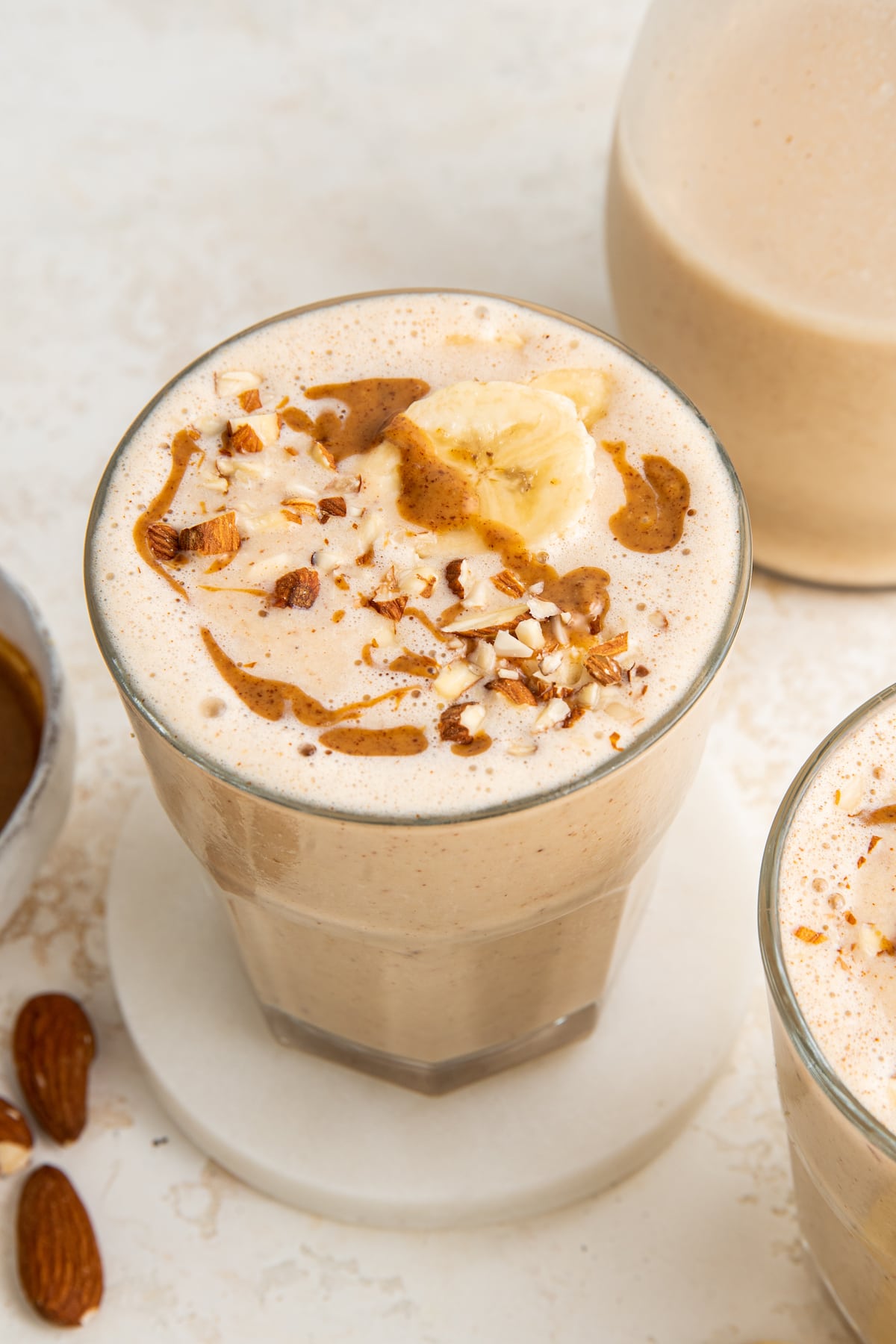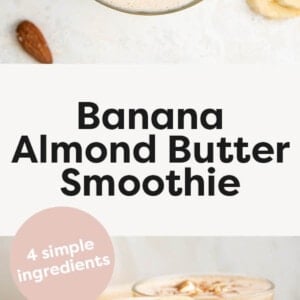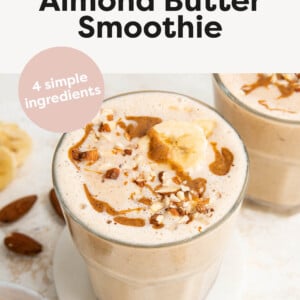 This banana almond butter smoothie is super easy to whip up with only 4 simple ingredients! It's refreshing and guaranteed to be a hit with both kids and adults!
Summer brings out the smoothie lover in me. I mean, I'm always a fan of smoothies but I'm less likely to crave a cold, refreshing smoothie in the middle of winter. Now that it's blazing hot outside, I could go for a smoothie all day, every day. And this banana almond butter smoothie is top on my list!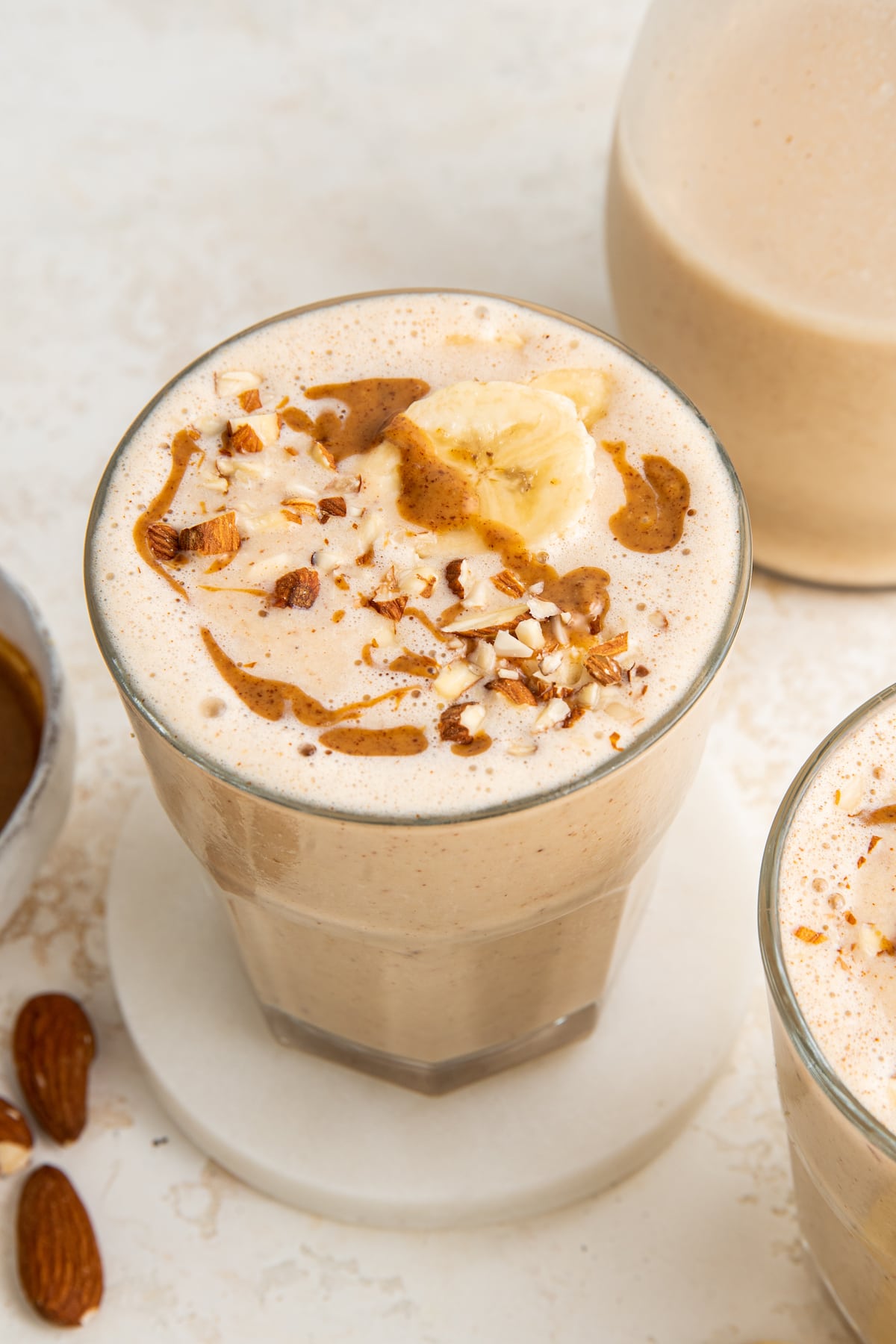 I kept it super simple with this banana almond butter smoothie. It's made with just four ingredients, three if you don't count the ice and it's really delicious. This smoothie isn't super thick or heavy, but it still has some healthy fat and protein so it makes for a filling snack, for both adults and kids.
I've always loved the combo of banana and almond butter (especially on toast), but it's so amazing in smoothie form too!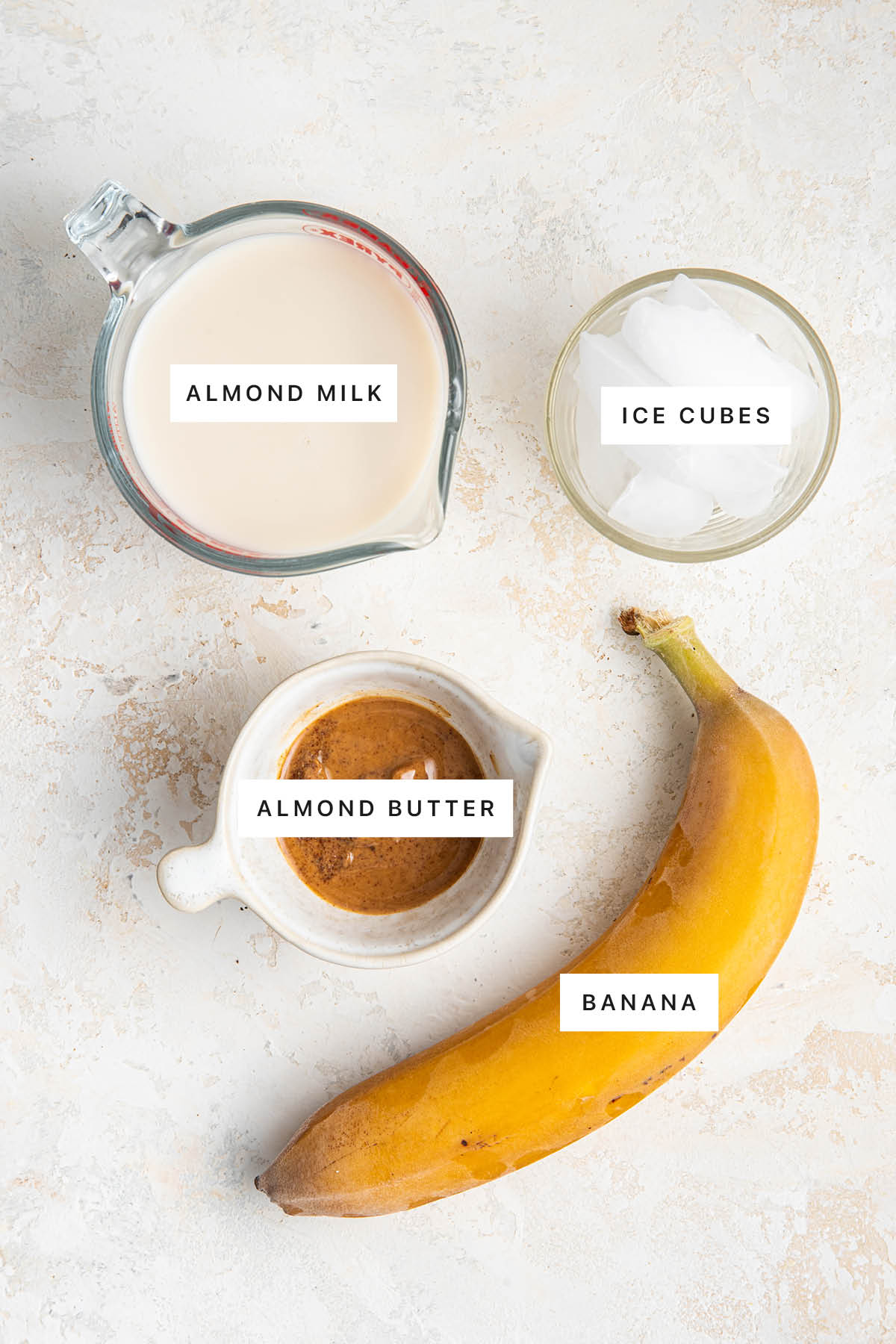 Ingredients Needed
almond milk – this serves as the liquid base of the smoothie. I went with unsweetened vanilla almond milk, which adds a touch of vanilla flavor, but feel free to use your favorite type of vegan milk.
banana – this adds natural sweetness and creaminess to this smoothie. I prefer to use a frozen banana, but you can also use a fresh banana if you want. Just a note that your smoothie will be thinner if you use a fresh banana. If you go with a frozen banana here's my full guide on how to freeze bananas.
almond butter – adds a nice nutty flavor as well as healthy fats and protein. It also helps make the smoothie more filling.
ice cubes – helps to achieve a thick and refreshing smoothie.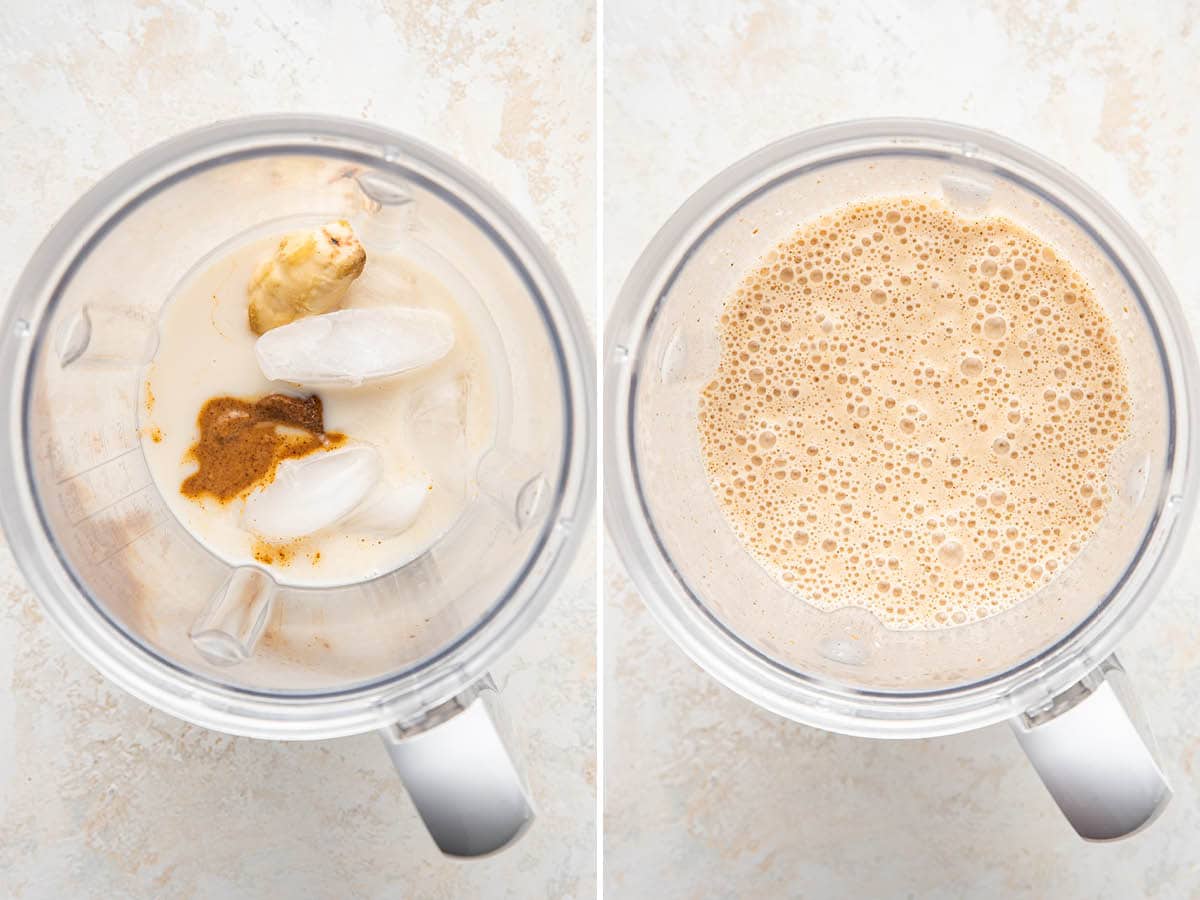 How to Make a Banana Almond Butter Smoothie
It doesn't get much easier than this. Add all ingredients to a high-powered blender and blend on high until smooth. Pour into two glasses and enjoy!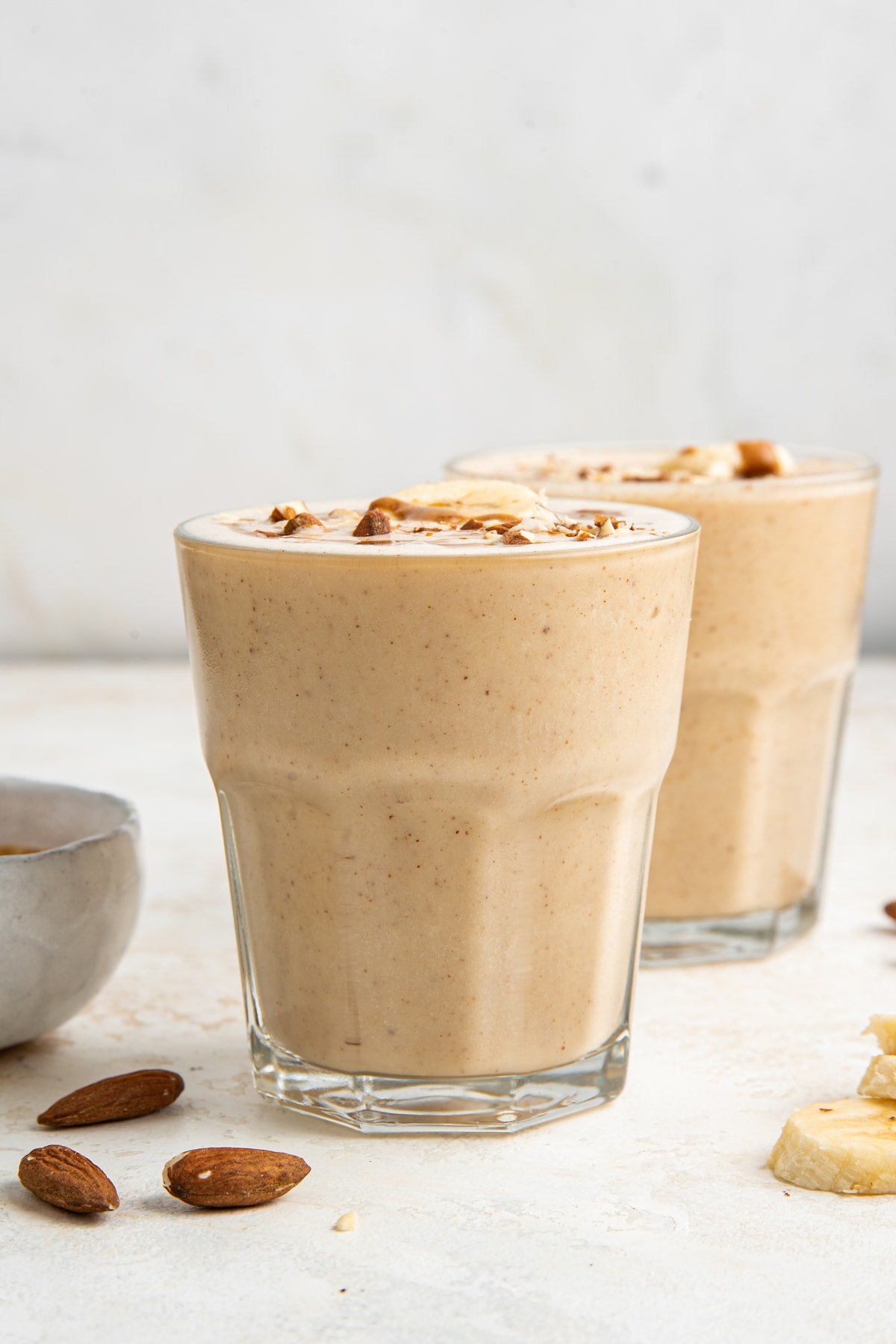 Customize Your Smoothie
Swap the almond butter: If you have a nut allergy or don't have almond butter on hand feel free to use any type of nut or seed butter. Peanut butter, cashew butter, tahini or sunflower seed butter are all great options. Just note, that using a different nut butter will change the overall flavor of this smoothie.
Swap the almond milk: Feel free to use your favorite dairy-free milk for this recipe. Oat milk, cashew milk or even coconut milk will all work great.
Chocolate: Turn this into a chocolate banana smoothie by adding a scoop of cocoa powder before blending.
Add toppings: Boost the texture and nutritional value of your smoothie by adding toppings. Some ideas include a sprinkle of cinnamon, granola, coconut flakes, nuts, seeds or fresh fruit.
Add protein: To make the smoothie more protein-rich, you can add a scoop of your favorite protein powder or Greek yogurt.
Add greens: Turn this into a green smoothie by adding a handful of spinach or kale for some extra nutrients.
Use different fruit: Feel free to swap out or add in different fruits. Berries, mangos, peaches or pears could all be delicious alternatives or additions.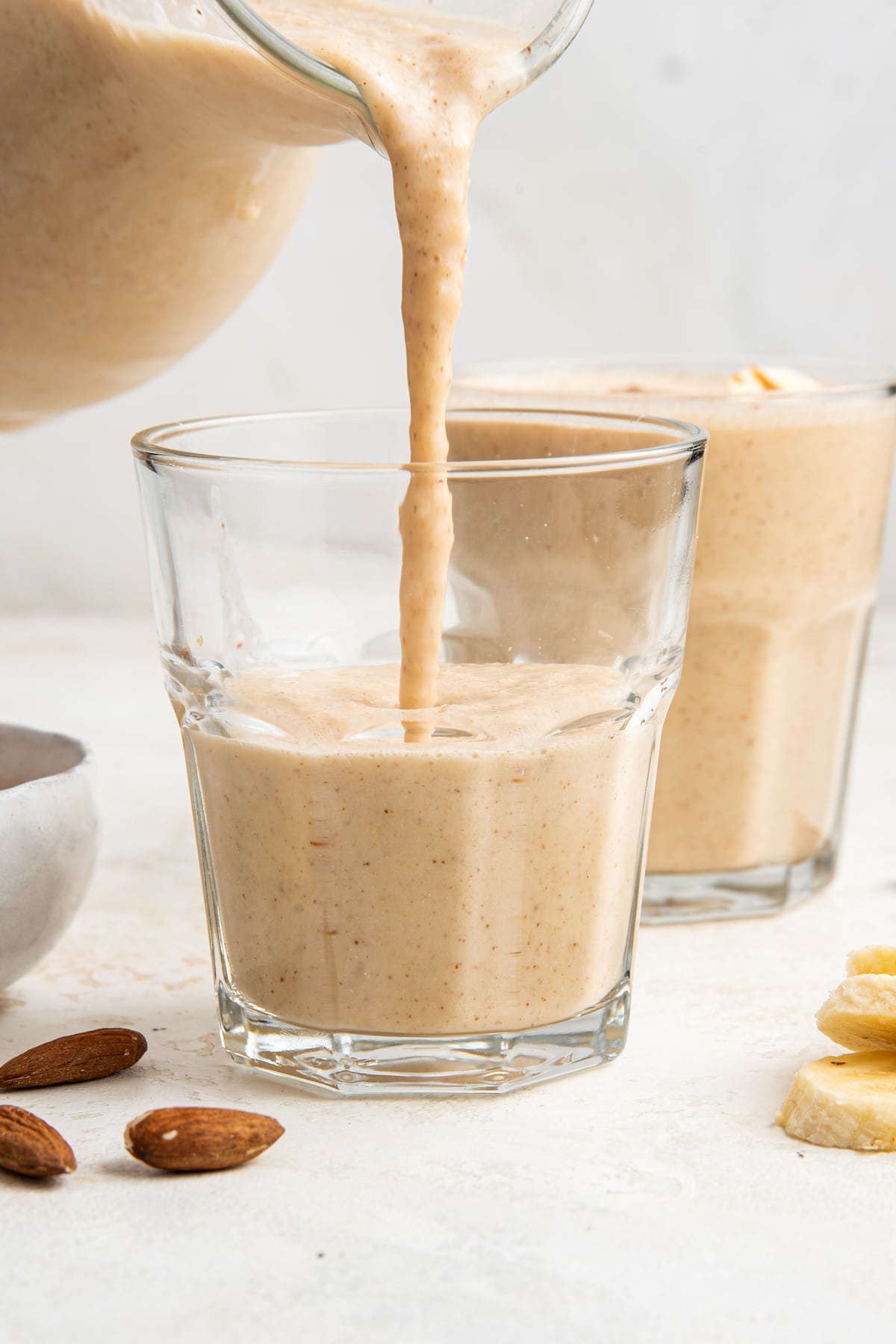 How to Thicken Your Smoothie
There are so many good ways to thicken this smoothie (and smoothies in general). Here are some ideas:
Ice: Adding more ice will give your smoothie a thicker, frostier texture. But it also tends water down the flavor a bit so keep this in mind.
Frozen fruit: Using a frozen banana instead of a fresh banana will result in a creamier, thicker consistency.
Frozen veggies: Believe it or not, frozen cauliflower or zucchini can make your smoothie thicker without affecting the taste much. I love adding a little frozen cauliflower rice or steamed and frozen zucchini to my smoothies. You could add 1/4 cup of either to this smoothie if you'd like.
Chia seeds: These tiny seeds expand when soaked in liquid, helping to thicken your smoothie while adding a dose of fiber and omega-3 fatty acids.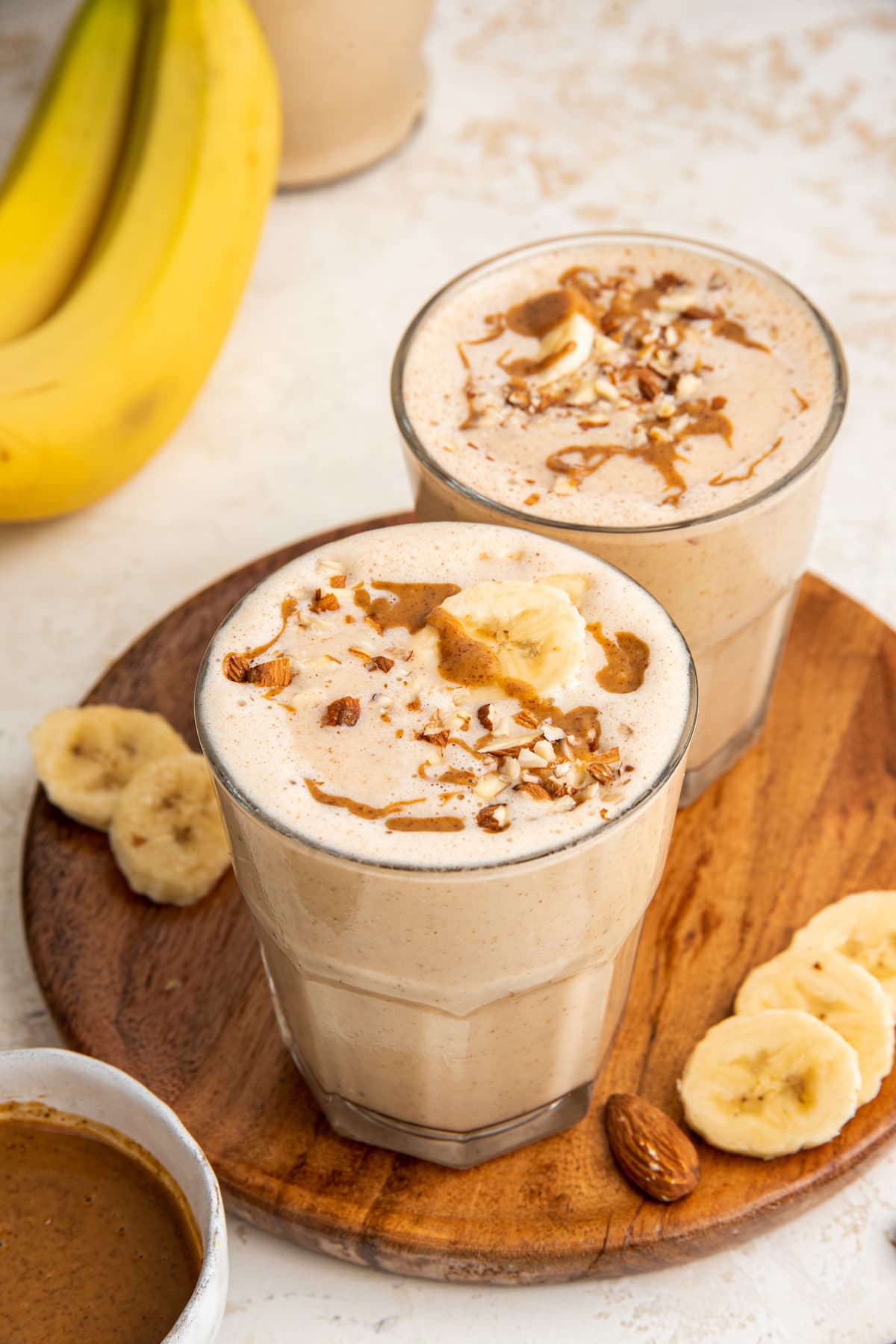 More Smoothie Recipes to Try
Be sure to check out the full collection of smoothie recipes on EBF!
Serving: 1 smoothie | Calories: 230kcal | Carbohydrates: 31g | Protein: 6g | Fat: 11g | Saturated Fat: 1g | Sodium: 226mg | Potassium: 706mg | Fiber: 6g | Sugar: 15g
Nutrition information is automatically calculated, so should only be used as an approximation.