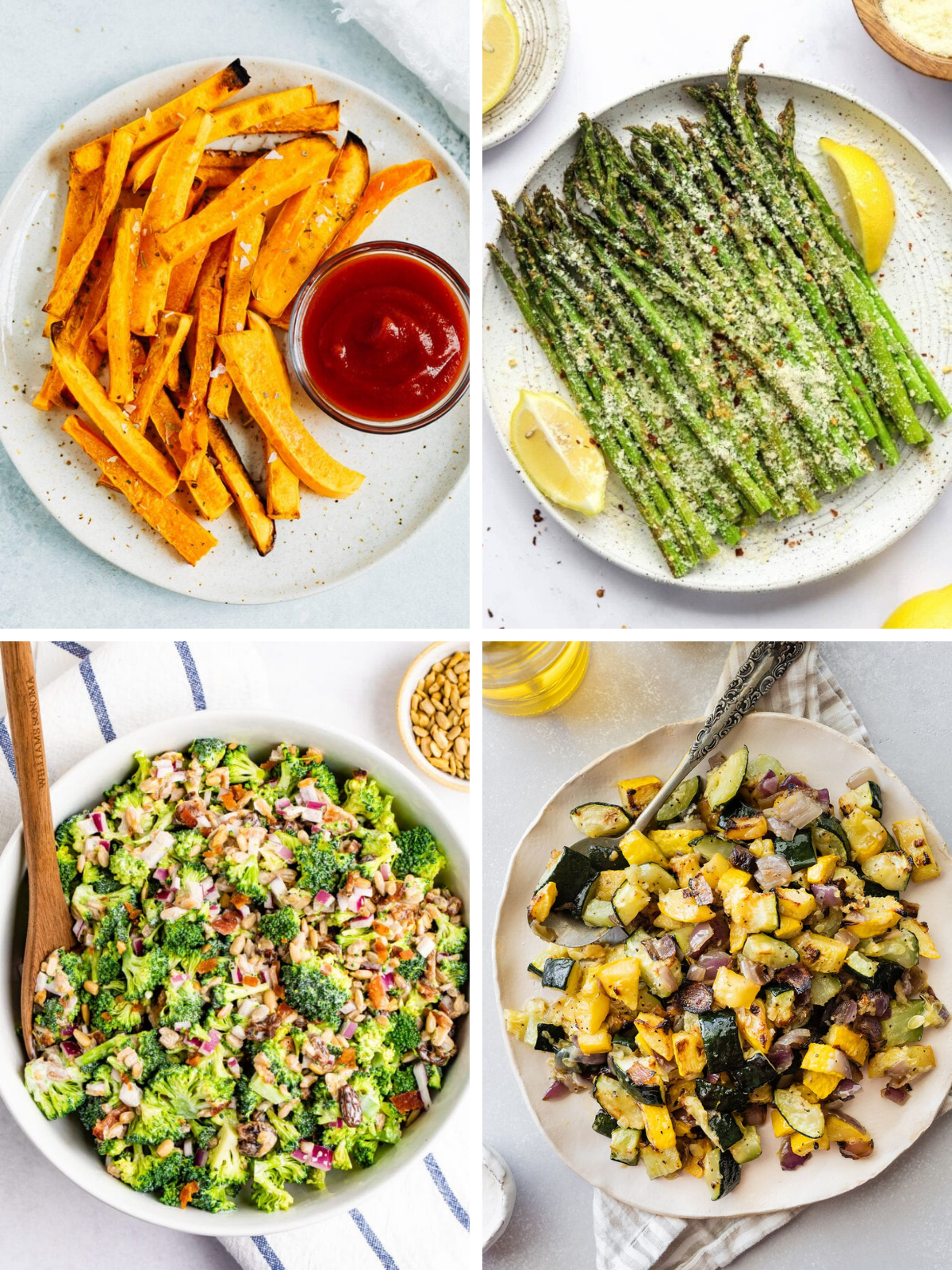 Looking for ways to add more vegetables to your diet? Here are over 50 easy vegetable side dishes with everything from roasted veggies to salads and veggie fries!
If you know me, you know I love my veggies! Raw, roasted, grilled, air fried… I'll eat vegetables prepared any way, which is why I wanted to create this roundup with the best vegetable side dishes on EBF.
It's a great place to start if you're looking to add more veggies to your diet! From roasted veggies to fries and salads there's definitely a side for everyone.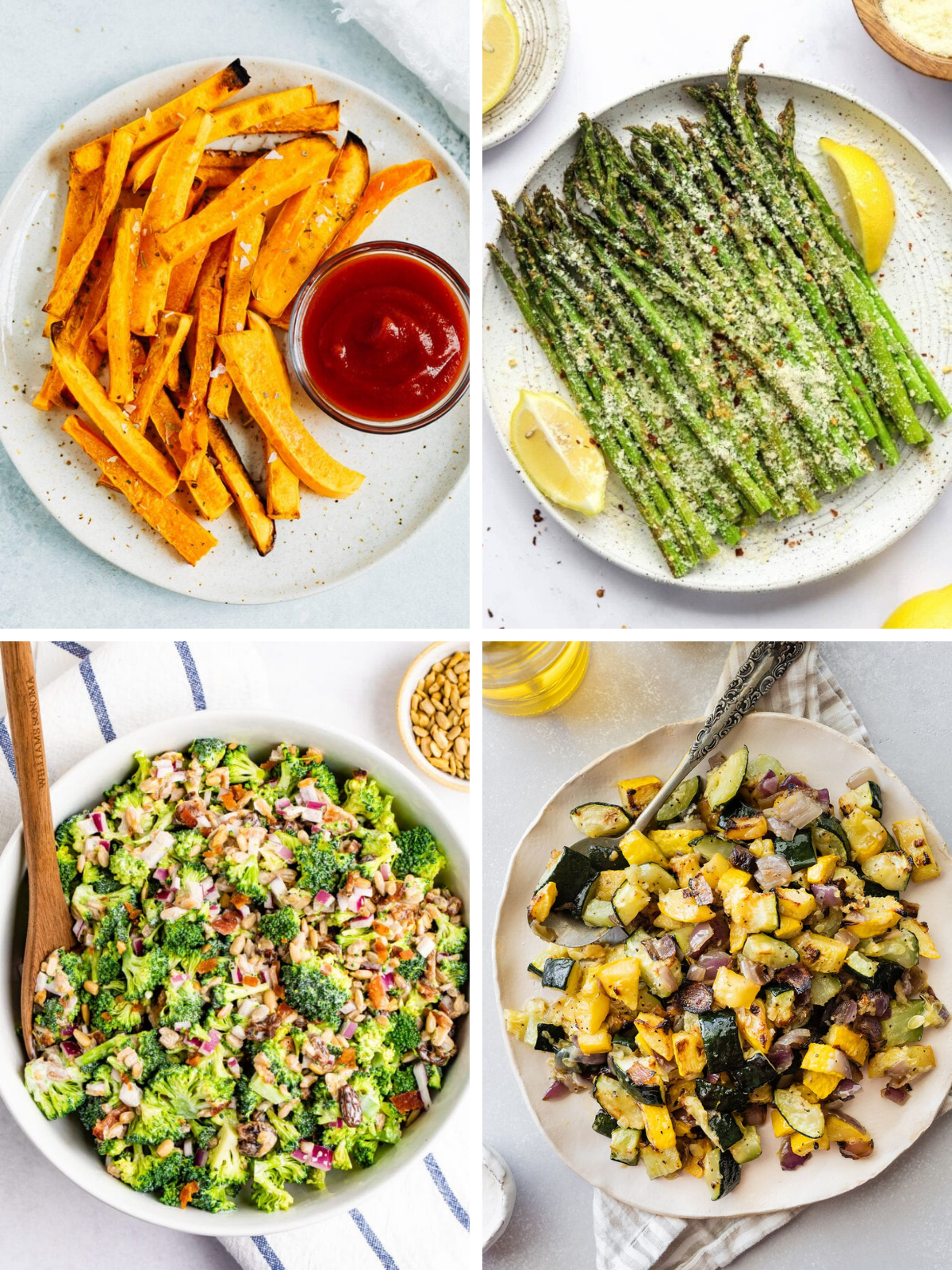 Roasted Vegetable Sides
One of my favorite ways to eat vegetables is by roasting them! Roasted veggies are so easy to whip up, versatile and make for the perfect side dish for just about any meal.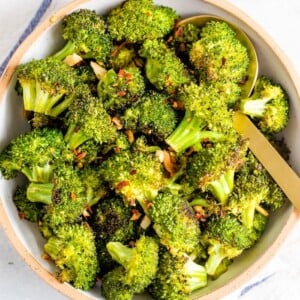 Easy Roasted Broccoli
Make broccoli taste delish with this simple roasted broccoli recipe. It's quick, easy and packed with nutrients and flavor.
The BEST Way To Cook Spaghetti Squash
A simple recipe for cooking spaghetti squash if you want long pasta-like strands and spaghetti squash that isn't watery! Just cut the squash widthwise, into rings and roast it.
Roasted Sweet Potatoes
Simple roasted sweet potatoes are made with a little oil, sea salt and pepper. They're a touch crispy on the outside while soft and pillowy on the inside. They make for a quick and easy side that you can pair with just about any main dish.
Roasted Zucchini and Squash
The perfect summer side dish, this roasted zucchini and squash recipe is healthy, easy to make and so flavorful. Vegan and gluten-free.
Roasted Asparagus
Roasted asparagus is an easy and healthy side dish that comes together in less than 30 minutes and can be flavored in a variety of ways. Try topping it with fresh lemon, red pepper flakes or parmesan cheese.
Roasted Cauliflower
How to make roasted cauliflower that's tender, golden-brown and perfectly seasoned every time! It's super easy, flavorful and works as a side dish with just about any main entree.
Roasted Root Vegetables
These caramelized roasted root vegetables with sweet potatoes, carrots and parsnips are such an easy and healthy side dish. Great for the holidays or everyday meals.
Roasted Cabbage
Roasted cabbage cooks up in under 30 minutes and is made with just 5 simple ingredients. It's caramelized to perfection, packed with flavor and makes for the perfect side dish for just about any meal.
Curry Roasted Cauliflower
This simple curry roasted cauliflower comes together in just 30 minutes and is the perfect flavorful side dish for just about any main entree!
Roasted Carrots
How to make easy and delicious roasted carrots with a little oil, salt, pepper and fresh herbs. This is such a healthy and tasty way to prepare carrots!
Roasted Acorn Squash
This savory roasted acorn is seasoned with salt, pepper, garlic and fresh thyme and roasted to perfection. It makes a lovely side for just about any main dish.
Roasted Butternut Squash
Here's the best way to cut and roast butternut squash. Roasted butternut squash makes a great side dish on it's own, but can also be used in other recipes!
Oven Roasted Okra
Move over fried okra! This method for roasted okra comes together quickly and tastes delicious – perfectly seasoned, not slimy at all and even a little crispy. It's my fave way to prepare fresh okra.
Roasted Beets
Learn the easiest way to cook beets with this simple recipe! All you need is one ingredient and about five minutes of prep time. These roasted beets are the perfect side that you can pair with just about any main dish.
Sautéed Beet Greens with Roasted Beets
Never waste beet greens again! Sautéed beet greens combine with sweet roasted beets for a simple and nutritious side dish.
Cinnamon Maple Roasted Kabocha Squash
This cinnamon maple roasted kabocha squash is the perfect sweet side dish for fall and super easy to whip up. Kabocha squash wedges are tossed with olive oil, maple syrup, cinnamon and salt and roasted to caramelized perfection.
Roasted Delicata Squash
This roasted delicata squash is so easy and results in delicious squash that's soft and sweet. The best part? The skin of the delicata squash softens right up so there's no peeling involved!
Roasted Frozen Broccoli
Yes, you CAN roast frozen broccoli — straight from the bag, no defrosting necessary. Trust me, this healthy cooking hack will save you so much time and money!
Apple Cider Vinegar Brussels Sprouts
These apple cider vinegar brussels sprouts are the perfect side dish for just about any occasion. You'll love the savory, sweet apple cider vinegar sauce that the sprouts are roasted in!
Roasted Kabocha Squash
Easy roasted kabocha squash made with just a little oil and salt. The best part? The skin gets nice and soft so no peeling is required! They're super tasty dipped in ketchup.
Date Sweetened Balsamic Glazed Brussels Sprouts
These brussels sprouts are smothered in a naturally sweetened balsamic glaze and roasted at a high temperature. They come out of the oven a golden brown color, caramelized to perfection with a few crunchy bits.
Veggie Fries
I love all types of fries, but I especially love veggie fries! From butternut squash to jicama and zucchini, there are so many different vegetables you can use to make delicious fries, which make for a great side dish for burgers, sandwiches, protein and more!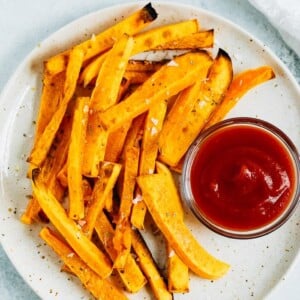 Butternut Squash Fries
Looking for healthy French fries? Try these easy oil-free baked butternut squash fries with only 2 simple ingredients – butternut squash and sea salt!
Baked Zucchini Fries
These baked zucchini fries are breaded with almond flour and parmesan to create a crispy and delicious side dish! Serve with your favorite dipping sauce.
Baked Sweet Potato Fries
Satisfy your craving for fries with healthy baked sweet potato fries that are actually crispy! Perfect for serving alongside a burger or sandwich.
Baked Turnip Fries
Fries made from turnips? Yup! If you've never tried a turnip, now is the time. These flavorful baked turnip fries are the perfect way to get more vegetables on your table.
Baked Jicama Fries
Low-carb, gut-friendly baked jicama fries with turmeric and black pepper. Serve with guacamole for a delicious summer side. Paleo, vegan and keto-friendly.
Salads
If I had to pick one way to eat vegetables for the rest of my life it would be in the form of salads! I love my meal-sized salads, but adding a side salad to just about any meal is a great way to get your veggies in and amp up the nutrition of your meal!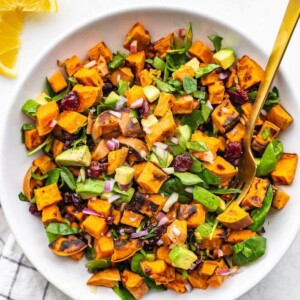 Roasted Sweet Potato Salad
This roasted sweet potato salad has chopped spinach, creamy avocado chunks, red onion and dried cranberries. Serve as a side dish with your favorite protein.
Three Bean Salad
With this three bean salad, green beans, chickpeas and kidney beans are marinated in a naturally sweetened vinaigrette that almost pickles the beans and makes them taste so good!
Classic Broccoli Salad
This broccoli salad is loaded with raisins, sunflower seeds and bacon and topped with a creamy Greek yogurt dressing.
Avocado Salad
This easy avocado salad combines creamy avocado with ripe tomatoes, red onions and a zesty lime dressing. It's the perfect healthy side dish.
Garlicky Kale Salad
This garlicky kale salad is the best kale salad ever and so easy to whip up. The zesty tahini dressing is absolutely delicious and makes this recipe taste JUST like the Whole Foods garlicky kale.
Easy Spinach Salad with Creamy Balsamic
This lovely spinach salad is topped with dried cranberries, goat cheese, toasted walnuts, avocado and a creamy balsamic dressing. Perfect as a side or topped with protein for a meal.
Fig Salad
An easy fig salad with arugula, chopped apples, dried cranberries, pecans and goat cheese topped with a delicious balsamic dressing. Perfect as a light lunch, side salad or topped with protein for a meal sized salad.
Beet Salad
An easy beet salad with arugula, pecans, gorgonzola and a delicious balsamic dressing. Perfect as a side or topped with protein for a meal sized salad.
Low Carb Cauliflower Potato Salad
Low carb, dairy-free potato salad made with cauliflower and a creamy cashew dressing instead of mayo.
Healthy Potato Salad
Instead of mayo and eggs we're using a red wine vinegar dressing, sun-dried tomatoes, shallots and spinach to create a flavorful vegan potato salad.
Spaghetti Squash Salad with Pesto
This pesto spaghetti squash salad is loaded with flavor, but so easy to toss together with just five simple ingredients. It's great served warm or cold.
Roasted Tomato Salad
This roasted tomato salad combines roasted and fresh tomatoes with cucumber, feta and basil for as summery salad that's so flavorful and refreshing.
Sweet Kale Salad with Poppyseed Dressing
Inspired by the popular chopped salad kits, this sweet kale salad is loaded with crunchy greens and topped with dried cranberries, pepitas and a creamy poppyseed dressing.
Zoodle Salad
This zoodle salad is loaded with veggies and tossed in a homemade Italian dressing. It's the perfect side salad for summer cookouts, BBQs and picnics!
Vinegar Coleslaw
A quick and easy vinegar-based coleslaw with shredded cabbage and carrots. It's flavorful, mayo-free and packed with nutrients.
Baby Beet and Clementine Salad
This delicious beet and clementine salad is loaded with greens, cooked beets, sweet clementines, crunchy pistachios, pickled onions and goat cheese all topped with a balsamic glaze. Perfect as a side salad or topped with protein for a more satisfying meal.
Kale Caesar Salad
Swap romaine for curly kale to make this amazing kale caesar salad with crunchy sourdough croutons and a creamy, healthy caesar dressing.
Raw Collard Greens Salad
This simple raw collard green salad is made with olive oil, apple cider vinegar, sun-dried tomatoes, onion and garlic. It comes together quickly and is the perfect side salad for fall and winter.
Antipasto salad
This vegetarian antipasto salad is easy to make and super flavorful. It's packed with tomatoes, artichoke hearts, olives, roasted red peppers, white beans and mozzarella all tossed in a red wine vinaigrette.
Vegan Broccoli Salad
Vegan broccoli salad with a rich and creamy cashew dressing instead of mayo. This salad is crunchy, sweet and absolutely delicious, perfect for summer parties.
Fennel and Celery Salad
This fennel and celery salad is loaded with medjool dates, almonds, fresh parsley and shaved parmesan. It's crunchy, sweet, savory and so easy to whip up!
Deconstructed Guacamole Salad
This guacamole salad is like deconstructed guacamole with avocado, tomatoes and a cilantro lime dressing. Serve as a healthy side or top with grilled protein for a meal-sized salad.
Green Bean Salad
This light and refreshing green bean salad combines fresh green beans, dried cranberries, toasted nuts and fried shallots all tossed in an apple cider vinegar dressing. It comes together quickly and is such a tasty side dish!
Roasted Vegetable Salad
This roasted vegetable salad features Brussels sprouts, butternut squash and cauliflower with a zesty horseradish dressing.
Roasted Broccoli Quinoa Salad
A delicious roasted broccoli quinoa salad made with sweet potatoes, kale, chickpeas and feta cheese all tossed in a flavorful lemon dressing. Gluten-free + vegetarian!
Italian Chopped Salad
This Italian chopped salad is packed with romaine lettuce, tomatoes, chickpeas, mozzarella cheese and pepperoncini peppers all tossed in a homemade Italian dressing. It's vegetarian and can easily be made vegan.
Spring Quinoa Salad
This spring quinoa salad combines quinoa with roasted asparagus and radishes, fresh parsley and pistachios all tossed in a simple lemon dressing. It's fresh, flavorful and perfect for meal prep.
Air Fryer Recipes
I love cooking veggies in my air fryer, especially when I'm looking to make a quick side dish for dinner. The end result is crispy, tender veggies that cook up in less time than in the oven!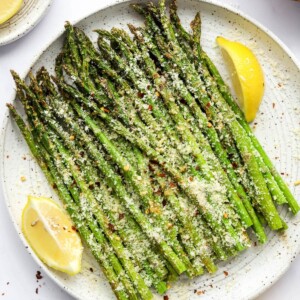 Air Fryer Asparagus
Make air fryer asparagus in under 10 minutes with this simple recipe! The end result is crisp and tender asparagus that makes for a perfect healthy side dish with just about any entree.
Air Fryer Breakfast Potatoes
The best air fryer breakfast potatoes that come out perfectly crisp on the outside and tender on the inside. They cook up in just 15 minutes and are the perfect addition to any breakfast.
Air Fryer Broccoli
A simple recipe for air fryer broccoli that tastes just like oven roasted broccoli but cooks up in just 6 minutes! It's crispy, flavorful and perfect for busy weeknights when you're looking to make a healthy side dish.
Air Fryer Cauliflower
Learn how to make cauliflower in the air fryer in under 20 minutes with this simple recipe. It's crispy, delicious and works as a side dish with just about any main entree.
Air Fryer Brussels Sprouts
These air fryer brussels sprouts are crispy, flavorful and absolutely addicting! They're the perfect healthy side dish for any occasion and can be whipped up in under 15 minutes.
Air Fryer Sweet Potato Fries
Air fryer sweet potato fries are crispier than baked sweet potatoes fries and much healthier than deep-fried ones! Plus, they cook up in 10 minutes.
Other Veggie Sides
From cauliflower rice and mashed cauliflower to zucchini pizza bites there are so many different ways you can prepare vegetables!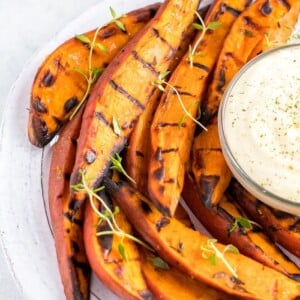 Grilled Sweet Potatoes
These easy grilled sweet potato wedges are the perfect veggie side and pair well with just about any grilled protein, especially burgers!
Zucchini Pizza Bites
Satisfy your pizza craving with these healthy zucchini pizza bites. They're coated in an almond flour mixture, baked and then broiled with the sauce, cheese and toppings.
Sweet Potato Bites
These baked sweet potato bites are topped with ricotta cheese, pecans, pomegranate, honey and fresh thyme. They're the perfect blend of sweet and savory and are a quick and easy appetizer that everyone will love!
How to Make Cauliflower Rice
How to make cauliflower rice at home with fresh cauliflower. It's so easy and can be used in a variety of ways!
Mashed Cauliflower
Swap potatoes for cauliflower with this healthy mashed cauliflower recipe! It's the perfect side dish and comes together quickly with only 6 ingredients. It's just as creamy and delicious as mashed potatoes, but has half the calories and one-third of the carbs.
Perfect Baked Sweet Potato
Here's how to make the perfect baked sweet potato every time! With crisp skin and a warm and soft center, baked sweet potatoes a delicious side dish served savory or sweet.
Healthy Mashed Potatoes
These healthy mashed potatoes are made lighter with Greek yogurt and almond milk. They're still super creamy, flavorful and make for the perfect side dish for the holidays or any meal.
Baked Cauliflower Mac and Cheese
Swap noodles for cooked cauliflower with this baked cauliflower mac and cheese! It's low-carb and gluten-free while still being cheesy and delicious.
Preheat oven to 425°F.

Place squash, zucchini, onion, garlic and oil in a large bowl. Toss until the veggies are coated. Liberally sprinkle on salt and pepper and toss once more.

Spread mixture out on a large rimmed baking sheet and roast for 30 minutes, tossing once around the 15 minute mark. Remove from oven and serve warm with protein of your choice.
Serving: 1/3 recipe | Calories: 88kcal | Carbohydrates: 9g | Protein: 3g | Fat: 5g | Fiber: 2.5g | Sugar: 6.5g
Nutrition information is automatically calculated, so should only be used as an approximation.
More Recipe Collections You Might Enjoy