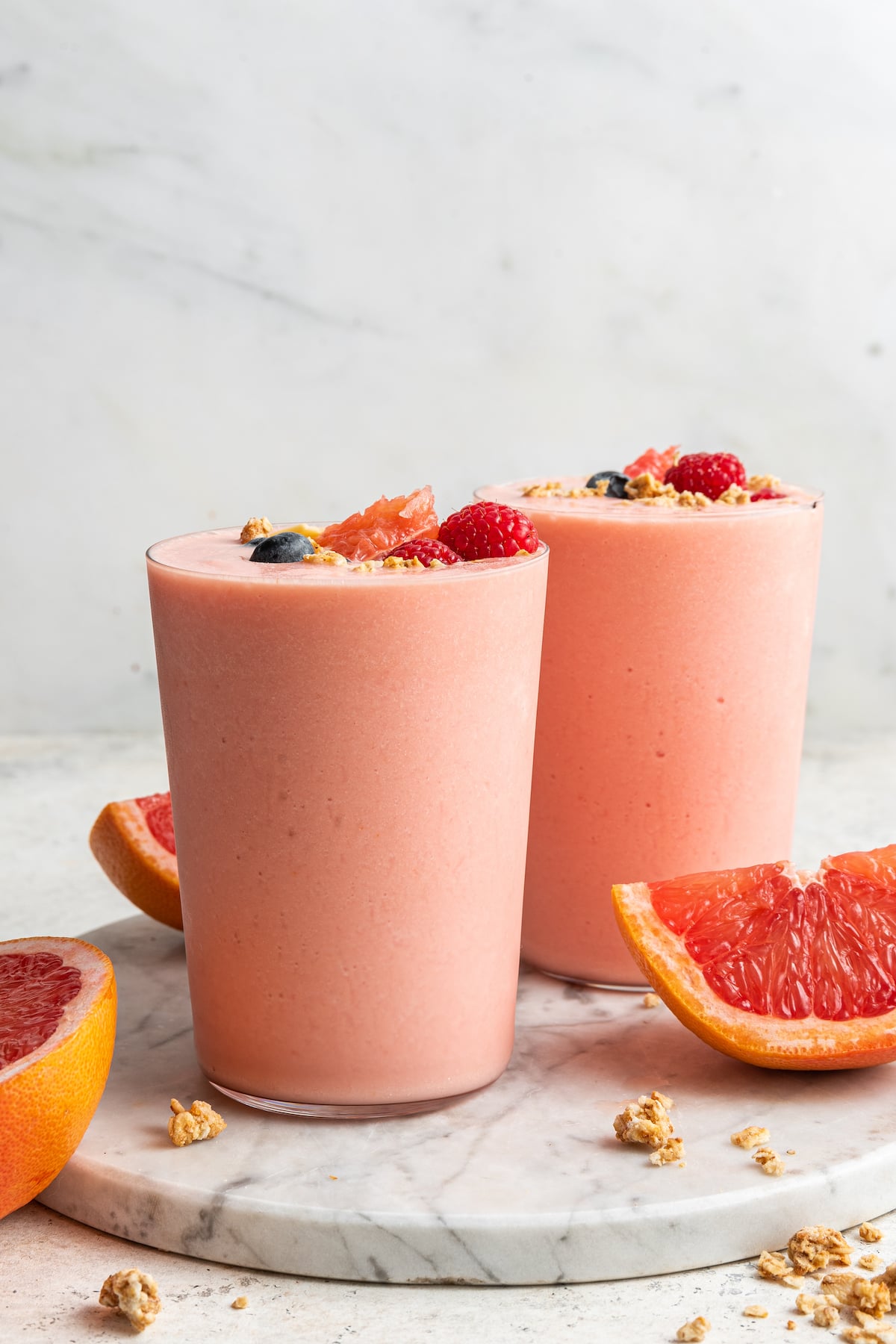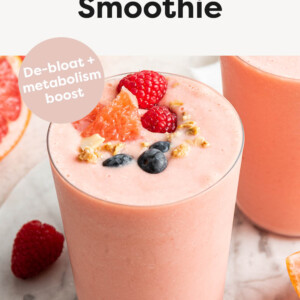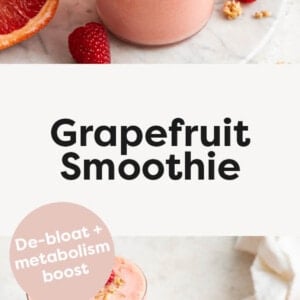 This grapefruit smoothie combines red grapefruit, frozen pineapple, fresh ginger and Greek yogurt for a healthy smoothie that helps diminish bloating and boost your metabolism!
This grapefruit smoothie came together after a week of indulging in more restaurant meals and alcohol than normal. I could tell that my body was bloated and in need of a little break, so I threw together a combo of superfoods and the end result was this grapefruit smoothie! It's the perfect elixir for resetting.
The grapefruit brings a tangy sweetness, along with a beautiful pink hue. The frozen pineapple adds a lovely sweet flavor while giving the smoothie a creamy, thick consistency. And last but not least, the fresh ginger gives this smoothie a pop of spice.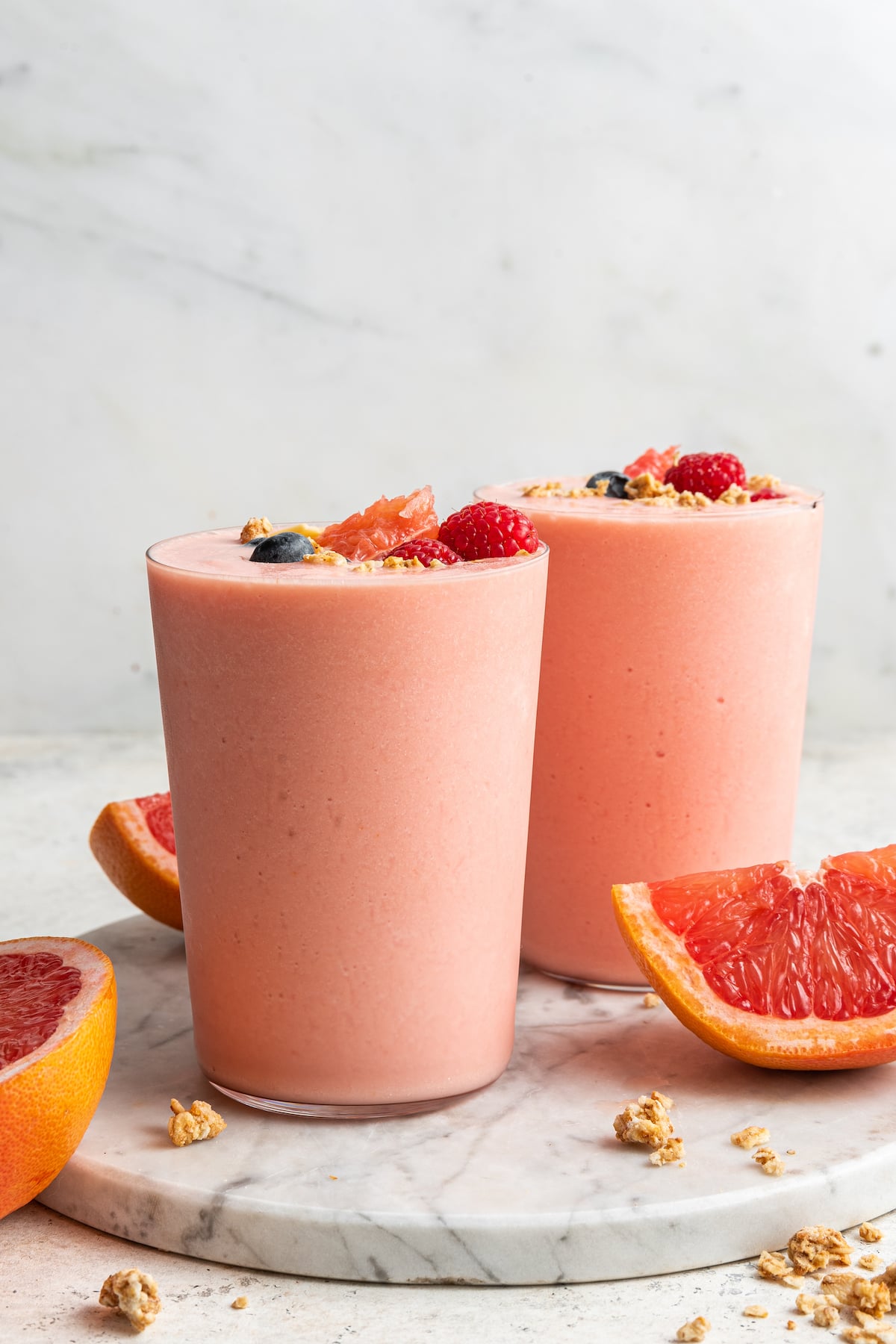 Grapefruit Nutrition
Grapefruit is more than just a tart and juicy fruit. It's also packed with several health benefits, making it a great addition to your diet. Here are some of the nutritional benefits of grapefruit:
Rich in antioxidants: Grapefruit is loaded with antioxidants, including vitamin C, beta-carotene, and lycopene. These help to reduce inflammation and neutralize harmful free radicals in your body, supporting overall health.
Boosts immunity: The high vitamin C content in grapefruit helps to strengthen your immune system, protecting you against common illnesses like colds and flu.
Aids in weight loss: Grapefruit is low in calories and high in fiber, making it a good food choice for weight management. It also helps the body use insulin efficiently, which keeps blood sugar under control and boosts calorie burn.
Promotes healthy skin: Grapefruit has a high water content, which in addition to the antioxidants and vitamins can help keep your skin healthy and glowing. It can slo fight skin damage caused by the sun and pollution and also promote collagen production, which helps keep your skin firm and youthful.
Ingredients Needed
grapefruit – a citrus fruit similar to oranges, but is larger, heavier and less sweet. I used a red grapefruit for this smoothie, but feel free to use your favorite variety of grapefruit.
frozen pineapple – is packed with nutrients and an important enzyme called bromelain, which metabolizes protein, eases inflammation and decreases bloating, making it the perfect addition to this smoothie!
Greek yogurt – is an excellent source of calcium, potassium, zinc and B vitamins. It also has protein to help keep you full and probiotic cultures for good gut health. I typically use full-fat Greek yogurt, but 2% or low-fat Greek yogurt will also work. If you need this smoothie to be dairy-free, feel free to use your favorite vegan yogurt.
coconut oil – for the medium-chain fatty acids, which are easily digested, burned for energy and promote blood sugar stabilization. You can use melted or solid coconut oil – whatever you have will work.
fresh ginger – adds a nice zip to this smoothie! Plus, it's amazing for treating nausea and has awesome anti-inflammatory effects.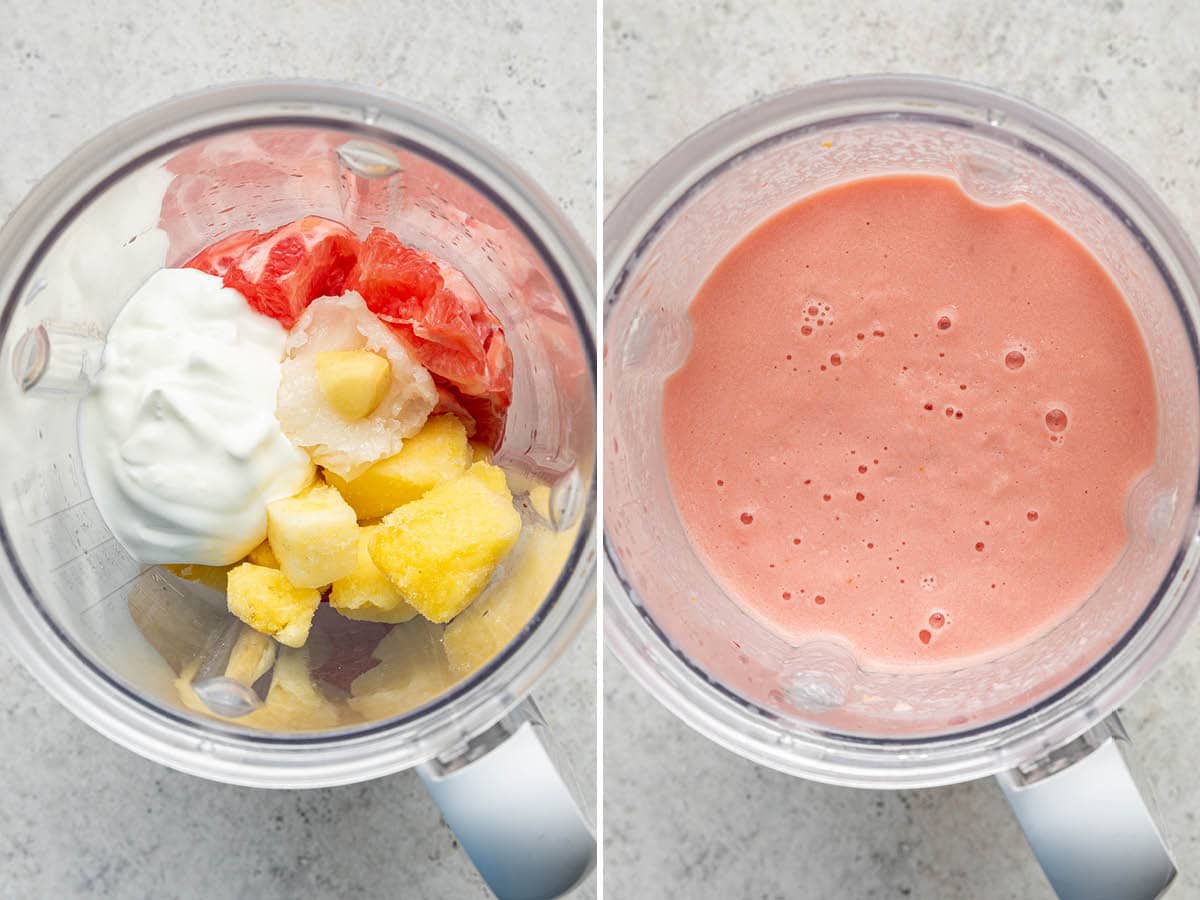 How to Make
First, segment your grapefruit over a bowl so you can collect all the juice. Set 2-3 segments aside for topping.
Add your grapefruit segments, grapefruit juice, frozen pineapple, Greek yogurt, coconut oil and fresh ginger into a high-speed blender and blend until smooth.
Pour your smoothie into two glasses and enjoy with your favorite toppings. My go-to toppings are grapefruit segments, granola and fresh berries.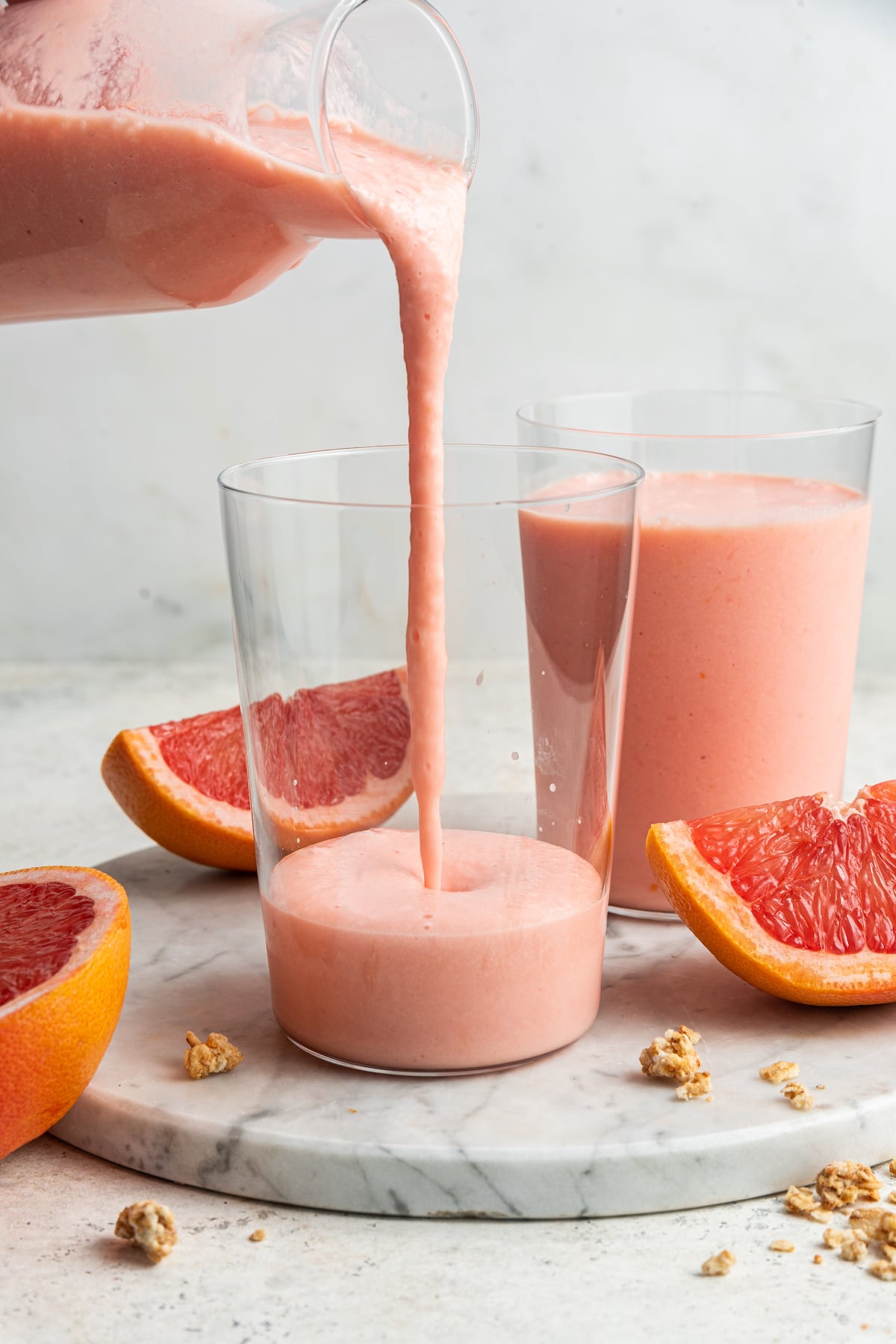 How to Cut Grapefruit
Cut off both ends of the grapefruit so it has a flat base to stand on.
Stand the grapefruit up and slice off the peel and pith (the white part), following the curve of the fruit.
Once the peel is off, hold the grapefruit over a bowl (to catch the fresh juice) and slice along the membranes to remove the segments. Segmenting the grapefruit removes the bitter pith and makes for a sweet and juicy smoothie without any bitter aftertaste.
Types of Grapefruit
There are several types of grapefruit, each with its own unique flavor and color.
Ruby Red: Known for its deep red color and sweet, tangy flavor. It's one of the most popular types of grapefruit available. I used Winter Sweetz for this grapefruit smoothie recipe. They're grown in Texas and quite possibly the sweetest, juiciest grapefruit I've ever had.
White: Has a yellowish-white flesh and a tart, tangy flavor.
Pink: Has a pinkish flesh and a balance of sweet and tart flavors.
Star Ruby: This variety is very similar to Ruby Red, but it has an even deeper red color and a slightly stronger flavor.
Pomelo: Though technically a different type of citrus, pomelos are the largest and the ancestor of grapefruit. They have a milder, sweeter flavor compared to grapefruit.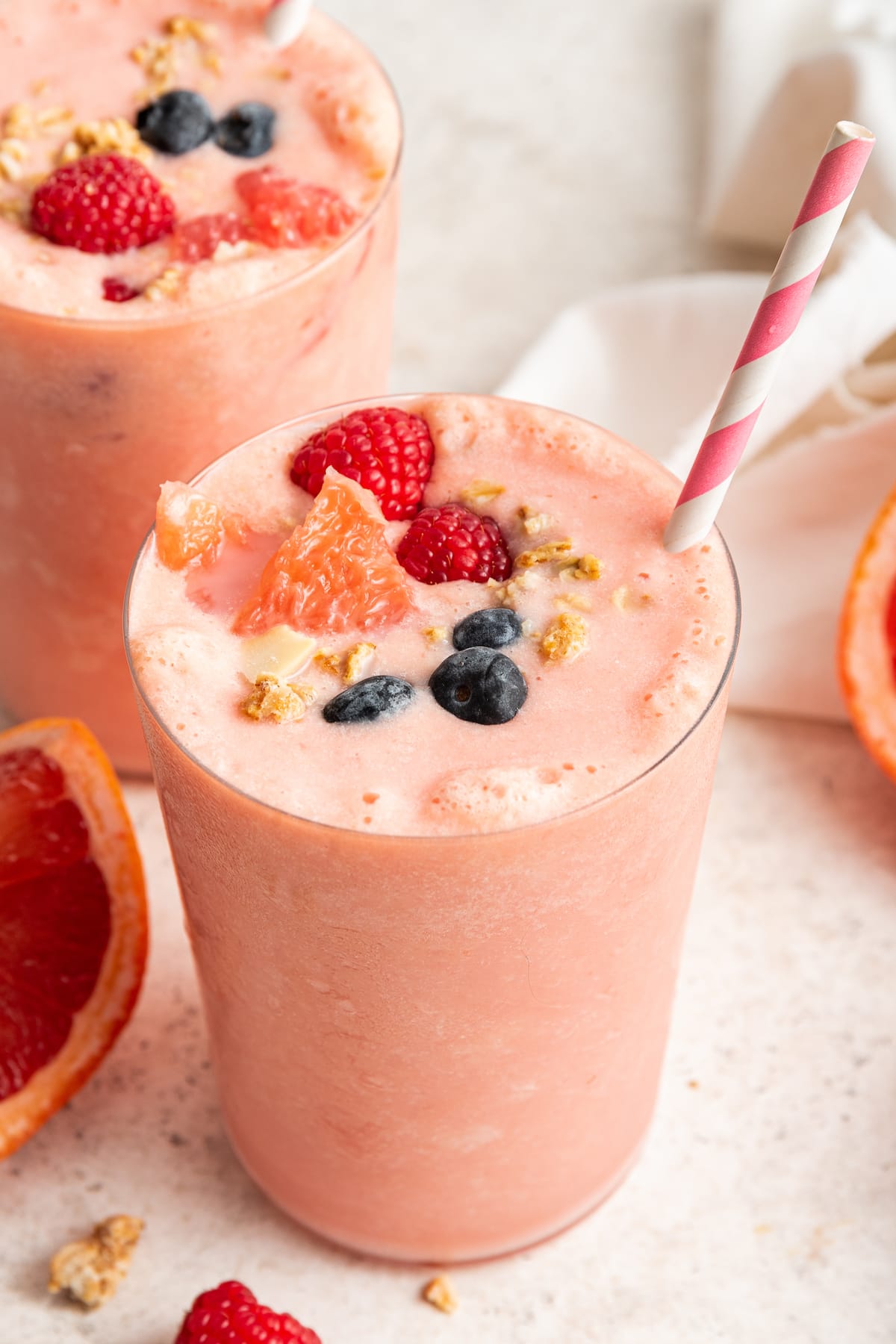 Customize Your Smoothie
Add protein: If you want to add more protein to this smoothie feel free to add a scoop of protein powder or collagen powder. You could also add a scoop of nut or seed butter, chopped nuts, chia seeds or hemp seeds for a protein boost.
Make it a smoothie bowl: This smoothie has a thicker texture that works well for smoothie bowls if you'd prefer to enjoy this smoothie with a spoon. Just pour it into a bowl and top it with your favorite toppings. I love granola, grapefruit segments, fresh raspberries, fresh blueberries and sometimes a little drizzle of almond butter. Also, if you want to make your smoothie even thicker, just add a handful of ice cubes.
Thin the smoothie: If your smoothie is too thick you can add a little non-dairy milk or water.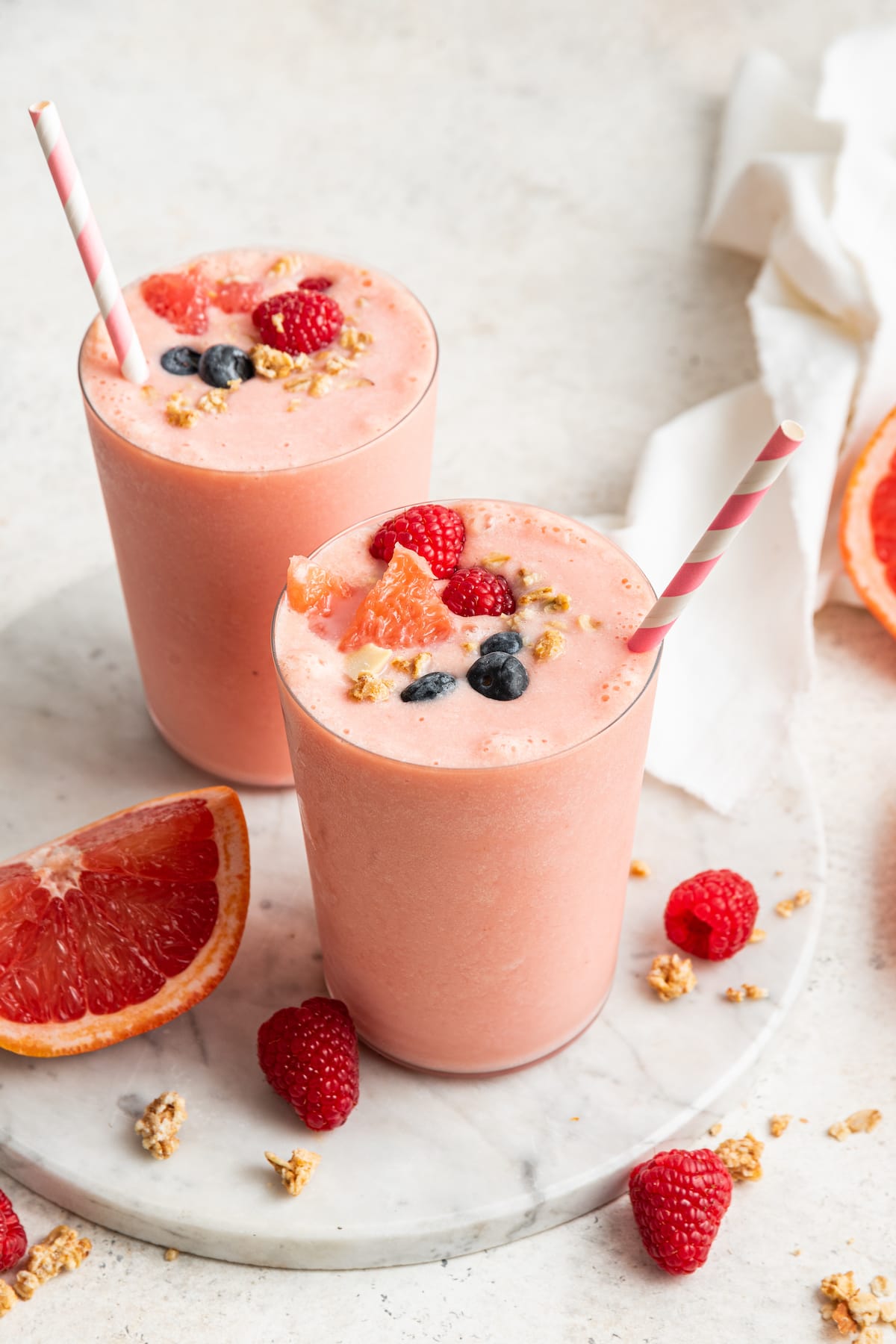 Tips on Saving a Smoothie for Later
Store the smoothie in a glass container with an airtight lid (I use mason jars, but a thermos would probably work really well too). Seal the container and place in the fridge as soon as possible.
Try to fill the container to the top to avoid extra air which will cause the smoothie to oxidize.
Add a little lime or lemon juice to prevent oxidation.
Take the smoothie out of the fridge when you're ready to drink it. Give it a good shake and enjoy.
Plan to drink the smoothie within 24 hours – it won't keep much longer than that.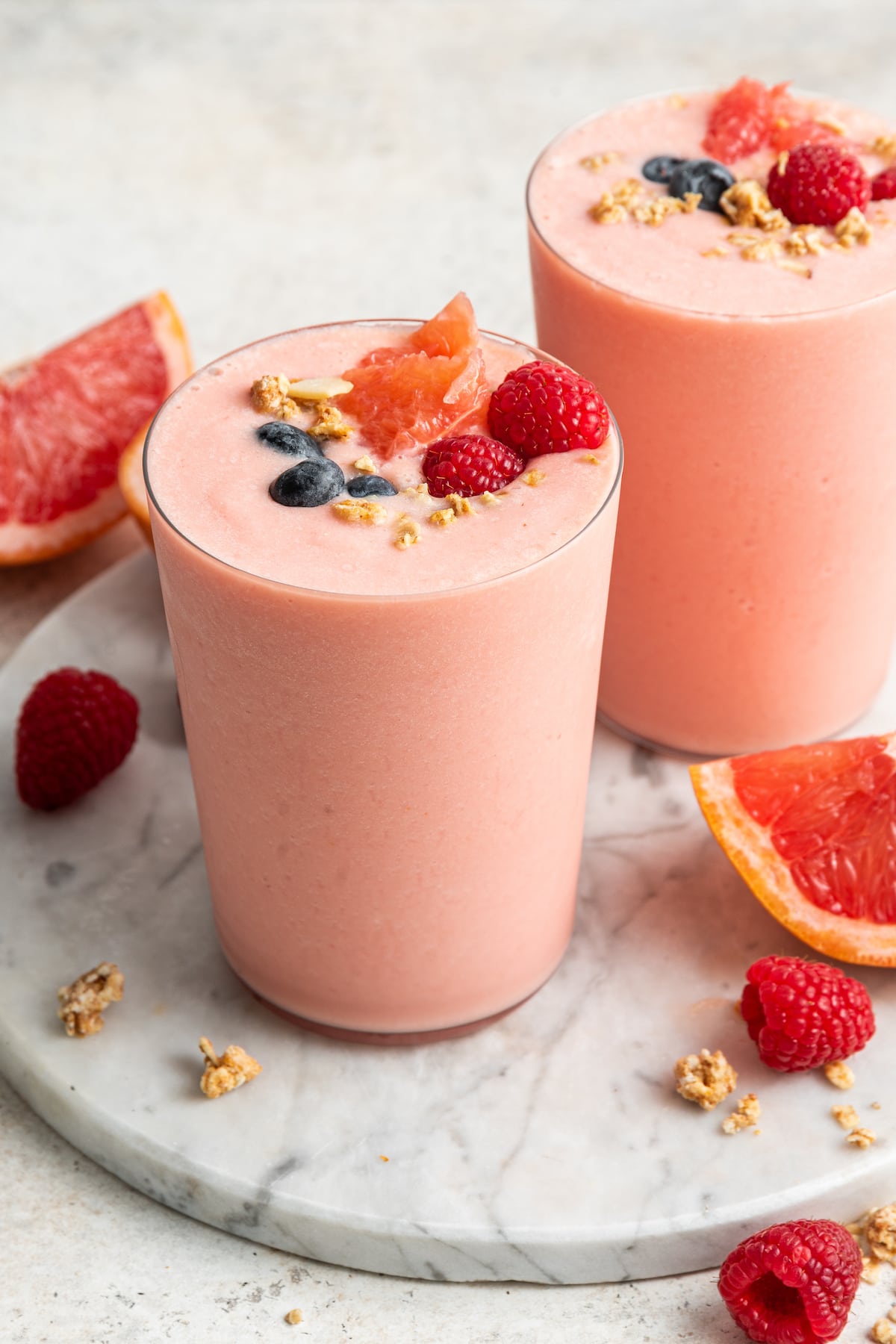 More Healthy Smoothie Recipes
Be sure to check out all the smoothie recipes and the full collection of drink recipes on EBF!
Segment grapefruit over a bowl so you can collect all the juice. Set 2-3 segments aside for topping.

Add grapefruit segments, grapefruit juice, frozen pineapple, Greek yogurt, coconut oil and fresh ginger into a high speed blender and blend until smooth.

If smoothie is too thick you can add a little non-dairy milk.

Pour into two glasses and enjoy. Or serve in a bowl with your favorite toppings — grapefruit segments, granola, berries, etc.
Greek yogurt – You can use non-dairy yogurt to make this smoothie dairy-free.
Serving: 1 smoothie | Calories: 287kcal | Carbohydrates: 44g | Protein: 6g | Fat: 10g | Saturated Fat: 8g | Cholesterol: 5mg | Sodium: 34mg | Potassium: 379mg | Fiber: 5g | Sugar: 32g
Nutrition information is automatically calculated, so should only be used as an approximation.