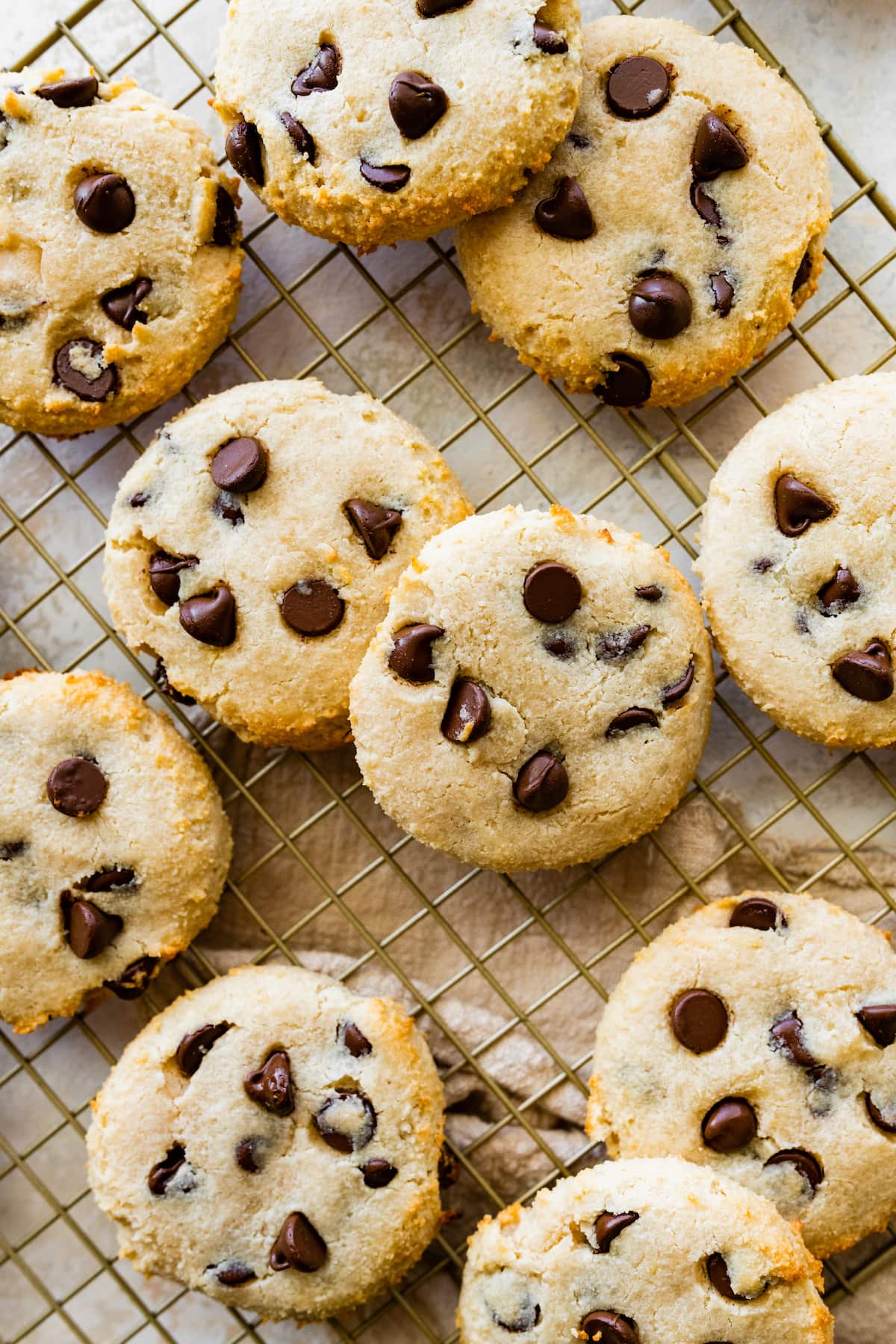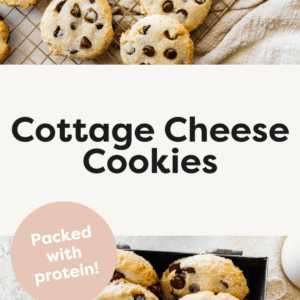 These high protein cottage cheese cookies are soft, chewy and made with only 7 ingredients. They're gluten-free, egg-free, low sugar and have 8 grams of protein per cookie.
Get ready for your new cookie obsession… cottage cheese cookies!
Yes, you heard right… we're making chocolate chip cookies with cottage cheese. And guess what? You can't even taste the cottage cheese. Even Isaac (who isn't a cottage cheese fan) loves them!
This recipe came together after I tried Jake Cohen's amazing edible cottage cheese cookie dough. I wanted to create a recipe that could not only be enjoyed straight up as cookie dough but also as cookies. After some recipe tweaking and about 10 batches, I'm excited to be sharing this recipe with you today!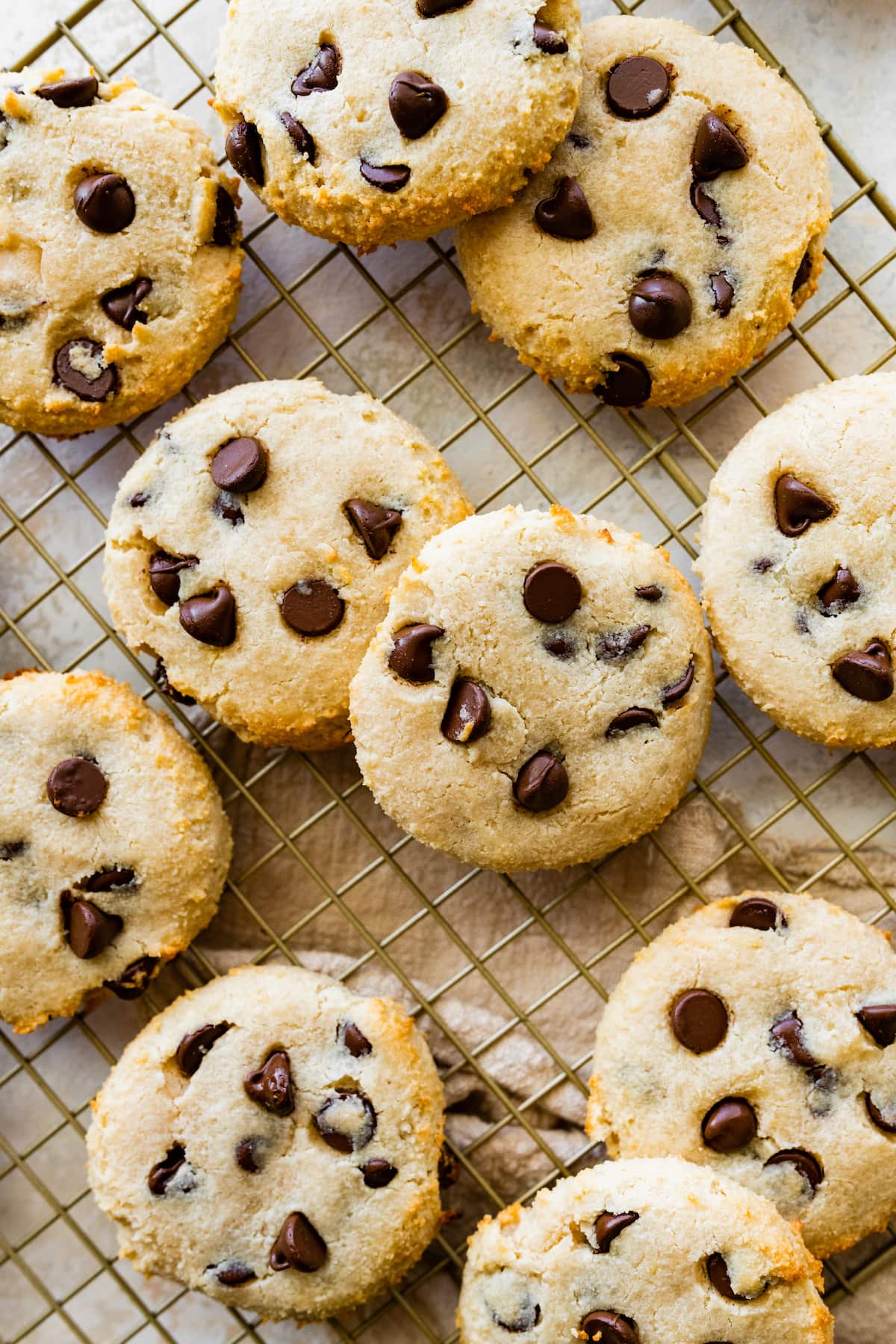 Why You'll Love These Cookies
There are 8 grams of protein per cookie thanks to the cottage cheese and protein powder.
They're low in sugar and naturally sweetened with maple syrup.
Kid-friendly and adult-approved. We all gobbled these cookies up, including Olivia.
Super easy to make – no complicated steps involved! Simply blend, mix and bake.
You only need 7 simple ingredients that you probably already have in your kitchen.
They're gluten-free, grain-free and egg-free.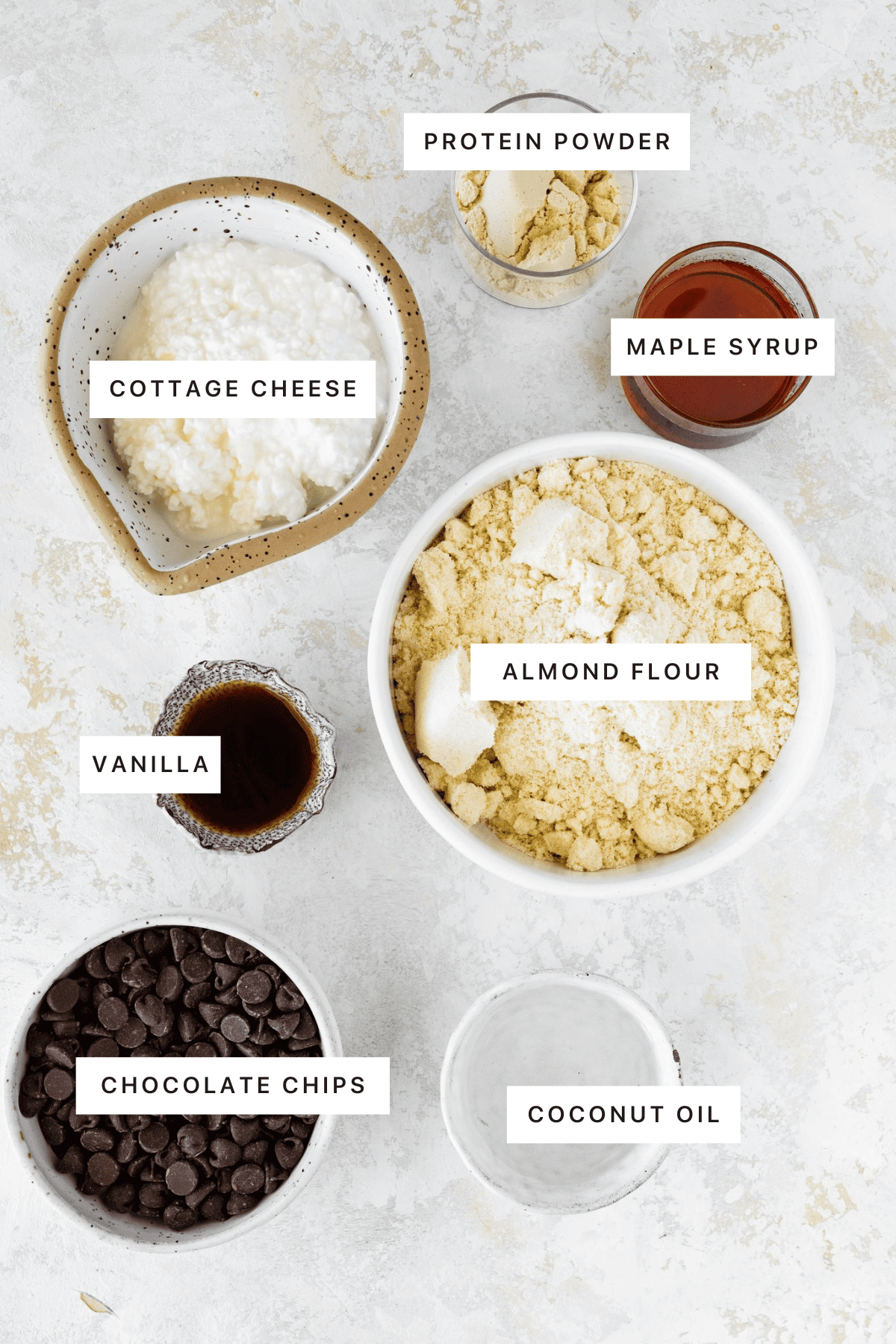 Ingredients Needed
cottage cheese – the star ingredient in these cookies! Cottage cheese makes the cookies nice and moist and adds a boost of protein. I used whole milk Good Culture cottage cheese, which is 4% milkfat and small curd. I recommend using 4% milkfat cottage cheese for the best results. And because cottage cheese has a higher sodium content there's so need for added salt in this recipe.
maple syrup – my favorite natural sweetener, giving the cookies a nice, subtle maple flavor.
vanilla extract – a nice flavor enhancer.
almond flour – a nutrient-dense flour that's grain-free and gluten-free. It's also what makes these cookies soft and chewy. One thing to note is that you can't simply swap almond flour for all-purpose flour at a 1:1 ratio. Almond flour is just ground almond, which has totally different consistency (and fat/protein level) than traditional flour. My favorite brand is Bob's Red Mill super fine almond flour.
coconut oil – helps keep the cookies moist.
vanilla protein powder – adds more protein and vanilla flavor to these cookies. I tested these cookies with both Nuzest protein powder (use code eatingbirdfood for 15% off your order) and Sun Warrior Vanilla Warrior Blend and both batches turned out great.
chocolate chips – I used Lily's dark chocolate chips because they are sweetened with stevia and low in sugar, but you can use any brand you prefer.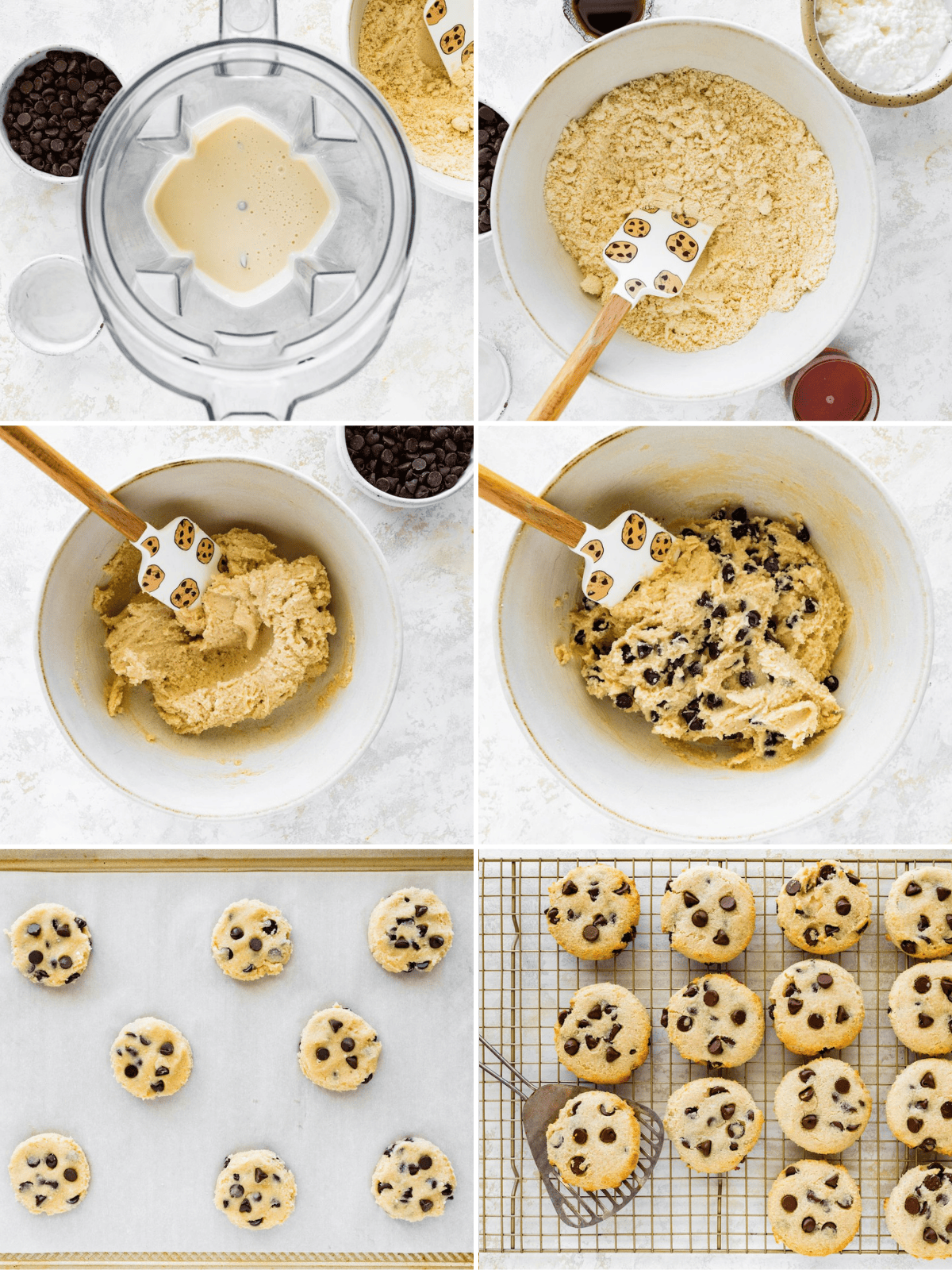 How to Make
This cottage cheese cookie recipe is pretty straight-forward and easy to make!
Start by preheating your oven to 350°F and lining a baking sheet with parchment paper. In a blender, add the cottage cheese, maple syrup and vanilla and blend on high until smooth.
In a medium mixing bowl combine the almond flour and protein powder. Then add the coconut oil and cottage cheese mixture and stir until combined. Gently fold in the chocolate chips.
Scoop the dough onto the prepared baking sheet using a medium cookie scoop and use your hands to flatten the cookies just a bit so they're in a cookie shape. You can also roll the cookie dough into a ball and then use your hand to flatten for a more uniform shape.
Top the cookies with a few more chocolate chips and bake for about 15-16 minutes or until the bottom of the cookies are golden brown. Let cool for a few minutes on the baking sheet then transfer to wire racks to cool completely. Enjoy!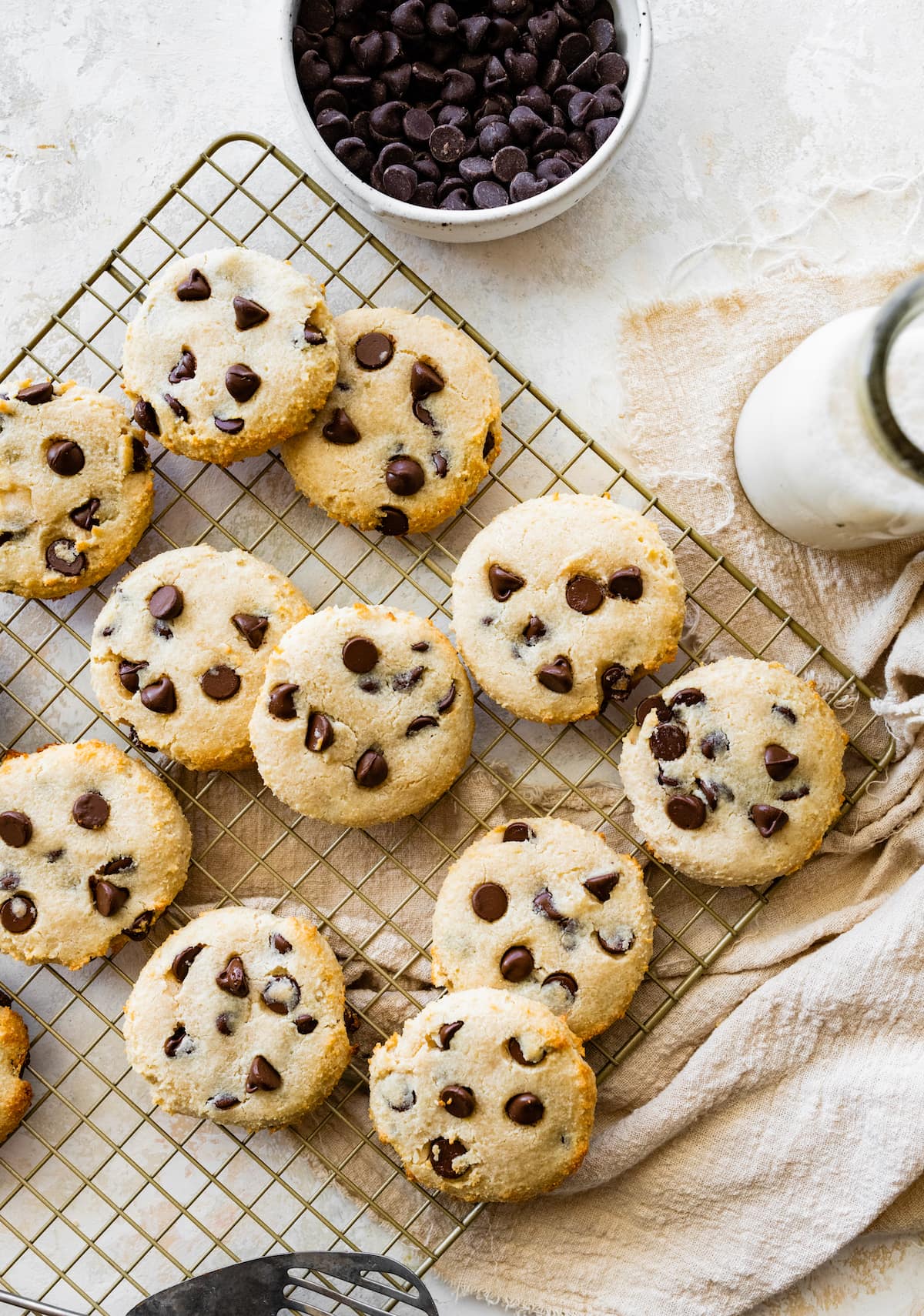 Why Was my Batter Runny/Why Did my Cookies Turn Out Flat?
There could be a few reasons why your cookies turned out flat or why your batter seemed to be super runny. First, it could have been the type of protein powder you used. Not all protein powders are created equally and some are more absorbent than others. Second, it could have been the type of cottage cheese you used. Some brands are more liquidy than others. I used both Good Culture and Trader Joe's small curd 4% milkfat cottage cheese and didn't have any issues with either of them.
If you notice that your dough seems pretty liquidy after mixing everything together, you could try adding 1/4-1/2 cup more almond flour to the dough to see if that helps. I did test this recipe with 2 cups almond flour and 1/4 cup protein powder and it turned out just fine for me.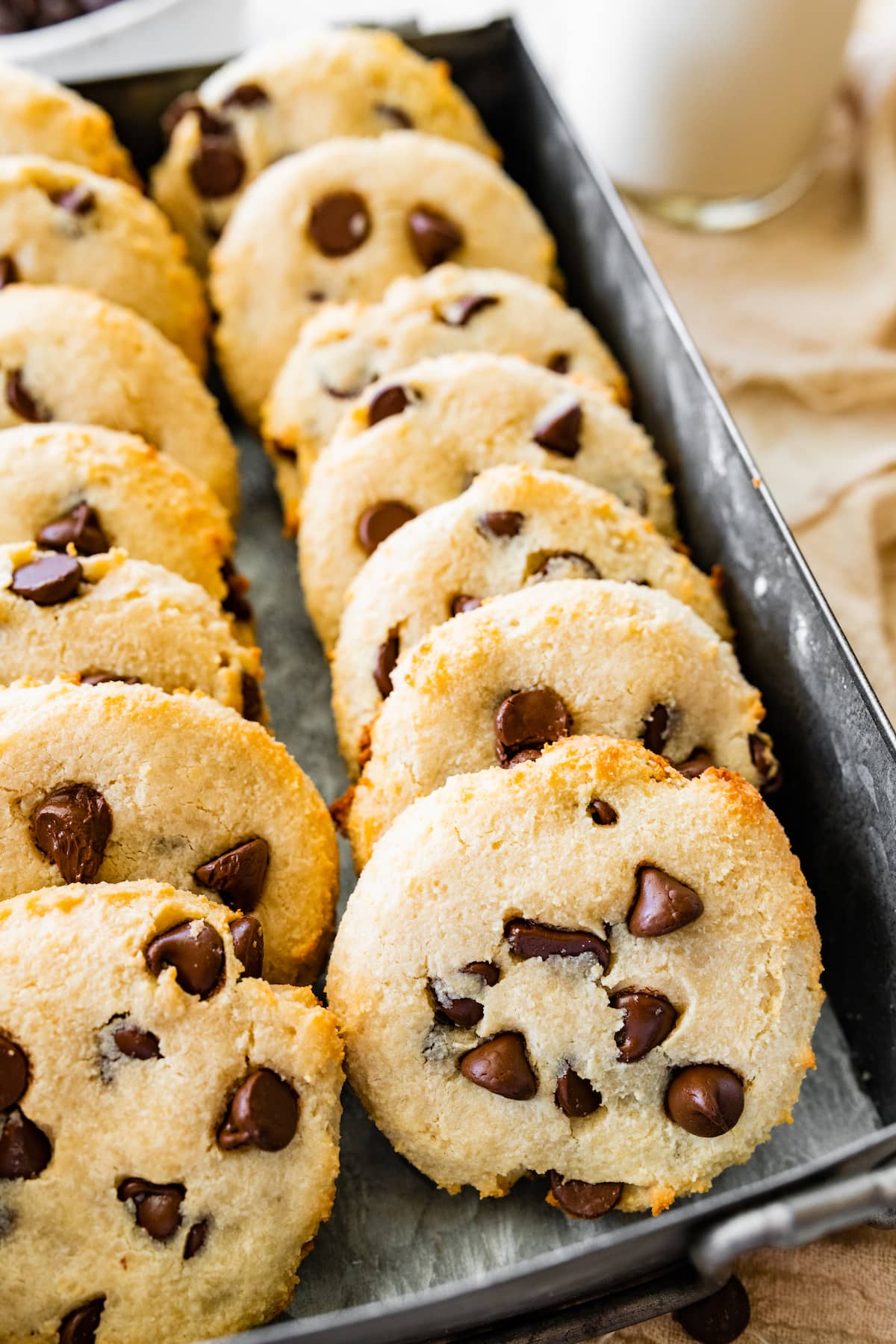 Substitutions & Notes
Sweetener: I haven't tried it, but you should be able to swap the maple syrup with another liquid sweetener of choice like honey or agave.
Flour: I've only tested this recipe with oat flour and it didn't turn out that great as oat flour is much drier than almond flour, so I wouldn't recommend using oat flour. I haven't tried it, but coconut flour might work as a substitute, you probably just wouldn't need as much flour because coconut flour is super absorbent and can't be subbed 1:1 with other flours.
Protein powder: If you don't have protein powder on hand or just aren't a fan you could try replacing some of the protein powder with more almond flour. I haven't tried it, but I would start with 2 cups of almond flour if you are skipping the protein powder.
Oil: If you don't have coconut oil, melted butter or another neutral oil like olive oil or avocado oil can be used instead.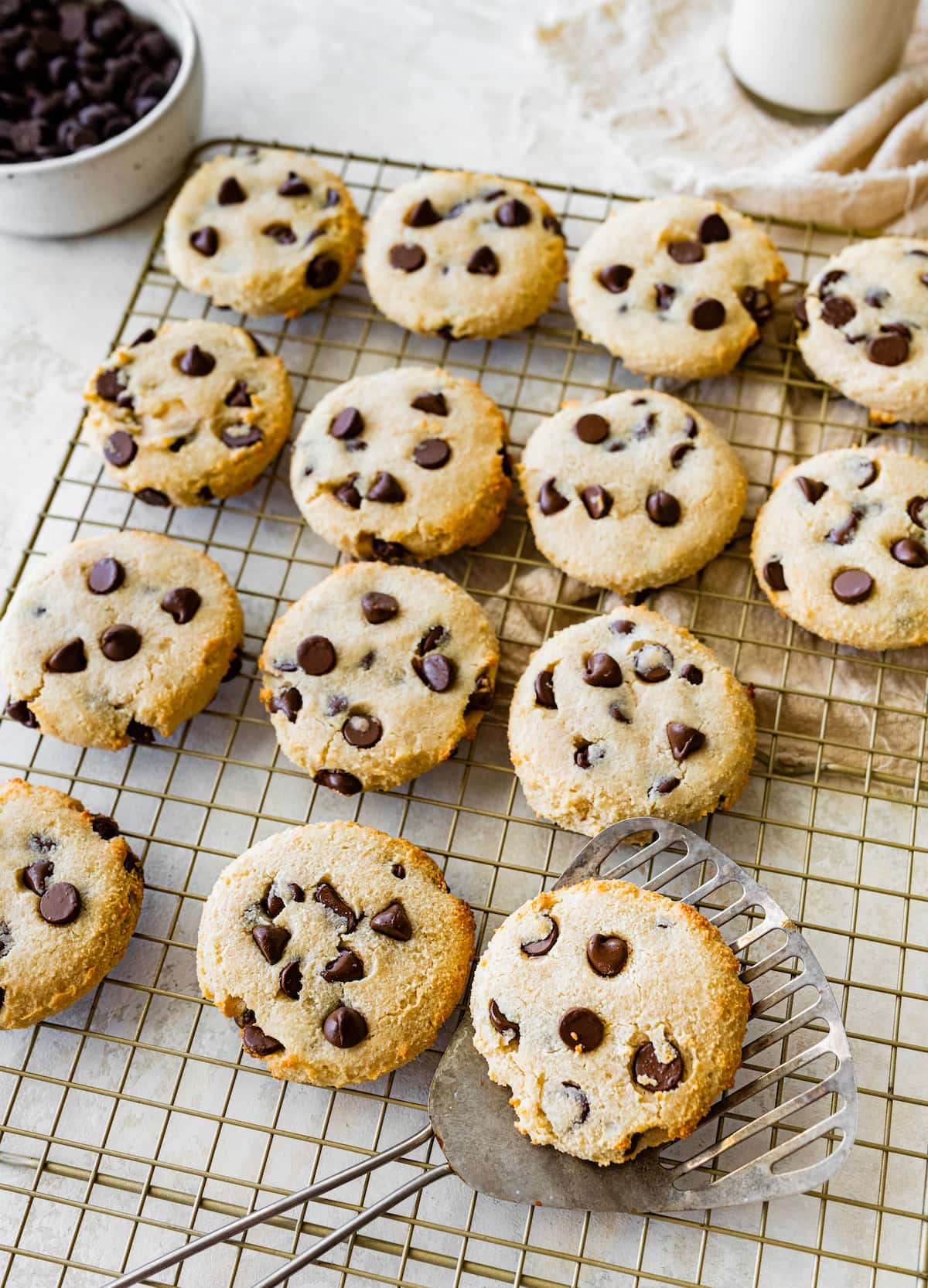 How to Store
These cookies can be stored in an airtight container at room temperature for up to 3 days. For longer storage, place them in the refrigerator for about a week.
You could also freeze them for up to 3 months. Just thaw in the fridge or at room temperature before enjoying!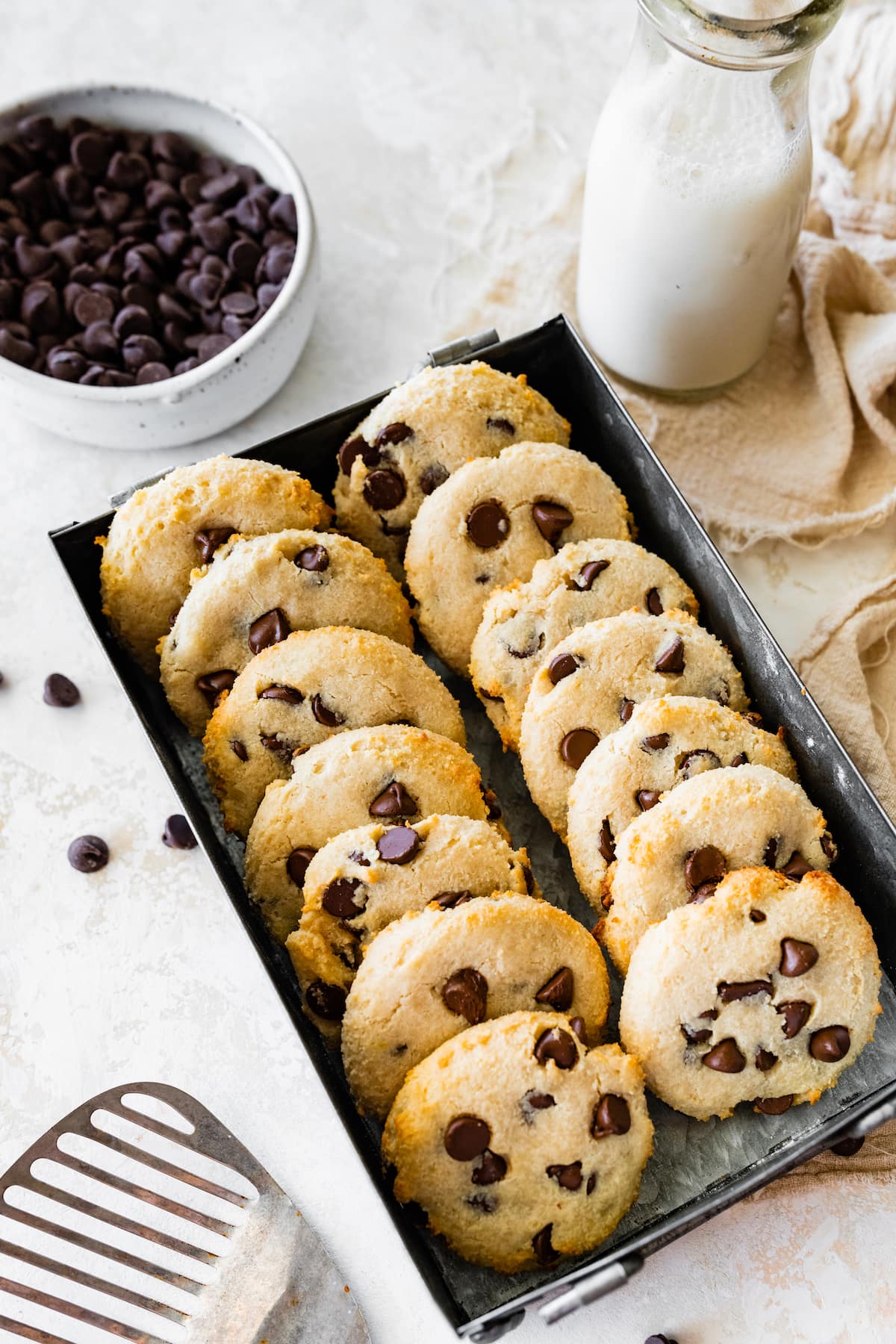 FAQ's
Are these cottage cheese cookies healthy?
Totally! They're low in sugar, have no artificial ingredients and one cookie is packed with 8 grams of protein each, so they're definitely healthy in my book!
What type of cottage cheese is best to use?
The type of cottage cheese you use is up to personal preference or what you have available in your grocery stores. I personally like to use organic dairy products free from antibiotics and hormones (like rbST). If you're looking for good organic cottage cheese brands I recommend Good Culture, Organic Valley and Kalona SuperNatural. I also tested this recipe with Trader Joe's full-fat cottage cheese.
What type of protein powder is best for these cookies?
I recommend using a plant-based protein powder with minimal ingredients. I tested both Sun Warrior and Nuzest protein powder and both worked great. Neither of them have a chalky taste and the ingredient list is minimal. You really can't taste the protein powder in these cookies at all and they have a great texture! I haven't tested these cookies with a whey protein or hemp protein blend so I'm not sure if the consistency would change at all. Let me know if you try any of these options in the comments below!
Can I make these cookies nut-free?
Unfortunately, I don't recommend swapping the almond flour for another flour as it'll likely change the consistency and texture of these cookies. I tested these cookies with oat flour and they turned out dry and didn't have the best texture. I am curious to see how coconut flour works, but I haven't tested it yet.
Is there a sub for the cottage cheese?
Since cottage cheese is the main ingredient in this cookie recipe, there isn't a good substitute for it. Greek yogurt might work, but I'm not sure how the consistency or flavor of these cookies will be.
Is there a way to make these cookies dairy-free?
Unfortunately not since cottage cheese is made with dairy. If you're looking for a vegan protein cookie recipe you could make these protein cookies instead.
Can I make these cookies without protein powder?
I haven't tested it, but I bet you can sub the protein powder with more almond flour. I would test it with 2 cups almond flour if you skip the protein powder, but again I haven't tried it so am not 100% sure how the cookies will turn out.
More Cottage Cheese Recipes
More Cookie Recipes
Be sure to check out all of the cottage cheese recipes and the full collection of cookie recipes here on EBF!
Serving: 1 cookie | Calories: 124kcal | Carbohydrates: 9g | Protein: 8g | Fat: 8g | Saturated Fat: 3g | Cholesterol: 2mg | Sodium: 103mg | Potassium: 112mg | Fiber: 2g | Sugar: 6g
Nutrition information is automatically calculated, so should only be used as an approximation.