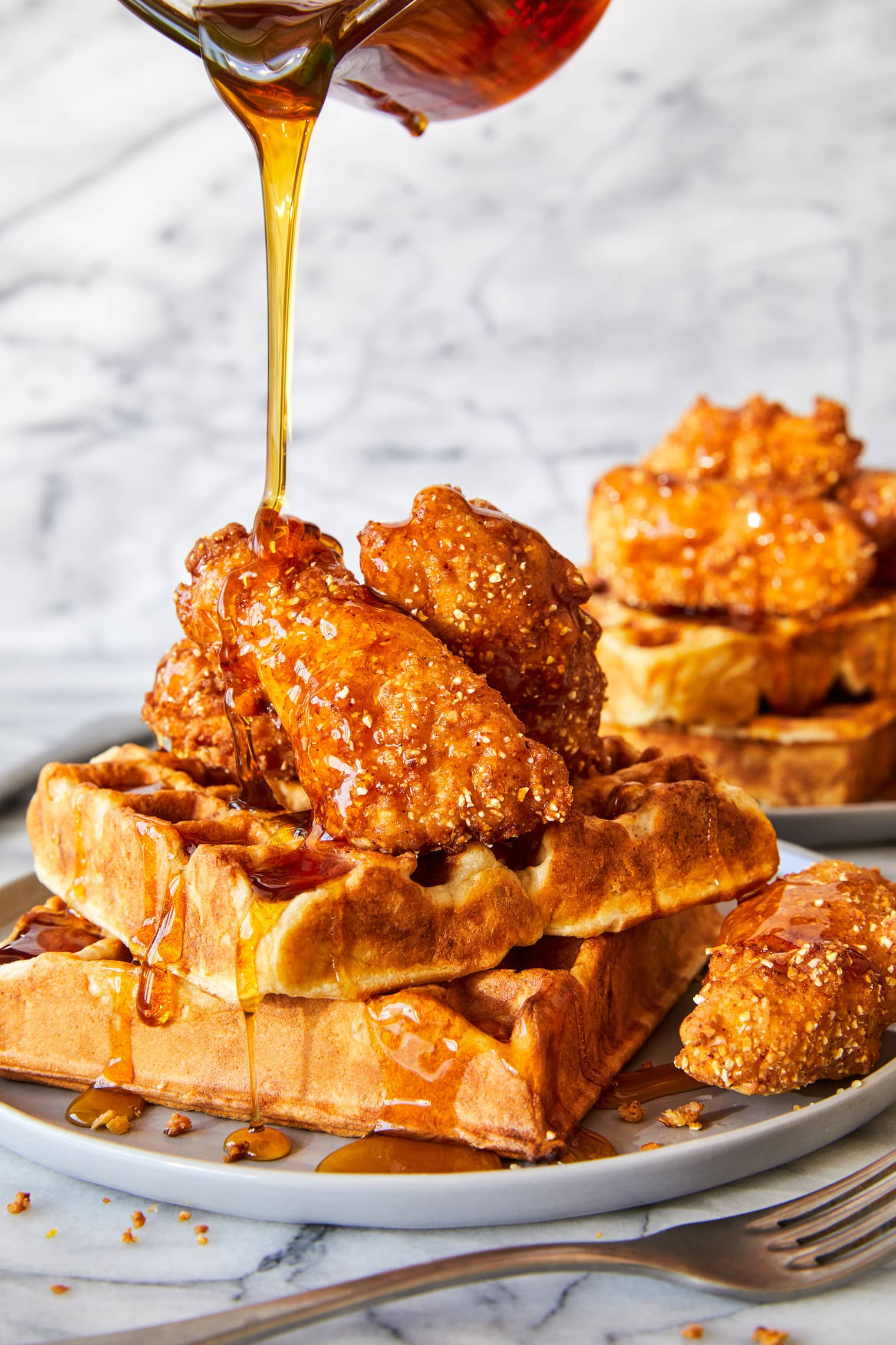 This post may contain affiliate links. Please see our privacy policy for details.

Super crispy fried chicken, drizzled with a warm honey glaze, served with the fluffiest buttermilk waffles!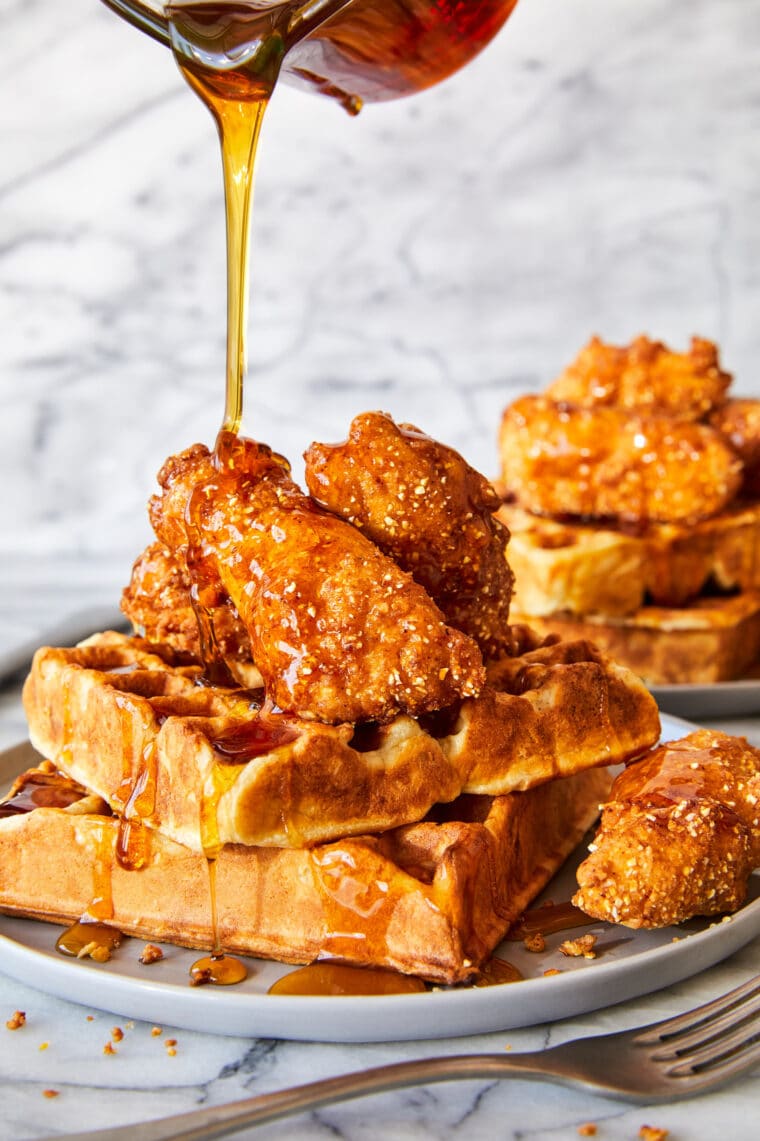 There's a few steps involved in this, but my goodness is it a labor of love (of 45 minutes of course). And the end result is so worth it.
With the crispiest chicken (breasts or thighs can be used here) drizzled with a warm honey glaze and the best buttermilk waffles one can ask for – crisp on the outside, fluffy in the middle.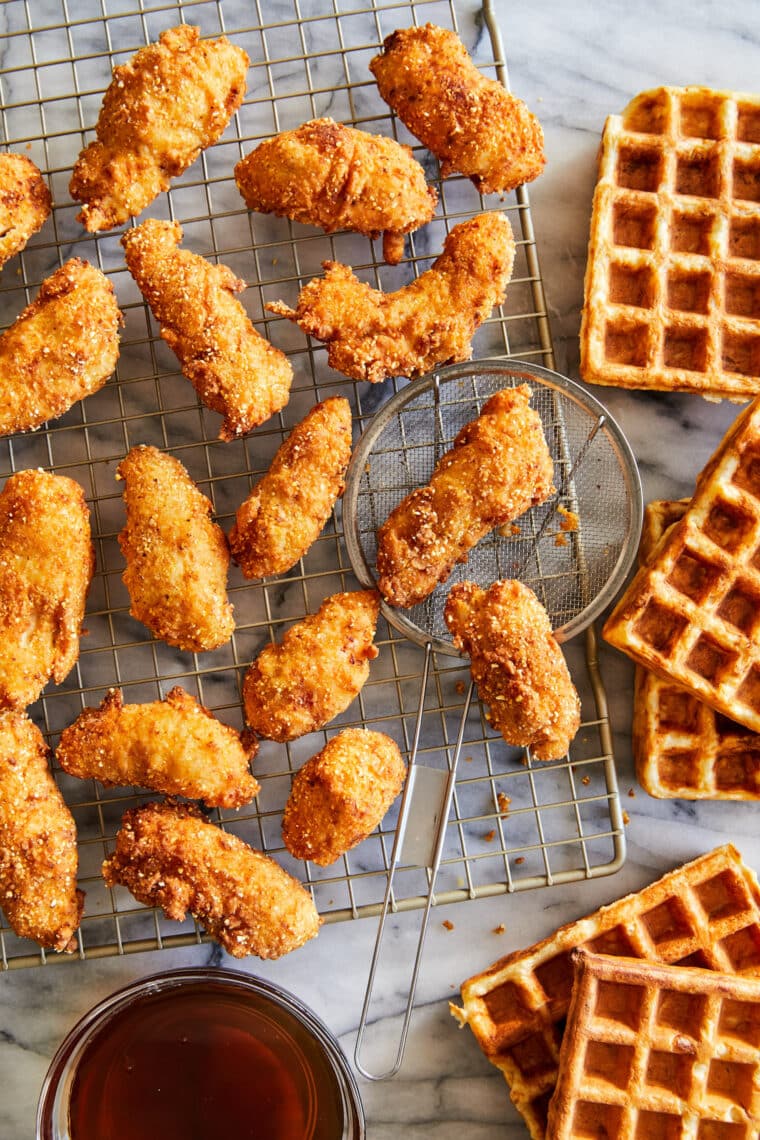 If honey is not your cup of tea, warm maple syrup also works beautifully here.
And a warm 200 degree oven will be your best friend here, keeping everything warm and cozy while you prep everything else. Serve for breakfast or my favorite, breakfast for dinner.
for the buttermilk waffles
2 cups all-purpose flour
1 tablespoon sugar
2 teaspoons baking powder
¾ teaspoon baking soda
1 teaspoon kosher salt
1 ⅔ cups buttermilk
2 large eggs
¼ cup unsalted butter, melted
for the chicken
1 ¼ cups all-purpose flour
1 cup yellow cornmeal
2 teaspoons baking powder
1 teaspoon cayenne pepper
Kosher salt and freshly ground black pepper, to taste
2 pounds boneless, skinless chicken breasts or thighs, cut into 1 1/2-inch chunks
2 cups buttermilk
6 cups vegetable oil
¼ cup honey, warmed
for the buttermilk waffles
Preheat oven to 200 degrees F and a waffle iron to medium-high heat. Lightly oil the top and bottom of the waffle iron or coat with nonstick spray.

In a large bowl, combine flour, sugar, baking powder, baking soda and salt.

In a large glass measuring cup or another bowl, whisk together buttermilk, eggs and butter. Pour mixture over dry ingredients and stir using a rubber spatula just until moist.

Pour a scant 1/2 cup of the buttermilk mixture into the waffle iron, close gently and cook until golden brown and crisp, about 4-5 minutes; keep warm in oven.
for the chicken
In a large bowl, combine flour, cornmeal, baking powder, cayenne pepper, 2 teaspoons salt and 1 teaspoon pepper.

Working one at a time, dredge chicken in flour mixture, dip into buttermilk, then dredge again in flour mixture, pressing to coat.

Heat vegetable oil in a large stockpot or Dutch oven over medium high heat until it registers 360 degrees F on a deep-fry thermometer.

Working in batches, add chicken and fry until golden brown, turning occasionally, about 4-5 minutes. Transfer to a baking sheet fitted with a wire rack and keep warm.*

Serve immediately with waffles, drizzled with honey.
*The chicken can be kept warm, as needed, in the oven at 200 degrees F.