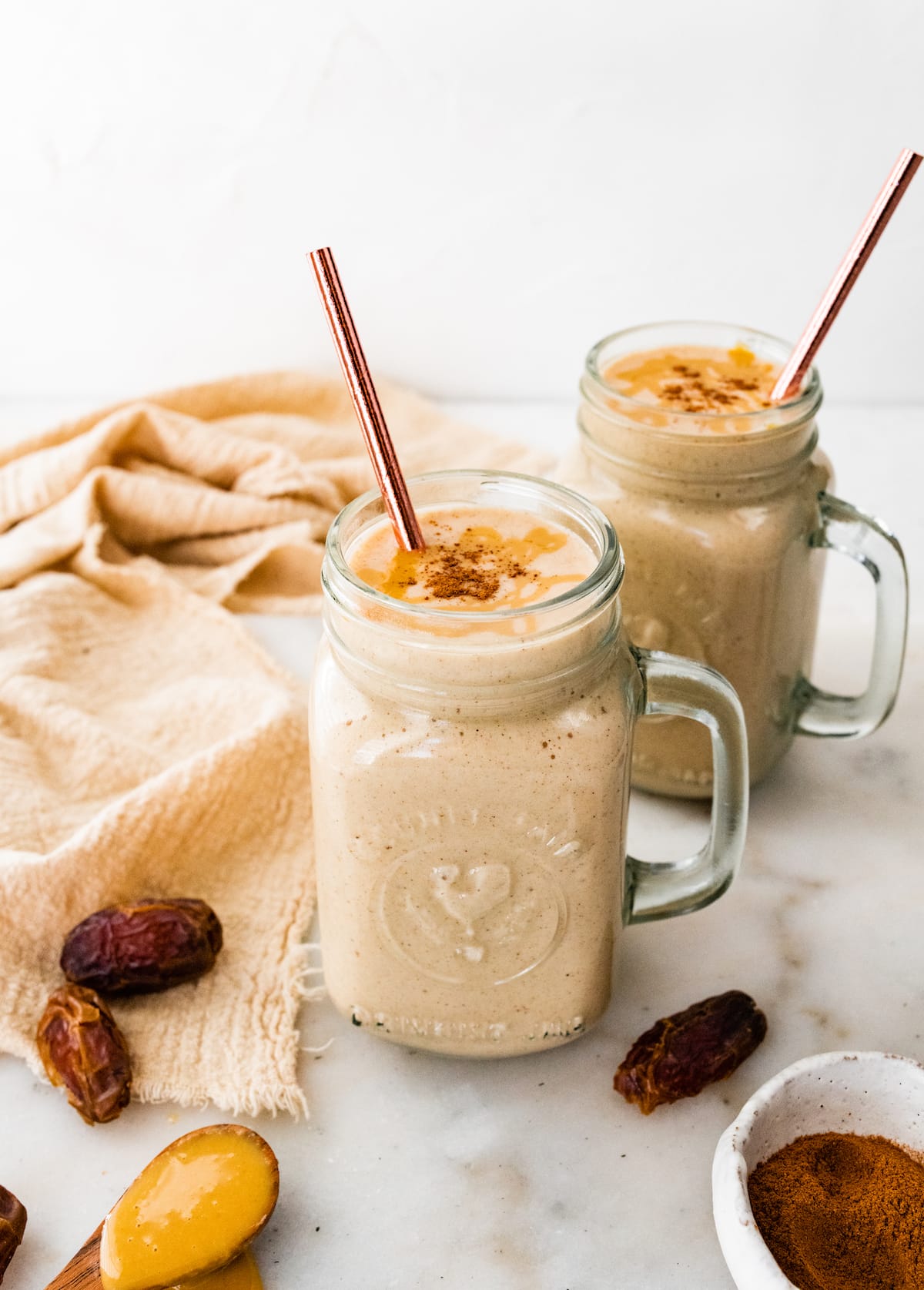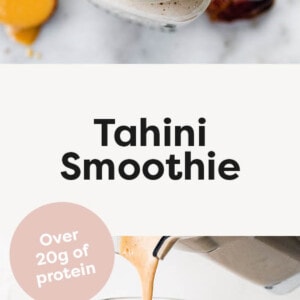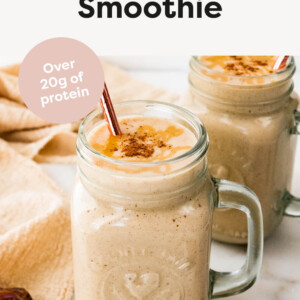 This tahini smoothie is loaded with healthy ingredients and packed with over 20 grams of protein. It's rich, creamy, delicious and makes for the perfect quick breakfast or post-workout snack.
It's starting to feel like summer here in Richmond, which has me craving all of the smoothies!
I love all smoothies, but protein smoothies are my go-to, especially when I'm short on time for breakfast and want something easy that will keep me full all morning long. Cue this tahini smoothie, which has been my latest smoothie obsession.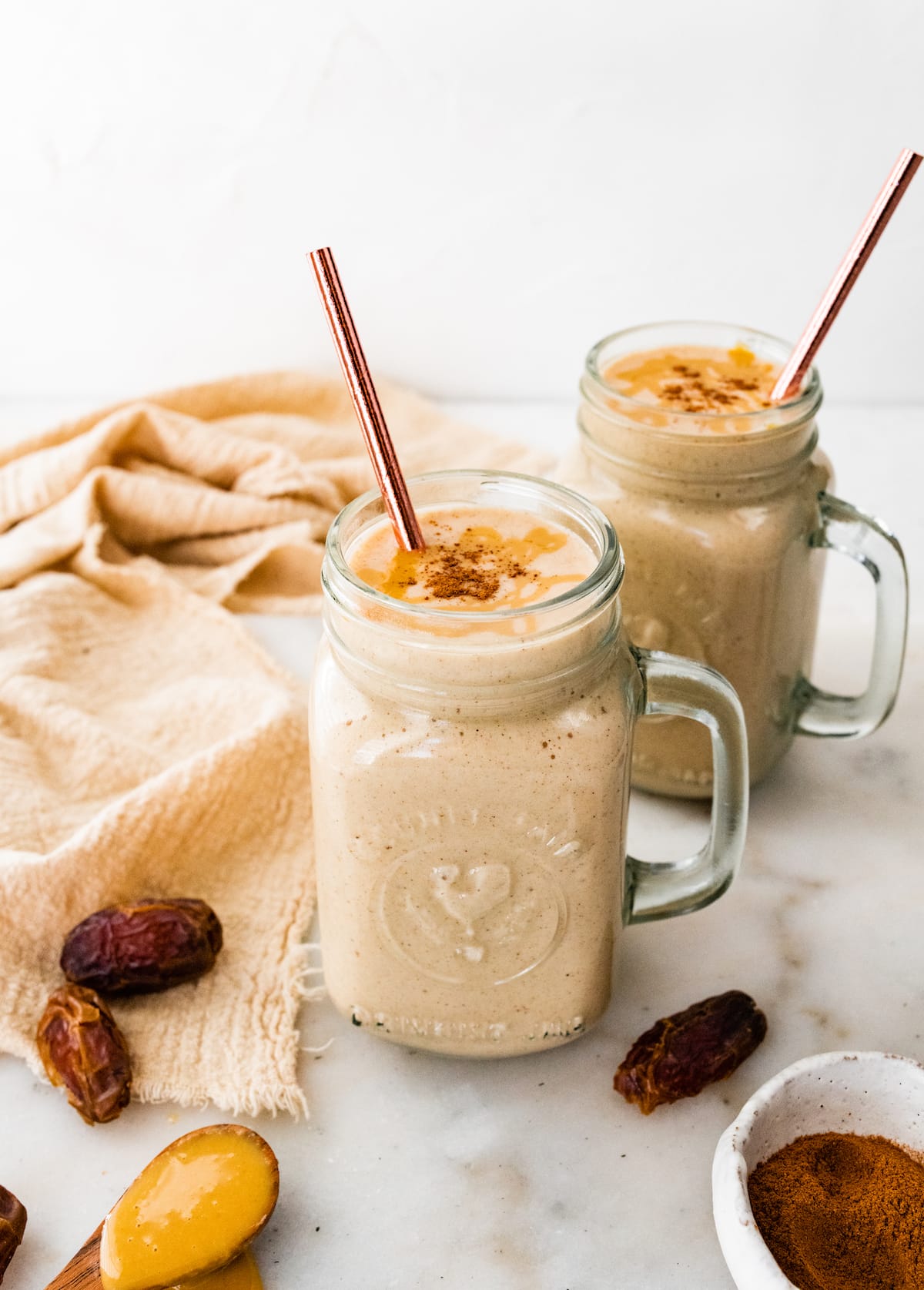 Why You'll Love This Smoothie
It's rich, creamy and has a unique nutty flavor.
Has over 20 grams of protein making it a great breakfast option or post-workout snack.
It comes together in no time at all… just add everything to a blender and blend away!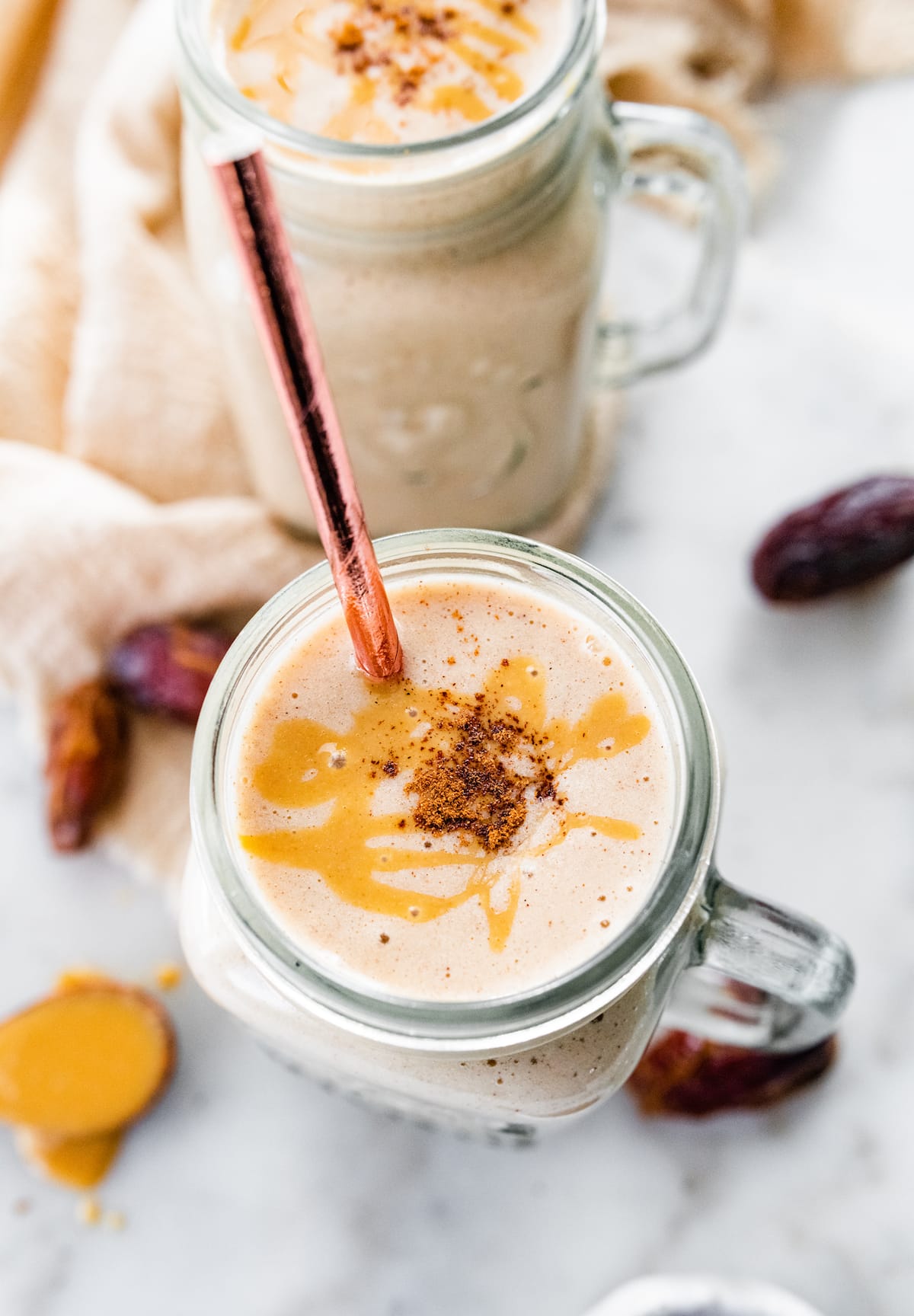 Tahini 101
Tahini is a paste made from ground sesame seeds. It's a staple ingredient in Middle Eastern and Mediterranean cuisine and is used in many dishes, from savory to sweet. Tahini is rich in healthy fats, fiber, protein and a variety of vitamins and minerals, making it a fantastic addition to smoothies. It provides a unique, nutty flavor and creamy texture that enhances any drink or dish.
You can find tahini near other nut butter varities in your local grocery store. I have tried a few different tahini brands over the years and my personal favorites are the Whole Foods tahini, Soom organic tahini and Once Again tahini. They're all creamy and are only made with 1 or 2 ingredients (sesame seeds and salt).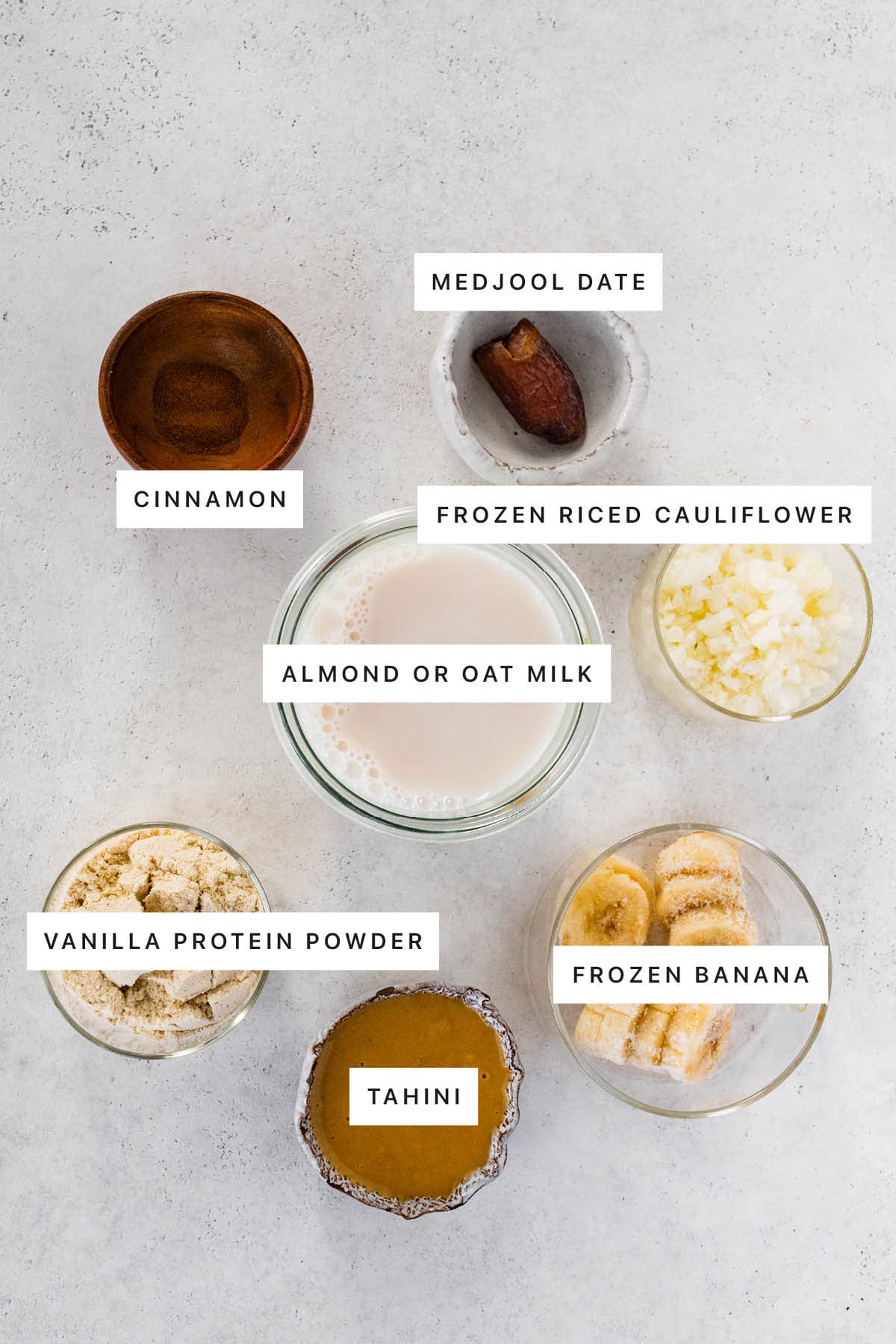 Ingredients Needed
almond or oat milk –choose your preferred milk option to create a creamy base for the smoothie. Unsweetened varieties are perfect for keeping the sugar content low.
frozen banana – half of a frozen banana adds natural sweetness and a creamy texture to the smoothie. Follow this easy tutorial on how to freeze bananas.
riced cauliflower – this clever addition sneaks in some veggies and nutrients while providing a thicker, creamier texture without changing the flavor or adding sweetness.
tahini – the star of the show! Tahini adds a rich, nutty flavor that sets this smoothie apart. Opt for a high-quality brand with a smooth consistency and only 1 or 2 ingredients (sesame seeds and salt).
medjool date – one medjool date adds some more natural sweetness and a hint of caramel-like flavor to the mix.
cinnamon – just a touch of cinnamon enhances the flavors of the smoothie, complementing the tahini and banana perfectly.
vanilla protein powder – adds protein and a nice vanilla to this smoothie. my favorite protein powder is Nuzest. Use code eatingbirdfood for 15% off your order!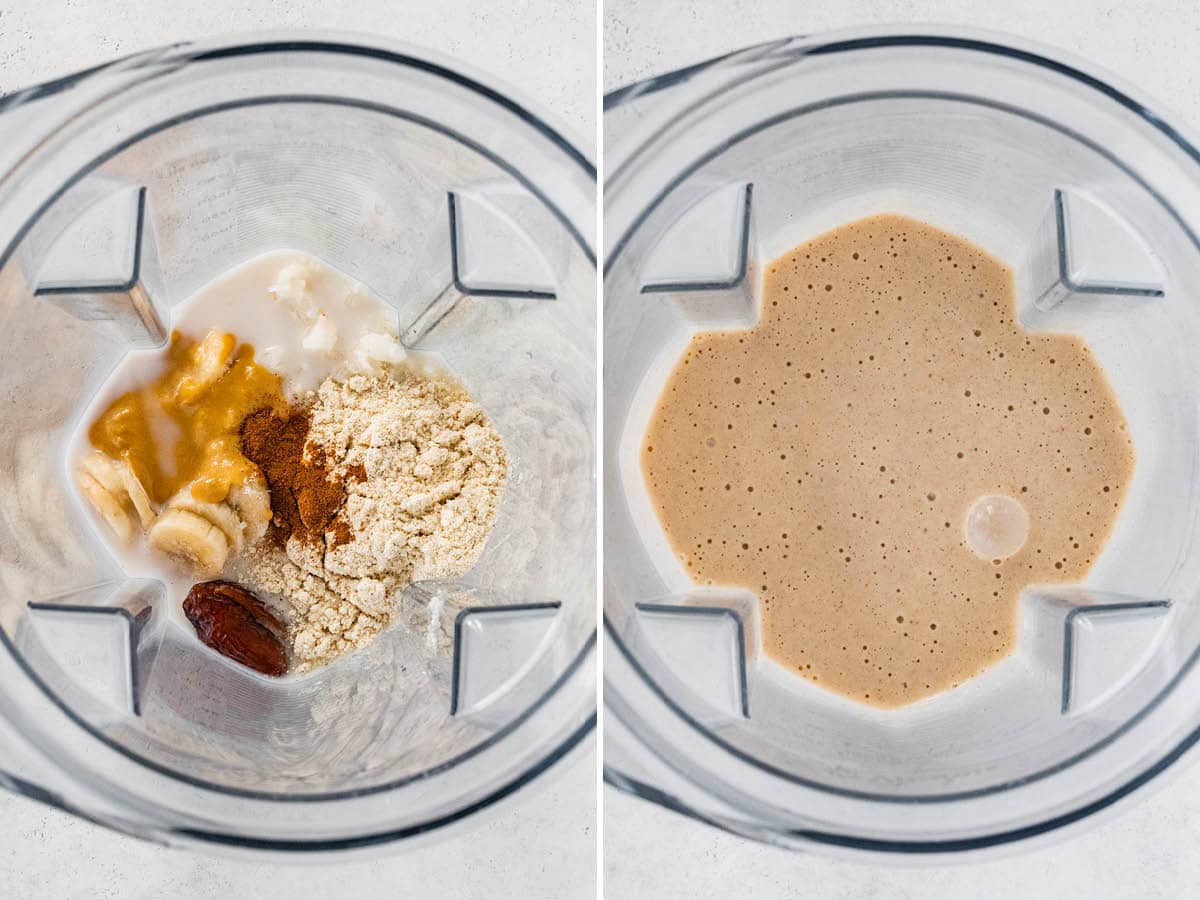 How to Make
It doesn't get much easier than this!
Place all the ingredients into a high-powered blender and blend until smooth.
Pour smoothie into a glass and top with a drizzle of tahini and a sprinkle of cinnamon, if desired. Enjoy!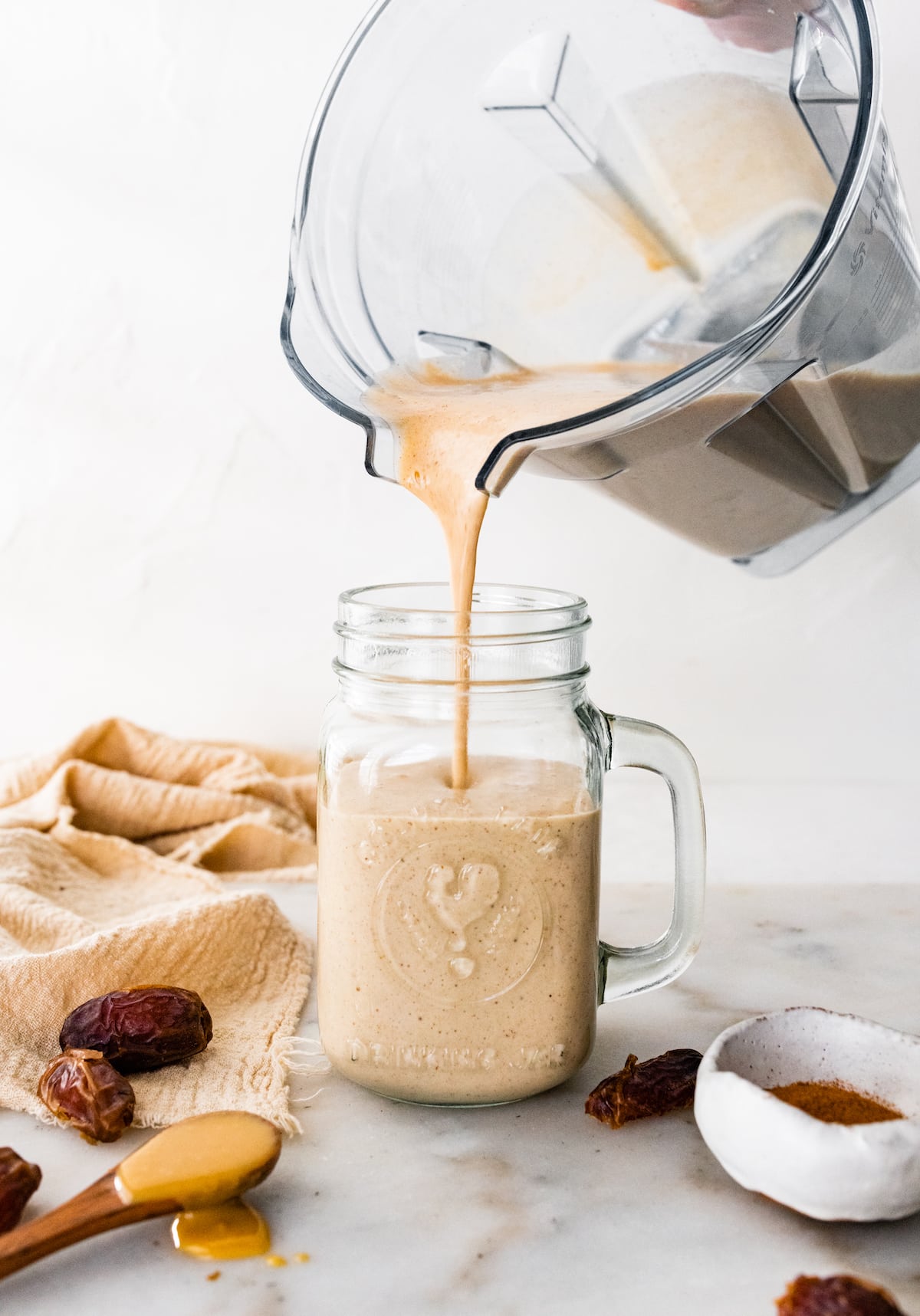 Tahini Smoothie Variations
Green tahini smoothie: Add a handful of spinach or kale to the mix for a nutritional boost without compromising the delicious flavors.
Chocolate tahini smoothie: Replace the vanilla protein powder with chocolate protein powder, and consider adding a tablespoon of unsweetened cocoa powder for a chocolatey twist.
Extra nutty: Enhance the nutty flavor of this smoothie by incorporating a tablespoon of almond butter, peanut butter, cashew butter or sunflower seed butter, alongside the tahini. You can also just substitute the tahini with another nut/seed butter if you don't have tahini on hand, but it will change the overall flavor of this smoothie.
Tropical tahini smoothie: Swap out the frozen banana for frozen mango or pineapple chunks to give your smoothie a tropical twist.
Berry tahini smoothie: Add a handful of your favorite frozen berries, like strawberries, blueberries or raspberries for a burst of fruity flavor and extra nutrients.
Extra protein: For an even creamier texture and more protein add in a scoop of Greek yogurt or cottage cheese.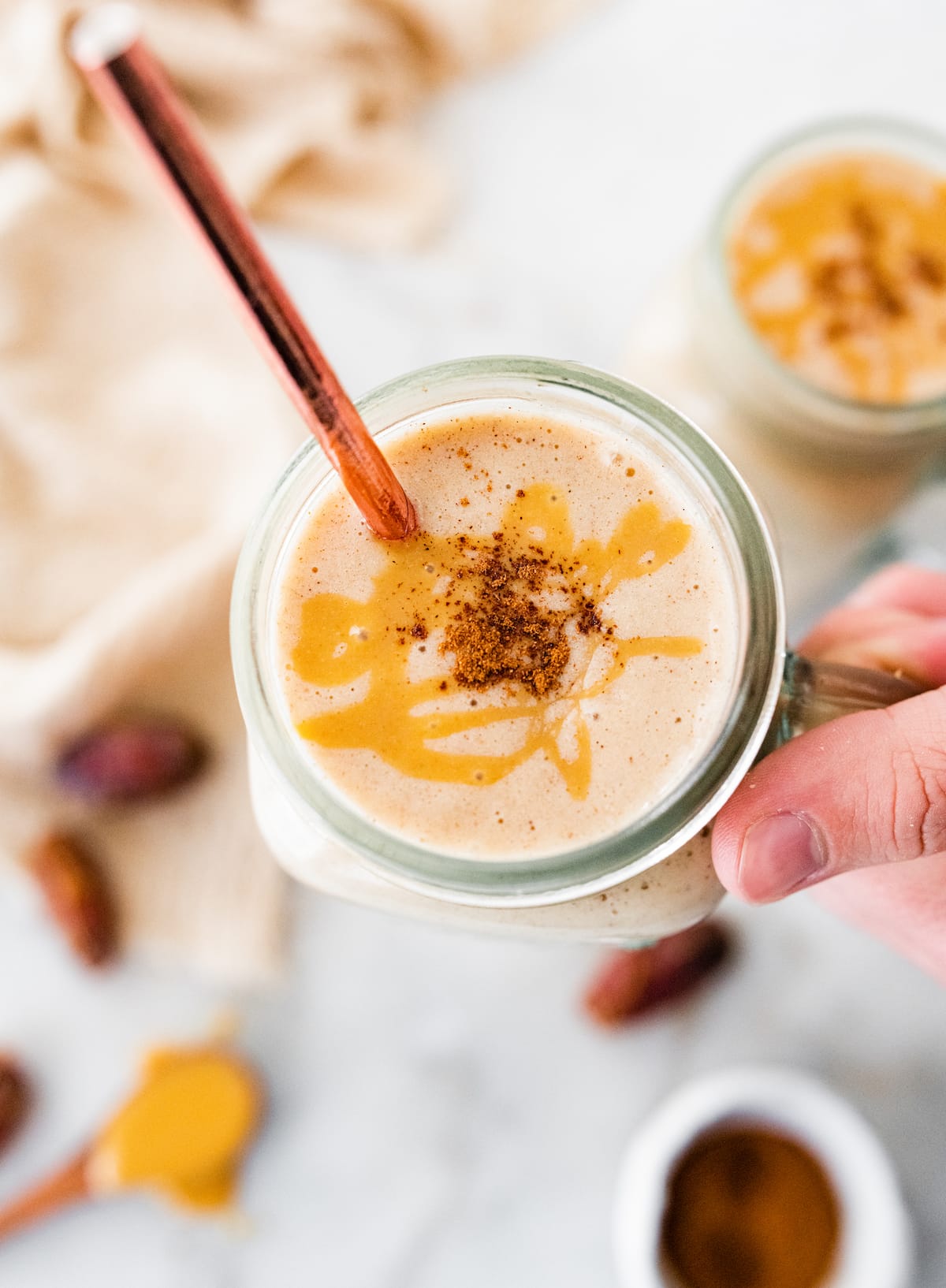 How to Store This Smoothie For Later
If you have leftover smoothie or want to make a bigger batch to store some for later, here are some tips for storing a smoothie:
Store the smoothie in a glass container with an airtight lid (I use mason jars, but a thermos would probably work well too). Seal the container and place in the fridge as soon as possible.
Try to fill the container to the top to avoid extra air which will cause the smoothie to oxidize.
Take the smoothie out of the fridge when you're ready to drink it. Give it a good shake or stir and enjoy.
Plan to drink the smoothie within 24 hours — it probably won't keep much longer than that.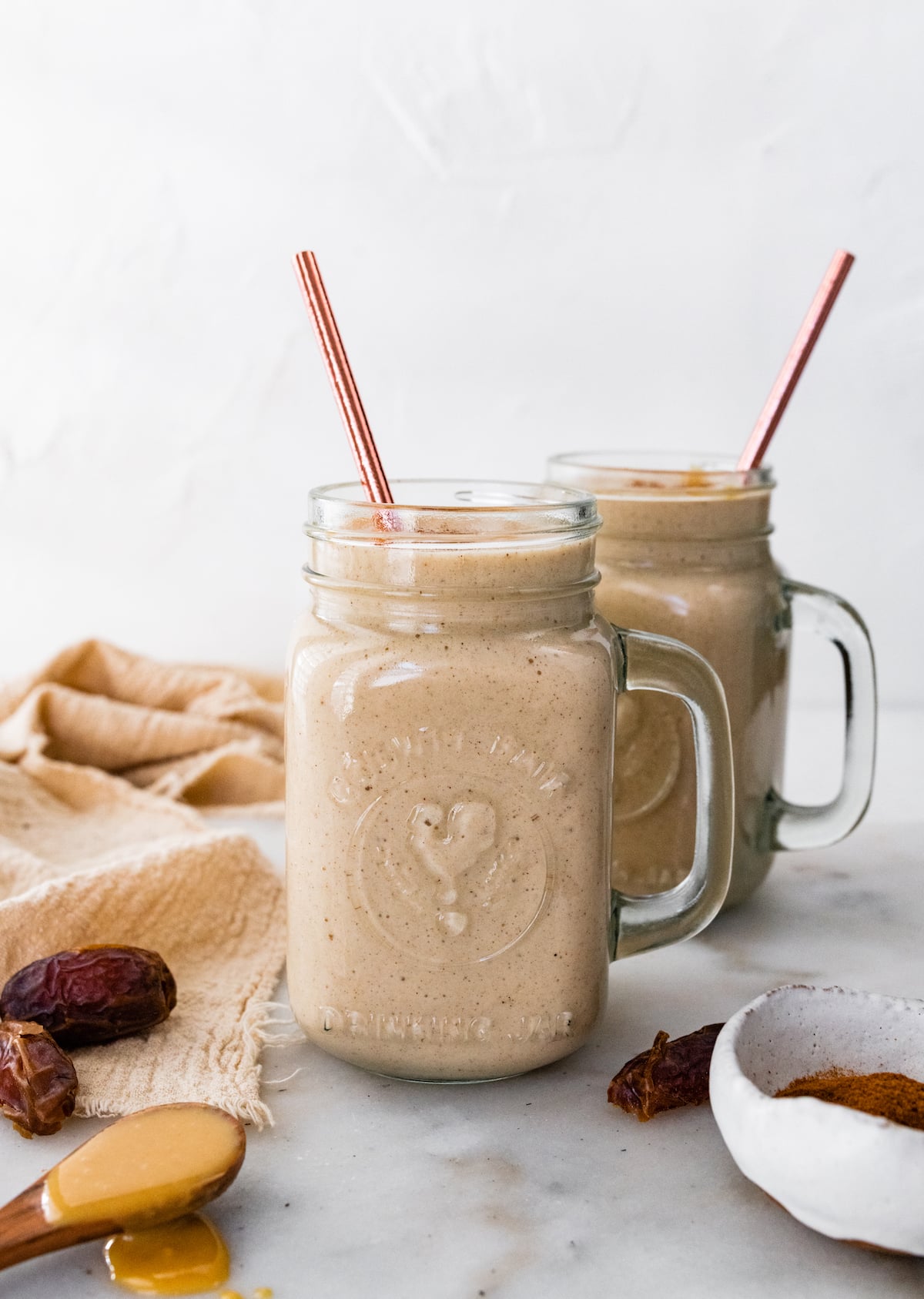 More Smoothie Recipes to Try
More Tahini Recipes
Be sure to check out all of the tahini recipes as well as the full collection of smoothie recipes on EBF!
Serving: 1 smoothie | Calories: 426kcal | Carbohydrates: 36g | Protein: 28g | Fat: 21g | Saturated Fat: 3g | Polyunsaturated Fat: 1g | Monounsaturated Fat: 1g | Sodium: 539mg | Potassium: 584mg | Fiber: 4g | Sugar: 20g
Nutrition information is automatically calculated, so should only be used as an approximation.