Get ready to kick off summer with these memorable Memorial Day recipes. This collection of summer favorites includes grilled ribs, brisket, burgers, classic salads, and plenty of easy desserts.
: Alana Taylor-Tobin
It's here. The unofficial start of summer.
The One and I have opened the pool, power-washed the patio, scrubbed down the teak table, brought out the grill, and wiped down the Adirondack chairs. All so we can start entertaining en plein air.
And, like so many folks, we kick off the season on Memorial Day weekend.
This year, our menus are set. (I say menus–plural–because we usually entertain on the Saturday and Monday of the weekend.) And you're looking at our menus below.
Burgers always make their seasonal debut during Memorial Day weekend. And we have tried every recipe on the site: killer barbecue pork burgers with a tangy slaw, juicy lamb burgers, spicy Indian chicken burgers, you name it.
And brisket has graced our table on more than one occasion. Besides the one below, some of my favorites are Coke brisket, a good old-fashioned Texas brisket, and Korean BBQ brisket.
And desserts? Well, it's the beginning of fruit sweets for me. I've had to revive people after having my blueberry lemon cake recipe. But I'm also partial to classic strawberry shortcake and pineapple upside-down cake in a cast-iron skillet always brings smiles.
Whatever you serve, do what The One does and make it colorful and fun. He pulls out his 8 billion pieces of classic Fiestaware, washes our rainbow glasses, irons our checkered tablecloths, and goes to town. Gotta love all that enthusiasm at his ripe old age…
In the South, you can't have a garden party—or any summer get-together, for that matter—without sweet tea. This is a sweet-tea-based cocktail with a kick of white whiskey.
Recipe
This limeade is simple to make with no refined sugar or added preservatives. Just simple, refreshing goodness.
Augas frescas of Mexico are wonderful. This is one of my favorites. For something a little different add a handful of fresh strawberries and a little orange juice.–Chula
My great-great-grandparents were famous for this delicious potato salad, it's a family recipe that's been handed down across generations. Filled with loads of flavor from mayo, horseradish, celery salt, scallions, garlic, and dill, there's a reason it's a favorite.
Recipe
Cowboy caviar salad–a no-ccok mix of beans, scallions, onion, bell peppers, jalapeños, corn, tomato, and avocado tossed in a lime-honey dressing. Perfect for picnics and tailgating.
This cowboy caviar is amazingly good! Followed exactly except used banana pepper instead of jalapeño. Wonderful summer side dish.–Lynne T.
This easy-peasy creamy coleslaw combines cabbage, red onion, carrot, and cilantro in a tangy mayonnaise-based orange dressing. It can be mostly prepared ahead of time and tossed with dressing just before serving. No wonder people are calling it the best creamy coleslaw they've ever tried.
Recipe
This Memphis BBQ mop sauce is an amazing yet simple concoction of everyday ingredients that captures that elusive balance of sweet, spicy, salty, and tangy. Slather onto brisket, chicken, ribs, burgers, and pulled pork. Here's how to make it.
This Memphis BBQ mop sauce is just exquisite – I found myself putting it on all sorts foods. The recipe has a fair amount of heat. I did find that it mellowed just a bit over the next few days to the point of perfection. Very much appreciate you sharing this one with us!–Tommy B.
Spice-rubbed baby back ribs are first given a dry rub of paprika, cumin, garlic, and more spices. After they sit for a spell in the fridge, they're grilled and slathered with your favorite sauce.
Recipe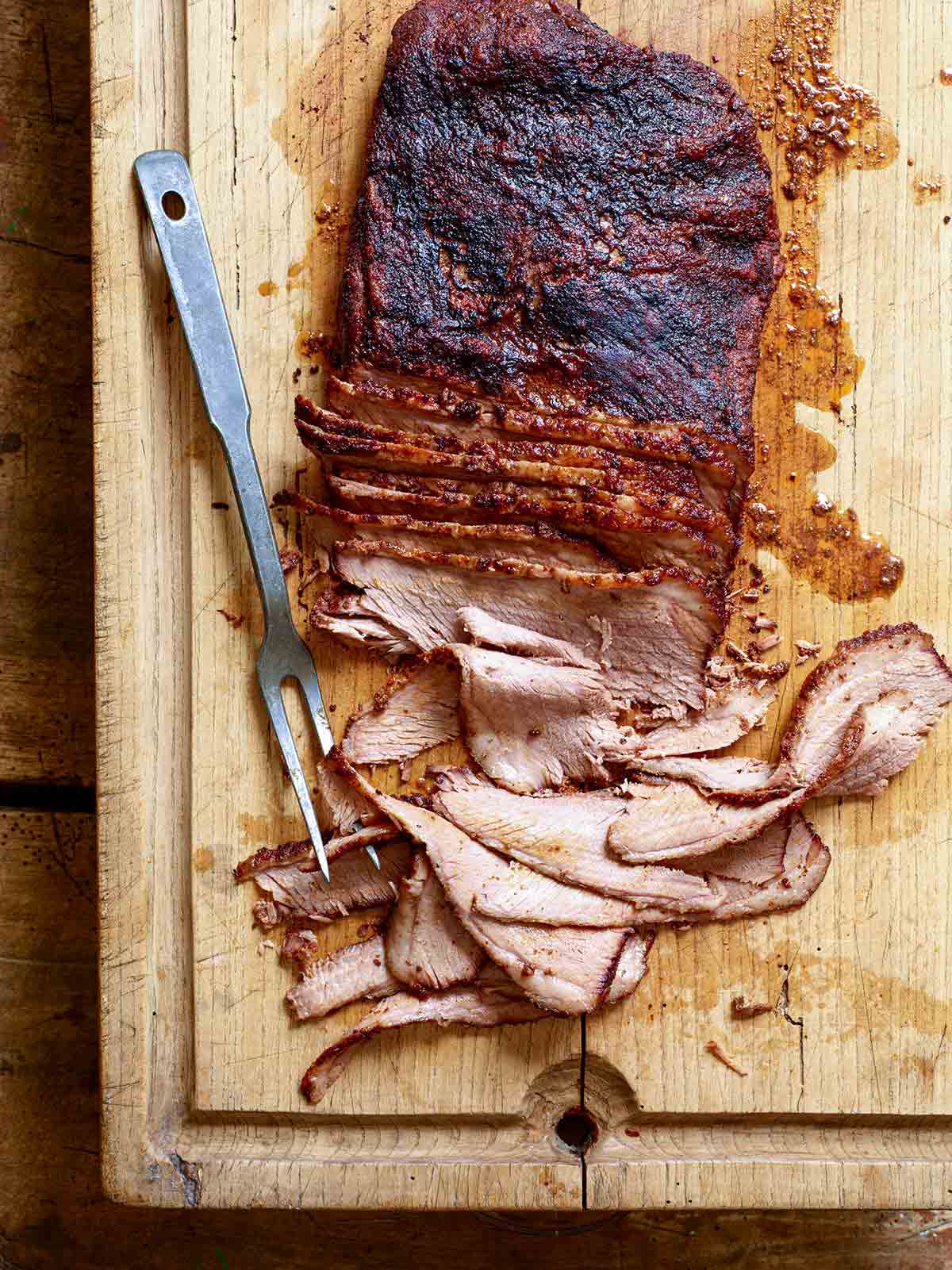 Smoked brisket with coffee takes a few of our favorite things and combines them into a meltingly tender, spicy, and smoky masterpiece.
I soaked a brisket using this very recipe. The only thing I did different was to soak the brisket over night in a can of beer. This is an awesome recipe and I suggest it to anyone who wants a succulent piece of meat. Super good recipe.–Barb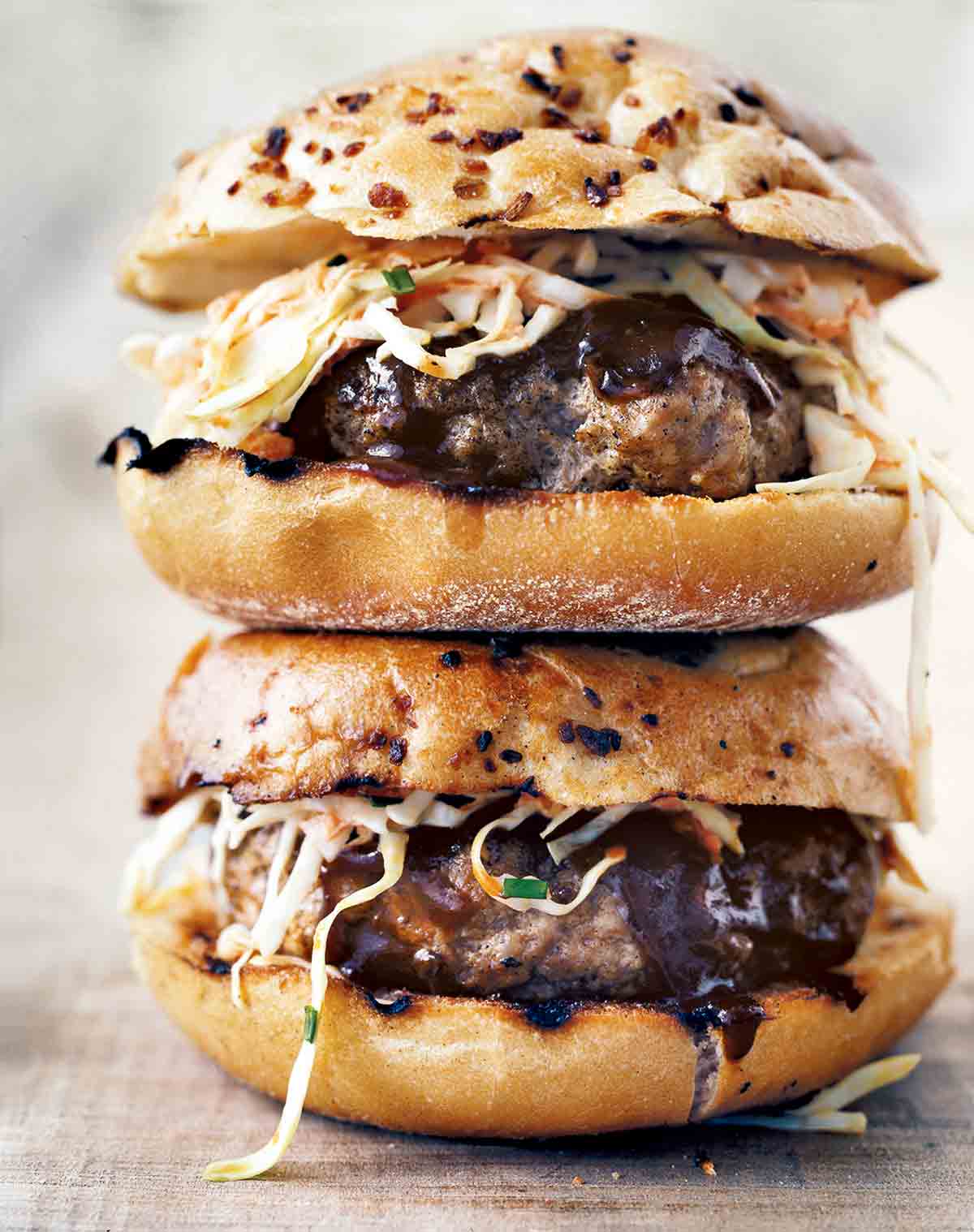 Spicing up store-bought barbecue sauce with cayenne and vinegar is an easy trick that makes a big difference. Here, the sauce is mixed into the meat, slathered onto the cooked burgers for the last minute of grilling, and brushed on the bun.
This pork burger was one of the best I've ever eaten. I will definitely make more of the sauce next time.–Becky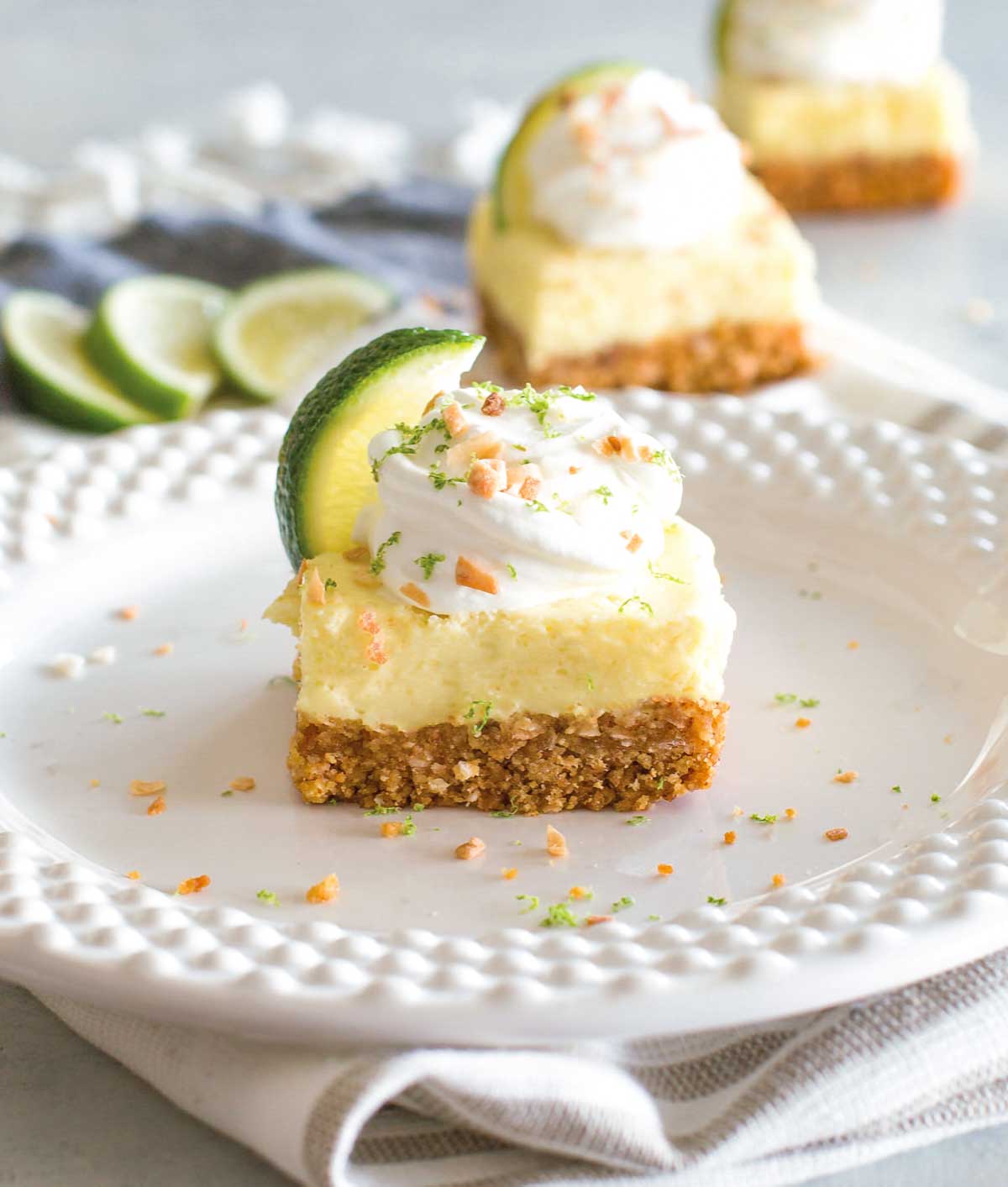 We're an hour and a half from the Florida Keys and take advantage of the tropical atmosphere as often as we can. At certain gas stations along the long road down to the keys they sell slices of key lime pie and I can't resist the tangy, creamy treat. Do you need to make some key lime pie bars to make you think you're in a tropical paradise? I thought you might.
Recipe
This milkiest chocolate ice cream is made with whole milk, cream, and evaporated milk, and boasts plenty of chocolate flavor thanks to bittersweet chocolate and cocoa powder.
This chocolate ice cream is the stuff that dreams are made of. It has a deep chocolate flavor and has just the right amount of sweetness. It's reminiscent of chocolate pudding in all of the best ways.–Trisha T.
This giant chocolate chip cookie is made in a cast-iron skillet and served warm. Top with ice cream and chocolate sauce and devour.
Recipe
This blueberry crumble, easy to make with blueberries and a buttery oat cookie topping, is simple, easy, and the best blueberry dessert we can imagine. Simple and spectacular. Better make a double batch.
Loved this blueberry crumble!!! Followed the recipe exactly and had to make it again the next day as there weren't any leftovers!–Nancy W.
Memorial Day Food FAQs
Do you have any tips for food storage and safety during my backyard BBQ?
There are a few simple rules to follow to ensure your food doesn't become spoiled while hosting an outdoor gathering.
1. Keep cooked and uncooked meats separate from each other. This means using different platters and utensils for handling raw meat and cooked meat.
2. Keep perishable foods cold until just before serving. This includes items made with eggs or dairy, such as mayo-based potato salad or spicy deviled eggs, which are particularly prone to spoilage.
3. Don't let food sit out for more than 2 hours. If it is an exceptionally warm day (above 90°F), food will spoil more quickly and shouldn't be left out for more than 1 hour.
What sort of party are you throwing to celebrate Memorial Day long weekend and what are you serving? Let me know in a comment below.
14 Memorable Memorial Day Recipes
There are so many incredible recipes to choose from when kicking off your summer season. If you're going for an easy backyard meal, I highly recommend these crowd-pleasing CHEESEBURGERS WITH EVERYTHING SAUCE.
Prep 20 minutes mins
Cook 10 minutes mins
Total 30 minutes mins
Make the everything sauce
In a small bowl, combine all the ingredients until smooth.

The everything sauce moonlights as an excellent dip for fries (whether classic deep-fried fries or easy oven baked fries).
Make the burgers
Divide the ground beef into 4 equal portions and gently roll each portion into a ball. Pat each ball into a hamburger patty about 3/4 inch (18-mm) thick and 4 inches (10 cm) in diameter. Do your best to make the burgers evenly thick.

Sprinkle half the salt over the burgers. Grind a little pepper over the burgers. Flip the burgers and sprinkle with the remaining salt and a little more pepper.

Warm a 12-inch (30-cm) skillet over high heat until it sizzles when you flick a couple drops of water into it, 2 to 3 minutes. Lightly coat the pan with nonstick cooking spray or oil.

Add the burgers to the skillet and cook for 3 minutes.

Use a spatula to flip the burgers. Immediately place a slice of cheese on each burger and cook until the desired doneness, 3 to 4 minutes for medium.

While the burgers cook, split the buns in half and, if desired, lightly toast them.

Use a spatula to move the burgers to the bottom buns. Top with the pickles, onion, and lettuce. Schmear the sauce on the top bun and plop it on top. Devour immediately.
Check out the full recipe post for our testers' reviews, more info, and tips on making these easy cheeseburgers.
Serving: 1cheeseburger with everythingCalories: 528kcal (26%)Carbohydrates: 26g (9%)Protein: 44g (88%)Fat: 26g (40%)Saturated Fat: 11g (69%)Trans Fat: 1gCholesterol: 128mg (43%)Sodium: 1336mg (58%)Potassium: 677mg (19%)Fiber: 1g (4%)Sugar: 6g (7%)Vitamin A: 393IU (8%)Vitamin C: 2mg (2%)Calcium: 303mg (30%)Iron: 5mg (28%)
If you make this recipe, snap a photo and hashtag it #LeitesCulinaria. We'd love to see your creations on Instagram, Facebook, and Twitter.
© 2023 Leite's Culinaria. All rights reserved. All materials used with permission.