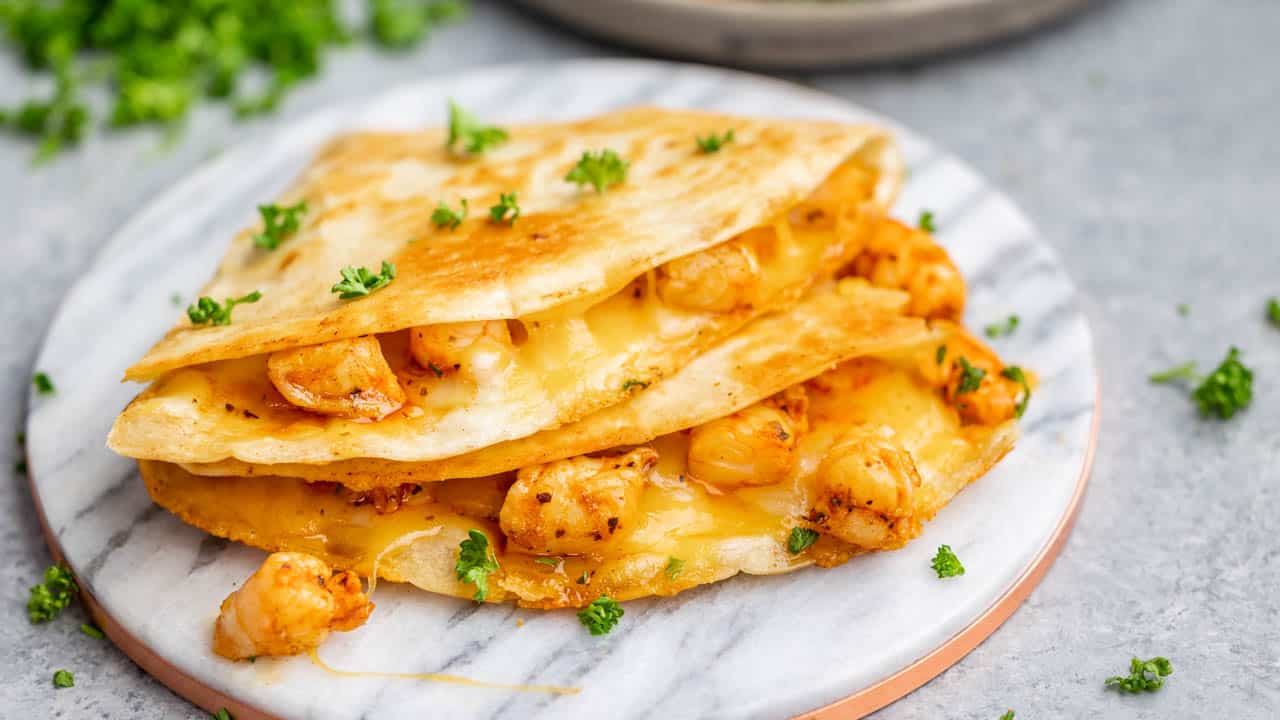 Elevate your next meal with delicious shrimp quesadillas, packed with perfectly seasoned shrimp and melted cheese. You won't believe how easy it is to create this restaurant-quality dish at home.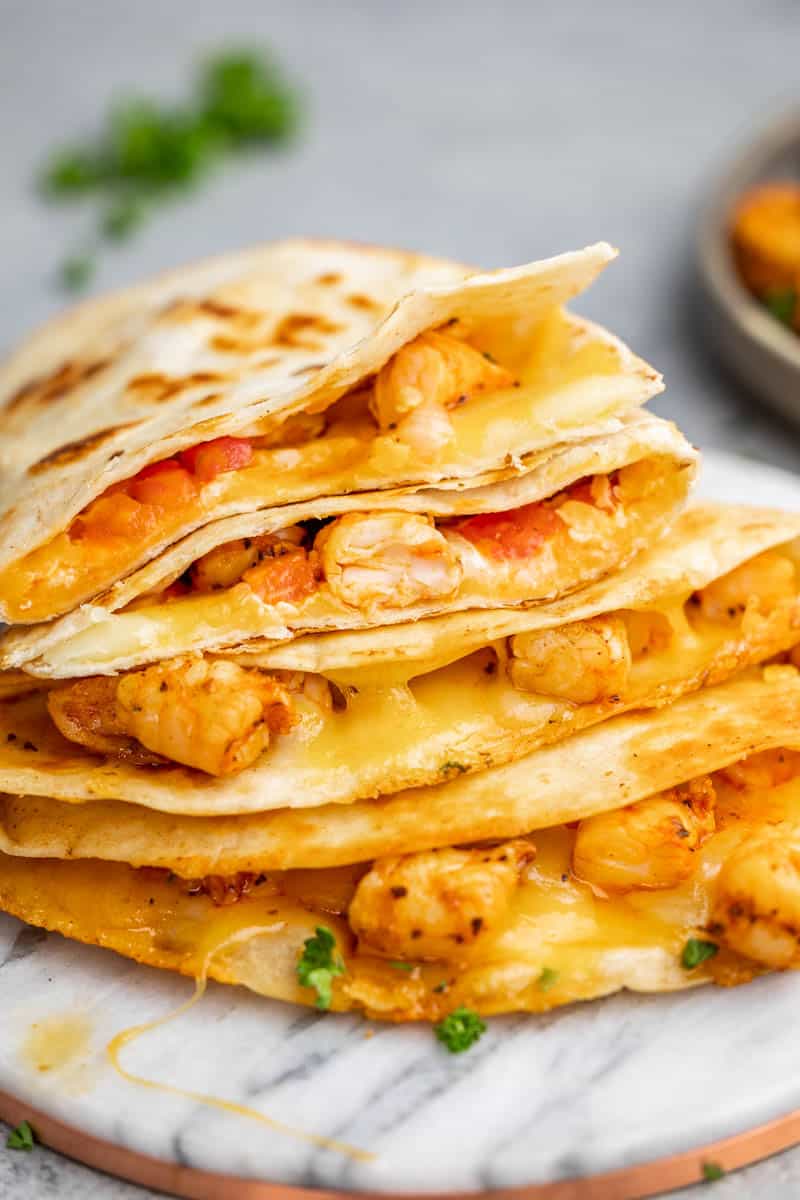 Shrimp quesadillas are a delightful way to add a touch of coastal cuisine to your regular dinner rotation, drawing inspiration from Mexico's rich culinary history. Dating back to the colonial era, quesadillas were initially made using corn tortillas filled with cheese and other ingredients, then cooked on a comal. Over the years, the dish has evolved with various regions in Mexico putting their own spin on this classic favorite. Our recipe highlights the prominence of seafood in coastal Mexican cuisine, combining tender, flavorful shrimp with ooey-gooey cheese for an enticing mix of textures and flavors that are sure to impress. Whether you're a seasoned home cook or new to the kitchen, this versatile and shareable dish offers customizable options perfect for friends and family gatherings.
While our shrimp quesadilla recipe includes a delicious and flavorful sautéed shrimp preparation, there are numerous other options for incorporating shrimp into this dish.
For a quicker and more convenient approach, use pre-cooked shrimp available at most grocery stores. Just be sure to thaw and remove the tails before adding them to your quesadillas.
If you prefer to cook your shrimp at home, grill or broil them for a slightly smoky flavor.
Leftover cajun, cilantro-lime, or any other similarly flavored shrimp can be a flavorful time saver!
No matter which method you choose, the versatility of shrimp ensures that your quesadillas will always be packed with delicious flavors that complement the melted cheese and crisp tortilla perfectly.
Frequently Asked Questions
Can I use other cheeses in this recipe?
Yes, Monterey Jack or Pepper Jack cheese work great as alternatives, offering a gooey texture and added flavor.
Can I make this recipe dairy-free?
Yes, simply replace the cheddar cheese with a plant-based cheese alternative that melts well, such as vegan cheddar or mozzarella. You will also want to replace the butter with your favorite, neutral flavor, plant-based alternative.
Can I add more ingredients to the quesadilla?
Absolutely! Sautéed peppers and onions make a delicious addition to these quesadillas, but feel free to add your favorite veggies!
Serving Suggestions
These shrimp quesadillas can be served with a variety of sides and toppings. Guacamole, sour cream, and salsa add extra flavor and texture, while a simple salad or rice dish makes a wonderful accompaniment.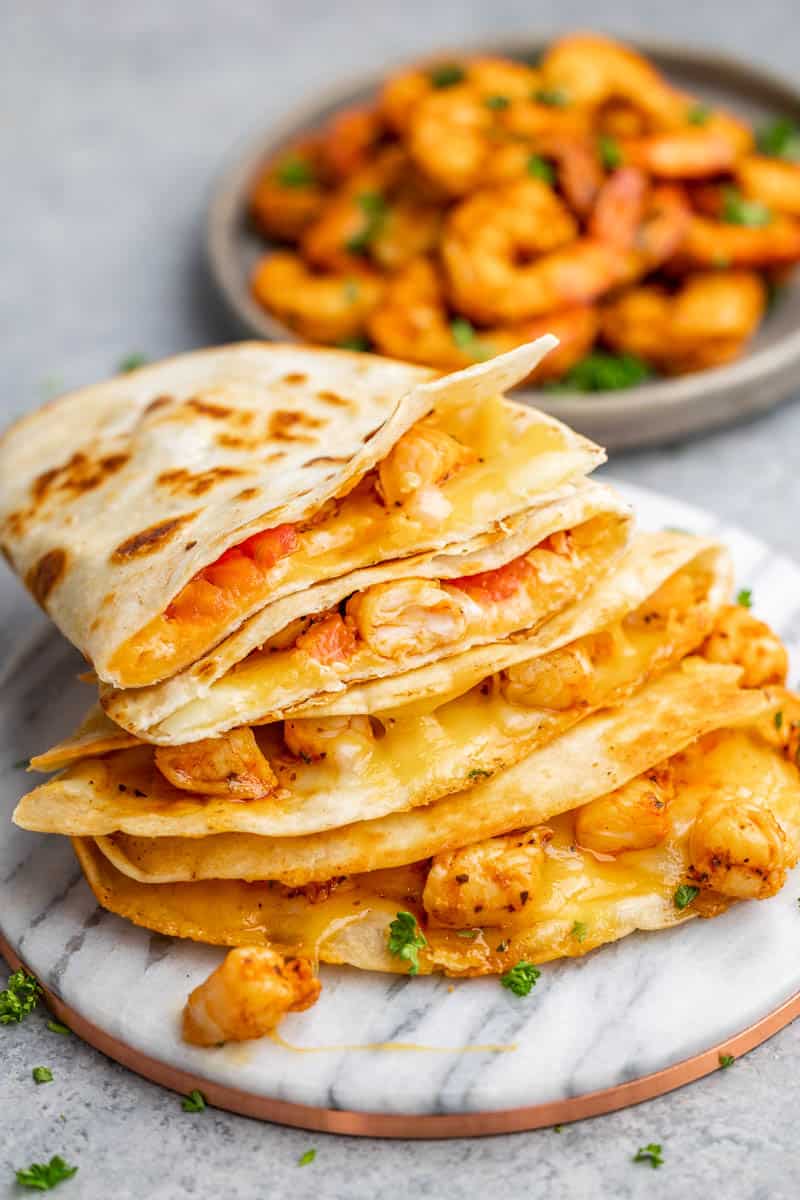 Storage & Reheating Instructions
Leftover shrimp quesadillas can be stored in an airtight container in the refrigerator for up to 3 days. To reheat, simply warm them in a skillet over low heat until the cheese is melted and the tortilla is crisp.
Related Recipes
If you like this recipe, you may be interested in these other delicious easy dinner recipes: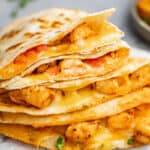 Elevate your next meal with delicious shrimp quesadillas, packed with perfectly seasoned shrimp and melted cheese. You won't believe how easy it is to create this restaurant-quality dish at home.
Prep Time 5 minutes
Cook Time 15 minutes
Total Time 15 minutes
Ingredients
Simple Sautéed Shrimp:
1 pound jumbo shrimp peeled and deveined
2 tablespoons extra virgin olive oil
2 tablespoons lemon juice
1 tablespoon smoked paprika
1 teaspoon garlic powder
1 teaspoon onion powder
1 teaspoon dried oregano
1/2 teaspoon cumin
1/2 teaspoon salt
1/2 teaspoon black pepper
1/4 teaspoon cayenne pepper
Quesadillas:
4 10- inch flour tortillas
1 1/2-2 cups cooked and chopped shrimp
2 cups shredded cheddar cheese
4 tablespoons butter
4 tablespoons salsa
Guacamole for serving
Sour cream for serving
Salsa for serving
Instructions
Simple Sautéed Shrimp:
Place the shrimp in a large mixing bowl and drizzle with olive oil and lemon juice.

Sprinkle paprika, garlic powder, onion powder, oregano, cumin, salt, pepper, and cayenne pepper over the shrimp.

Sauté the shrimp in a large skillet over medium-high heat until no longer translucent and fully cooked, about 3-4 minutes. You can also grill or air fry the shrimp.
Quesadillas:
Heat a large skillet over medium heat and melt 1 tablespoon of butter in the pan.

Place a tortilla in the pan on top of the melted butter and evenly sprinkle 1/2 cup of cheese on it.

Place 1/2 cup of the cooked shrimp on one half of the tortilla and spread 1 tablespoon of salsa on the other half.

Allow the cheese to melt for about 3-4 minutes, then fold the tortilla in half.

Cook for another minute, then flip the quesadilla to brown the other side to your liking and ensure the cheese is thoroughly melted.

Repeat steps 1-5 with the remaining tortillas and ingredients, adding more butter as needed.

Remove the quesadilla from the skillet and cut it into wedges.

Serve with guacamole, sour cream, and additional salsa on the side.
Notes
Can use simply cooked shrimp or can use a flavorful sauteed shrimp. Just be sure to remove the tails.
Calories: 490kcal | Carbohydrates: 18g | Protein: 28g | Fat: 34g | Saturated Fat: 19g | Polyunsaturated Fat: 2g | Monounsaturated Fat: 8g | Trans Fat: 0.5g | Cholesterol: 198mg | Sodium: 1287mg | Potassium: 226mg | Fiber: 1g | Sugar: 2g | Vitamin A: 1152IU | Vitamin C: 0.3mg | Calcium: 499mg | Iron: 1mg