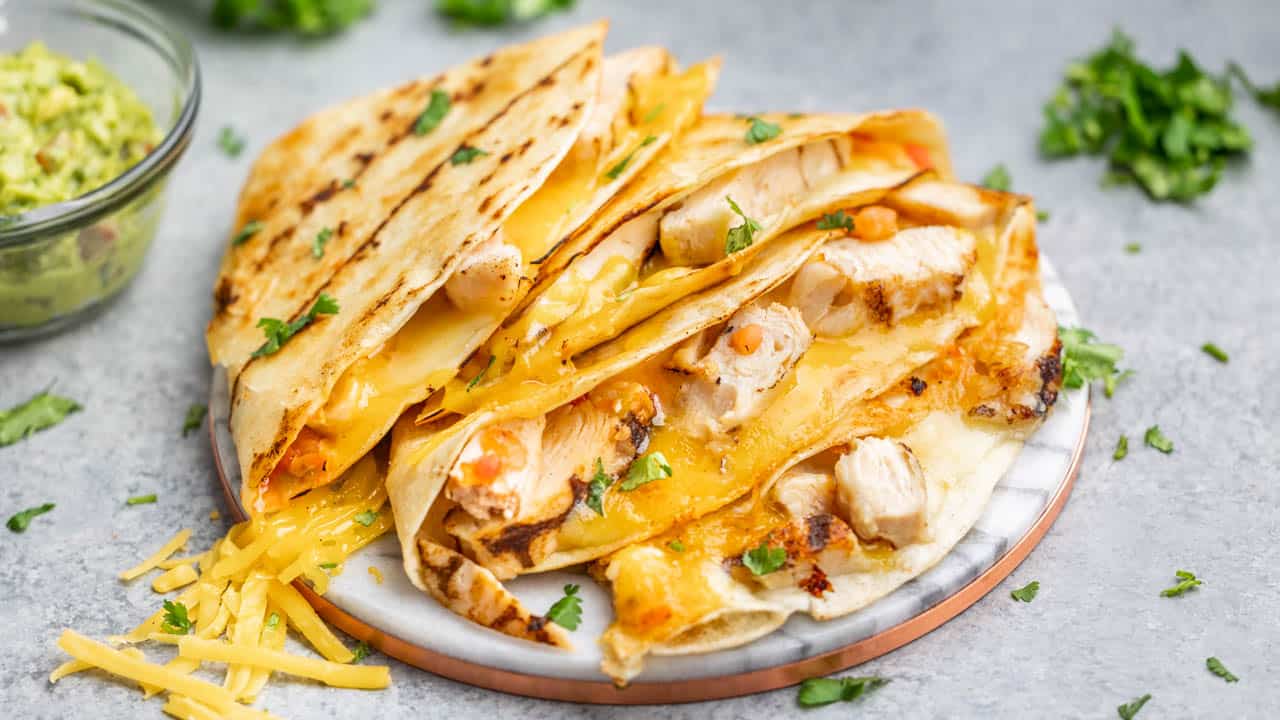 Savor the deliciousness of these cheesy chicken quesadillas, a perfect blend of melty cheese, juicy marinated chicken, and a touch of spice. Bring the taste of Mexican cuisine to your dinner table tonight!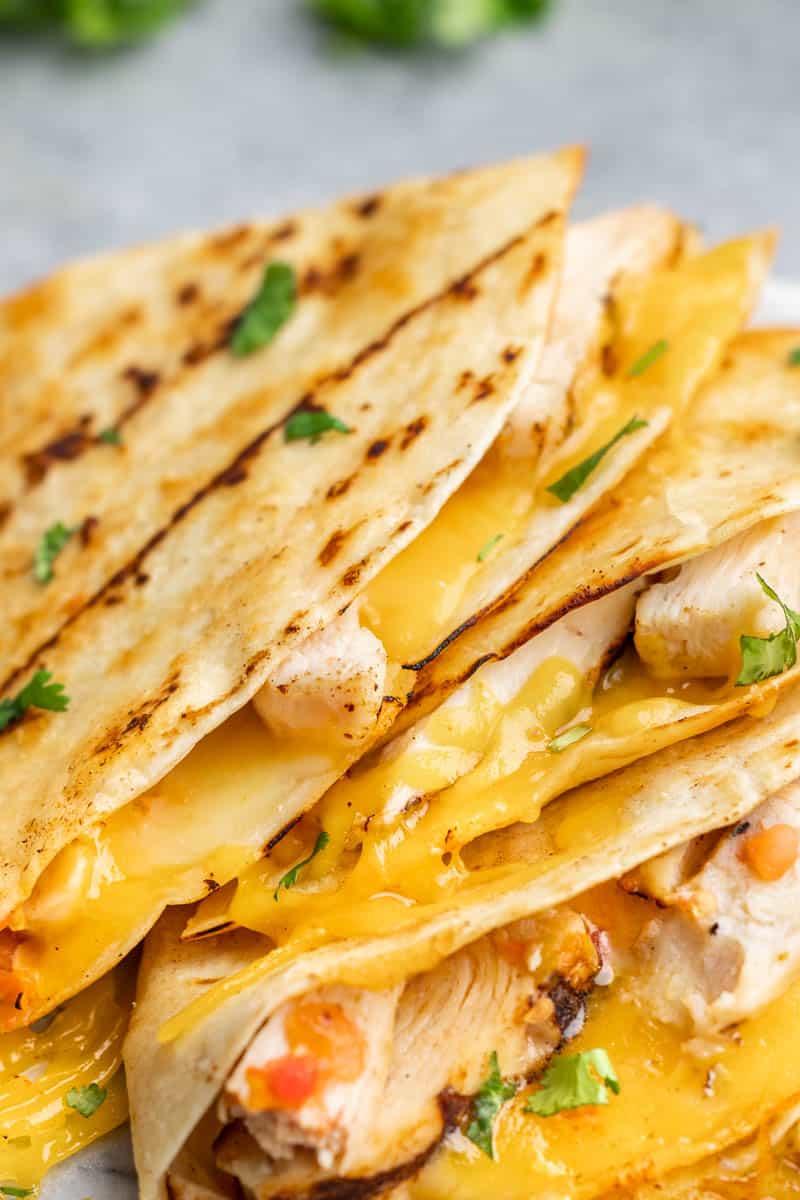 Our cheesy chicken quesadillas recipe is an inviting fusion of savory marinated chicken, ooey-gooey cheese, and a touch of spice that transports you to the heart of Mexican cuisine. Inspired by traditional Mexican quesadillas, this dish offers a flavorful combination of ingredients that is both comforting and satisfying. With its roots in the diverse culinary traditions of Mexico, the quesadilla has become a popular and beloved dish across the globe.
The Cultural Significance & History of Quesadillas
Quesadillas hold a special place in the hearts and kitchens of Mexican cuisine. This popular dish originated during the colonial era when Spanish colonizers introduced wheat and dairy products to Mexico. The word "quesadilla" itself is derived from the Spanish word "queso," meaning cheese, which is a key ingredient in this dish. Today, quesadillas can be found throughout Mexico and beyond, showcasing the versatility and adaptability of this beloved dish.
Traditional quesadillas consist of a tortilla, usually made from corn or wheat, folded over melted cheese and sometimes filled with additional ingredients. Over time, various regions in Mexico have put their own spin on quesadillas, incorporating local ingredients and flavors. This recipe honors the culinary traditions of Mexican cuisine while adding a flavorful twist, creating a fusion of classic and contemporary flavors.
Frequently Asked Questions
Can I use corn tortillas instead of flour tortillas?
Yes, you can use corn tortillas for a gluten-free option or if you prefer their taste and texture. Just keep in mind that corn tortillas are often smaller and less pliable than flour tortillas, so you may need to adjust the amount of filling accordingly.
Can I use pre-cooked or rotisserie chicken
Absolutely! Using pre-cooked or rotisserie chicken is a great time-saver. Just be sure to shred the chicken and toss it with some of the marinade ingredients for added flavor before assembling the quesadillas.
Can I use other types of cheese?
Yes! You can customize your quesadillas with Monterey Jack or Pepper Jack cheese, which both provide a great ooey-gooey texture.
How can I make my quesadillas spicier
To add more heat to your quesadillas, you can use spicier cheese like Pepper Jack, add more cayenne pepper or hot sauce to the chicken marinade, or serve the quesadillas with a spicy salsa or hot sauce on the side.
Can I cook these in the oven instead of on the stovetop?
Yes, you can bake the quesadillas in the oven. Preheat the oven to 425°F and place the assembled quesadillas on a baking sheet lined with parchment paper. Bake for about 8-10 minutes or until the tortillas are crispy and the cheese is melted. Keep an eye on them to prevent overcooking.
Can I make this quesadilla vegetarian?
Yes, you can easily make vegetarian quesadillas by substituting the chicken with a variety of vegetables, such as sautéed bell peppers, onions, mushrooms, or even cooked black beans. You can also use a meat alternative like soy-based crumbles or plant-based chicken strips.
Substitutions & Serving Suggestions
In addition to using Monterey Jack or Pepper Jack cheese, you can also incorporate other ingredients such as:
sautéed bell peppers
onions
mushrooms
Serve them with a side of guacamole, sour cream, and extra salsa for a complete and flavorful meal.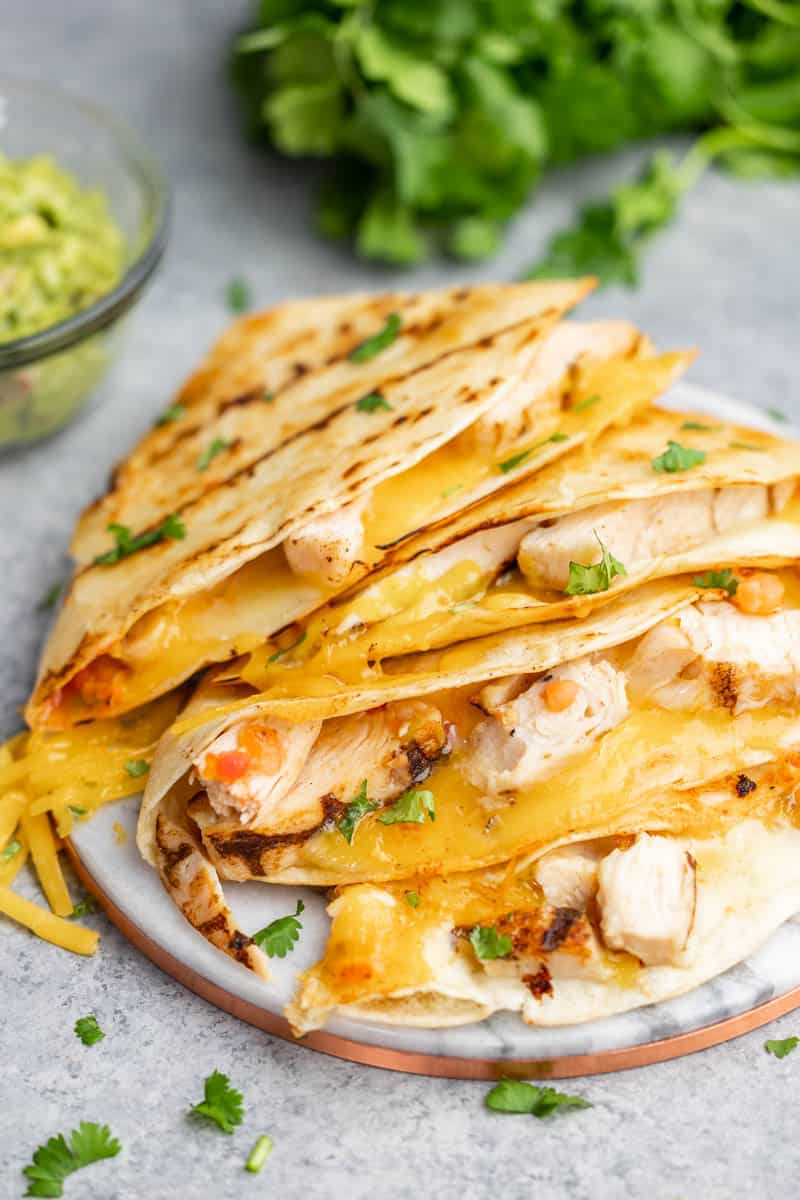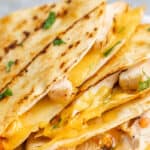 Savor the deliciousness of these cheesy chicken quesadillas, a perfect blend of melty cheese, juicy marinated chicken, and a touch of spice. Bring the taste of Mexican cuisine to your dinner table tonight!
Prep Time 5 minutes
Cook Time 15 minutes
Total Time 15 minutes
Ingredients
Chicken Marinade:
4 boneless skinless chicken breasts
1 teaspoon garlic powder
3/4 teaspoon salt
1/2 teaspoon paprika
1/2 teaspoon dried parsley
1/4 teaspoon black pepper
1/4 teaspoon cayenne pepper
3 tablespoons lime juice
3 tablespoons olive oil
Quesadilla:
4 10- inch flour tortillas
2 cups cooked and shredded chicken
2 cups shredded cheddar cheese
4 tablespoons butter
4 tablespoons salsa
Guacamole for serving
Sour cream for serving
Additional salsa for serving
Instructions
Chicken Marinade:
In a small bowl, combine garlic powder, salt, paprika, pepper, cayenne pepper, parsley, lime juice, and olive oil.

Pour the marinade over chicken breasts in a shallow dish or resealable plastic bag.

Marinate in the refrigerator for 1 hour.

Heat a large heavy skillet over medium-high heat. Cook chicken for 5-7 minutes per side, or until the internal temperature reaches 165 degrees Fahrenheit.

Remove chicken from the pan and chop into small pieces.
Quesadilla:
In a large skillet over medium heat, melt 1 tablespoon of butter.

Place a tortilla in the pan on top of the melted butter and sprinkle 1/2 cup of cheese evenly over the entire tortilla.

Add 1/2 cup of cooked and shredded chicken on top of one half of the cheese and spread 1 tablespoon of salsa on the other half.

Allow the cheese to melt for about 3-4 minutes, then fold the tortilla in half.

Cook for another minute, then flip the quesadilla to ensure the other side browns to your liking and the cheese melts thoroughly.

Repeat steps 2a-2e with the remaining tortillas and ingredients, adding more butter as needed.

Remove the quesadilla from the skillet and cut into wedges.

Serve with guacamole, sour cream, and additional salsa on the side.
Calories: 549kcal | Carbohydrates: 17g | Protein: 26g | Fat: 42g | Saturated Fat: 21g | Polyunsaturated Fat: 4g | Monounsaturated Fat: 11g | Trans Fat: 1g | Cholesterol: 129mg | Sodium: 825mg | Potassium: 232mg | Fiber: 1g | Sugar: 2g | Vitamin A: 1072IU | Vitamin C: 1mg | Calcium: 457mg | Iron: 2mg