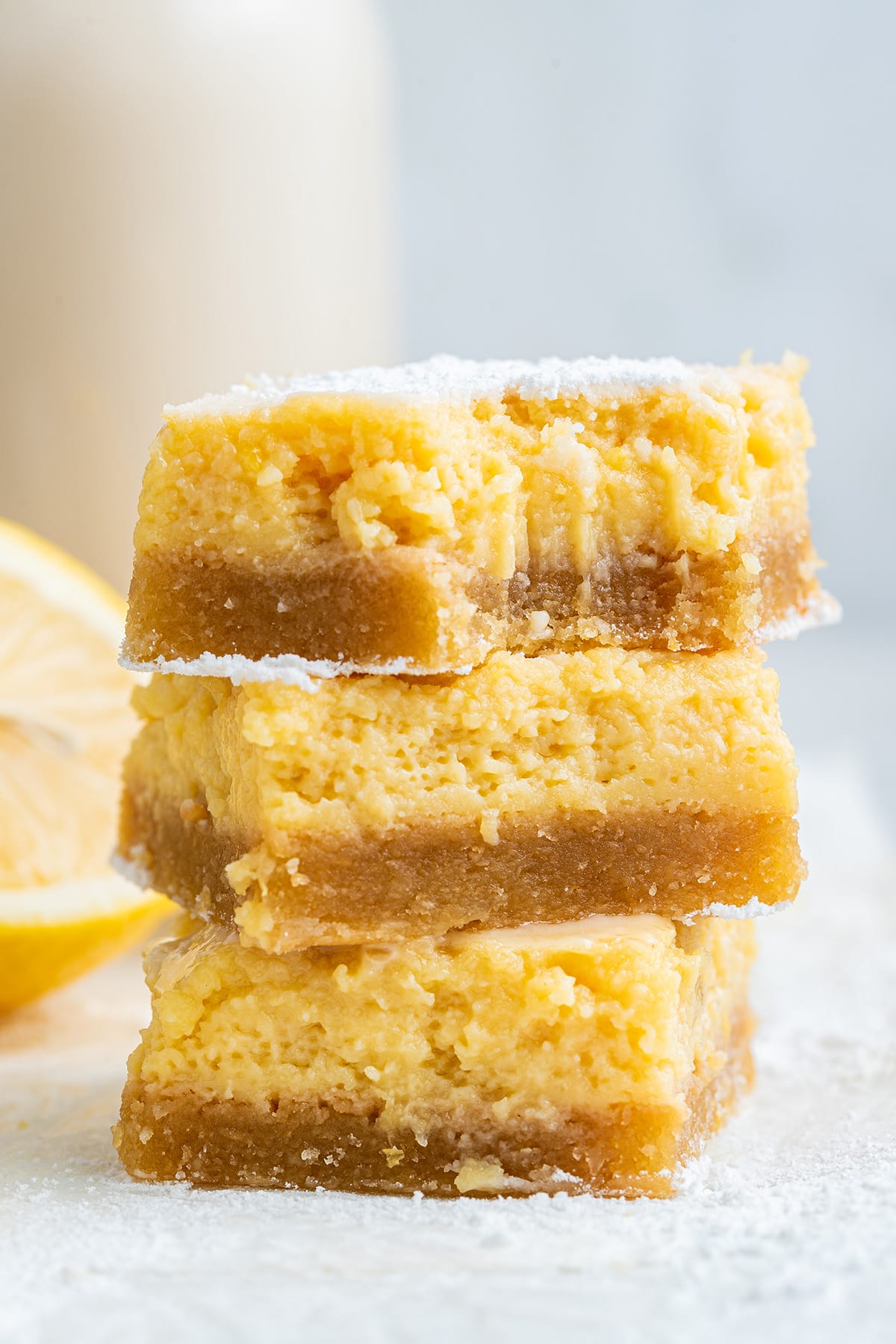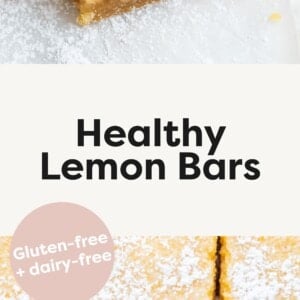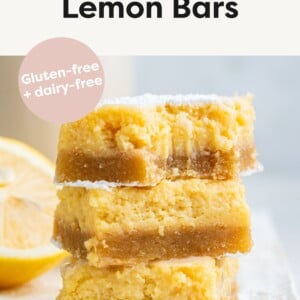 These healthy lemon bars have an almond flour shortbread crust and a creamy, perfectly tart lemon filling. They're gluten-free, dairy-free, naturally sweetened and made with only 6 simple ingredients!
If you're a fan of lemon desserts you're in for a real treat (literally!) with these healthy lemon bars. They combine an almond flour shortbread crust with a creamy, tart filling that is chef's kiss. I can't wait for you to try them!
Classic lemon bars are usually made with butter, white flour and white sugar (and lots of it!), but to make these lemon bars healthier I used almond flour, maple syrup and no oil or butter! The shortbread crust is made with just 2 simple ingredients (almond flour and maple syrup) and then you only need 4 more ingredients to make the filling. How easy is that?!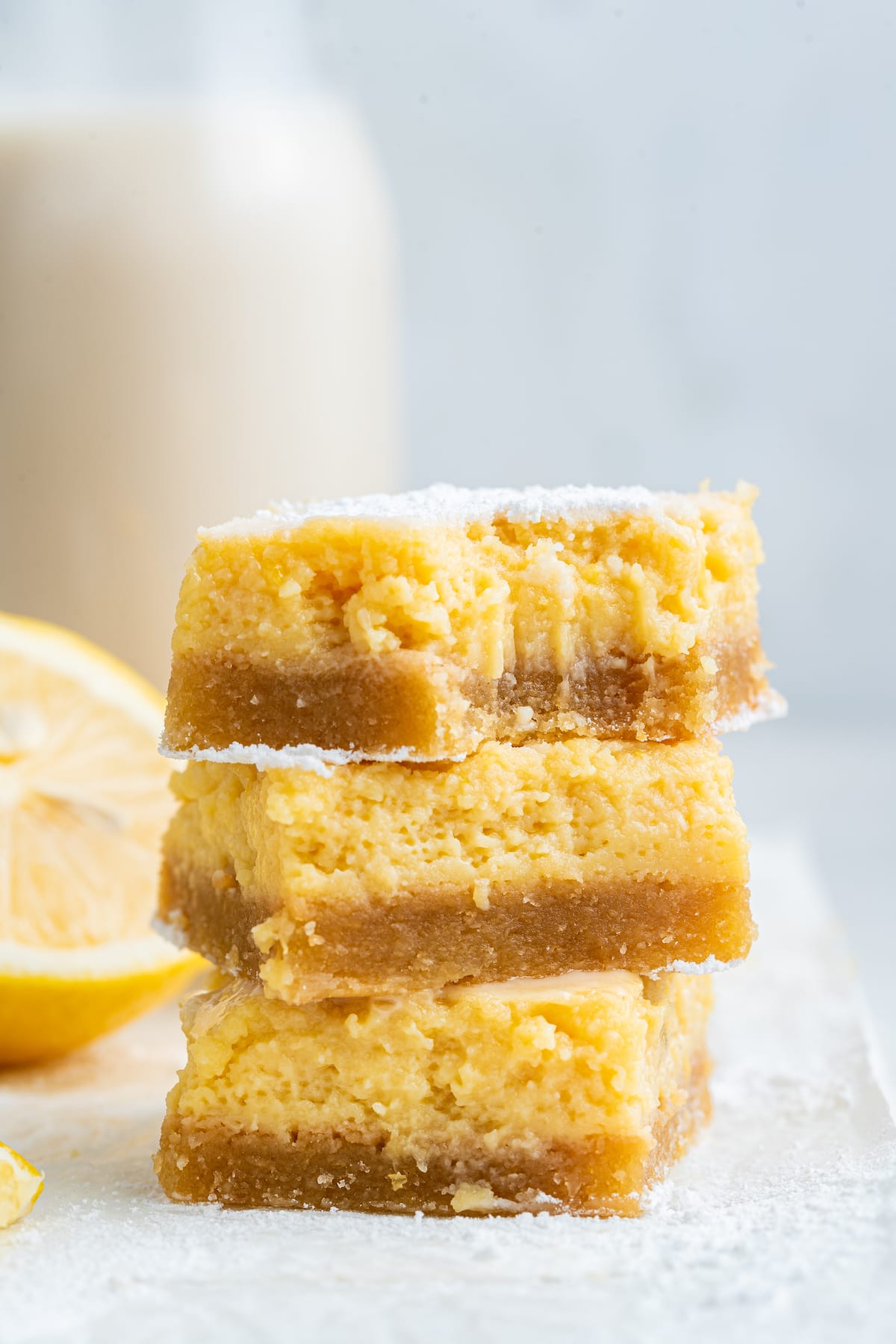 Why You'll Love These Bars
They're bursting with lemon flavor!
Super easy to make and only requires 6 main ingredients!
These bars are gluten-free, dairy-free and naturally sweetened.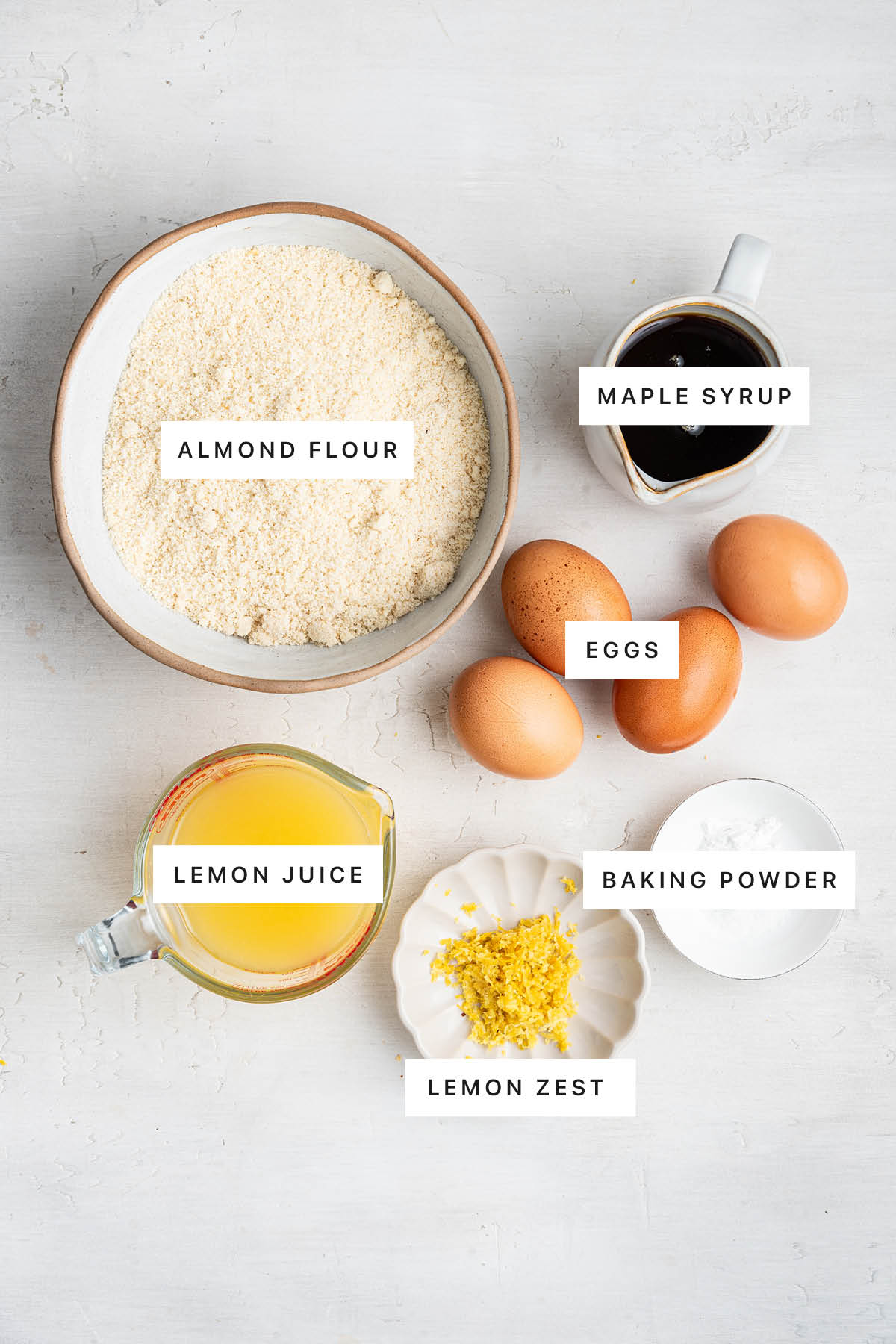 Ingredients Needed
eggs – the eggs help to bind the filling and create a creamy, custard-like texture.
maple syrup – both the crust and filling are naturally sweetened with pure maple syrup.
lemon – the star of the show here! We're using both fresh lemon juice and lemon zest in the filling.
almond flour – we're using almond flour to make the shortbread crust and to help provide structure for the filling. I used Bob's Red Mill super fine almond flour, which is blanched almond flour meaning the skin has been removed from the nut prior to grinding into a powder. I don't recommend swapping the almond flour for a different type of flour.
baking powder – helps these bars to rise!
salt – just a pinch to bring all the flavors together.
powdered sugar – I love topping these bars with a sprinkle of powdered sugar for garnish. This is optional!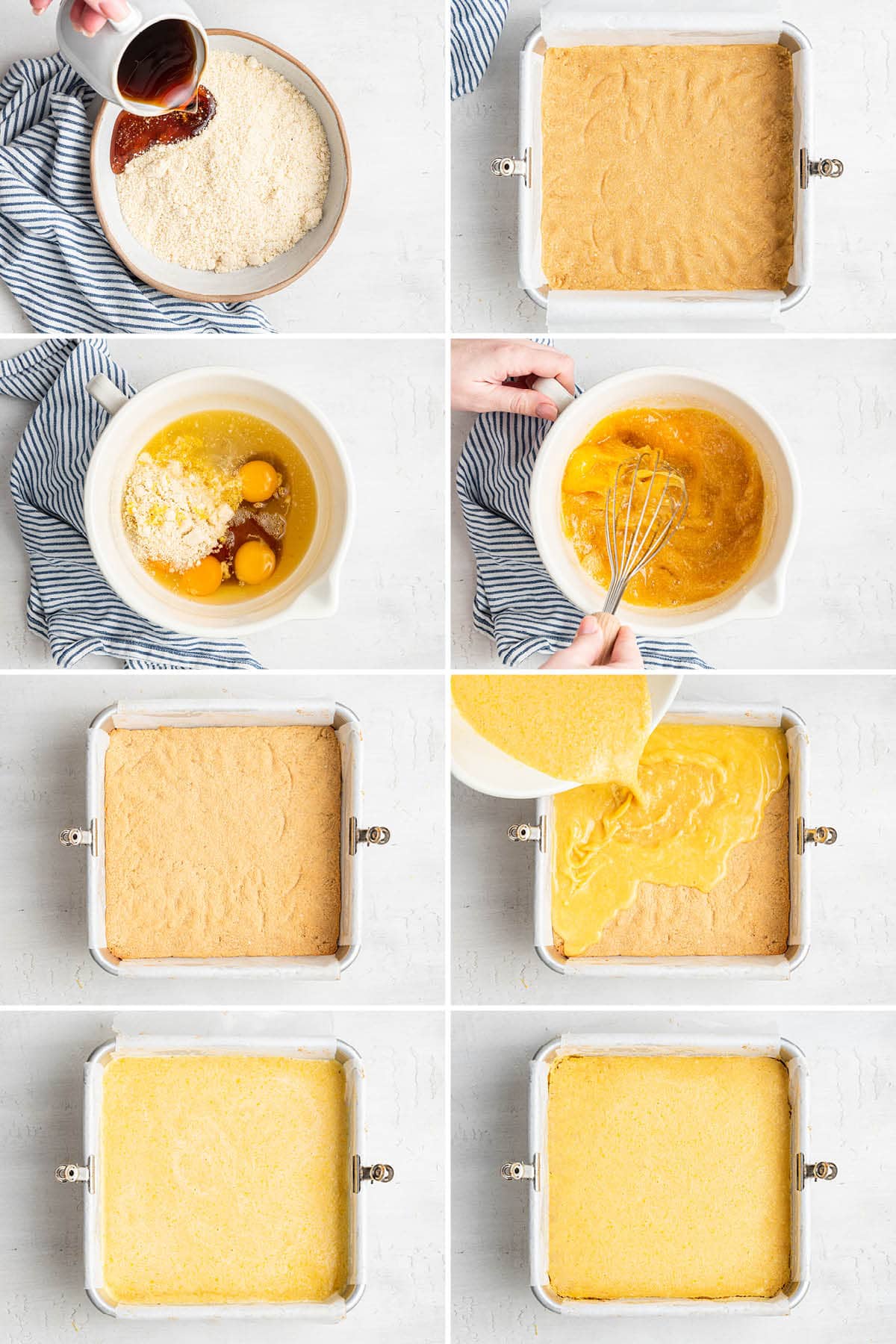 How to Make
Preheat oven: Preheat the oven to 350ºF and line an 8×8 baking dish with parchment paper or spray with cooking spray.
Make & bake crust: Make crust by combining almond flour and maple syrup in a medium bowl. Press the dough firmly into the prepared baking dish. Place crust in the oven and bake for about 20 minutes, until lightly golden.
Mix filling: While crust is baking, whisk filling ingredients (eggs, maple syrup, almond flour, baking powder, salt, lemon juice and lemon zest) together in a large mixing bowl. Once crust is done baking, remove from oven and slowly pour filling onto crust.
Bake, cool and serve: Return baking dish to oven and cook for 20-25 minutes, until filling looks set and is no longer jiggly in the middle. Remove from oven and let cool completely at room temperature. Then let cool in fridge until the bars set up, about 4 hours. Sift powdered sugar onto bars, cut and serve.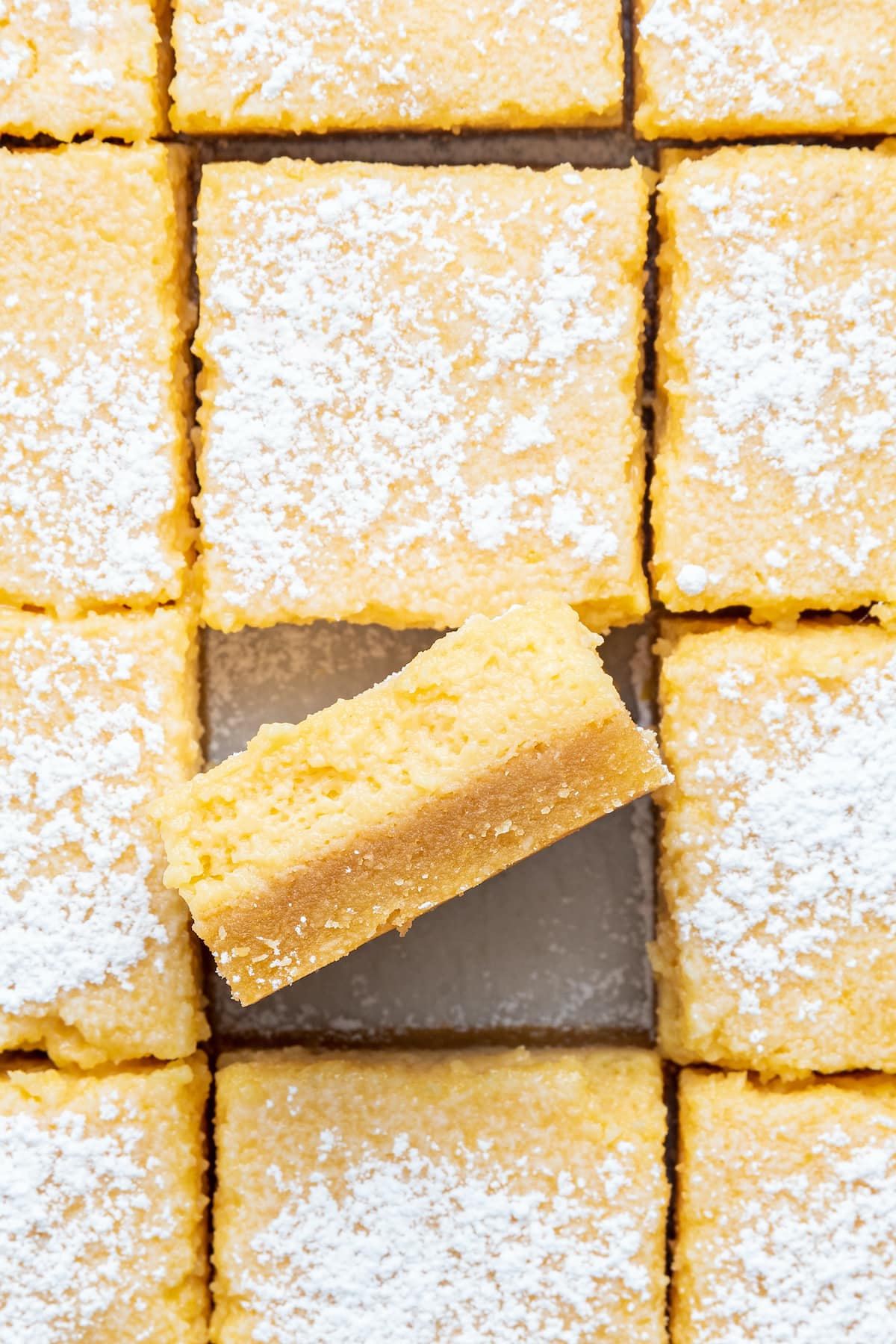 Tips For Success
Use fresh lemon juice and zest. The flavor of fresh lemon juice and zest is far superior to that of bottled juice and will make a big difference in the final product.
Use room temperature ingredients. This will help the ingredients to combine more easily and create a smooth filling.
Don't over-bake. Just bake the bars until the edges are golden brown and the filling is set. The filling should jiggle just a little bit when you shake the pan, but not slosh around.
Cool completely. This will allow the filling to set and make it easier to cut cleanly. Also, make sure to cool these bars at room temperature before placing in the fridge to set. If you put these bars in the fridge while the bars are still warm it might cause the top to crack.
Garnish with powdered sugar just before serving. If garnishing with powdered sugar do so once bars have completely cooled. If you add the powdered sugar while bars are still warm the powdered sugar will melt into the bars.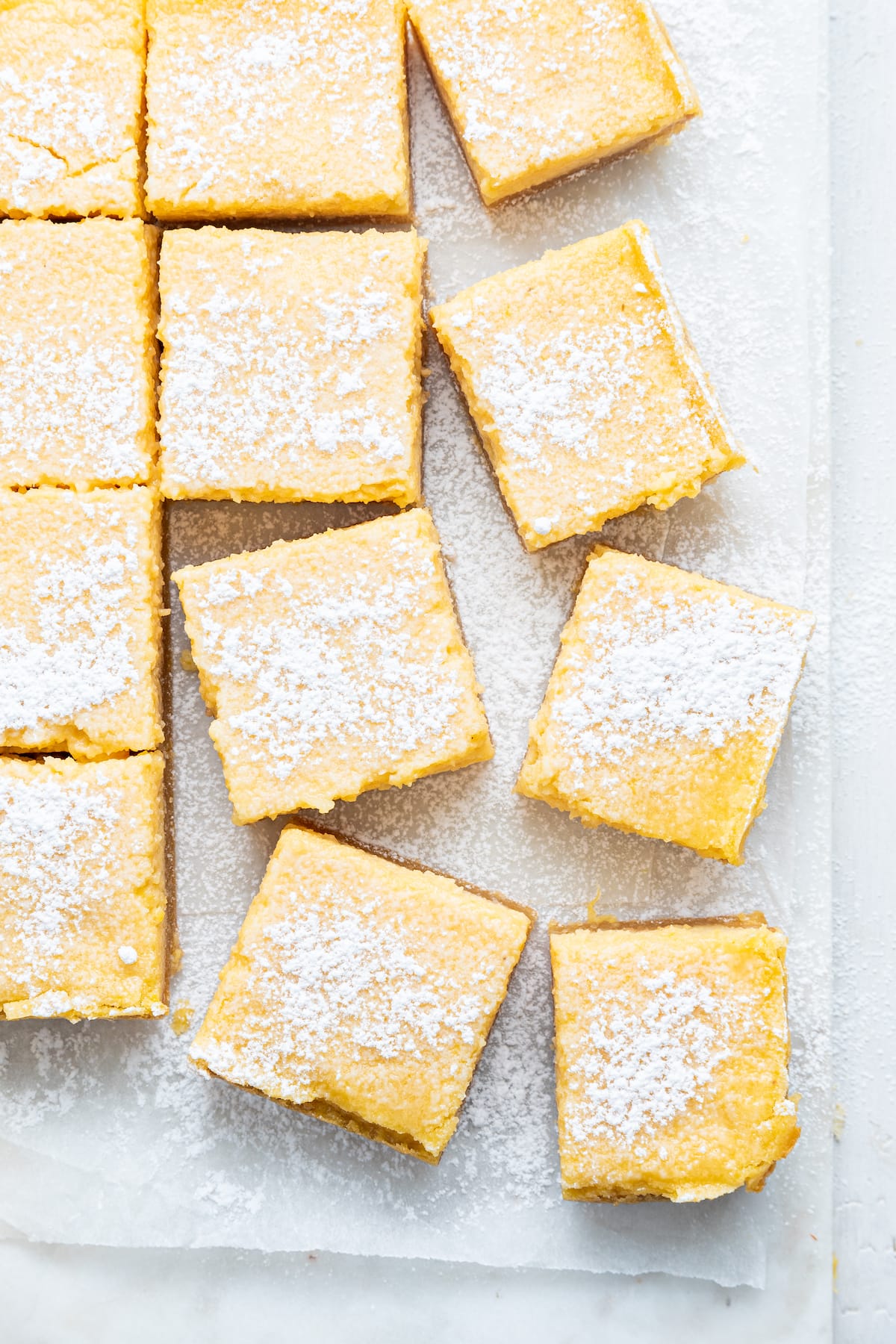 How to Store Lemon Bars
In the fridge: Before storing these lemon bars, make sure they've cooled completely. You can store them in an airtight sealed container in the refrigerator for up to 5 days.
In the freezer: If you freeze these bars I recommend storing them with parchment paper in between the bars so they don't stick together. Store in a freezer-safe container for up to 1 month. Before serving, let them thaw in the refrigerator.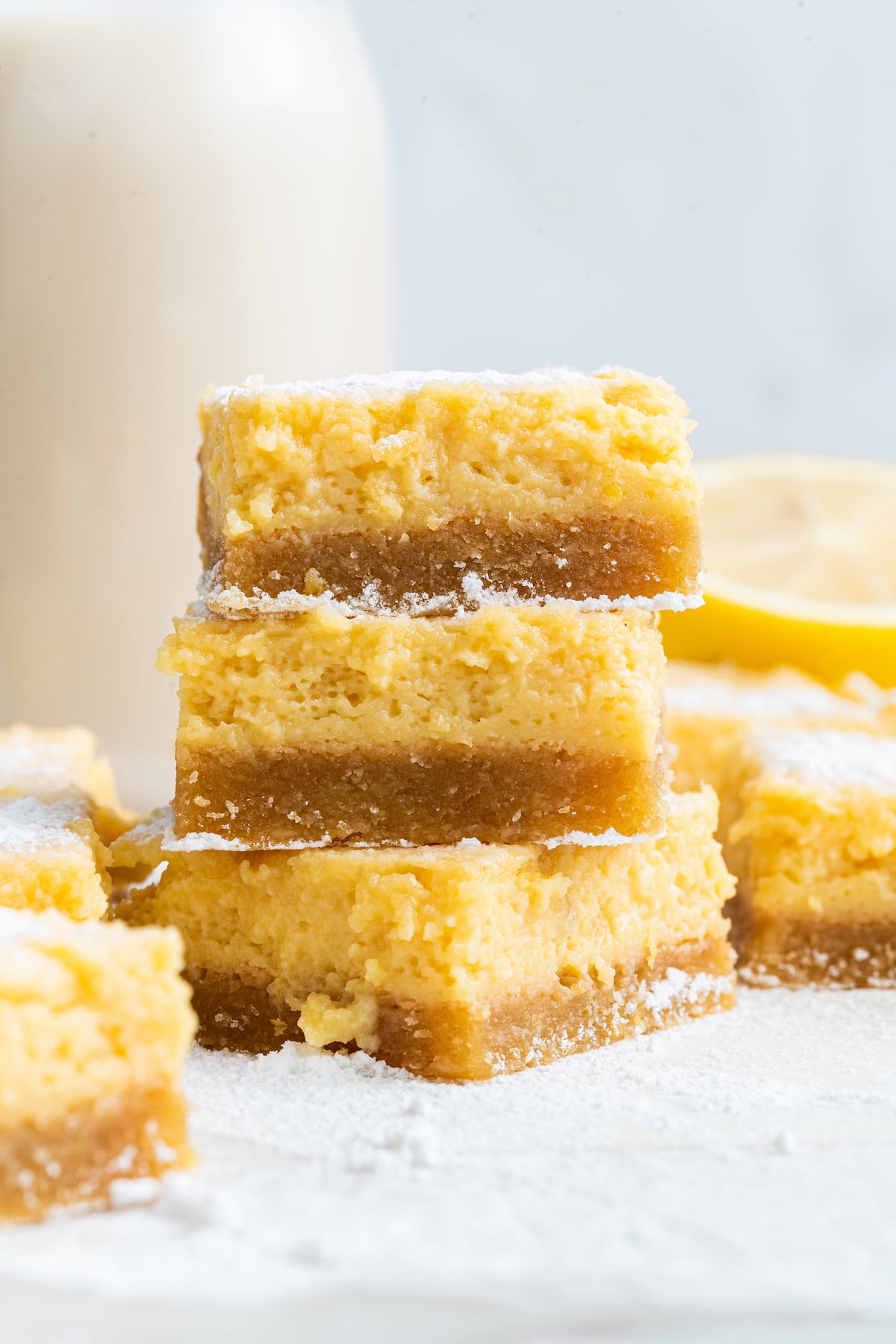 Lemon Bar FAQ's
Can I use a different flour instead of almond flour?
Unfortunately not. This recipe was specifically created to be made with almond flour and using another flour won't yield the same results. I did test these bars with oat flour and they didn't turn out. The crust was super dry and crumbly, which makes sense because the almond flour has more fat so works better for this simple shortbread crust.
Why do my lemon bars have white air bubbles on top of them?
Sometimes you might notice some white air bubbles on the top of your lemon bars. That's totally normal and is caused by the air from the eggs rising to the surface while baking. These bubbles shouldn't affect the taste of the bars and the dusting of confectioners' sugar will cover those bubbles right up!
Why did my crust turn out soft/soggy?
The crust is going to be soft because of the almond flour, but it shouldn't be soggy. If your crust mixture is wet before baking it might need to be mixed together a little more. If it's soggy after baking it probably needs a little more time baking in the oven.
More Lemon Recipes to Try
More Almond Flour Recipes
Check out all of the almond flour recipes as well as the full collection of dessert recipes on EBF!
Serving: 1 bar | Calories: 164kcal | Carbohydrates: 19g | Protein: 6g | Fat: 8g | Cholesterol: 47mg | Sodium: 44mg | Potassium: 147mg | Fiber: 2g | Sugar: 16g
Nutrition information is automatically calculated, so should only be used as an approximation.