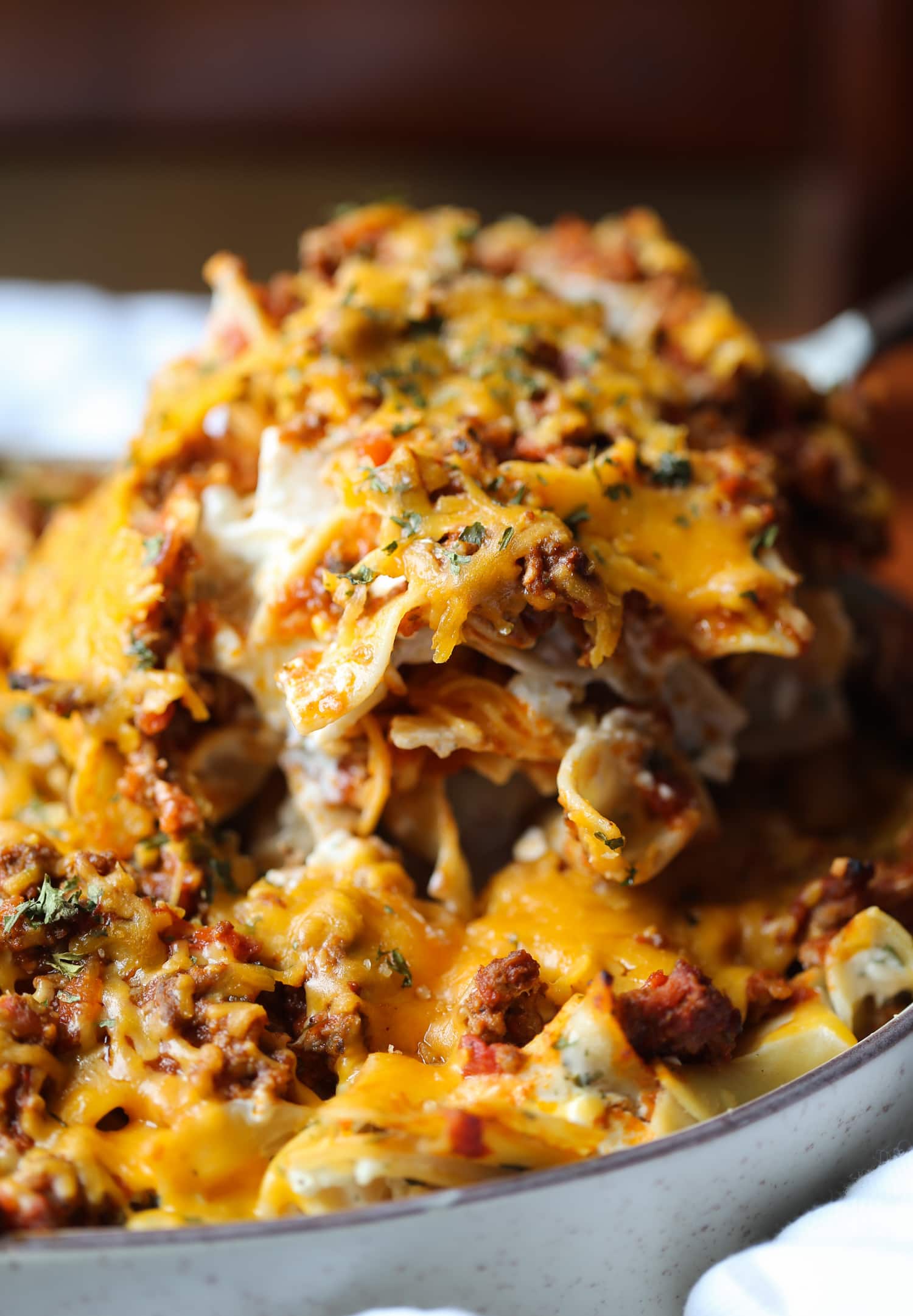 By: Shelly Posted: Apr 19, 2023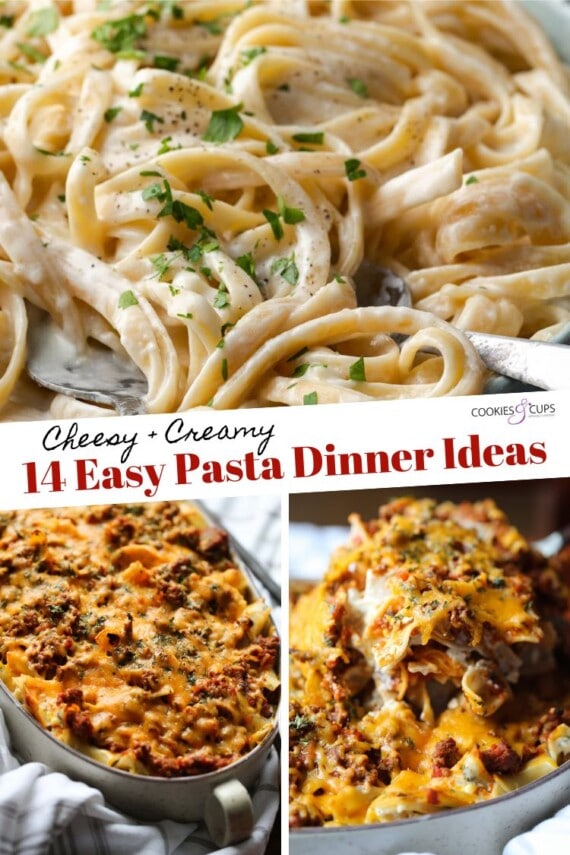 You'll be craving these 14 Cheesy & Creamy Pasta Recipes long after you've cleaned the plate! Below are some of my best rich and creamy pasta dinners that taste as if they belong in a restaurant, but you can make them right in your own kitchen.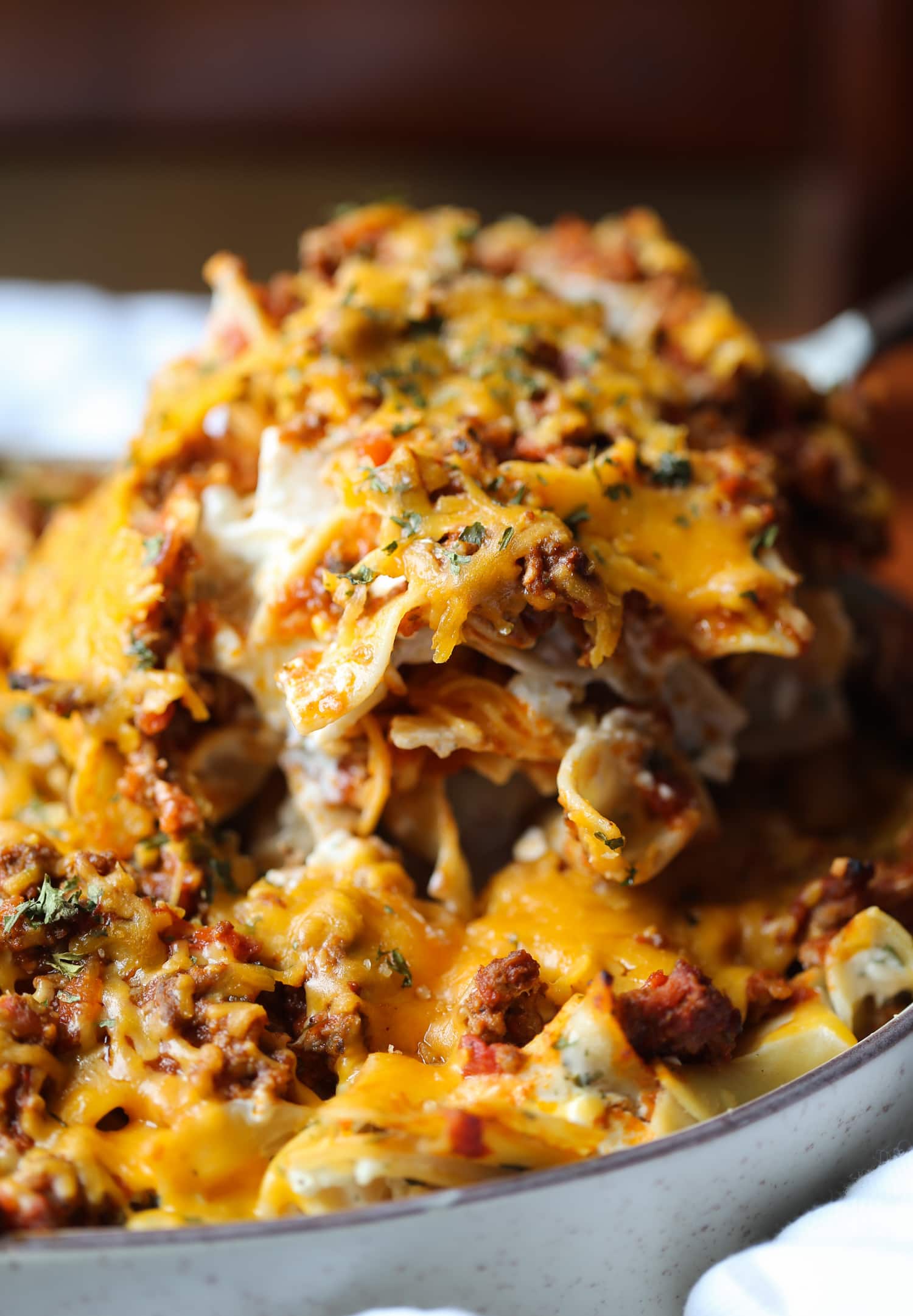 Mouthwatering Creamy Pasta Recipes to Try Tonight
Mama mia! Today we're talking pasta. And not just any pasta: the creamy, cheesy, mouthwateringly delicious kind. From a basic silky fettuccine alfredo to cheesy noodle casseroles, to creamy chicken pasta: I've gone all out rounding up some of my favorite creamy pasta recipes.
My husband comes from an Italian family, and his mother had a pasta dinner planned for every night of the week. Suffice it to say, we love our pasta around here.
Now, you're going to want to make a creamy pasta dinner for every night of the week, too. In this case, you can make one every night for two weeks, with the 14 cheesy and creamy pasta recipes below at your fingertips. Plus, helpful tips for the creamiest pasta dishes!
Why You'll Love These Recipes
Aside from being filled with cheese and all-around delicious, here are more reasons to love these homemade pasta recipes:
Simple ingredients. You don't need to mission for exotic ingredients to make a delicious homecooked meal that still tastes as if it came from your favorite restaurant. The recipes below call for basic ingredients that pack big flavors.
Family-friendly. These rich and creamy pasta recipes are made for feeding a crowd, large or small. If your family is anything like mine, just about anything that's loaded with cheese is bound to be a hit.
Great for leftovers. What's better than cheesy pasta for dinner? Cheesy pasta for lunch the next day.
14 Creamy and Cheesy Pasta Dinner Ideas
Let's dive into some of my best cheesy and creamy pasta recipes. I just know you'll be hooked, too! Don't forget to scroll for helpful tips for the creamiest pasta, plus general storing and reheating instructions.
Creamy Beef Pasta Recipe
Who else grew up eating Hamburger Helper? Wait until you get a load of this cheesy beef pasta upgrade! This easy pasta recipe packs tons of flavor into about 30 minutes on the stovetop, for a hearty family meal.
Creamy Angel Chicken Pasta
This cream cheese chicken pasta recipe is a comforting family meal made from juicy baked chicken breasts served over angel hair pasta with a rich cream cheese sauce.
Philly Cheesesteak Mac and Cheese
Beef up your homemade mac and cheese – literally – with roast beef, along with sauteed onions and peppers in this delicious mashup of two comfort food favorites.
Creamy Tomato Shrimp Pasta
This is an easy shrimp pasta recipe that's ready in 30 minutes and full of creamy tomato flavor, with a spicy chili kick.
Creamy Italian Sausage Pasta
You won't believe how much flavor gets jammed into one pot of pasta with this cheesy Italian sausage pasta made. There's a reason Italian-inspired recipes are my go-to comfort food, and this is it.
Cheesy Sour Cream Noodle Bake
This satisfying sour cream noodle bake is an easy weeknight dinner that anyone can make with a packet of ground beef, egg noodles, some basic pantry items, and a casserole dish.
Creamy Pumpkin and Bacon Pasta
Cozy and creamy pumpkin pasta with bacon is the ultimate fall dinner, made in one pot and spiced with nutmeg and chili.
Cheesy Chicken and Bow Tie Pasta
My chicken bowtie recipe has everything going for it. It's cheesy, it's rich, and it's loaded with tender chunks of chicken, aromatic veggies, and three different sources of cream. Comfort food in a nutshell!
Simple Fettuccine Alfredo
We're taking it back to the basics in the most delicious way possible: fettuccine alfredo pasta! You can't go wrong with a classic cheesy pasta dish, and this one's a winner.
No Boil Slow Cooker Mac and Cheese
Let your crockpot do the heavy lifting with this easy, ultra-cheesy no-boil slow cooker mac and cheese recipe. It's the ultimate hands-free comfort food that the whole family goes nuts for.
Crab Alfredo
This crab pasta recipe turns my classic alfredo into a seafood lover's dream. Made from tender crab meat and fettuccine pasta tossed in a divine cheese sauce seasoned with Old Bay. Pasta perfection.
Homemade Egg Noodles
Learn how to make egg noodles to use in your favorite creamy pasta recipes! Homemade pasta is a breeze, and this tutorial is here to walk you through it.
Cream Cheese Alfredo Sauce
This alfredo sauce made with cream cheese is ready in 15 minutes and tastes amazing. It's perfect to whip up on busy weeknights!
Midwest Five Cheese Bake
For a true classic, you have to try this Midwest five cheese bake. It's like mac and cheese on steroids, with all kinds of melty cheese baked together with tender pasta in one casserole dish.
Whenever I make the pasta dinners above, I always have a few tricks up my sleeve to ensure that the pasta sauce comes out smooth and velvety. Here are some helpful tips for creamy pasta sauces, whether you're making a one-pot meal or a cheese-filled casserole:
Don't cook the pasta too far in advance. It's tempting to want to get a headstart by having your pasta cooked, drained, and waiting while you prepare your other ingredients. But resist! Freshly cooked pasta holds a lot of starchy liquid that evaporates the longer the pasta sits, and will lead to tougher, chewier pasta noodles. Try to time it right and transfer your pasta straight from the pot to the sauce whenever possible.
Save your pasta water. Even if you think you might not use it! Pasta water holds lots of extra starch that gets released from the pasta while it cooks. This starchy water is perfect for adding flavor and creaminess to sauces, without having to add more cream. You don't need to save all of it, but a cup-full is usually good to have on hand.
If your creamy pasta sauce is runny, this is usually because it contains too much liquid and not enough starch to emulsify, or it hasn't cooked down enough. Make sure to give the sauce enough time to simmer after adding liquids like milk or pasta water.
Add cheese towards the end. If cheese is overheated, a sauce can become oily and clumpy, instead of silky. In more cases than not, the cheese goes into the sauce at the end to prevent it from overcooking and separating.
How to Store and Reheat Creamy Pasta
Most creamy pasta leftovers can be kept airtight in the fridge for up to 2-3 days and reheated in the oven or microwave. Of course, always refer to the specific instructions for each recipe.
Can I Freeze These Pasta Recipes?
Many of the recipes I've included are freezer-friendly and can be made ahead and frozen. Be sure to store the pasta or casserole airtight and reheat it within a few months (always check the individual recipes to be sure!).
PIN for later: