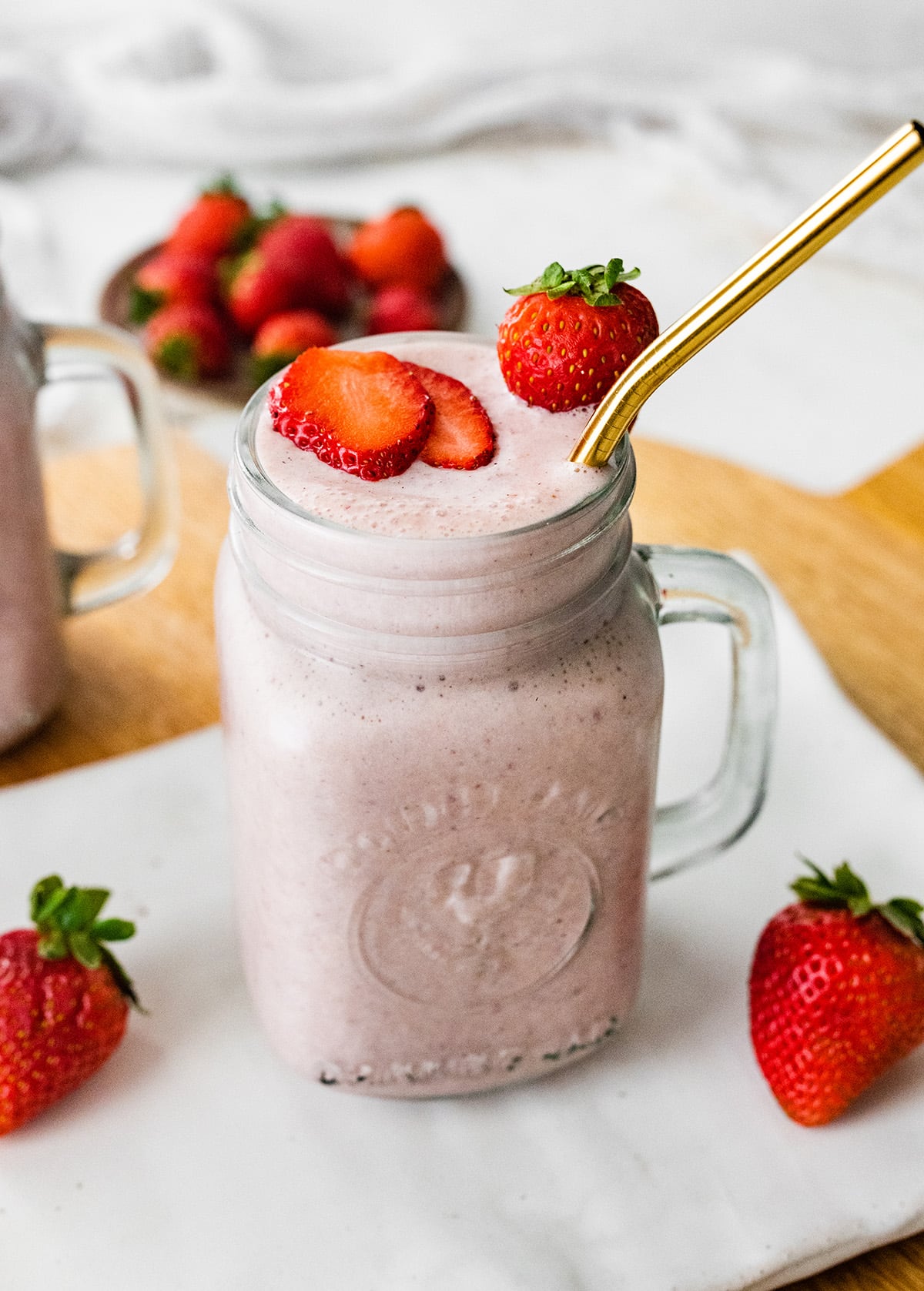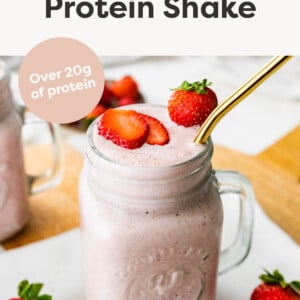 This strawberry protein shake is creamy, easy to whip up and tastes like a milkshake, but is made with simple, natural ingredients and has over 20 grams of protein. Vegan + dairy-free.
I love making blended protein shakes and this strawberry protein shake might just be my new favorite flavor!
Protein shakes are a go-to of mine whenever I need a quick and easy breakfast or post-workout snack to help refuel my body and repair fatigued muscles. And the recipe I'm sharing today is so easy to whip up. You only need 4 main ingredients and a blender!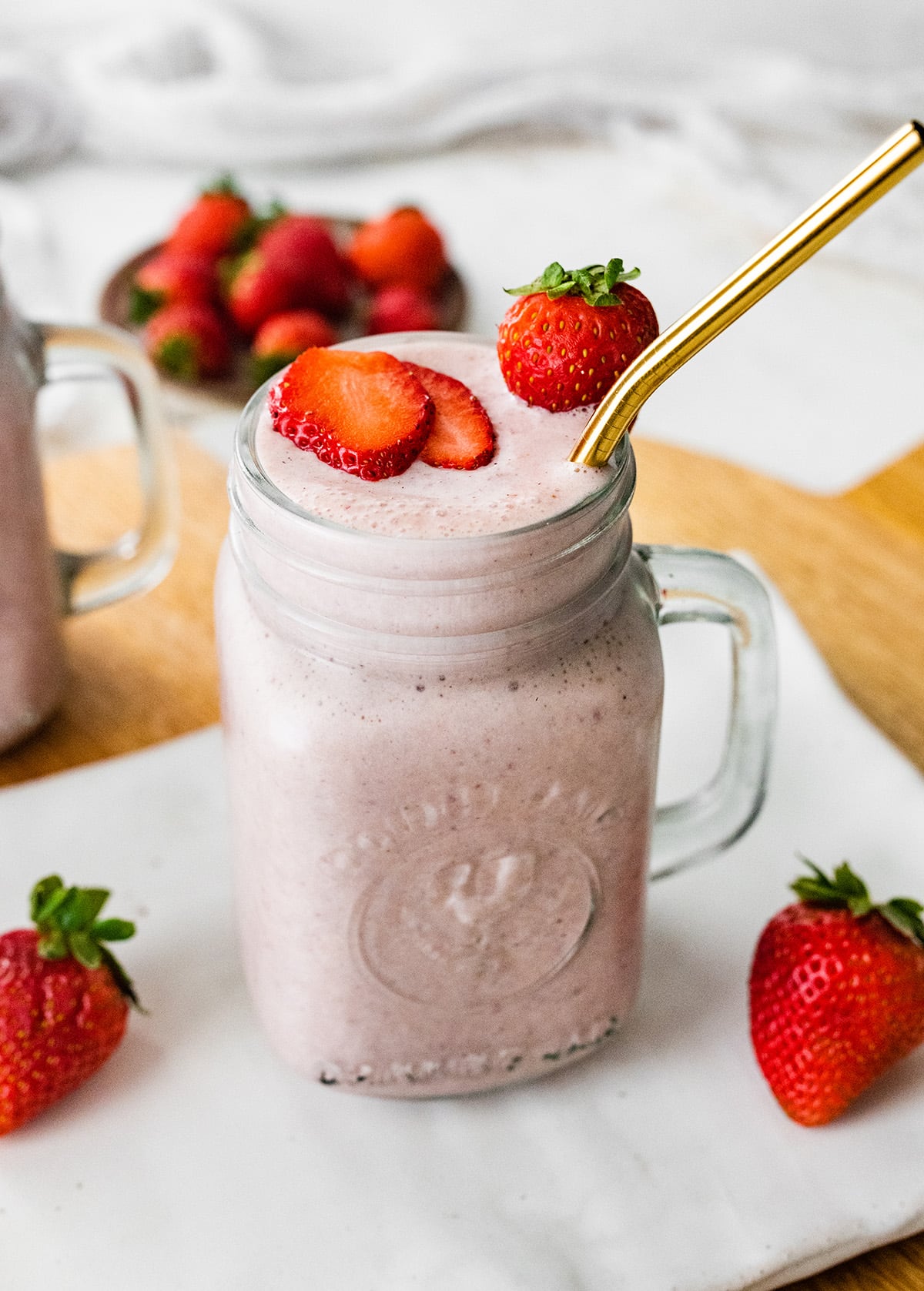 Why You'll Love This Shake
Quick and easy to make with just 4 main ingredients!
Tastes like a strawberry milkshake without all the sugar.
Has over 20 grams of protein.
Vegan, dairy-free + gluten-free.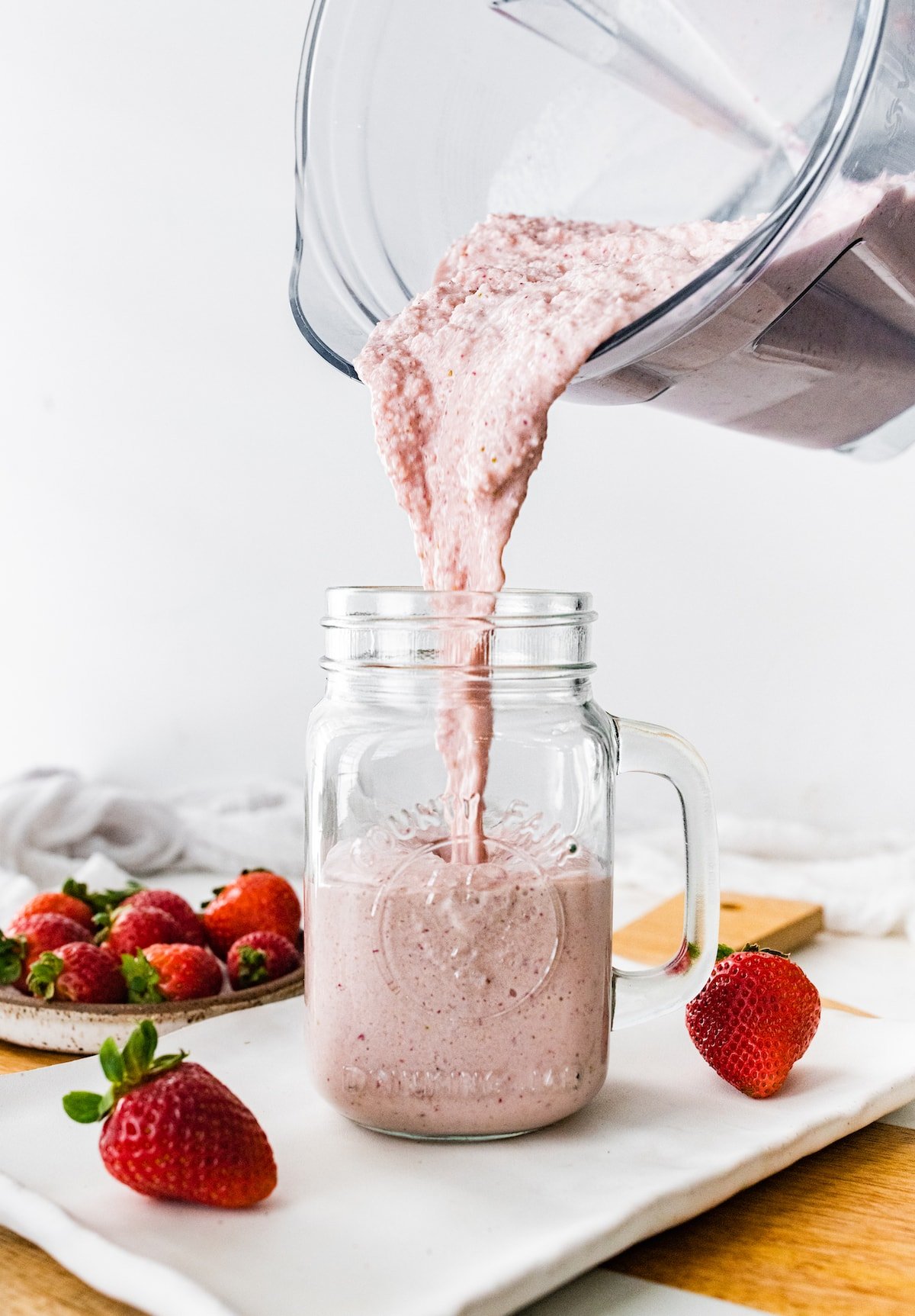 Blended Protein Shake
Often times when we think of a protein shake we think about putting some protein powder and water into a blender bottle and shaking it up. I've honestly never been a big fan of that sort of protein shake so I started making blended shakes… that actually taste good!
Of course, there is an extra step because you do have to break out your blender, but trust me it's worth it.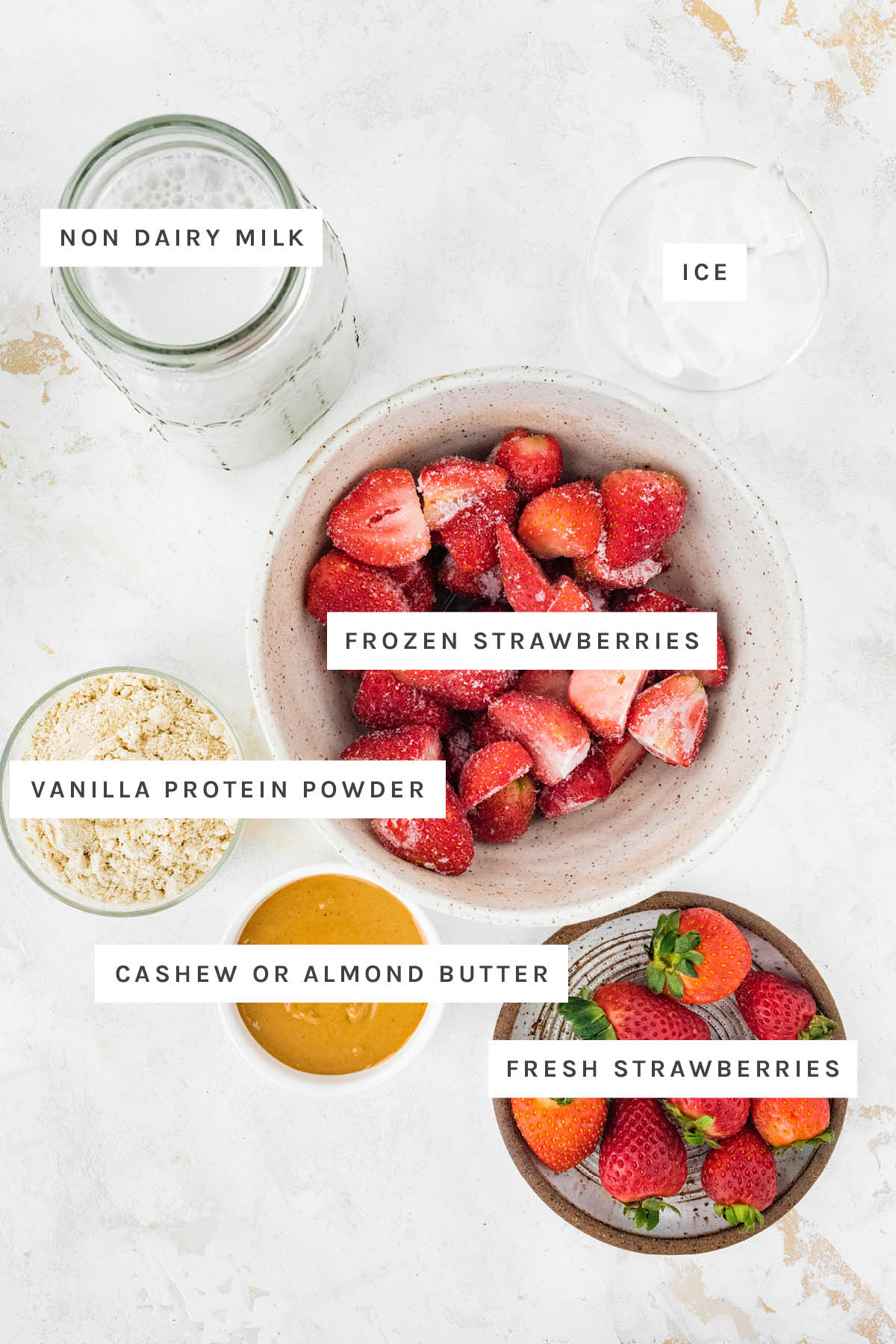 Ingredients Needed
The best part about this protein shake? You only need 4 main ingredients!
vanilla protein powder – I like using vanilla protein powder, which gives it that milkshake flavor but feel free to use your favorite brand and flavor of protein powder. I bet chocolate would be delicious for a chocolate strawberry protein shake! In terms of which protein powder to use, I love use Nuzest protein powder. It's plant-based, has simple ingredients and great nutrition facts! Nuzest even has a strawberry protein powder that I bet would be delicious! Use my code eatingbirdfood for 15% off your order on their website.
frozen strawberries – this is what gives this shake its rich and creamy texture! If you only have fresh strawberries on hand, I suggest slicing and freezing before making this shake. And if you're feeling fancy you can serve your shake with fresh strawberry slices, but that's totally optional!
milk – I like using unsweetened almond milk, but any milk will work with this recipe.
cashew or almond butter – for some extra protein! I find that cashew butter and almond butter have more neutral flavors and don't overpower the shake so that's what I recommend using!
chia seeds or flaxseed – adding chia seeds or flaxseed to your shake is totally optional, but it does add a little extra protein, fiber and healthy fats.
ice – this is optional, depending on your consistency preference, but adding a handful of ice (about 3-4 cubes) will help thicken your protein shake and make it colder.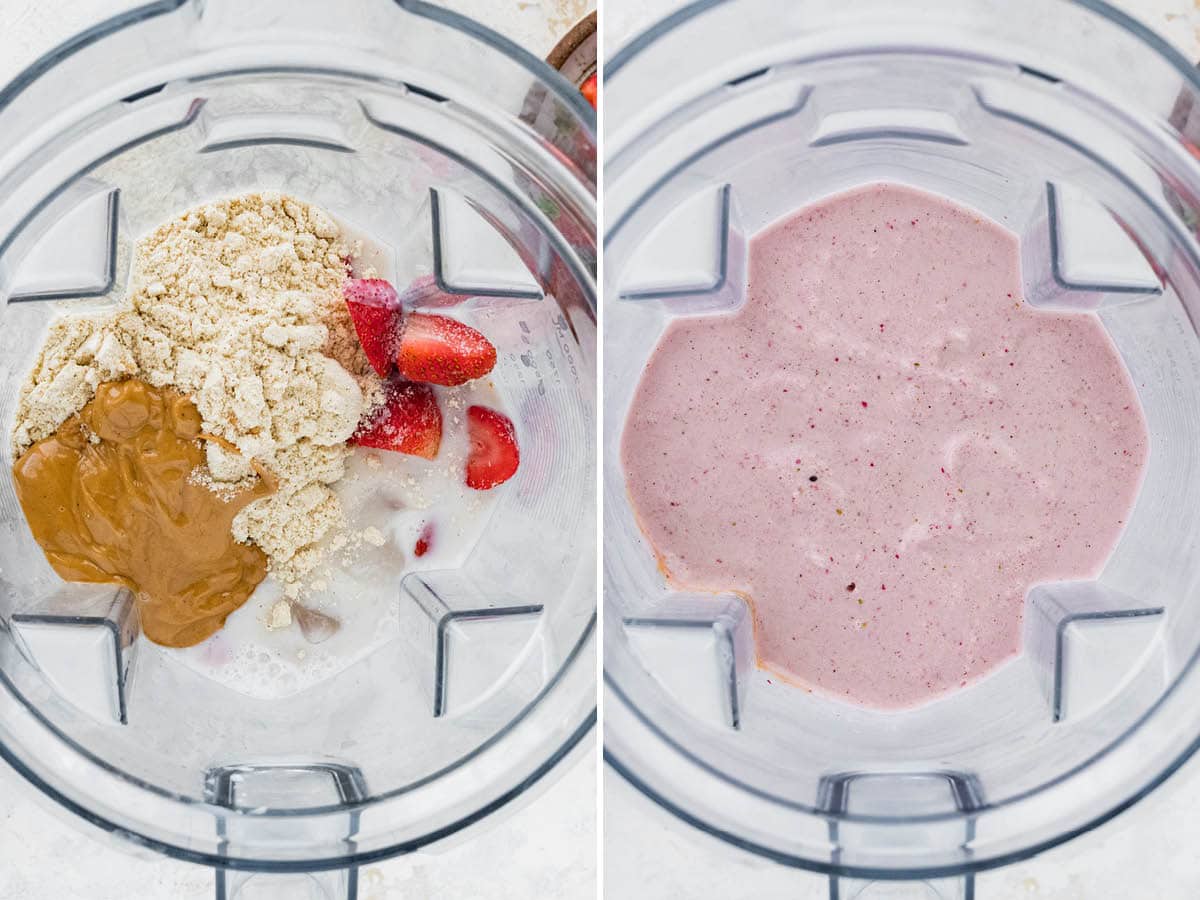 How to Make
This protein shake couldn't get any easier to make. Just add all ingredients to a blender and blend until smooth. Taste and adjust ice or ingredients if needed. Add toppings (if using) and enjoy!
Substitutions & Notes
Milk: Any plant-based milk will work like coconut milk, oat milk, soy milk or cashew milk. If you're a dairy drinker feel free to use dairy milk!
Nut butter: If you don't have almond butter or cashew butter on hand you can swap it for peanut butter, it'll just add a stronger flavor to the shake. You can also use a seed butter like tahini or sunflower seed butter.
Strawberries: This is a strawberry protein shake, but if you don't have strawberries on hand you can swap it with another variety of berries like blueberries, blackberries or raspberries.
Protein powder: Plant-based protein powders feel best in my body over whey-based protein powders, but you can use whatever type of protein powder you prefer. If you don't have protein powder on hand you can use collagen powder or Greek yogurt for the protein!
Sweetener: I find that the frozen strawberries add plenty of natural sweetness, but feel free to add a touch of maple syrup or your favorite sweetener if you prefer.
Strawberry banana: Want to make a strawberry banana protein shake? Simply swap some of the frozen strawberries with 1/2 a frozen banana.
Topping ideas: You can top the shake with fresh strawberry slices like I did or add a drizzle of nut or seed butter or a sprinkle of your favorite toppings, such as cacao nibs, coconut flakes, or granola.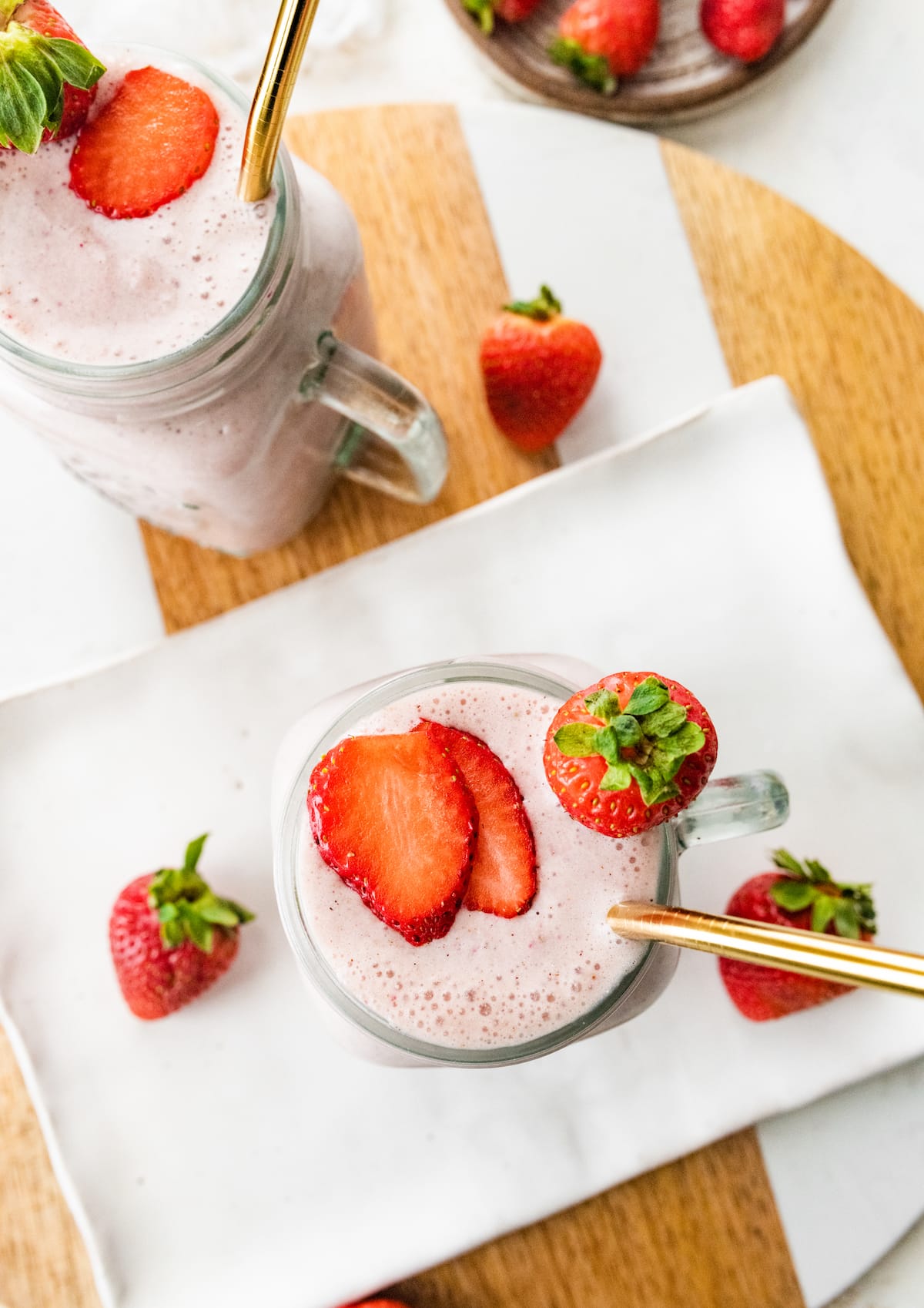 How Long Will it Last
I like to make this protein shake fresh when I'm ready to eat it, but if you have any leftovers or want to make a day in advance that is just fine. Store the protein shake in an airtight container in the fridge for 1-2 days. I like to store my smoothies and protein shakes in wide-mouth mason jars. Some separation may occur as it sits, simply shake or re-blend if necessary.
More Protein Shakes to Try
Popular Smoothie Recipes
Be sure to check out all of the smoothie recipes as well as the full collection of drink recipes on EBF!
Add all ingredients to a blender.

Blend until smooth. Taste and adjust ice or ingredients if needed. Add toppings (if using) and enjoy!
Serving: 1 shake | Calories: 282kcal | Carbohydrates: 19g | Protein: 26g | Fat: 13g | Saturated Fat: 2g | Polyunsaturated Fat: 2g | Sodium: 618mg | Potassium: 452mg | Fiber: 5g | Sugar: 9g
Nutrition information is automatically calculated, so should only be used as an approximation.