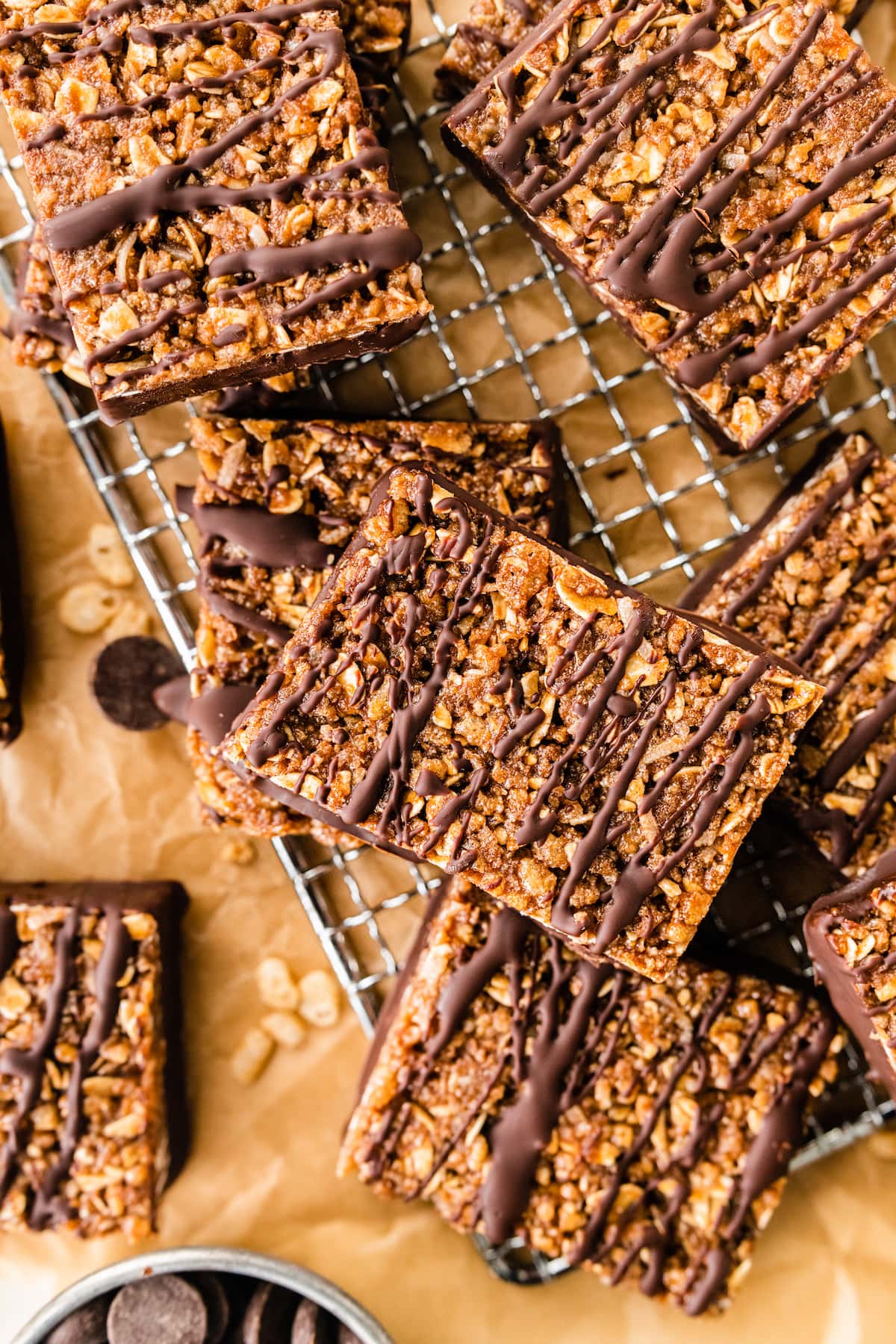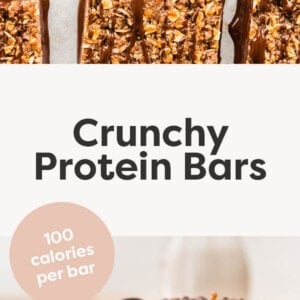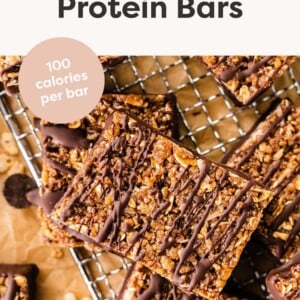 These crunchy protein bars combine brown rice cereal and rolled oats with honey, coconut, peanut butter and protein powder for a delicious, healthy snack that tastes just like the Luna Bars! Gluten-free, dairy-free + perfect for meal prep!
One of my favorite store-bought bars is the Chocolate Dipped Coconut Luna Bar. I've been wanting to try my hand at making a homemade version but was intimated by the ingredient list because it's rather long.
After some research I found that Katie from Chocolate Covered Katie had made a homemade version, so using her recipe as inspiration I went to work in the kitchen. The end result was these crunchy protein bars that I'm sharing today, which is my take on the Chocolate Dipped Coconut version.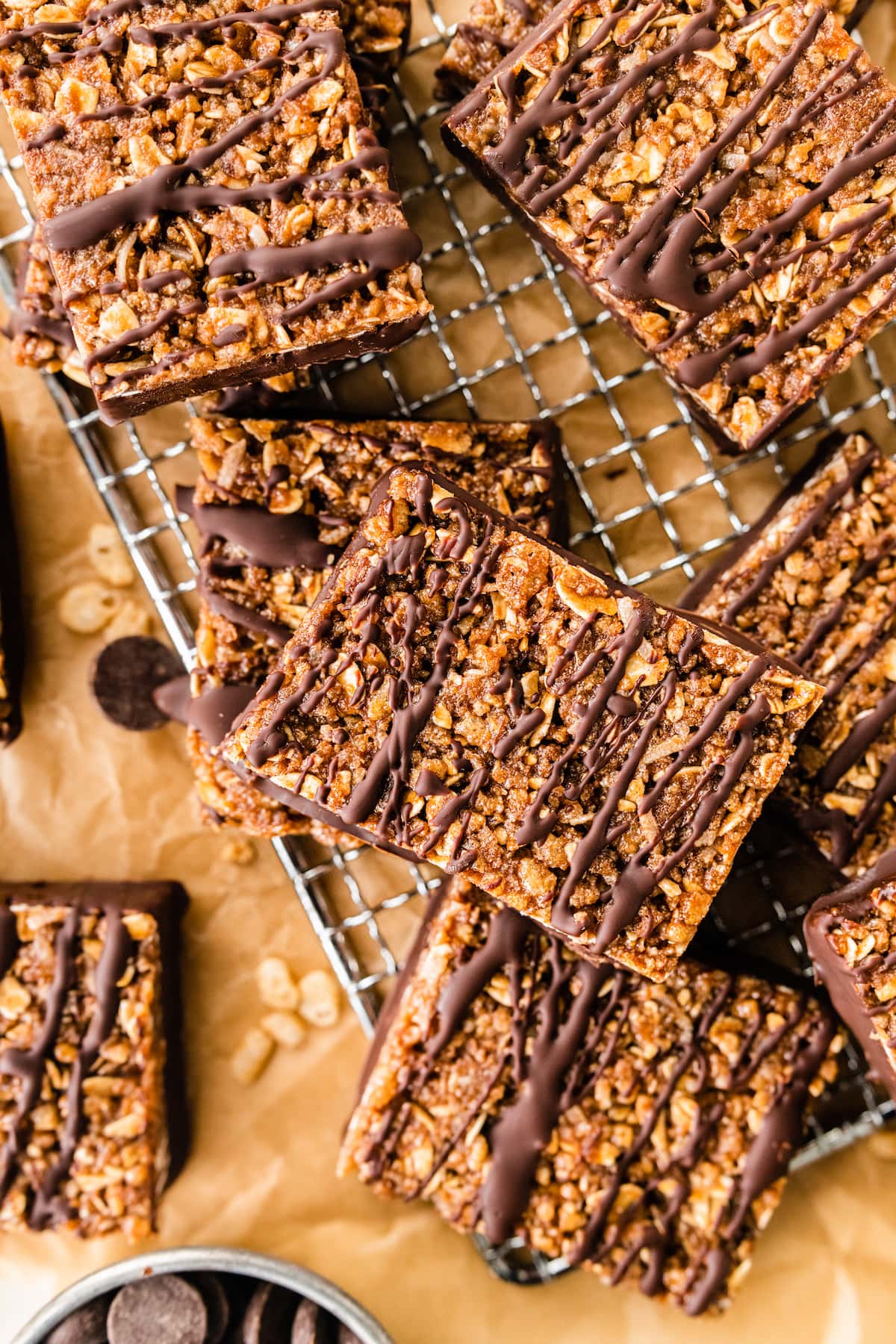 Why You'll Love This Recipe
The combo of chocolate, peanut butter + coconut = chef's kiss!
Cheaper than store-bought snack bars!
Easy to make with only 10 simple ingredients.
Gluten-free, dairy-free, naturally sweetened and can easily be made nut-free.
They're no-bake + perfect for meal prep.
Perfect for an on-the-go snack or post-workout treat.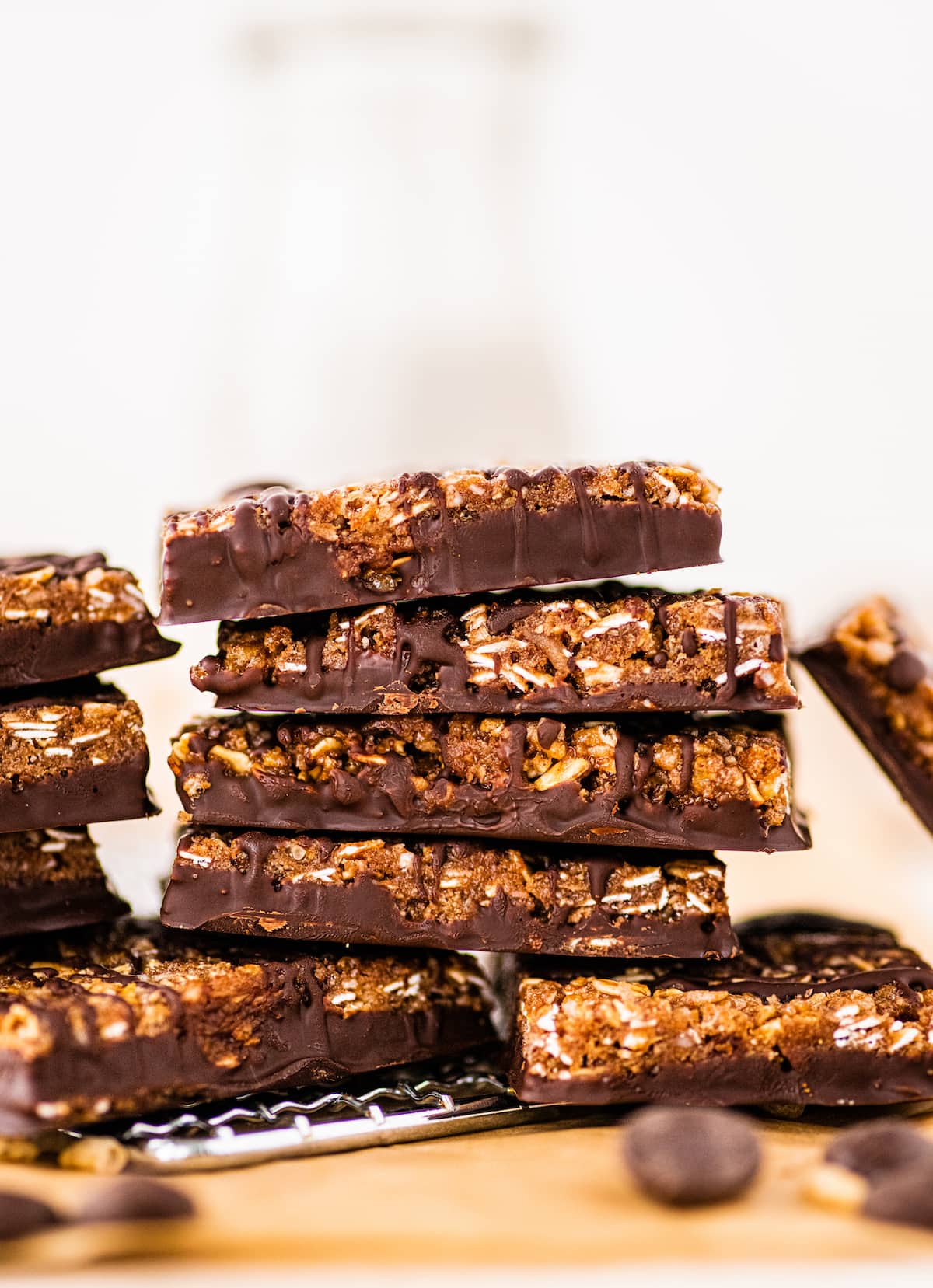 Making Healthier Luna Bars
While the Luna bars are delicious and the convenience is nice, they're made with a lot of not-so-good-for-you and unnecessary ingredients like soy flour, rice flour, soy lecithin, sunflower oil, palm oil, vegetable glycerin, soy protein isolate, palm kernel solids and artificial flavors.
To simplify things I made these bars with 10 simple real-food ingredients that you can actually pronounce like honey, rolled oats, peanut butter, shredded coconut and cocoa powder. No added sugars, artificial sweeteners or natural flavorings over here!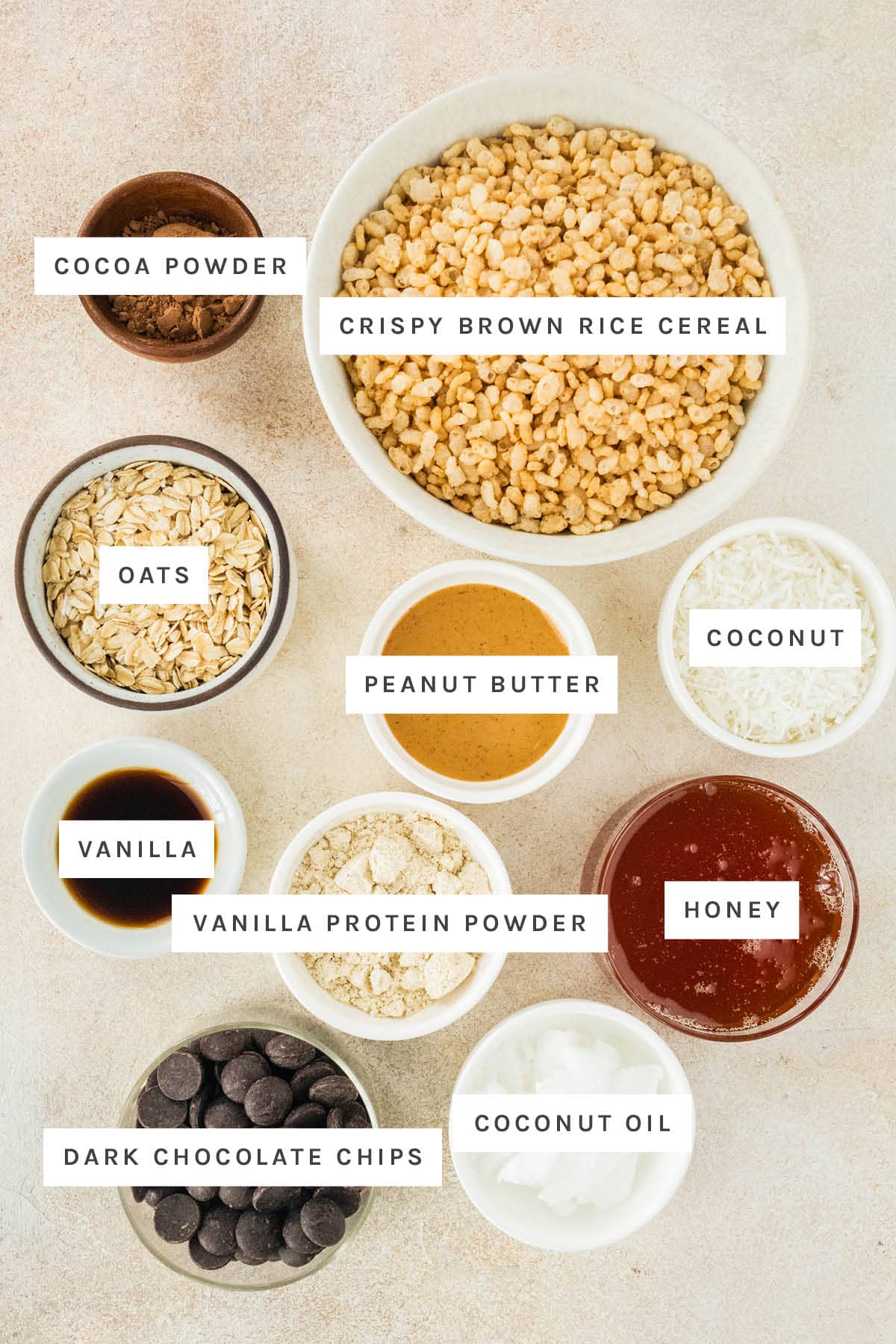 Ingredients Needed
crispy brown rice cereal – what adds the crunch to these bars! This is a gluten-free crispy cereal made from whole grain brown rice. You can find this in the cereal aisle at health food stores. Some brands to look for: 365 by Whole Foods, One Degree and Nature's Path.
old fashioned oats – provides the base for these bars and adds a chewy texture. They're also a good source of fiber! Make sure you grab gluten-free oats if needed. I use Bob's Red Mill gluten-free rolled oats.
shredded coconut – make sure to grab unsweetened shredded coconut. My favorite brand is Bob's Red Mill unsweetened shredded coconut.
vanilla protein powder – I used the Sun Warrior Vanilla Warrior Blend for this recipe, which worked great! It's vegan, soy-free, sugar-free and doesn't taste chalky at all! Another fave of mine is the Nuzest protein powder.
cocoa powder – Make sure you're using unsweetened cocoa powder. Cacao powder works as well.
honey – the glue that holds these bars together!
creamy peanut butter – helps to bind everything together. Plus, it's a good source of protein. You want to use natural, drippy peanut butter not a thick peanut butter spread. I usually go for the store brand and read the label to make sure it has just one or two ingredients, the nuts and salt. Some of my favorite brands are the Wild Friends peanut butter and 365 organic creamy peanut butter.
coconut oil – acts as a moisturizer, helping to keep the bars from becoming dry and crumbly.
vanilla extract – a wonderful flavor enhancer.
dark chocolate chips – I recommend Enjoy Life mini chocolate chips which are allergen-friendly or Lily's chocolate chips because they are low in sugar and calories.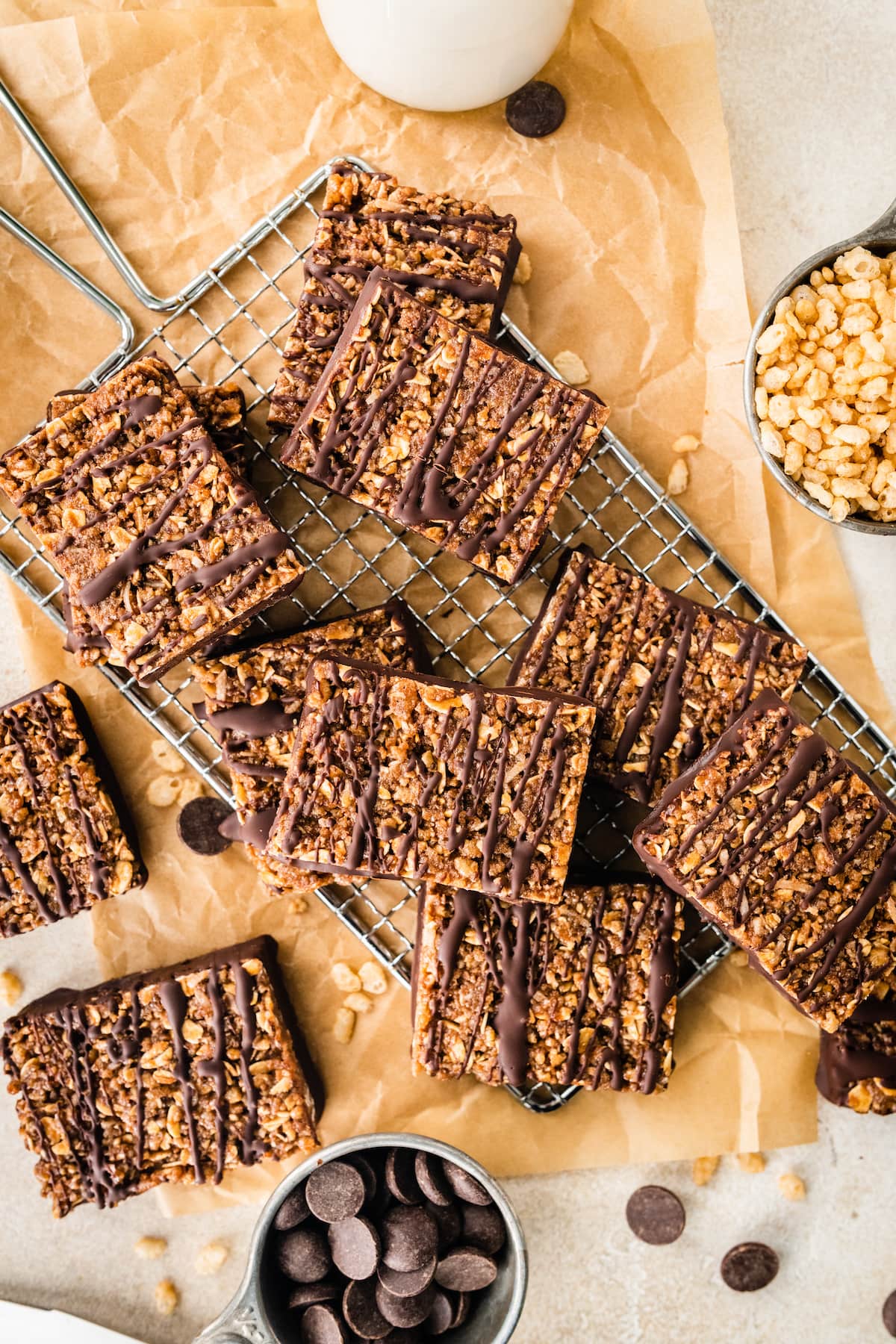 Crunchy Protein Bars Substitutions
Brown rice cereal: If you can't find brown rice cereal you can use regular crispy rice cereal.
Peanut butter: If you're allergic to peanuts or simply don't have any on hand, you can use another type of nut or seed butter instead. Almond butter, cashew butter, sunflower seed butter or tahini are all great options.
Coconut: Feel free to skip the coconut shreds if you don't have any on hand. I would just add more rolled oats in place of the coconut.
Honey: I haven't tried a substitute for the honey, but I bet maple syrup will work just fine!
Coconut oil: Feel free to use another neutral oil instead of coconut oil like avocado oil or olive oil.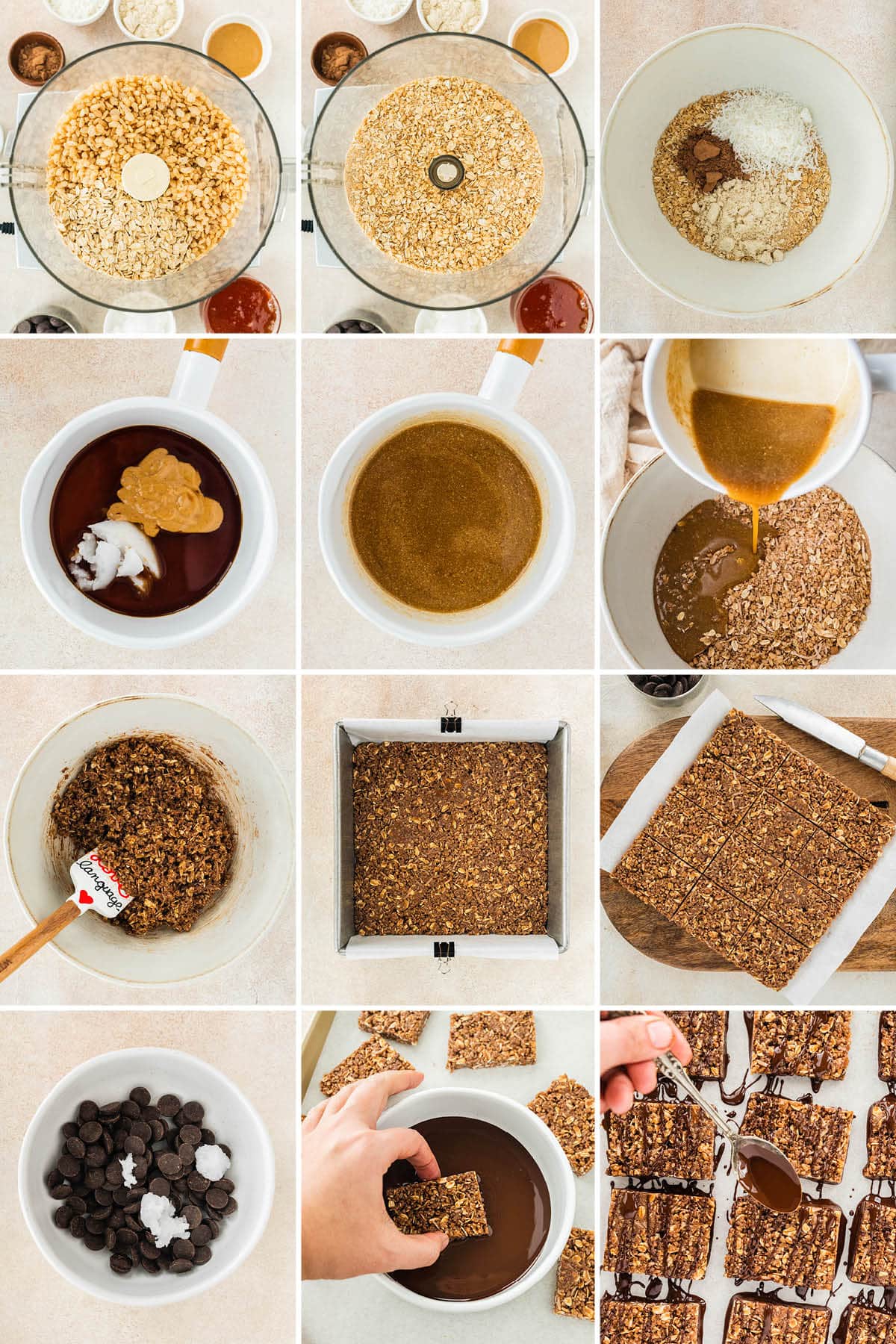 How to Make
Pulse: Add cereal and oatmeal to a small food processor and pulse a few times until the cereal is chopped up. Don't process it too much or else you'll end up with flour.
Stir dry ingredients: Place cereal and oat mixture in a large mixing bowl and add in the coconut, protein powder and cocoa powder. Set aside.
Combine wet ingredients: Add the honey, peanut butter, coconut oil and vanilla to a small saucepan on medium-low heat. Stir mixture and heat until everything is melted and combined, about 2 minutes. Pour over the dry ingredients and stir very well, making sure to coat everything.
Press and chill: Line an 8×8 pan with parchment paper and spread the mixture evenly into the pan. Place a sheet of parchment paper on top of the mixture, then press down as firmly as you can with your hands. Really press it down! Place the bars in the freezer to set up for at least an hour before cutting.
Melt chocolate: Once bars are firm, add chocolate chips and coconut oil to a medium-sized microwave-safe bowl and heat in 30-second intervals until melted. While chocolate is melting, cut set mixture into 12 even bars.
Dip and set: Once chocolate has fully melted, dip the bottom of each bar into the chocolate and place on a baking sheet lined with parchment paper. Drizzle the top of the bars with chocolate and chill in the fridge or freezer until chocolate has set.
How to Store
After these crunchy protein bars have set, cut and store them in an airtight container (like a Stasher bag or glass container) in the refrigerator for 1 week or in the freezer for up to 3 months. I like to store them after being cut so they're ready to grab and go! If you do freeze them, just thaw them in the fridge or at room temperature before enjoying them.
More Bar Recipes to Try
Be sure to check out these high-protein snacks as well as my full collection of snack recipes here on EBF!
Serving: 1 bar | Calories: 200kcal | Carbohydrates: 31g | Protein: 5g | Fat: 9g | Saturated Fat: 5g | Sodium: 33mg | Potassium: 150mg | Fiber: 3g | Sugar: 18g
Nutrition information is automatically calculated, so should only be used as an approximation.