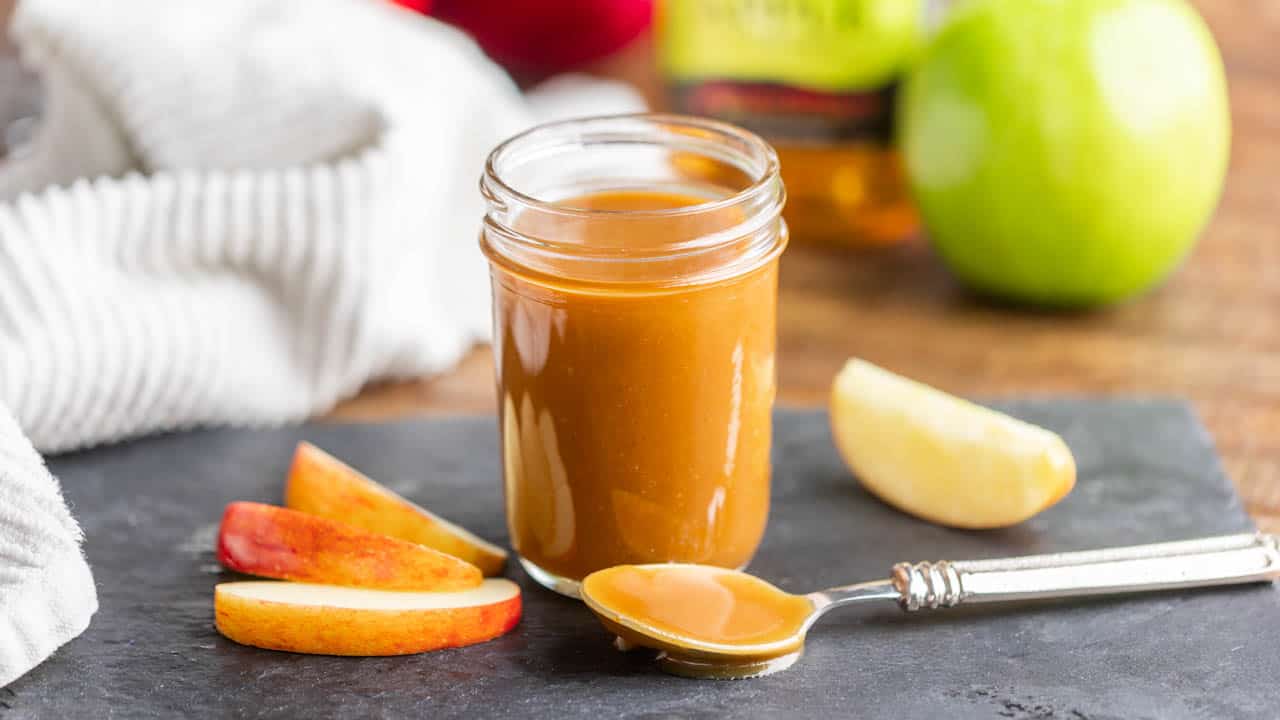 Discover the magic of apple bourbon caramel sauce, a decadent and mouthwatering treat perfect for any gathering. Elevate your dessert game with this easy-to-make sauce that will leave everyone begging for more.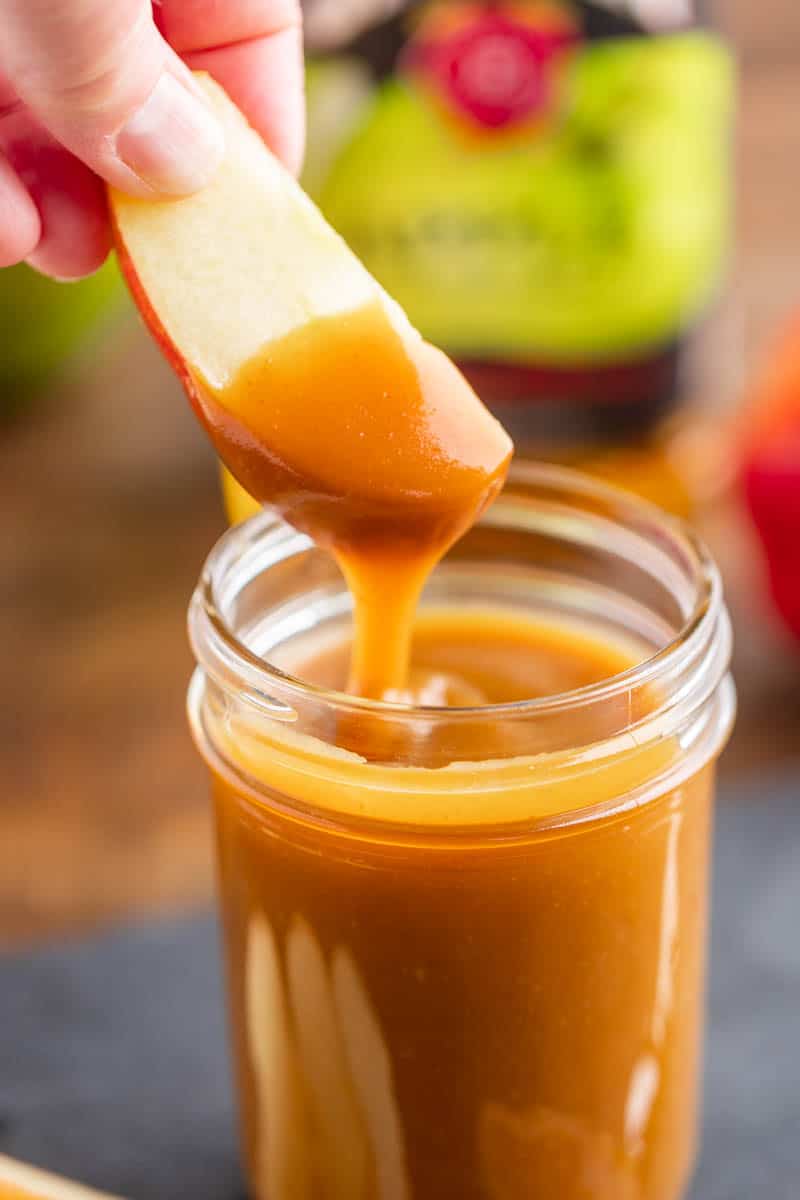 There's something truly special about the combination of sweet apples, rich caramel, and the warmth of bourbon. This apple bourbon caramel sauce is a sumptuous treat that is perfect for dipping fruit, drizzling over desserts, or even enjoying by the spoonful. Made with a few simple ingredients and just the right amount of apple bourbon, this sauce is easy to prepare and will leave a lasting impression on your taste buds. The rich and smooth texture of the caramel perfectly complements the subtle, fruity notes of apple bourbon, creating a balanced and indulgent sauce. This delightful treat is sure to become a favorite in your dessert repertoire, leaving you and your guests craving more!
Understanding Caramel Stages
When making caramel, it's important to be familiar with the various stages it goes through as it cooks. The temperature of the sugar mixture determines the consistency and texture of the final caramel product. For this recipe, aim for a temperature between 200-205 degrees Fahrenheit, which will yield a smooth and velvety sauce without reaching the soft ball stage.
Can I make caramel sauce without a candy thermometer?
While using a candy thermometer is the most accurate method to ensure the caramel reaches the desired consistency, you can still make this delicious sauce without one. Here are detailed instructions to guide you through the process:
As the mixture begins to simmer, pay close attention to its appearance and texture. You're aiming for a smooth and velvety sauce. The caramel should become thicker and more cohesive, with small bubbles consistently breaking the surface.
To check the consistency without a thermometer, carefully take a small spoonful of the caramel sauce and let it cool for a moment. Then, using your fingers, pinch the sauce between your thumb and index finger. As you pull your fingers apart, the sauce should form a thread that stretches but doesn't immediately break. This indicates that the sauce has reached the desired consistency.
Once you've achieved the correct consistency, remove the saucepan from heat. Allow the caramel to cool for a few minutes before carefully stirring in the vanilla extract, apple bourbon, and salt.
Continue to stir the sauce until all the ingredients are well combined. Let the sauce cool down, and then transfer it to jars for storage.
Frequently Asked Questions
Can I use regular bourbon instead of apple bourbon?
Yes, if you can't find apple bourbon, you can substitute plain bourbon for the caramel sauce. For those who do not consume alcohol or prefer an alcohol-free version, you may also omit the bourbon altogether.
Can I use unsalted butter instead of salted butter?
Yes, if you prefer unsalted butter, simply add a pinch of salt to the recipe to achieve the desired balance of flavors.
Serving Suggestions
This versatile sauce is perfect for dipping apples, making apple nachos, drizzling over ice cream, or incorporating into various desserts such as cheesecakes and pies. Get creative and explore the endless possibilities of this delightful sauce!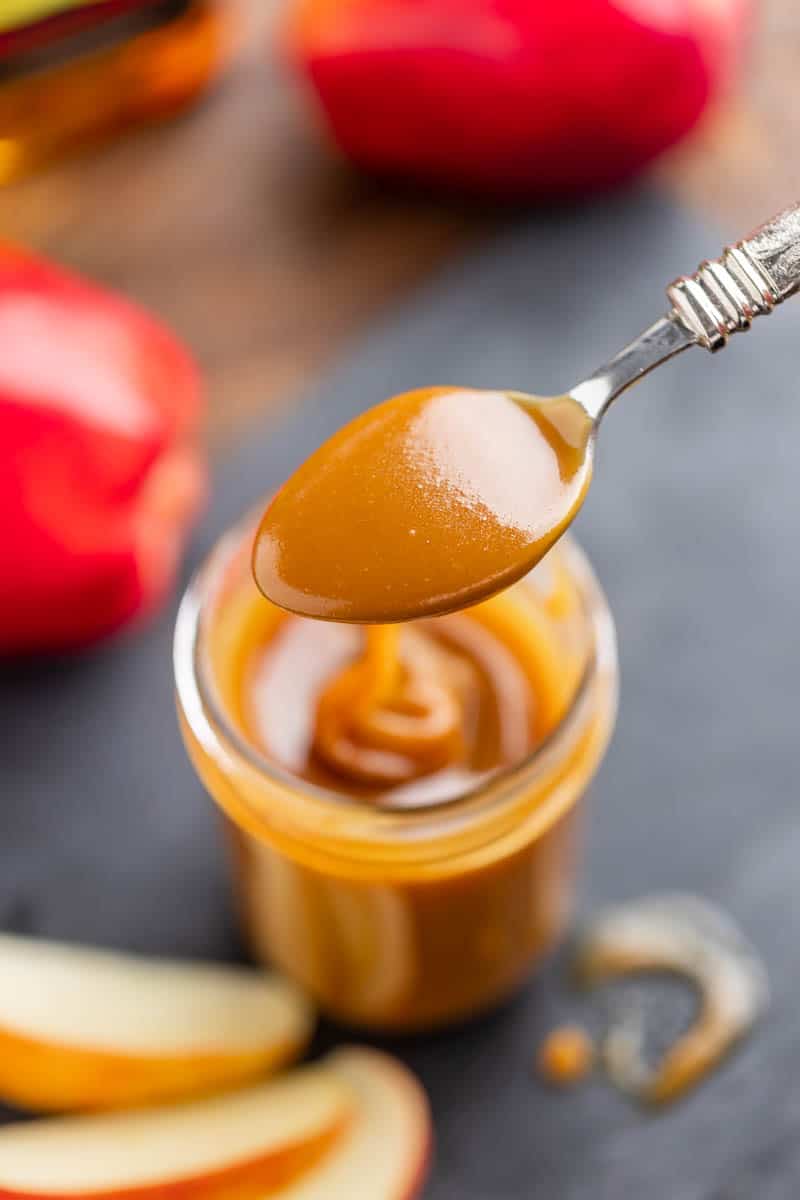 Storage & Reheating Instructions
Store the apple bourbon caramel sauce in an airtight container at room temperature for up to 1 month. To reheat, simply warm the sauce in a saucepan over low heat or in a microwave-safe container in short intervals until it reaches the desired consistency.
Related Recipes
If you like this recipe, you may be interested in these other delicious caramel-inspired recipes: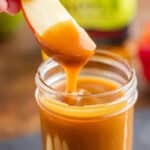 Discover the magic of apple bourbon caramel sauce, a decadent and mouthwatering treat perfect for any gathering. Elevate your dessert game with this easy-to-make sauce that will leave everyone begging for more.
Prep Time 10 minutes
Cook Time 20 minutes
Total Time 30 minutes
Ingredients
Apple Bourbon Caramel
1 cup salted butter
2 1/4 cups brown sugar
14 ounces sweetened condensed milk
1 cup light corn syrup
5 tablespoons apple bourbon
1 teaspoon vanilla extract
1 teaspoon salt
Instructions
Apple Bourbon Caramel
Melt butter in a large saucepan over medium heat. Once melted, pour in sweetened condensed milk, corn syrup, and add in brown sugar.

Using a whisk or rubber spatula, stir all ingredients over medium heat until it starts to simmer. Scrape the sides and bottom regularly.

Let the sauce simmer until the temperature reaches 200-205 degrees. We are just making a sauce and so we need to simmer it long enough to get the granulation out, but not take it to soft ball stage.

Once it has reached temperature, remove from heat and carefully stir in the vanilla, apple bourbon, and salt. Stir it until it is all well combined.

Let cool and then pour into jars for storage. Shelf stable for up to 1 month.
Serving: 8ounces | Calories: 494kcal | Carbohydrates: 80g | Protein: 3g | Fat: 18g | Saturated Fat: 12g | Polyunsaturated Fat: 1g | Monounsaturated Fat: 5g | Trans Fat: 1g | Cholesterol: 52mg | Sodium: 387mg | Potassium: 183mg | Sugar: 80g | Vitamin A: 561IU | Vitamin C: 1mg | Calcium: 137mg | Iron: 0.4mg