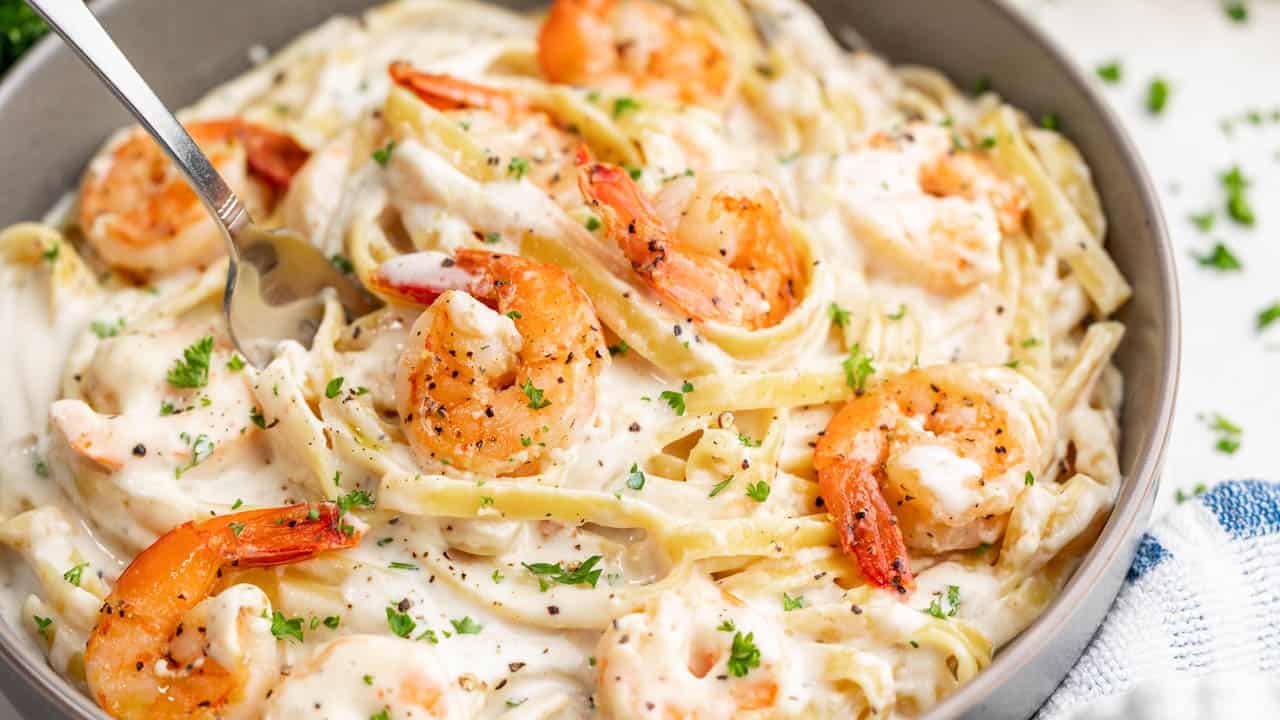 Dive into a creamy, mouthwatering shrimp Alfredo that's both easy to make and packed with flavor! This foolproof recipe will have you whipping up an Italian classic in no time, perfect for any occasion.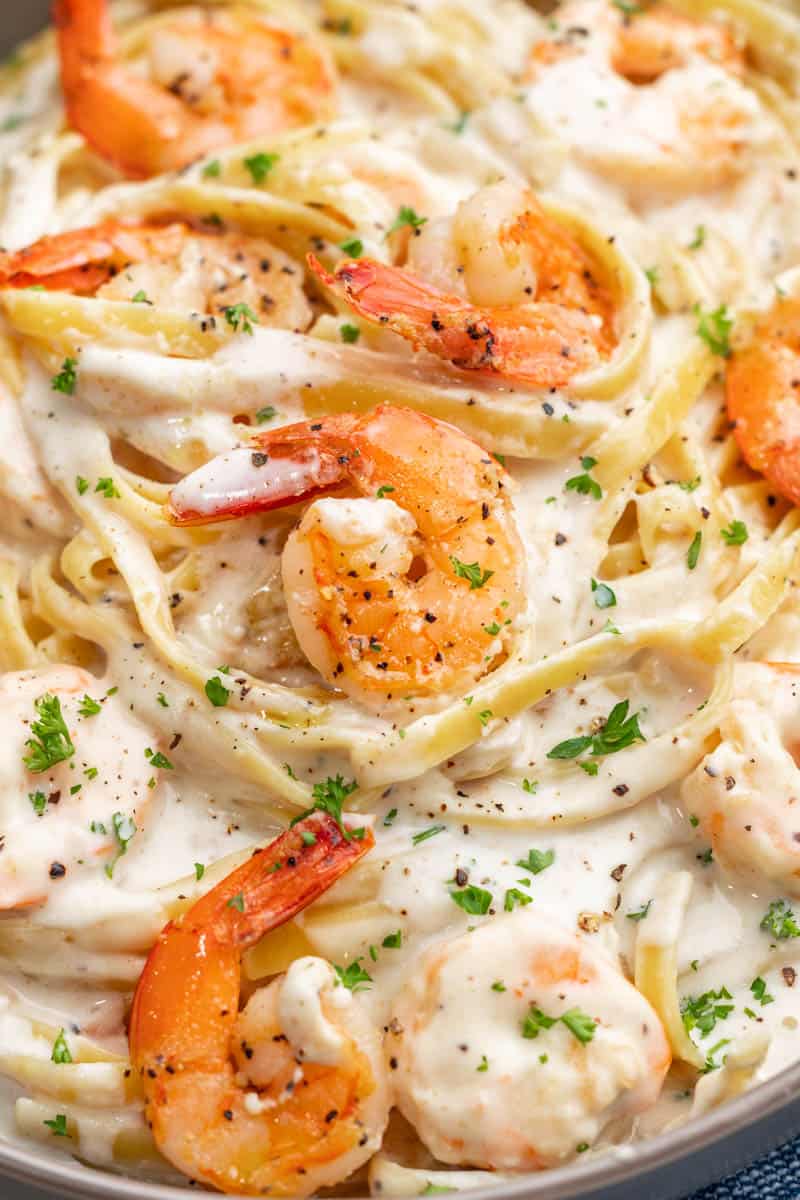 Whip up a delectable shrimp Alfredo with this simple yet satisfying recipe. The combination of succulent shrimp, a velvety Alfredo sauce, and perfectly cooked fettuccine creates an irresistible dish that's perfect for weeknight dinners or special occasions. This recipe takes the intimidation out of preparing a classic Italian meal by breaking down the process into easy-to-follow steps. Whether you're an experienced cook or a novice in the kitchen, this is sure to become a go-to favorite!
Pasta Options
Although fettuccine is a classic choice for Alfredo dishes, you can certainly use other types of pasta. Good alternatives include linguine, pappardelle, or even spaghetti. You can also try short pasta shapes, such as penne or farfalle, which will hold the sauce well. Just make sure to adjust the cooking time according to the pasta you choose.
The Value Of High Quality Ingredients
Using high-quality ingredients can truly elevate your Alfredo sauce, enhancing both the flavor and texture of your dish. Fresh, premium products, such as high-quality parmesan cheese and fresh shrimp, will help you create a delightful and authentic experience. While substitutions can be made, it's important to keep in mind that they may have an impact on the taste and consistency of the dish.
Shrimp Options
When selecting shrimp for this recipe, opt for fresh and large or jumbo-sized, as they offer a superior texture and flavor compared to smaller or pre-cooked varieties. If fresh shrimp is not available, you can use frozen, raw, deveined, and peeled shrimp, making sure to thaw them properly before cooking. Both wild-caught and farm-raised shrimp can work well, with wild-caught offering a more robust flavor and farm-raised providing more consistency in size and appearance.
Serving Suggestions
Pair shrimp Alfredo with a simple green salad dressed with a light vinaigrette to balance the richness of the dish. You can also serve it with a side of garlic bread or steamed vegetables, such as asparagus or broccoli, for added texture and flavor.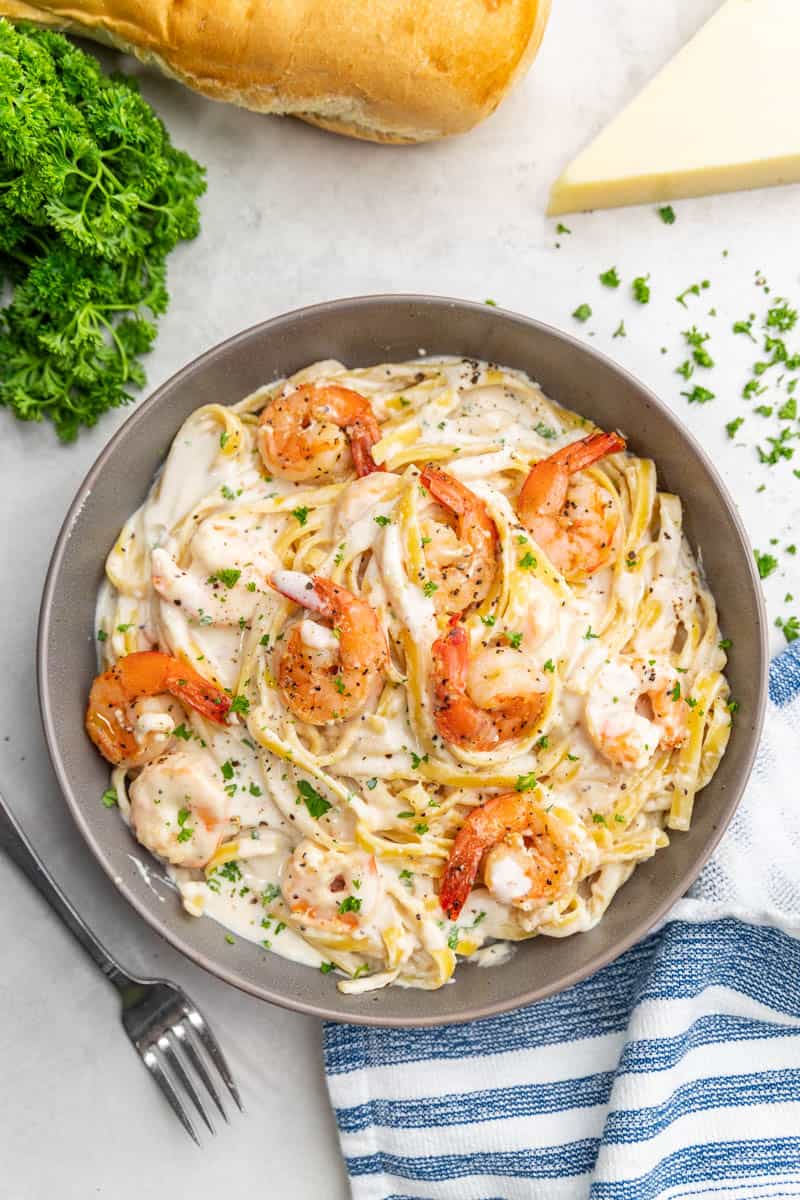 Storage & Reheating Instructions
Store any leftovers in an airtight container in the refrigerator for up to 3 days. To reheat, gently warm in a saucepan over low heat, stirring occasionally to prevent the sauce from sticking. You may need to add a splash of half and half, milk, or chicken broth to thin the sauce if it has thickened during storage.
Related Recipes
If you like this recipe, you may be interested in these other delicious shrimp recipes: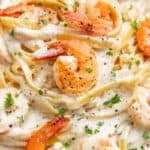 Dive into a creamy, mouthwatering Shrimp Alfredo that's both easy to make and packed with flavor! This foolproof recipe will have you whipping up an Italian classic in no time, perfect for any occasion.
Prep Time 10 minutes
Cook Time 25 minutes
Total Time 35 minutes
Ingredients
1 1/2 pounds deveined peeled shrimp
2 tablespoons olive oil
1 teaspoon salt
1 teaspoon black pepper
1 teaspoon minced garlic
1 pound fettuccine
1 tablespoon chopped parsley optional, for garnish
Sauce:
1/4 cup salted butter
1/4 cup all-purpose flour
4 cups half and half
1/2 teaspoon salt or to taste
1 teaspoon garlic powder
1 1/2 cups grated parmesan cheese
Instructions
Heat 2 tablespoons of olive oil in a large skillet over medium-high heat. Add the shrimp and sprinkle with salt, pepper, and minced garlic.

Sauté the shrimp for 4-5 minutes, or until they are no longer translucent and fully cooked. Remove the shrimp from the skillet and set aside. Reduce the heat to low.

Cook the fettuccine according to package directions.

For the sauce, melt the butter in the same skillet used for the shrimp over low heat. Add the flour and increase the heat to medium. Whisk together and cook for 2 minutes, or until the flour turns a light golden color.

Slowly pour in the half and half while whisking to combine. Add the garlic powder and salt.

Bring the sauce to a simmer, whisking constantly. Just before it reaches a simmer, add 1 1/2 cups of parmesan cheese and stir until melted.

Add the cooked shrimp and pasta to the sauce, and let it simmer for an additional 2 minutes. The sauce will thicken as it simmers and as it stands. For a thinner sauce, add extra half and half or pasta water. For a thicker sauce, add extra parmesan cheese.

Serve with freshly grated parmesan cheese and a garnish of chopped parsley (optional).
Serving: 0.25cups | Calories: 555kcal | Carbohydrates: 50g | Protein: 28g | Fat: 27g | Saturated Fat: 13g | Polyunsaturated Fat: 2g | Monounsaturated Fat: 9g | Trans Fat: 0.3g | Cholesterol: 213mg | Sodium: 1350mg | Potassium: 387mg | Fiber: 2g | Sugar: 4g | Vitamin A: 839IU | Vitamin C: 1mg | Calcium: 318mg | Iron: 2mg