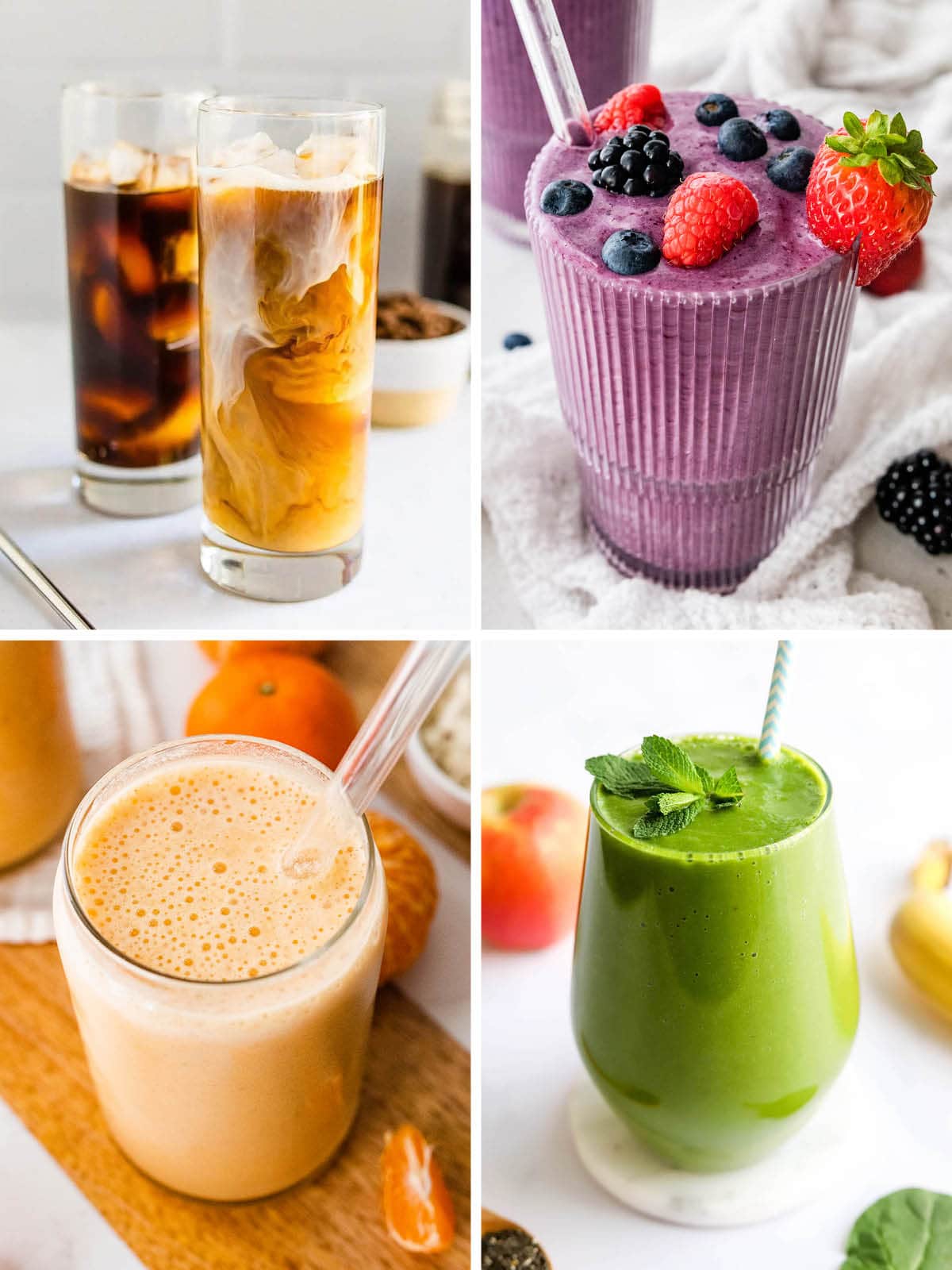 Looking for the best drink to make for breakfast? Here are over 40 breakfast drink recipes with everything from coffee drinks and smoothies to protein shakes and mimosas!
I'm that person at brunch who always has 3+ drinks on the table… water, coffee and then likely a juice or smoothie or even a cocktail if it's a special occasion. So, given my love for beverages I wanted to create this roundup with the best breakfast drinks on EBF!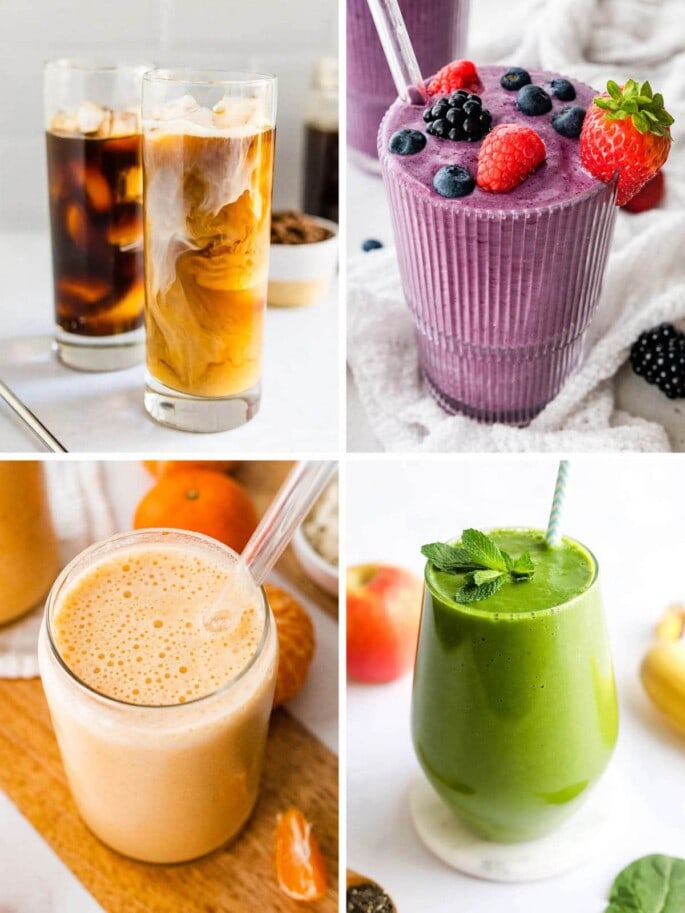 Coffee Drinks
If you know me, you know that I'm a coffee lover! It's what makes me excited to get out bed in the morning, especially on mornings where I need to get up early! From cold brew to espresso drinks like cappuccinos and lattes, there are so many tasty coffee drinks that you can enjoy with breakfast.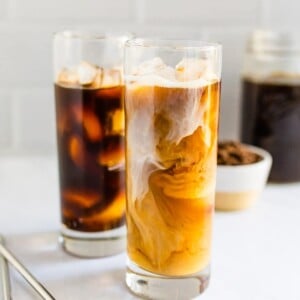 Cold Brew Coffee
Make delicious cold brew coffee at home with this easy recipe! The end result is tasty cold brewed coffee that's smooth, flavorful and less acidic than regular coffee.
Protein Coffee
Add protein to your coffee with this protein coffee (aka proffee) recipe! In just 5 minutes you'll have a delicious, creamy breakfast or afternoon pick-me-up that's packed with over 20 grams of protein.
Whipped Coffee (Dalgona Coffee)
Here's how to make the trendy whipped coffee (aka dalgona coffee) a little bit healthier with coconut sugar and non-dairy milk.
Creamy Iced Coffee
This creamy iced coffee made with Almondmilk Creamer cubes and cold brew coffee is the perfect, refreshing drink to get your morning started.
Pumpkin Cream Cold Brew
Make a Starbucks pumpkin cream cold brew at home with this simple recipe! It combines cold brew coffee with a delicious pumpkin spice foam that's made with oat milk and pumpkin puree.
Healthy Frappuccino
This healthy Frappuccino is cool, creamy and delicious. Made with cold brew coffee, chocolate protein powder, cacao, dates and almond milk.
Healthy Pumpkin Spice Latte
Skip Starbucks and make this healthy homemade pumpkin spice latte made with almond milk at home. It's easy to make, vegan and delicious!
Smoothies
Smoothies are my go-to breakfast drink. Often times I will have a smoothie as part of my breakfast, pairing it with avocado toast, overnight oats or eggs. But I also make protein-packed smoothies that can be used as a meal replacement for breakfast. I have so many different flavors to choose from! If you don't see something you like there, check out my full collection of smoothie recipes.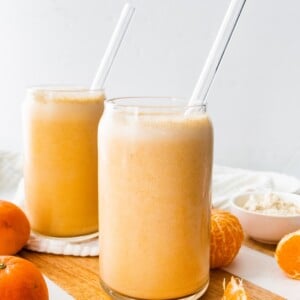 Clementine Smoothie
This creamy clementine smoothie combines clementines with a frozen banana and almond milk for a delicious smoothie that tastes like a creamsicle. Vegan and gluten-free.
Butterfinger Smoothie
This butterfinger smoothie combines milk, frozen banana, zucchini, peanut butter, chocolate protein powder and goji berries for a healthy protein-packed smoothie that tastes like liquid butterfinger.
Pear Smoothie
This delicious pear smoothie is made with avocado, spinach, coconut water and fresh mint. It's creamy, refreshing and perfect for summer!
Pineapple Recovery Smoothie
This pineapple recovery smoothie is the perfect post-workout drink because it's packed with nutrients known to help decrease inflammation and speed up muscle recovery.
Vitamin C Smoothie
This vitamin C smoothie combines grapefruit juice, frozen banana, pineapple and kale for a tasty drink that's loaded with immune boosting nutrients!
Cacao Smoothie
This creamy cacao smoothie tastes like a chocolate shake but is loaded with healthy ingredients including frozen banana, cacao powder and cacao nibs.
Healthy Pumpkin Spice Latte
This oatmeal smoothie tastes just like a cinnamon oatmeal cookie, but in smoothie form. It's healthy, packed with over 20 grams of protein and makes for a great breakfast or post-workout snack! Vegan + gluten-free.
Green Protein Smoothie
This green protein smoothie is packed with spinach, banana and vanilla protein powder and makes for the perfect healthy breakfast or post-workout snack! Added bonus: it's vegan and dairy-free!
Green Detox Smoothie
This refreshing green detox smoothie is packed with hydrating fruit and veggies including fresh mint, apple, lemon, baby spinach and a whole heart of romaine. It's detoxifying and will truly help you glow from the inside out!
Peach Smoothie
This creamy peach smoothie is so easy to make! It's packed with protein and loaded with flavor. Enjoy it for breakfast or as a snack!
Blueberry Smoothie
This blueberry smoothie is packed with antioxidant-rich blueberries, hydrating coconut water, and spinach for a creamy and nutritious breakfast or snack. Vegan and gluten-free.
Chocolate Cherry Smoothie
Get your chocolate fix with this thick and decadent chocolate cherry smoothie with cocoa powder, frozen cherries, baby greens and almond butter. Vegan and gluten-free.
Mint Chocolate Chip Smoothie
This creamy chocolate mint chip smoothie is packed with coconut, cacao, mint and frozen riced cauliflower. It's vegan, low in sugar and loaded with protein and healthy fats.
Avocado Mango Smoothie
This avocado mango smoothie is loaded with avocado, shredded coconut, frozen mango, medjool dates and lime juice. It's thick, creamy and the perfect refreshing smoothie for summer!
Orange Banana Smoothie
Packed with protein and perfectly creamy, this orange banana smoothie comes together fast for a post workout snack or an easy breakfast.
Cranberry Smoothie
This easy cranberry smoothie combines unsweetened cranberry juice with frozen berries, banana and yogurt for a creamy and delicious sippable breakfast or snack!
Chocolate Peanut Butter Smoothie
Satisfy your sweet tooth with this peanut butter cup smoothie! Filled with chocolate peanut butter flavor and loaded with healthy ingredients.
Mango Smoothie
Similar to a mango lassi, this simple protein-packed smoothie requires only three ingredients — mango, Greek yogurt and almond milk. Creamy, cool and deliciously refreshing on a hot summer day.
Blackberry Smoothie
This easy blackberry smoothie can be made with fresh or frozen blackberries! It's bright, refreshing and packed with protein.
Carrot Cake Smoothie
A delicious carrot smoothie packed with carrot juice, a frozen banana and protein powder. This combo tastes like liquid carrot cake!
Chocolate Covered Strawberry Smoothie
This chocolate covered strawberry smoothie combines strawberries, banana, dates and cocoa powder for a healthy smoothie that tastes like decadent treat.
Chocolate Lactation Smoothie
This chocolate banana lactation smoothie tastes amazing and has oats, flaxseed and brewer's yeast to help boost your milk supply.
Tropical Green Smoothie
This tropical green smoothie is loaded with banana, mango, coconut, spinach, protein powder and chia seeds. It's the perfect healthy smoothie for summer!
Peanut Butter Banana Green Smoothie
The BEST green smoothie with frozen banana, peanut butter and baby spinach. If you're new to green smoothies this is the perfect recipe to start with.
Mocha Cherry Smoothie
This cherry mocha smoothie packs frozen cherries, cold brew, and chocolate all into one delicious smoothie. You'll love the flavor and also get a little energy boost from the coffee.
Pumpkin Pie Smoothie
This creamy healthy pumpkin pie smoothie requires only six ingredients and tastes like liquid pumpkin pie. It's vegan, gluten-free and surprisingly healthy!
Pumpkin Gingerbread Smoothie
This pumpkin gingerbread smoothie tastes like your favorite holiday dessert, but is loaded with health-boosting ingredients like fresh ginger, blackstrap molasses, and chia seeds. Vegan and gluten-free.
Chocolate Peppermint Smoothie
This chocolate peppermint smoothie is creamy, chocolatey and perfect for the holidays. It tastes like dessert, but is protein-packed and loaded with healthy ingredients and makes for a great breakfast or post-workout treat.
Banana Almond Butter Smoothie
Looking for a super easy smoothie recipe that will become your kiddos' (and your!) new favorite summer drink? This banana almond butter smoothie fits the bill.
Health Nut Blueberry Smoothie
Make the Tropical Smoothie Health Nut Smoothie at home with this easy recipe! Here's what you need: blueberries, mango, banana, almonds and protein.
Strawberry Banana Smoothie
There's nothing better than a classic strawberry banana smoothie! This one has Greek yogurt for an added protein boost.
Golden Milk Protein Smoothie
This golden milk smoothie with fresh turmeric, ginger and mango is the perfect way to refuel after a workout. It's got the protein and carbs your body needs along with anti-inflammation properties to help your body recover.
Peanut Butter and Jelly Smoothie
Combine frozen blueberries with peanut butter and banana for a protein-packed peanut butter and jelly smoothie that tastes just like your favorite PB&J sandwich from childhood!
Malted Chocolate Cauliflower Smoothie
No fruit smoothies are a thing! This chocolate cauliflower smoothie is thick and creamy without any added sugar or fruit.
Grapefruit Smoothie
This grapefruit pineapple detox smoothie is loaded with nutrients to help diminish bloating, boost your metabolism and get you feeling your best!
Blueberry Basil Weight Loss Smoothie
This blueberry basil smoothie is packed with nutritious ingredients that will help to banish bloat and promote weight loss!
Green Lemonade Smoothie
This Green Lemonade Smoothie features pears and kale for a smooth textured drink that is not only detoxifying but alkalizing and energizing as well!
Protein Shakes
Whenever I'm in need of a quick, on-the-go protein boost in the morning I opt for a protein shake. They act as a meal replacement and are so easy to whip up!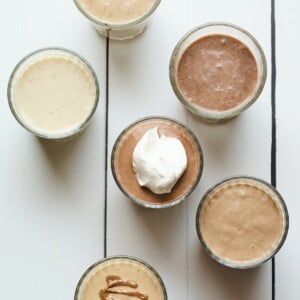 How to Make a Protein Shake
Protein shake 101! Everything you need to know about making a protein shake, the difference between shakes and smoothies, why protein shakes are good for weight loss and six protein shake flavors.
Coffee Protein Shake
Get energized with this coffee protein shake recipe! It packs cold brew coffee and loads of protein (25 grams!) into one, thick and delicious shake.
Vegan Berry Protein Shake
This vegan protein shake combines vegan protein powder with frozen mixed berries, baby spinach, nut butter and chia seeds. No banana needed!
Chocolate Protein Shake
This chocolate protein shake has plenty of chocolate flavor, the perfect texture and loads of protein! And it's so easy to whip up.
Peanut Butter Protein Shake
This peanut butter protein shake is made with just five simple ingredients. It's filling, flavorful and packs in a whopping 30 grams of protein.
Vanilla Protein Shake
This vanilla protein shake is made with simple, natural ingredients and packed with protein. It's perfect as a post-workout snack or a filling breakfast on the go!
Banana Protein Shake
This creamy banana protein shake combines frozen banana with protein powder and yogurt for a delicious protein-packed shake that you'll want to make every day.
Adult Beverages
Sometimes breakfast or brunch calls for an adult beverage with alcohol. I know a lot of people enjoy a bloody mary, but my cocktail of choice to have with breakfast is a mimosa that's mostly champagne with a splash of orange juice.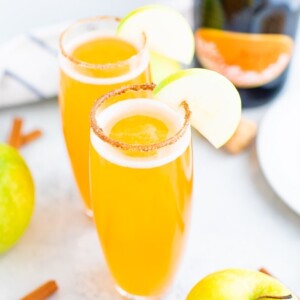 Apple Cider Mimosas
These tasty apple cider mimosas are made with just two simple ingredients: apple cider and sparkling wine. They are bubbly, festive and perfect for the holiday season.
Mimosas
Learn the perfect ratio for making mimosas at home with this simple 2-ingredient recipe! Plus, tips on how to make mimosas for a crowd and ideas for different flavor variations.
Bellini
This easy Bellini recipe is the perfect brunch cocktail and made with just two simple ingredients: fresh peaches and Prosecco. Recipe yields 6 so it's great for serving a crowd.
Other Drinks
I had to include a few other tasty drinks that are perfect for breakfast including some homemade dairy-free milk options and hot cocoa.
Healthy Hot Chocolate
An upgraded version of a cold weather classic, this healthy hot chocolate is low in sugar, dairy-free and vegan. Made with oat milk, pure maple syrup and cocoa powder it's creamy, chocolatey, absolutely delicious and comes together in just 10 minutes.
Iced Matcha Latte
An easy recipe for making an iced matcha latte just like your favorite coffee shop. Matcha is served over ice with milk of choice.
How to Make Almond Milk
Homemade almond milk is so easy – just soak, blend and strain! In this post I'm breaking down how to make your own almond milk and sharing recipes for how to use it!
How to Make Macadamia Milk
This homemade macadamia milk with made with a blend of macadamia nuts, almonds and dates. It's amazingly creamy and makes the best iced latte.
More Collections To Check Out
Check out all of the drink recipes here on EBF!
Serving: 1cup black | Calories: 10kcal | Carbohydrates: 2g | Protein: 1g | Sodium: 13mg | Potassium: 289mg | Fiber: 1g
Nutrition information is automatically calculated, so should only be used as an approximation.