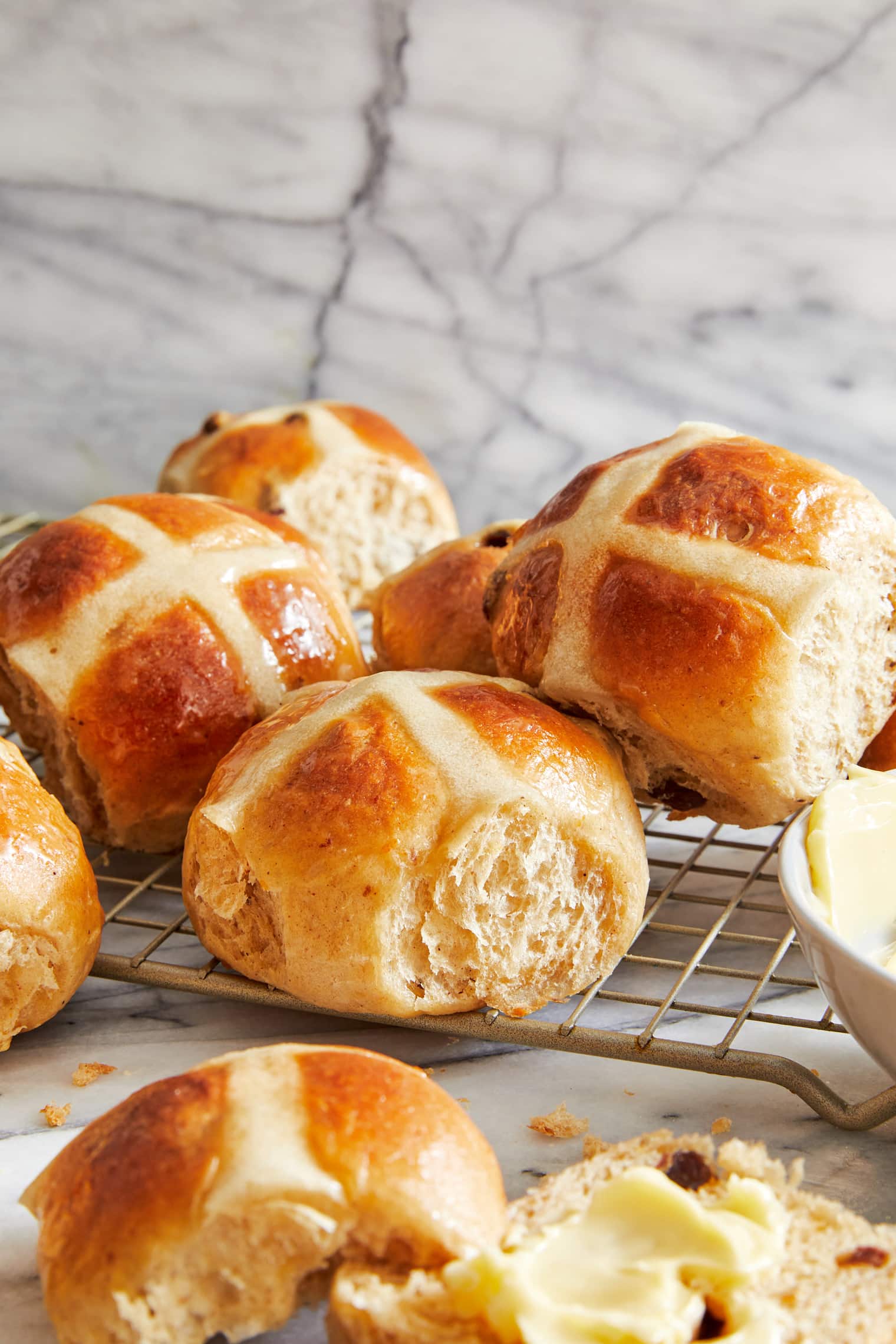 This post may contain affiliate links. Please see our privacy policy for details.

Homemade hot cross buns that are so soft, fluffy + slightly sweet. An absolute must for Easter – they'll disappear so fast!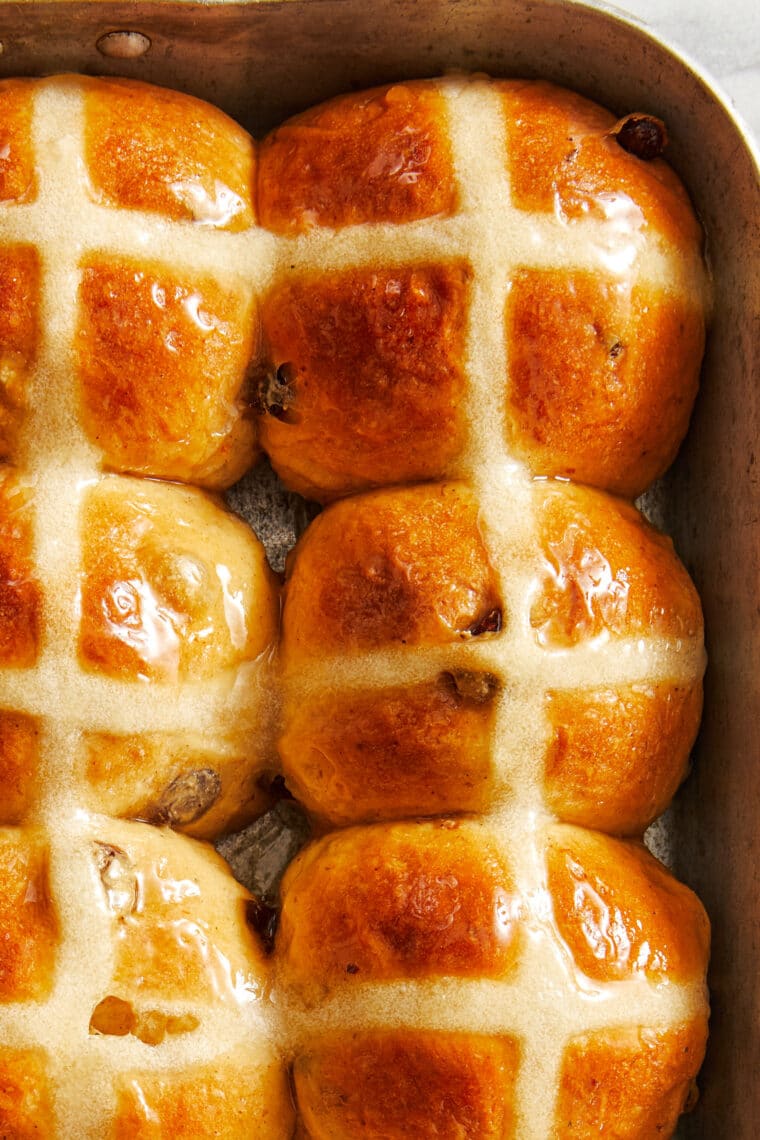 These buns are something I look forward to every single Easter. They're so light, so soft, and so perfectly sweet.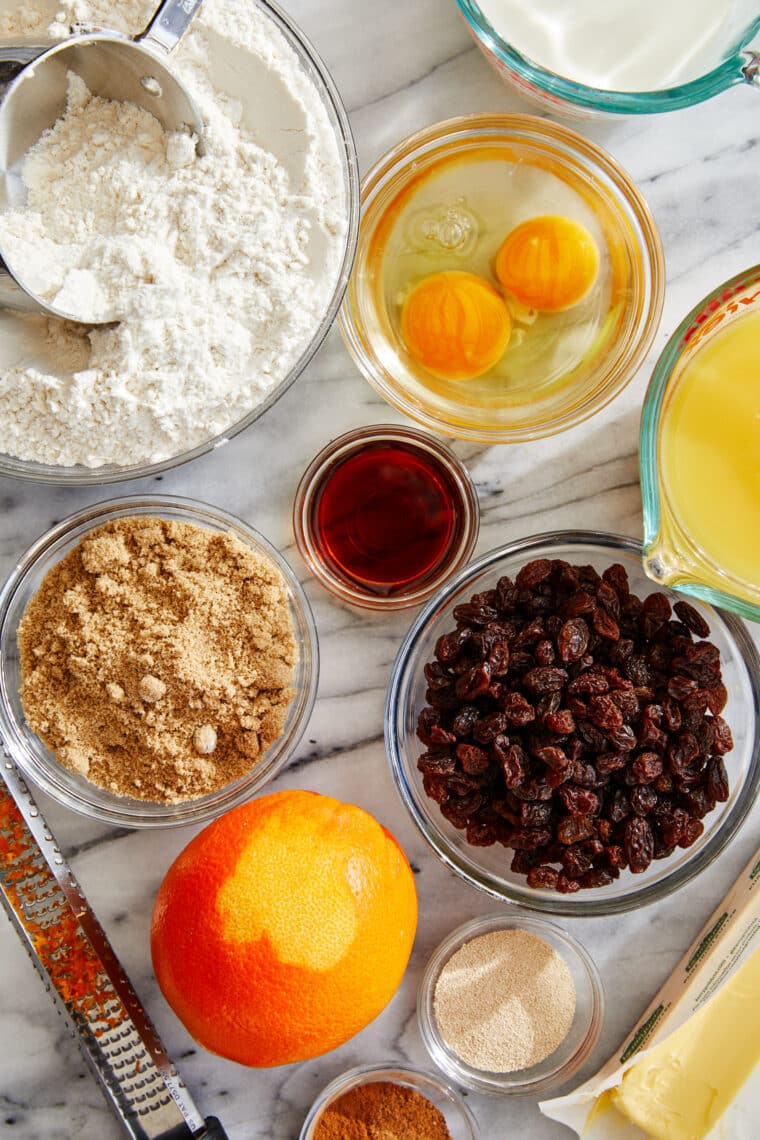 Studded with orange-soaked raisins (to help plump them up), these rolls have the most perfect fluff to them with all the warming spices like cinnamon and nutmeg.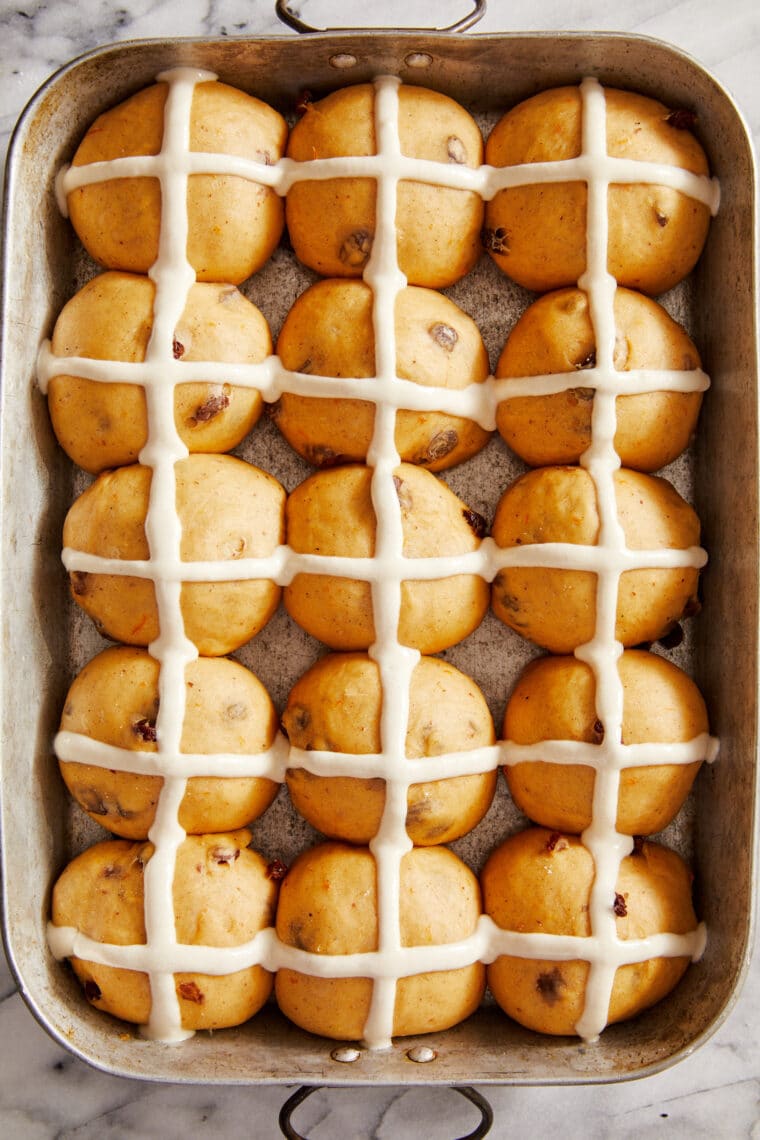 It's like a warm, cozy hug in a bun, and they are best served warm from the oven with a little bit of butter and a hot cup of tea. There's nothing like it.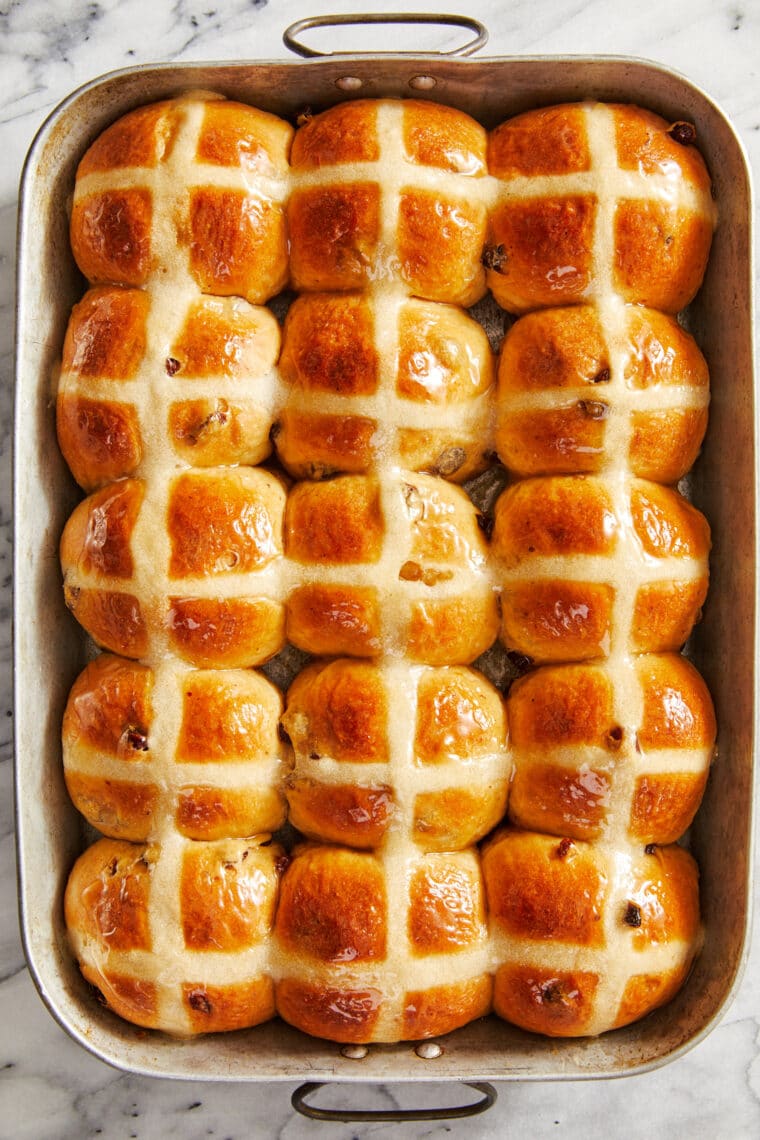 IMPORTANT TIPS
The most important thing here is to make sure your yeast is nice and active or else it will not rise. And a sticky, soft dough is key for the fluffiest rolls possible. A stand mixer will also be your best friend, and it won't require any elbow grease. But if you do not have a mixer, you can absolutely knead the dough by hand.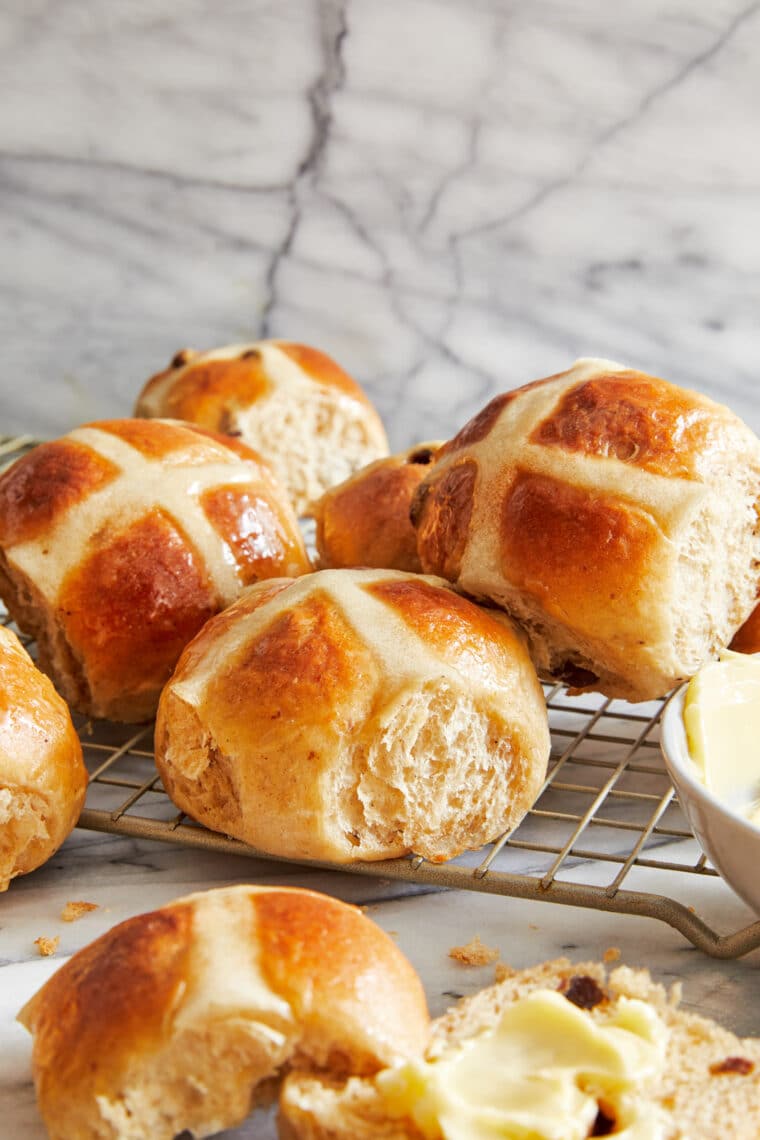 1 cup raisins
1 cup orange juice
3 ¾ cups all-purpose flour
2 teaspoons orange zest
1 ½ teaspoons ground cinnamon
1 teaspoon kosher salt
½ teaspoon ground nutmeg
¾ cup whole milk, 105-110 degrees F
2 ¼ teaspoons active dry yeast
½ cup plus 1 teaspoon brown sugar, divided
6 tablespoons unsalted butter, at room temperature
1 teaspoon vanilla extra
2 large eggs, at room temperature
for the cross
½ cup all-purpose flour
6 tablespoons water
2 tablespoons unsalted butter, melted
In a small saucepan over low heat, combine raisins and orange juice until warmed, about 5 minutes. Remove from heat; let stand 10 minutes. Drain the raisins from the orange juice, discarding the orange juice; set aside.

In a large bowl, combine flour, orange zest, cinnamon, salt and nutmeg; set aside.

Combine milk, yeast and 1 teaspoon sugar in a small bowl; let stand until foamy, about 5 minutes.

In the bowl of an electric mixer fitted with paddle attachment, beat butter and remaining 1/2 cup sugar on medium speed until light and fluffy, about 2 minutes. Beat in eggs and raisins until well combined.

Using the dough hook, add flour mixture and yeast mixture until a soft, smooth ball of dough is formed. The dough should feel elastic and slightly tacky to the touch. Increase speed to medium-high and beat for 3-5 minutes.

Lightly oil a large bowl or coat with nonstick spray; place dough in bowl, turning to coat. Cover with a clean dishtowel and let stand in a warm spot until dough has doubled in size, about 45 minutes to 1 hour.

Gently deflate dough by punching down. Roll into a 15-inch rope; cut into 15 1-inch pieces, pressing each piece into a disk, then shaping into a ball.

Lightly oil a 9×13 baking dish or coat with nonstick spray. Place dough balls into the prepared baking dish. Cover with a clean dishtowel and let stand in a warm spot until dough has doubled in size, about 30-45 minutes.
for the cross
In a small bowl, whisk together flour and water until a smooth paste is formed. Transfer to a Ziploc bag, making a small cut in the corner of the bag. Pipe mixture over each dough ball, creating a thick cross.

Preheat oven to 350 degrees F. Place into oven and bake until golden brown, about 22-25 minutes; brush tops with melted butter.

Serve warm.