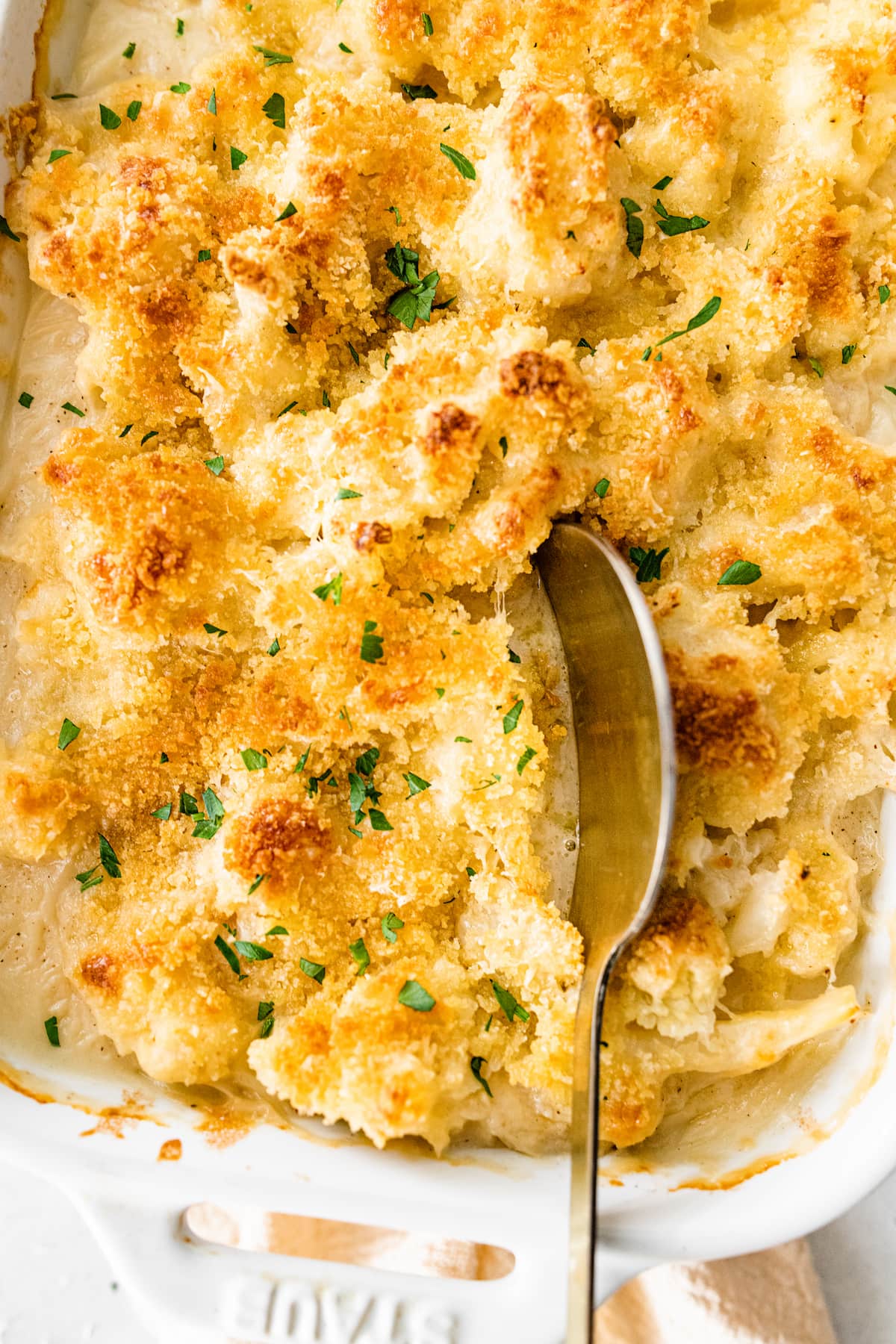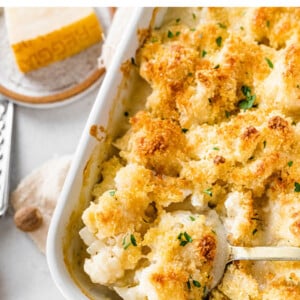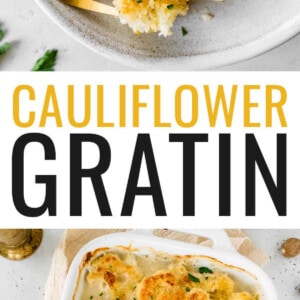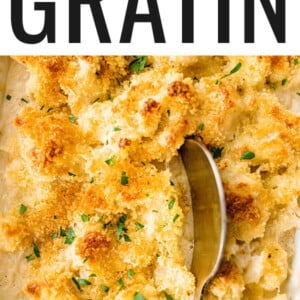 This cauliflower gratin features cauliflower florets baked to perfection in a creamy cheese sauce and topped with breadcrumbs. It's vegetarian, low-carb and the perfect addition to your holiday menu.
I'm back with another holiday side dish with cauliflower as the star of the show! A few years ago I shared my mashed cauliflower recipe as a healthier alternative to mashed potatoes and today I'm sharing this cauliflower gratin recipe, which is a great low-carb alternative for au gratin potatoes.
This cauliflower gratin is a healthier way to enjoy a classic comfort food dish. And trust me, you won't even miss the potatoes! It's warm, cheesy and satisfying, but still light enough to leave room for all your other holiday dishes. It's definitely one you're going to want to add to your Thanksgiving menu this year!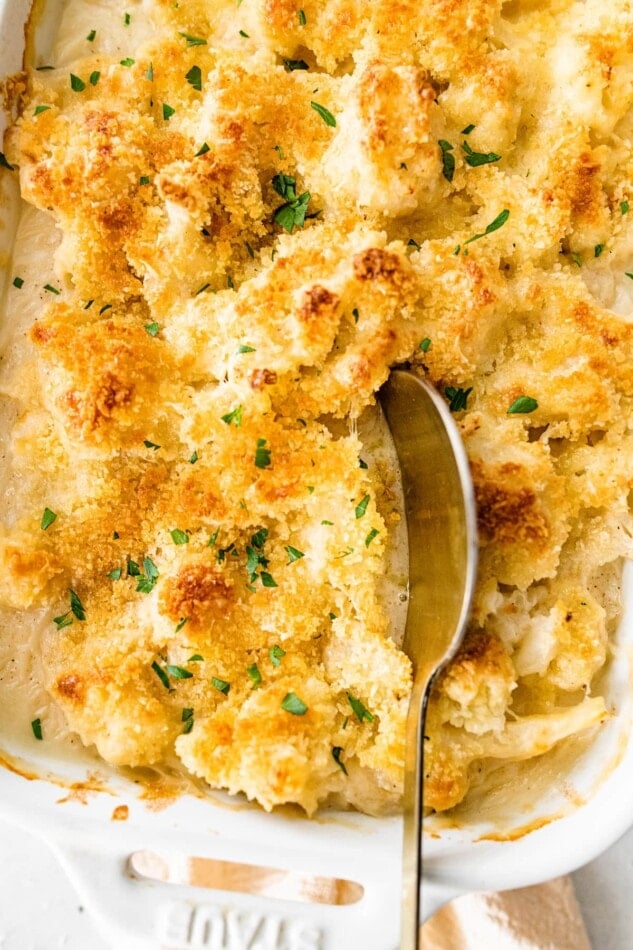 Why You'll Love This Recipe
It's a healthier, low-carb version of a comfort food classic.
It's so cheesy and delicious, you won't ever miss the potatoes!
The perfect side dish for the holidays.
Comes together quickly!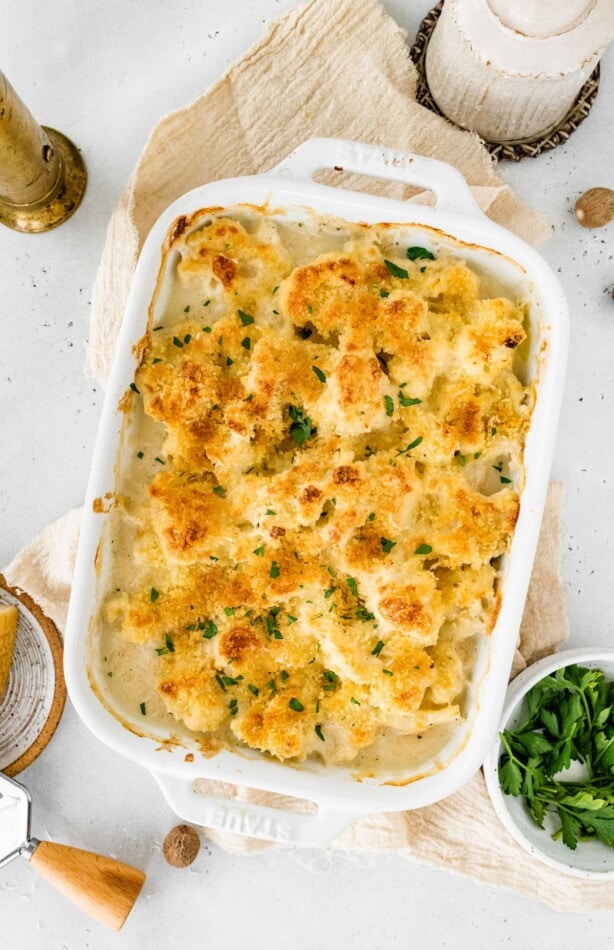 A Healthier Holiday Classic
Au gratin potatoes is a classic holiday dish, but it's definitely not the healthiest side dish by any means so in true EBF fashion I decided to swap the potatoes for cauliflower to make this dish low-carb and add more nutrients. Cauliflower is lower in carbs and calories and packs in a lot more nutrition than potatoes such as fiber, potassium and vitamin C and K.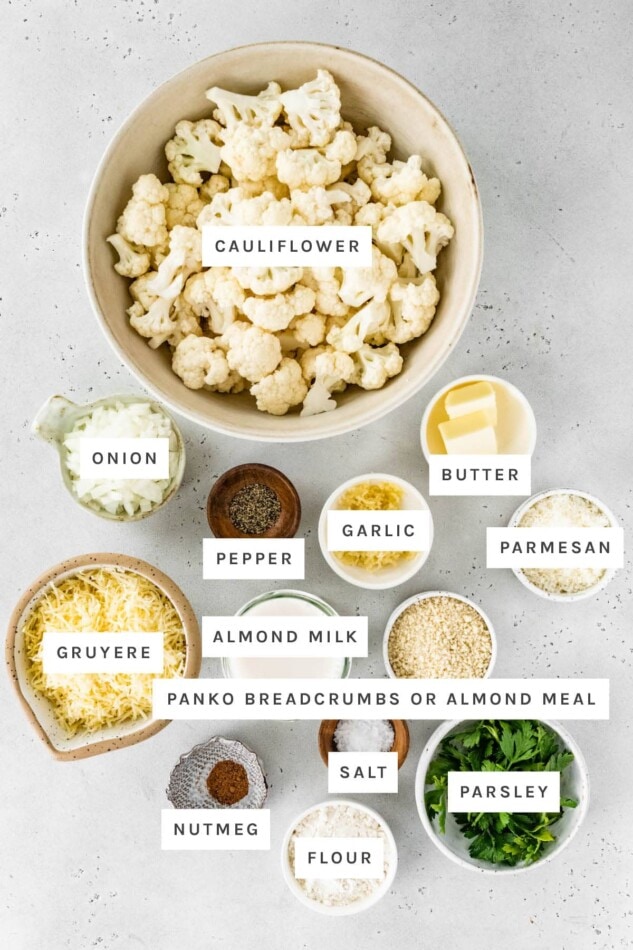 Ingredients Needed
cauliflower – the star of the show! I recommend using a full head of cauliflower but you can use cauliflower florets as well if that's all you can find. When looking for cauliflower look for a head that is white and compact with no brown spots. The leaves should be green and crisp, and the stem should be firm. Avoid heads of cauliflower that are soft, have brown spots or are beginning to sprout.
butter – for sautéing the onion and garlic and to add flavor. You can also use olive or avocado oil instead of butter if you prefer.
yellow onion and garlic – adds delicious savory flavor to the dish.
all-purpose flour – to help thicken the sauce. Gluten-free all-purpose flour, cornstarch or arrowroot flour will all work as substitutes.
salt and pepper – essential seasonings to help bring all the flavors together.
nutmeg – just a pinch to add a warm, nutty flavor. Feel free to skip this if you aren't a nutmeg fan.
unsweetened almond milk – for the sauce. I used almond milk, but any dairy-free or dairy milk works. I would avoid any milk that's sweetened and coconut milk as that'll change the flavor of this dish.
gruyere cheese and parmesan cheese – I went with a combo of gruyere and parmesan cheese for this dish, but feel free to use gouda cheese, sharp cheddar cheese or jack cheese, which are all great options. I just recommend buying blocks of cheese and shredding shredded it yourself as that will result in the best flavor!
panko breadcrumbs or almond meal – this adds a nice crispy, crunchy topping! I prefer using almond meal for some added nutrients, but panko breadcrumbs are also a great option.
fresh parsley – totally optional, but I love adding fresh parsley to this dish when serving. It adds a nice freshness and definitely elevates the presentation.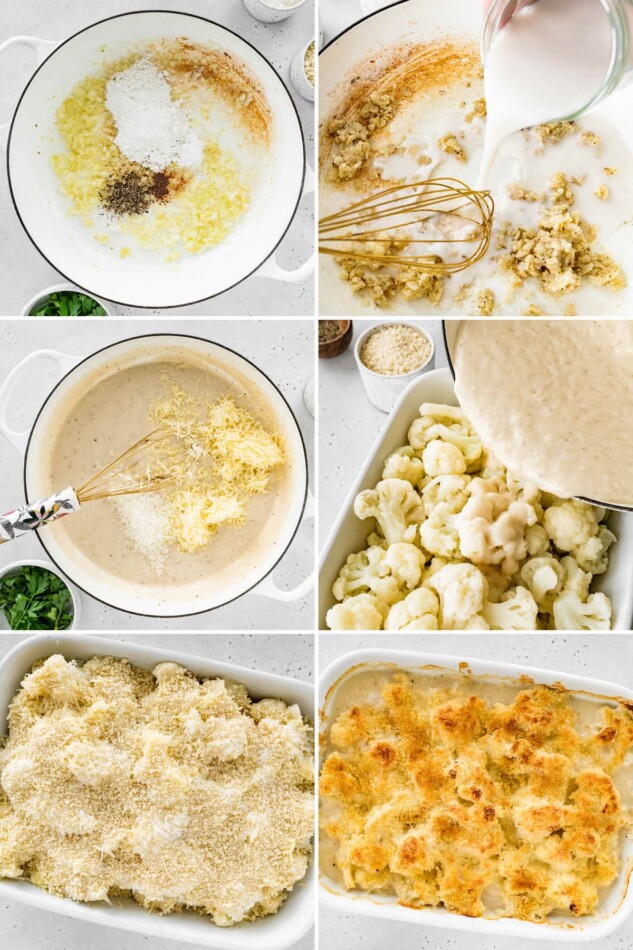 How to Make
Boil cauliflower: Chop the cauliflower into florets and place in a large pot with enough water to cover the cauliflower. Heat until the water is boiling, then reduce to medium-low and simmer until the cauliflower is tender, but still firm (about 4-5 minutes). Drain and set aside for later use.
Make sauce: While the cauliflower is cooking add butter to a large saucepan and heat over medium heat. Add chopped onion and garlic to sauté until tender and fragrant. Stir in flour, salt, pepper and nutmeg. Slowly add the almond milk and bring the mixture to a boil, constantly whisking, until mixture is smooth and thick. Remove from heat and add ¾ cup gruyere cheese and ¼ cup parmesan while mixing until fully melted and smooth.
Bake: Add the cauliflower florets to the prepared 8×11 casserole dish (9×13 works too) and pour the sauce evenly over the cauliflower. Top with the remaining cheese and breadcrumbs. Bake for 25-30 minutes at 375°F until bubbly and the top begins to brown. Broil for the final 2-3 mins for a crispy brown top.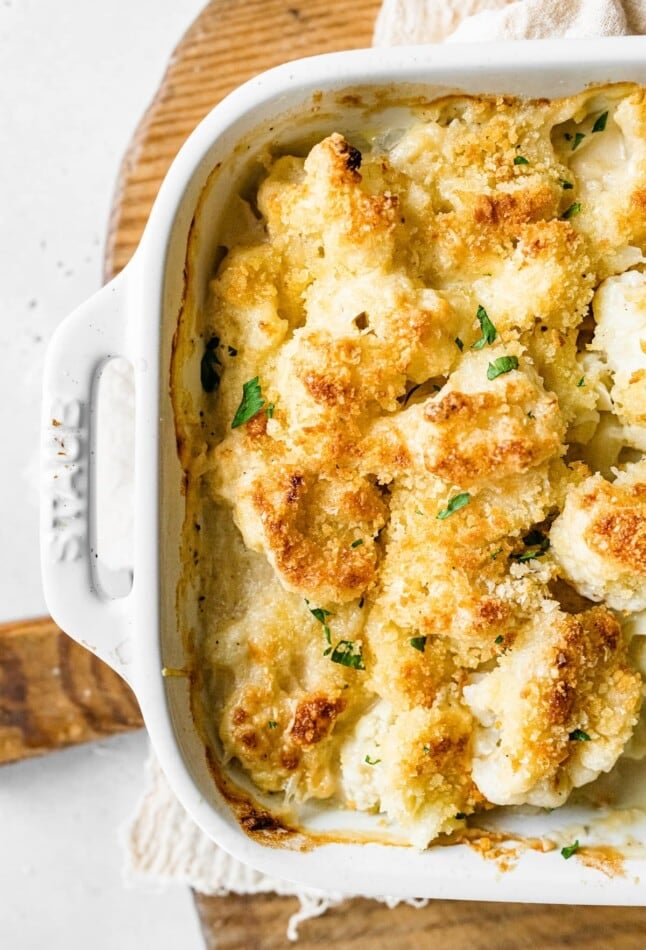 Pro Tips
Don't overcook cauliflower. If you end up overcooking the cauliflower before baking the texture may not be as crispy as you'd like it. To avoid this issue just keep an eye on the cauliflower as they are cooking. You should be able to poke a fork in one and easily lift it out without it falling back in. Avoid cooking them for any more than 5 minutes.
Use freshly shredded cheese. There are a few reasons to use blocked cheese instead of pre-shredded cheese. First, pre-shredded cheese generally has added ingredients to keep it from clumping, which can change the flavor. Second, pre-shredded cheese is often drier than block cheese, so it doesn't melt as well. Finally, you can control the size of the shreds when you shred your own cheese, which can be important for some recipes.
Drain cauliflower well. Cauliflower is already high in water content, so drain the cauliflower well after cooking and pat the florets dry so you don't end up with a watery sauce.
Remove pan from heat before adding cheese. If you add your cheese to a pan that is still on the heat, the cheese will melt too quickly and can become clumpy, or possibly burn. By removing the pan from the heat before adding the cheese, you give the cheese time to melt slowly and evenly, resulting in a smooth, creamy texture.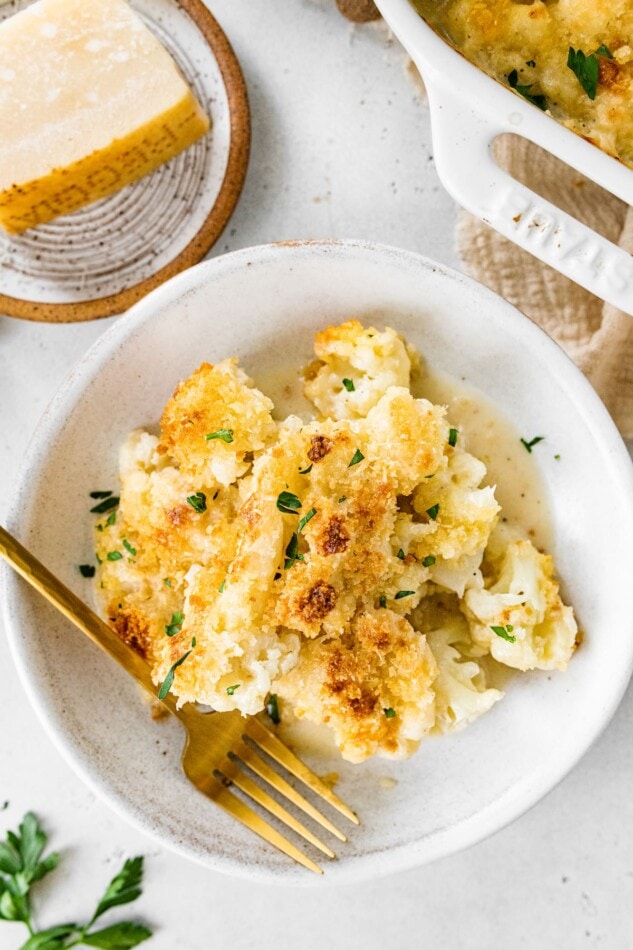 What to Serve With Cauliflower Gratin
I know that I'll be making a batch of this cauliflower gratin for Thanksgiving this year. Here are some ideas on what to serve it with: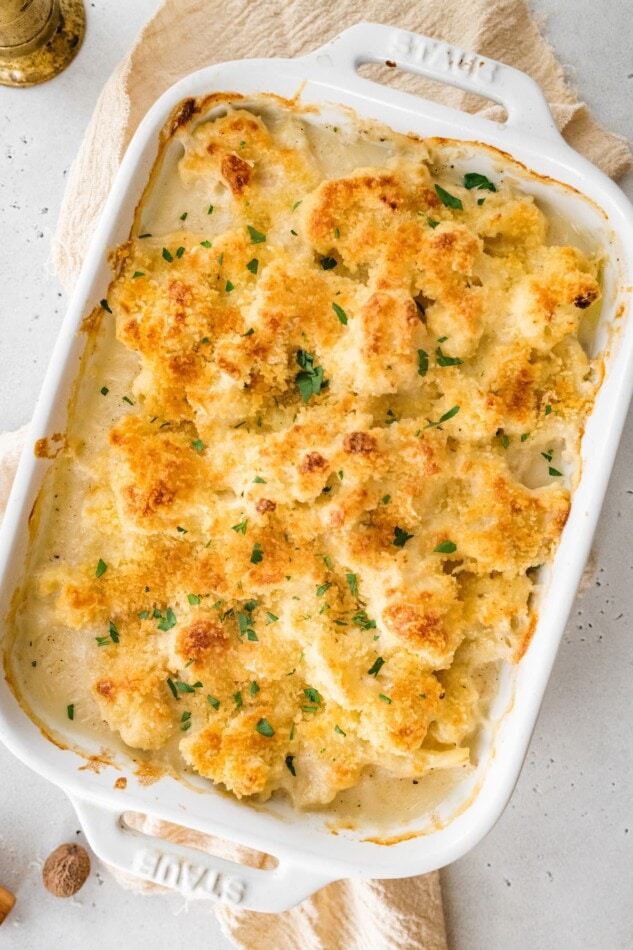 Can I Make This Dish Ahead of Time?
This cauliflower gratin is the perfect dish to make ahead of time! All you need to do is prepare the dish as instructed below, just don't bake it. Once your dish is assembled cover and set in the fridge until you're ready to bake. Once ready, cover it with the bread crumbs or almond meal and bake for 25-30 minutes.
How to Store Leftovers
Store leftovers in an airtight container in the fridge for up to 5 days. You can reheat the cauliflower gratin on the stovetop, in the oven or microwave.
More Cauliflower Recipes to Try
More Holiday Side Dishes to Try
Be sure to check out all of the cauliflower recipes as well as the full collection of side dishes on EBF!
Cauliflower Gratin
This cauliflower gratin features cauliflower florets baked to perfection in a creamy cheese sauce and topped with breadcrumbs. It's vegetarian, low-carb and the perfect addition to your holiday menu.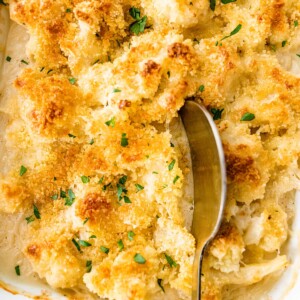 1 large head of cauliflower, cut into medium florets (about 8 cups)
2 Tablespoons butter, or olive oil
¼ cup yellow onion, chopped
2 garlic cloves, minced
2 Tablespoon all-purpose flour, or gluten-free all-purpose flour
½ teaspoon sea salt
½ teaspoons ground pepper
Pinch of nutmeg, optional
1 cup unsweetened almond milk
1 cup shredded gruyere cheese, divided
½ cup shredded parmesan cheese, divided
½ cup panko breadcrumbs or almond meal
Fresh parsley, for serving
Serving: 1/6 recipe Calories: 266kcal Carbohydrates: 24g Protein: 13g Fat: 14g Saturated Fat: 7g Monounsaturated Fat: 3g Cholesterol: 37mg Sodium: 550mg Potassium: 489mg Fiber: 3g Sugar: 3g
DID YOU MAKE THIS RECIPE?
Please leave a comment and star rating on this post and share on social media using the hashtag #eatingbirdfood. I love seeing your recipe shares!
This post may include affiliate links. Thank you for your support.