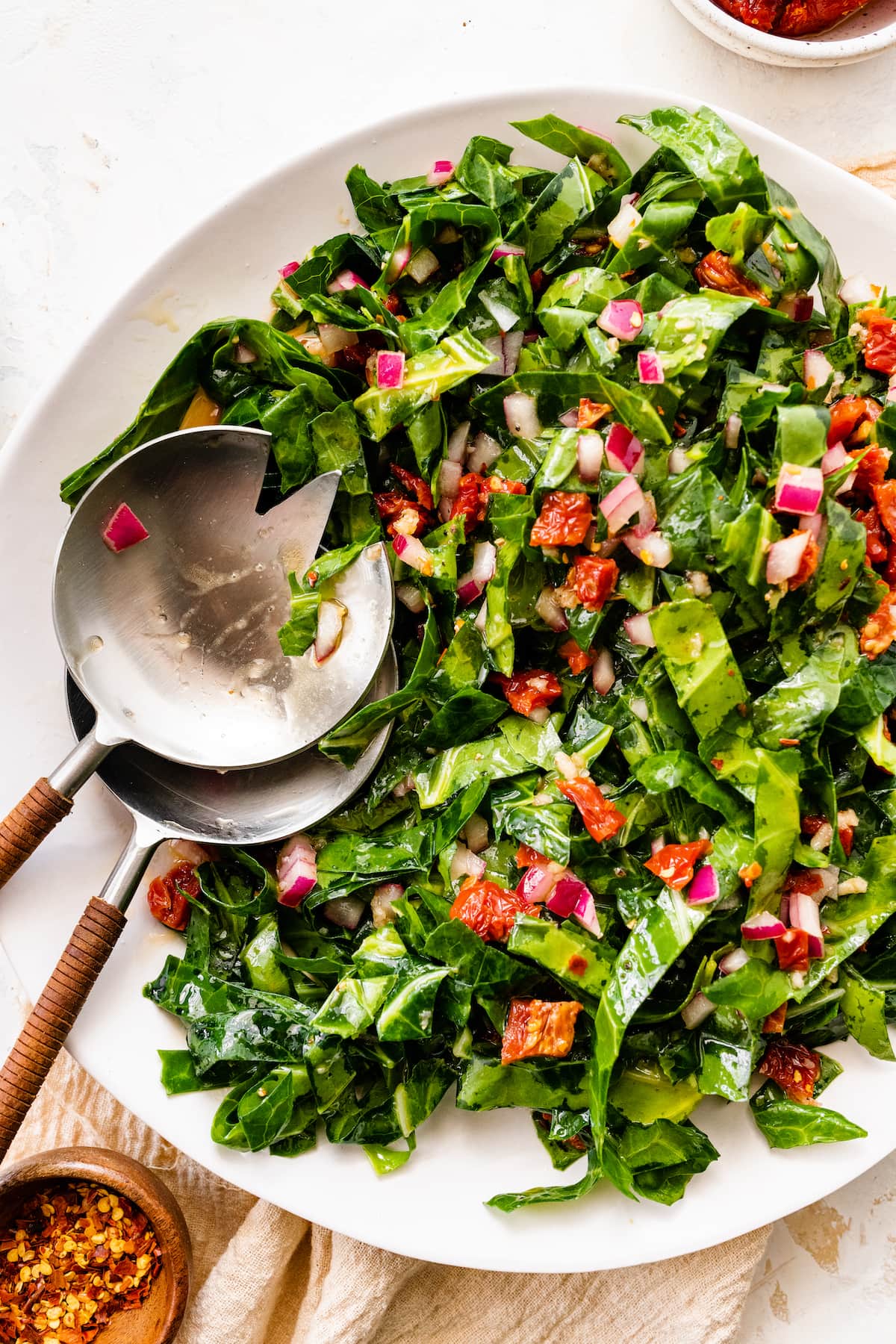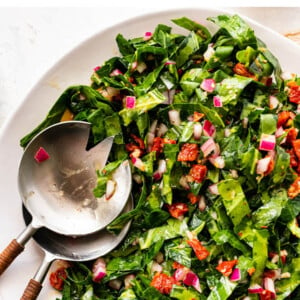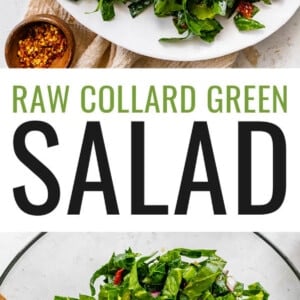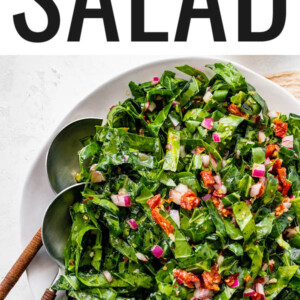 This simple raw collard green salad is made with olive oil, apple cider vinegar, sun-dried tomatoes, onion and garlic. It comes together quickly and is the perfect side salad for fall and winter.
I know what you're thinking. Raw collards… in a salad? Not so sure about that.
I honestly felt the same way when I found this recipe, but then I remembered how much I like to use raw collard greens as wraps (like with my hummus collard wraps) and thought I'd give it a try. So glad I did, because it actually turned out great! Just like with marinated kale salads, the oil wilts the greens and makes them more palatable – perfect as a base for a salad.
Collard greens are a classic southern staple that are typically cooked with some type of meat like smoked turkey, bacon or pork. And it's funny because even though this collard greens salad is raw and vegan the sun-dried tomatoes look like "bacon" bits so it still has the look of regular ol' soul food.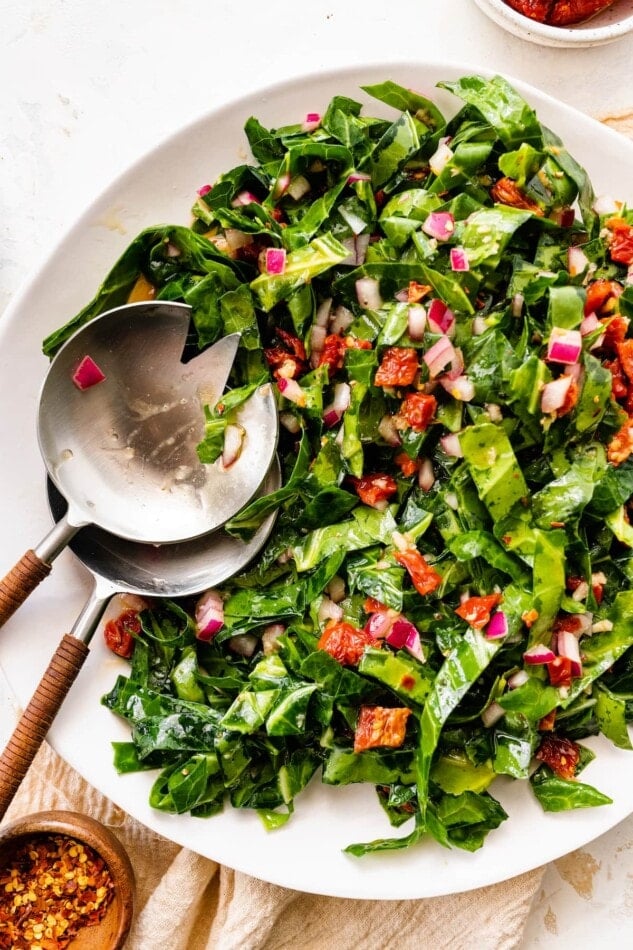 Collard Greens 101
Collard greens are atype of leafy green vegetable in the cruciferous family along with kale, arugula, swiss chard, broccoli, cabbage and brussels sprouts. Collards have large, dark green leaves that are smooth with light-colored veins. They have a neutral taste with some slight bitterness, similar to kale and spinach.
Like all leafy greens, collards are packed with nutrition! They're an excellent source of vitamins A, C, and K, as well as manganese and fiber. They also contain small amounts of calcium, iron and folate. These dark leafy greens are also a good source of antioxidants, which can help protect against cell damage and certain diseases.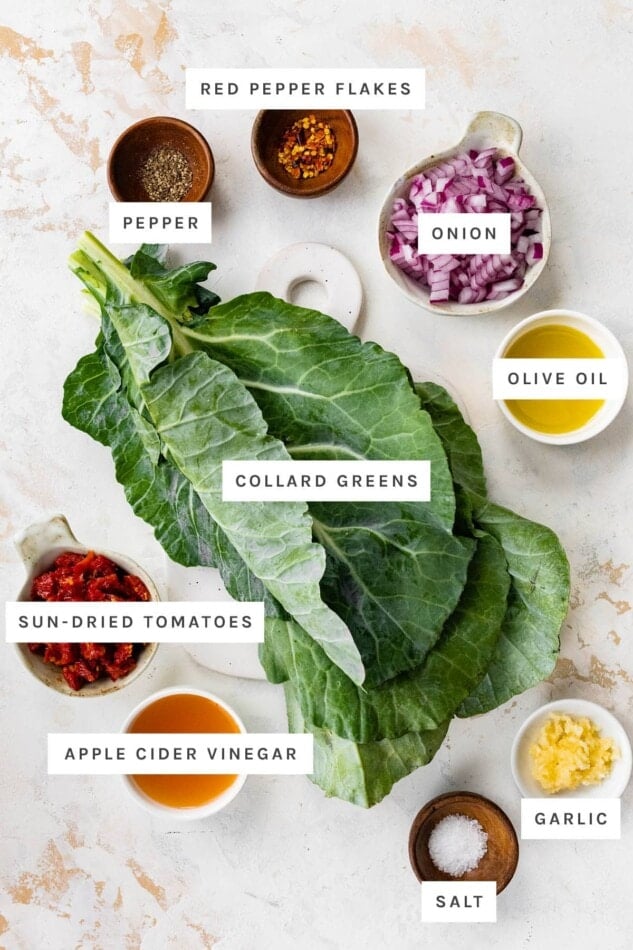 Ingredients Needed
collard greens – the star of the show! Look for collards that have dark green leaves that aren't wilted. Avoid collard greens that have yellow or brown leaves, as these are signs that the greens are not fresh. It is also important to check the stems of the collard greens to make sure they are not mushy.
olive oil – we're massaging the collards in olive oil, which helps to break down the cell structure of the collards so it becomes tender, less bitter, more palatable and easier to digest. I recommend using extra virgin olive oil for the best results, but regular olive oil or avocado oil are also good options.
apple cider vinegar – combined with the sun-dried tomatoes and onions to create a dressing/marinade. Feel free to use any vinegar you have on hand, but I love apple cider vinegar because it's a light vinegar with a slightly sweet flavor. It is also lower in acidity than other types of vinegar, so it will not overwhelm the flavors of the other ingredients in the salad.
sun-dried tomatoes – adds some nice texture and a ton of flavor to this salad. The sun-dried tomatoes replace the bacon that can typically be found in collard greens salads.
onion – I prefer using red onion for this salad. They add a nice zesty flavor and a pop of color. That said feel free to use yellow onions if that's all you have on hand.
garlic – raw garlic has a strong, pungent flavor that can really add a kick to a salad. It is also a natural antibiotic and can help boost your immune system.
red pepper flakes – just a pinch for some heat! Feel free to skip this if you're not a spicy person.
sea salt & black pepper – brings together all the flavors of the salad.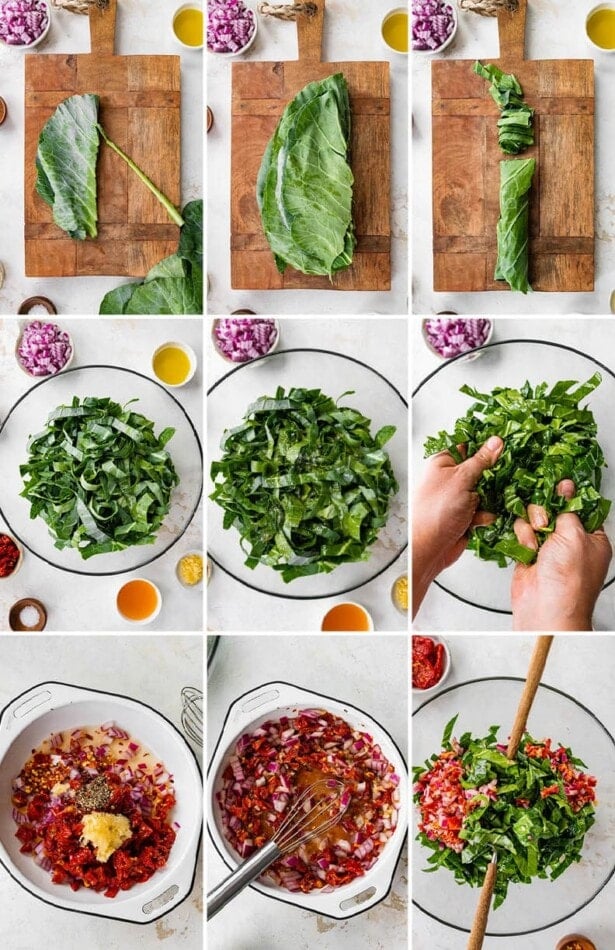 How to Make
Start by de-stemming and chopping the collard greens. Place the chopped collard greens into a large bowl and pour olive oil with a sprinkle of salt. Massage the oil and salt into the greens with your hands until well coated.
Whisk together apple cider vinegar, sun-dried tomatoes, onions, garlic, red pepper flakes and ground pepper. You can also add the ingredients to a jar and blend by shaking. Pour the dressing over the collard greens and let marinate in the refrigerator for at least 3-4 hours, but overnight is best.
Serve when ready with your favorite meal, or as is.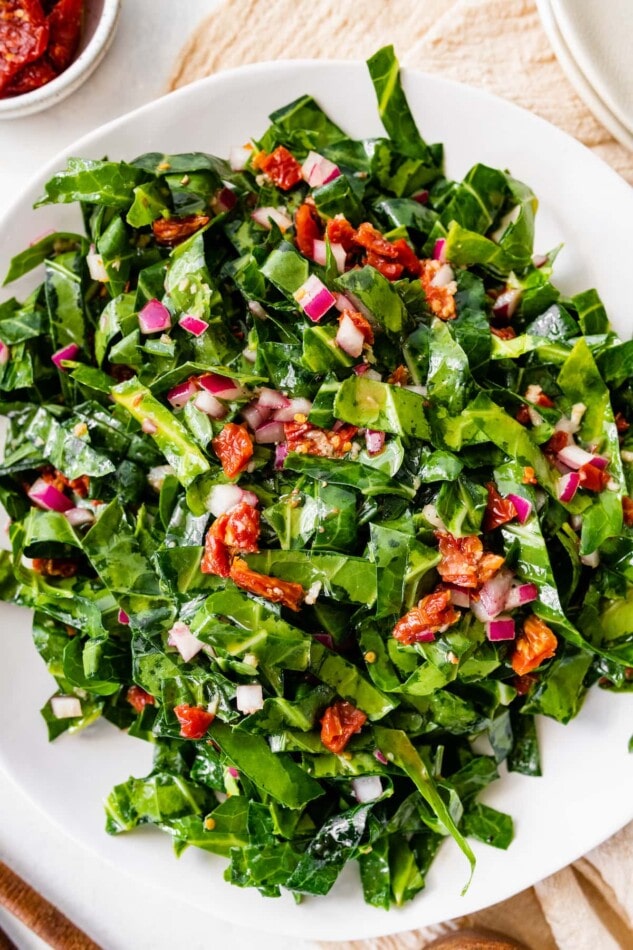 Hot to Cut Collard Greens
The easiest way to cut collard greens is to first de-stem them by folding the leaves in half lengthwise along the stem with the darker green side down. Pull up the stem until it comes off and you're left mostly with leaves. An easy way to chop them is to stack a few leaves, roll them up into a cigar shape, and cut through the collard cylinder, making strips. Easy peasy!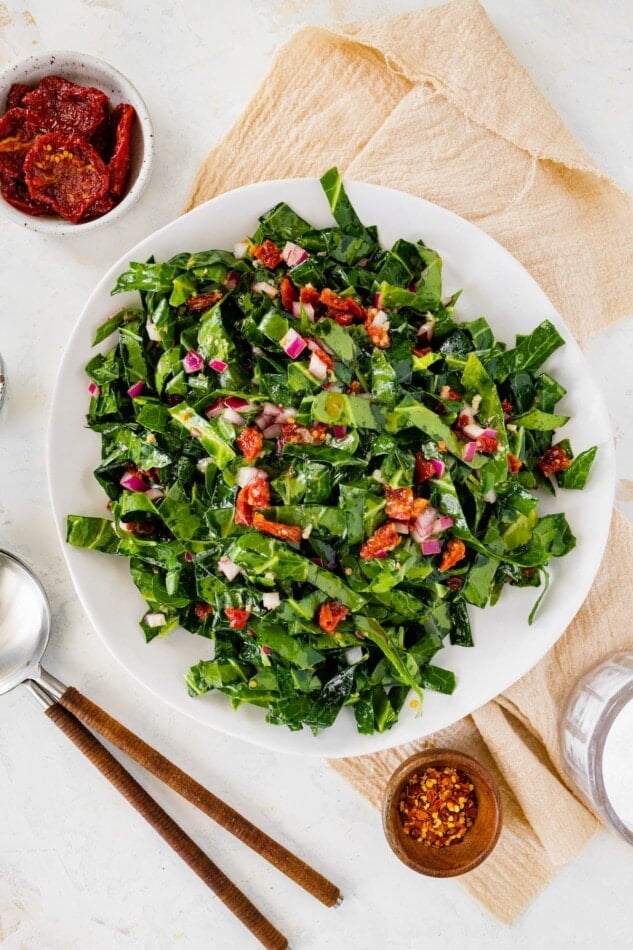 What to Serve With Collard Greens Salad
This salad is so great because of how versatile it is. You can either add more ingredients to it for a hearty salad, eat it as is for something light and refreshing or enjoy it as a side salad with your favorite meal.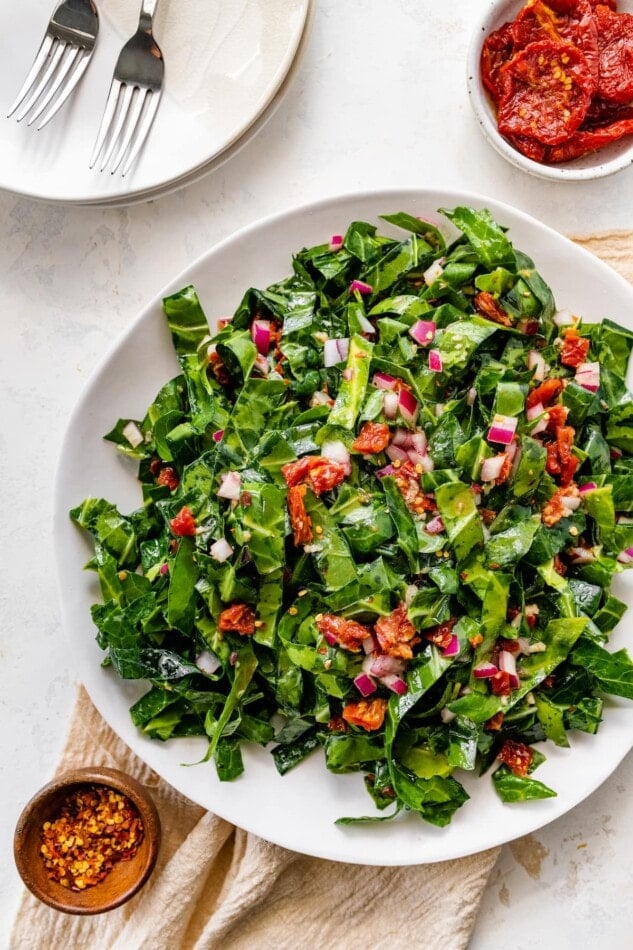 How to Store Leftovers
Store any leftovers in an airtight sealed container for up to 5 days in the refrigerator. The longer it sits the more flavorful it will become as the flavors all meld together.
More Collard Greens Recipes
More Simple Salad Recipes
Be sure to check out all of the salad recipes on EBF!
Raw Collard Greens Salad
This simple raw collard green salad is made with olive oil, apple cider vinegar, sun-dried tomatoes, onion and garlic. It comes together quickly and is the perfect side salad for fall and winter.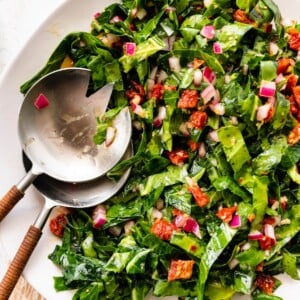 Total Time 4 hours 15 minutes
Servings 4
1 large bunch collard greens, washed
⅛ cup olive oil
¼ teaspoon sea salt
¼ cup apple cider vinegar
6-8 sun-dried tomatoes, chopped
⅓ cup red onion, chopped
2-3 cloves garlic, minced
1 teaspoon red pepper flakes
½ teaspoon black pepper
Adapted from The Daily Raw Cafe
Serving: 1/4 of recipe Calories: 145kcal Carbohydrates: 16g Protein: 7g Fat: 8g Saturated Fat: 1g Polyunsaturated Fat: 1g Monounsaturated Fat: 5g Sodium: 207mg Potassium: 402mg Fiber: 9g Sugar: 3g
DID YOU MAKE THIS RECIPE?
Please leave a comment and star rating on this post and share on social media using the hashtag #eatingbirdfood. I love seeing your recipe shares!
This post may include affiliate links. Thank you for your support.