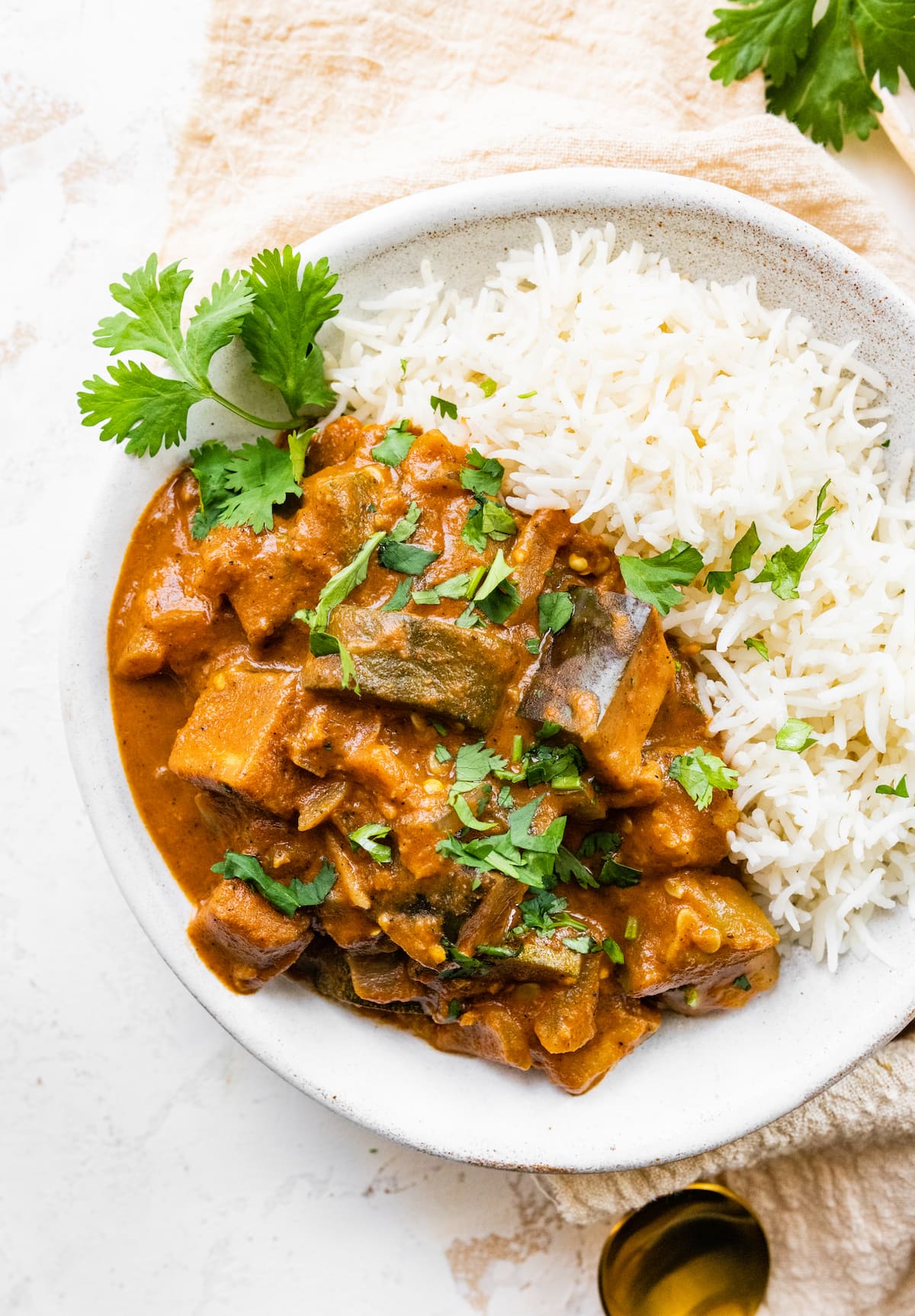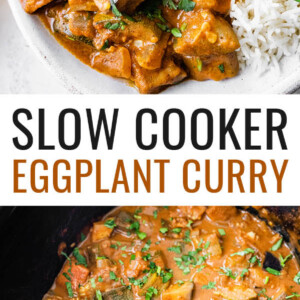 This eggplant curry combines fresh zucchini and eggplant in a creamy tomato sauce that's packed with Indian spices. It's flavorful, vegan, gluten-free and comes together quickly in the slow cooker.
Isaac and I love Indian food! I have a few Indian-inspired recipes on the blog (like this dairy-free butter chicken and vegan tempeh tikka masala) and today I'm sharing an eggplant curry, which was inspired by Baingan Bharta, one of my favorite vegetarian dishes to order when we go out for Indian food.
Baingan Bharta is a traditional Indian dish made with grilled eggplants, onions, tomatoes, spices and fresh herbs, but I decided to change things up a bit by using a combo of eggplant and zucchini. I also added coconut milk to make it extra creamy.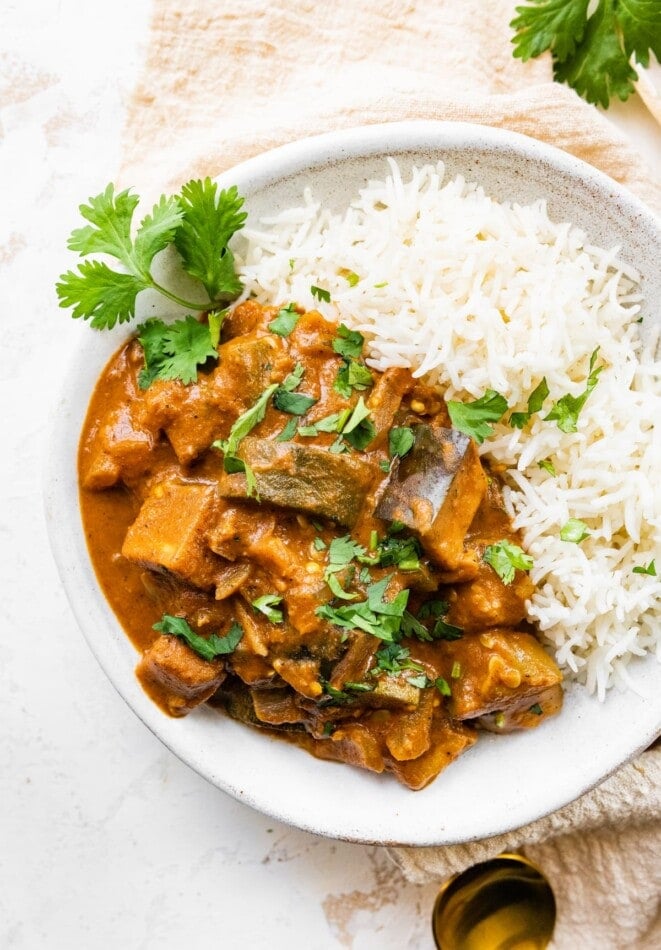 After cooking for hours the eggplant and zucchini get melt-in-your-mouth tender and soak up tons of flavor from the spicy sauce. So delicious!
And did I mention this eggplant curry recipe is super easy? You literally throw everything in your slow cooker, stir, cover and go about your business while the veggies cook to perfection.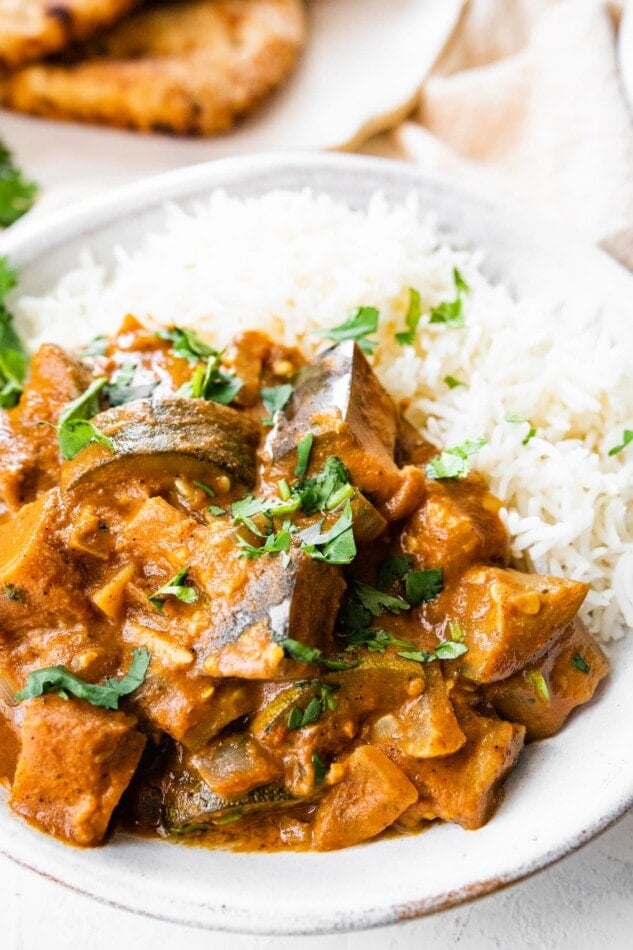 Why You'll Love This Recipe
The perfect way to prepare an eggplant.
Easy to make… just toss all your ingredients into your slow cooker and let it work its magic!
Healthy, hearty and comforting. It's the perfect cold-weather meal to make for dinner.
Gluten-free, vegan and perfect for meal prep!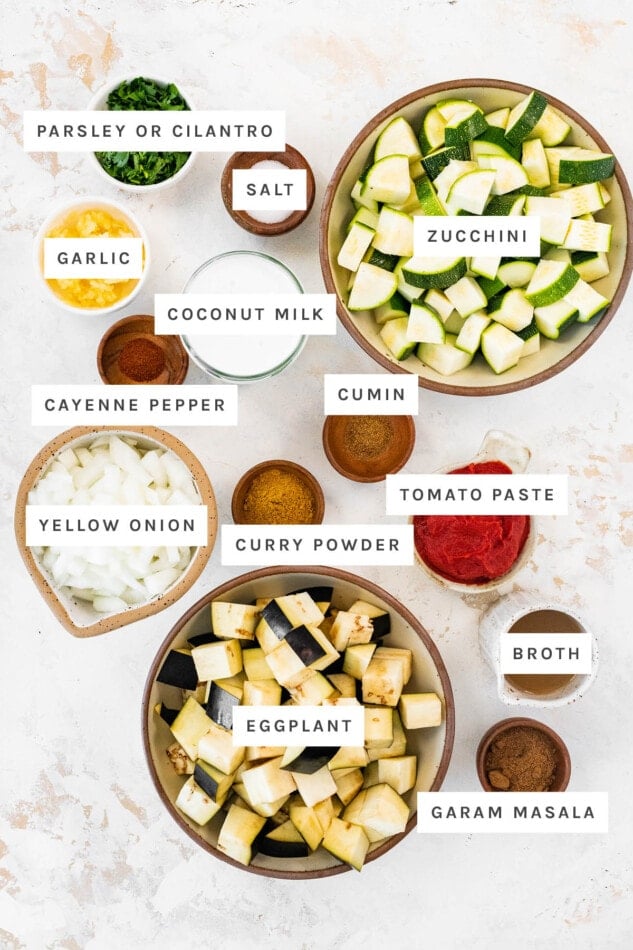 Ingredients Needed
eggplant – the star of the recipe! Eggplant works great in curry because it's really versatile and has a mild flavor so it soaks up the flavors of the curry. When looking for eggplants in the store, look for ones that are shiny and firm. Avoid eggplants that are dull, wrinkled or have bruises.
zucchini – pairs well with eggplant and provides plenty of nutrients and fiber.
yellow onion and garlic – key ingredients that add a ton of flavor to this dish.
tomato paste – adds a deep, rich flavor and helps to thicken the curry.
coconut milk – adds creaminess and helps to balance out all the spices. I prefer to use full-fat coconut milk, but feel free to use lite coconut milk if you prefer.
spices – curry powder, garam masala, cayenne pepper and cumin. If you're new to garam masala it's a traditional Indian spice that's typically made with cinnamon, cardamom, mustard seeds, coriander seeds, cloves, mace and nutmeg.
salt – brings all the flavors together!
vegetable broth – this is optional but will help thin the sauce slightly if you want a thinner sauce. Plus, it adds more flavor!
fresh parsley or cilantro – for garnish. I love adding fresh herbs to my dishes. It really elevates the flavors.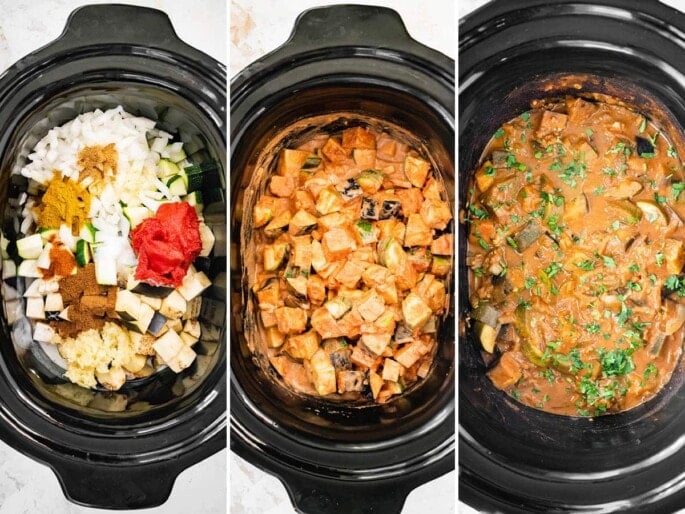 How to Make
Combine ingredients: Add all the ingredients to your slow cooker, except for the vegetable broth and fresh parsley or cilantro. Stir everything together and add vegetable broth if the mixture seems too thick to you.
Cook: Cook on low for 4-5 hours, until vegetables are tender. Stir and season to taste.
Serve: Serve warm with rice and naan and garnish with fresh parsley or cilantro.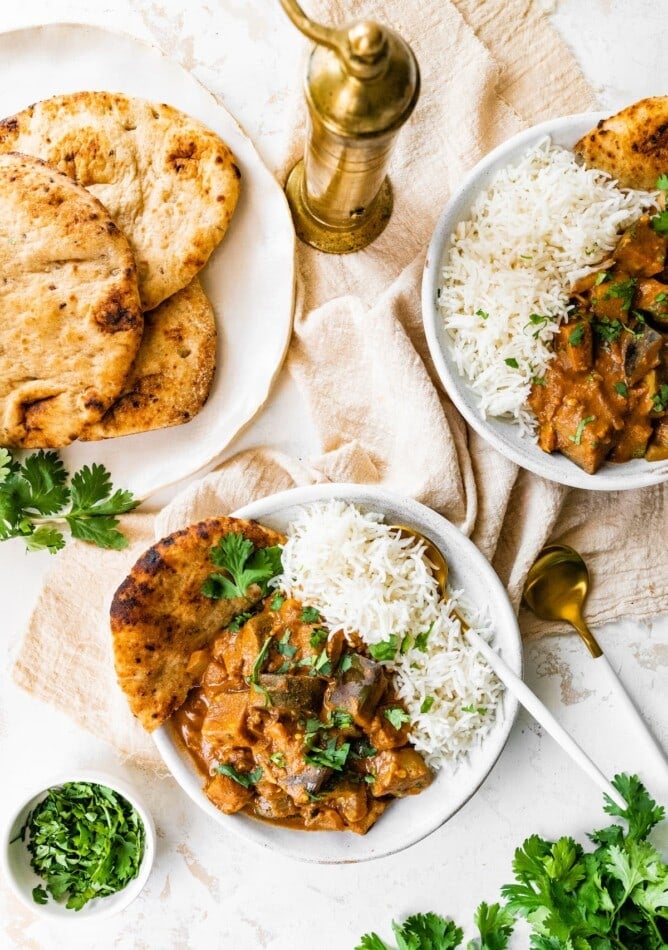 How to Serve Eggplant Curry
With naan: There's really nothing better than a warm piece of garlic naan to go with this eggplant curry. Naan + curry = pure perfection!
Over rice: Serve this curry over basmati rice, jasmine rice or cauliflower rice for a full meal.
With protein: Add some protein to this curry with chicken, shrimp or chickpeas to keep this dish vegan!
Side salad: Fresh leafy greens on the side is always a great idea. Try this garlicky kale salad or massaged kale salad for a simple salad.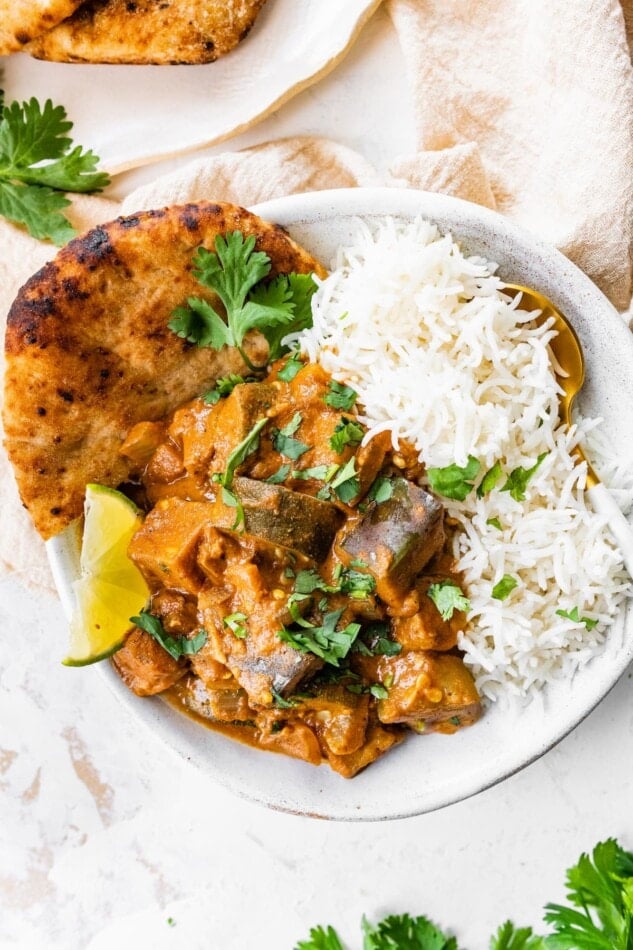 How to Store Leftovers
This is a great recipe for meal prep! Make a batch over the weekend and you'll have lunches or dinners ready to go for the week!
Store any leftovers in an airtight sealed container in the refrigerator for up to 5 days.
More Eggplant Recipes to Try
More Curry Recipes to Try
Be sure to check out all the eggplant recipes as well as the full collection of vegan recipes on EBF!
Eggplant Curry
This eggplant curry combines fresh zucchini and eggplant in a creamy tomato sauce that's packed with Indian spices. It's flavorful, vegan, gluten-free and comes together quickly in the slow cooker.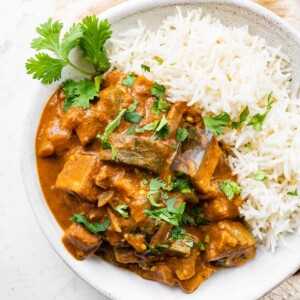 Total Time 5 hours 15 minutes
Servings 4
4 cups chopped eggplant, peeled, if desired
4 cups chopped zucchini, or more eggplant
1 medium yellow onion, chopped
4 cloves garlic, minced
1 Tablespoon curry powder
1 Tablespoon garam masala
¼ teaspoon cayenne pepper
¼ teaspoon cumin
1 teaspoon salt
1 6 oz can tomato paste
1 15 oz can coconut milk
¼ cup vegetable broth, optional
chopped fresh parsley or cilantro, for garnish
Add onion, garlic eggplant, zucchini, spices, tomato paste and coconut milk to your slow cooker. Stir everything together. At this point if the mixture seems too thick you can add in a little vegetable broth.

Cook on low for 4-5 hours. Garnish with fresh parsley or cilantro. Serve warm with rice and naan.
Recipe adapted from Love & Flour.
Serving: 1/4 of recipe Calories: 253kcal Carbohydrates: 28g Protein: 7g Fat: 15g Saturated Fat: 13g Sodium: 677mg Potassium: 1140mg Fiber: 9g Sugar: 16g
DID YOU MAKE THIS RECIPE?
Please leave a comment and star rating on this post and share on social media using the hashtag #eatingbirdfood. I love seeing your recipe shares!
This post may include affiliate links. Thank you for your support.