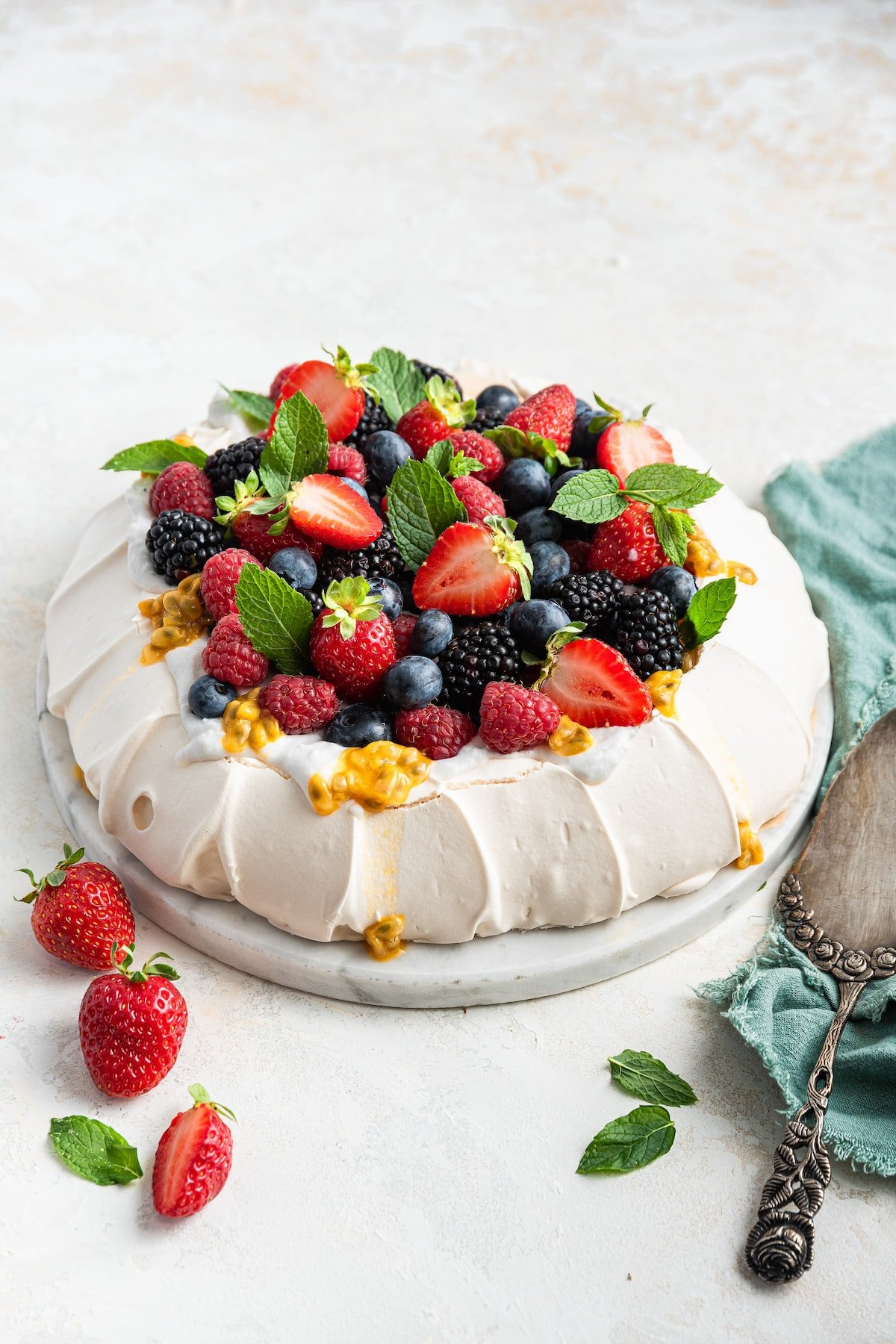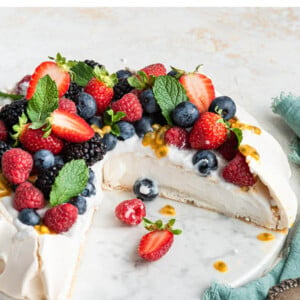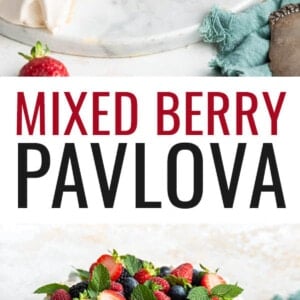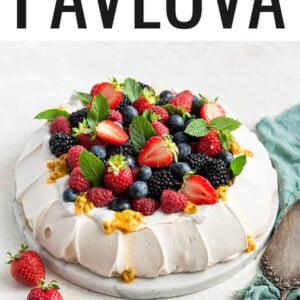 Learn how to make the perfect pavlova with this simple recipe. It's crisp on the outside and has a soft, fluffy marshmallow center on the inside. Top it with coconut whip cream and fresh fruit for an elegant dessert that's sure to impress guests.
Pavlova is a unique desert that I've only tried a few times, but I've never made one for myself. I thought I'd take a stab at making pavlova at home because every time I've had it I absolutely loved it.
Pavlova is a type of meringue that's made from whipped egg whites. It has a delicate, crisp exterior and a soft, marshmallow interior that's typically topped with whipped cream and fresh fruit!
Pavlova is the perfect dessert to make for a special occasion if you're looking to impress guests. And don't be intimidated by this recipe. It's actually quite simple to make! The hardest part is definitely waiting for it to cook and then cool in the oven. But trust me when I say, it's worth the wait!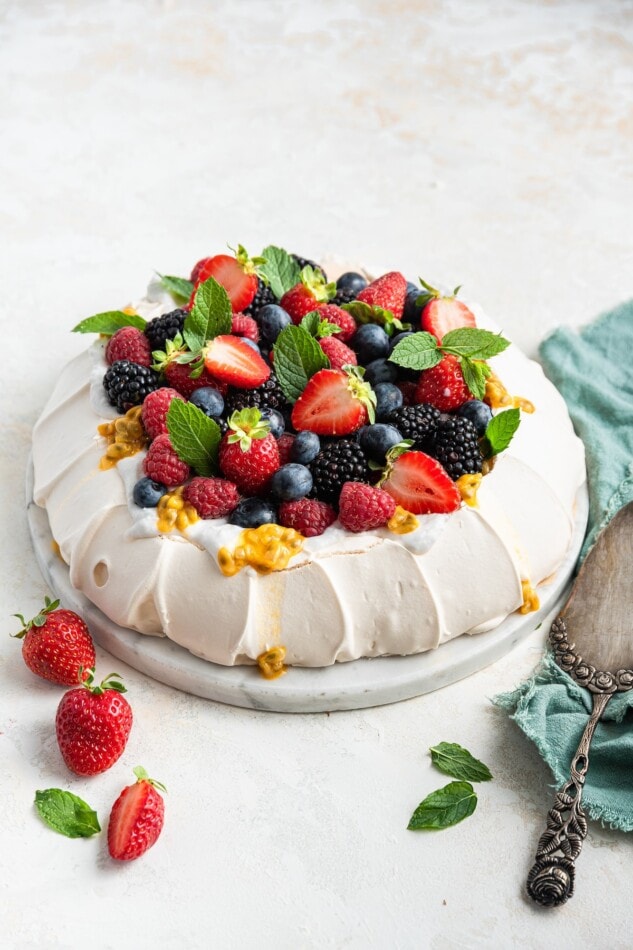 Why You'll Love This Recipe
You only need 5 ingredients for the base of this pavlova recipe!
It's a beautiful dessert that is sure to impress guests at any dinner party.
The combo of a crisp, crunchy exterior with a fluffy, marshmallowy center is pure perfection!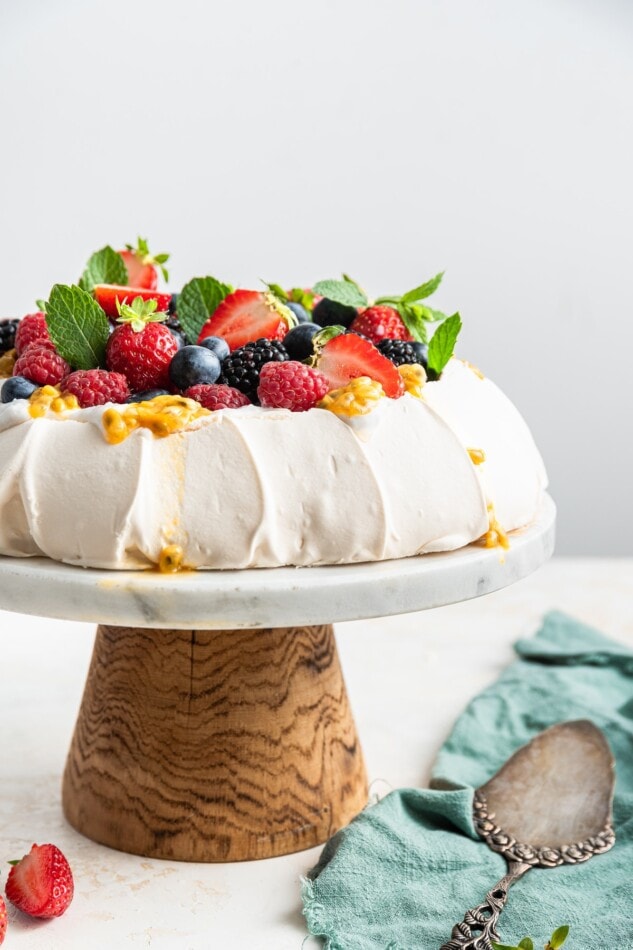 What is Pavlova?
Pavlova is a meringue-based dessert named after the Russian ballerina Anna Pavlova, but its origins can be traced back to the New Zealand and Australian regions where Anna Pavlova toured during the 1920s. Pavlova is made by combining egg whites, sugar, corn starch and some sort of acid which is then cooked in a slow oven until crisp on the outside and soft and fluffy on the inside. It can be served with a wide variety of toppings, but it's commonly topped with whipped cream and fresh berries.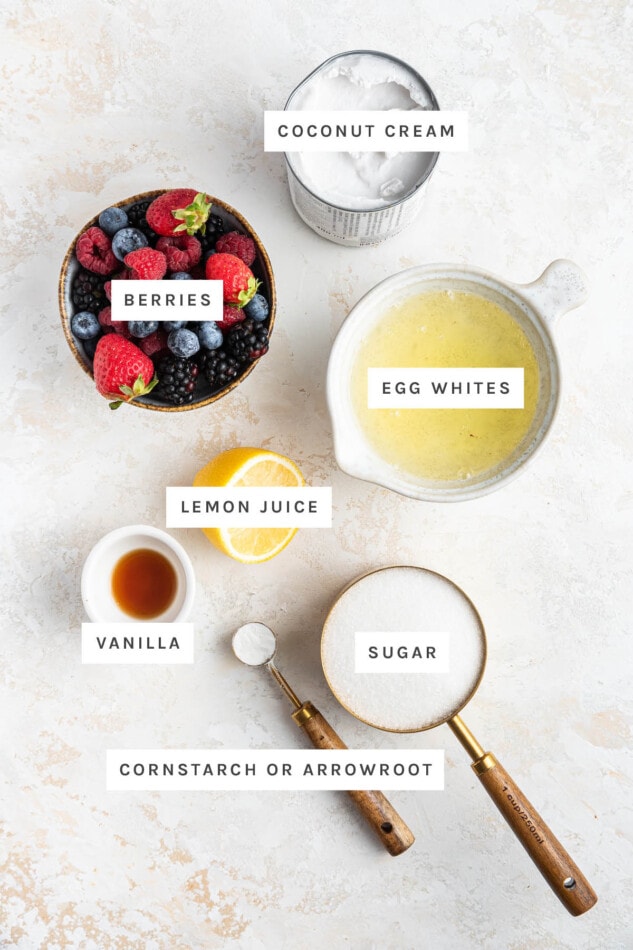 Ingredients Needed
egg whites – the pavlova base and what gives it its marshmallowy texture.
granulated sugar – the sweetener in this recipe. The sugar also helps to stabilize the egg whites, resulting in a fluffy and stable meringue.
lemon juice – a key ingredient, as it helps to stabilize the egg whites and keep them from collapsing. It also balances out the sweetness of the meringue and the fruit. If you don't have lemon juice on hand white vinegar or apple cider vinegar are good substitutes.
vanilla extract – a flavor enhancer.
cornstarch – helps to create a light, fluffy center and crisp exterior. Arrowroot flour will also work.
coconut cream – used for a whipped cream topping.
fresh berries – for topping! Blackberries, blueberries, raspberries and strawberries are all good options!
fresh mint – optional, but mint is a nice refreshing and light topping that brings a bright flavor to this dessert.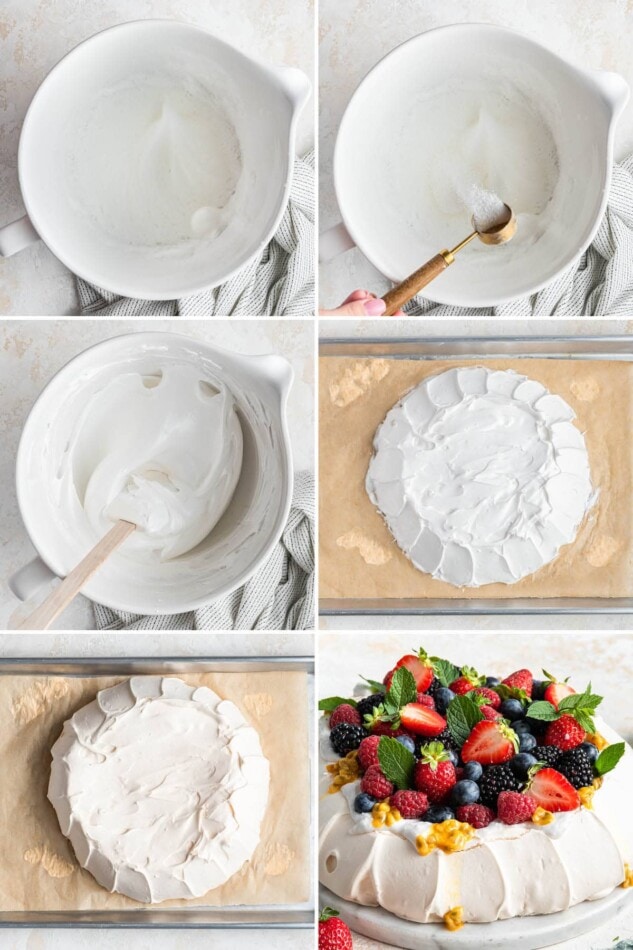 How to Make
Preheat the oven to 200°F and line a baking tray with parchment paper. Using a hand mixer, beat the egg whites on medium speed for about 2 minutes in a medium mixing bowl until soft peaks form. Alternatively, you can use a stand mixer with the whisk attachment. With the mixer still on, gradually add the sugar and turn the speed to high. Beat for 3-5 minutes until stiff peaks form. Add the lemon juice, vanilla extract and cornstarch. Gently fold with a spatula.
Spoon the mixture onto the parchment paper and shape into roughly an 8 or 9-inch wide circle, flattening the top and smoothing the sides. Bake for 90 minutes and avoid opening the oven door as much as possible. After 90 minutes, turn off the oven and allow the pavlova to cool completely in the oven for about 1 hour.
Once cool, top with coconut whip cream, fresh berries, and mint leaves. Slice and serve immediately!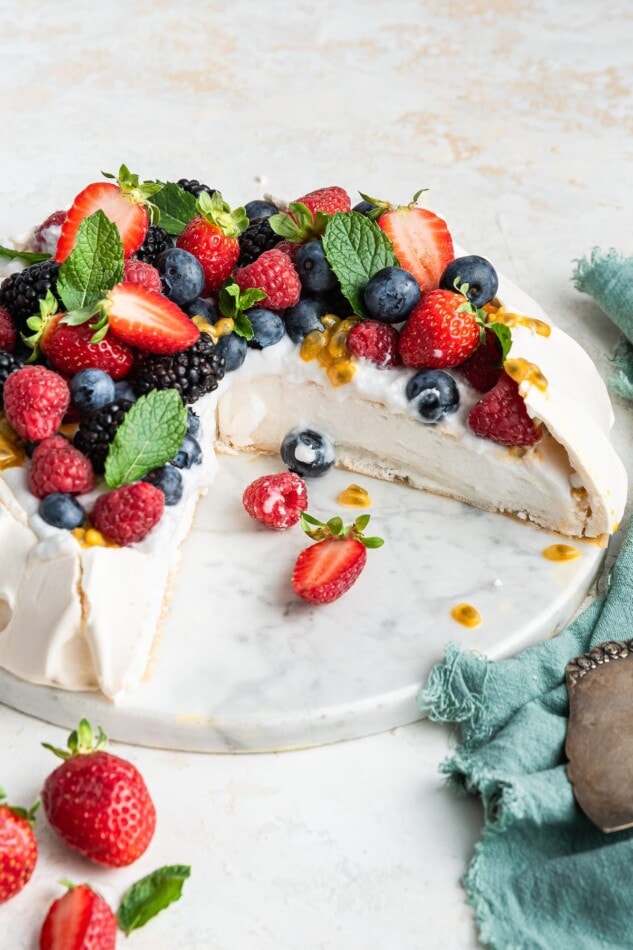 How do I Know When my Pavlova is Done?
A pavlova is done baking when the outside is crisp and firm to the touch and the inside is soft and fluffy. The pavlova should also be a light golden brown in color and should be easy to lift off the baking sheet. If you end up over-baking, the pavlova will likely collapse on itself. This can also happen if you expose it to cool air too quickly, which is why we leave it in the oven to cool down for an hour.
Tips For Success
Make sure the sugar is dissolved. Undissolved sugar can lead to cracks within the pavlova by creating unwanted air bubbles. This is why it's important to slowly add the sugar to the egg whites, while also turning the hand mixer to a high speed. This will help make sure the sugar is completely dissolved before baking.
Avoid overbeating egg whites. If your pavlova comes out grainy you likely overbeat your eggs. If this happens, simply start over again with fresh egg whites. Keep your hand mixer at a medium speed when beating the eggs and beat until thick and glossy.
Don't open the oven door. It's tempting to check on the precious pavlova in the oven, but try to avoid opening the door. When you expose the pavlova to outside temperature too soon, it may crack, or even collapse on itself.
Avoid baking on humid days. Temperature plays a key role in baking the perfect pavlova. If you are in a humid environment, you may find it difficult for the pavlova to keep its shape.
Make sure all utensils are dry. Any utensils that are used to mix or shape the pavlova before baking should be completely dry. Even the smallest amount of moisture and you may end up with a runny inside.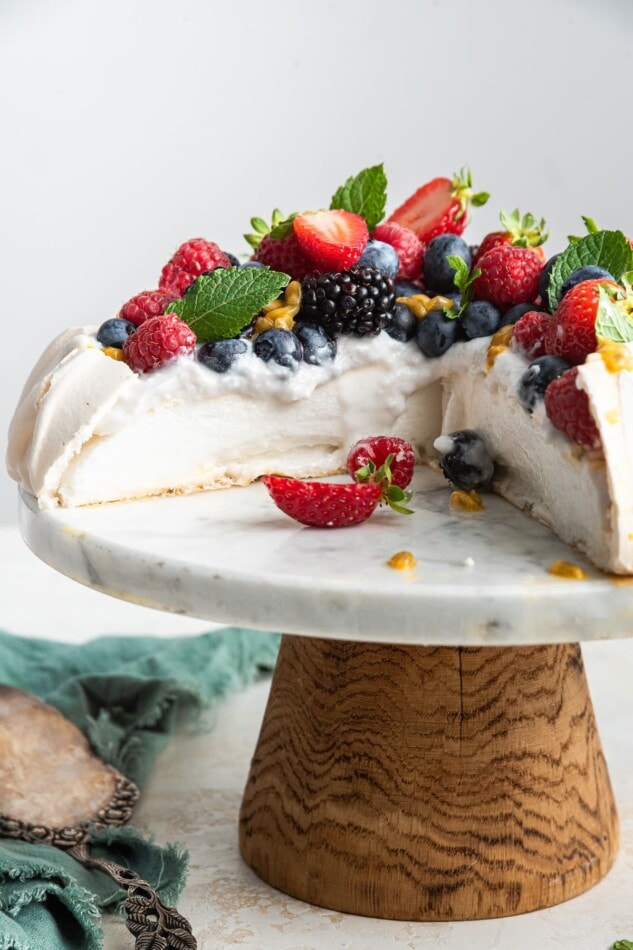 Pavlova Toppings
There are endless possibilities when it comes to the toppings for this dessert. You can add your favorites to customize to your liking or enjoy it as is. Here are some ideas that would work well:
Fresh fruit: blackberries, strawberries, blueberries, citrus fruits, peaches, mangos and sliced bananas are all great options.
Flavored syrups or sauces: a drizzle of maple syrup or honey would make for an excellent topping. I bet this date caramel sauce would be delicious. You could also try lemon curd!
Chocolate: whether it be melted chocolate drizzled on, or a crushed bar of chocolate sprinkled on, you can't go wrong with adding chocolate!
Nuts: add your favorite nuts for a slight crunch. Toasted almonds, walnuts, or pecans are some great options. For more of a decadent addition you could add candied walnuts or candied pecans.
Dried fruit: dried berries like goji berries would taste delicious with this pavlova.
Whipped cream: coconut whipped cream is a great option, but you could go with the classic whipped cream as well.
Ice cream: a cold scoop of vanilla ice cream to top off this pavlova is a wonderful idea.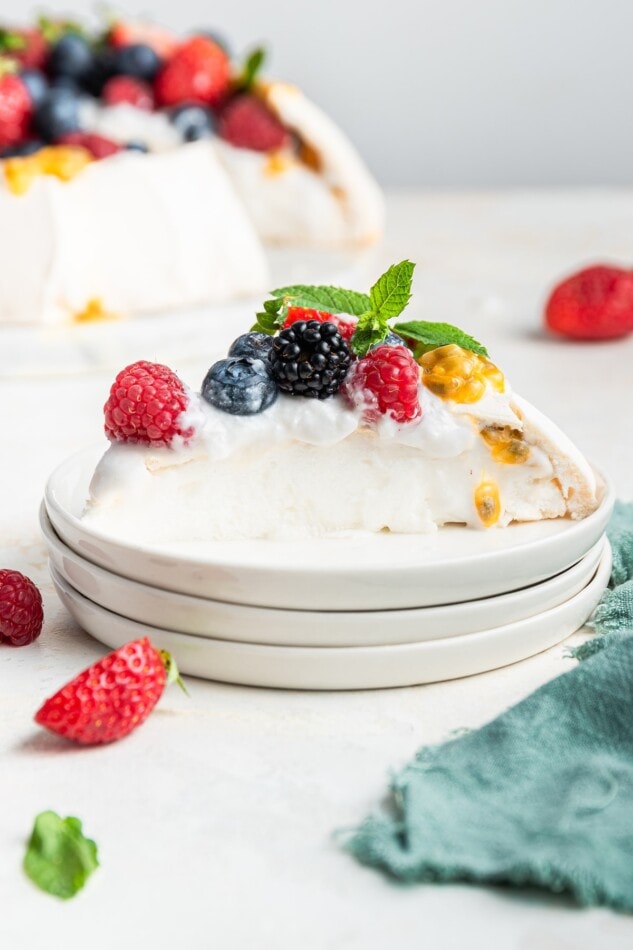 How to Store
Store any leftovers in an airtight sealed container at room temperature for 1-2 days. Try to keep it in a dry storage place as this sweet treat is incredibly sensitive to temperatures. I don't recommend storing the pavlova in the fridge as it will become soggy.
Can You Freeze Pavlova?
No, unfortunately, you cannot freeze pavlova. The structure will lose any crispiness once unthawed from the freezer.
More Dessert Recipes
Be sure to check out all of the dessert recipes on EBF!
Pavlova
Learn how to make the perfect pavlova with this simple recipe. It's crisp on the outside and has a soft, fluffy marshmallow center on the inside. Top it with coconut whip cream and fresh fruit for an elegant dessert that's sure to impress guests.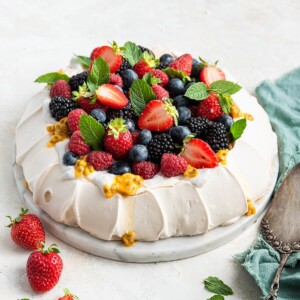 Cook Time 1 hour 30 minutes Total Time 2 hours 40 minutes
Servings 10
4 large egg whites, at room temperature
1 cup granulated sugar
1 teaspoon lemon juice, or white vinegar
½ teaspoon vanilla extract
1 teaspoon cornstarch or arrowroot flour
1 15 oz can coconut cream, whipped, for topping
Fresh berries, for topping
Mint leaves, for garnish
Serving: 1/10 slice Calories: 177kcal Carbohydrates: 30g Protein: 2g Fat: 4g Saturated Fat: 4g Sodium: 22mg Potassium: 42mg Sugar: 30g
DID YOU MAKE THIS RECIPE?
Please leave a comment and star rating on this post and share on social media using the hashtag #eatingbirdfood. I love seeing your recipe shares!
This post may include affiliate links. Thank you for your support.