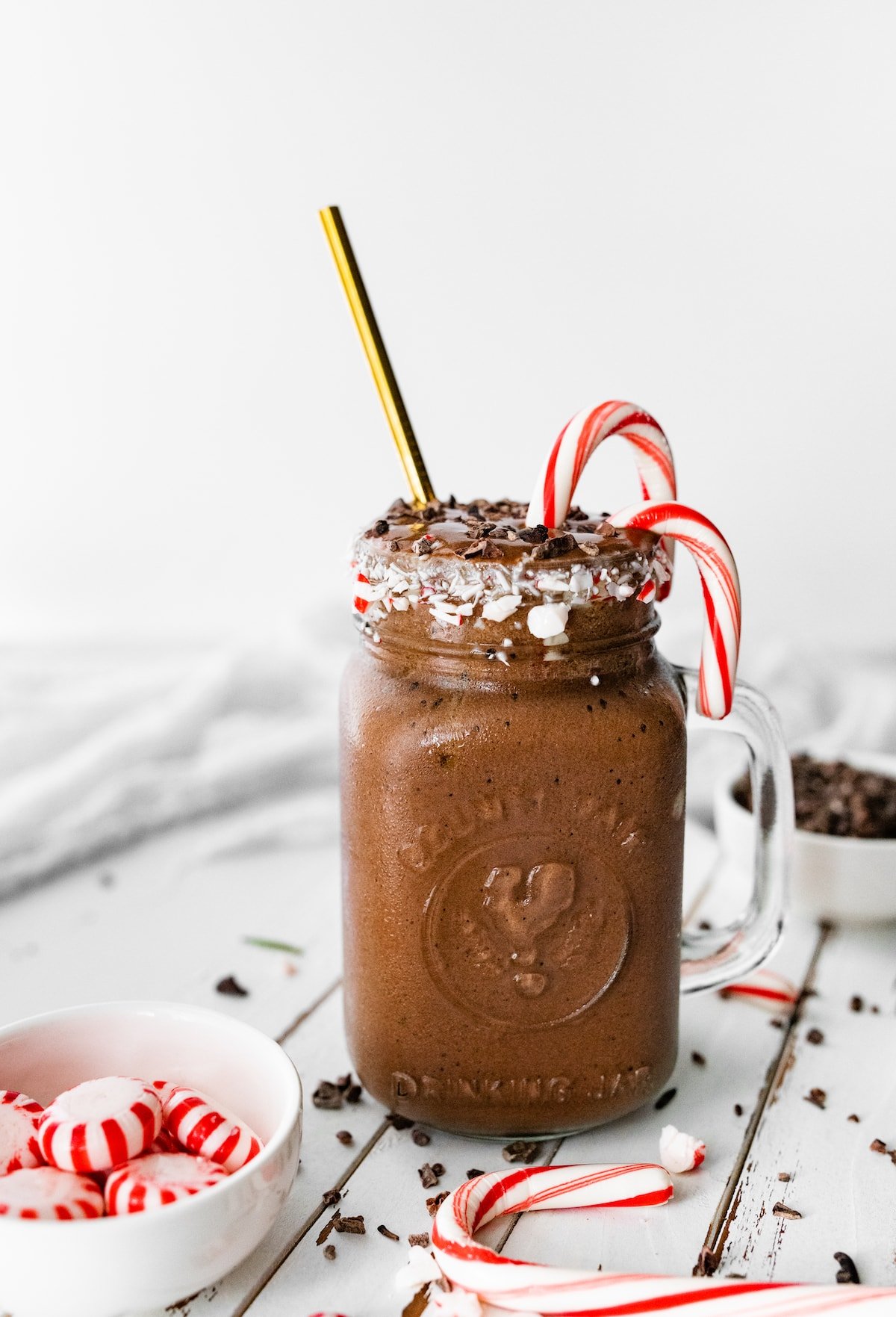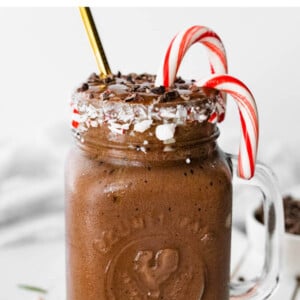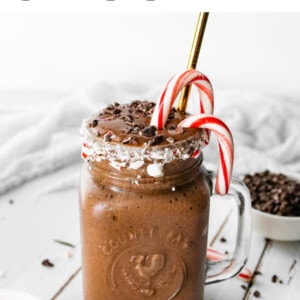 This chocolate peppermint smoothie is creamy, chocolatey and perfect for the holidays. It tastes like dessert, but is protein-packed and loaded with healthy ingredients so makes for a great breakfast or post-workout treat.
Happy December! I can't believe it's already time for the holidays again! And this chocolate peppermint smoothie is the perfect, quick and easy recipe to whip up to get you in the holiday spirit.
Made with chocolate, peppermint and frozen cauliflower, this smoothie is rich, creamy and tastes like a decadent milkshake, but is packed with nutritious ingredients and 25 grams of protein!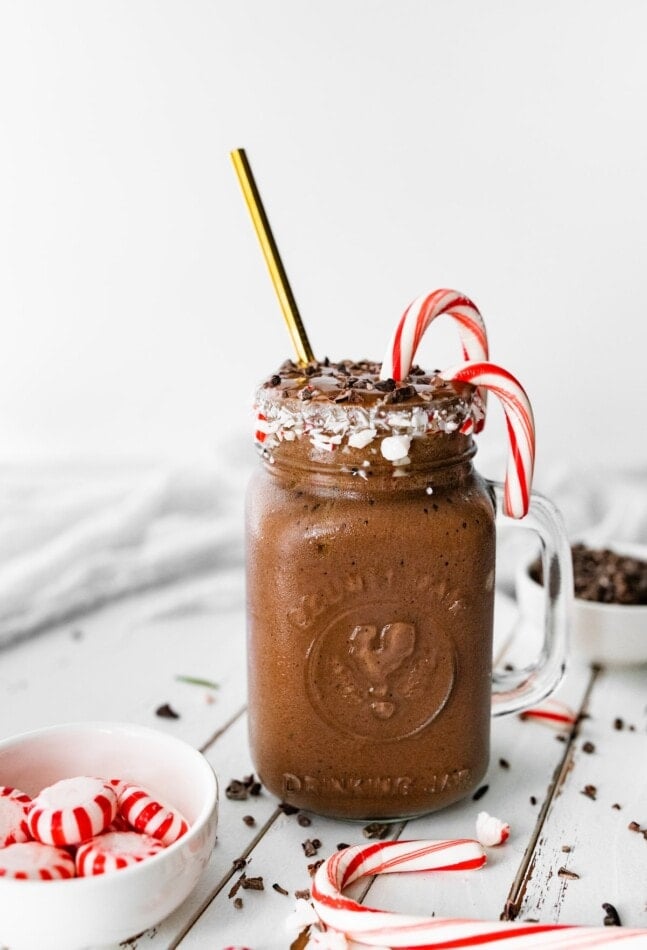 Why You'll Love This Chocolate Peppermint Smoothie
Sneaks in vegetables for added nutrition and without altering the taste!
Chocolate + peppermint = the perfect pairing for the holidays!
Tastes like dessert, but is packed with 25 grams of protein and healthy ingredients, making it a great breakfast option or post-workout snack.
It's dairy-free + vegan!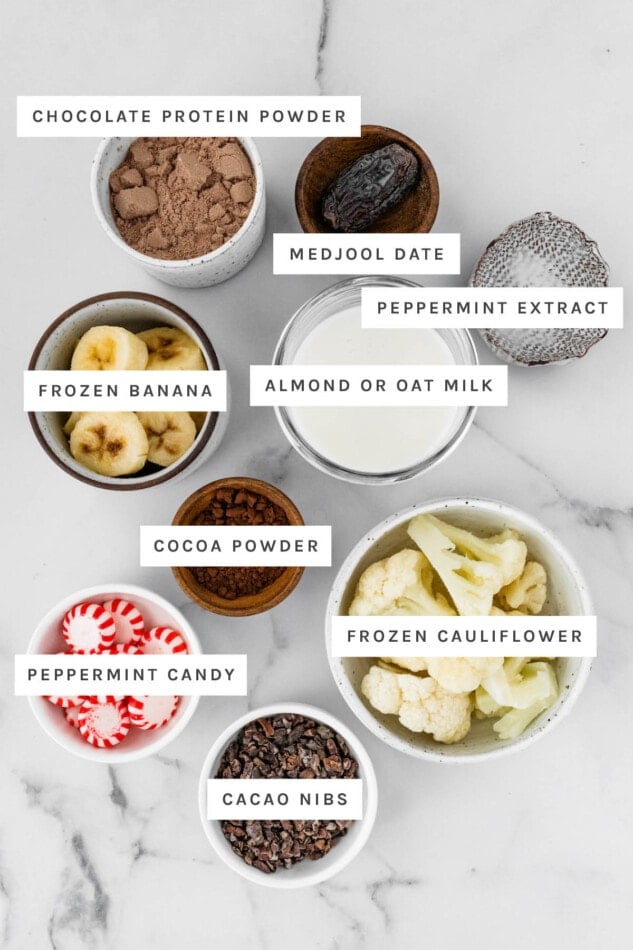 Ingredients Needed
almond milk – I love using unsweetened almond milk for the liquid in my smoothies as it provides a neutral flavor and adds some creaminess. You can use store-bought or make homemade almond milk. Oat milk, coconut milk or regular dairy milk will all work as a substitute.
frozen banana – frozen banana helps to thicken this smoothie and adds a little sweetness. Be sure to check out my guide for how to freeze bananas.
frozen cauliflower florets – helps to thicken the smoothie while adding a boost of nutrition. Cauliflower is a low calorie vegetable that's high in fiber. You won't even notice this nutritious veggie in the mix.
chocolate protein powder – chocolate protein powder gives this smoothie a ton of chocolate flavor! I personally love Nuzest protein powder. It's plant-based and delicious. (Use code eatingbirdfood for 15% off your order.)
cocoa powder – gives a rich chocolate flavor without adding any sugar. It also adds some healthy antioxidants to your smoothie.
medjool date – a natural sweetener that is also a great source of fiber.
peppermint extract – can't have a chocolate peppermint smoothie without the peppermint flavor!
cacao nibs – these are optional, but I love adding a sprinkle of cacao nibs on top for a nice crunch.
candy canes/peppermint candies – another optional topping, but I love how festive the candy canes make this smoothie!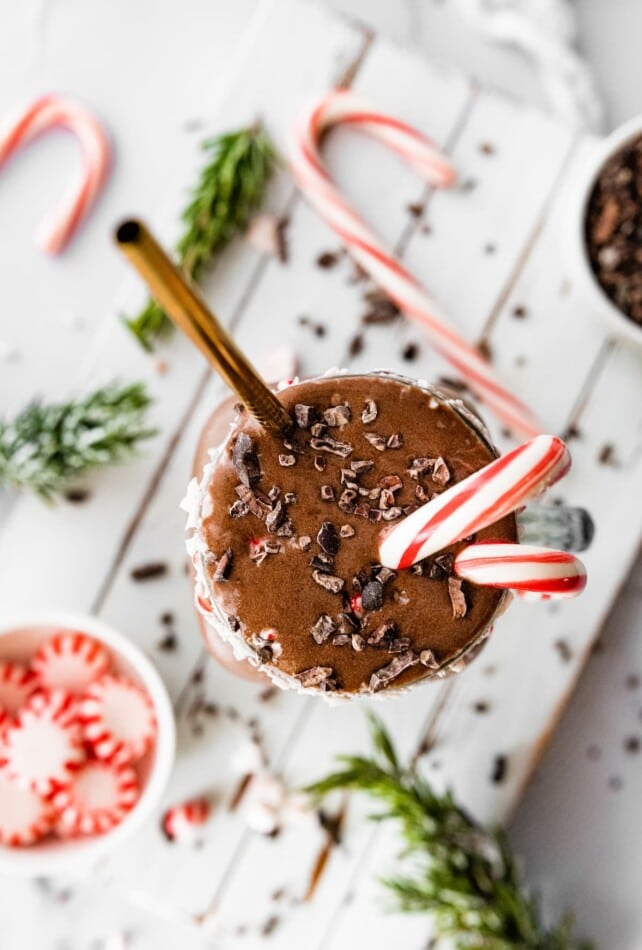 Substitutions & Notes
banana – the frozen banana helps to thicken the smoothie and add a little sweetness. If you don't like bananas or can't have them, you can try swapping it for frozen avocado chunks or frozen zucchini. If you use avocado or zucchini you may need to add another medjool date or a drop of honey or maple syrup for the sweetener.
frozen cauliflower – if you don't have frozen cauliflower on hand frozen zucchini or ice cubes are both good substitutes.
protein powder – if you don't have protein powder on hand you could swap the protein powder for Greek yogurt, a spoonful of nut butter, like almond butter or a handful of nuts. If you do skip the chocolate protein powder I would recommend adding more cocoa powder so you get plenty of chocolate flavor!
sweetener – the banana and date add plenty of sweetness to this smoothie, but if you don't have medjool dates on hand you can use honey or maple syrup instead. And if you want to lower the sugar content, feel free to skip the medjool date. You can also add a little stevia for some sweetness without the added sugar.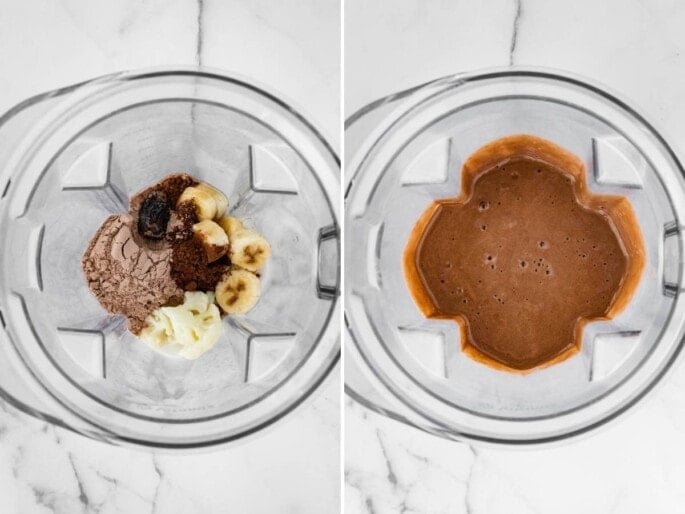 How to Make Chocolate Peppermint Smoothie
Place all ingredients into a high powered blender and blend until smooth.
Pour into a glass and top with cacao nibs and peppermint candies, if desired.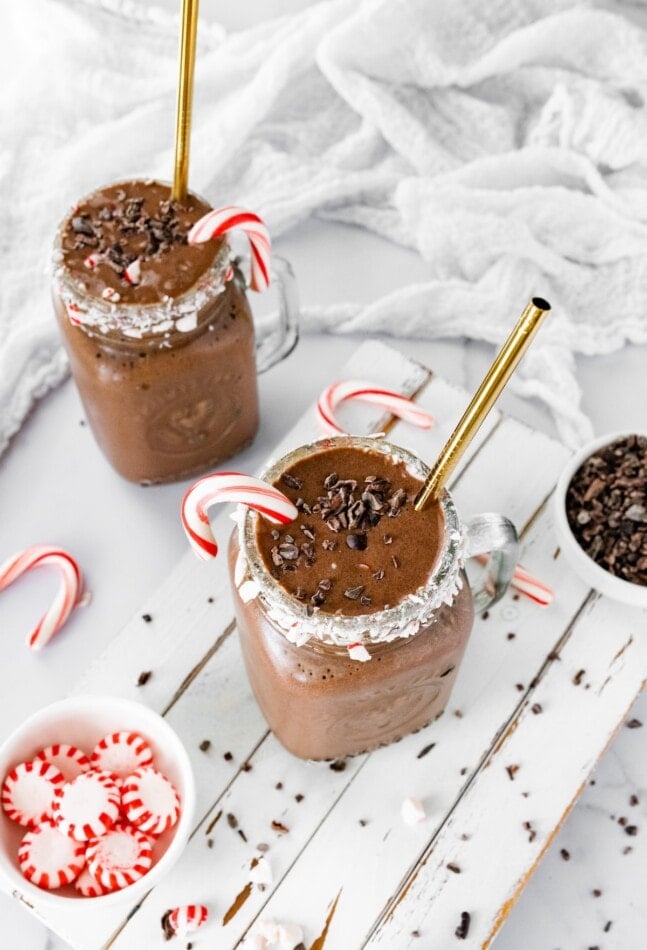 What Type of Blender is Best?
A high-quality blender goes a long way when it comes to making perfectly blended smoothies that have a similar texture to a smoothie you'd get from a smoothie shop. High-powered blenders can process frozen fruit and veggies easily! I've found that my Vitamix blender works great for smoothies like this one, but it's definitely an investment. If you're looking for a budget-friendly option, check out the Ninja Foodi smoothie bowl maker.
More Smoothie Recipes to Try
More Festive Recipes to Try
Be sure to check out all of the smoothie recipes as well as the full collection of Christmas recipes on EBF!
Chocolate Peppermint Smoothie
This chocolate peppermint smoothie is creamy, chocolatey and perfect for the holidays. It tastes like dessert, but is protein-packed and loaded with healthy ingredients and makes for a great breakfast or post-workout treat.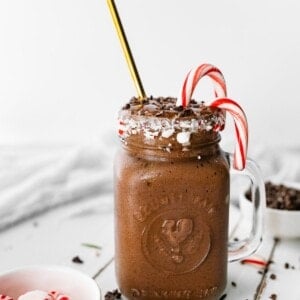 ¾ cup almond or oat milk, plus more as needed to thin
½ cup frozen cauliflower florets
1 scoop chocolate protein powder, 25 grams, I used Nuzest
½ Tablespoon cocoa powder
1 medjool date
Handful of spinach, optional
¼ teaspoon peppermint extract
Cacao nibs, for topping
Candy canes/peppermint candies, for topping
Serving: 1 smoothie Calories: 323kcal Carbohydrates: 43g Protein: 25g Fat: 7g Saturated Fat: 3g Sodium: 512mg Potassium: 821mg Fiber: 10g Sugar: 27g
DID YOU MAKE THIS RECIPE?
Please leave a comment and star rating on this post and share on social media using the hashtag #eatingbirdfood. I love seeing your recipe shares!
This post may include affiliate links. Thank you for your support.