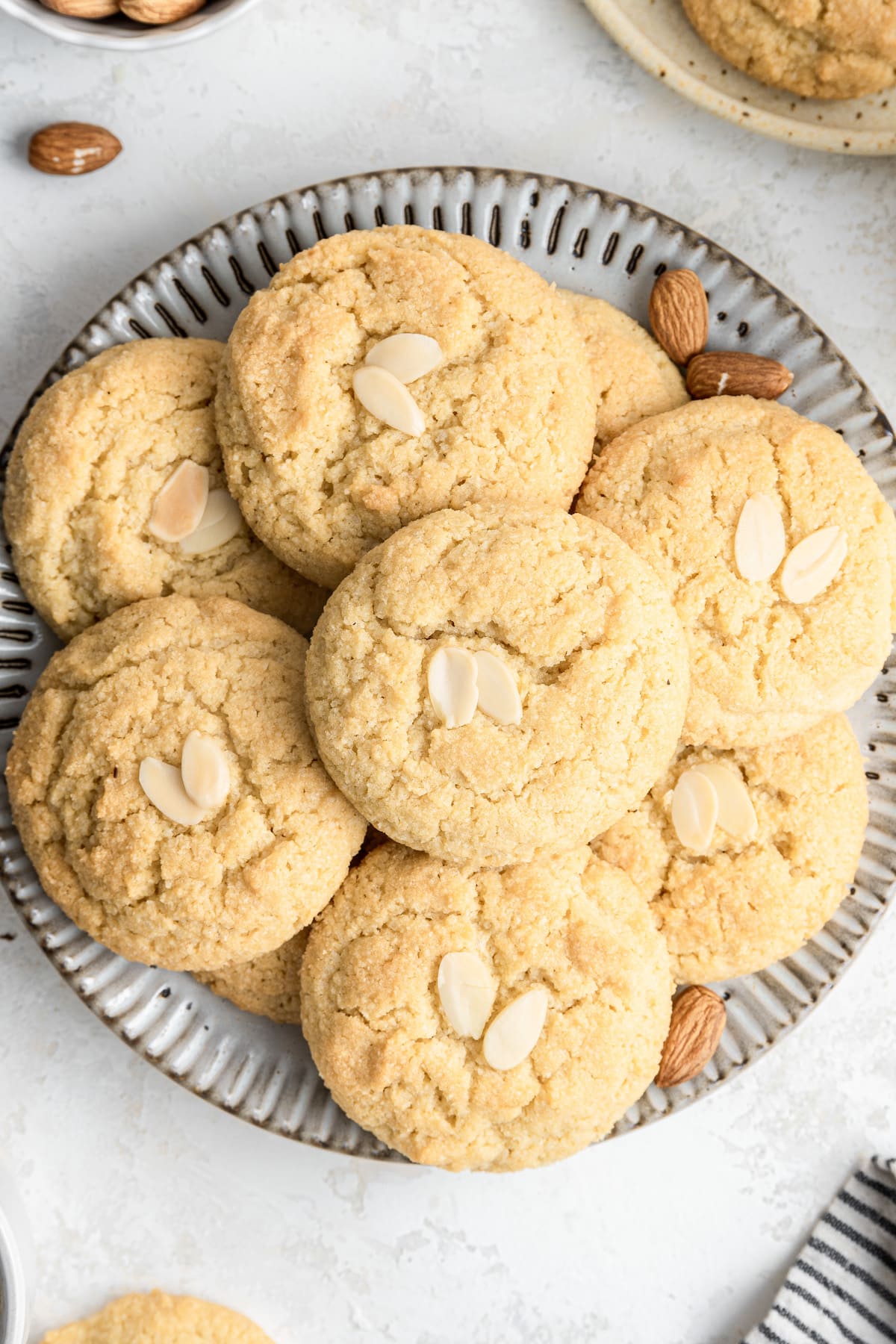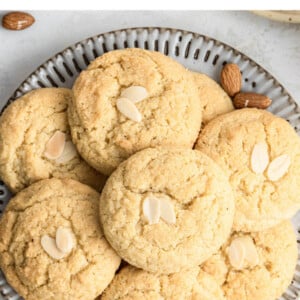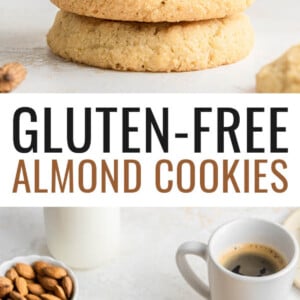 These almond cookies are made with almond flour, almond extract and topped with sliced almonds. They're buttery, soft and melt in your mouth delicious. Gluten-free + grain-free.
Say hello to your new favorite holiday cookie: almond cookies! I got the inspiration for these cookies from the traditional Chinese almond cookies that are typically prepared for the Chinese New Year. They are made to resemble a coin to symbolize good luck and fortune in the year to come.
These almond cookies are a must-make during your holiday baking and would make for a great addition to your Christmas cookie platter. They're buttery, soft and melt-in-your-mouth delicious. Plus, they're not overly sweet and only require 8 simple ingredients that you probably already have in your kitchen!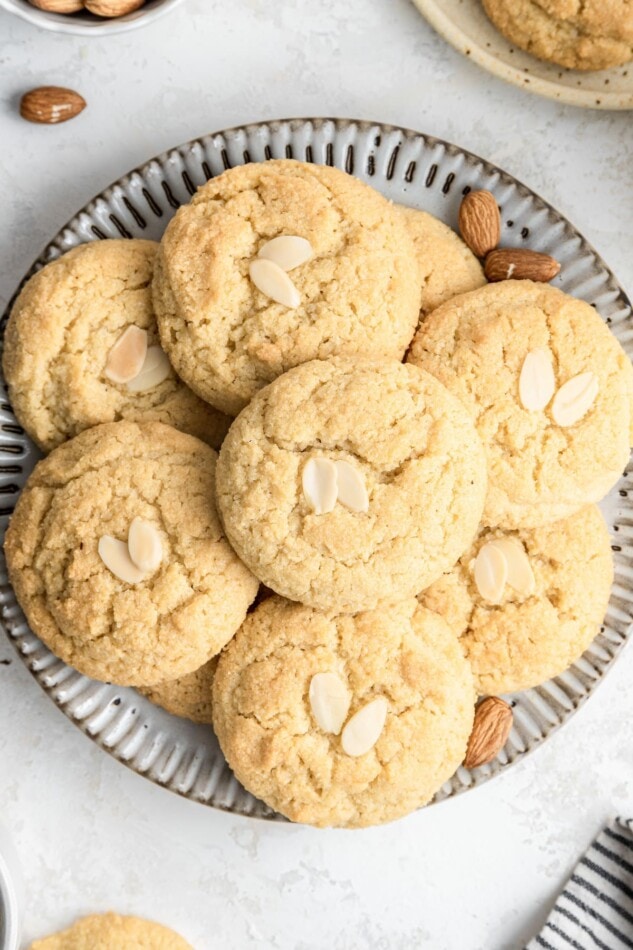 Why You'll Love These Cookies
They're buttery, melt-in-your-mouth delicious and jam-packed with almond flavor!
Made with almond flour so are gluten-free + grain-free.
You only need 8 simple ingredients.
They're not overly sweet and are perfect paired with a cup of tea or coffee.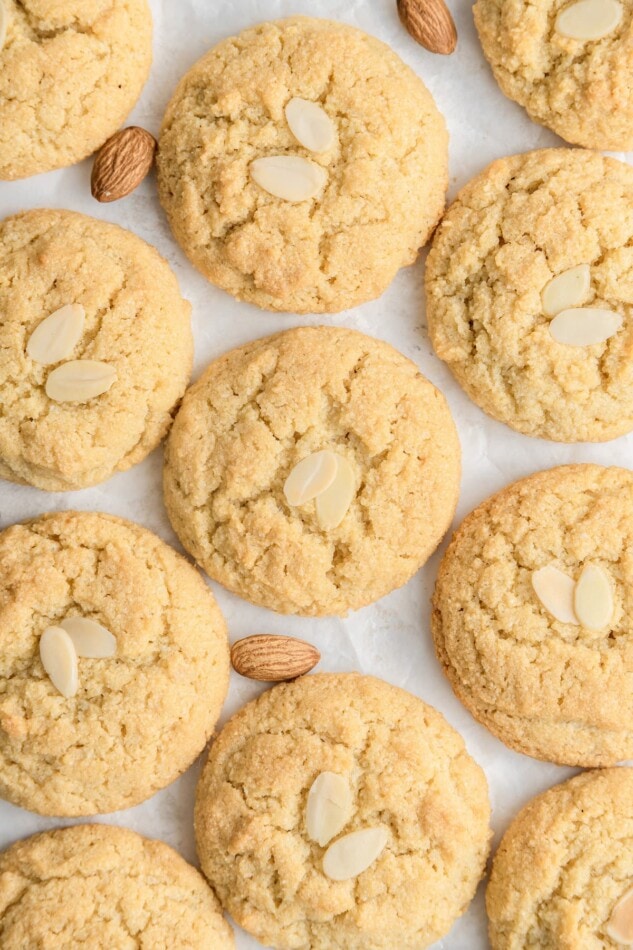 Baking With Almond Flour
Almond flour is amazing for baking and super nutrient-rich, which is why I use it in a ton of my recipes! One thing to note is that you can't simply swap almond flour for all-purpose flour at a 1:1 ratio. Almond flour is essentially just ground almond, which has totally different consistency (and fat/protein level) than traditional flour.
Almond Flour vs. Almond Meal
When it comes to almond flour and almond meal they are not the same thing. Almond flour is made from blanched almonds that are finely ground. And it is typically the preferred ingredient in baked goods for the lighter texture. Almond meal is whole almonds that are less finely ground so the meal is coarser and has a darker color. Almond meal works well in heartier recipes or recipes where the texture of flour doesn't matter as much, like my almond flour crackers.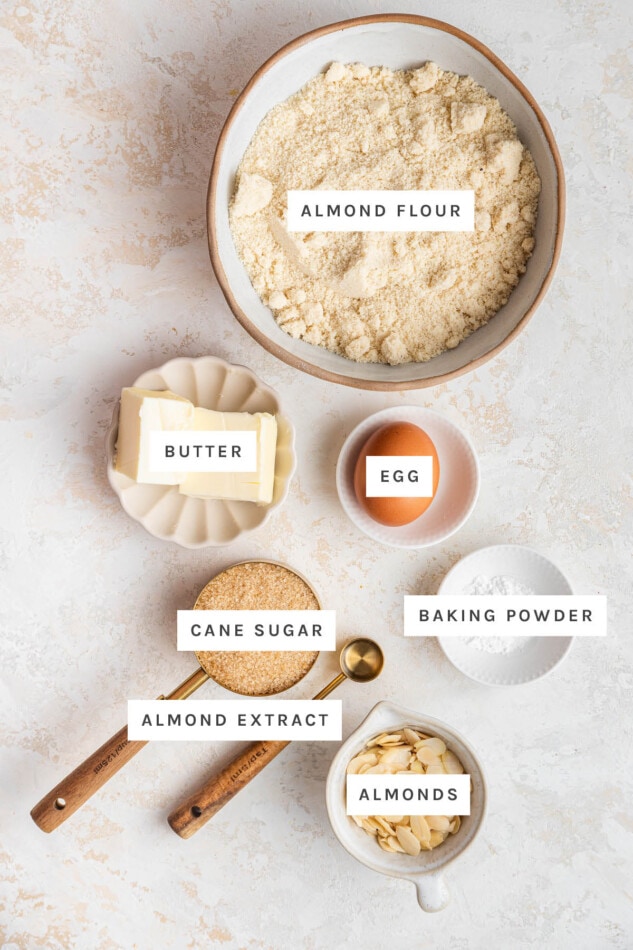 Ingredients Needed
cane sugar – we're creaming the sugar and butter together which results in a light and soft cookie. Cane sugar works best for this recipe, but coconut sugar will work as well. Just note that the cookies will be a darker color if you use coconut sugar.
unsalted butter – adds a creamy richness to these cookies. Make sure you're using softened butter for the best results!
egg – for binding all the ingredients together. I haven't tried it, but I bet a flax egg would work as a substitute.
almond extract – enhances the flavor and gives these cookies a rich, nutty flavor.
almond flour – gives the cookies a moist and dense texture that's extra chewy. I used Bob's Red Mill super fine almond flour, which is blanched almond flour meaning the skin has been removed from the nut prior to grinding into a powder. The end result is lighter flour which is great for baked goods.
salt – brings all the flavors together.
baking powder – helps the cookies rise and become fluffy.
almonds – whole or sliced almonds will work as a topping.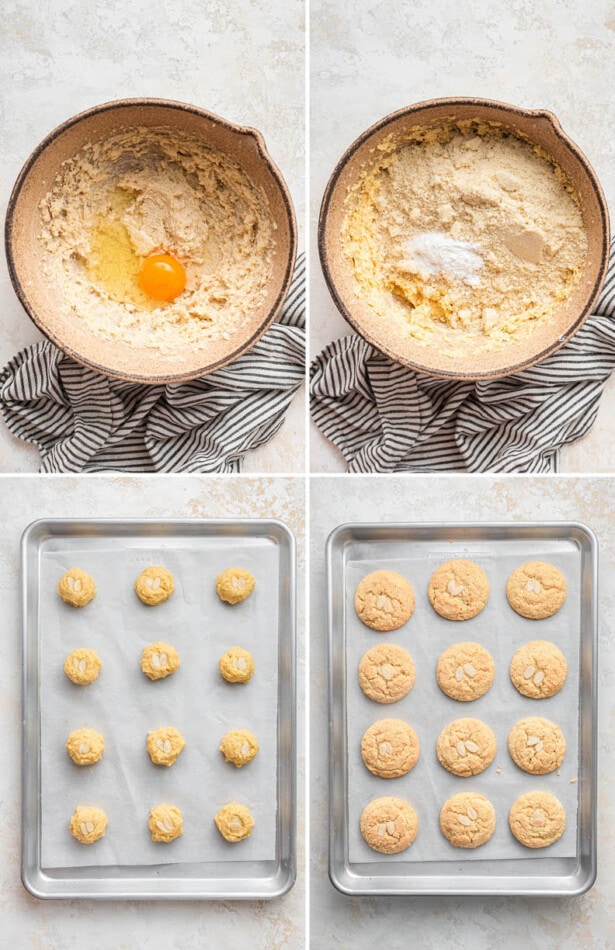 How to Make
Start by preheating the oven to 350°F and line a baking sheet with parchment paper. In a large bowl, cream the butter and sugar together until light and fluffy (about 2-3 minutes) with a hand mixer or stand mixer. Add the egg and almond extract and whisk again to combine. Add the almond flour, baking powder and salt to the wet ingredients and mix together using a spoon or spatula.
Scoop the cookie dough using a cookie scoop or Tablespoon and roll into 12 evenly sized balls. Top with sliced or whole almonds and press down slightly. Bake for 15-18 minutes until edges are slightly browned. Once finished, let the cookies cool for about 5 minutes on the baking sheet before transferring to a wire rack to cool completely. Serve and enjoy with your favorite additions, like a cup of coffee!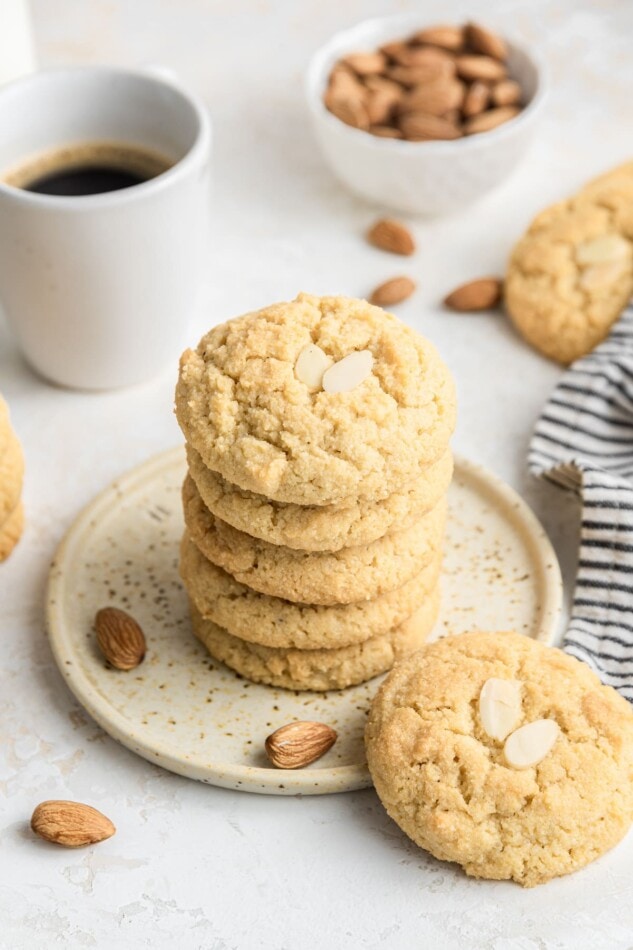 How to Store Almond Cookies
Let these almond flour cookies cool completely before storing them and store them in an airtight sealed container at room temperature for 3-4 days or in the fridge for up to a week. You could also freeze them for up to 3 months. When you're ready to eat them, let them thaw in the fridge overnight or at room temperature for an hour or so.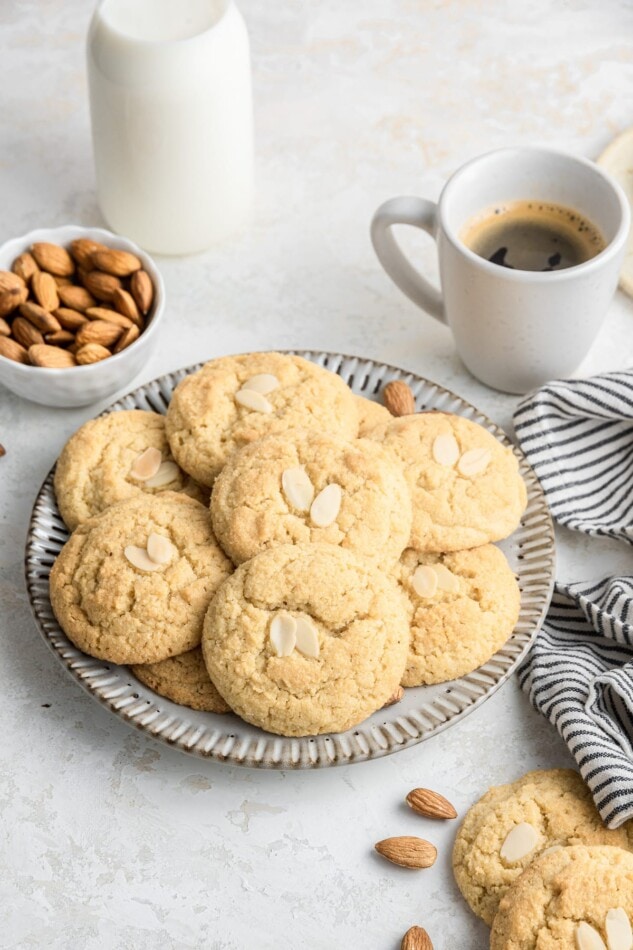 More Almond Flour Recipes to Try
More Cookie Recipes to Try
Be sure to check out all of the almond flour recipes as well as the full collection of cookie recipes on EBF!
Almond Cookies
These almond cookies are made with almond flour, almond extract and topped with sliced almonds. They're buttery, soft and melt in your mouth delicious. Gluten-free + grain-free.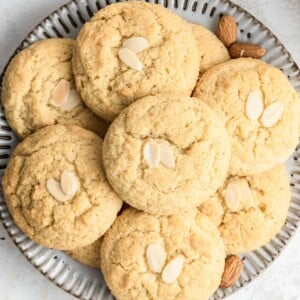 ½ cup cane sugar
6 Tablespoons unsalted butter, softened
1 large egg
1 teaspoon almond extract
2 cups almond flour
¼ teaspoon salt
1 teaspoon baking powder
Sliced or whole almonds, for topping
Serving: 1 cookie Calories: 234kcal Carbohydrates: 13g Protein: 8g Fat: 17g Saturated Fat: 4g Polyunsaturated Fat: 1g Monounsaturated Fat: 3g Cholesterol: 91mg Sodium: 120mg Potassium: 188mg Fiber: 3g Sugar: 10g
DID YOU MAKE THIS RECIPE?
Please leave a comment and star rating on this post and share on social media using the hashtag #eatingbirdfood. I love seeing your recipe shares!
This post may include affiliate links. Thank you for your support.